Netgear ReadyNAS 104 Four Bay Consumer NAS Review
In the market for a low-cost networked storage solution? You may want to take a look at the Netgear ReadyNAS 104.

Published Dec 18, 2013 4:01 PM CST
|
Updated Tue, Nov 3 2020 7:00 PM CST
6 minute read time
Introduction

Typically, home users have been subjected to very few, true performance NAS products. If you wanted true performance, you had to reach a little deeper into your pocket, and pull out a bit more of that hard earned money.
With Netgear being an industry leader in network storage solutions, it seems only fitting that they would offer top to bottom storage solutions for every sector of the market. Today, on this crisp winter morning, we will be looking over the Netgear ReadyNAS 104. The RN104 is a four bay NAS appliance that caters to the needs of consumers that want personal cloud storage. It offers standard features like a home media and file server, coupled together with low entry cost.
Hardware Specifications and Pricing
Modern NAS servers have moved beyond data storage through a wire network. In order to get the most out of a NAS, you need to look at the extra I/O hardware, and the mountain of potential software features.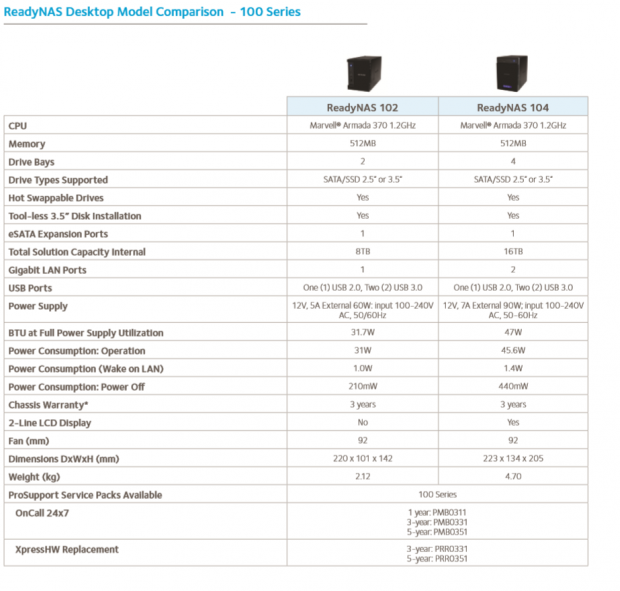 The RN104 is built upon the Marvell ARMADA 370 platform, clocked at 1.2 GHz, with 512MB of memory to accompany it. Across the front of the unit, we have four 3.5" drive trays that support tool-less installation. Total storage capacity is listed at 16TB, with dual gigabit LAN ports at the rear of the unit.
For quick management of the NAS, we have a two line LCD screen on the front of the unit, with dual USB 3.0 ports, and eSATA for additional storage options. Power consumption is listed at 45 watts for operation, and 1.4 watts with WOL enabled.
Pricing of the four bay Netgear ReadyNAS 104 is listed at $319.99, without drives. The unit carries a three-year warranty from Netgear.
Software Features
NAS products are equal parts hardware performance, and software features. One compliments the other in a balanced product. You need more hardware performance to run more software features at the same time.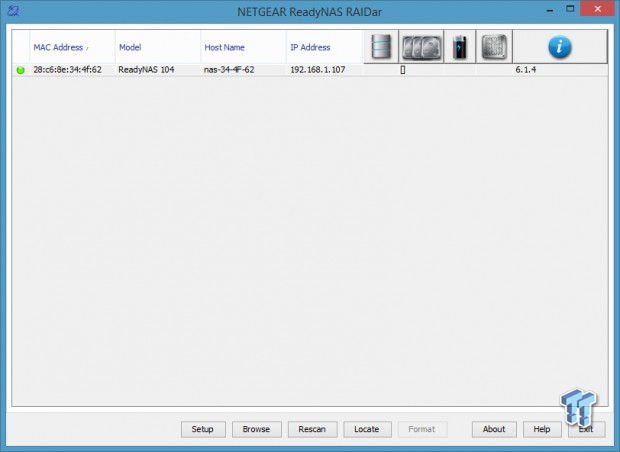 The Netgear setup utility (or RAIDar) allows quick setup of the NAS.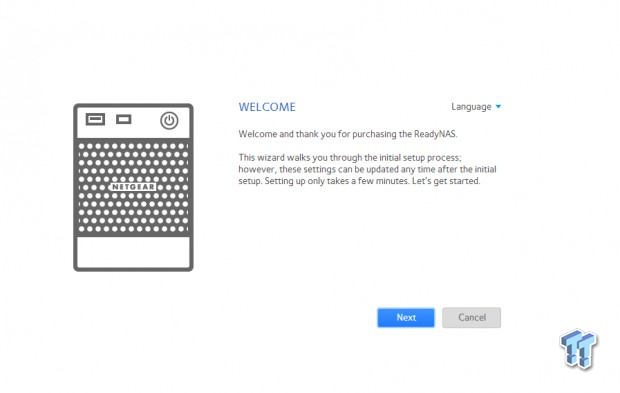 The landing page for the Netgear Web UI walks you through the initial setup.

Once setup is complete, we find ourselves at the landing page of the GUI. From here, with a quick glance, we can see the RAID status, and check for firmware updates.

To setup our first array, we entered the volume management tab. Here, we select the drive we want to use from the image of the NAS in the center. Then, moving to the right, we can select X-RAID, or New Volume.

By moving to the performance tab, we can view the temperatures and fan speeds of the internal hardware.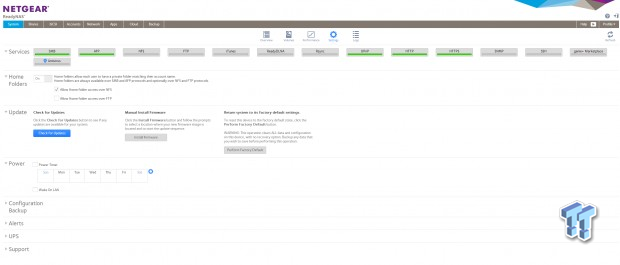 Within the setting menu, we have the option of enabling, or disabling, services. Additionally, we can set backup operations, and power timers.

By moving to the accounts tab at the top, we can setup users, and groups, for access to the NAS.

The networking tab allows you to setup the dual NICs to your liking.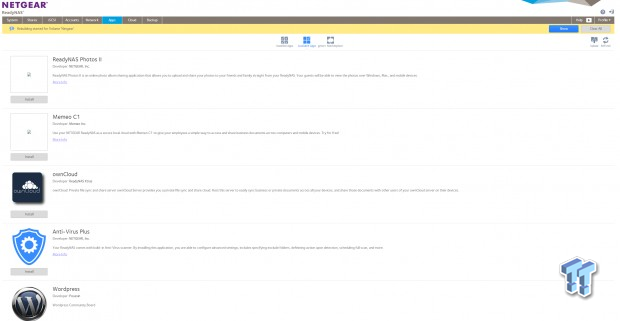 The apps tab allows you to install some of the many feature applications on the unit.

Setting up your own personal cloud is rather easy with the integrated wizards.

The ReadyNAS allows for use with DropBox. You can also backup your NAS to a secure vault.
Packaging and the ReadyNAS 104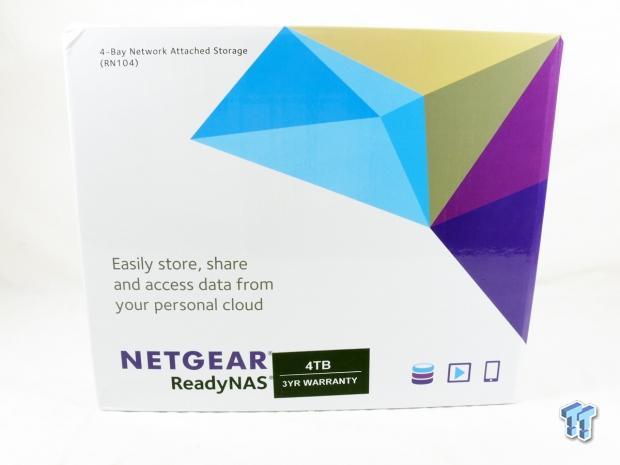 Packaging for the Netgear ReadyNAS 104 is quite attractive. The front of the box keeps a colorful, yet simple design.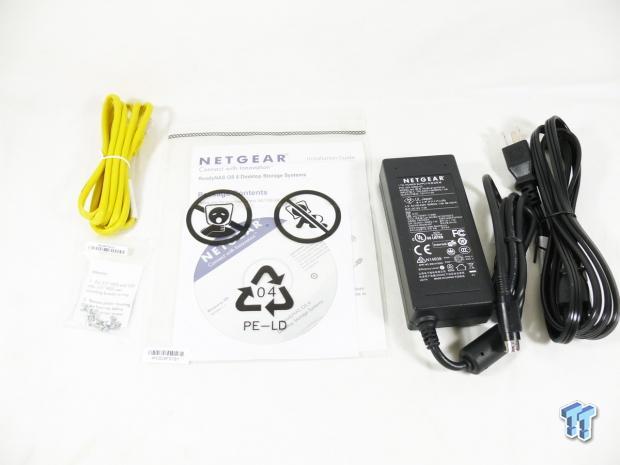 The scope of the delivery includes the power adapter, ethernet cable, setup software, and drive screws (if you choose to use them).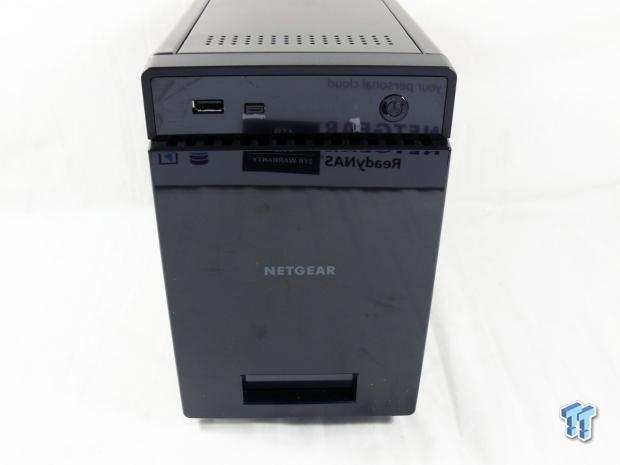 The front of the ReadyNAS 104 carries a high gloss exterior; as you can see we caught reflection of the product packaging.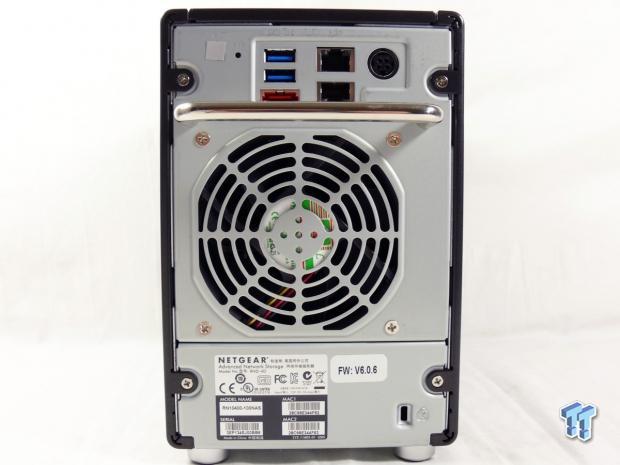 The backside of the NAS houses all of the connectivity options. Here, we have two USB 3.0 ports, and a single eSATA port in red. The top is rounded out with dual gigabit LAN, and the power connection. The 92mm fan takes up much of the bottom half of the rear panel.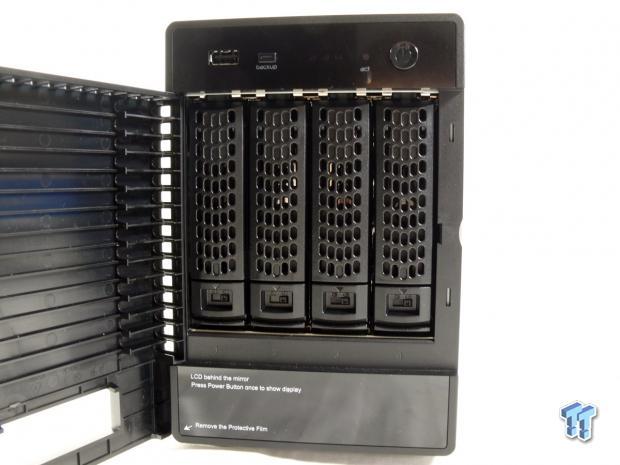 When we opened the bay door, we found the drive trays prepared with spring locking mechanisms. A simple downward push releases the handle to pull the drives.
Test System Setup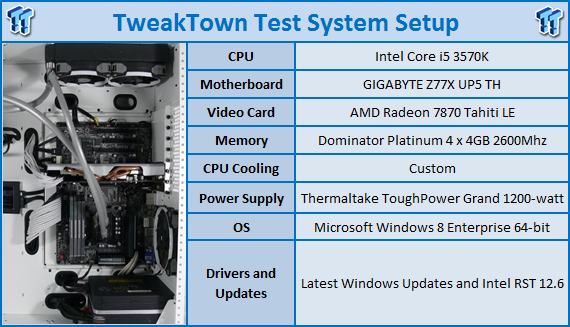 Our Consumer NAS test 'system' is setup similar to what you have at home. Here we have the base of a GIGABYTE Z77X UP5 TH, housing an Intel Core i5 3570K with 16GB of RAM supporting. Our Operating System of choice is Windows 8 x64 Enterprise, with all available updates and patches installed on a Corsair Neutron 256GB SSD. On the networking side, we utilized the Intel PRO1000 PT Server Adapter with a direct connection to each NAS appliance. This eliminates the need for a switch, and any bottlenecks that may occur.
This level of testing wouldn't be possible without the help and support from several companies, many of which have little to do with NAS products. We would like to thank Corsair, GIGABYTE, and Western Digital for their much appreciated support.
Intel NASPT
The Intel NAS Performance Toolkit (NASPT) is a file system exerciser, and analysis tool, designed to enable direct measurement of home network attached storage (NAS) performance. NASPT is designed to emulate the behavior of an actual application, and uses a set of real-world workload traces, gathered from typical digital home applications. Traces of high definition video playback and recording, office productivity applications, video rendering/content creation, and more, provide a broad range of different application behaviors.
Western Digital RED - The NAS HDD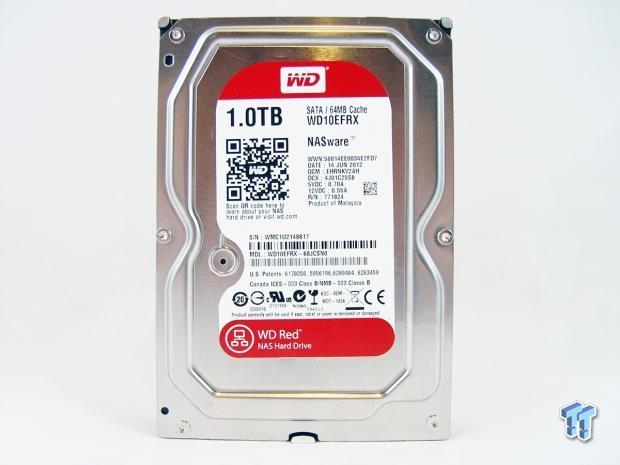 TweakTown uses Western Digital RED 1TB hard drives for all of our NAS tests. You can read our full review of the Western Digital RED 1TB here.
Benchmarks - Single Client Throughput
Workload
HD Video Play - 720p HD stream from Windows Media Player, 256kB reads
2HD Video Play - 2x playback
4HD Video Play - 4x playback
HD Video Record - 720p HD stream, 256kB writes
File Copy From NAS - 4GB file copy, 64kB reads
File Copy To NAS - 64kB writes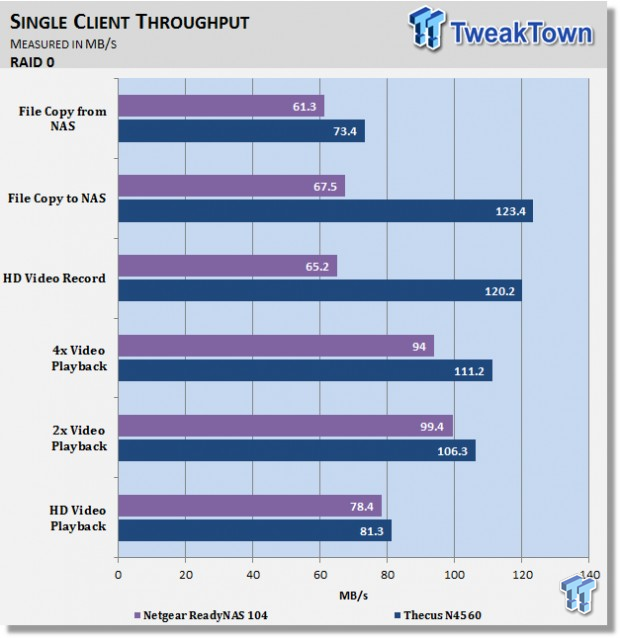 In our single client testing, the RN104 did quite well utilizing RAID 0. Above, you can see the unit peaked at 99.4 MB/s in 2x Video Playback.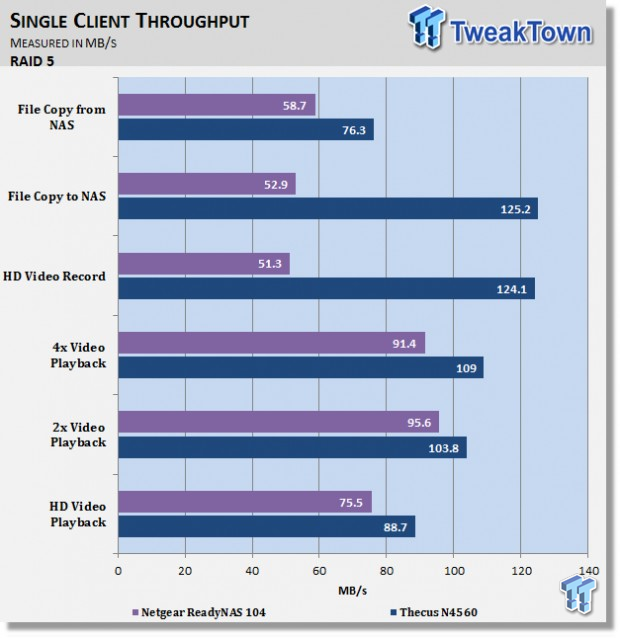 Setting up a RAID 5 array, the RN104 showed no loss in performance coming from RAID 0. Here, we have the unit peaking once again during 2x Video Playback at 95.6 MB/s.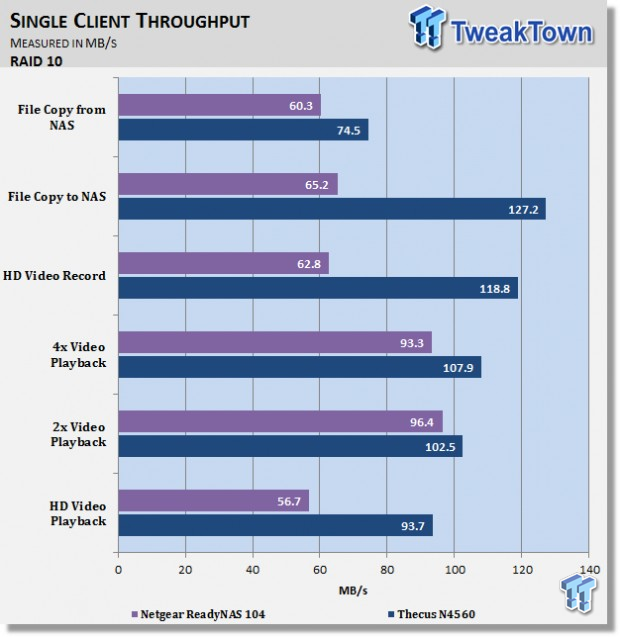 RAID 10 gained a little more performance. Video Playback x2 again recorded peak results at 96.4 MB/s, though the unit did quite well throughout all testing.
Benchmarks - Random and Sequential Workloads
Our 4K Random read/write workload consists of sixteen threads, all at QD8; results are measured in IOPS (Input Output Operations per Second).
Our Sequential read/write workload is centered on 1MB transfer sizes; again, with sixteen threads, and a Queue Depth of 8.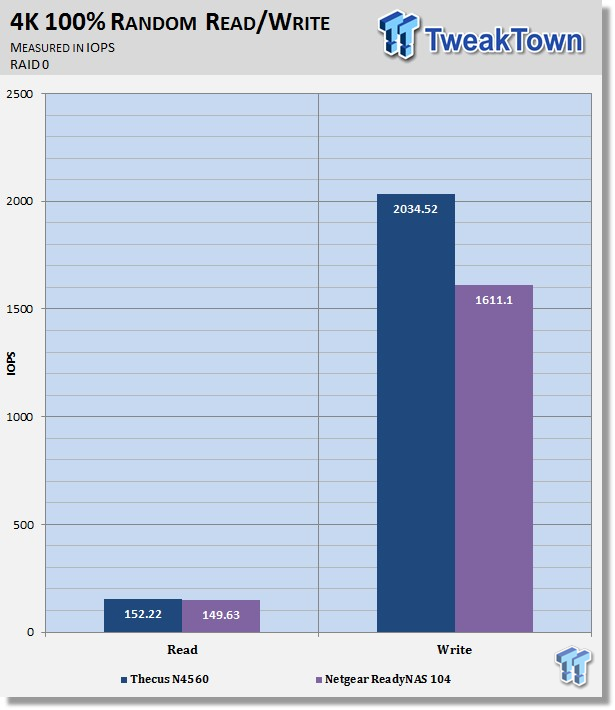 RAID 0, 4K performance had the RN104 coming in at 1611 write IOPS, with read IOPS touching 149.6.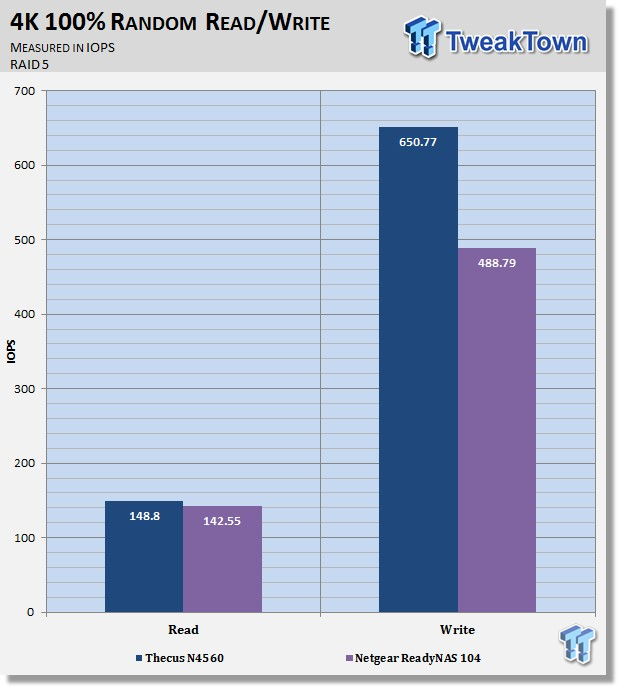 Within RAID 5, we found the RN104 stayed consistent with read IOPS; write IOPs came in at 488.9.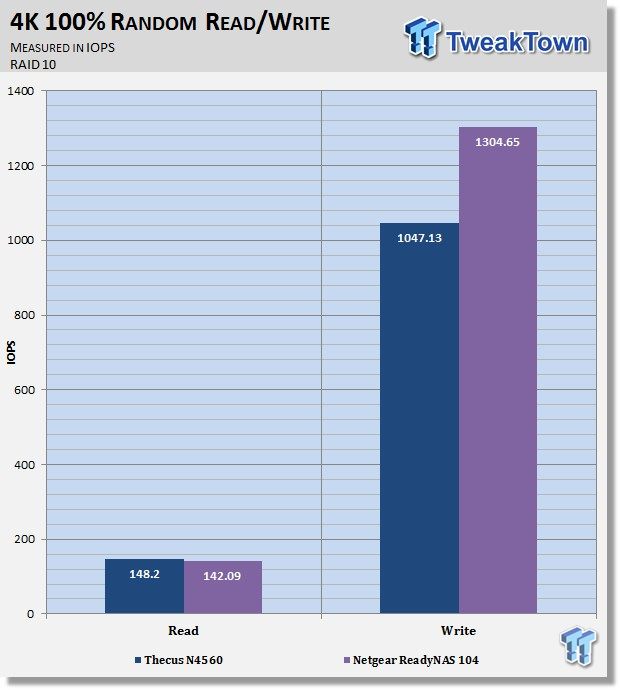 With RAID 10, we find the RN104 to be a touch faster than the N4560 from Thecus. Here, we have peak write IOPs at 1304, and read consistent once again at 142 IOPS.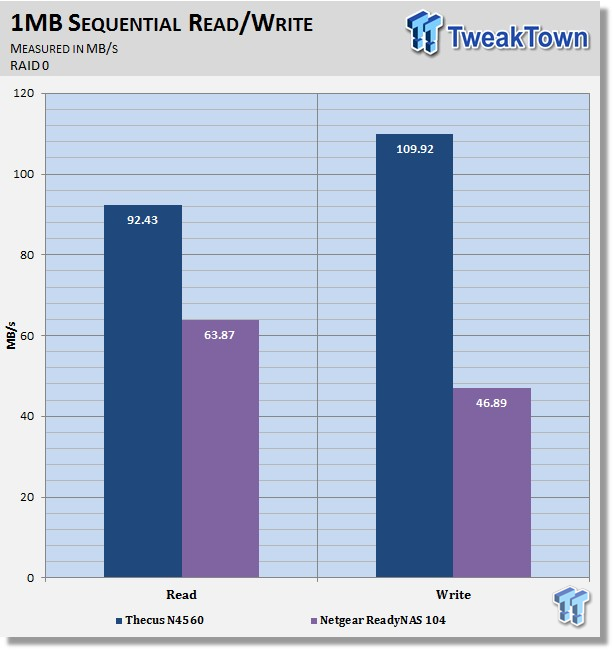 Moving on to our sequential workloads, we found the ReadyNAS touching 63 MB/s read, and 46 MB/s write.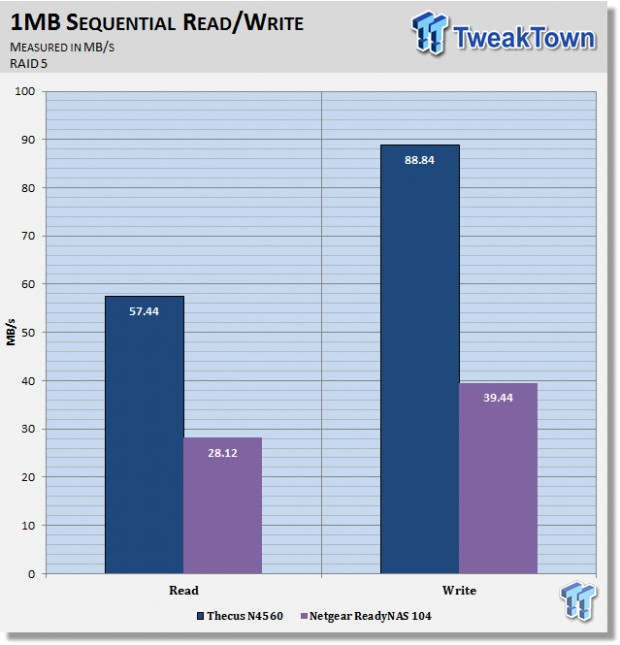 Moving over to RAID 5, the RN104 slowed down quite a bit. Here, we have 28 MB/s read, and 39 MB/s write.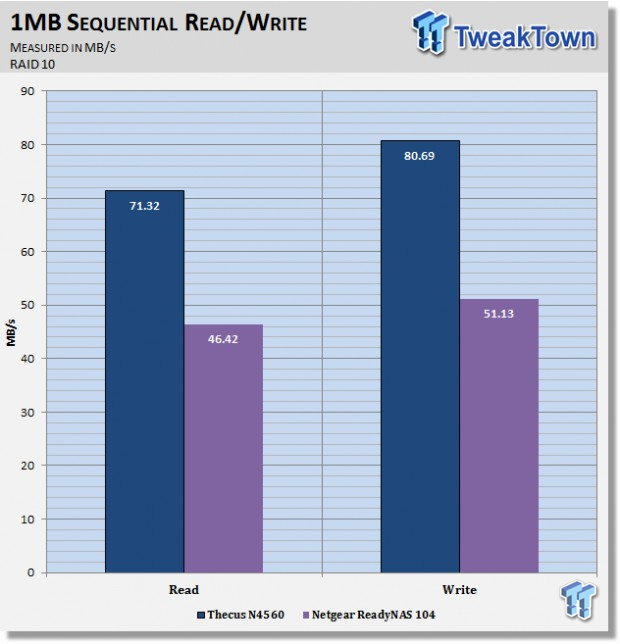 Above, we have the results from RAID 10, where we found the RN104 touching 46 MB/s read, and 51 MB/s write.
Benchmarks - Power Consumption and Acoustics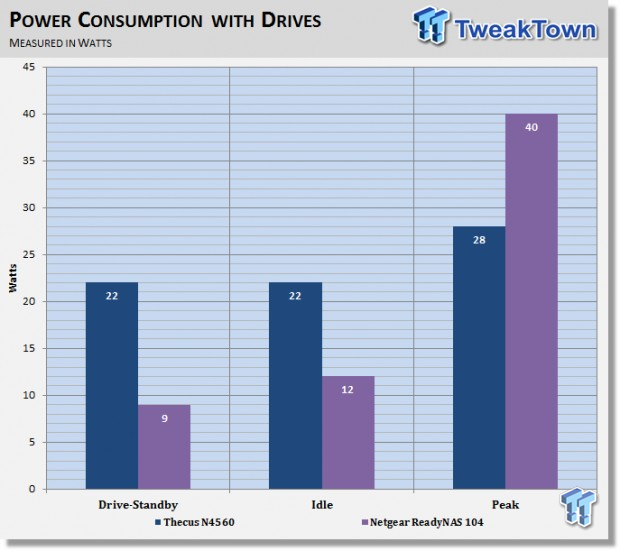 Power consumption for the ReadyNAS came in at 40 watts, with our WD Red drives at peak. The drives idled, and the NAS used 12 watts with a standby of 12 watts.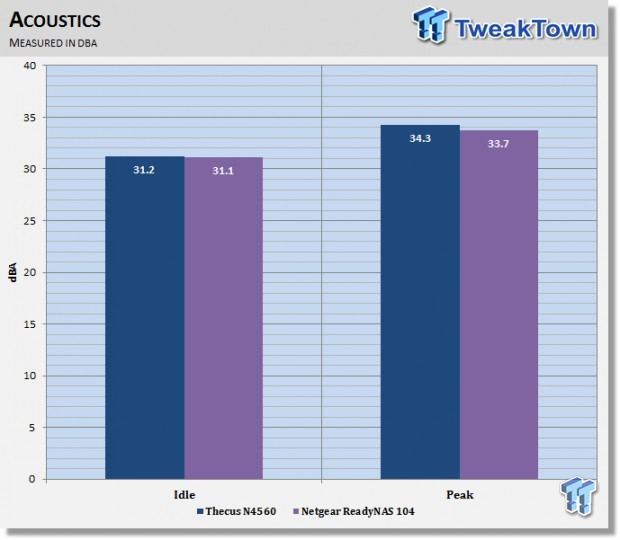 Acoustics for the RN104 came in at 33.7 at peak, with an idle level of 31.1.
Final Thoughts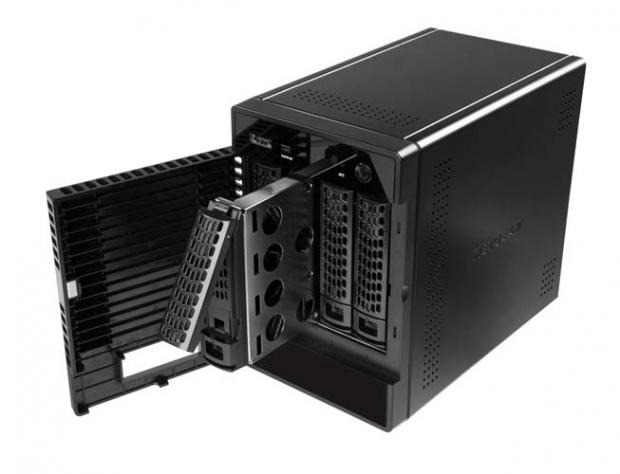 It's no secret that NAS vendors are at war; trying to fill the market with top to bottom storage solutions that fit any need the consumer may have. As a result, we have seen many two and four bay NAS appliances come to market at barebones prices. While the Netgear ReadyNAS 104 seen here today does lack the capability to output video straight to the HDTV via HDMI, it does offer a pure storage solution. And for features like iSCSI that were missing on the low-end, Thecus appliances are made available with the RN104.
The intuitive setup menu allows very simple access to everything one may need, in a tabbed browser fashion. To be honest, the Netgear NAS Web UI is so clean and straight forward that I was able to find everything I needed within a few seconds of my first time browsing through.
The Personal Cloud is one the biggest selling points for NAS vendors these days, and most have some sort of app for android, and iOS. It is then no surprise to me that Netgear has enabled users to access their files via ReadyCloud, and ReadyDrop, with additional support for Dropbox. There really has been no better time than now to build your own personal cloud.
Pricing for the Netgear ReadyNAS 104 starts at $319.99 in its diskless configuration, making the RN104 the lowest cost four bay NAS we have seen this year.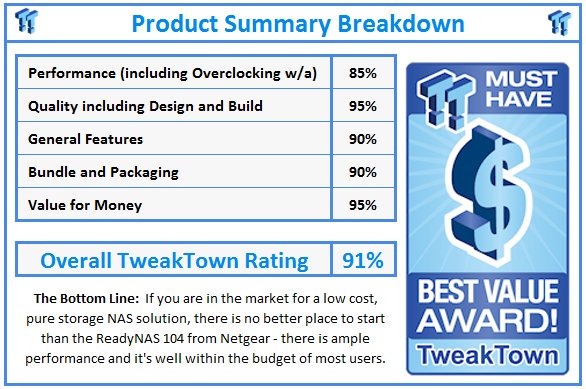 PRICING: You can find products similar to this one for sale below.

United States: Find other tech and computer products like this over at Amazon.com

United Kingdom: Find other tech and computer products like this over at Amazon.co.uk

Australia: Find other tech and computer products like this over at Amazon.com.au

Canada: Find other tech and computer products like this over at Amazon.ca

Deutschland: Finde andere Technik- und Computerprodukte wie dieses auf Amazon.de
We openly invite the companies who provide us with review samples / who are mentioned or discussed to express their opinion. If any company representative wishes to respond, we will publish the response here. Please contact us if you wish to respond.