Introduction

It's not every day innovation comes to network attached storage products. The category has been around for many years, standards have been set and significant new features hard to come by. In a time when other manufacturers are adding consumer features to business products, Seagate came up with something fresh, a feature so large it can only be centered on making the format smaller.
The new Seagate Business Storage NAS doubles the capacity in a 1U form factor rackmount NAS from four 3.5" HDDs to eight. In order to achieve this, Seagate stepped away from the traditional front hotswap drive sled design and moved all HDDs to the inside of the server.
Sliding rack rails and an easy to open, toolless, top cover, still allow for easy access to HDDs. The result is a staggering 32TB business storage server in a 1.75" height package that runs cool and quiet.
Let's get started now and take a close look at this Seagate NAS.
Hardware Specifications and Pricing
Modern NAS servers have moved beyond data storage through a wire network. In order to get the most out of a NAS, you need to look at the extra I/O hardware and the mountain of potential software features.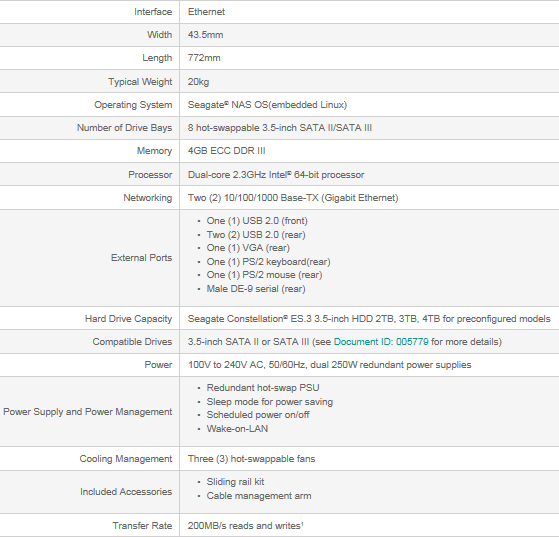 At the heart of the system is an Intel dual-core processor running at 2.3GHz and backed by 4GB of ECC DDR III DRAM. In the 8-bay rackmount NAS market, we usually see systems ship with only 2GB of DRAM, so Seagate raised the bar over the ordinary in this area as well.
The biggest hardware feature for the Business Storage NAS though, is density in the 1U form factor. Eight 3.5" HDDs in a 1U doubles the density of typical 1U servers. Another way to look at the Business Storage NAS is it reduces the number of rackmount units to hold eight HDDs, whichever way, up to 32GB of data can be held in a 1U form factor and that's what makes this product unique.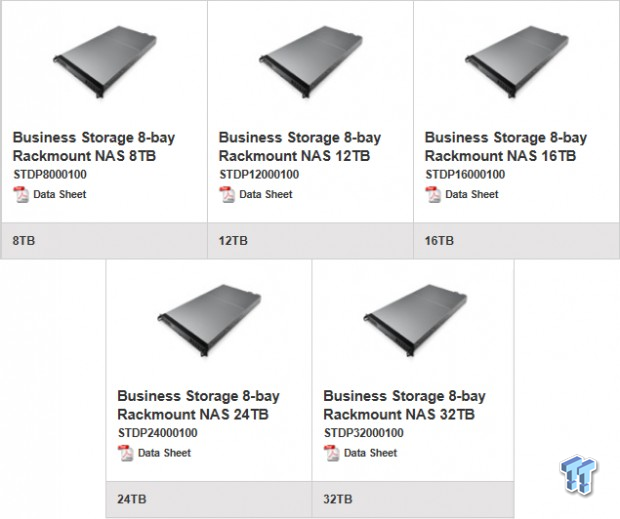 It shouldn't come as a surprise that we found Seagate hard drives in the system. Seagate ships five product SKUs, each with different capacity. Inside our STDP32000100, we found Seagate ES.3 4TB HDDs. The ES product line has a history of high reliability and strong performance. We still have several original ES series drives in operation today at my office location. Not all hard drives are built the same way and Seagate chose to use true enterprise Nearline HDDs instead of tweaked consumer HDDs.
Primary connectivity comes from dual gigabit Ethernet ports that can run on two separate networks or in 802.3ad link agg mode for increased performance or failover. Redundant features don't stop with the network connections, Seagate chose to include dual hot-swappable power supplies and three hot-swappable internal fans.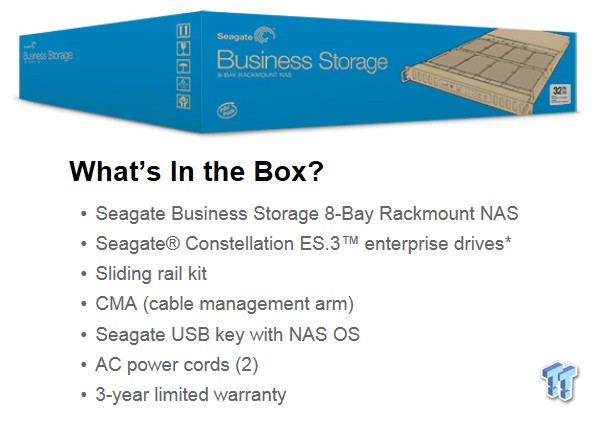 For the system administrator, Seagate provides a turnkey solution that's ready to install and go to work for your company. Sliding rails are included in the package with the hard drives and power cords; and the system is ready to accept data within ten minutes of turning the system on.
With Google Shopping we found the STDP32000100 (32TB model) for as low as $4,500, but prices ranged from e-tailers all the way up to nearly $5,100 for the same model. The 8TB model was online for as low as $2,919. Looking at the price scale as capacity increases, each product step increases the cost between $300 and $400 in most cases. All capacity sizes ship with a three year warranty.
Software Features
NAS products are equal parts hardware performance and software features. One compliments the other in a balanced product. You need more hardware performance to run more software features at the same time.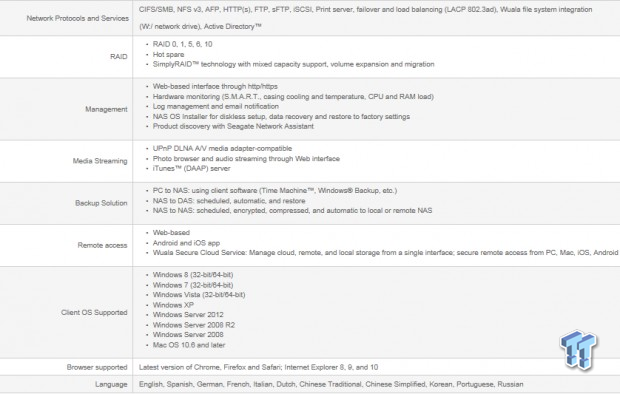 Seagate didn't try to stuff every consumer feature on Linux in the Business Storage NAS. You can't use the system to watch live TV or monitor a download site for a Hollywood blockbuster, but you do get the usual suspects for business storage needs. Multiple protocol support including iSCSI channel your data to the disk array.
RAID 0, 1, 5, 6, and 10 are supported as well as Seagate's SimplyRAID. Out of the box, our system recognized a SimplyRAID with 1 drive fail protection, a RAID 5 like feature that works with disks of different volumes.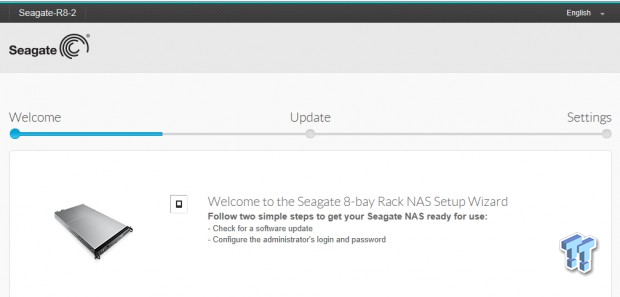 Once installed in the rack and powered up, a setup wizard starts and guides the user through setup, a two-step process.
Packaging and Accessories
Packaging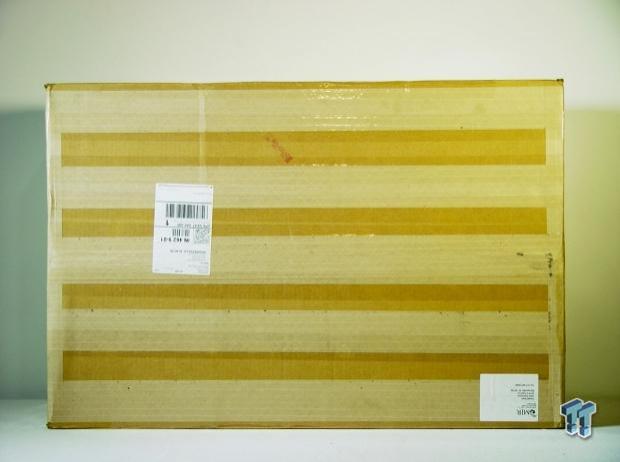 We're not going to spend a lot of time on the package today. The system ships double boxed with a brown box on the outside and a nice retail box inside. On the enterprise side, we're more concerned with product protection than we are with pretty colors and details printed on the outside. Most of these products are purchased over the internet, so shipping takes precedence over shelf appeal.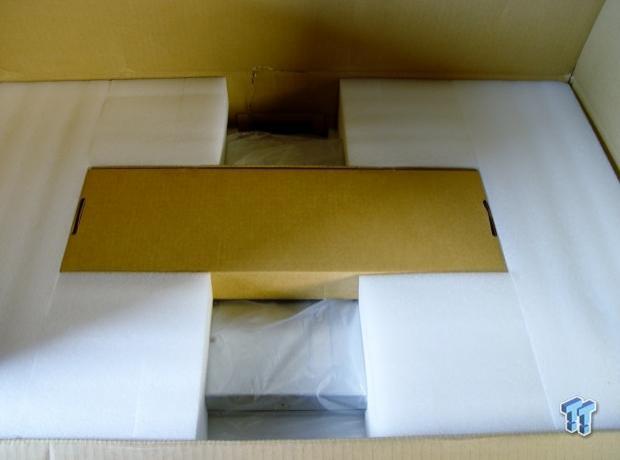 As mentioned, the system ships double boxed. Inside, we found layers of foam with the NAS placed deep inside for maximum protection.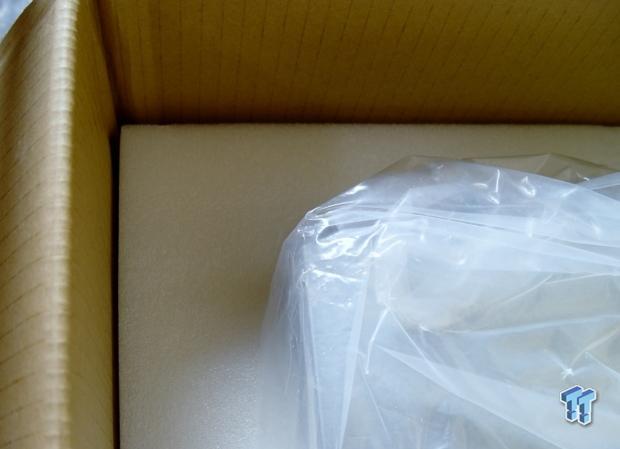 At the corners, where most shipping damage occurs, we found a three to four inch space between the server and the box. Closed cell foam fills the space for maximum protection.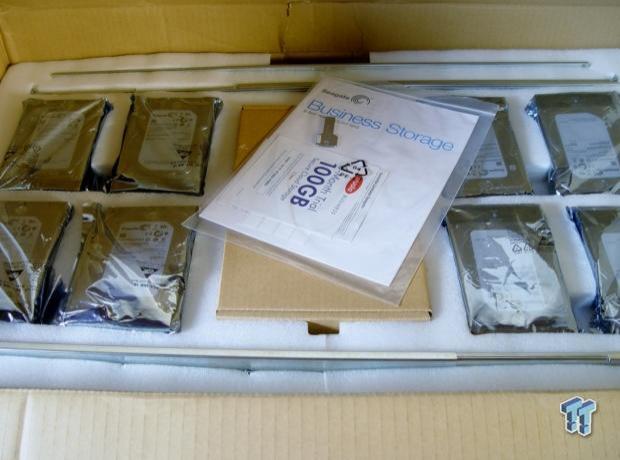 Each drive has a separate section for protection as well. The drive sleds are also tucked inside the foam; a place for everything.
Accessories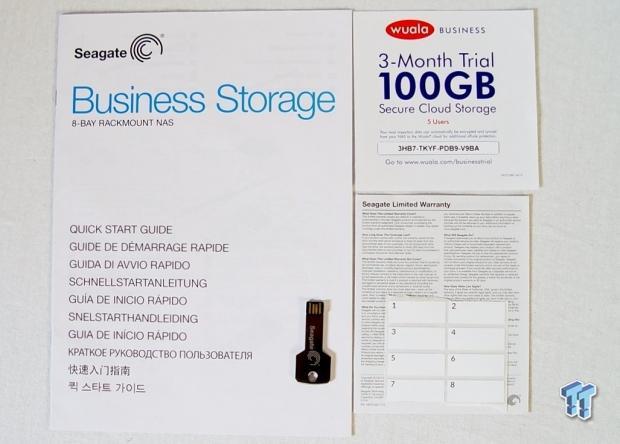 The system ships with a paper quick start guide, a three-month trial for 100GB of cloud storage, and a warranty card. A full manual and software are on the USB drive shaped like a key.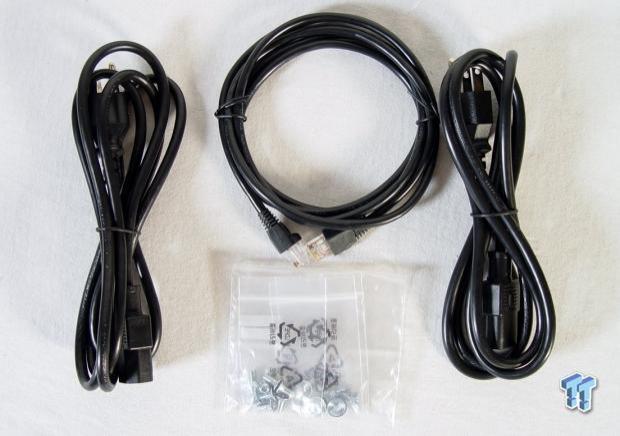 On the cable side, you get two power cables and a single Ethernet cable. Also pictured here are the screws for the rack rails.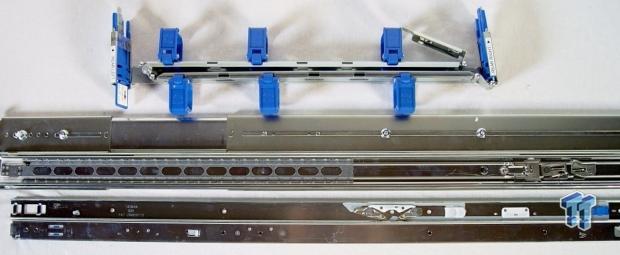 The rails that ship with the Business Storage NAS are high quality with a large ball bearing section for small server slides in and out from the rack. Also included is a cable management arm, but you need a deep rack to use the cable management arm.
Seagate Business Storage NAS

The front of the system has twelve status LEDs, one for each drive, and one for each Ethernet port. A system ID LED blinks orange to show which NAS you are working on. This can be activated either through the button or in the browser software. Openings on each side allow fresh air to flow through the system; over the drives first, then the other internal components.

A single USB port on the front allows system admins to quickly backup flash drives. There are three buttons on the front as well. From left to right, a power button, a system identification, and an alarm mute button.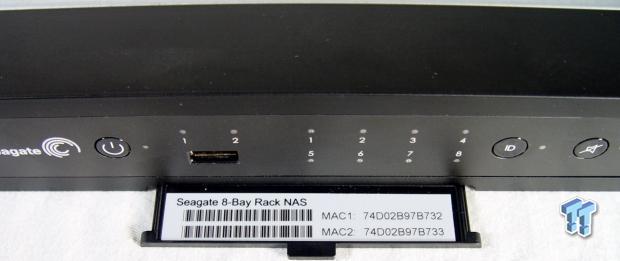 A convenient pull-tab lists the two MAC addresses.

Seagate packs a lot of redundant features on this system. Dual power supplies and dual Ethernet ports give the NAS high availability. On the far left is another system identification button that activates the front LED.

Keyboard, mouse, USB, console, and VGA ports are on the back of the system for easy access to advanced user customizations.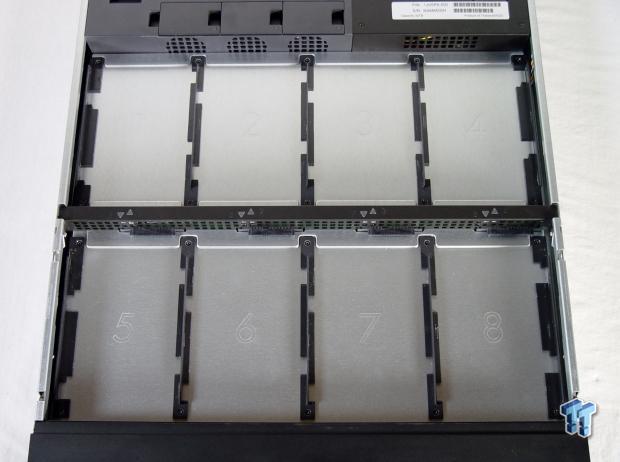 The secret to the system is a mid-mount backplane. A drive bay number is etched in each section as well as on the backplane.

To reduce the width of each drive, the drive sled is designed for vertical inserts and not the typical horizontal installs we are used to seeing. The plastic handle keeps the drive secure in the SATA connector.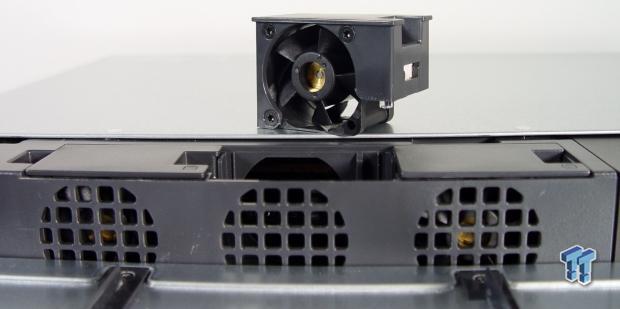 The system can operate with two fans working, and they are hot swappable.
The top cover is toolless; two-pull tabs release the tension loaded top door. This allows you to quickly replace drives or fans.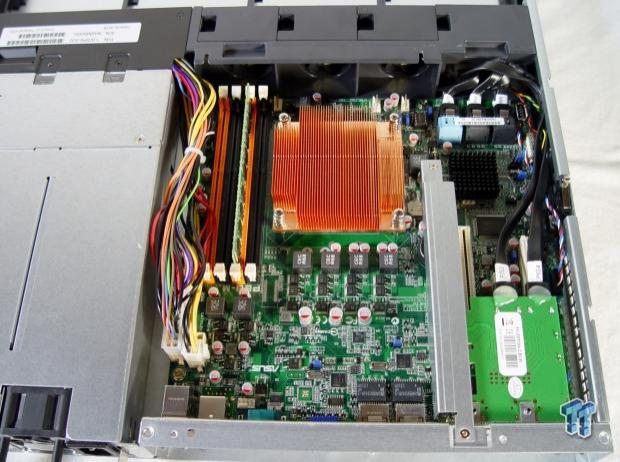 Inside we found a large passive copper heat sink just behind the three fans.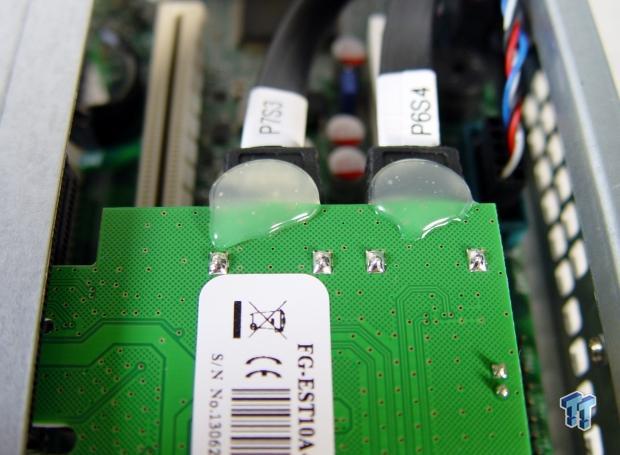 Not leaving anything to chance, Seagate hot glued the SATA cables in place.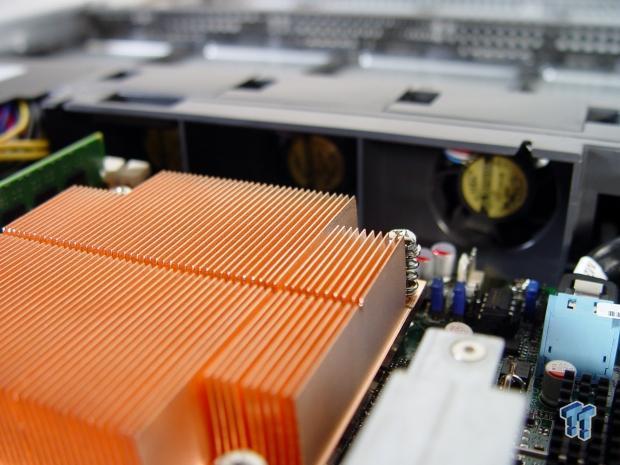 To my surprise, the system is very quiet, even by consumer NAS standards. With the fans deep inside the system, the fans are nearly silent even under heavy use.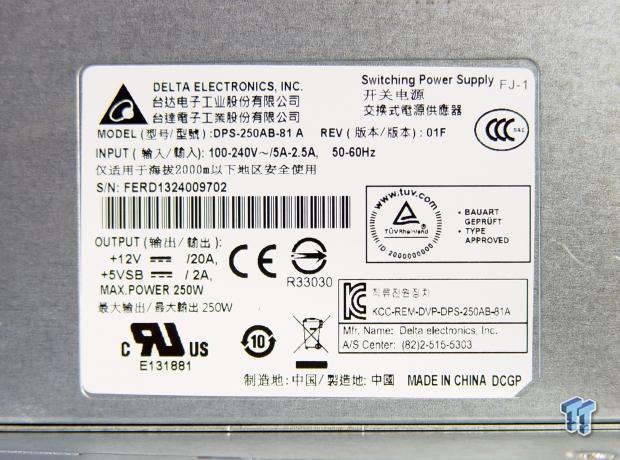 The power supplies are from Delta Electronics and are purpose built 1U NAS power supplies. If there is a weak point in the hardware, the power supplies are it. These units are rated EPA level white or 80-Plus White, one-step lower than 80-Plus Bronze. At 50% capacity they are around 84% efficient.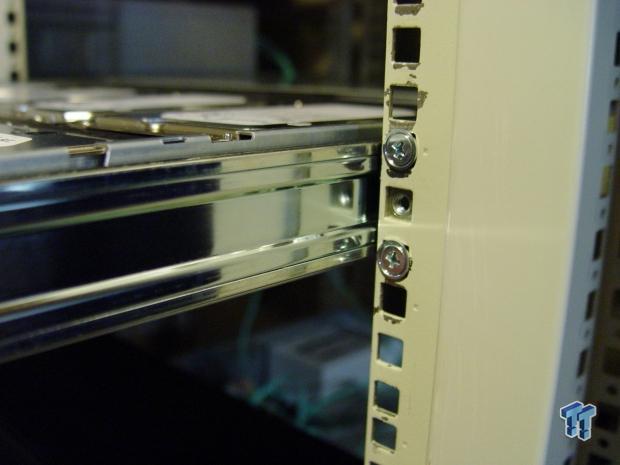 Installing the NAS is easy using the hardware provided by Seagate. The flat screws allow the NAS to sit fully against the rack rails.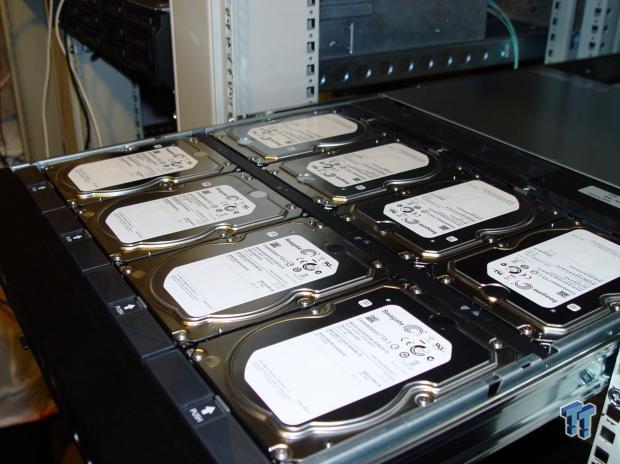 Here we see the drives installed with the cover off. The slides allow the NAS to pull out beyond the top cover opening and then some. If you have a server above the NAS with long handles, the NAS comes out far enough to still remove the cover.
Configuration Menus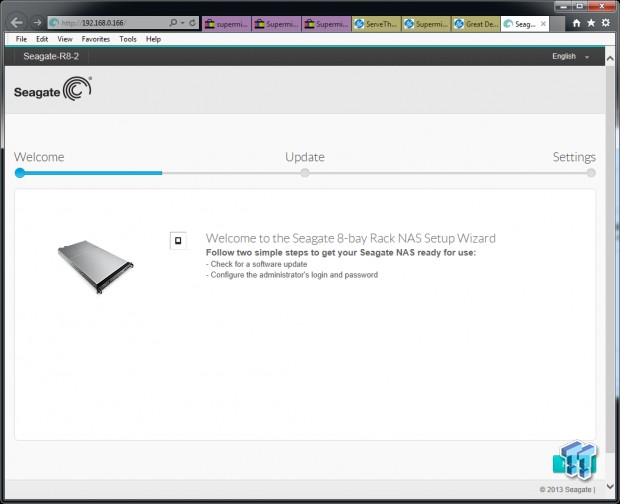 The Seagate OS interface is straightforward, easy to configure, and the initial setup is just a two-step process.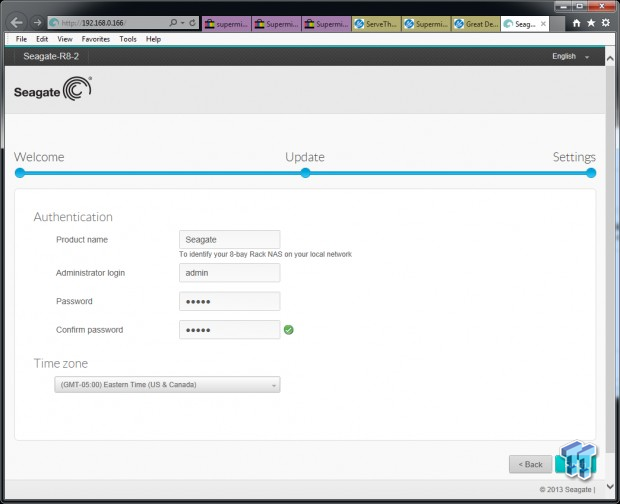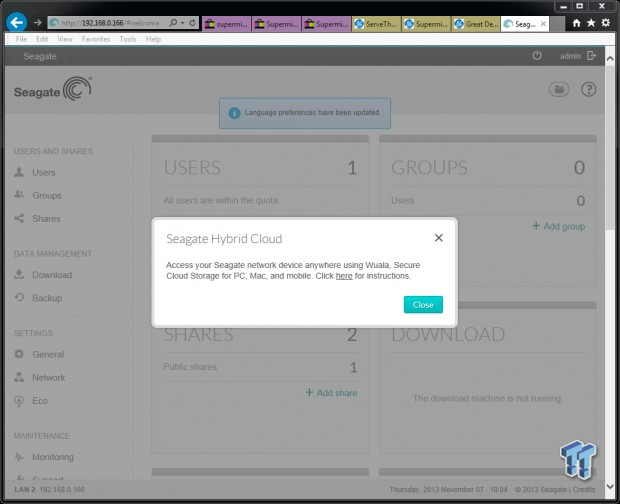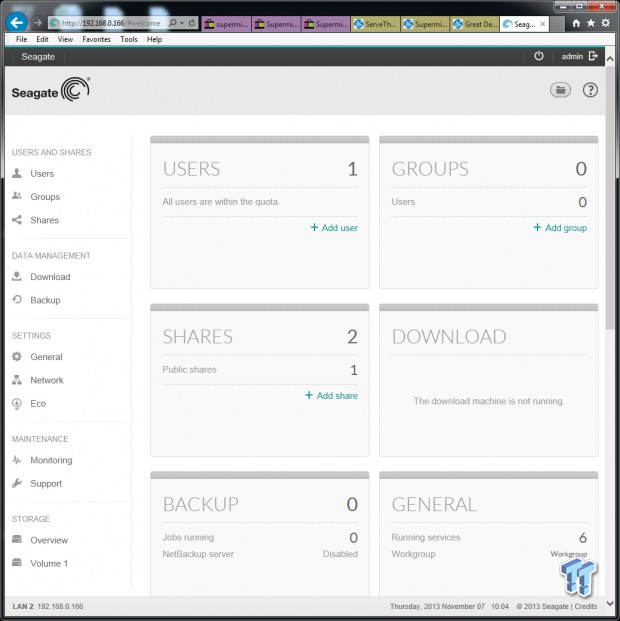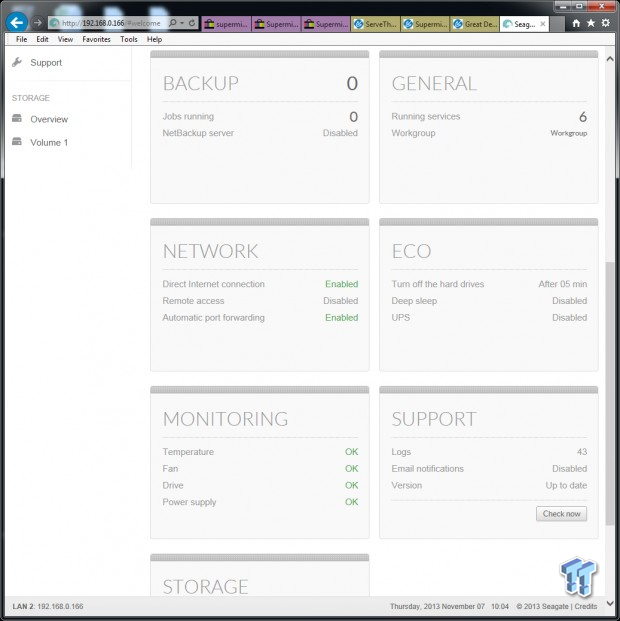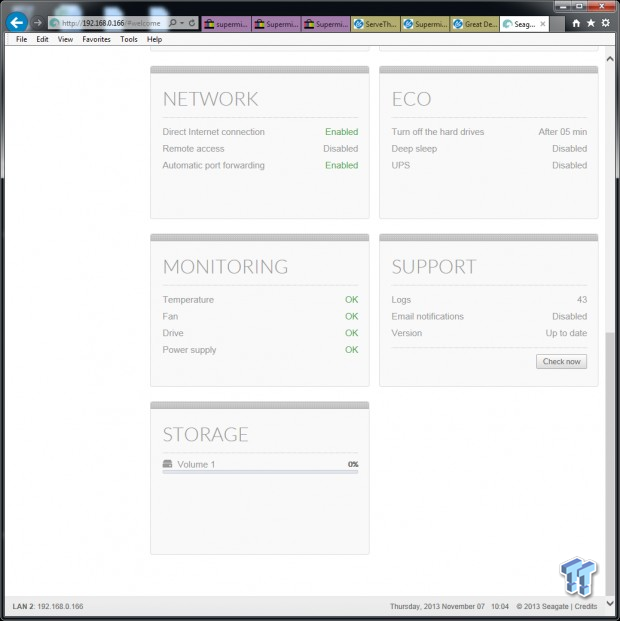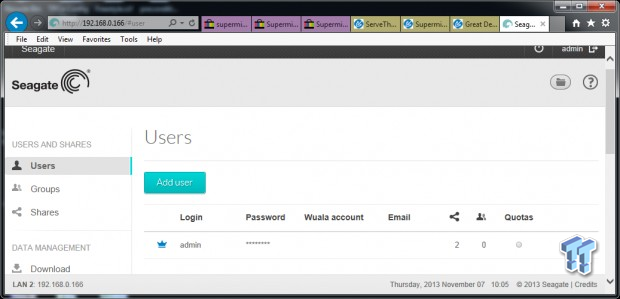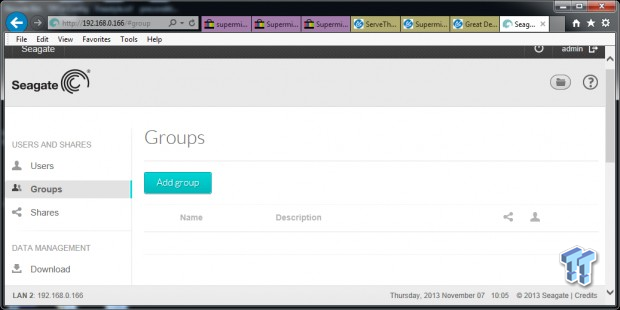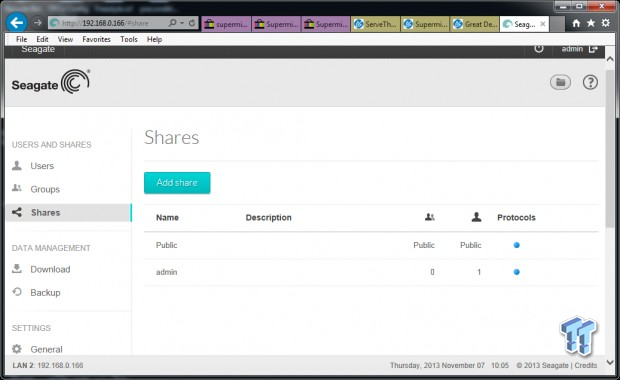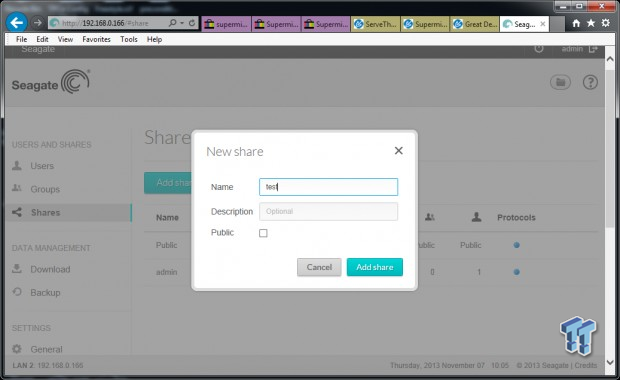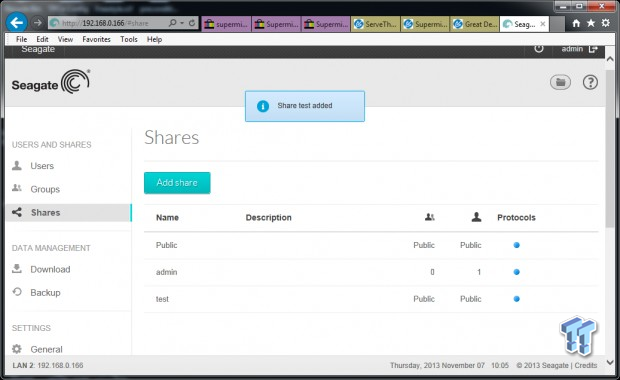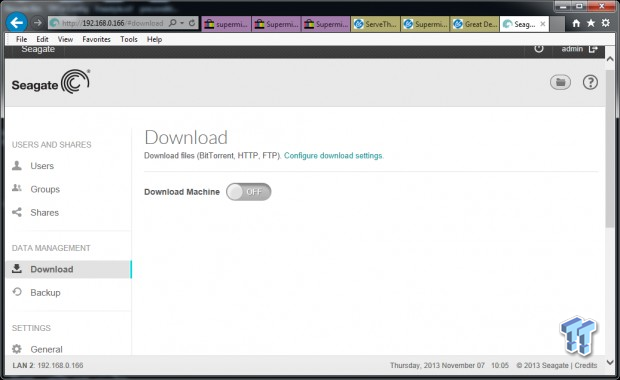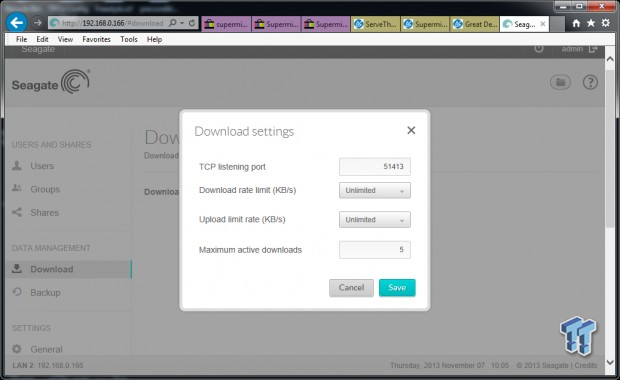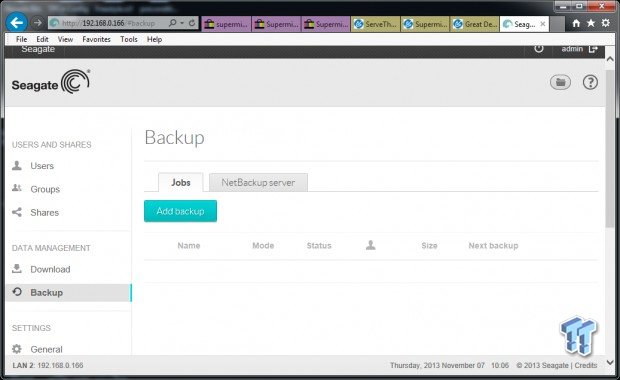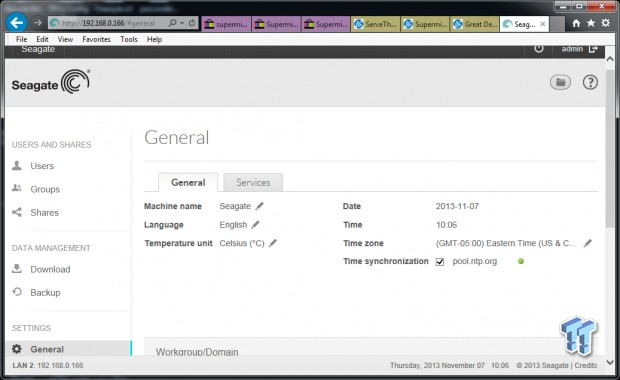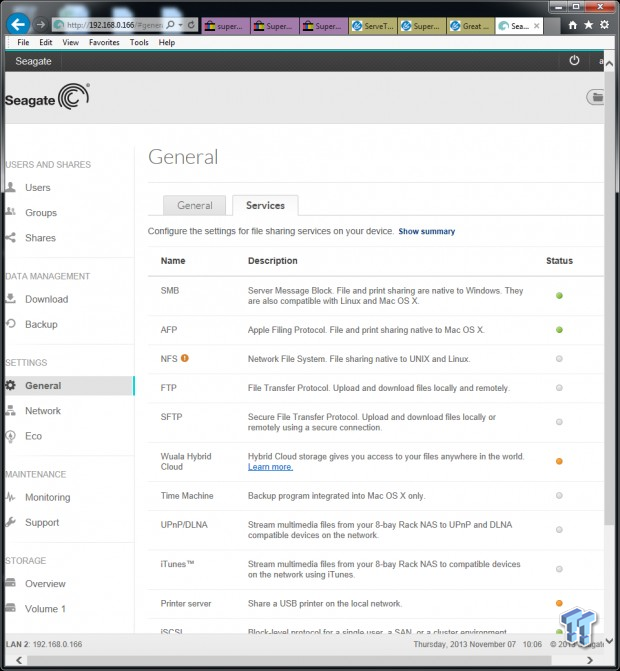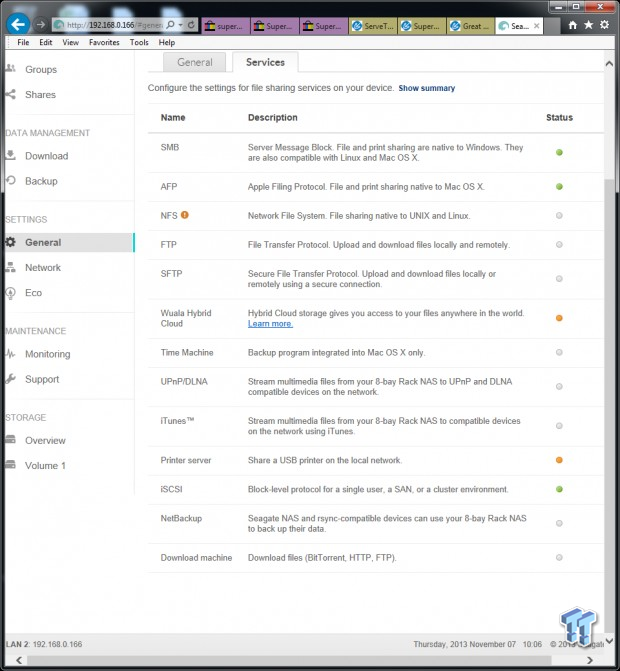 Seagate did add a few download file options, so system administrators can access Linux distributions from Bit Torrent or download files directly with the NAS over HTTP or FTP.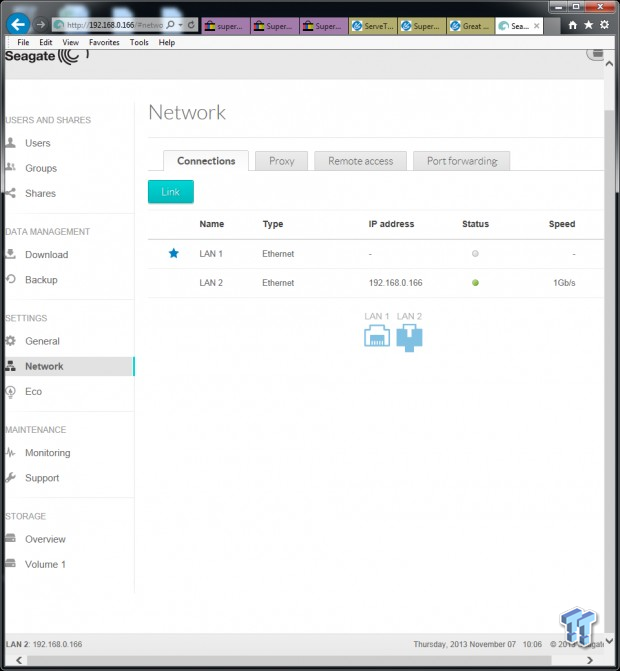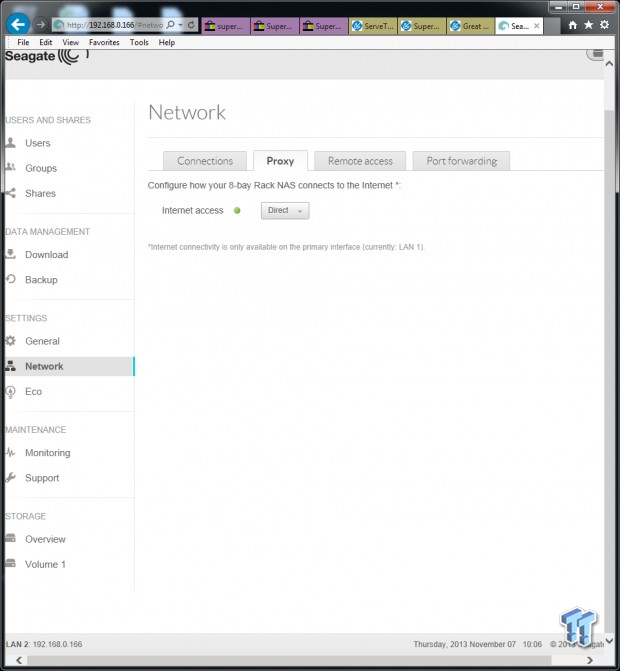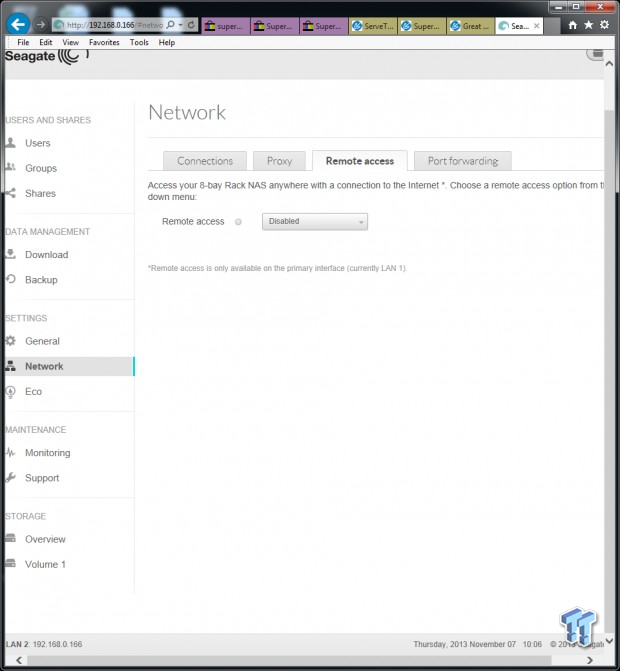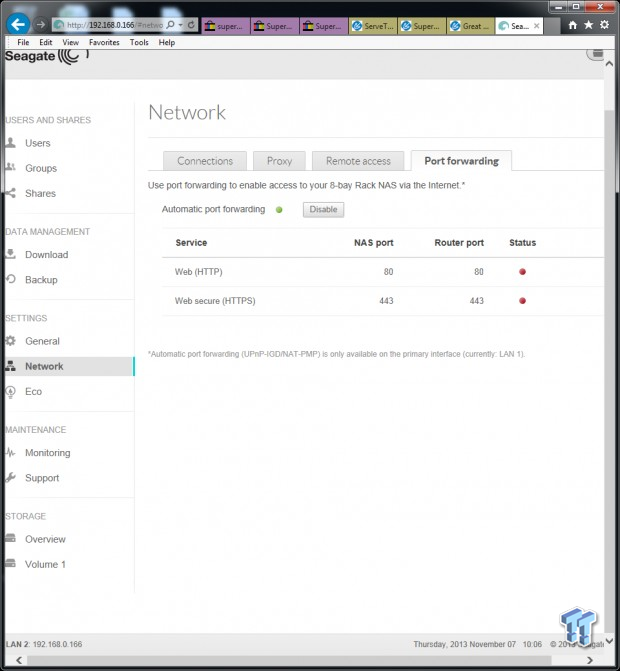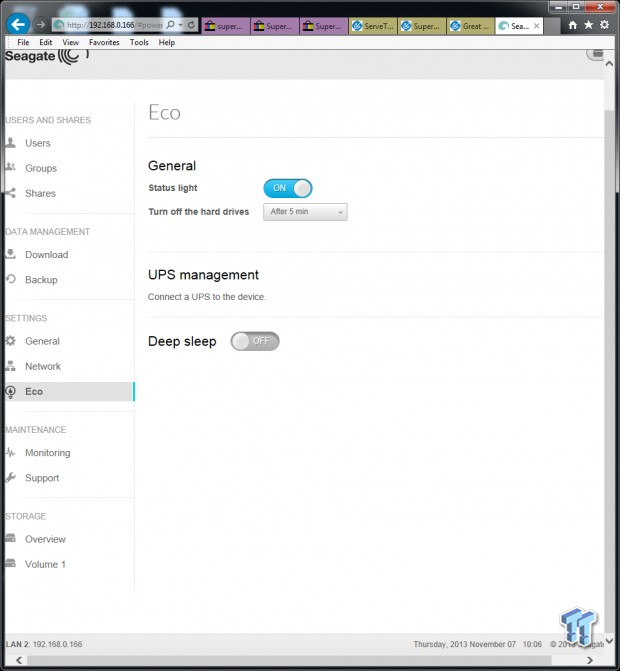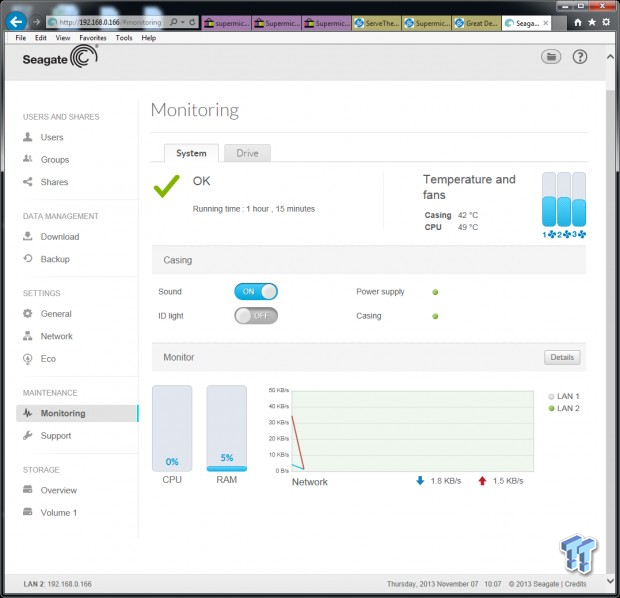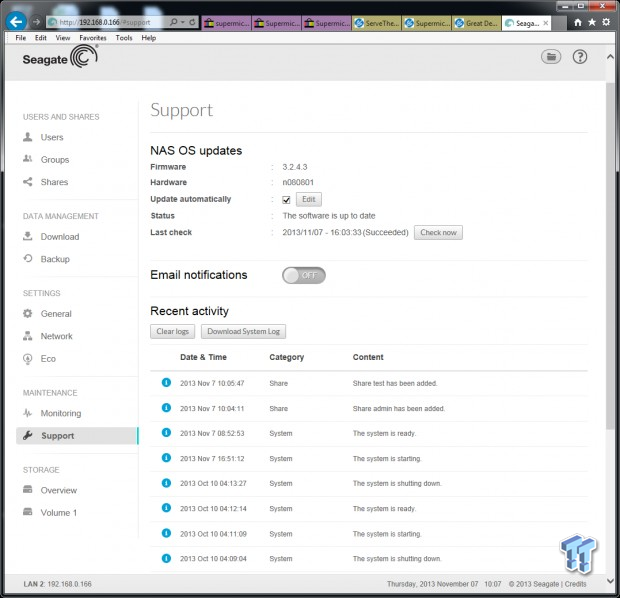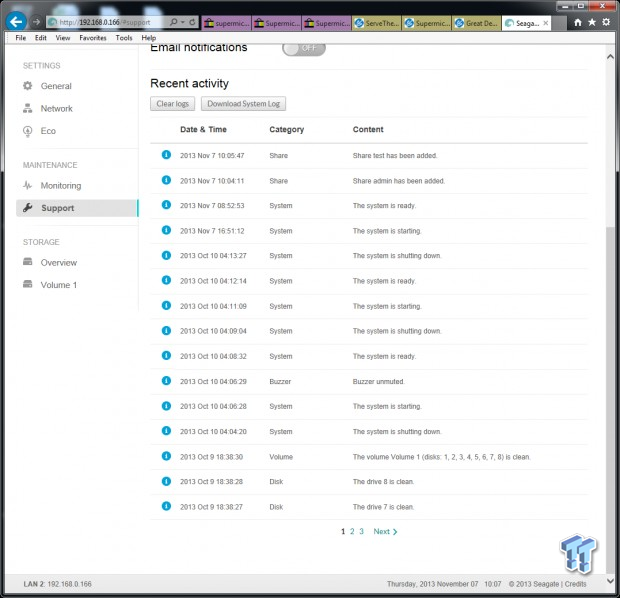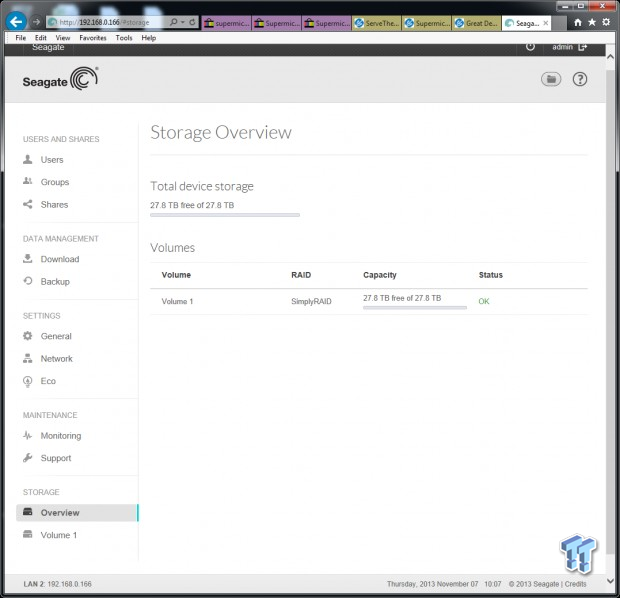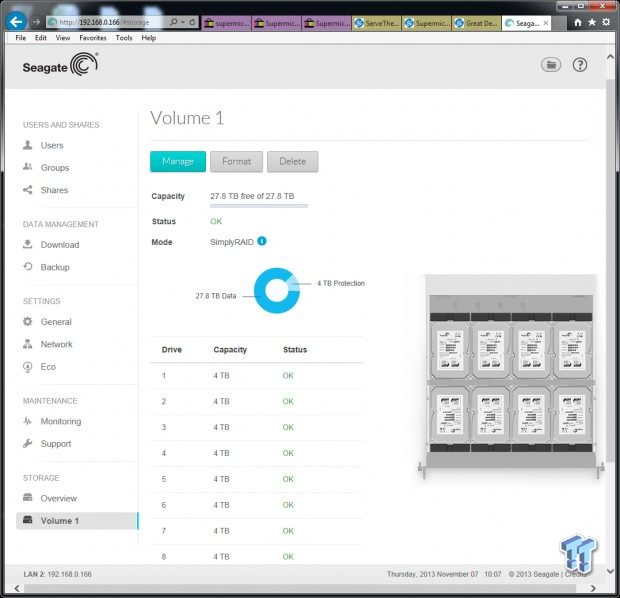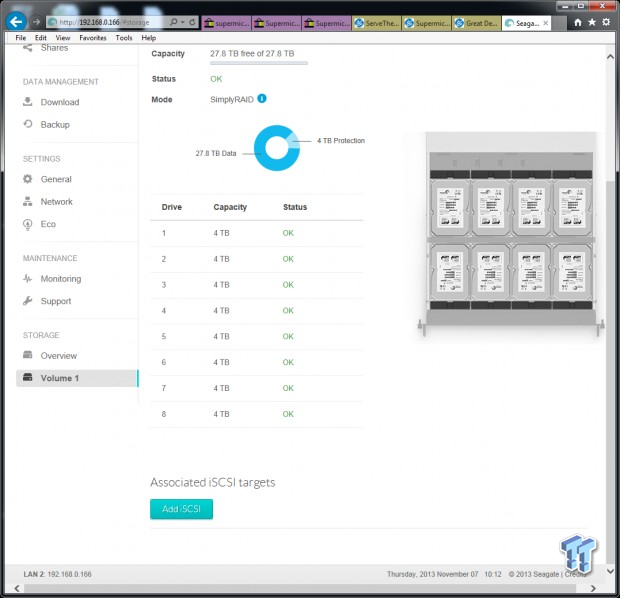 Test System Setup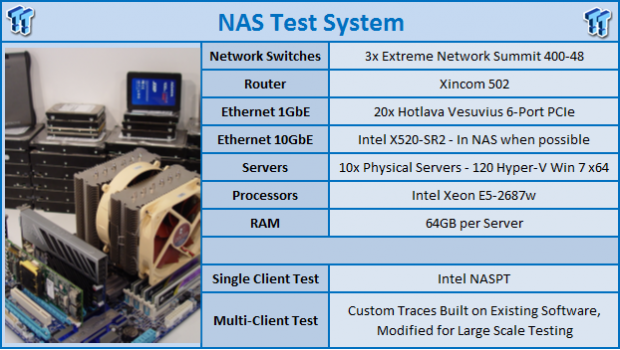 Our NAS test 'system' has migrated to a full 45u rack like what you'd find in a datacenter. There are ten servers that attack the target NAS with 120 Hyper-V installations of Windows 7 64-bit, each with a dedicated gigabit Ethernet port. The systems feed to three Extreme Networks Summit 400-48 switches that link together via Extreme Network's proprietary link cable system. One switch has a two 10GbE Xenpak adapters installed. When testing NAS products with 10GbE capability, the NAS connects to the switch via single or dual 10GbE courtesy of an Intel X520-SR2 installed in the NAS.
This level of testing wouldn't be possible without the help and support from several companies, many of which have little to do with NAS products. We would like to thank AVADirect, Antec, Corsair, GIGABYTE, Icy Dock, Kingston, LSI, Noctua, Rosewill, and Western Digital for their much-appreciated support.
Intel NASPT
The Intel NAS Performance Toolkit (NASPT) is a file system exerciser and analysis tool designed to enable direct measurement of home network attached storage (NAS) performance. Designed to emulate the behavior of an actual application, NASPT uses a set of real-world workload traces gathered from typical digital home applications. Traces of high definition video playback and recording, office productivity applications, video rendering/content creation and more provide a broad range of different application behaviors.
TweakTown Custom 120-Client Office Test
The TweakTown Custom 120-client Office Test uses 120 Windows 7 Hyper-V installations and custom software to stress each NAS with traces from Microsoft Office tasks. Both throughput (in Mbits per second) and latency (in milliseconds) are measured.
Benchmarks - 8 HDD / RAID 5
RAID 5: Use block-level striping with parity data distributed across all member disks.
HD Video Playback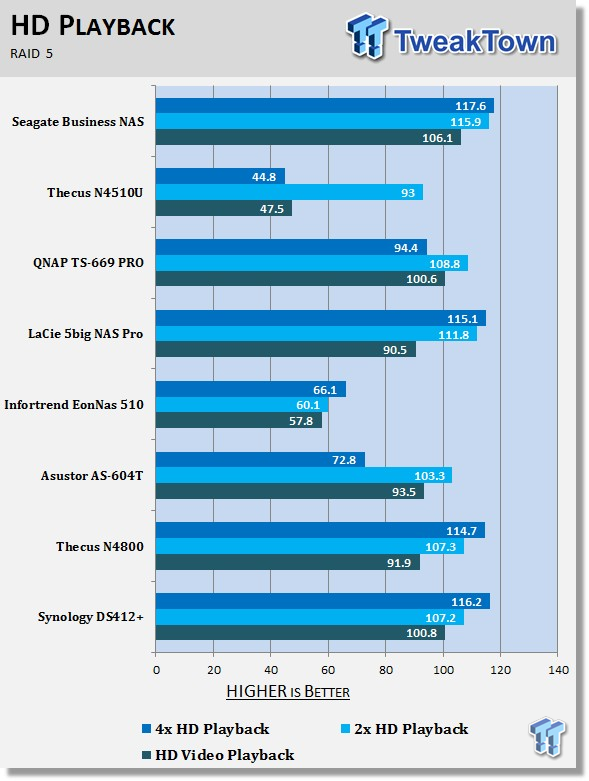 HD Video Play - 720p HD stream from Windows Media Player 256kB reads
2HD Video Play - 2x playback
4HD Video Play - 4x playback
HD Video Record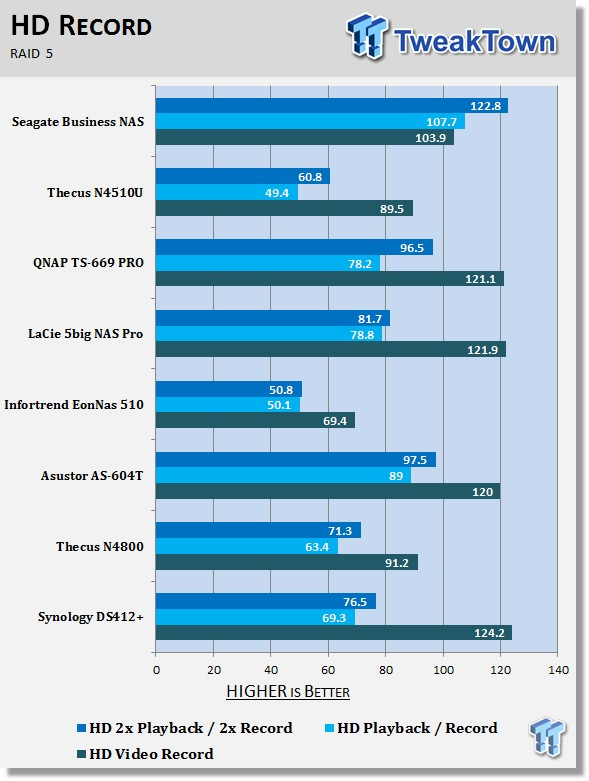 HD Video Record - 720p HD stream, 256kB writes
HD Video Play & Record - 1 playback, 1 record simultaneously
2x HD Video Play & 2x Record - 2 playback, 2 record simultaneously
Content Creation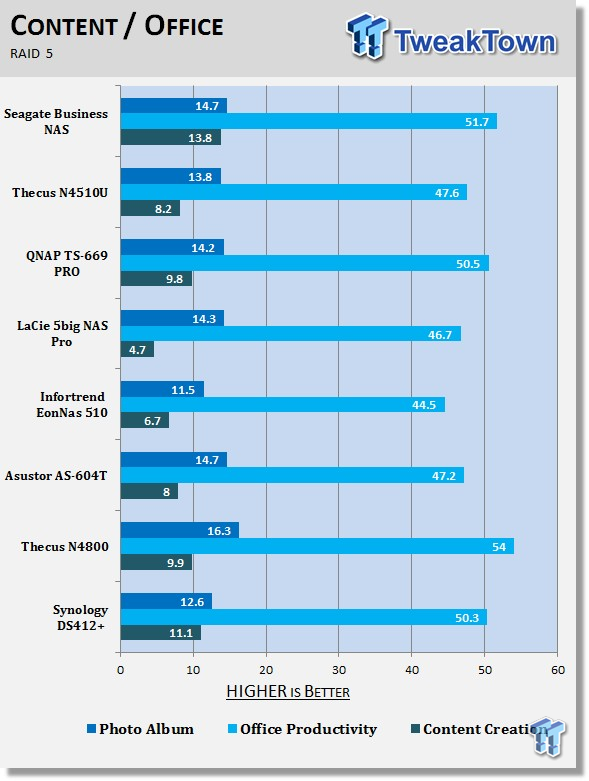 Photo Album - All reads - wide distribution of sizes
Office Productivity - Reads and writes, 1kB & 4kB reads; Mostly 1kB writes
Content Creation - 95% writes; 1k, 4k & little reads; Writes up to 64kB
File / Directory Transfer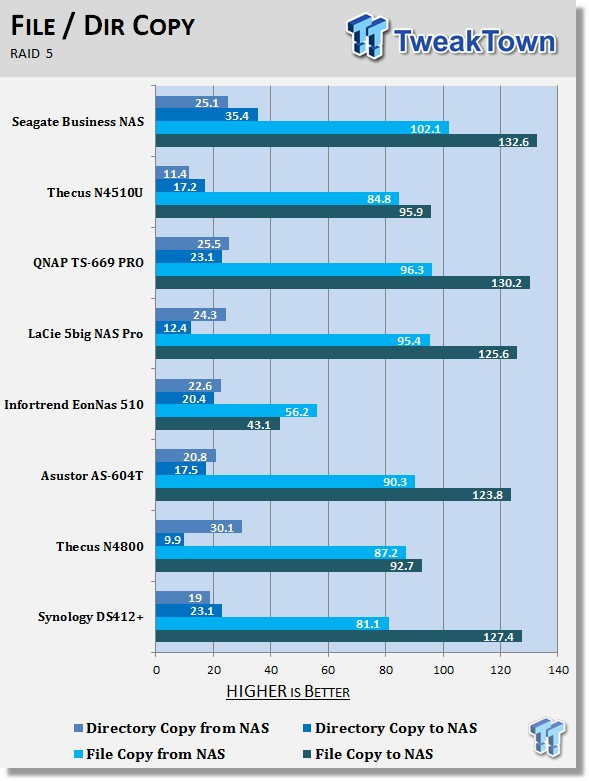 Directory Copy From NAS - 64kB reads
Directory Copy To NAS - Predominantly 64kB writes, wide scattering under 16kB
File Copy From NAS - 4GB file copy, 64kB reads
File Copy To NAS - 64kB writes
Benchmarks - 8 HDD / RAID 6 and Single Client Wrap-up
Benchmarks - 6 HDD / RAID 6
RAID 6: Extend RAID 5 by adding an additional parity block; thus it uses block-level striping with two parity blocks distributed across all member disks.
HD Video Playback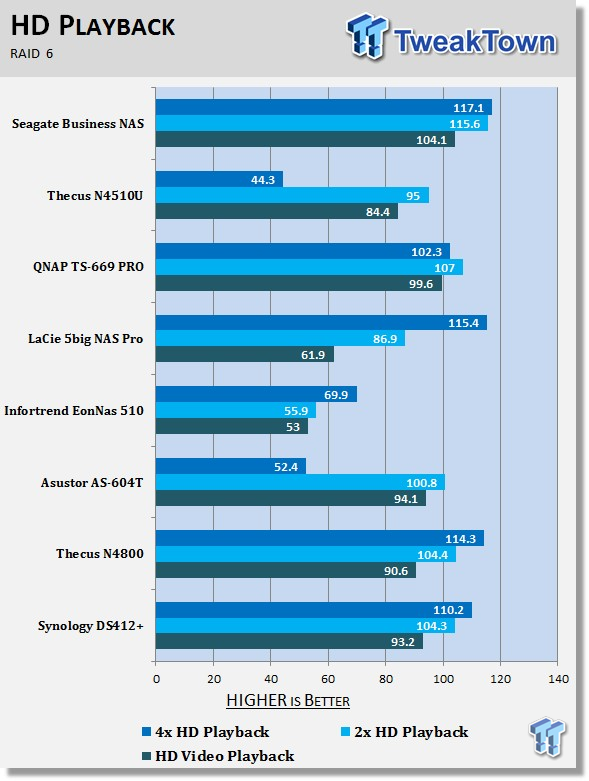 HD Video Play - 720p HD stream from Windows Media Player 256kB reads
2HD Video Play - 2x playback
4HD Video Play - 4x playback
HD Video Record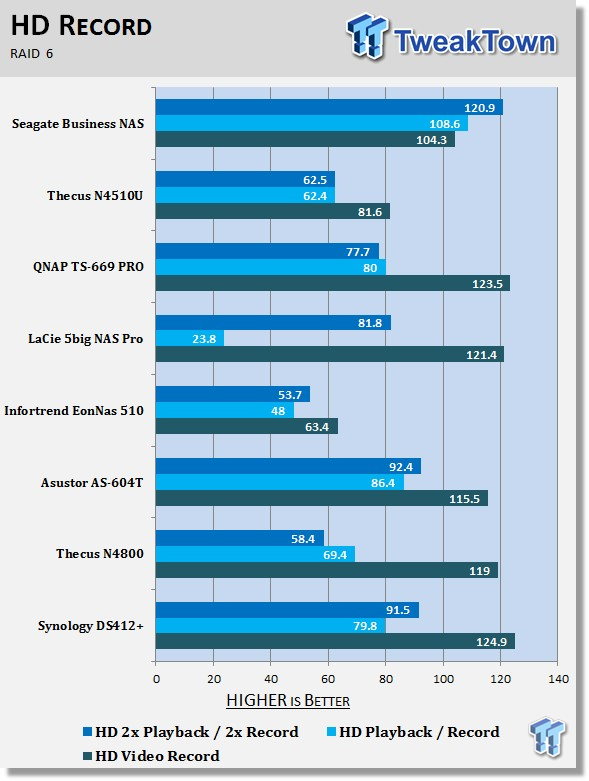 HD Video Record - 720p HD stream, 256kB writes
HD Video Play & Record - 1 playback, 1 record simultaneously
2x HD Video Play & 2x Record - 2 playback, 2 record simultaneously
Content Creation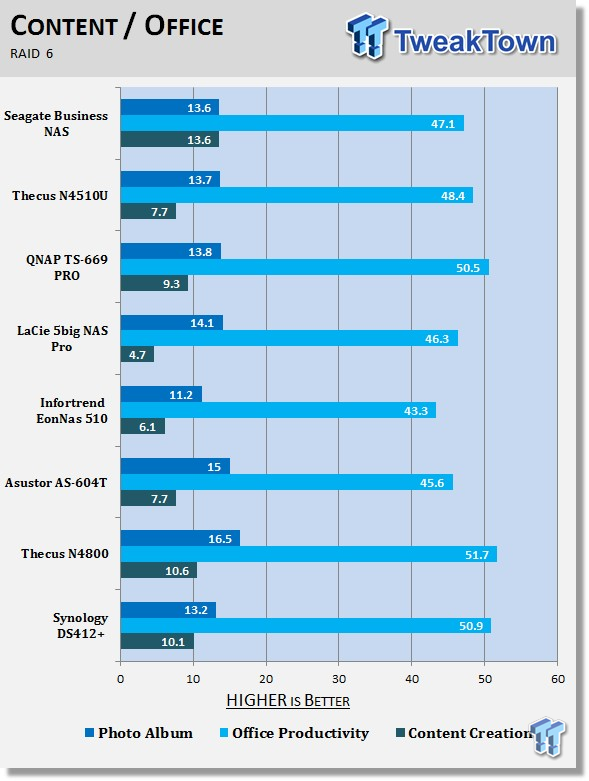 Photo Album - All reads - wide distribution of sizes
Office Productivity - Reads and writes, 1kB & 4kB reads; Mostly 1kB writes
Content Creation - 95% writes; 1k, 4k & little reads; Writes up to 64kB
File / Directory Transfer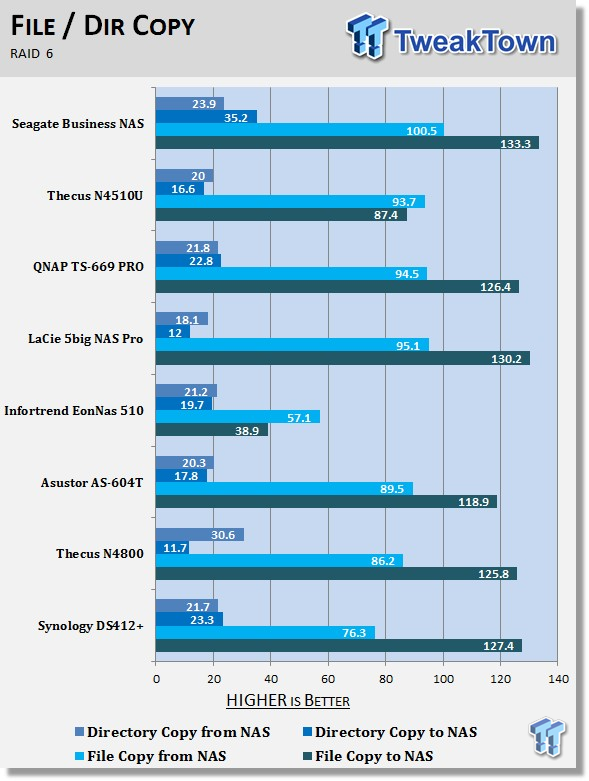 Directory Copy From NAS - 64kB reads
Directory Copy To NAS - Predominantly 64kB writes, wide scattering under 16kB
File Copy From NAS - 4GB file copy, 64kB reads
File Copy To NAS - 64kB writes
Single Client Performance Wrap-up
Even though the Seagate Business Storage NAS supports multiple users at once, the low concurrent user tests show the strength of the system. In nearly every test, the Business Storage NAS outperformed the other products on the charts, and in many cases, by a large margin.
Benchmarks - iSCSI Enterprise Workloads
This is the first time we've published the new tests on the enterprise NAS side. This is the next step in our quest. After this, we roll out the Load DynamiX (formally SwiftTest) 5000 tests and the new power tests with equipment from Watts Up? using their Pro ES model.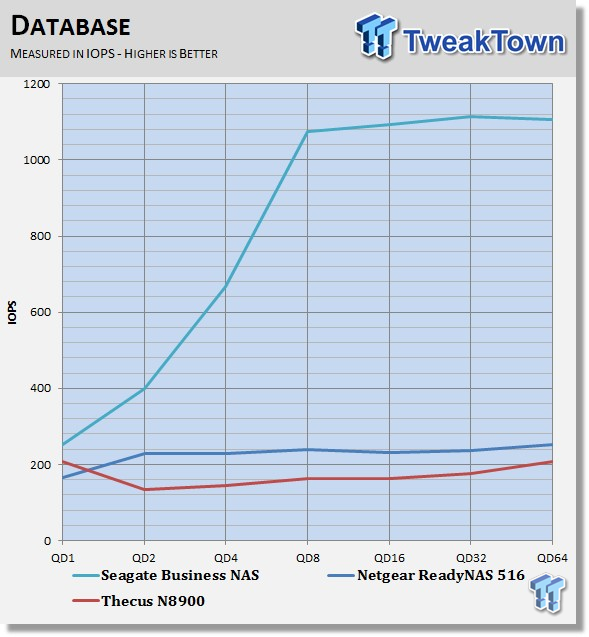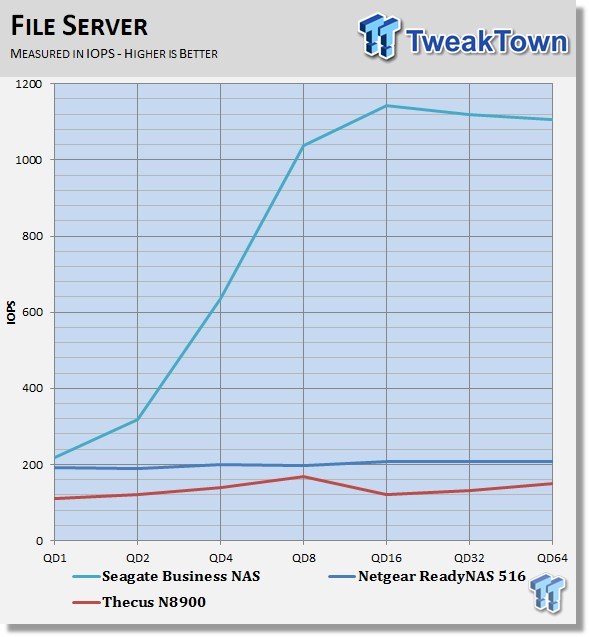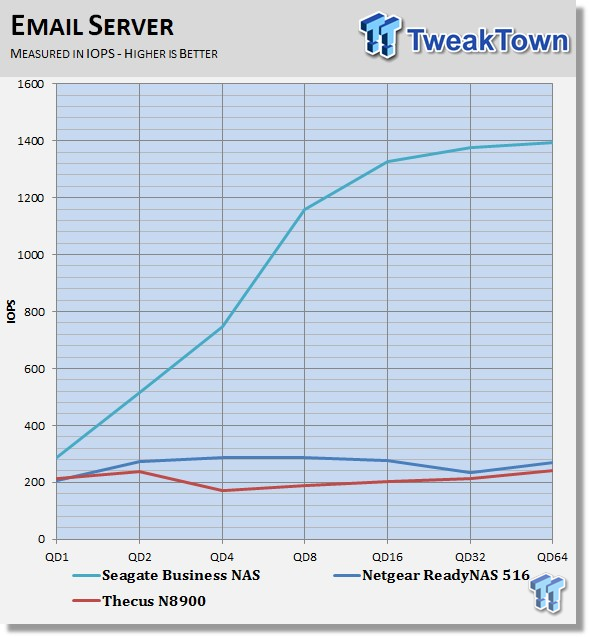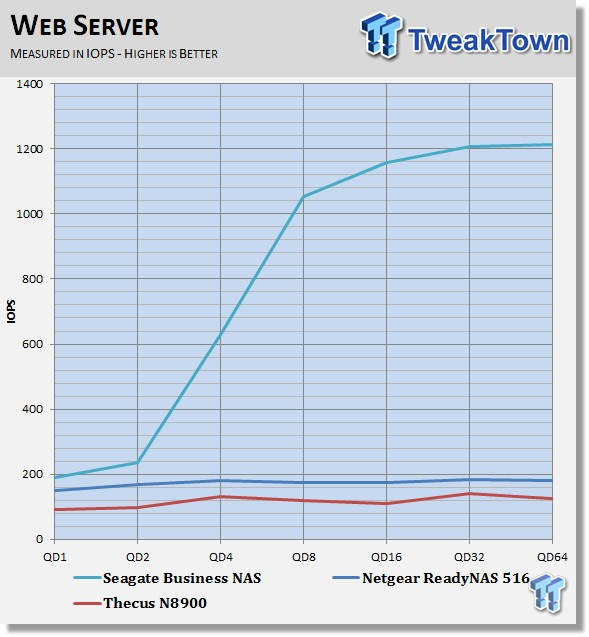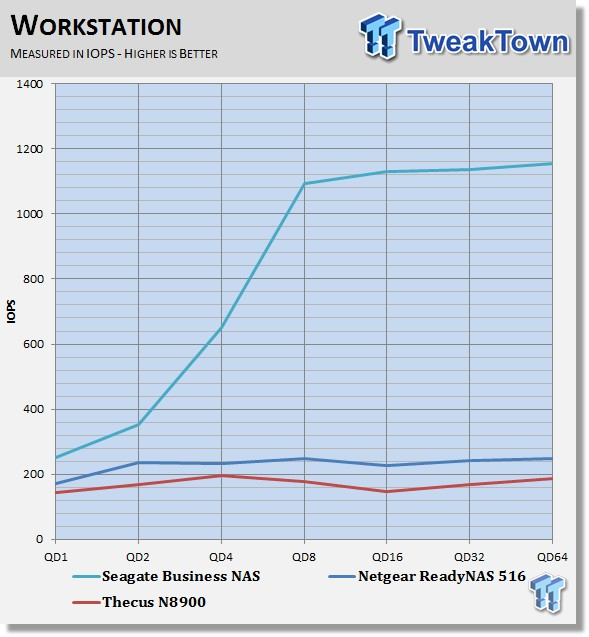 The IOPS tests show the Seagate Business Storage NAS dominating the other business NAS products on this chart.
Benchmarks - iSCSI Workload Latency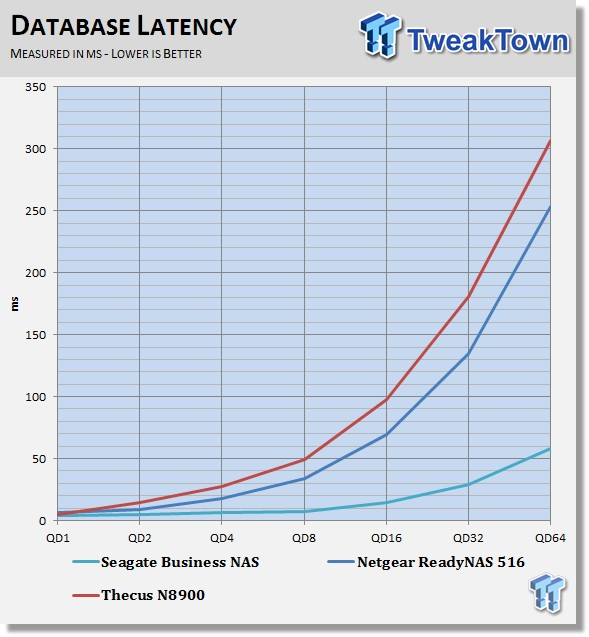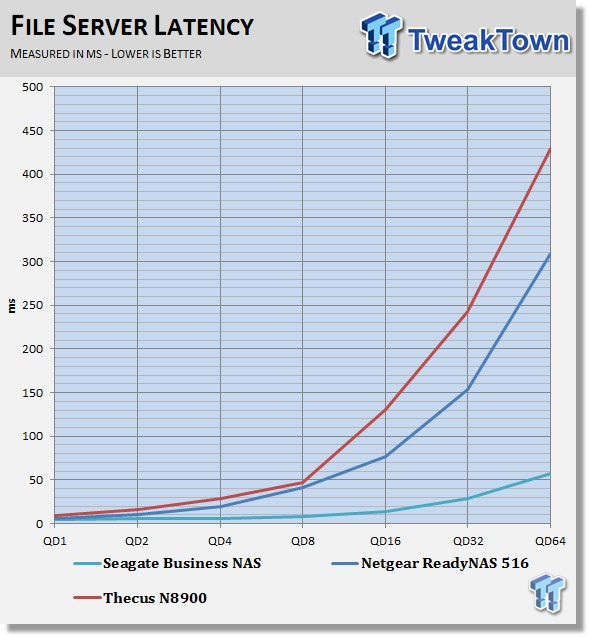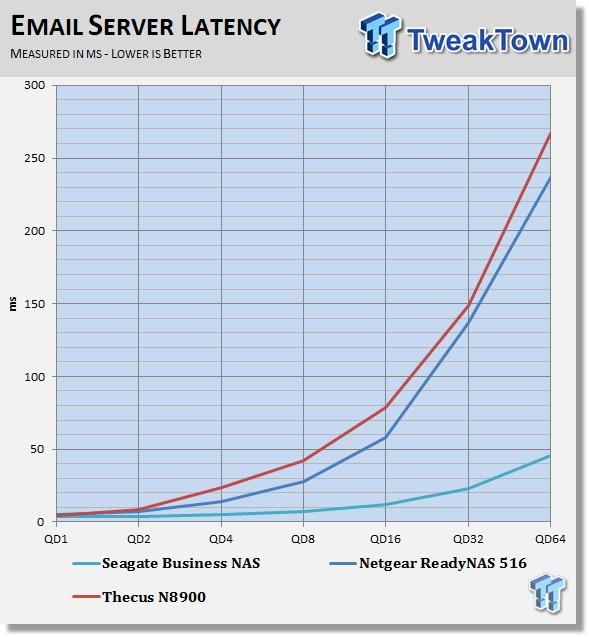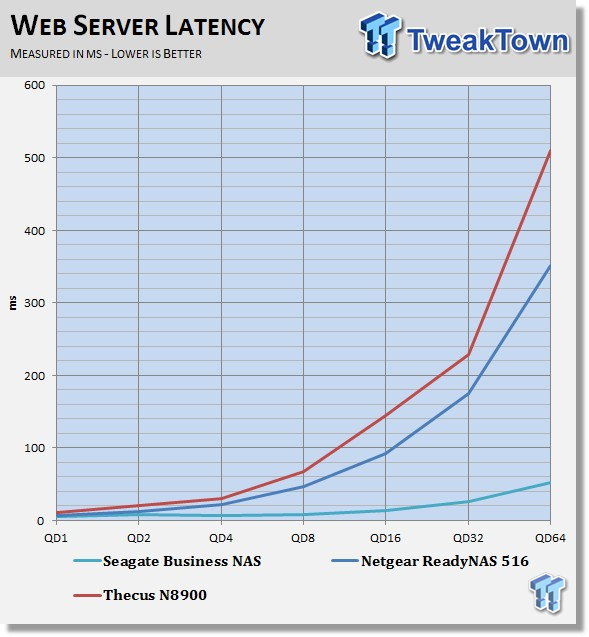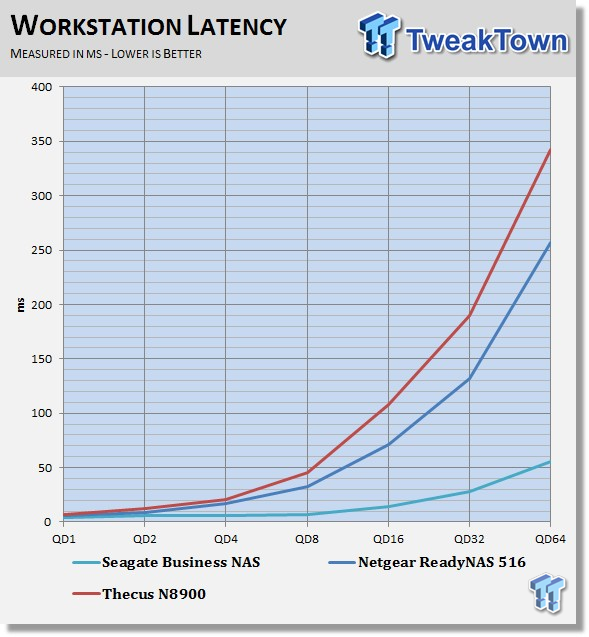 Here we see the latency from the same tests. It's not surprising to see the Seagate Business Storage NAS running over the other products again after what we've experienced so far.
Benchmarks - Multi-Client Test
The Intel NAS Performance Tool (NASPT) is an excellent way to determine NAS performance in a single user environment. Any review that only uses NASPT assumes that only a single computer will access the target NAS at one time. We took issue with this method of testing and spent over a year designing, building, programming, and finally validating the TweakTown Multi-Client Test.
The test uses Microsoft Office data recorded to traces and played back to the NAS from up to 120 client Windows 7 installations (clients). We record total throughput of all clients and average response time per client.
Over time we'll populate the two multi-client charts with several NAS products from a span of categories. The products range from a dual Xeon server with 2x 10GbE to a 2-bay NAS with a single gigabit Ethernet connection. The products will fall into their performance categories based on performance and not marketing material or opinion.
Throughput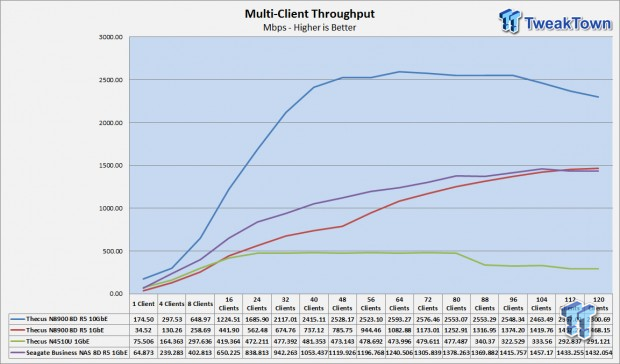 Every system on the chart is a rackmount unit. We tested the Thecus N8900 in both 1GbE and 10GbE with an Intel X520-SR2. The Seagate Business Storage NAS outperformed the Thecus N8900 in the 1GbE test but lacks 10GbE capability.
On equal footing at 1GbE, the Seagate NAS shows where processing power and large DRAM comes into play and increases performance. In our 120-client test, we never reach a point where performance starts to drop back down. Over the holiday break we'll configure our new 400 client test and include the Seagate Business Storage NAS results in the Introduction to 400 editorial.
Latency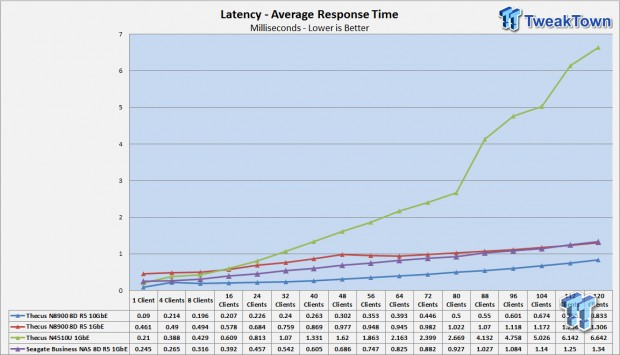 Compared to other units at 1GbE, the Seagate NAS has lower latency across the tests. We'll discuss the 10GbE option in the conclusion on the next page.
Final Thoughts

Seagate delivered a NAS product with a laser focus on what businesses need at this time. While the Business Storage NAS will get its foot in the door by holding eight HDDs in a 1u chassis, the performance will seal the deal. If you need just one NAS for storage or several, rack space comes at a premium, this coming from the guy who just went from a single 45u to three 42u racks. Rack units tend to fill up faster than a company's projected growth, so reducing the size of servers before adding more is an easy way to reduce infrastructure costs before they balloon out of control.
The Seagate Business Storage NAS gives you up to 32TB in a 1U space now and as disk density increases, the NAS density increases by a factor of eight. Previously we were limited to four and five bay models with 3.5" form factor drives in this unit space. Seagate has increased the density and it not only pays dividends now, but in the future as drive density scales the rate of increase to the curve changes quite a bit. On the rack scale, it's nearly unfathomable because it's the kind of increase we've never really thought about before because the tools were not available outside of large, expensive SAN systems.
On the performance side, the Seagate Business Storage NAS does very well with a single 1GbE connection. We're stuck between a rock and a hard place when it comes to testing 802.3AD until we change the switch infrastructure, but at 1GbE the system is the fastest we've tested.
This leads us to wonder why Seagate didn't chose to include a 10GbE option. The components chosen for the design didn't leave an additional PCIe port for a second card, so the change to the BOM would have increased costs even if the 10GbE card was an add-on option. This system certainly has the processing power and enough DRAM to support a fat pipe back to the network. It's still the fastest NAS we've tested with the methods we use at this time; for that, we can't complain.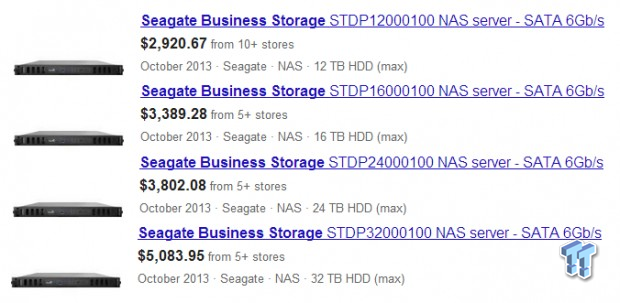 From an economics point of view, the Seagate Business Storage NAS makes sense as well. To simplify things, I'm going to use the 12TB model for the example. It ships with eight Seagate ES.3 1.5TB drives. I found these drives online and the lowest price was $99. Again, simplifying things, let's call that $800 so the NAS itself is around $2,100. We want to get down to the actual NAS hardware price since many NAS products ship diskless.
In our review we used a Thecus N8900 for some of the performance comparisons and in the multi-client test the two ran fairly close, but the Seagate unit did perform better; it's only half the height as well. The lowest price we were able to find the N8900 for was just under $2,400. That said, Seagate isn't charging a premium for its one of a kind solution.