Western Digital My Cloud DL4100 SMB NAS Review
Recently WD introduced its new My Cloud DL4100 SMB NAS to the world, and today Chris puts it through its paces. A lack of performance may deter some.
Published
12 minute read time
TweakTown's Rating: 89%
The Bottom Line
Western Digital's name drove high sales volumes, but the WD OS lacks many of the features found in competitor's products. The DL4100 is easy to use and configure, but performance is lower than we'd like to see in an Intel Atom-based NAS.
Introduction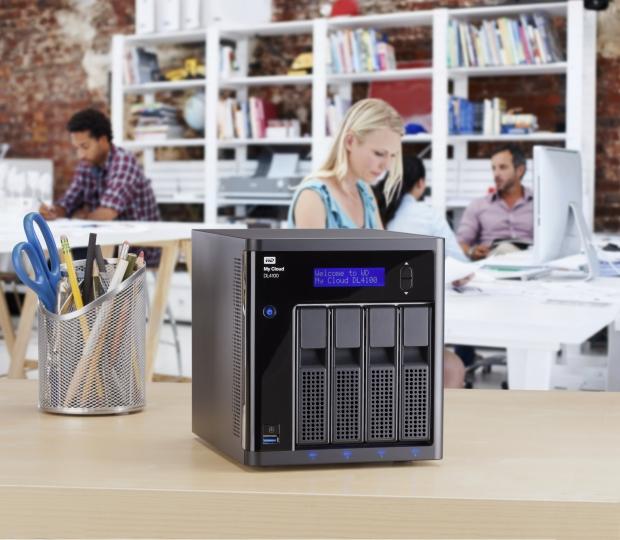 We sat down with Western Digital recently to learn more about the company's rapid growth in the NAS market, and new models released this week. In a short period of time, WDC has gained a significant amount of market share in the two and four-bay NAS market. Instead of taking a foot off the throttle while in the lead, Western Digital has pushed the pedal to the metal with new products, new features and more focus on additional markets.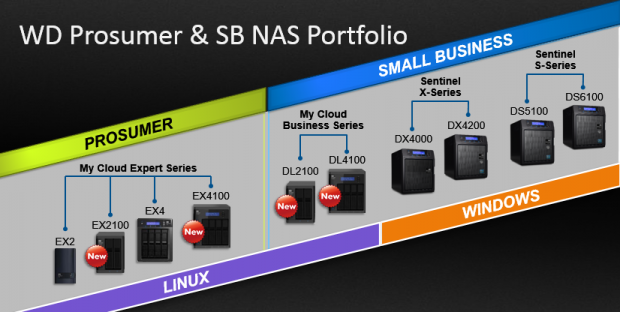 Western Digital's latest push brings four new Linux based products to market. Two 2-bay and two 4-bay products spread across the prosumer and small business market segments. The new units replace existing products and fill in open gaps, allowing Western Digital to expand in this market.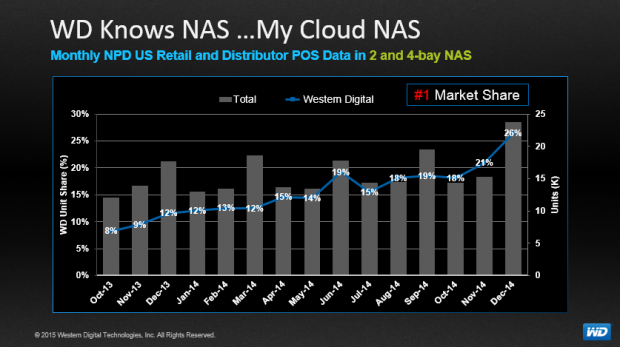 In just over a year's time, WDC has went from an 8% market share to 26%. The graph provided by WDC shows an increase in the number of NAS products shipped as well as the company's portion of the market. Estimates from market research specialists show large gains in the NAS market for years to come. Western Digital plans to ride the wave.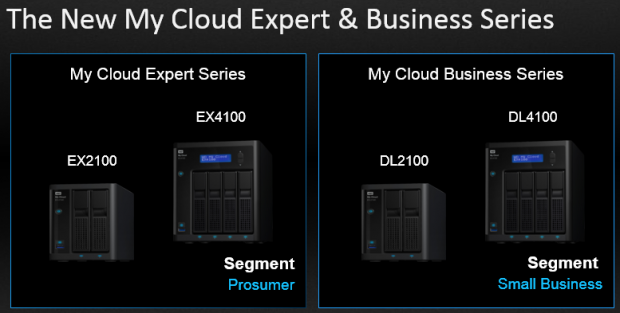 Before we jump into the SMB-focused DL4100, let's take a brief look at the new DL2100 and new Expert Series models position to prosumer users. From the outside the two products look identical and even use the same Western Digital operating system.
The main difference between the new Expert Series and the Business Series products is found in the processor. The Expert Series for prosumers use Marvell Armada processors for high speed reads and writes. The Armada 385 and Armada 388 are Marvell's newest processors for the NAS market, the most powerful to date from Marvell. The new Business Series NAS products use Intel Atom processors to provide the power necessary for small businesses to share files across multiple platforms.
Hardware Specifications and Pricing

Today, we'll focus on the new My Cloud DL4100, but we will touch on the more economical DL2100 briefly as well. Both models use Intel Atom dual-core processors and support a number of shared features. The smaller DL2100 ships with 1GB of DRAM and is upgradable to 5GB. The DL4100 ships with twice as much DRAM from the factory and can accept up to 6GB total. The DL2100 uses an embedded processor from the Rangeley family, while the DL4100 uses one from the Avoton family. Both systems run at 1.7GHz with two cores that consumer 6 and 7 watts TDP.
The DL4100 model that is our focus today has four drive bays for internal storage, along with a dedicated flash-based storage device built in for the Western Digital operating system. WD uses EXT4 for the files system and supports RAID 0, 1, and 5 for redundancy.
External connectivity comes from two gigabit Ethernet ports that support NIC Teaming for performance or redundancy. You can also connect the DL4100 to two separate networks and all the system to serve files on both. As the My Cloud product name suggests, this model also works seamlessly as shared storage across the web with WD's software on other devices including tablets and cell phones.
Three USB ports on the DL4100 increase the connectivity options. Two ports on the back and a one-touch copy USB 3.0 port on the front. The front USB port allows uses to quickly and effortlessly backup mobile storage devices. It also makes for a handy cell phone charger if the NAS is sitting on a desk close by.
WD's Business Series models also incorporate a LCD display that provides system status and configuration information to uses.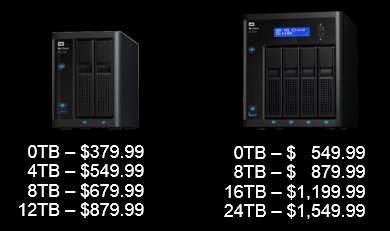 The Business Series products with Linux operating systems have already entered the market. WD delivered four DL4100 models based on overall disk capacity. Users can opt for a drive-less system and add storage as needed, or purchase 8TB, 16TB or 24TB units.
Both the DL2100 and DL4100 units with included storage ship with Western Digital's Red HDDs that were built specifically for NAS products. The Red family is the bestselling NAS specific HDD on the market today and provides users with the features required for this environment.
Software Features
NAS products are equal parts hardware performance and software features. One compliments the other in a balanced product. You need more hardware performance to run more software features at the same time.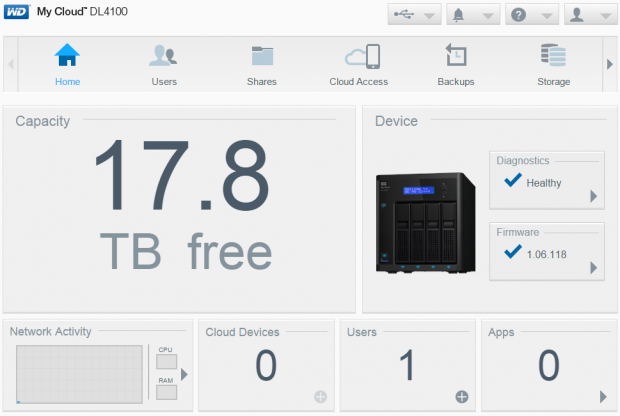 The My Cloud operating system is straightforward and easy to navigate. The top slide bar makes getting to what you need fast and without frustration.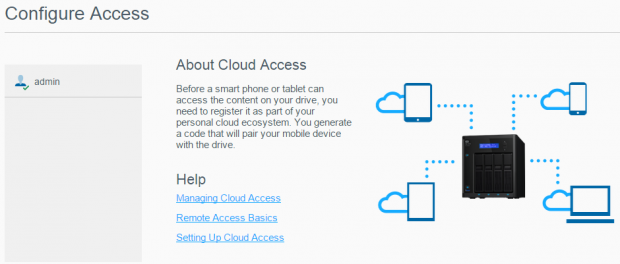 The accounts are also easy to build and the remote access with My Cloud is also easy to assign to users.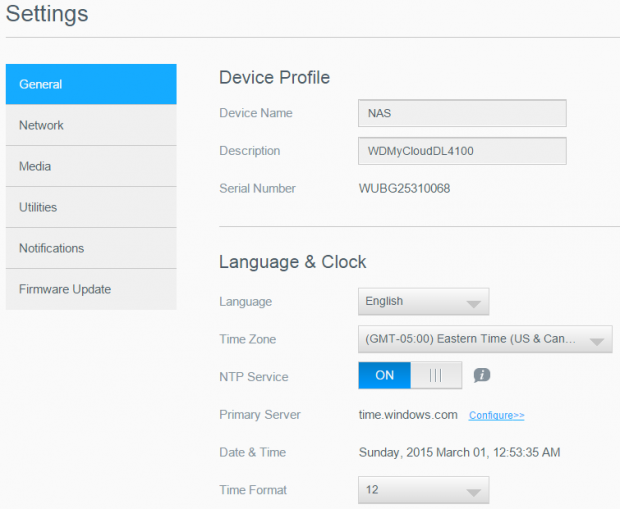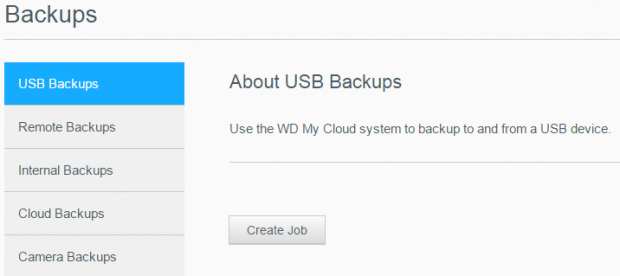 The importance of data backups goes without saying. Devices with storage media crash, be it from human or mechanical error. The WD OS makes backing up devices across platforms easy and fluid.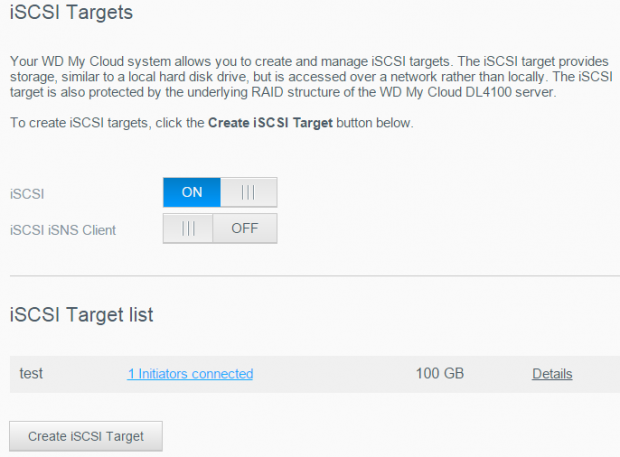 iSCSI serves many purposes in a business environment. System administrators can segment pools into individual accounts on the NAS.

Western Digital took the feature one step further and allows users to connect more than one My Book product while passing user accounts between devices. This feature adding performance and storage density to the pool.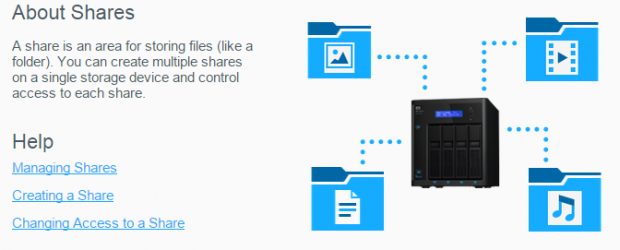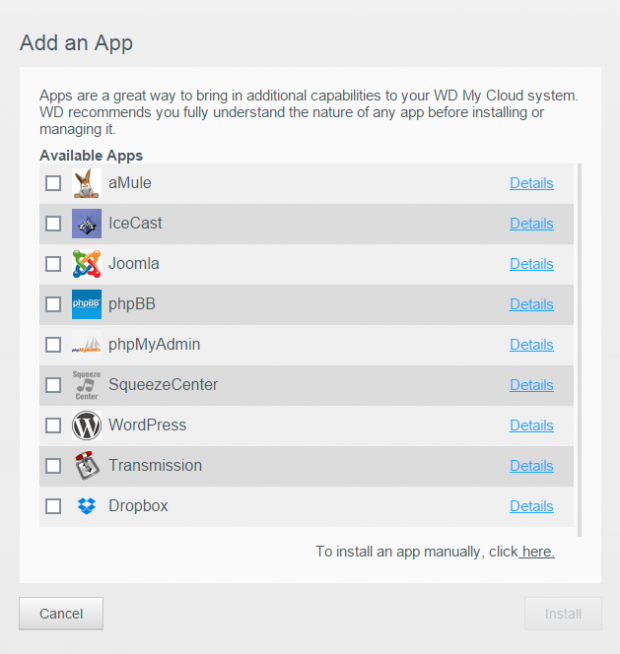 Western Digital has a small but growing number of add-on features for the My Cloud operating system. The list is much smaller to the number of apps available from other NAS makers though.
Packaging and Accessories
Packaging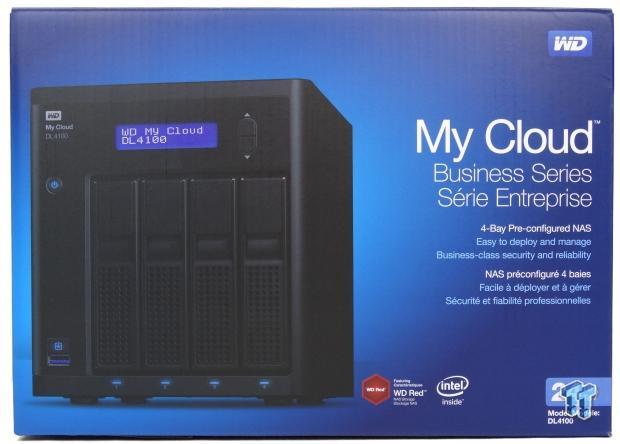 Western Digital put together an attractive package for the My Cloud Business Series.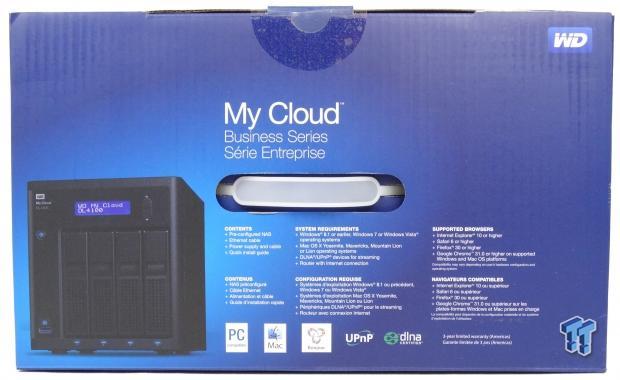 The package is rich with product information and specifications.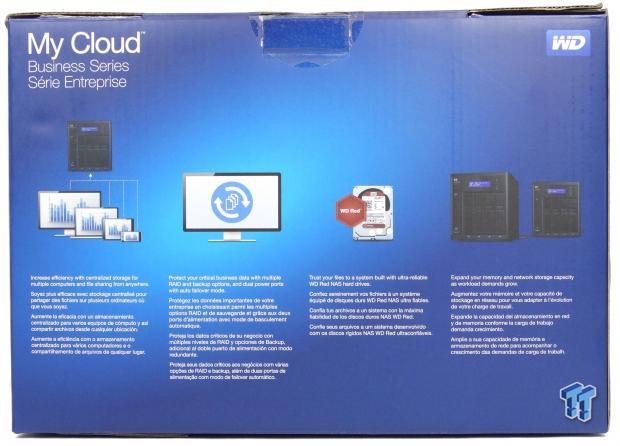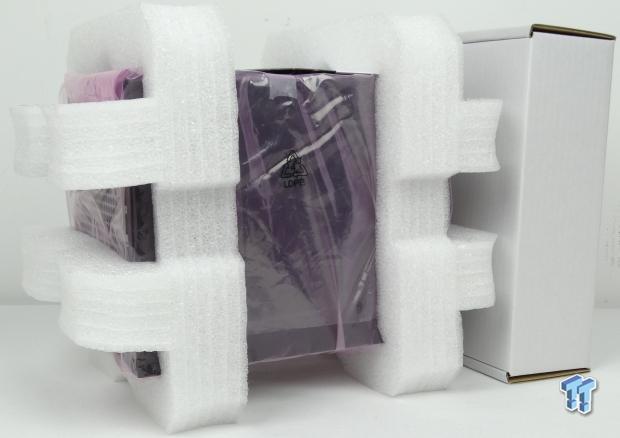 Inside, we found everything packed well with very good protection for the NAS at the corners. The accessory package is isolated in a separate package so nothing bounces around during shipping.
Accessories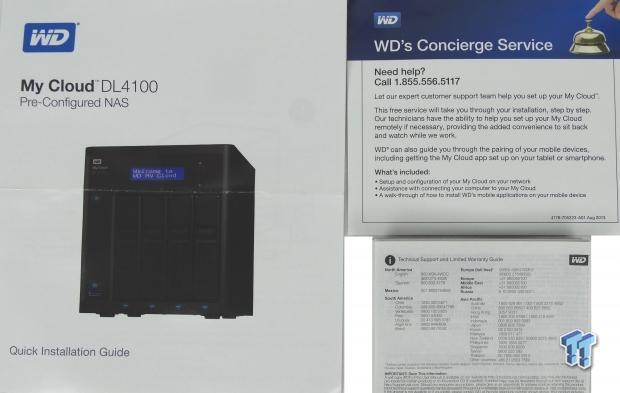 We found three paper manuals inside the My Cloud DL4100. A quick installation guide as well as a number for person to person support via WD's Concierge Service and finally a limited warranty guide.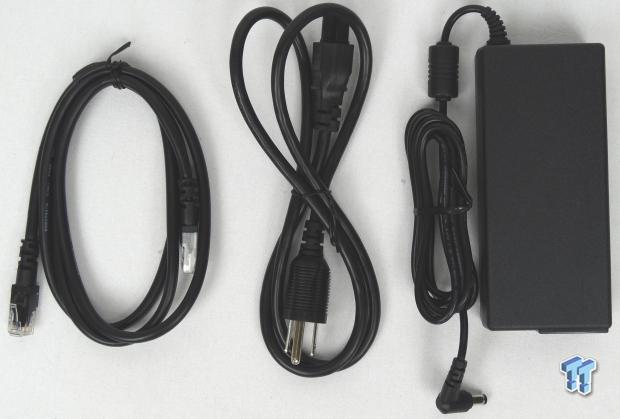 Rounding out the accessories list is an Ethernet cable, power brick for external power, and the cable that provides power to the brick. The DL4100 includes one power brick, but the NAS can accept two. If you want to make your system power redundant, you can purchase an additional power brick through WD dealers.
WD My Cloud DL4100 4-Bay SMB NAS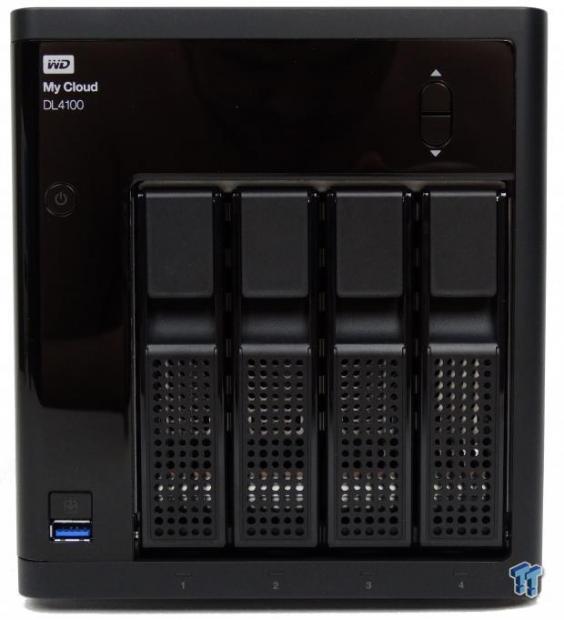 Often times we get NAS products in for review that look like a UFO with LEDs blinking all over the place and displays that make cell phones jealous. Business users don't want or need those distractions - I mean, features. The DL4100 is clean shaven, a NAS that fits well in an office environment and has the powerful features to back up the role.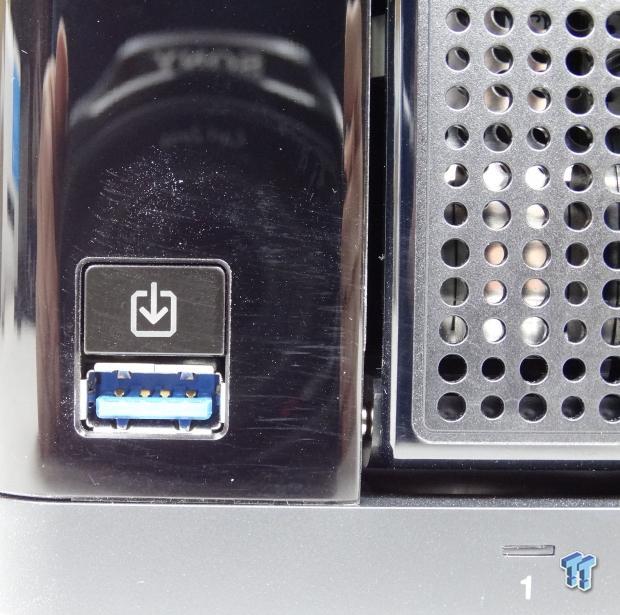 The one touch copy function allows users to plug in a device like a cell phone, tablet, thumb drive or even a Go Pro to back up the data on the storage. Users can even assign jobs through the software interface that recognizes the different devices for isolation in the NAS folder structure.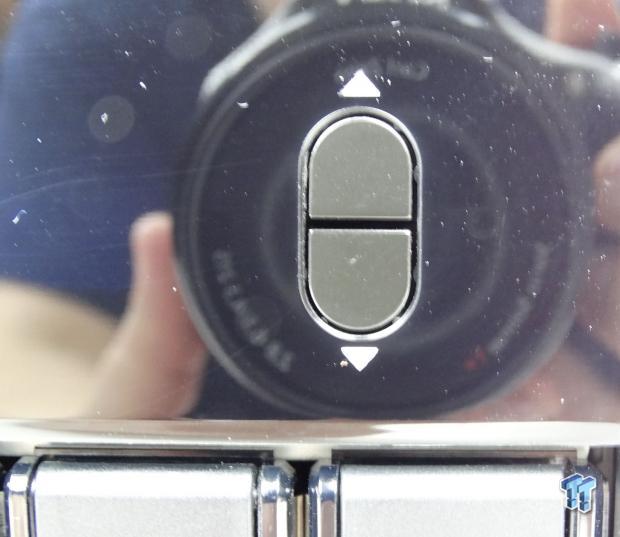 This unit has a display so users can quickly check the status of the system. Information like IP addresses, storage space and more are flipped through with the button system on the front.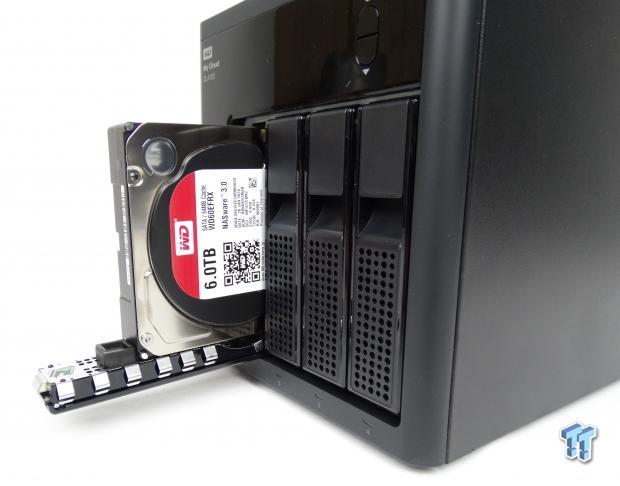 Western Digital built a tool-free system for the drives. This makes replacing disks much easier should you upgrade to larger disks.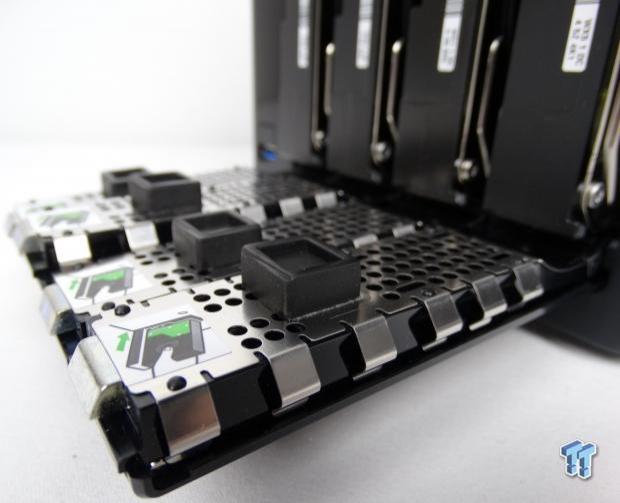 The tool-free design is the best disk systems we've seen on a NAS to date. Not only does the system made inserting drives easier, but the system also offers vibration isolation from the other drives and the NAS. The drives won't make your desk vibrate.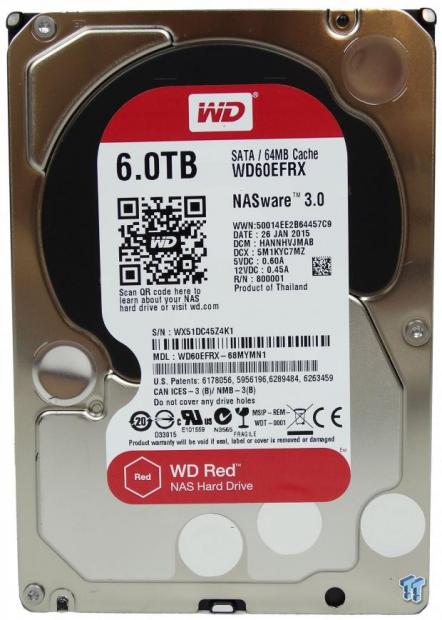 Our sample shipped with WD Red 6TB HDDs.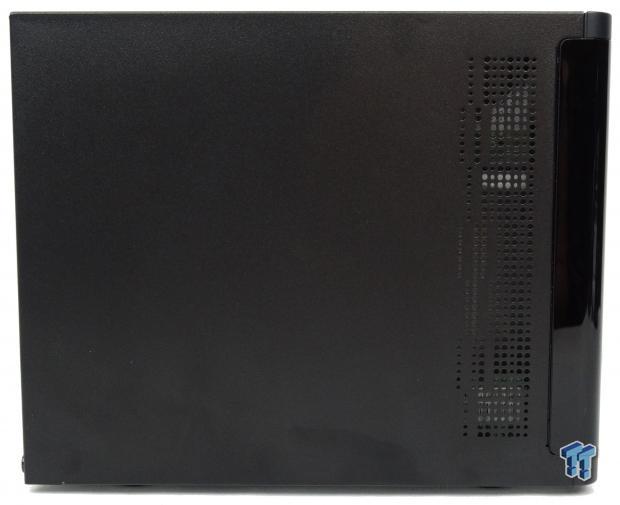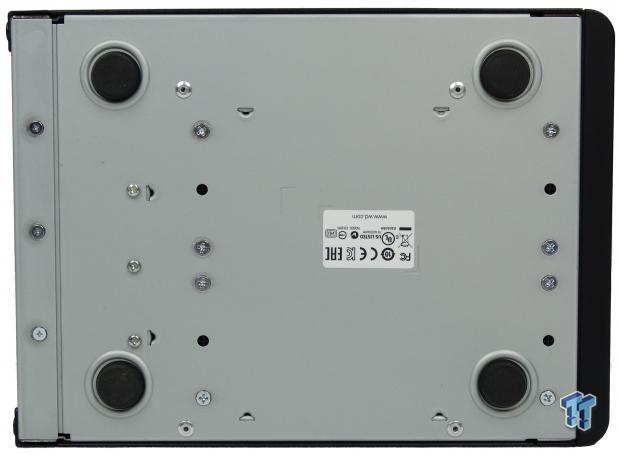 We also found vibration absorbing feet on the bottom of the NAS that further reduce vibrations from transferring to a desk or shelf.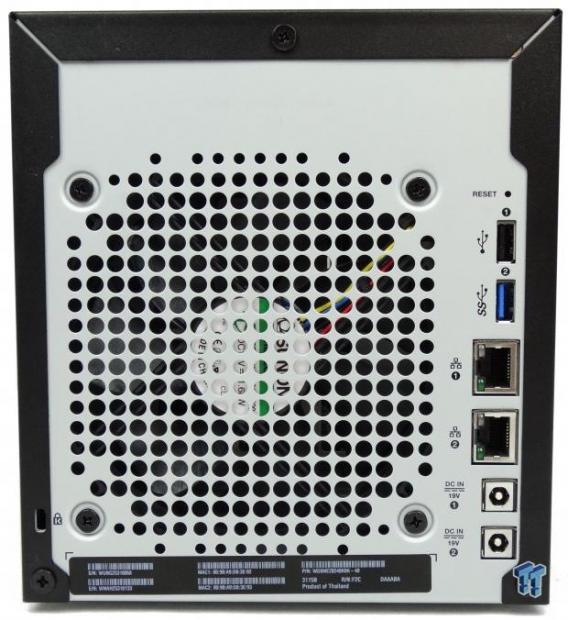 The back of the NAS features a large but low RPM fan to keep the hard drives and other system components cool. In testing, we couldn't hear the system from just a few feet away.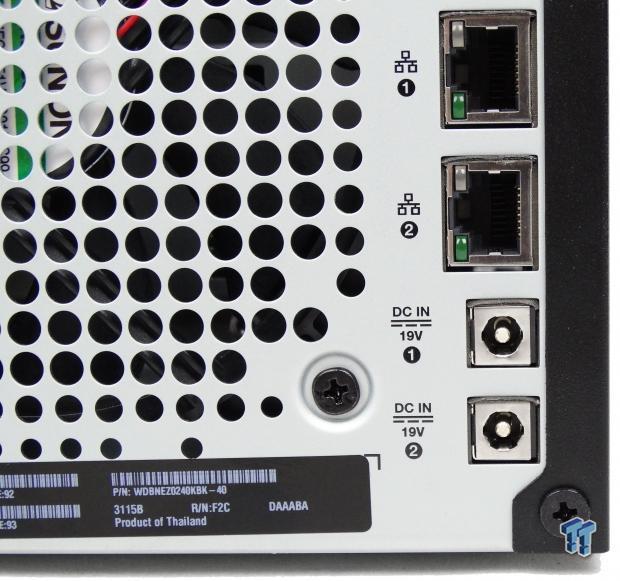 The system comes with two Ethernet ports for redundancy or NIC teaming. The system also has redundant power if you want to invest in it.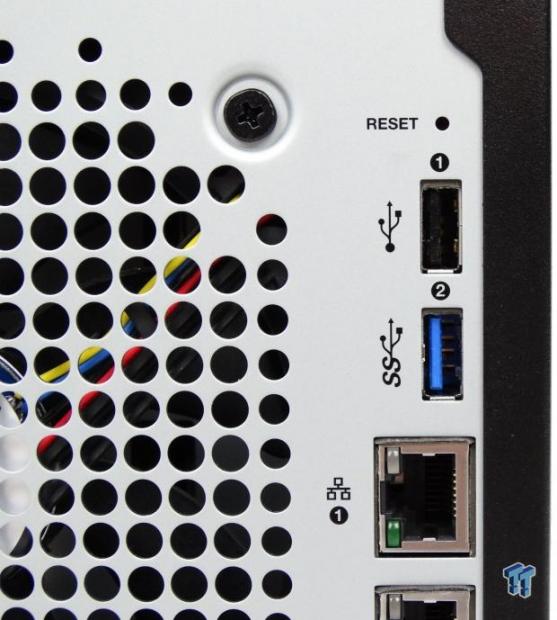 A recessed reset button at the top allows users to reset a limited number of settings. Two additional USB ports also expand the functions of the system.
Test System Setup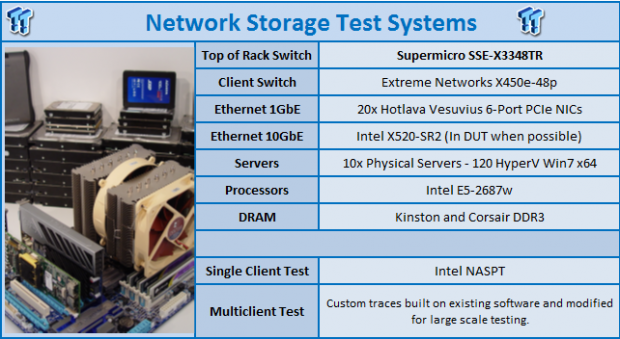 Our NAS test 'system' has migrated to three 42u racks like what you'd find in a datacenter. There are ten servers that attack the target NAS with 120 Hyper-V installations of Windows 7 64-bit, each with a dedicated gigabit Ethernet port. The systems feed to three Extreme Networks X450e-48p switches and then to a Supermicro SSE-X3348TR top-of-rack switch. The device under test connects to the Supermicro switch via 1GbE, 10GbE or 40GbE. The iSCSI and NASPT tests use a single machine connected to the Supermicro switch.
This level of testing wouldn't be possible without the help and support from several companies, many of which have little to do with NAS products. We would like to thank AVADirect, Antec, Corsair, GIGABYTE, Icy Dock, Kingston, LSI, Noctua, Rosewill, Seagate, Thermaltake and Western Digital for their much-appreciated support.
Intel NASPT
The Intel NAS Performance Toolkit (NASPT) is a file system exerciser and analysis tool designed to enable direct measurement of home network attached storage (NAS) performance. Designed to emulate the behavior of an actual application, NASPT uses a set of real-world workload traces gathered from typical digital home applications. Traces of high definition video playback and recording, office productivity applications, video rendering/content creation and more provide a broad range of different application behaviors.
TweakTown Custom 120-Client Office Test
The TweakTown Custom 120-client Office Test uses 120 Windows 7 Hyper-V installations and custom software to stress each NAS with traces from Microsoft Office tasks. Both throughput (in Mbits per second) and latency (in milliseconds) are measured.
Supermicro SSE-X3348TR 10GbE / 40GbE Switch

With a switching fabric of 1284Gbps through forty-eight 10GBaseT and four 40GbE ports, the SSE-X3348TR is our switch of choice for testing SMB and enterprise network attached storage products. You can read our full review of the Supermicro X3348TR top of rack switch here.
Benchmarks - RAID 5 Single Client Performance
Benchmarks - RAID 5
RAID 5: Block-level striping with parity data distributed across all member disks.
HD Video Playback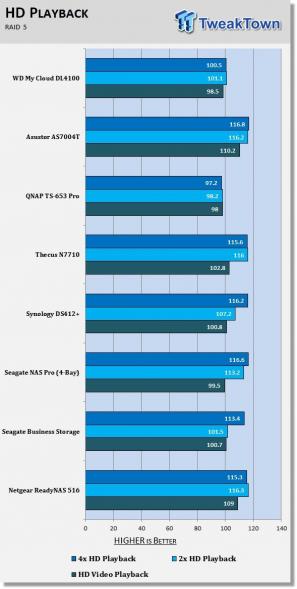 HD Video Play - 720p HD stream from Windows Media Player 256kB reads
2HD Video Play - 2x playback
4HD Video Play - 4x playback
HD Video Record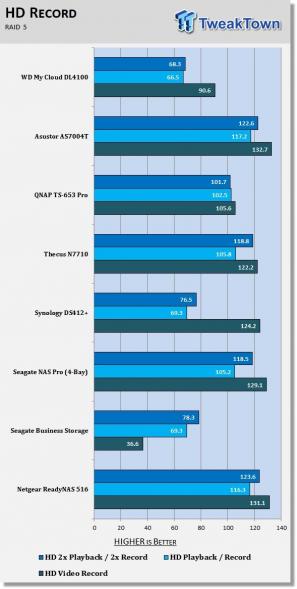 HD Video Record - 720p HD stream, 256kB writes
HD Video Play & Record - 1 playback, 1 record simultaneously
2x HD Video Play & 2x Record - 2 playback, 2 record simultaneously
Content Creation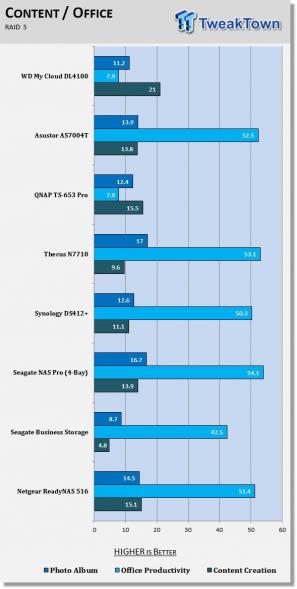 Photo Album - All reads - wide distribution of sizes
Office Productivity - Reads and writes, 1kB & 4kB reads; Mostly 1kB writes
Content Creation - 95% writes; 1k, 4k & little reads; Writes up to 64kB
File / Directory Transfer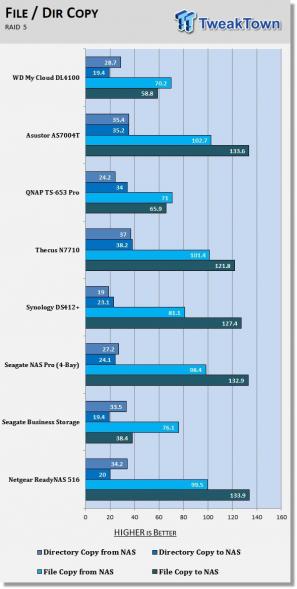 Directory Copy From NAS - 64kB reads
Directory Copy To NAS - Predominantly 64kB writes, wide scattering under 16kB
File Copy From NAS - 4GB file copy, 64kB reads
File Copy To NAS - 64kB writes
Single Client Performance Summary
Reading large sequential files back from the My Cloud DL4100 proved to be effortless task. We consistently pulled over 100 MB/s anytime we read these types of files from the system. On the second chart in the group, we mixed sequential reads and writes and saw a noticeable loss of performance with the mixed workload. Writing an HD video to the system happened at over 90 MB/s, but reading and writing the same data dropped performance to 66.5 MB/s.
The WD My Cloud DL4100 is designed for SMB use and that often equates to users running Microsoft Office files from the system directly. These could be in the form or Word, Powerpoint, Excel and so on. In the single client office productivity test, the DL4100 had a difficult time, turning in a score of just 7.9 MB/s.
The second lowest result in this task came from the Seagate Business Storage server, just 42.5 MB/s, but still way over the performance offered by the DL4100. Our multi-client test uses real Microsoft Office files and we'll get a chance later in this review to see how the low performance in these types of documents affects many users in an office environment.
The directory copy to the NAS also showed performance issues when working with small files. Reading data back from the DL4100 is clearly not an issue though as the system performed very well when data originates from the NAS.
Benchmarks - iSCSI Database and Workstation Workloads
Benchmarks - Database Workload
IOPS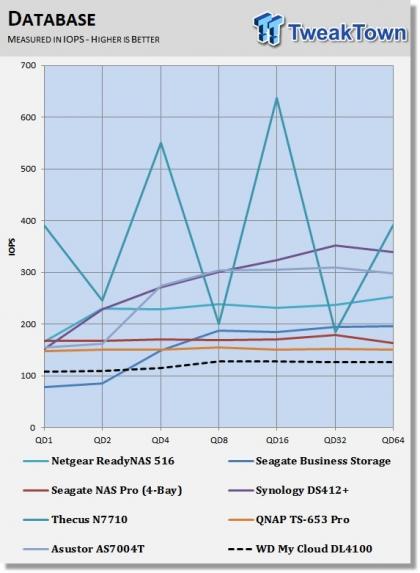 Latency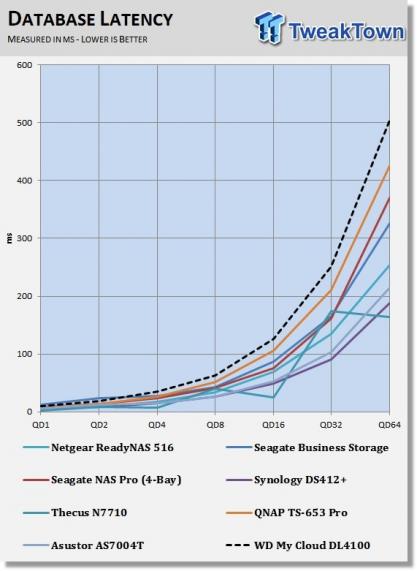 Outstanding IO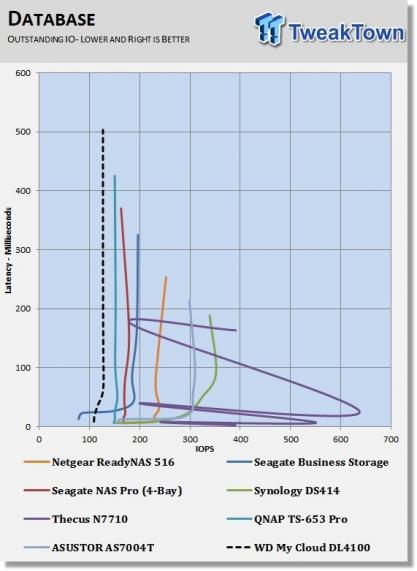 The small data size write performance issue really shows itself when writing database information to the NAS. We don't expect many businesses to use the DL4100 for a database server other than using it for QuickBooks. The performance doesn't scale well as the queue depth increases either. The latency does increase though.
Benchmarks - Workstation Workload
IOPS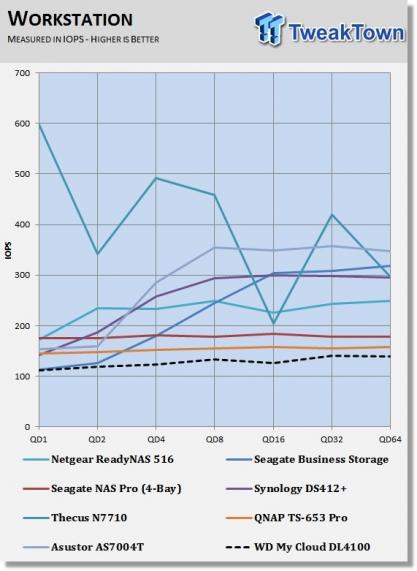 Latency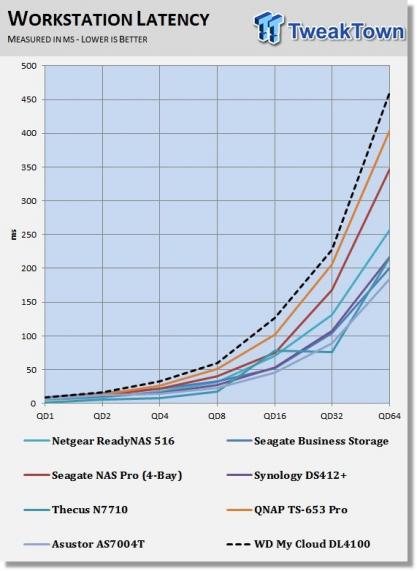 Outstanding IO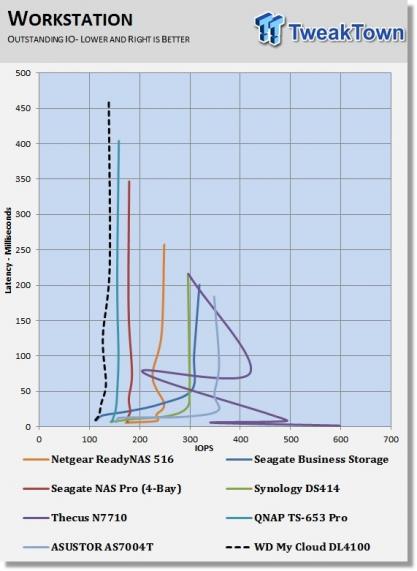 The workstation workload shows nearly identical performance to the database workload test. There isn't a real performance increase as the workload increases, but the latency increases. This reveals a bottleneck somewhere in the system - most likely a DRAM increase would improve performance.
Benchmarks - iSCSI Server Workloads
Benchmarks - File Server Workload
IOPS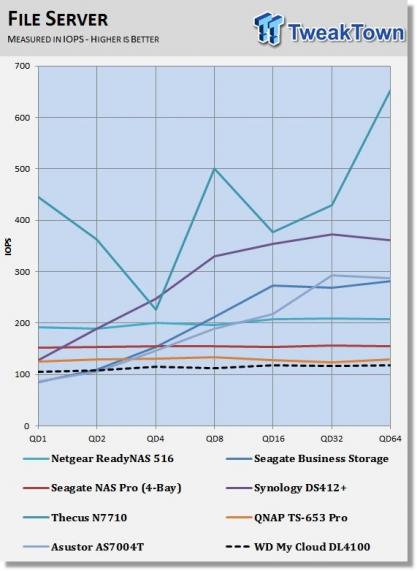 Latency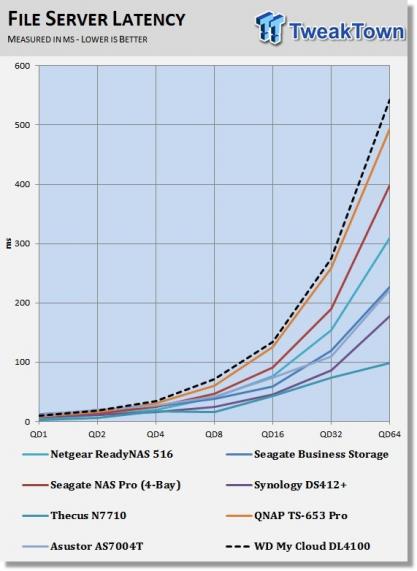 Outstanding IO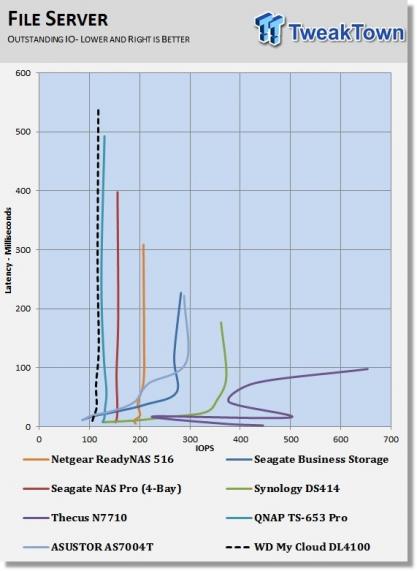 The file server test follows the same path as the previously discussed database and workstation workload tests. The IOPS doesn't increase too far past the 100 mark and never shows a real leap as the load increases with additional queue depth from workers.
Benchmarks - Email Server Workload
IOPS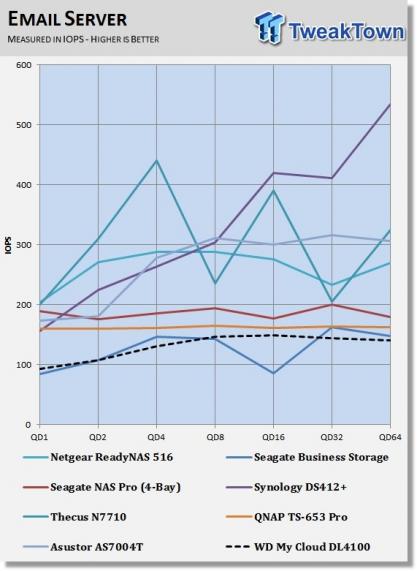 Latency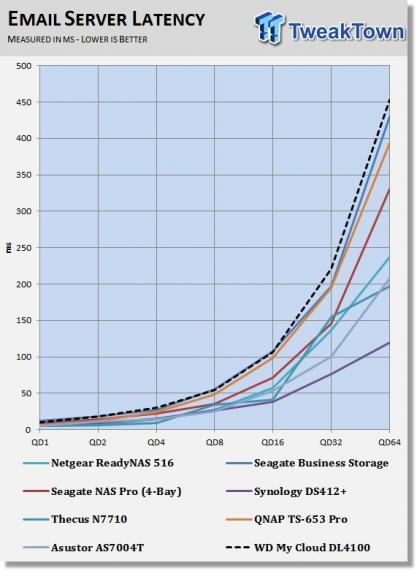 Outstanding IO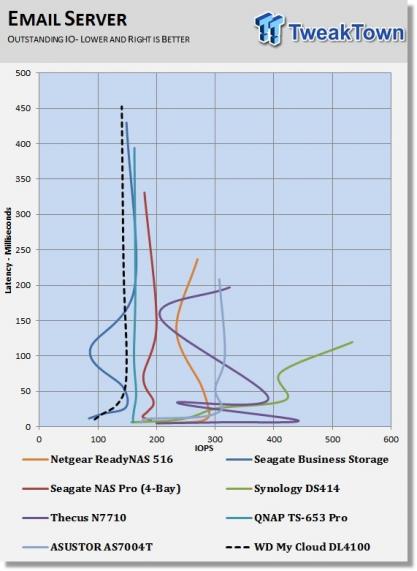 The email server test is the first to show any real performance increase as the queue depth increases.
Benchmarks - Web Server Workload
IOPS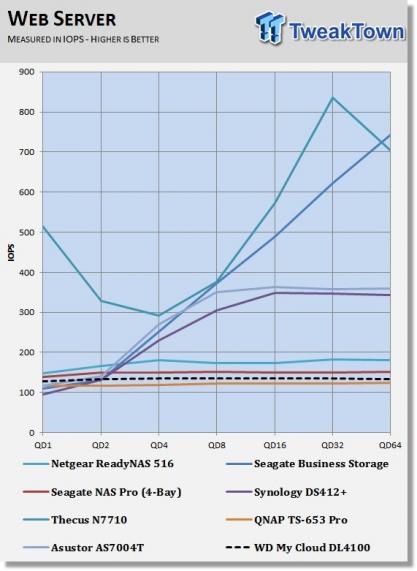 Latency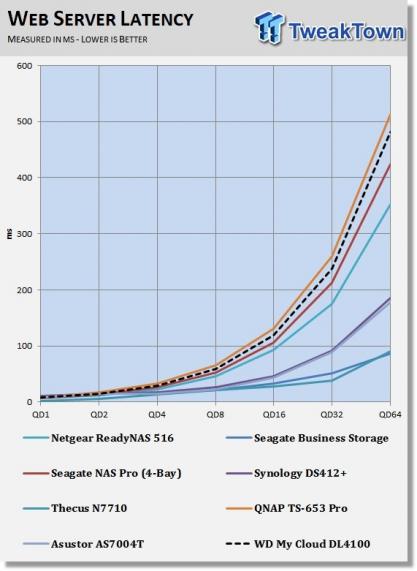 Outstanding IO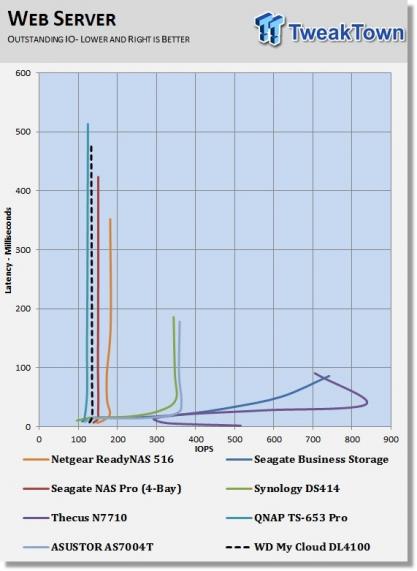 The uptick in performance didn't last long. The web server IOPS chart shows flat line performance again, regardless of the queue depth load we sent to the DL4100.
Benchmarks - Multi-Client Test
The Intel NAS Performance Tool (NASPT) is an excellent way to determine NAS performance in a single user environment. Any review that only uses NASPT assumes that only a single computer will access the target NAS at one time. We took issue with this method of testing and spent over a year designing, building, programming and finally validating the TweakTown Multi-Client Test.
The test uses Microsoft Office data recorded to traces and played back to the NAS from up to 120 client Windows 7 installations (clients). We record total throughput of all clients and average response time per client.
Throughput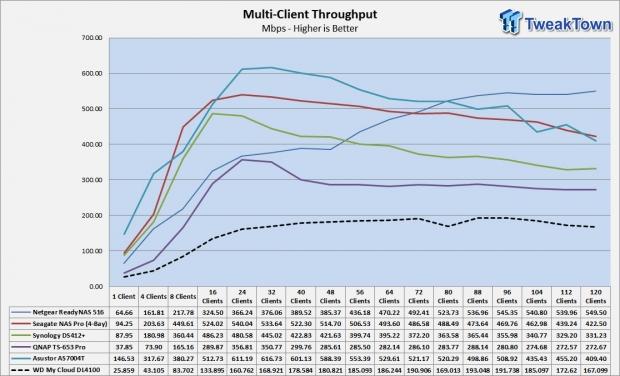 In the previous tests, we observed a bottleneck with the DL4100 when it comes to small file transfers. In the multi-client test, we use real Microsoft Office files and update them with new data added to the file. This is the most realistic way we've found to test SMB NAS products intended to store files and act as a live server hosting documents. The workload is the same for each client, with each test the number of clients increases until we finally finish with 120 clients working on Office documents at the same time.
It we hadn't already found the low performance issue with Office Productivity in NASPT, I would run the multi-client test over and over again to find out why the DL4100 falls flat in this test. After all, this model was designed specifically for this type of workload. Designed for doesn't actually mean excels at in this case.
Latency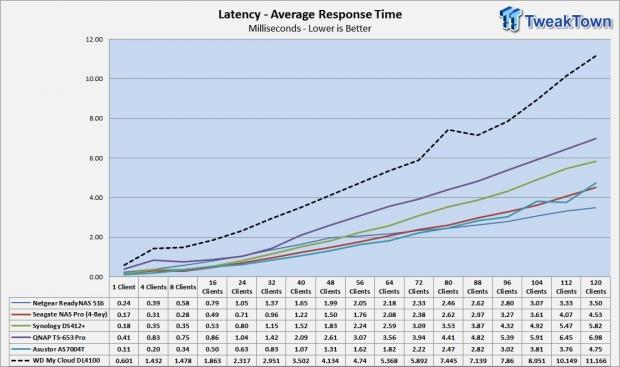 The latency test is more telling in this set of charts because it shows how long a user will need to wait before the file opens after the request is made.
Final Thoughts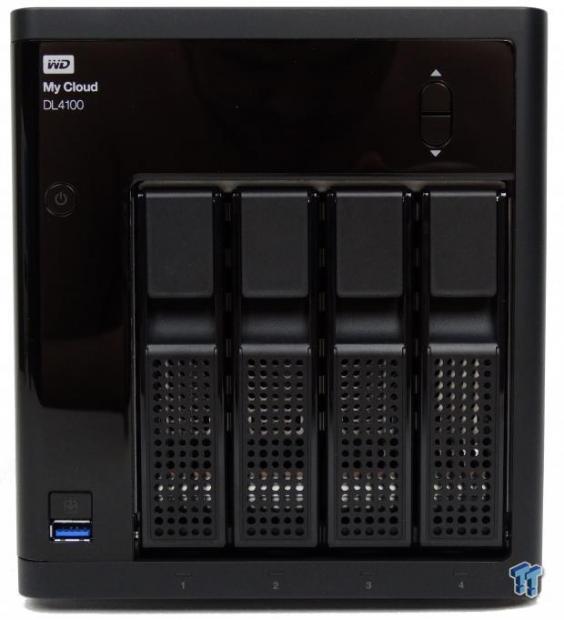 The Western Digital My Cloud DL4100 mixes great design with lacklustre performance. We were really impressed with the overall design, package, warranty, and hardware. On the other side of the coin, Western Digital has struggled to bring additional software features to the company's NAS products. We counted nine add-on third-party packages, less than a tenth of what some NAS builders make available for customers. By no means do we think anyone would or even should install more than 100 add-on packages, but making them available for those that need a special function is always nice.
It's been a few years since I tested a WD NAS product other than the actual HDDs launched under the same name. The performance scale was an issue then as well. Somewhere in the design, WD has a bottleneck issue that keeps the NAS from delivering higher performance.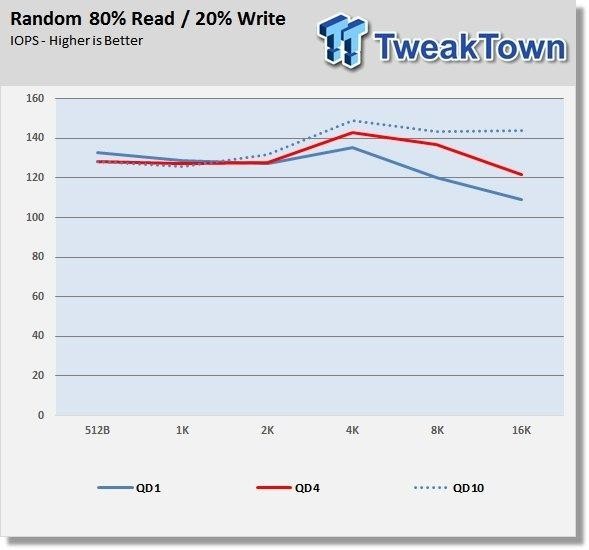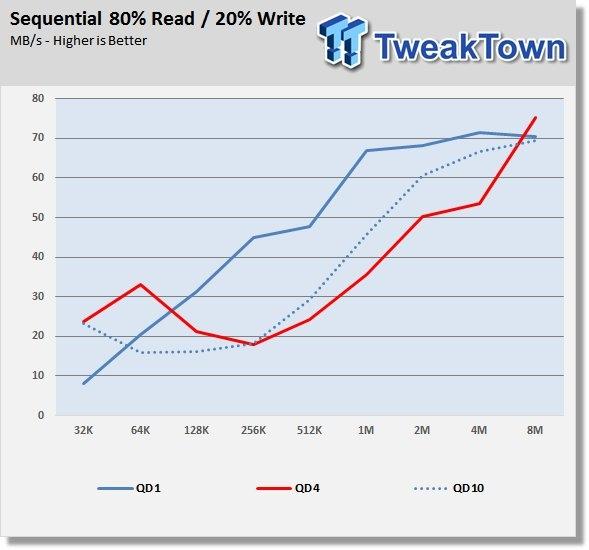 I ran some additional tests to find where performance suffers. In many of the tests, we get expected performance from the DL4100, over 100 MB/s sequential read and over 100 MB/s sequential write speeds. In random performance tests with data flowing only one direction, we also observed high performance. Once we started mixing reads and writes, though, performance dropped off quite a bit. The numbers are far less than most of the NAS products we test. The sequential mixed workload test also shows us very low performance with 128KB and 256KB blocks, well short of what we expect from a SMB class NAS product.
Products like the Western Digital My Cloud DL4100 are about more than just raw performance data. This unit comes from Western Digital, a company many are familiar with and a name with a reputation. Given the performance shortfall of the WD NAS products and the company's high volume of sales, I'd say the name means quite a bit. To go with the name, WD also has a distribution channel so the products are easy to buy. The company also has makes an effort to inform distributors and resellers about products in a way that goes beyond just announcing their existence.
With the product in hand, the WD OS is easy to configure for an office full of workers. Many small companies have 'that one guy' in the office that doubles as the IT administrator. The software is straightforward and that lucky person will not need to spend a lot of time researching how to manage users or add the users to accounts, the software makes it a simple procedure.
The cloud functionality is also very good. Western Digital has a long history with the My Cloud product series that eliminates the monthly fees associated with products like Dropbox. Not only do users get the data on demand without a monthly or yearly recurring fee, but the data is safe in a device owned by the company. Given the current state of internet security, this is a big plus for companies looking to keep secrets from The Internet and others.
| | |
| --- | --- |
| Performance | 81% |
| Quality including Design and Build | 94% |
| General Features | 85% |
| Bundle and Packaging | 94% |
| Value for Money | 89% |
The Bottom Line: Western Digital's name drove high sales volumes, but the WD OS lacks many of the features found in competitor's products. The DL4100 is easy to use and configure, but performance is lower than we'd like to see in an Intel Atom-based NAS.
PRICING: You can find products similar to this one for sale below.

United States: Find other tech and computer products like this over at Amazon.com

United Kingdom: Find other tech and computer products like this over at Amazon.co.uk

Australia: Find other tech and computer products like this over at Amazon.com.au

Canada: Find other tech and computer products like this over at Amazon.ca

Deutschland: Finde andere Technik- und Computerprodukte wie dieses auf Amazon.de
We openly invite the companies who provide us with review samples / who are mentioned or discussed to express their opinion. If any company representative wishes to respond, we will publish the response here. Please contact us if you wish to respond.