TweakTown's Rating: 96%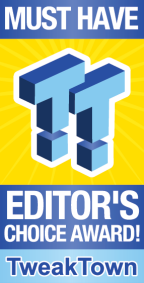 The Bottom Line
ASUSTOR's AS7004T is several products in one. Usually products made to do more than one thing good means they don't do anything well. That wasn't the case this time. This is a near perfect media center and NAS combined.
Introduction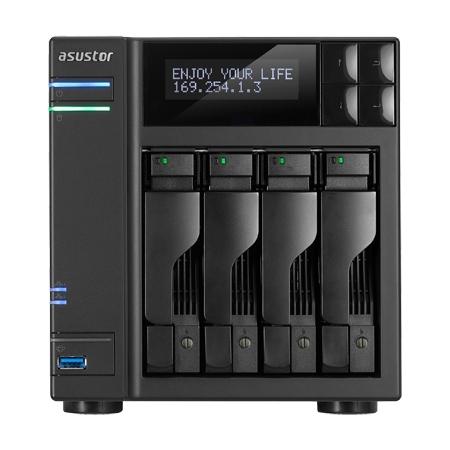 ASUSTOR blew us away with their demonstration high above the city of Las Vegas. Ultra HD video was a hot topic at CES this year, but media is still hard to come by. Without optical media, and few steaming services available, most Ultra HD content comes from large files encoded in codecs off the normal beaten path. If you haven't seen native Ultra HD or 4K content displayed on an equal resolution screen, then you are truly missing out on video perfection.
Perfection is a powerful term, and it's overused in all industries. Can anything truly be perfect? ASUSTOR's AS7004T is as close to perfect as we've come in a personal NAS product. Instead of aiming this product at business users and letting the features win over consumers, ASUSTOR just went all the way, and built a NAS for prosumers.
This is where the Ultra HD portion of this introduction comes back into play. For the past year we've talked about NAS products from both the low-end consumer and high-end enterprise markets that have been shipping with HDMI ports. Early tests left us a bit disgruntled mainly due to third-party software instability, user interfaces that lack responsiveness, and existing devices already in place that can play content at resolutions we viewed.
A lot has changed over the past year. Now, if you want an Ultra HD TV, you can buy a nice 55-inch model for $1200 or less at your local big box store. The NAS sector has changed as well. Haswell increased performance processing and GPU power, while reducing overall power consumption, which makes ASUSTOR's 7-Series products even more silent. What we're left with is the first NAS that I would consider running in my living room, the AS7004T.
Hardware Specifications and Pricing
Modern NAS servers have moved beyond data storage through a wire network. In order to get the most out of a NAS, you need to look at the extra I/O hardware, and the mountain of potential software features.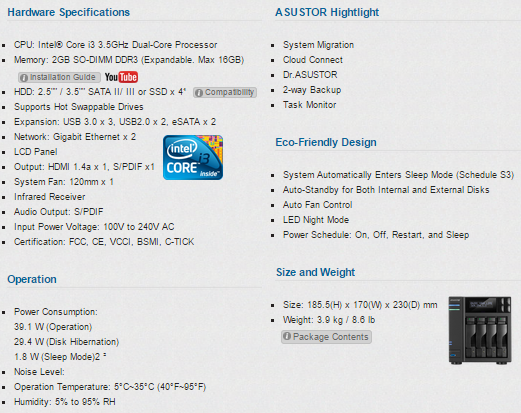 At the heart of the new AS7004T is a Haswell based Intel Core i3 dual-core hyper-threading processor running at 3.5GHz. The processor incorporates Intel's GPU, and runs on an Intel chipset that has several hardware features like native USB 3.0 ports, HDMI 1.4a, and S/PDIF, all wrapped up in a low-power design. The system ships with 2GB of DDR3 DRAM, but can be easily upgraded with an additional SO-DIMM.
A USB 3.0 port on the front of the NAS features a one-touch copy function for easy flash device data backup to the internal storage of the NAS. Two additional USB 3.0 ports are located on the back of the system, along with two USB 2.0 ports, and two eSATA ports for storage expansion.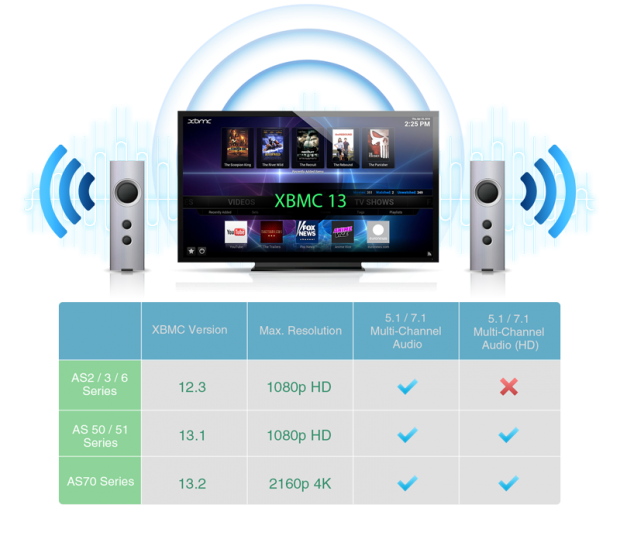 The multimedia functions of this system go well beyond what we've previously tested. We tested the AS7004T connected to my home theater with 7.1 surround sound, and with a projector as well as a TV. We used the latest build of XBMC with the official ASUSTOR remote control that talks to the NAS through the onboard IR receiver, and an Android tablet. The ASUSTOR remote was tested in a previous review, and it felt slow to respond to commands. On the other hand, the tablet communicated with the NAS through the IP network, and was very responsive. I would recommend using a phone or tablet to control XBMC for its two-way communication, responsiveness, and ease of use.
The software played both local files, and files from another NAS, and worked flawlessly with our system. We have several Blu-Ray ISOs that stutter and drop audio on media playback devices that we own. The AS7004T played those movies back without issue, and we could even use the Blu-Ray menus. Transcoding is also supported, but you need to select the files, and the format for transcoding. This will help with playing content on tablets, on the network, and over the internet.
Communication to the network happens over two gigabit Ethernet ports that run independently, or teamed together. The AS7004T also supports an optional Wi-Fi dongle, but it's not included in the package.
We found the ASUSTOR AS7004T available online at several e-tailers for $1099. The price includes a three-year warranty from ASUSTOR. A power cable, two Ethernet cables, a software disk, screws for mounting drives to the trays, and a paper manual are included with the system.
PRICING: You can find the ASUSTOR AS7004T for sale below. The prices listed are valid at the time of writing, but can change at any time. Click the link to see the very latest pricing for the best deal.
United States: The ASUSTOR AS7004T retails for $1,099.00 at Amazon.
Software Features
NAS products are equal parts hardware performance and software features. One complements the other in a balanced product. You need greater hardware performance to run more software features simultaneously.
ASUSTOR's ADM software package is the same on the AS7004T 4-bay system as it is on the company's larger flagship models, so you don't lose any software features.
This model includes support for AES 256-bit folder encryption, and uses the EXT4 file system for the internal array. The system can support several disk configurations, including RAID 6, RAID 5, RAID 10, RAID 0, and JBOD. Most users will want to run the 4-bay system in RAID 5. This level gives users single drive fault tolerance, but also greater write performance and disk capacity than RAID 6.
On the bottom of the same page we just linked to, you will find a list of optional software package that can be installed on the AS7004T. We didn't find anything missing from the massive list, and all are provided free of charge. The IP based management system allows you to install as many additional features as you would like with just a few clicks, and minimum configuration time.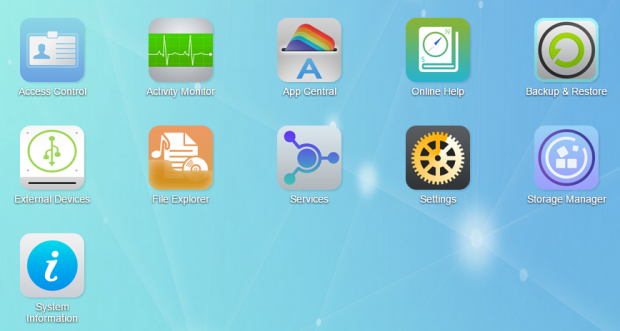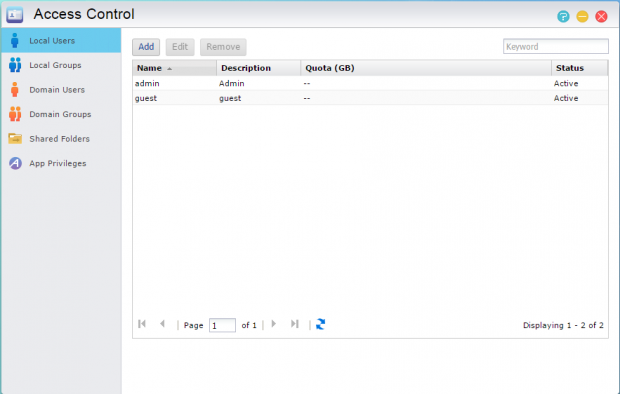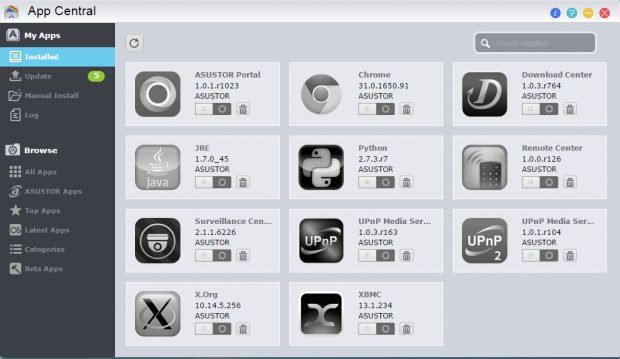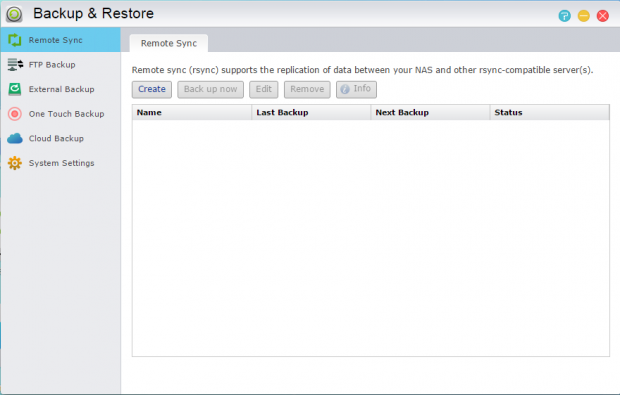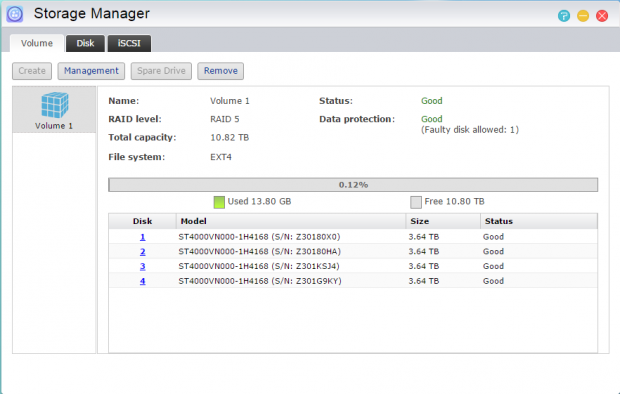 Packaging and Accessories
Packaging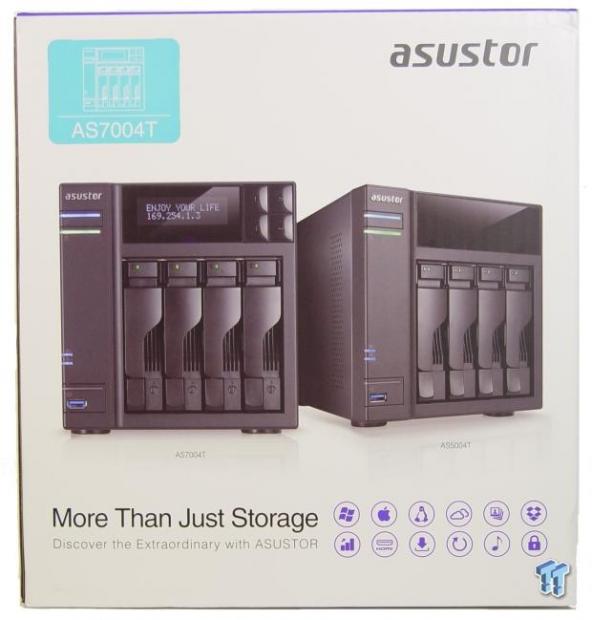 ASUSTOR uses a retail-friendly package for the AS7004T. The company gained traction in the US market in 2014, and the products are now in more e-tail and retail stores.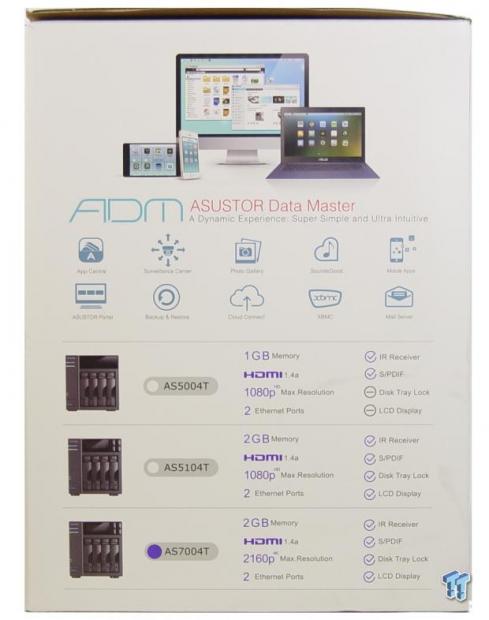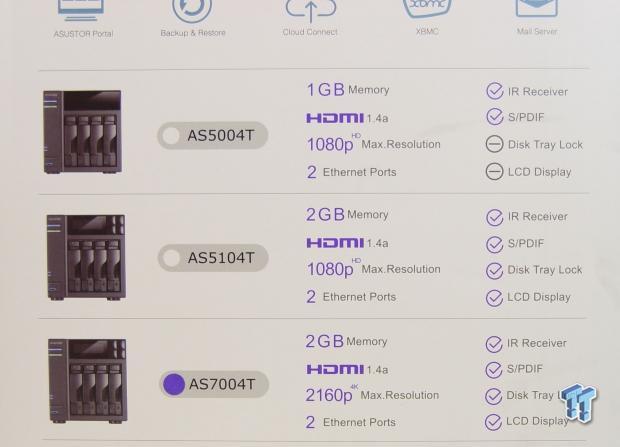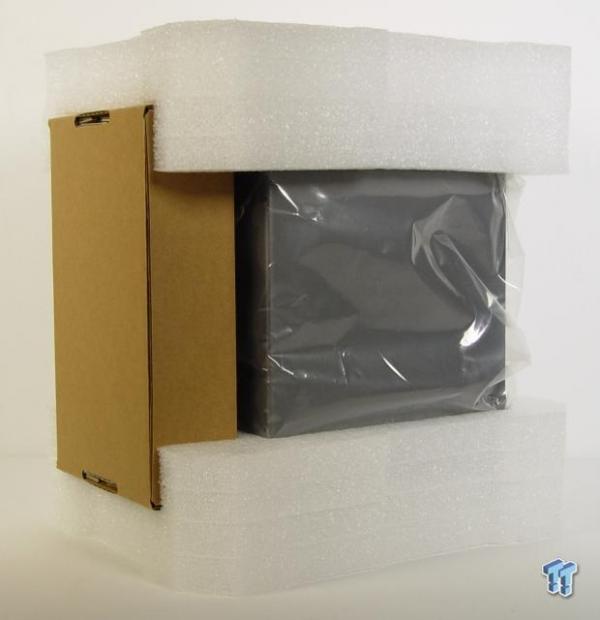 Inside of the packaging, we found everything packed well with very good protection for the device at the corners. The accessory package is isolated in a separate package, so nothing bounces around during shipping.
Accessories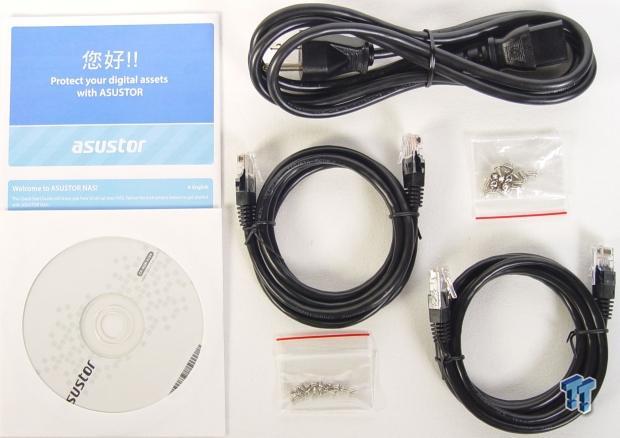 The accessory package includes everything you need to get up and running, except HDDs.
ASUSTOR AS7004T 4-Bay NAS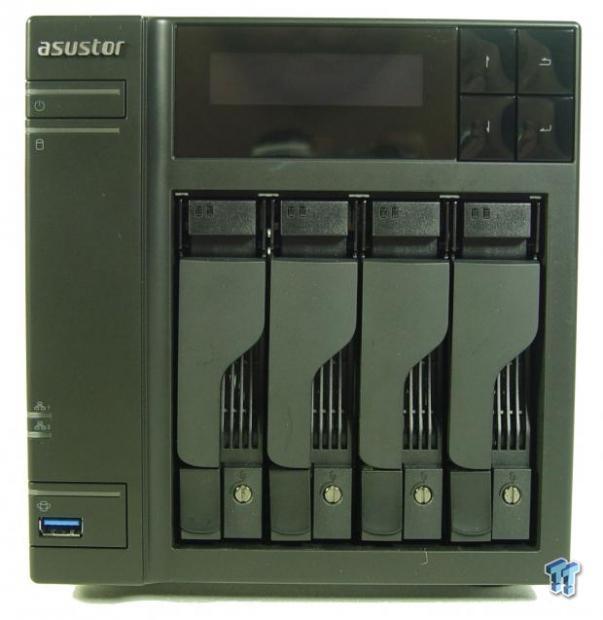 The ASUSTOR system has a futuristic look while still keeping the traditional pedestal form factor. There are several LEDs on the system that convey system information. The regular LEDs for power, disk and network activity supplement the LCD display that gives further insight into the system configuration. All of the lights can be dimmed or even shut down via the IP interface.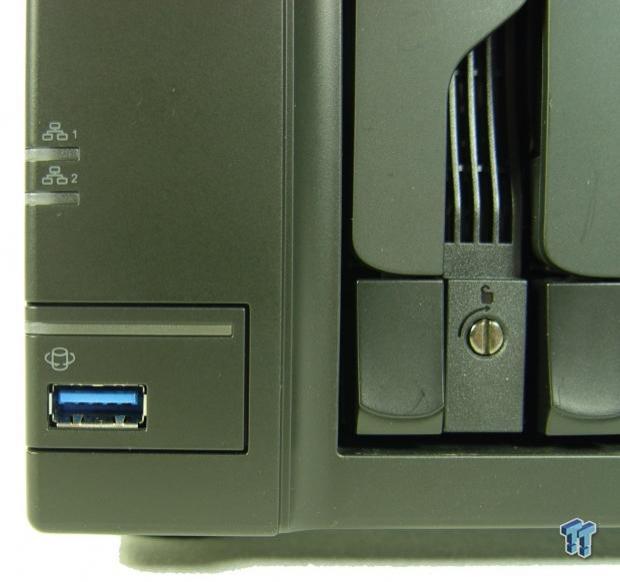 A one-touch data-copy feature surrounds front USB 3.0 port. Just plug in your USB flash drive, press the button, and the data is backed up to the inner disk system. Two activity LEDs show network activity.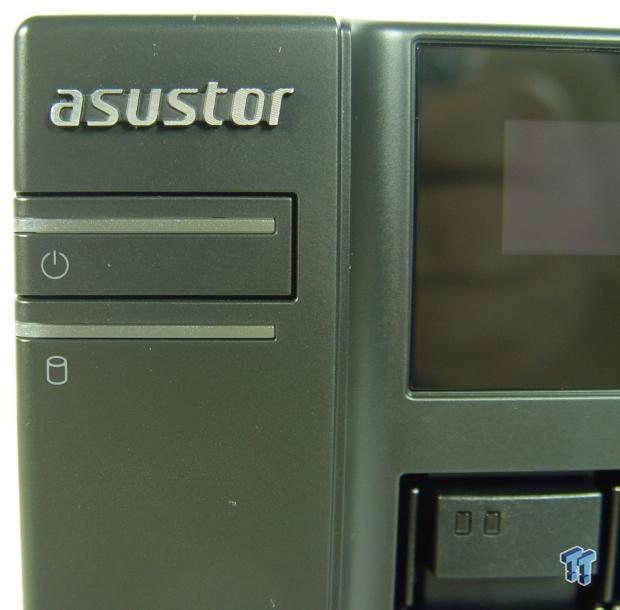 The power button and disk activity LED can be found on the top-left corner.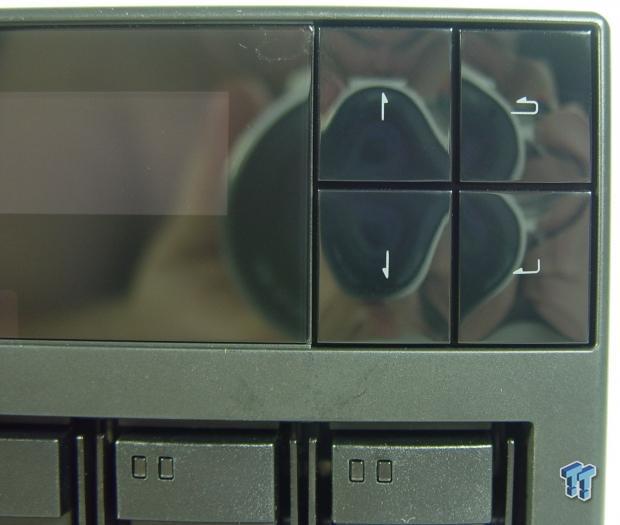 The LCD display across the top of the AS7004T also allows users to configure the system with the aid of four buttons to the right of the display.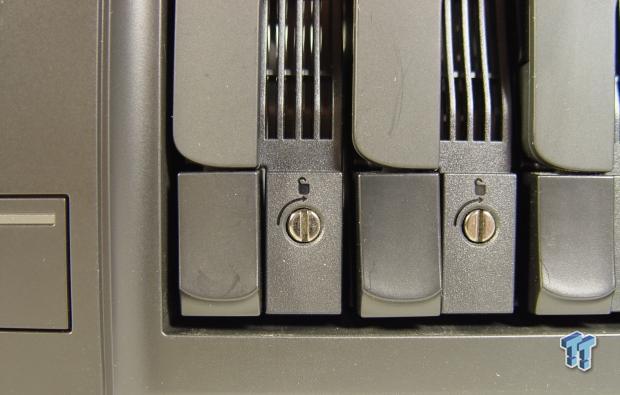 The drive bay sleds have a new design that includes a locking mechanism, so users will not accidentally open and disconnect a HDD from the NAS.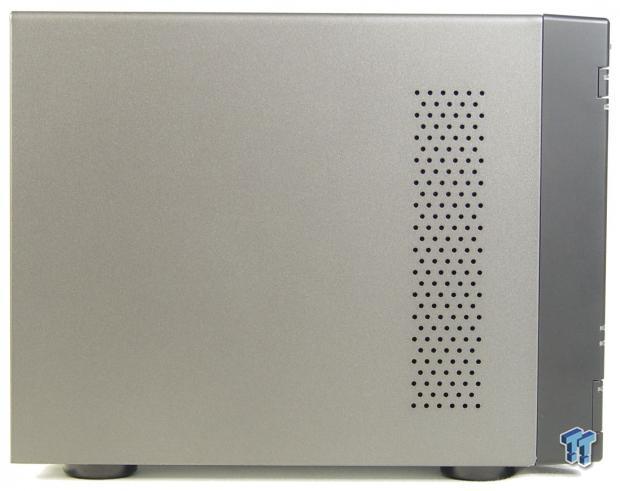 Vents on one side of the NAS keep the internal components cool.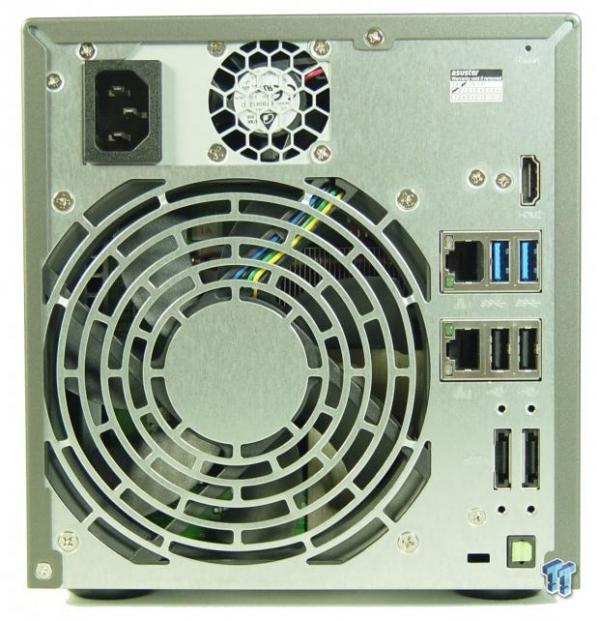 Air passes over the HDDs as well, and air is pulled through the NAS by a large, low RPM fan.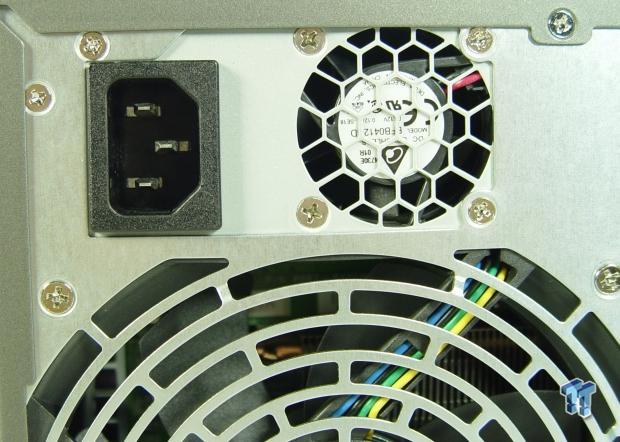 The system has an internal power supply that also has a fan to keep the component cool.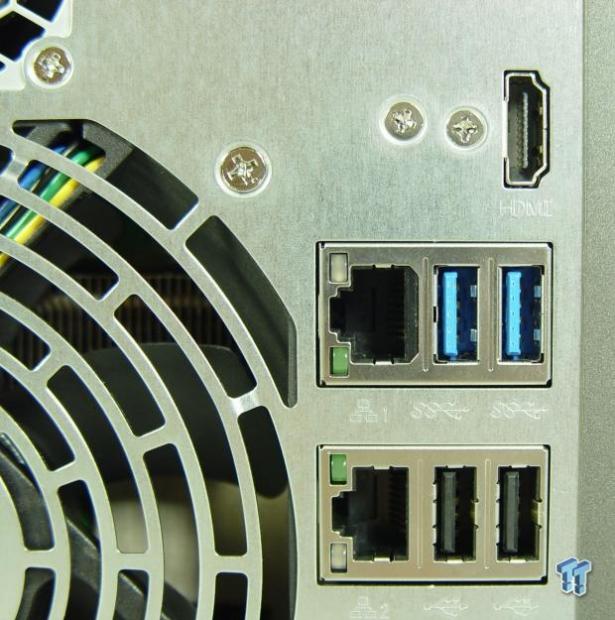 The HDMI port is at the top-right side of the back of the NAS. Two port sets are located under the HDMI port.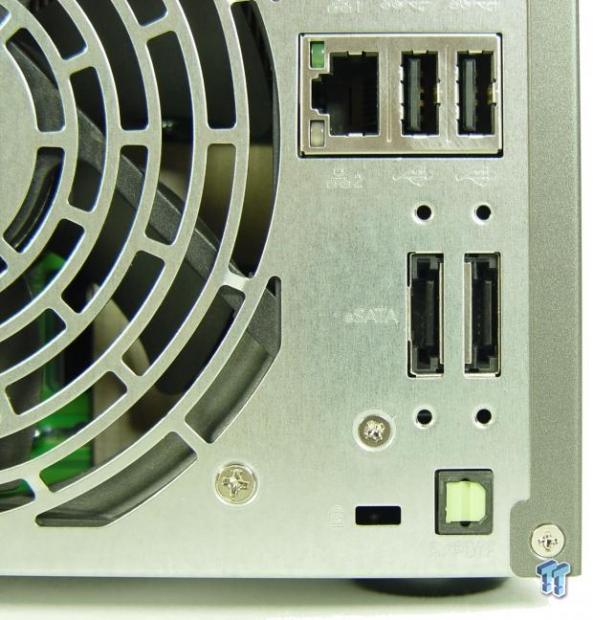 The bottom-right side of the system is where the eSATA, S/PDIF, and the Kensington lock cutout are located.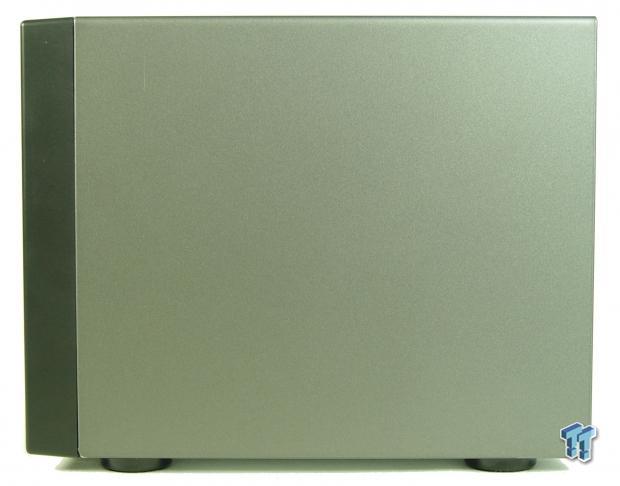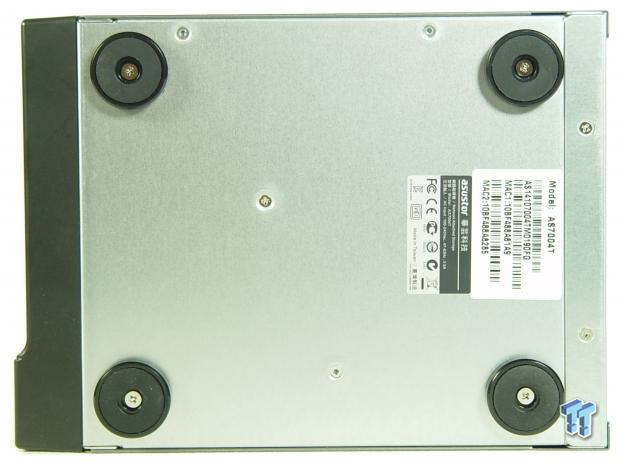 Isolation feet on the bottom of the system keep disk vibration from the desk, media shelf, or other surface.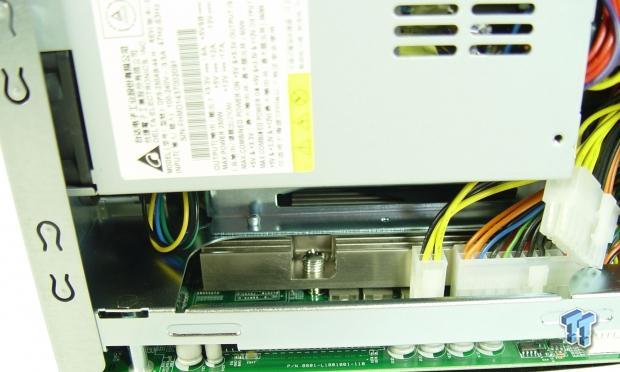 After removing the cover panel, I noticed the beefy heat sink in the AS7004T. While testing the NAS, we never heard the fans spinning after the initial boot. Even when we were pushing random write workloads to the system from several devices, the system stayed cool and quiet. The heat sink is large enough to absorb a lot of heat, and dissipate that heat with less airflow. The end result is a very quiet system that works in the living room, should you choose to install it there.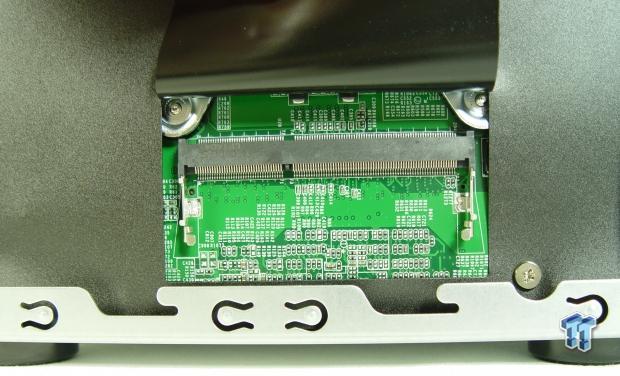 A flap on the side of the system lifts up, so you can install an additional SO-DIMM module.
Test System Setup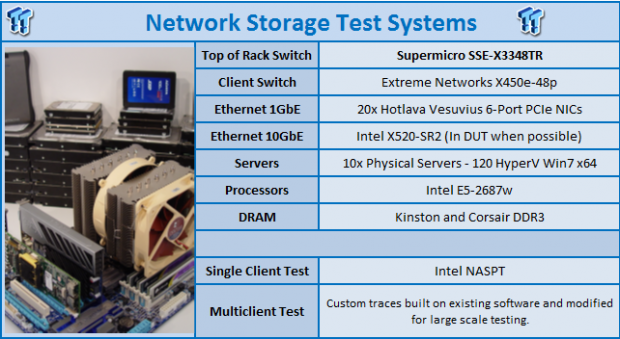 Our NAS test "system" has migrated to three 42U racks, which is similar to what you'd find in a datacenter. There are ten servers that attack the target NAS with 120 Hyper-V installations of Windows 7, 64-bit, each with a dedicated gigabit Ethernet port. The systems feed to three Extreme Networks X450e-48p switches, and then to a Supermicro SSE-X3348TR top-of-rack switch. The device being tested connects to the Supermicro switch via 1GbE, 10GbE, or 40GbE. The iSCSI and NASPT tests use a single machine connected to the Supermicro switch.
This level of testing wouldn't be possible without help and support from several companies, many of which have little to do with NAS products. We would like to thank AVADirect, Antec, Corsair, GIGABYTE, Icy Dock, Kingston, LSI, Noctua, Rosewill, Seagate, Thermaltake, and Western Digital for their much-appreciated support.
Intel NASPT
The Intel NAS Performance Toolkit (NASPT) is a file system exerciser and analysis tool designed to enable direct measurement of home network attached storage (NAS) performance. Designed to emulate the behavior of an actual application, NASPT uses a set of real-world workload traces gathered from typical digital home applications. Traces of high definition video playback and recording, office productivity applications, video rendering, content creation, and more provide a broad range of different application behaviors.
TweakTown Custom 120-Client Office Test
The TweakTown Custom 120-client Office Test uses 120 Windows 7 Hyper-V installations, and custom software to stress each NAS with traces from Microsoft Office tasks. Both throughput (in Mbits per second) and latency (in milliseconds) are measured.
Seagate NAS HDD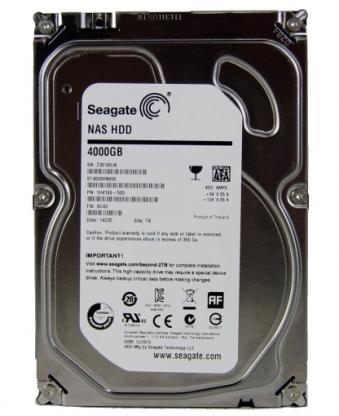 TweakTown uses Seagate NAS hard drives for all of our NAS tests. You can read our full review of the Seagate NAS HDD here.
Supermicro SSE-X3348TR 10GbE / 40GbE Switch

With a switching fabric of 1284 Gbps through forty-eight 10GBaseT, and four 40GbE ports, the SSE-X3348TR is our switch of choice for testing SMB and enterprise network attached storage products. You can read our full review of the Supermicro X3348TR top-of-rack switch here.
Benchmarks - RAID 5 Single Client Performance
Benchmarks - RAID 5
RAID 5: Block-level striping with parity data distributed across all member disks.
HD Video Playback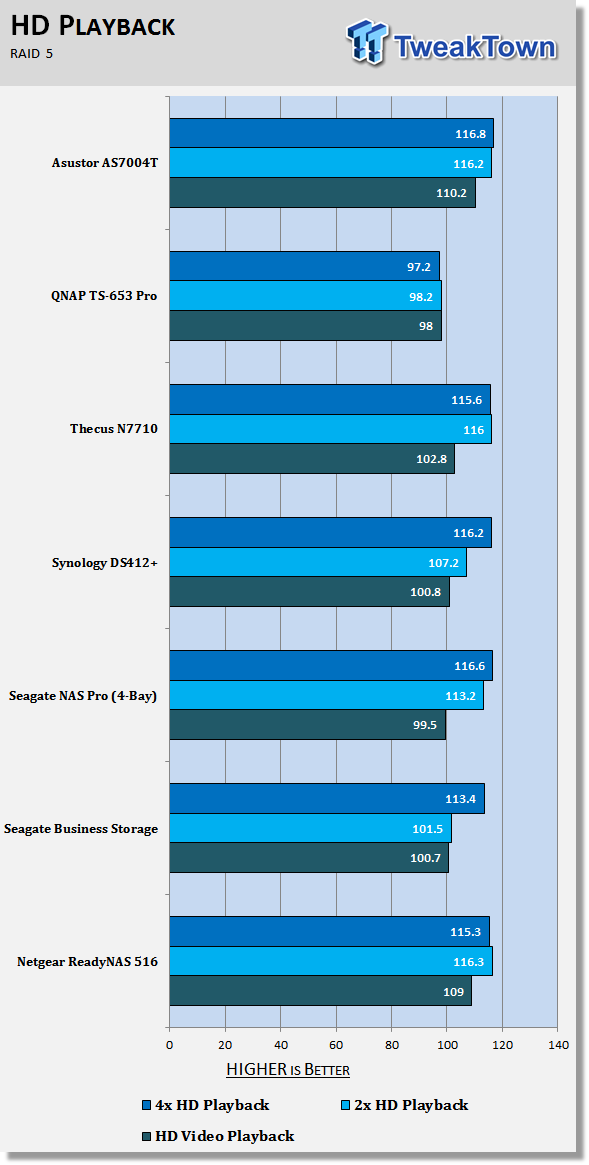 HD Video Play - 720p HD stream from Windows Media Player 256kB reads
2HD Video Play - 2x playback
4HD Video Play - 4x playback
HD Video Record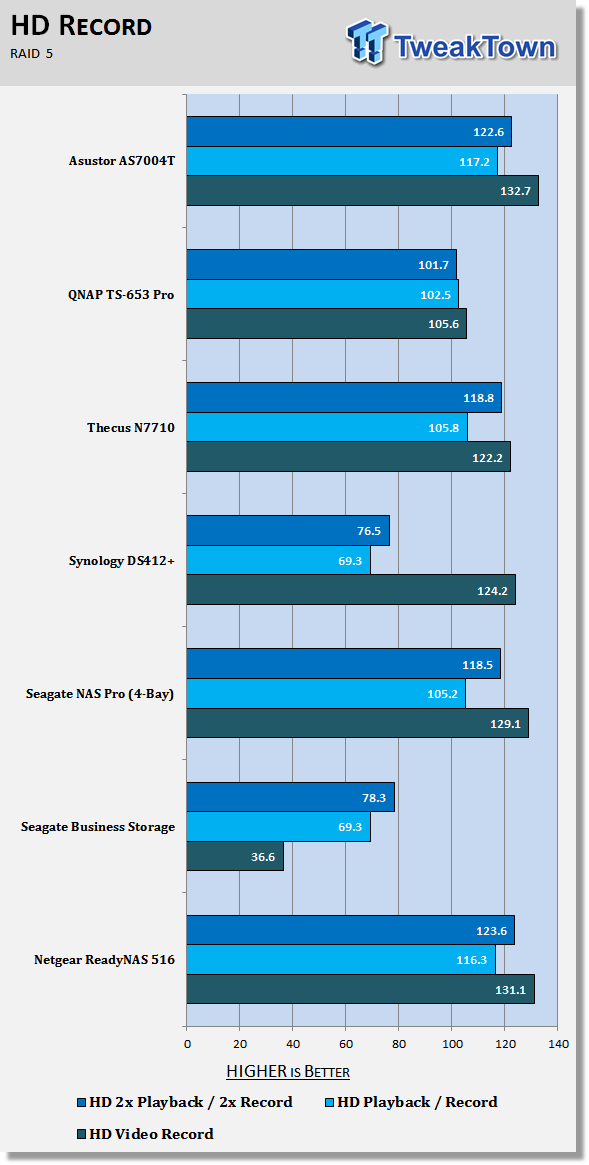 HD Video Record - 720p HD stream, 256kB writes
HD Video Play & Record - one playback, one record simultaneously
2x HD Video Play & 2x Record - one playback, one record simultaneously
Content Creation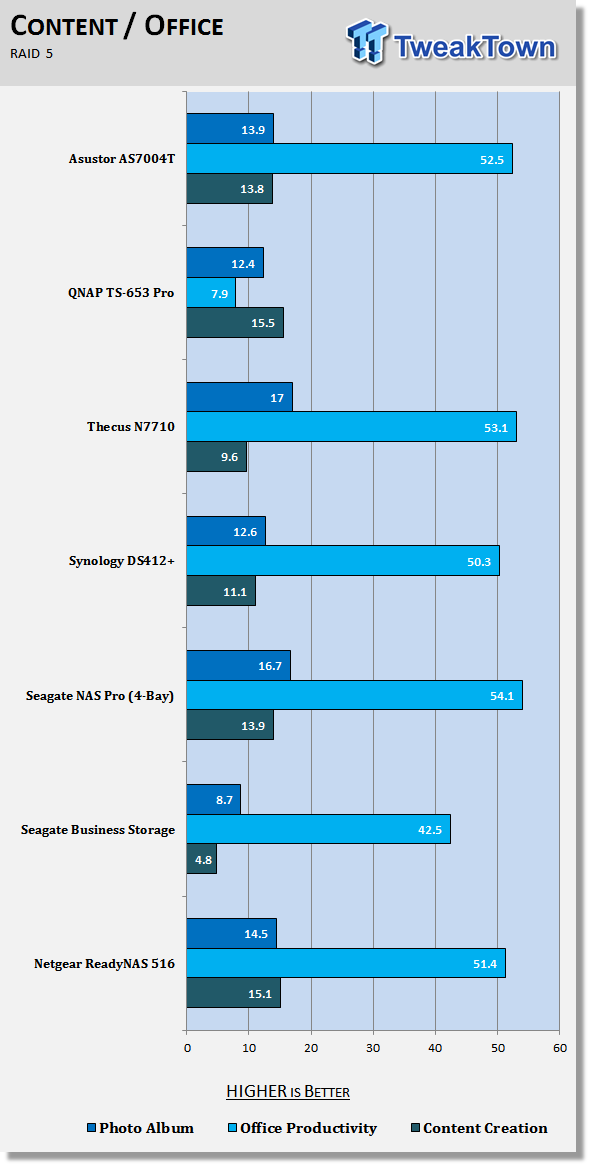 Photo Album - All reads - wide distribution of sizes
Office Productivity - Reads and writes - 1kB & 4kB reads; mostly 1kB writes
Content Creation - 95% writes - 1k, 4k, & little reads; writes up to 64kB
File / Directory Transfer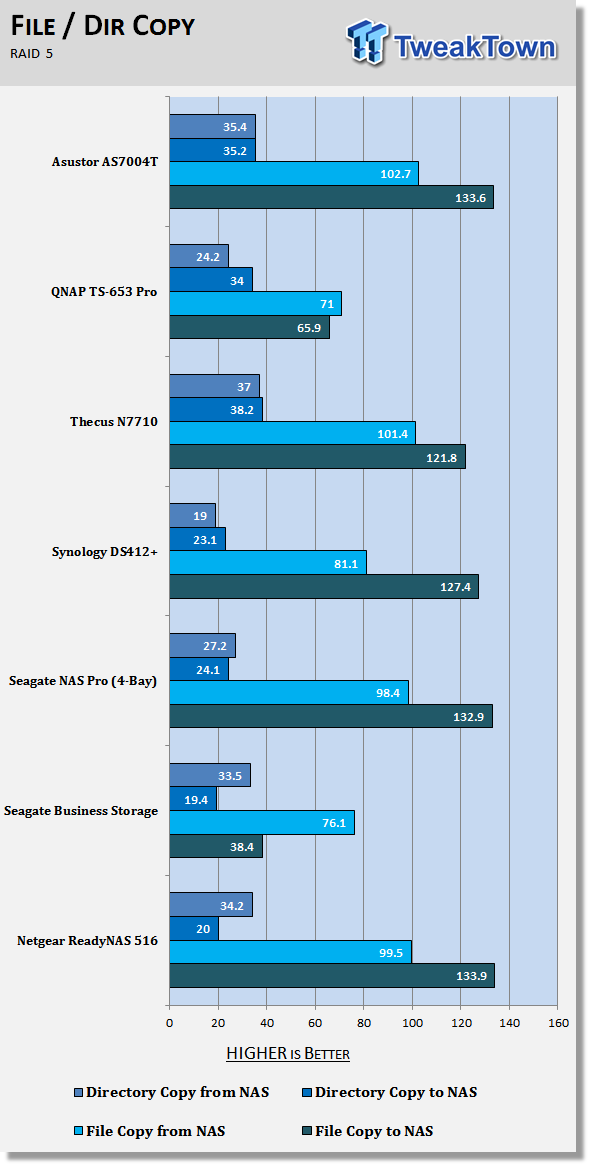 Directory Copy From NAS - 64kB reads
Directory Copy To NAS - Predominantly 64kB writes; wide scattering under 16kB
File Copy From NAS - 4GB file copy; 64kB reads
File Copy To NAS - 64kB writes
Single Client Performance Summary
The ASUSTOR AS7004T shows exceptional performance, regardless of which single-client workload we throw at it. In many tests, the system delivered the highest rating in the chart featuring many products in the same class as the AS7004T. Performance has never been an issue with ASUSTOR products though; the products we've tested from this company have always performed very well.
Benchmarks - iSCSI Database and Workstation Workloads
Benchmarks - Database Workload
IOPS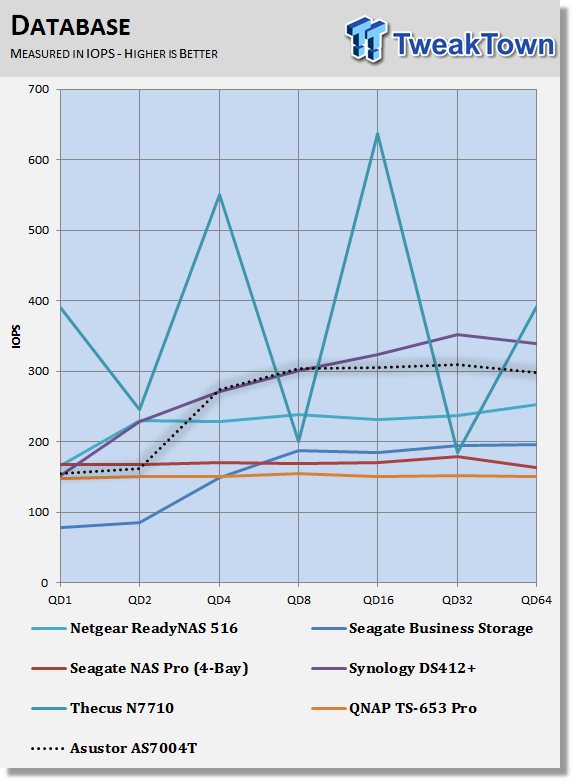 Latency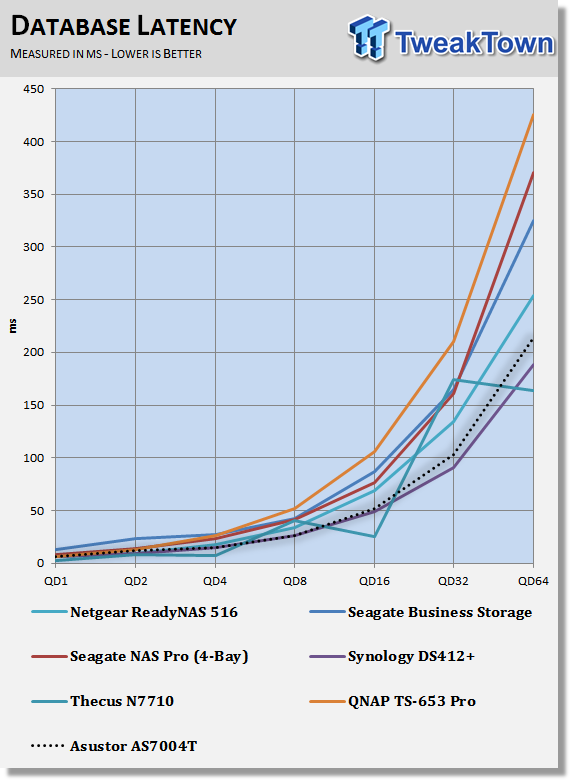 Outstanding IO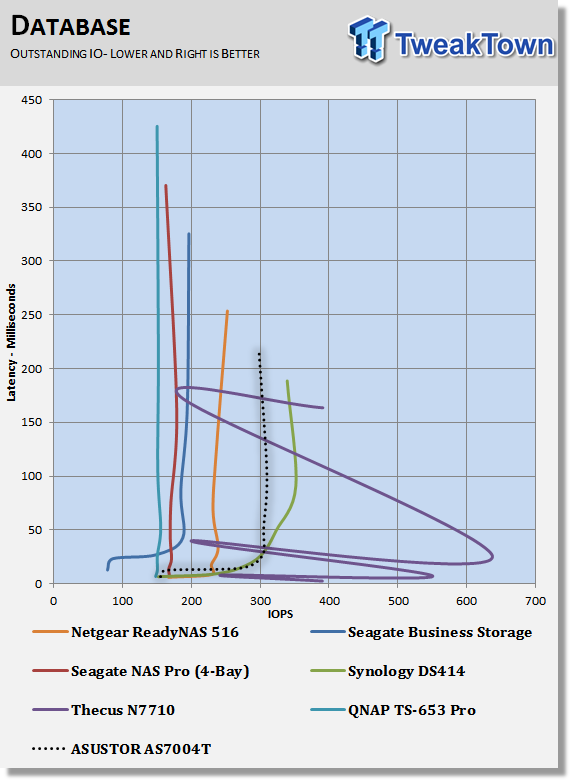 We don't expect many prosumers to use the AS7004T to run the system for database use, but the system does show good performance under this workload. Some of the other products deliver better throughput, but the AS7004T delivers very low latency, and you want the lowest latency possible in a database.
Benchmarks - Workstation Workload
IOPS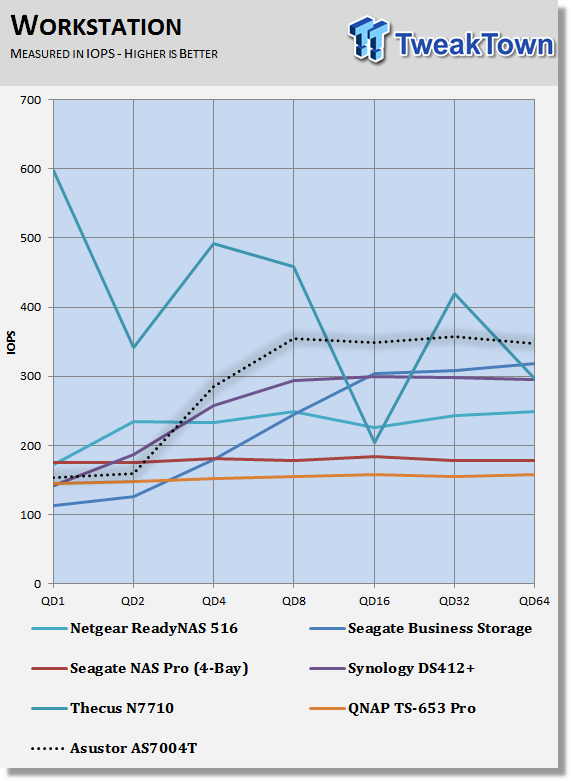 Latency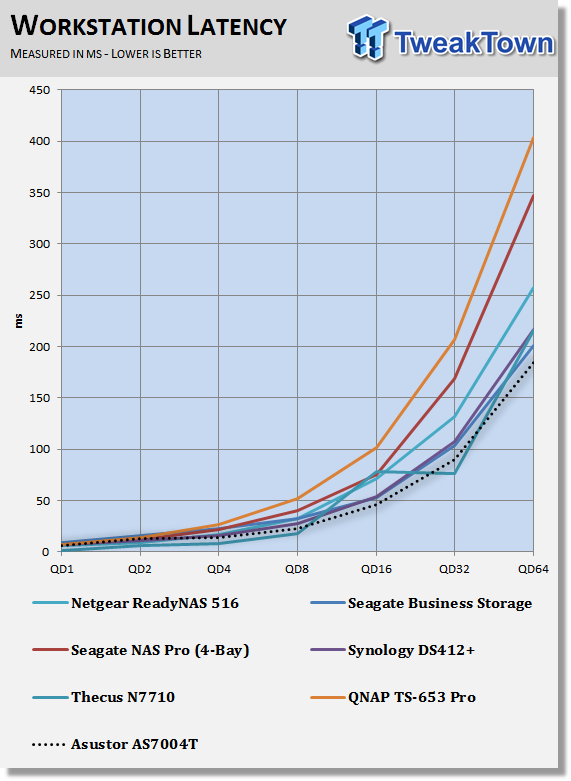 Outstanding IO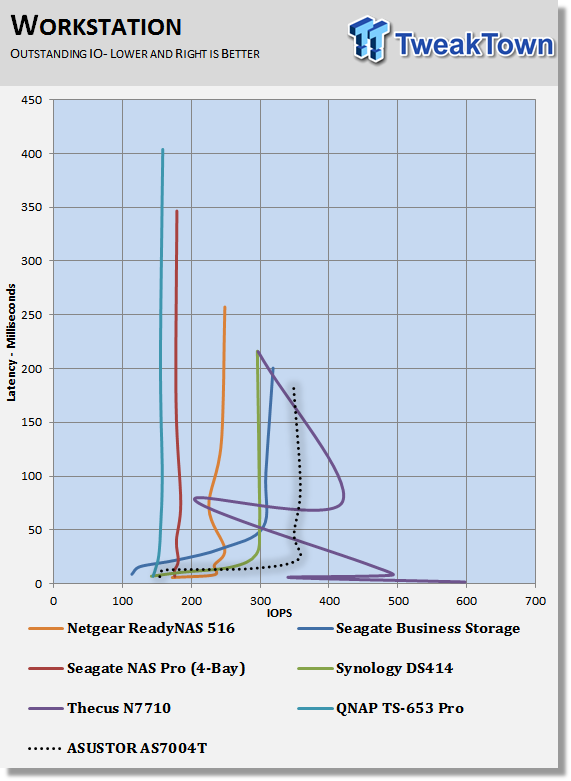 We do suspect many AS7004T owners will run programs from the system over iSCSI; this is a common task at my office, and my home. Using iSCSI gives a separate computer a drive letter that links to storage on the NAS. This comes in very handy with large Steam accounts. Again, the AS7004T delivers the data with very low latency, even in the stock configuration with 2GB of DRAM.
Benchmarks - iSCSI Server Workloads
IOPS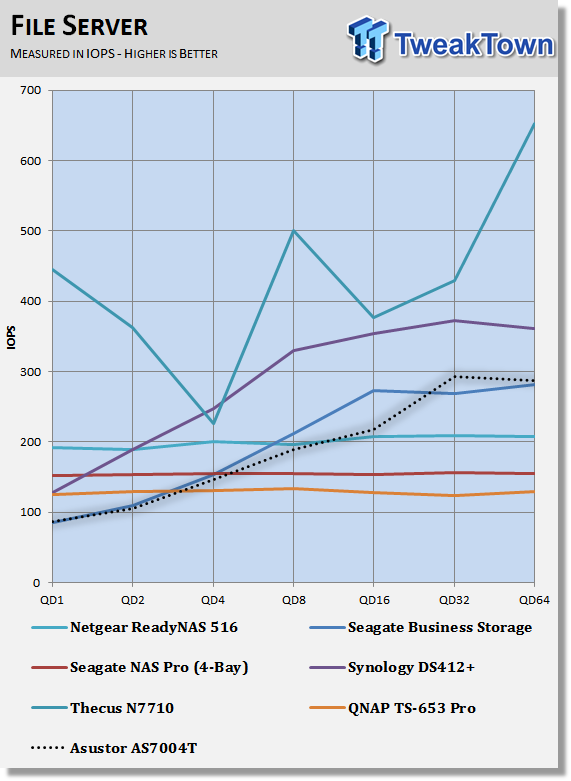 Latency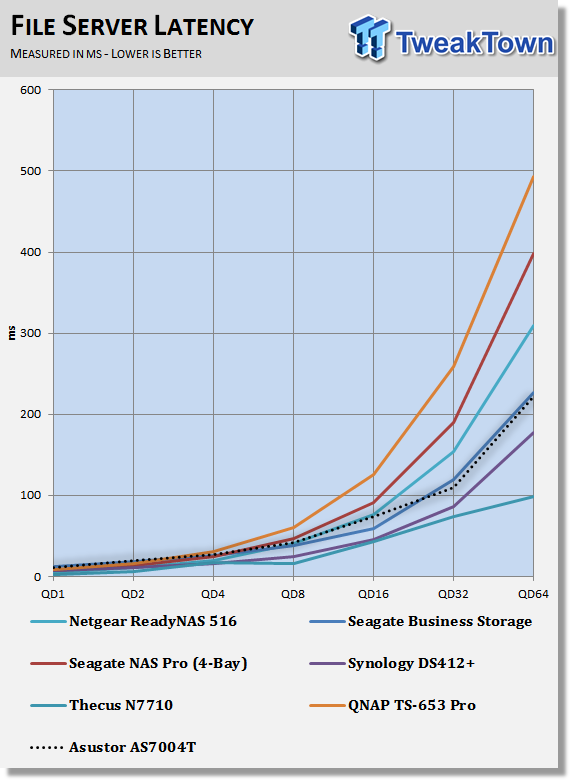 Outstanding IO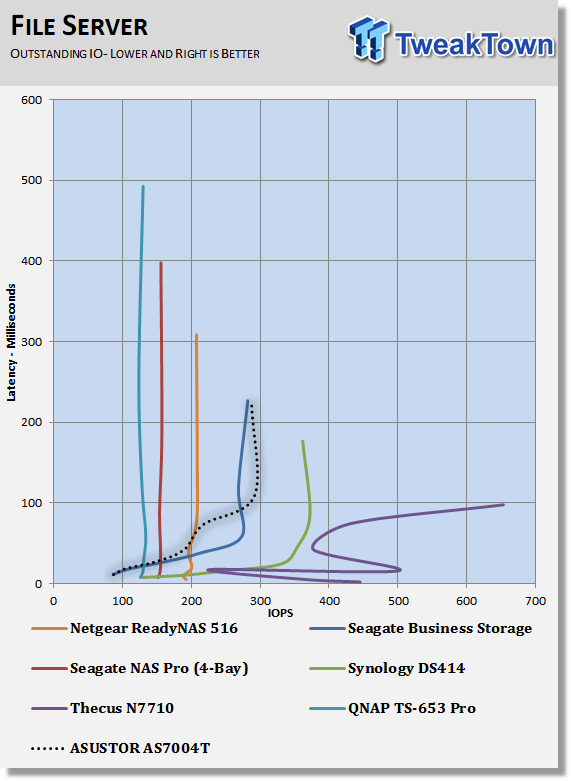 Most users will utilize the AS7004T as a file server. This is the traditional role for a NAS, and most systems perform this role well.
Benchmarks - Email Server Workload
IOPS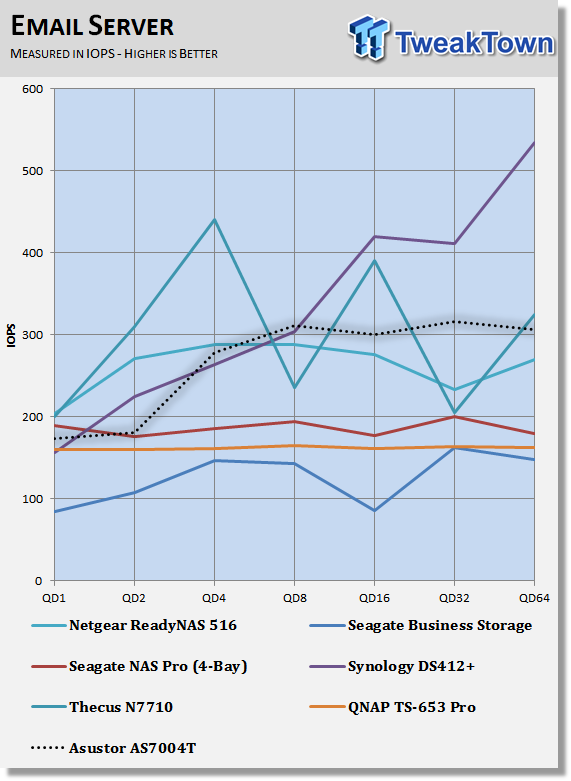 Latency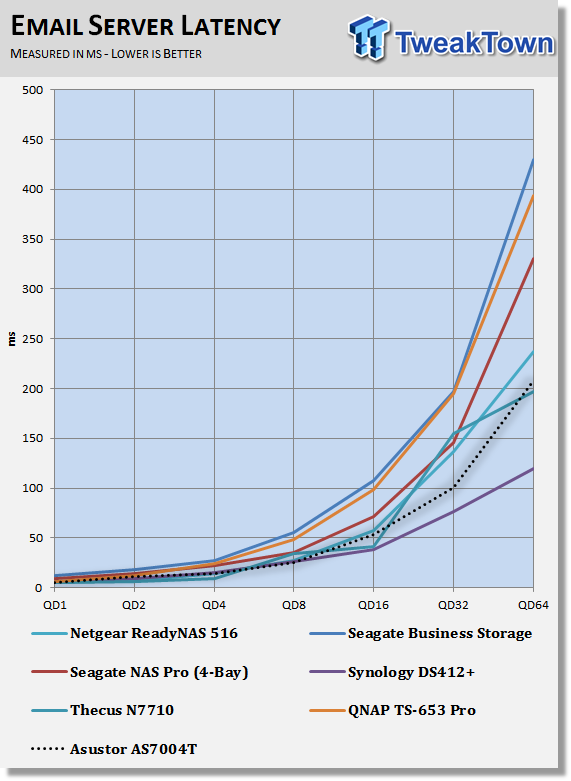 Outstanding IO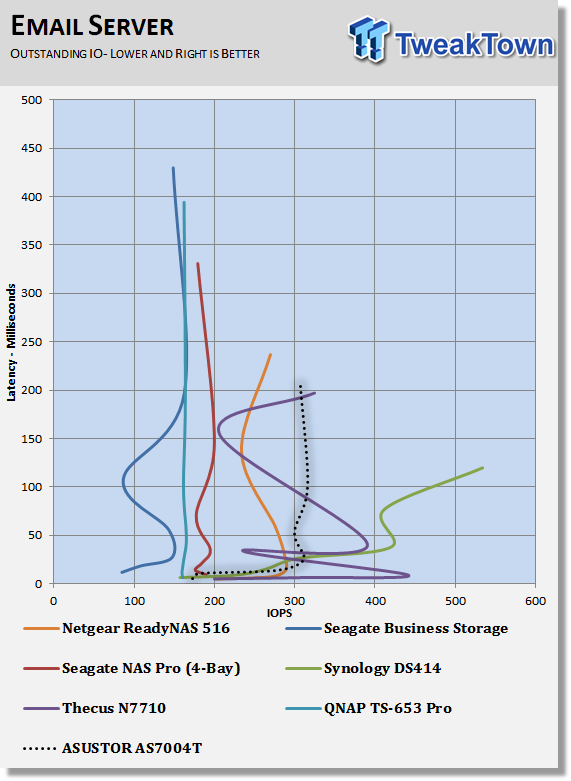 We don't think many users will run enterprise email servers off of this model through iSCSI, but if you want to, it is possible. The software feature packages also allow you to run an email server directly off of the NAS.
Benchmarks - Web Server Workload
IOPS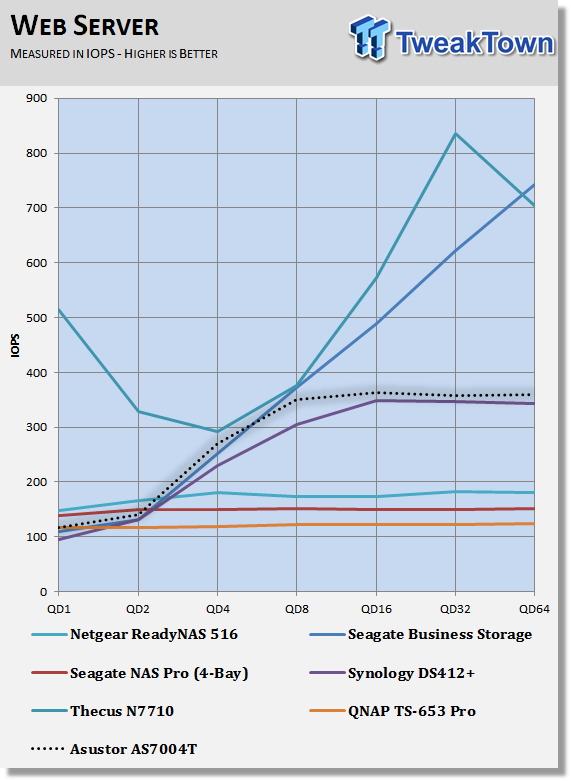 Latency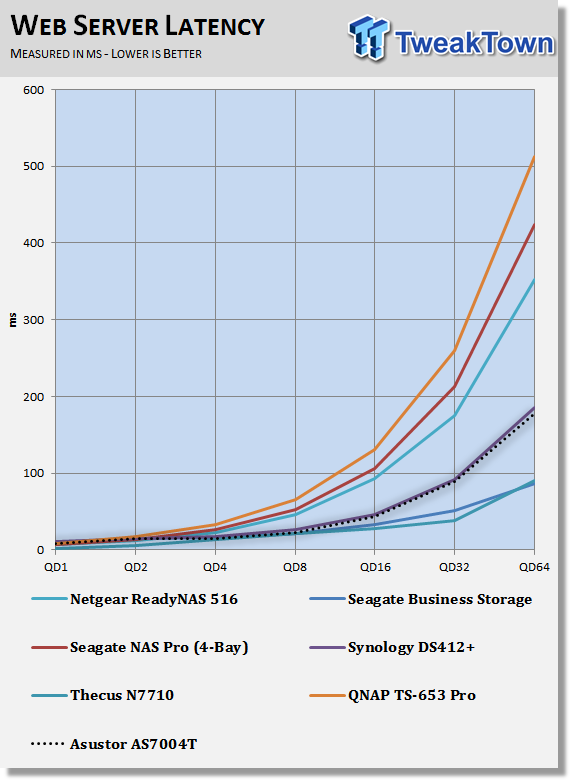 Outstanding IO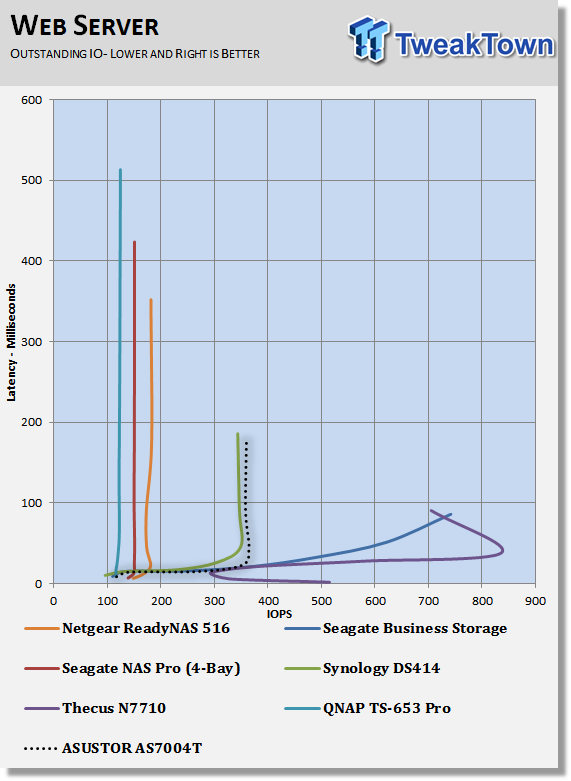 The final iSCSI workload test is the web server text, and the system does really well under this workload.
Benchmarks - Multi-Client Test
The Intel NAS Performance Tool (NASPT) is an excellent way to determine NAS performance in a single user environment. Any review that only uses NASPT assumes that only a single computer will access the target NAS at one time. We took issue with this method of testing, and spent over a year designing, building, programming, and finally validating the TweakTown Multi-Client Test.
The test uses Microsoft Office data recorded to traces and played back to the NAS from up to 120 Windows 7 installations (clients). We record total throughput of all clients, and average response time per client.
Over time, we'll populate the two multi-client charts with several NAS products from a span of categories. The products range from a dual Xeon server with 2x 10GbE to a 2-bay NAS with a single gigabit Ethernet connection. The products will fall into their performance categories based on performance, and not marketing material or opinion.
Throughput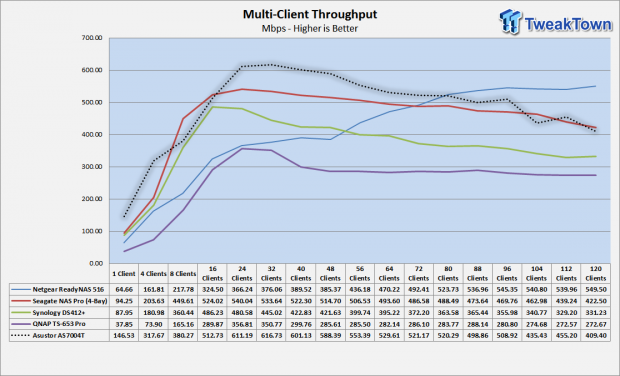 This test was designed for larger NAS products used in an office environment, but the ASUSTOR AS7004T manages to make quick work of the workload. We did get some errors in the test with more than 100 clients connected to the AS7004T, but this system wasn't designed for this type of extreme workload.
With a decent-sized workload on the system, this NAS actually overtook our previous fastest NAS on the chart. The performance trailed off at the end, but from sixteen to eighty clients, the AS7004T took the top honors.
Latency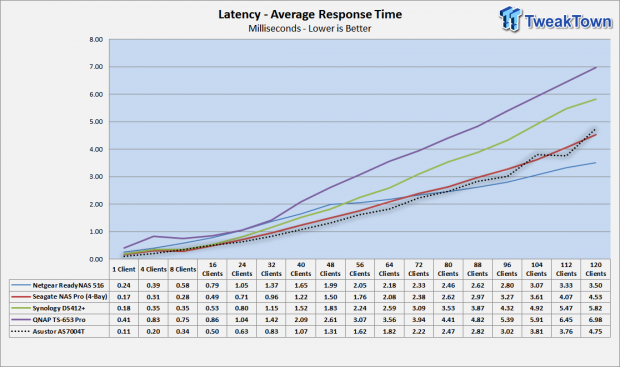 The latency for the same number of clients was also very good. When the latency is low, the computers connected to the system feel faster. This level of latency would feel as though you were accessing a device that is native to the system, like working from the host HDD.
Final Thoughts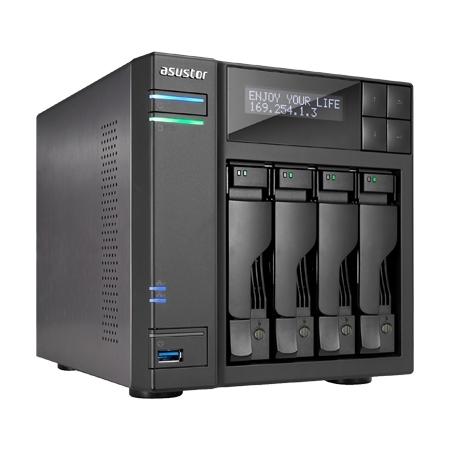 We singled out the Ultra HD feature in our introduction, but the truth is: there are several software features that make the AS7004T an exceptional prosumer product. It's easy to get so wrapped up in the extras like transcoding, Ultra HD playback, and mobile access to data that we overlook the core feature. As a storage NAS, this model is the best in its class at this time. The transfer performance that we measured was very good across the board.
Still, NAS products have features that now overshadow the core file transfer and storage of data functions. With hard disks growing in size, NAS companies see the need to offer more features so users don't just plop a few HDDs in a local system and call it a day. Running a desktop system full time consumes a lot of power, collects dust, and is really impractical for running simple background tasks like downloading Torrent files and such. At the same time, doing those tasks while gaming slows the computer, so offloading the tasks actually improves client system performance.
The only real downside is the cost of this unit. At roughly $1100 at the time of writing, the ASUSTOR 7004T exceeds our expectations of price, and not in a good way. Using the latest in processor technology from Intel increases the cost much more than what we expected.
One way to mitigate the cost is to use the NAS for several roles. A high-quality media player that can display Ultra HD will set you back $300. A regular 4-bay NAS for data storage that can sustain 100 MB/s file transfers costs about $600 (we are being generous there). With just two tasks, we took off a significant portion of cost. Other features start plucking bills off with ease, but like other NAS products, you have to need and use the extra features to make them valuable. The media player role adds quite a bit to the value though.
If you don't need the media center functions, then the AS7004T is a bit of a waste. The extra processing power is nice to have, and makes the other functions perform smoothly, but if you don't need it, the additional cost is quite high. If you don't plan to use the AS7004T for the media center functionality, then look at some of ASUSTOR's other product series, and save yourself a few dollars.
PRICING: You can find the ASUSTOR AS7004T for sale below. The prices listed are valid at the time of writing, but can change at any time. Click the link to see the very latest pricing for the best deal.
United States: The ASUSTOR AS7004T retails for $1,099.00 at Amazon.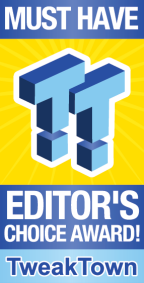 | | |
| --- | --- |
| Performance | 97% |
| Quality including Design and Build | 98% |
| General Features | 98% |
| Bundle and Packaging | 97% |
| Value for Money | 92% |
The Bottom Line: ASUSTOR's AS7004T is several products in one. Usually products made to do more than one thing good means they don't do anything well. That wasn't the case this time. This is a near perfect media center and NAS combined.
PRICING: You can find products similar to this one for sale below.

United States: Find other tech and computer products like this over at Amazon.com

United Kingdom: Find other tech and computer products like this over at Amazon.co.uk

Australia: Find other tech and computer products like this over at Amazon.com.au

Canada: Find other tech and computer products like this over at Amazon.ca

Deutschland: Finde andere Technik- und Computerprodukte wie dieses auf Amazon.de
We openly invite the companies who provide us with review samples / who are mentioned or discussed to express their opinion. If any company representative wishes to respond, we will publish the response here. Please contact us if you wish to respond.