Enermax Platimax 1350-Watt 80 PLUS Platinum Power Supply Review
Enermax's highest wattage Platimax unit offers a lot of bang at 1350W. If you're looking to upgrade to three or four of the new GeForce GTX 780's, this review will be well worth your time.
Published
6 minute read time
Introduction, Specifications, Availability and Pricing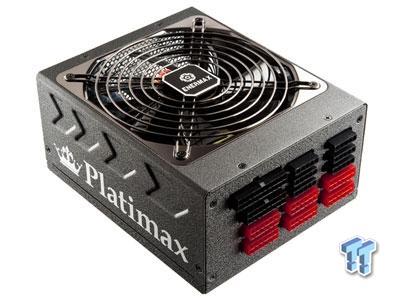 The last few units that we have taken a look at from Enermax haven't quite been from their high-end offerings. In fact, they have been quite the opposite at the bottom of their lineup. Both the Triathlor FC 650W and NAXN ADV 650W power supplies proved to be decent units, but were nowhere near the quality to what we've seen out of their high-end units. That's exactly why we've got the Platimax 1350W power supply on our test bench today.
We've covered a few of the Platimax units before and always been happy with them. The Platimax 1350W doesn't share much with the 600W and 1000W models that we've seen before, but that doesn't mean the Platimax 1350W power supply is a stranger to us.
It shares a lot of design and characteristics with both the MaxREVO 1500W and 1350W units. As such, you can bet that we expect quite a bit of out the Platimax 1350W. Both the MaxREVO and Platimax series of units have built quite a reputation as being some of the most reliable and most stable high wattage units on the market along with excellent build quality.
Let's dig in now over the next few pages and take a close look.
Specifications, Availability and Pricing

The Enermax Platimax 1350W features six 12V rails. 12V1 and 12V2 are rated for 20A each, while the other four 12V rails are rated for 30A each, and have a combined maximum output of 1350W. Both the 3.3V and 5V rails are rated for 24A each with a combined maximum output of 125W. The 5VSB rail is rated for 3A of 15W. Maximum output for the Platimax 1350W is 1350W.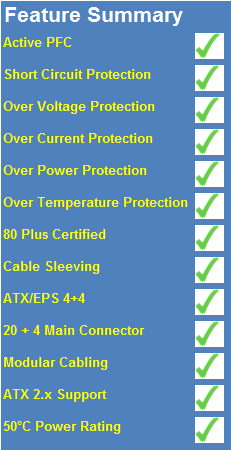 As usual, Enermax doesn't skimp at all on protections. Short Circuit, Over Voltage, Over Current, Over Power and Over Temperature protections are all present. The unit is fully modular and all cable are sleeved. Enermax rates the Platimax 1350W for 100% continuous output at 50C and it is also certified for 80 PLUS Platinum efficiency.
The Enermax Platimax 1350W has an MSRP of $369.99 which is no small chunk of change by any means. At the time of writing, Newegg offered the unit for $349.98 after shipping and rebate. That doesn't make it much better, but does put it squarely in line and comparatively priced with just about every other 1350W+ power supply on the market. Enermax backs the Platimax with a five year warranty.
Packaging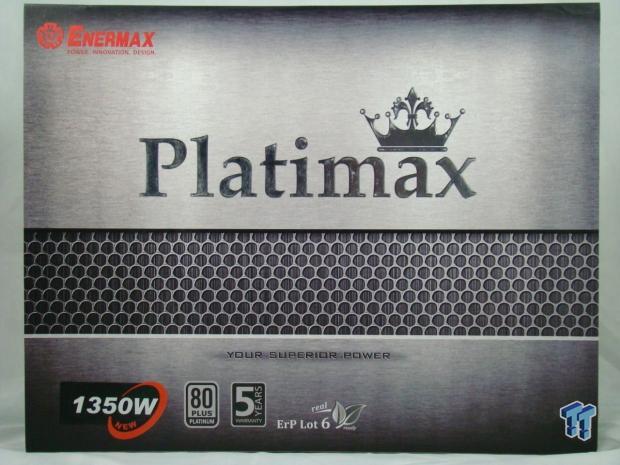 Little has changed with the Platimax packaging. The front offers little aside from wattage, warranty and efficiency.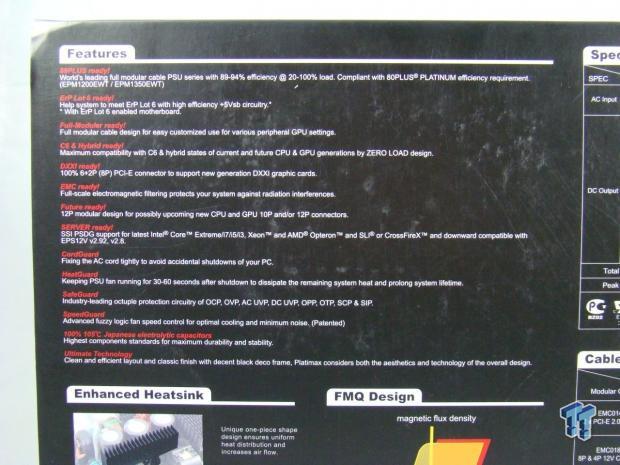 The back is where everything is at on the box as the sides and top are blank except for logos. The top left gives us our list of features and it hasn't changed any from the MaxREVO 1350 other than the efficiency.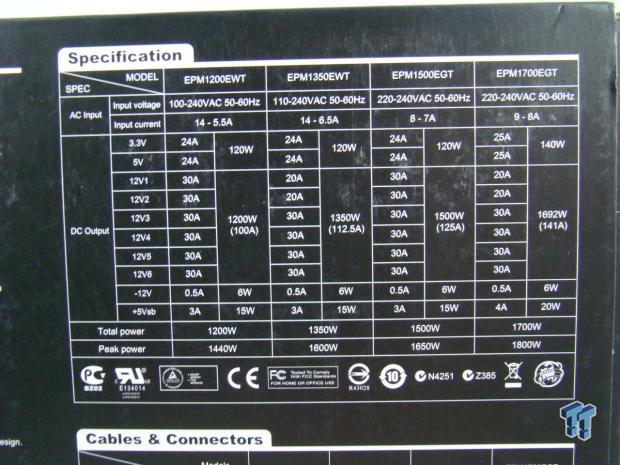 The top right side gives us specifications for the entire high-end Platimax lineup. There are two models (1500W and 1700W) that aren't available in the USA as they require a 220V power grid instead of the 110V we have in the USA.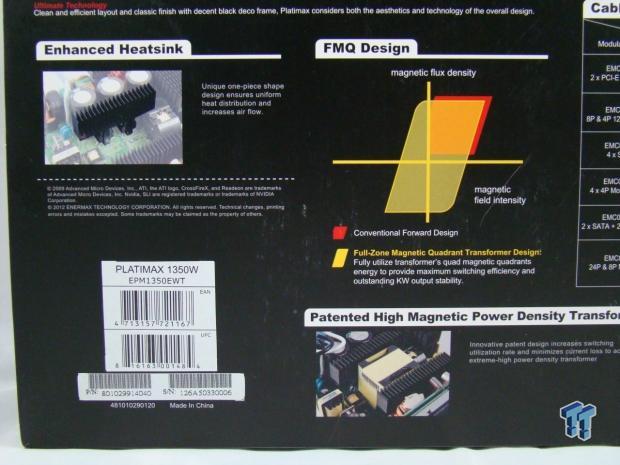 Moving to the bottom left we find a bit about some of the technology inside the Platimax 1350W. The bottom line is that it all revolves around efficiency.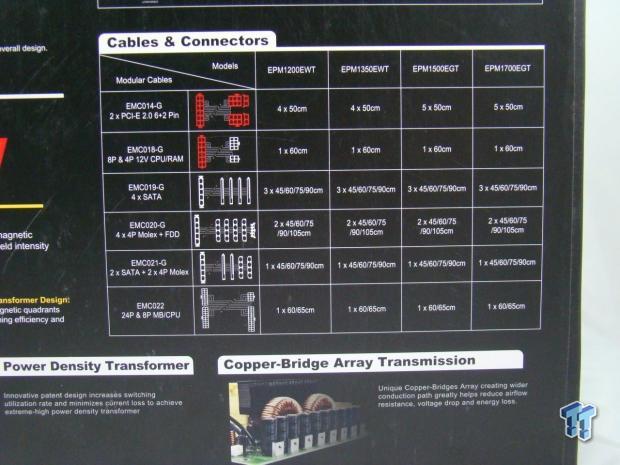 Finally, we are left with a cable and connector chart that does a great job of showing you exactly what you're going to find when you open the box.
Inside the Box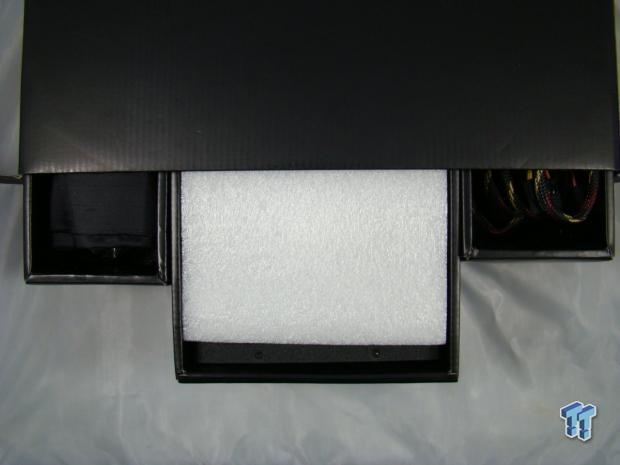 The three separate boxes inside slide out like trays. It makes it easy to get out just what you want as you are building without making a mess everywhere.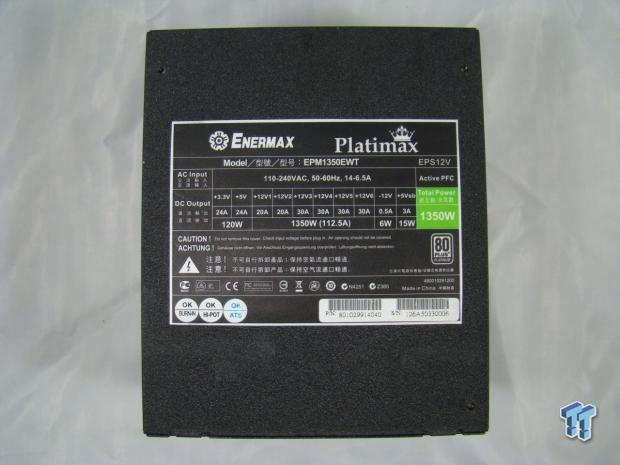 The top of the Platimax 1350W features the I/O specification label. You can also get an idea of the rough textured black finish on the unit.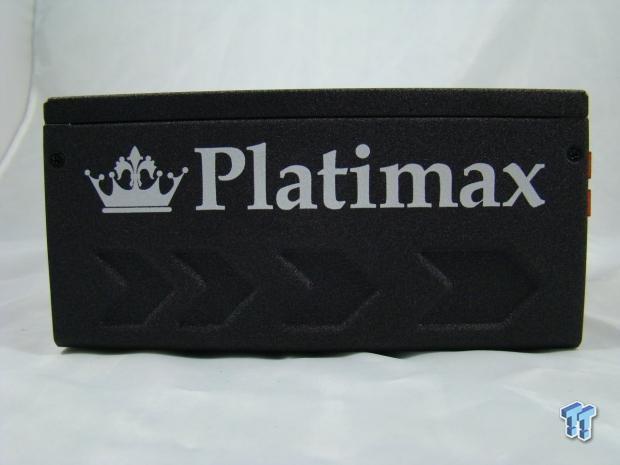 Both sides features the same Platimax and arrow logos with the opposite side being inverted.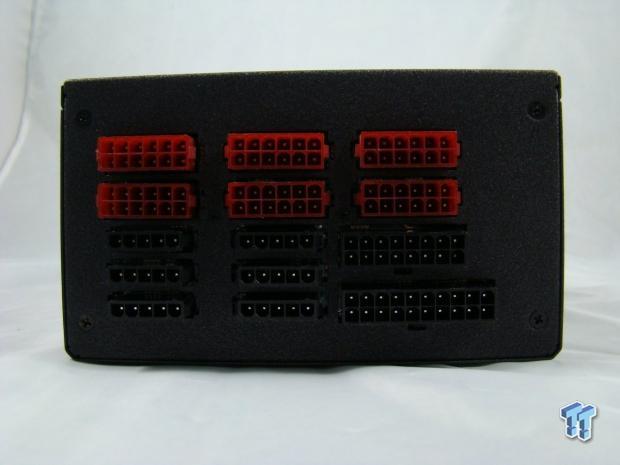 The front of the Platimax unit features all of the modular connections. My only complaint is that there are no labels here.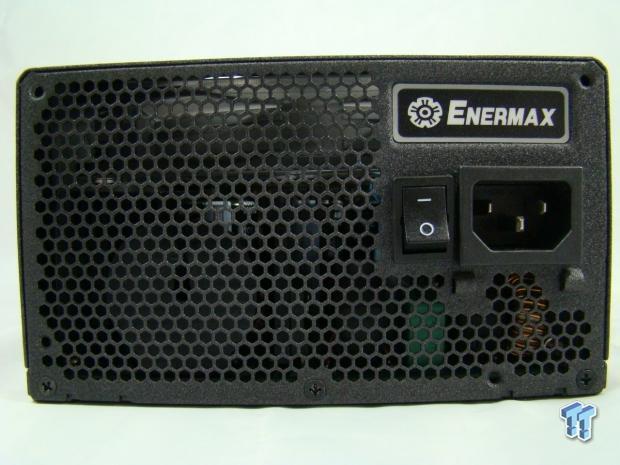 There isn't anything out of the usual here on the back of the Platimax. It features your standard honeycomb mesh grill along with on/off rocker switch and AC input. It is nice to see that Enermax has gone with the standard C14 style connector instead of C20 style that many of the higher wattage units use.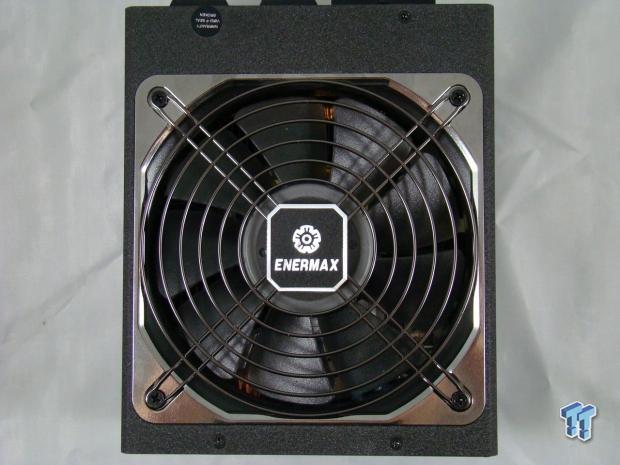 The bottom features the 140mm fan with wire grill that covers it. Surrounding the fan is a chrome bezel to add a bit of flair.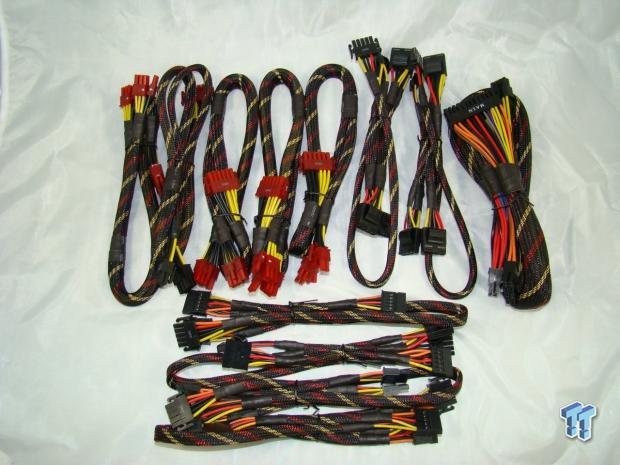 All of the modular cables are fully sleeved with nylon mesh and secured with heat shrink on each end to prevent it from coming undone.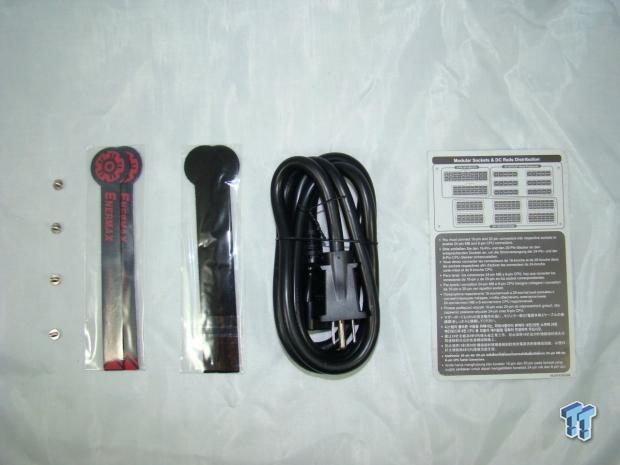 Also included in the box are mounting screws, reusable Velcro straps, AC input cord and rail distribution card. Also included, but not present, is the user manual and CordGuard clip.
Cabling Arrangement and A Look Inside
Cabling Arrangement

The cable arrangement is great for a 1300W+ class power supply. The four PCI-E cables each have dual 6+2 connectors on them and you really wouldn't expect to need anything less with a power supply of such high output. If I could change anything thought, I would have a few different lengths of SATA cables to help remove some cable clutter.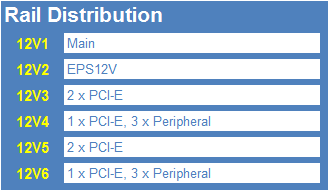 Rail distribution isn't very simple with the Platimax 1350W, but it is easily balanced. 12V1 and 12V2 take care of the motherboard and auxiliary power to the motherboard. 12V3 and 12V5 are reserved for a pair of PCI-E cables each while 12V4 and 12V6 handle one PCI-E cable and three peripheral cables each.
A Look Inside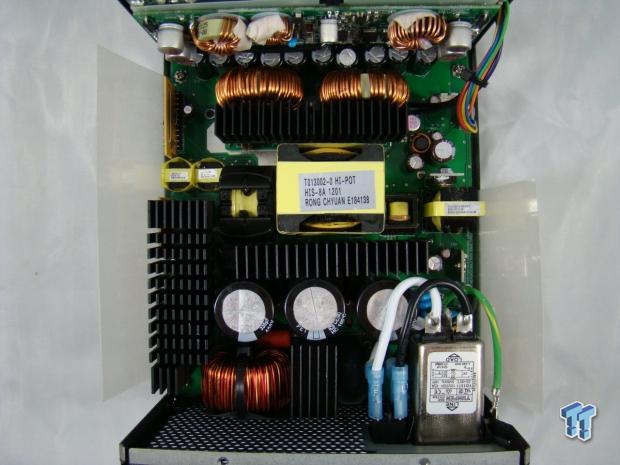 Short of the three bulk capacitors, you wouldn't know this was a high wattage unit just by looking at the general layout and component count of the unit. Many of the top tier units have done a large amount of component shrinkage which reduces heat generation and heat loss while increasing overall efficiency of the unit.
A trio of Panasonic bulk capacitors sit on the primary side of the power supply.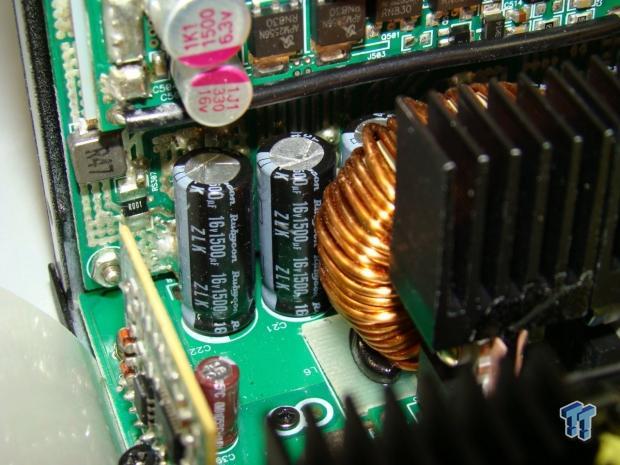 The secondary side is littered with Rubycon caps.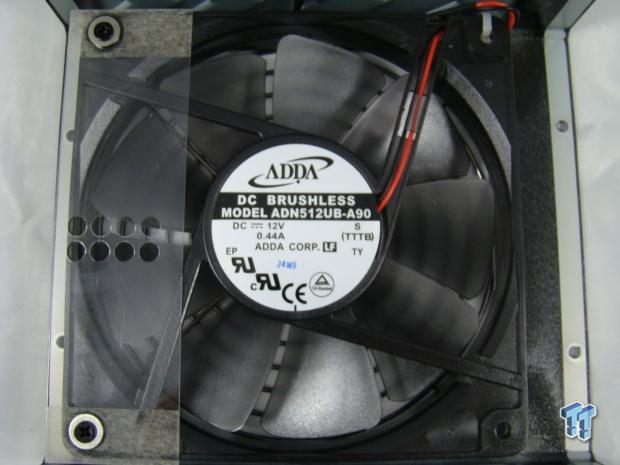 ADDA supplies the 140mm fan to provide the active cooling for the Platimax 1350W power supply.
Test Results and Final Thoughts
Test Results
Our load tests utilize a couple of FAST ATE active load testers and a variety of other equipment such as an oscilloscope, power conditioner, temperature probe and a power consumption meter. You can read more about our standard testing approach here.
The tests performed are based around six conceivable setups that are out there and progressively load down the PSU up to the power supply's limits or 1000W, whichever comes first. Since our test equipment's limits are lower than that of the Enermax Platimax 1350W power supply, we can test only test it to 1000W. Also, our test equipment is only capable of testing four rails at a time. As such, 12V3 will represent the combined output of 12V3 and 12V5 while 12V4 will represent the combined output of 12V4 and 12V6.

The above tests represent typical loads that we have measured from various systems and are meant to give a rough idea of where your computer might fall in line with our tests. Please keep in mind that each system is different and actual loads can vary greatly even with similar hardware.

Let's start by taking a look at the voltages to see how well this unit did during testing. Starting with the 12V rails, we see 2% regulation from start to finish across the board. The combined outputs of 12V3 and 12V5 faired the best with a total voltage drop of .19V, while 12V2 showed the largest drop in voltage which was .22V. The 5V rail managed to stay within 2% of specification with a total drop of .05V from start to finish. Moving towards the 3.3V rail, we see that regulation was within 2% of specification with a total voltage drop of .05V.
DC Output quality for the Enermax Platimax 1350W was great and well within specifications. During Test 1, we saw 8mV of noise on our scope. When we increased the loads in Test 3, the ripple climbed to 14mV at around half load. During Test 6 under a load of 1000W, the oscilloscope showed a maximum of 19mV on noise on the 12V rail.
The Enermax Platimax 1350W is rated for 80 PLUS Platinum efficiency. This means that the power supply must perform at 82%/85%/82% efficiency at 20%/50%/100% loads respectively. As you can see, the Enermax Platimax 1350W passed on our bench, and wasn't close to failing at any point.
Final Thoughts
I hate to say it, but the market for 1200W+ power supplies is starting to get a little bit crowded. The great thing about it is that very few of the power supplies above 1200W feature the same thing. For example, the Corsair AX1200i and SilverStone Zeus 1350W are both great units that offer entirely different features. What there is few of are 1200W+ units that simply just work. The Platimax 1350W power supply is just that.
There aren't any dials to change voltages, switches to change rails to configure, or software to install to monitor and control your power supply. It is simply a unit build with quality inside and out that you just plug in and go. It is the no fuss high wattage power supply for guys who have high-end rigs and don't have time to mess around. It is the unit that just works and keeps you happy, without you even knowing it is there.
As far as performance is concerned, the Platimax 1350W does well too. Voltage regulation is solid with 2% regulation across the board and consistent voltages across all 12V rails. The DC output quality is excellent and you can't really ask more out of such a unit. Platinum efficiency at 1300W+ is something that we've only seen out of just a few units to date.
What this all boils down to is that the Enermax Platimax 1350W power supply is great unit in just about every way imaginable. If you're running a triple or quad GPU computer and you want to mess with your power supply to get everything absolutely perfect, feel free to look elsewhere. I'd much rather prefer the Platimax as I can plug it in and start tearing it up in BF3 without any issues at all.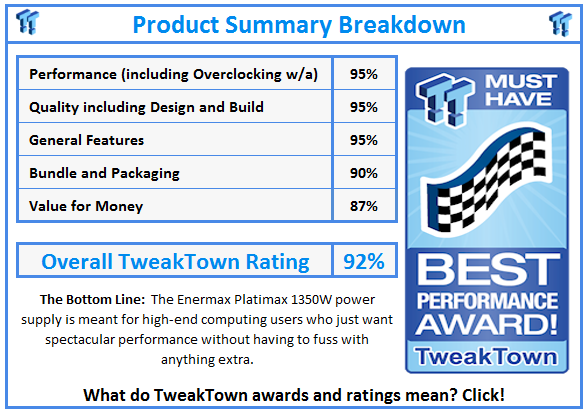 PRICING: You can find products similar to this one for sale below.

United States: Find other tech and computer products like this over at Amazon.com

United Kingdom: Find other tech and computer products like this over at Amazon.co.uk

Australia: Find other tech and computer products like this over at Amazon.com.au

Canada: Find other tech and computer products like this over at Amazon.ca

Deutschland: Finde andere Technik- und Computerprodukte wie dieses auf Amazon.de
We openly invite the companies who provide us with review samples / who are mentioned or discussed to express their opinion. If any company representative wishes to respond, we will publish the response here. Please contact us if you wish to respond.
Related Tags