TweakTown's New PSU Testing Methodology Explained
With our new dedicated power supply reviewer David about to go into full swing, we first run over our PSU testing methods we plan to use hereon.
Published
9 minute read time
Introduction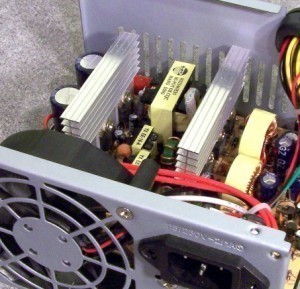 Many people consider the power supply the easiest item to purchase when selecting system components for their latest build project. How hard could it be? - You figure out how much wattage your system needs, look up some candidates at your favorite online retailer, find the cheapest one that has the right features such as nylon cable-sleeving and you are set, right? - Well, not quite.
Aside from the claimed wattage, you begin to discover some key differences between the candidates. What is marketing hype and what is not? - There is Active PFC, 80 Plus Efficiency, 50 Celsius power rating, multiple rails, rail fusion, single rail, commercial grade capacitors, ATX12V
2.01
,
2.2
and
2.3
standards and so on. And since you can't really compare competing power supplies using the specs on the label, how do you compare? - You need a common test applied to each and every power supply with the same loads, the same standard voltage and the same temperatures.
This is where TweakTown enters the picture. Our test methodology is a living document and will be updated on occasion to reflect changes, updates or new features in our testing approach. Power supplies evolve and so must our testing methods for the reviews to remain relevant and informative.
Our Goal
Armed with insight, a decision is much simpler. We strive to arm you with this very insight needed to help you select the right hardware for your particular need. We employ industry standard testing equipment, practical insight and a testing suite designed to be relevant to true system loads. To this end, we have defined a methodology for our power supply reviews to give you real world results in a clear concise manner. This living document outlines our approach for testing power supplies and will be updated on occasion to reflect new features or address technology changes.
The TweakTown PSU Testing Setup
Power supplies are actually very difficult to test properly. Using a single PC system offers some insight, but this limited approach can be very one dimensional and may not be relevant to your particular need.
To offer a more complete view, the proper method for testing a power supply is to employ specialized equipment designed for this unique demand. Active load testers allow multiple programmable loads at defined amperages to scale loads in a controlled, repeatable manner. TweakTown has recently invested this industry standard testing hardware to create a reliable, relevant test suite for all our power supply reviews.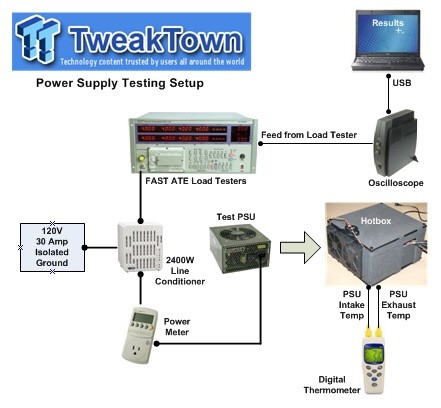 Our Equipment
We will start at the wall socket. The test equipment runs on a dedicated 30 amp feed with isolated ground to ensure that power is sufficient for both the testing equipment and the power supply. Here in the U.S. most household circuits are 15 amps, which, at 120V, would provide about 1800 Watts. Obviously this is not enough for our testing needs, so we have doubled this capacity for good measure.
- TrippLite LC2400 Power Conditioner
Since the power provided by the power grid is susceptible to fluctuations and noise, a 2400 Watt line conditioner is employed to ensure that the test equipment is as isolated as possible. By maintaining a constant 120V along with EMI/RFI noise filtering, all of the power supplies reviewed can be directly compared since the electrical source is at a constant.
- FAST ATE 828 and 4200 Active Load Testers
We employ two FAST ATE load testers that have been modified from their original setup to provide loads for up to four independent 12 V rails. This is the heart of our updated testing methodology. The systems can be programmed with six different amperage loads to provide a reliable, repeatable test for the power supply on all voltage levels; 3.3V, 5.0V, 12V, -12V, 5VSB and -5.0V. The latter one will no longer be used as it has been dropped from the current ATX standard. You can read more about that
here
.
- Velleman PCSU1000 Digital Oscilloscope
The oscilloscope is connected to the selectable waveform output of the load testers. This allows us to measure ripple to help determine how well the power supply can regulate DC output. The digital oscilloscope is then attached via a USB cable to a laptop to gather waveform data with the included software.
- Kill-A-Watt Power Meter
This handy little item will help us measure the amount of power used at the socket to calculate efficiency. This measurement is simply the amount of power supplied by the PSU divided by the amount of power used. It will also allow us to determine the Power Factor of the PSU which is the ratio of Wattage versus apparent power in VA. A good power supply will use less electricity to deliver the same power as a cheaper power supply.
- The Hotbox Torture Chamber
Our custom built hotbox is used to bring the ambient temperature to about 45 degrees Celsius, validated by a dual output temperature probe. The first probe measures intake temperature of the power supply and the second, the exhaust temperature. This torture test is an effective way to determine simply good from great. While it is not an ATX requirement, many premium power supply manufacturers rate their products at a temperature of 50C, while others opt to measure output at much a more modest 25C.
While the current
ATX standard
only defines 25C for testing, this value is far too low to be considered realistic for a case operating temperature. Considering a power supply can lose up to 10% of the output for every 10 degrees over 30C, you begin to understand the impact of this hotbox test. Premium power supplies will push their full rating at 50C while lesser units may fail to deliver more than 80% of the rated capacity. This test will uncover the strength or the weakness of the tested power supply.
The Test Regimen
After some careful consideration on potential approaches, our test regimen includes five non-variable load tests. Each of these power loads represents a class of modern gaming system, from a standard gaming system all the way through to a highly over-clocked top tier system with relative loads defined on each of the voltages. We had considered using simple percentage based PSU specific loads (20, 40, 60, 80 and 100%) equally spread across each of the voltages up to the maximum capacity, but unfortunately this does not represent any type of realistic load. So, instead of theoretical tests that do not reflect any type of real demand, we have instead defined the following five enthusiast class systems for testing.

Each defined system class will draw a defined wattage and amperage on each of the main voltage rails. You will notice that the 3.3 and 5 volt rails loads both stay relatively low compared to the 12 volt loads. This represents true power demands of a modern enthusiast system and helps explain why so many manufacturers focus on marketing the 12 volt capacity of the power supply.
Next, to round out these five standard system tests, we do a final test and load up the power supply with as much draw as possible per specification on the 12V rails to see how well the unit performs. We bring up the 3.3V and 5V loads a little more than the standard test to represent additional cooling and over-clocking along with an increase on the 12V rail(s) up to a maximum of about 76.5 amps. It would be hard to imagine any current system using too much more power considering the recent emphasis on reducing the power draw of peripherals.
In the case of multiple 12V rails, each is loaded with differing amperages to represent actual PC loads. The CPU draw is relatively constant and as you add more peripherals, especially graphics cards, the loading increments in large steps and does not load the 12V rails evenly. The following list represents the type and number of components represented by each of the system specific load tests.

What is the impact of this? - Let's say you were considering a four rail PSU to power your single GTX 280 system. It is then possible one of the 12V rails could potentially have no effective load. It will depend how the power supply manufacturer has designed the voltage distribution. To make sure you have the right information, each review will note this distribution. For example: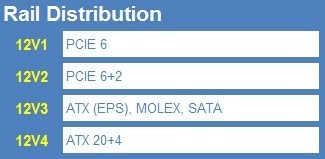 To allow for these PSU specific variations, each of the rails will be loaded uniquely to reflect an actual peripheral load from the class specific CPU, graphics card (one, two, and three), peripherals and cooling loads. If we had simply loaded all the rails evenly, the tests would not reflect an actual system load. If the power supply operates within specifications for a test class similar to your system configuration, you will be more confident that it will operate, as tested, in your actual system.
Standard Tests
We measure each of the rails under load for voltage stability during all tests. If any voltages fall outside of the current ATX specification, they are denoted in red for easy identification. Stable voltage on all power rails within design limits is essential for a stable, reliable system. All measurements are measured at both ambient room temperature and at 45C operating temperatures in the hotbox.
In addition to the voltage reliability, we will also be measuring voltage ripple on the all important 12V rail with an oscilloscope with the proper capacitors in place to filter noise. Simply put, this measures how clean the power delivery really is for the tested power supply. Again, anything falling outside of ATX specifications will be denoted in red. Currently, the requirement is 120 mV for 12V.
Lastly, we will measure the efficiency of the power supply. There are a number of factors like power factor correction that can skew the results, but we will simply concentrate on the ratio of AC power drawn at the wall socket to the amount of DC power actually supplied within the system. Most modern power supplies will be over 80% efficient. Again, any results under 80% will be denoted in red. Please keep in mind these efficiency results are at 120V and will be slightly higher in countries with 220V power.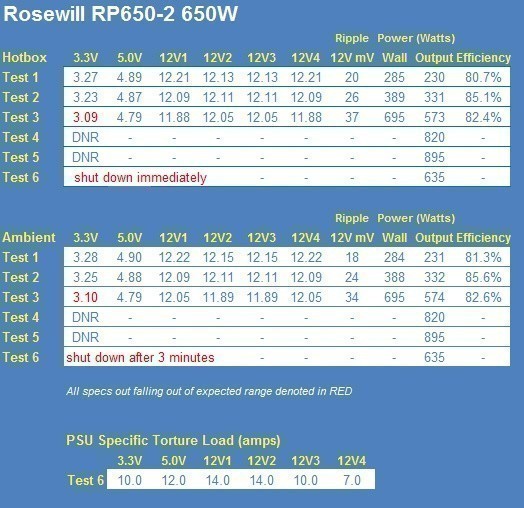 Power Supply Features
Not only will you have all of the bench results, you will need some additional information regarding the power supply such as features, cable types, connectors and lengths. Again, in order to provide information in an easy digestible format, we have simply identified the common features that we look for in a power supply and note whether the power supply included the feature or not. Most of the time, we want to know what the power supply is missing versus combing through a generic list of features included. Exception management is much simpler, faster and easily compared.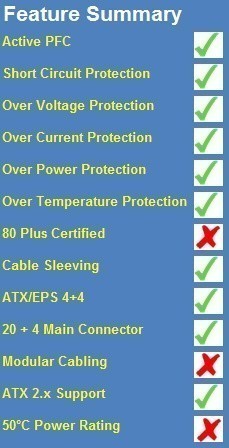 Once we have a gander at the features included with the PSU, we take a quick count of the cable types, the number of connectors and measure the lengths to the first connector. If there is more than one connector, as in the case of a molex or SATA run, each subsequent connector is measured along the cable run.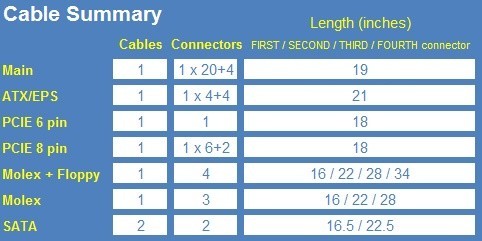 For example, looking at the Molex + Floppy results, we see there is one cable with two molex and one floppy connector. The first molex is 16 inches along the cable, the second at 22 inches, the third at 28 inches and the last floppy connector at 34 inches.
The Bottom Line
We endeavor to provide you with easy to read information that is simple and effective. You may have noticed that we run all the tests with the same defined loads on each and every power supply we test. While that means that some of the smaller power supplies will only pass two or three of the tests, it also helps find the truly exceptional one. Maybe one 500 Watt PSU can push out 550 Watts at 45C while another 500 Watt PSU struggles to provide 400 Watts at the very same temperature. Other than sharing the same specifications on the label, the power supplies may yield very different results. This is the information you need to know and why we torture every power supply we test. We expect more than a few will fail or fall outside of ATX specifications during the torture testing.
The power supply is more of a key component in your system than most will acknowledge. Many people invest a lot of their hard earned money in a motherboard, CPU and graphics card since those can have an immediate impact on frame rates for your favorite game or benchmark. Power supplies appear to be an entirely different matter. I have yet to see where a PSU can add 10 FPS, but, then again, I have seen where the wrong PSU can certainly cost you 10 FPS or in some gruesome cases end up costing you your entire PC investment. A properly sized, quality power supply is the heart of your gaming system and should parallel your investment elsewhere. Why invest $250 in a motherboard, $200 in memory and $500 in a graphics card only to be powered by a $50 power supply? - While we certainly do not advocate everyone investing in a $300 power supply, pairing your investment to your motherboard purchase is a good start. Entry level motherboards can be as low as $40 while high end versions can run about $350 which, coincidentally, is the price range for mainstream power supplies.
This rule of thumb works as long as you consider the potential of your system. If you do not plan to fully populate the system with three graphics cards or the like, your power supply requirement will obviously be less. Still, take a good hard look at how much you spent on your system and consider a power supply purchase as a form of insurance. Make sure you have enough quality coverage.
So, simply put, determine your class of system, compare the results, read the reviews and get the right power supply. This investment will stay more relevant and current for longer than a CPU or graphics card and subsequently justifies appropriate attention and investment. Bottom line, get a good one!
We look forward to bringing you a consistent run of power supply reviews as of next week which strictly follows the testing methodology explained here today.
PRICING: You can find products similar to this one for sale below.

United States: Find other tech and computer products like this over at Amazon.com

United Kingdom: Find other tech and computer products like this over at Amazon.co.uk

Australia: Find other tech and computer products like this over at Amazon.com.au

Canada: Find other tech and computer products like this over at Amazon.ca

Deutschland: Finde andere Technik- und Computerprodukte wie dieses auf Amazon.de
We openly invite the companies who provide us with review samples / who are mentioned or discussed to express their opinion. If any company representative wishes to respond, we will publish the response here. Please contact us if you wish to respond.