Introduction, Specifications, Availability and Pricing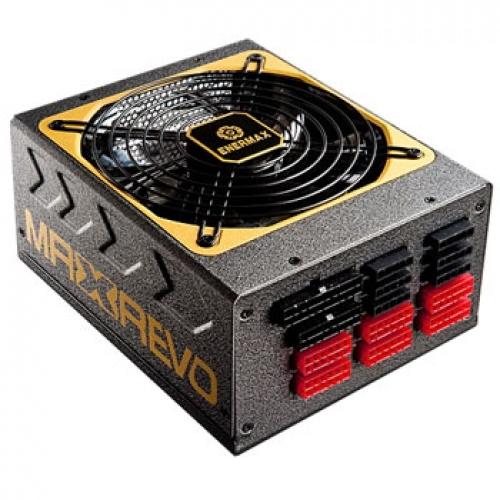 Any PC enthusiast is very aware of the quality products that Enermax has to offer, especially when it comes to power supplies. They have been building some of the most reliable power supplies available for quite some time in both low and high wattages.
We've taken a look at many of their units and have always been very pleased with what we've found. Around this time last year, we took a look at the MaxREVO 1350W power supply. It proved to be quite an awesome unit, but what if 1350W isn't enough? Enter the MaxREVO 1500W.
The Enermax MaxREVO 1500W is more than just an increase in power. Enermax has taken a look at power consumption and adjusted the maximum current across several of the rails. They have also taken a look at the need for cables and connectors and made some very nice changes. The unit still retains the same great build quality that the 1350W exhibited and all the features are retained as well.
Just talking about features and specifications all day long tends to get a bit boring so let's dig into the new 1500W to look deeper at the changes and find out if it performs just as well as we expect it to.
Specifications, Availability and Pricing

The new Enermax MaxREVO 1500W still supplies 12V power in the form of six rails. As I said above, Enermax changed some of the rails. Most would assume that since this power supply is rated for more power than the last one we looked at that it would be rated for more current on each rail. That isn't the case here. Both 12V1 and 12V2 are rated for 20A each instead of the previous 30A. 12V1 and 12V2 feed the motherboard and combined provide 40A or 480W, of power. It will be very hard to utilize more than that, even with an overclocked dual processor system so it shouldn't be anything to worry about.
The remaining four 12V rails are rated for 30A each and are unchanged. Maximum combined output for all six rails is 125A or 1500W, which is 100% of the rated output of the power supply. Both the 3.3V and 5V rails are rated for 25A each with a combined maximum output of 140W. The unit also provides a strong 5VSB rail rated for 4A or 20W.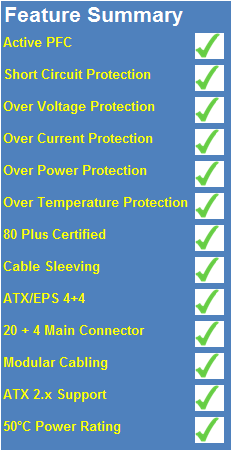 Enermax always provides some of the most feature rich power supplies that you will ever find. Aside from the standard SCP/OVP/OCP/OPP/OTP, the MaxREVO 1500W also features Surge and Inrush Protection (SIP). Having lost many power supplies over the years to surges, I must say this is a nice feature to have as surge protectors don't always work or have outlived their usefulness without your knowledge. The MaxREVO 1500W is rated for 80 PLUS Gold efficiency and features 100% modular cabling and all of the cables are fully sleeved. Finally, the unit is rated for 100% continuous output at 50C. This is very important to have in a unit of this caliber as it is likely to see extreme temperatures for extended periods of time while pushing multiple overclocked GPU's and CPU's.
Enermax says the new MaxREVO 1500W power supply is immediately and readily available. Some quick searching will show that it is cheapest at Newegg for $359.99 plus shipping. This makes it very competitively priced compared to other 1200W-1600W units. Enermax backs its MaxREVO 1500W with a five year warranty.
Packaging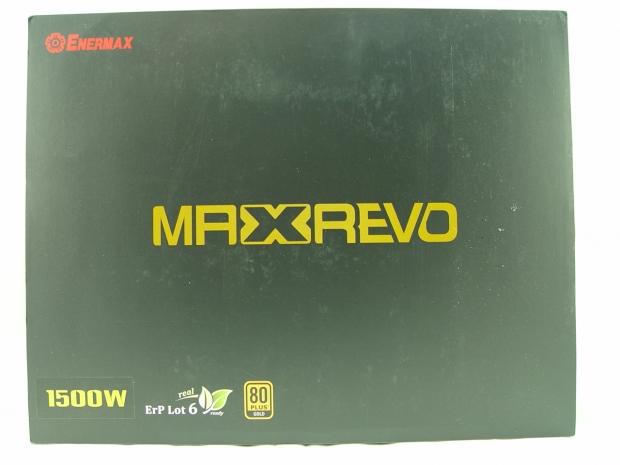 Enermax doesn't give you much to go by when looking at the front of the box. It is rather large yet only offers up the wattage and 80 PLUS rating for the unit.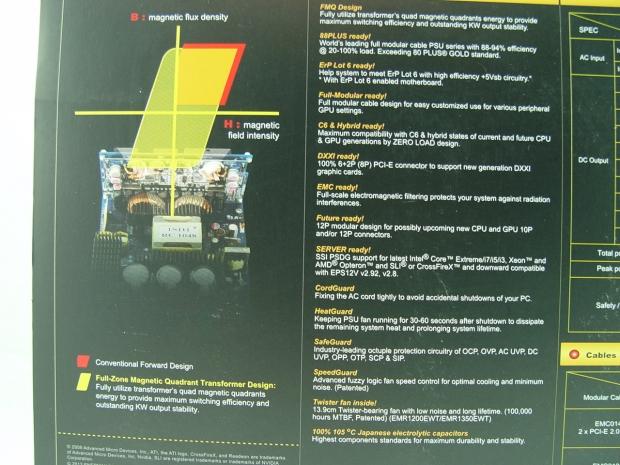 The back is an entirely different story. Things start off with a long list of features which cover everything from the fan and build quality to safety features and future readiness.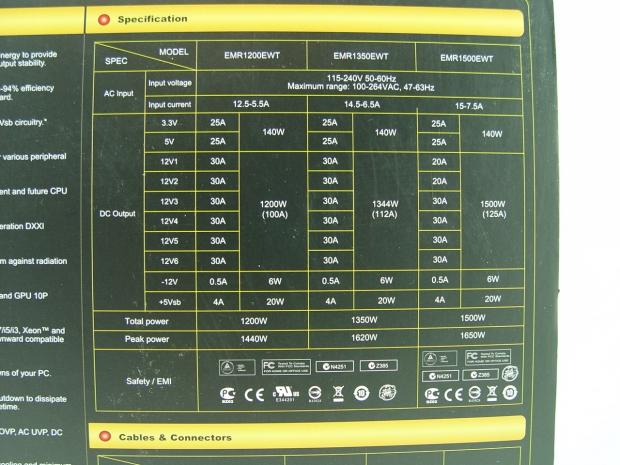 Off to the right is a large I/O specification. Something to take note of is that the unit is also rated for peak power of 1650W.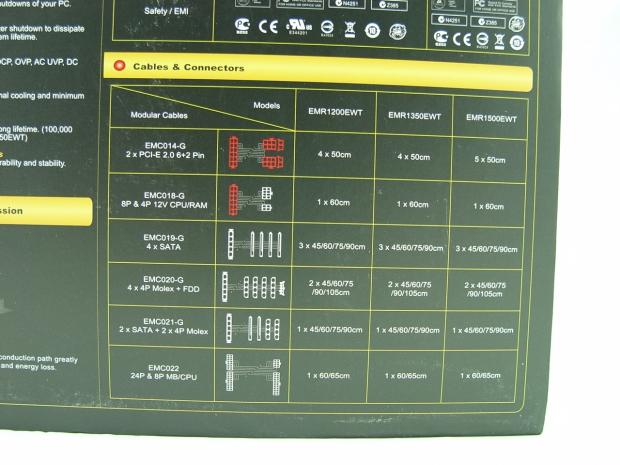 Just below that is a very nice cable and connector chart that shows the breakdown of cables for all three of the MaxREVO power supplies.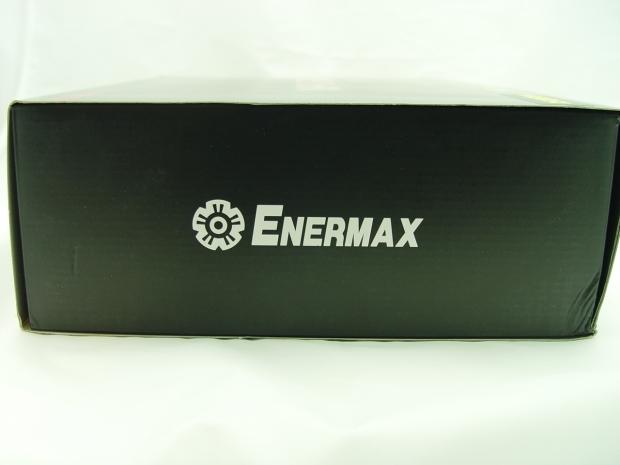 Both sides waste more space in what could be used to give more information of make what is on the back a bit less crowded.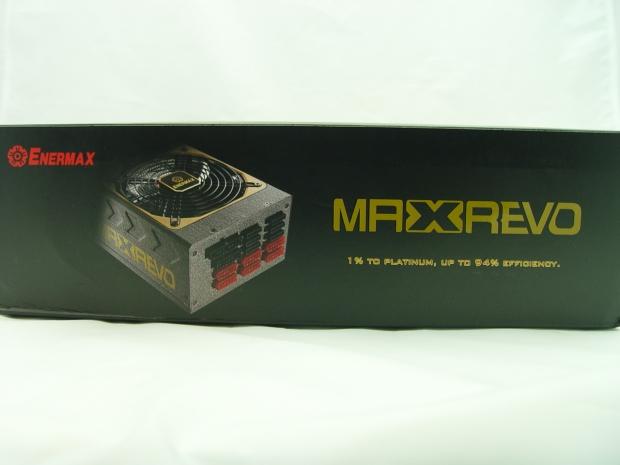 At least on the top of the box we get a glimpse at the unit. Enermax doesn't make any mention of warranty that we could find until we got inside the box. Here we also see that they say "1% to Platinum, up to 94% efficiency." That is a fancy way of saying that it is simply an 80 PLUS Gold unit that was close to a Platinum rating, but couldn't quite make it.
Inside the Box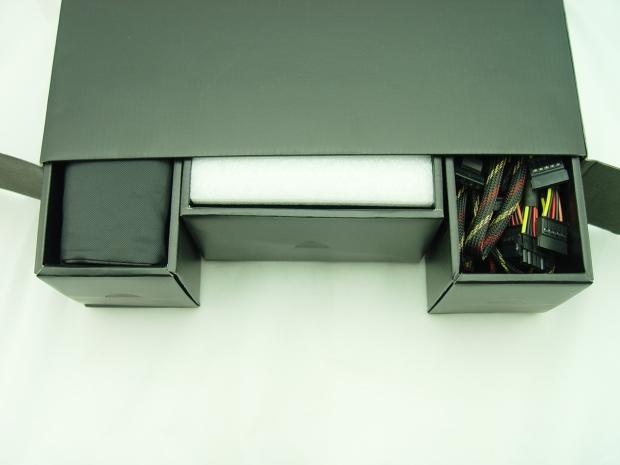 Once we open things up, we find several boxes that slide out of the outer packaging. The power supply resides in the middle box while the modular cables and accessories are in the outer two boxes.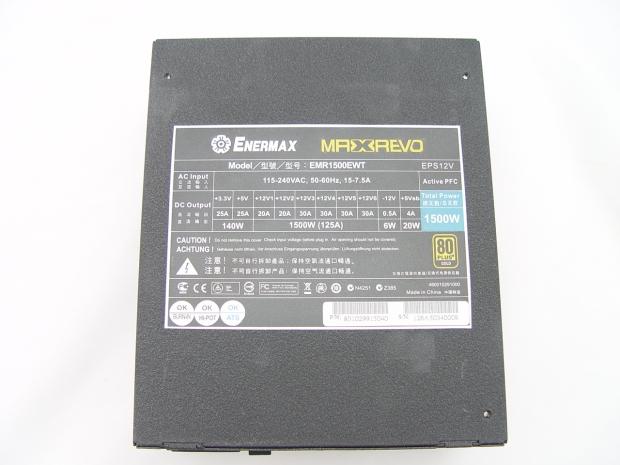 Taking the power supply out of the box, we find that the I/O specification label is on the top of the unit. There are some rub marks on the finish of the unit, but we aren't able to explain why. The power supply rests in the box without bubble wrap or a plastic/felt bag but at the same time, there aren't any marks on the cardboard to indicate that it had been rubbed smooth.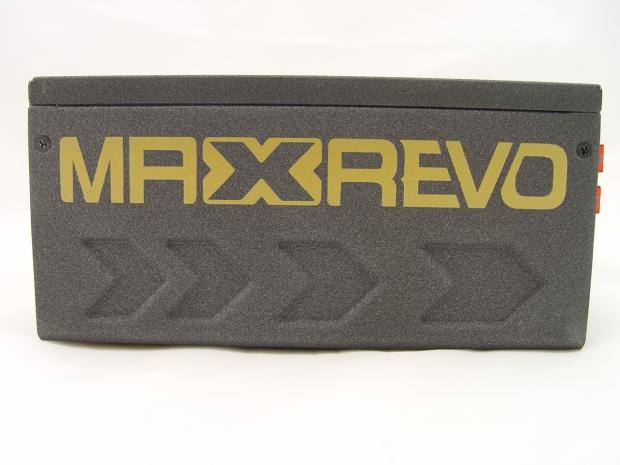 Moving to the side, we find the same matte finish and embellished case that we saw with the 1350W model.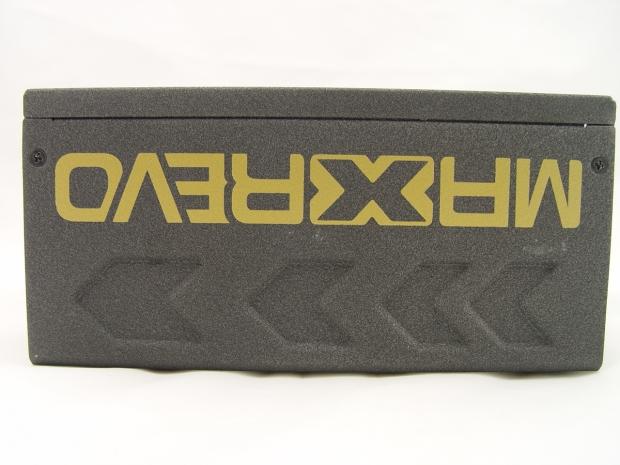 The other side is inverted and has a few more rub marks on it that we again couldn't explain.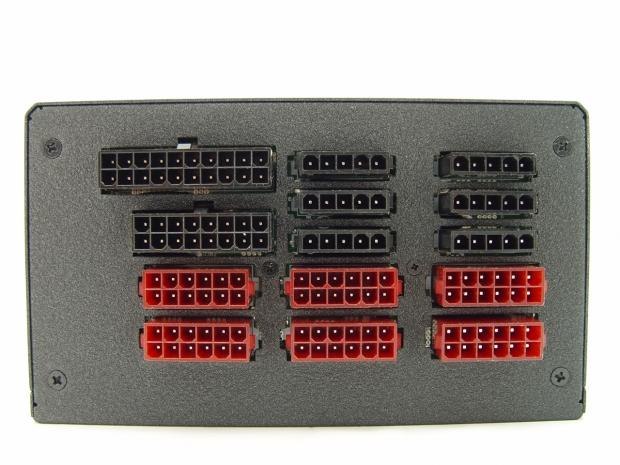 Here we see all of the modular connections on the front of the unit. While it is impossible to utilize cables in an incorrect spot, it would be nice to have them labeled, especially with which rail they connect to.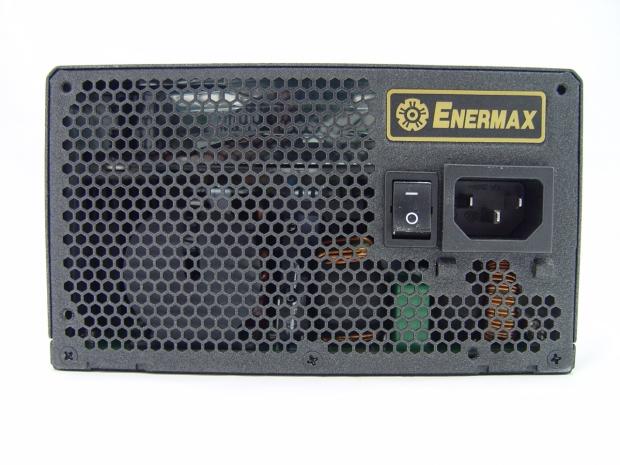 Towards the back we find the standard honeycomb mesh venting with AC input and on/off rocker switch. Also notice the two spots below the AC input. This is for CordGuard, which secures the power cord and prevents it from accidentally being unplugged.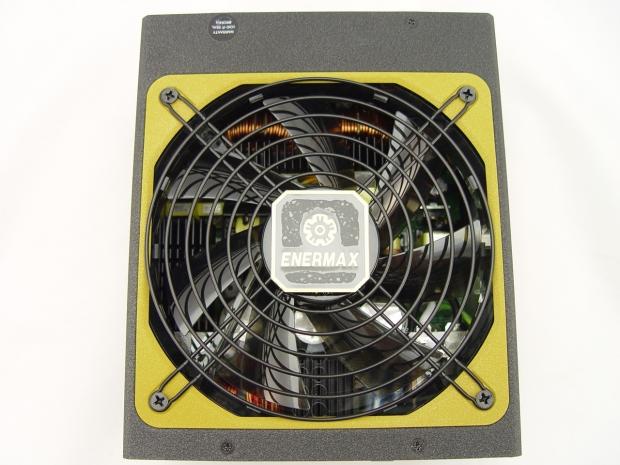 Rounding out the exterior photos of the unit is a shot at the bottom. The 140mm fan provides active cooling for the unit and thanks to the HeatGuard feature will remain spinning 30-60 seconds after powering the unit off to reduce residual heat.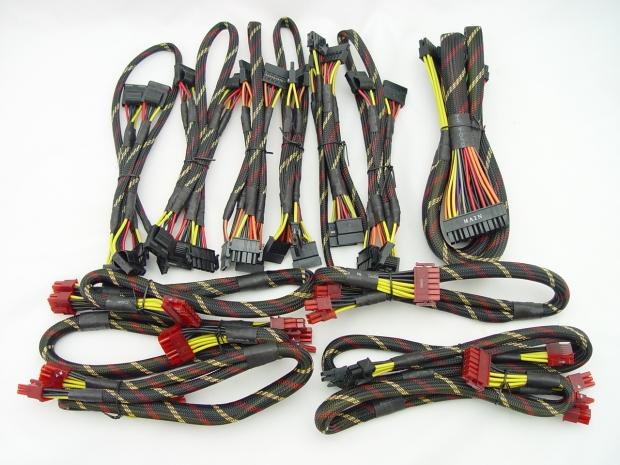 Included with the MaxREVO 1500W power supply are a slew of modular cables.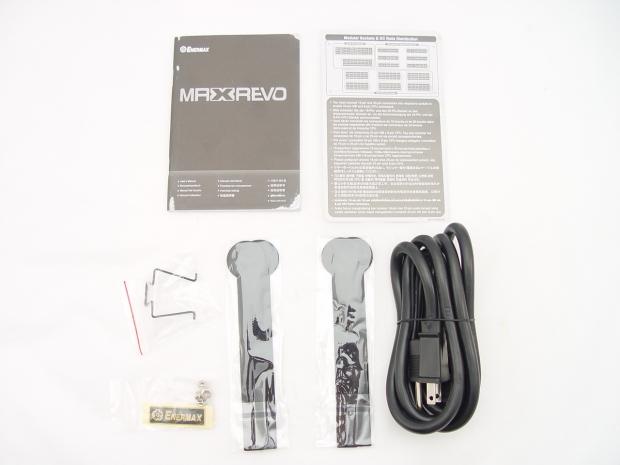 Also included with the power supply is the user manual, rail distribution card, mounting screws, case badge, CordGuard and AC input cord.
Cabling Arrangement and A Look Inside
Cabling Arrangement

One of the first things that you're sure to notice with the cable arrangement is that there are five PCI-E cables for a total of ten PCI-E 6+2 pin connectors. That is sure to handle any of your GPU needs while leaving the sixth red modular connection available for the additional ATX 4+4 and 4-pin cables. Peripherals are powered by three SATA cables with four connectors, two Molex cables with four connectors plus an FDD connector and a cable with two Molex and two SATA connectors. This gives you 14 SATA connectors and ten Molex connectors.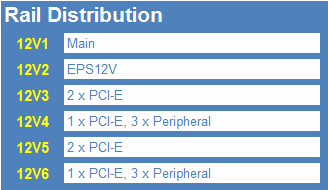 Rail distribution is kept rather simple despite there being six different 12V rails. 12V1 and 12V2 feed the motherboard and EPS12V connector respectively. The rest of the rails are split up between PCI-E connections and peripherals. 12V3 handles two PCI-E connections while 12V4 handles a single PCI-E connection plus three peripheral connections. 12V5 and 12V6 are respectively identical to that of 12V3 and 12V4.
If this doesn't naturally load balance the rails enough for you, keep in mind the design of the PCI-E cables. As they split about six inches from the end, this allows you to run each connector to a different GPU in most cases and thus provide even more balancing. Enermax has put a lot of thought into the rail distribution and load balancing and it certainly shows. The only thing that would have made this better would be to have the connectors labeled on the front of the power supply. Without the included reference card or user manual, there is no way of knowing which connectors go to which rail. This can be a pain in the butt if you're unsure of where you put them.
A Look Inside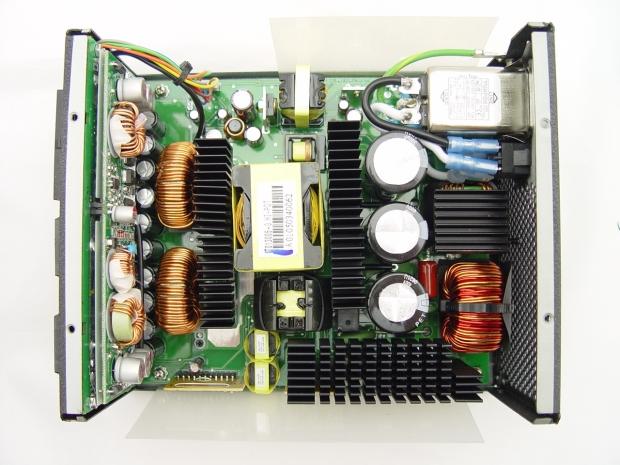 As you would expect, the design of the MaxREVO 1500W is almost identical to that of the 1350W. Several heatsinks provide passive cooling for the unit and assist the fan in keeping temperatures low.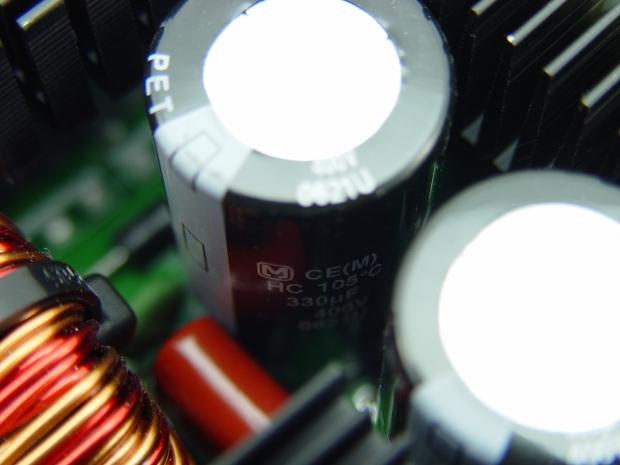 The same three Panasonic capacitors can be found on the primary side of the MaxREVO 1500W power supply.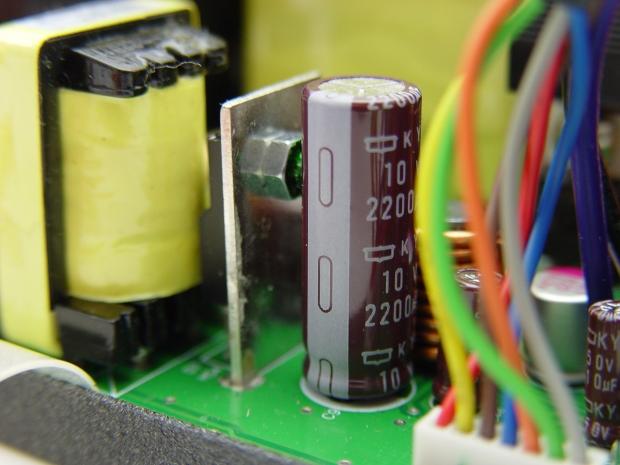 The secondary side features Nippon Chemi-Con caps all over the place giving the MaxREVO 1500W power supply 100% Japanese capacitor construction.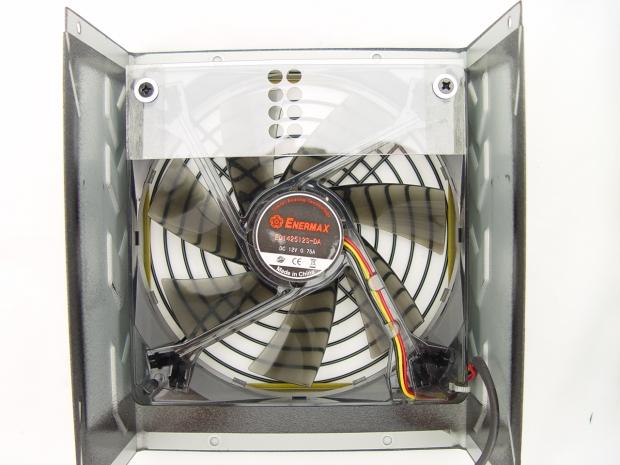 Active cooling is provided by the Enermax ED142512S-DA 140mm twister bearing fan. It appears to be identical to the one from the MaxREVO 1350W and, if so, is manufactured by Power Cooler.
Test Results and Final Thoughts
Test Results
Our load tests utilize a couple of FAST ATE active load testers and a variety of other equipment such as an oscilloscope, power conditioner, temperature probe and a power consumption meter. You can read more about our standard testing approach here.
The tests performed are based around six conceivable setups that are out there and progressively load down the PSU up to the power supply's limits or 1000W, whichever comes first. Since our test equipment's limits are lower than that of the Enermax MaxREVO power supply, we only test it to 1000W.
Our test equipment is also only capable of loading down four rails simultaneously. As a result of these limitations, our test results for 12V3 represent a shared load for both the 12V3 and 12V4 rails and the test results for 12V4 represent a shared load for both the 12V5 and 12V6.

The above tests represent typical loads that we have measured from various systems and are meant to give a rough idea of where your computer might fall in line with our tests. Please keep in mind that each system is different and actual loads can vary greatly even with similar hardware.

Let's start by taking a look at the voltages to see how well this unit did during testing. Starting with the 12V rails, we see 2% regulation from start to finish on all rails. 12V2 and 12V3 both showed the largest drop of .22V from start to finish while 12V1 and 12V4 both showed the smallest drop of .11V from start to finish. The 5V rail managed to stay within 1% of specification with a total drop of .06V from start to finish. Moving towards the 3.3V rail, we see that regulation crept up to 3% with a total voltage drop of .10V.
DC Output quality for the MaxREVO 1500W was just what we expected and well within specification. During Test 1, we saw 11mV of noise on our scope. When we increased the loads in Test 3, the ripple climbed to 20mV at a little over half load. During Test 6, the MaxREVO 1500W showed us a maximum of 29mV of noise at a 1000W load.
The MaxREVO 1500W rated for 80 PLUS Gold efficiency. This means that the power supply must perform at 87%/90%/87% efficiency at 20%/50%/100% loads respectively. As you can see, the MaxREVO 1500W passed on our bench wasn't close to failing at any point.
The MaxREVO 1500W exhibited zero signs during testing that it would have failed any of our tests if we were able to fully load down the unit to 1500W. We are confident that it would have continued giving us impressive results through full load.
Final Thoughts
Time and time again, Enermax delivers quality power supplies and today is no different. The Enermax MaxREVO 1500W power supply is a welcome addition to the lineup and one that is much needed to continue to provide enthusiasts with solutions to the massive requirements of today's very high-end PC market. Enermax knows that when such high amounts of power are needed, it is quite necessary that it be of quality and that is just what you get with the MaxREVO 1500W.
Since the MaxREVO 1500W is nearly identical to that of the MaxREVO 1350W, we expected that our performance numbers would be nearly identical as well. We were quite pleased when we saw mild improvements in voltage regulation. All of the 12V rails were still within 2% of specification and the 5V rail was still within 1%. Our 1500W unit showed that the 3.3V rail was now within 3% of specification and very close to being within 2%. DC output quality and efficiency were once again almost identical to what we saw with the 1350W model and we're happy to see that.
Where the MaxREVO 1500W really starts to shine is when you start to look at the price. There are only two power supplies on the market that are 1500W or more and priced lower than the MaxREVO 1500W. Of those two, only the LEPA G1600-MA is 80 PLUS Gold rated or higher. It too is manufactured by Enermax and is based off the design of the MaxREVO series. Making the deal even sweeter is that the MaxREVO 1500W is cheaper than many other manufacturers' 1200W-1400W units. Don't forget that Enermax backs your purchase by a five year warranty too.
It is nice to see that Enermax is not only providing some of the best quality power supplies on the market, but they are doing so while keeping the price in check. Keep up the good work Enermax!