Introduction and Specifications, Pricing and Availability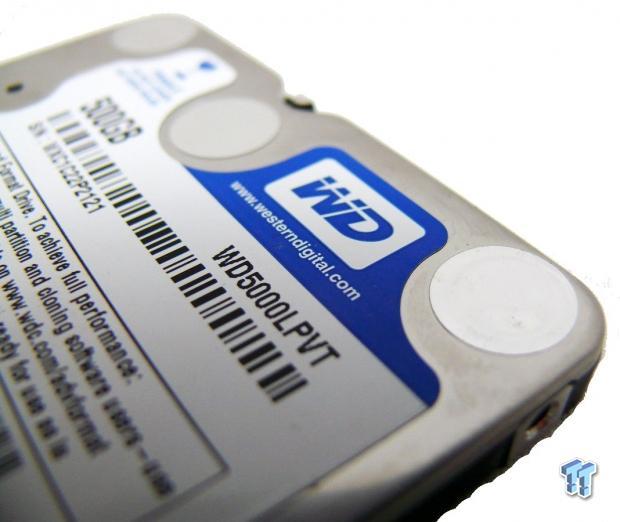 Within the mobile computing market, hard drive manufacturers push the limits of what technology can offer. Packing all of the tech, and sometimes even more, found in larger 3.5" drives, into the small form factor 2.5" drives. Western Digital, at the forefront of the industry, has recently reinvented its Scorpio Blue lineup releasing a number of capacities featuring a 7mm Z-Height.
Today I will be looking over the 500GB capacity or WD5000LPVT. Building on the "Blue" moniker, Western Digital has released the WD5000LPVT as a single platter design, offering low power consumption in the thin 7mm form factor. Right out of the gate the Scorpio Blue offers two distinct advantages over its SSD counterpart; those being capacity and price, but Western Digital did not stop there.
They added SecurePark Technology to keep the recording heads off the platter when not in use. Additionally they have tightened up the power consumption figures for this new generation with just 1.4w being used during read/write operations.
Within the last few years, the transition to Advanced Format drives has begun. The transition to Advanced Format allows hard drive manufacturers to produce higher density platters for this small form factor, and already we are beginning to see the benefits with 1TB being a mainstream offering for the mobile market. Additionally, HGST has claimed the largest storage capacity in the 2.5" form factor with its new 5K1500 1.5TB drive.
Specifications, Pricing and Availability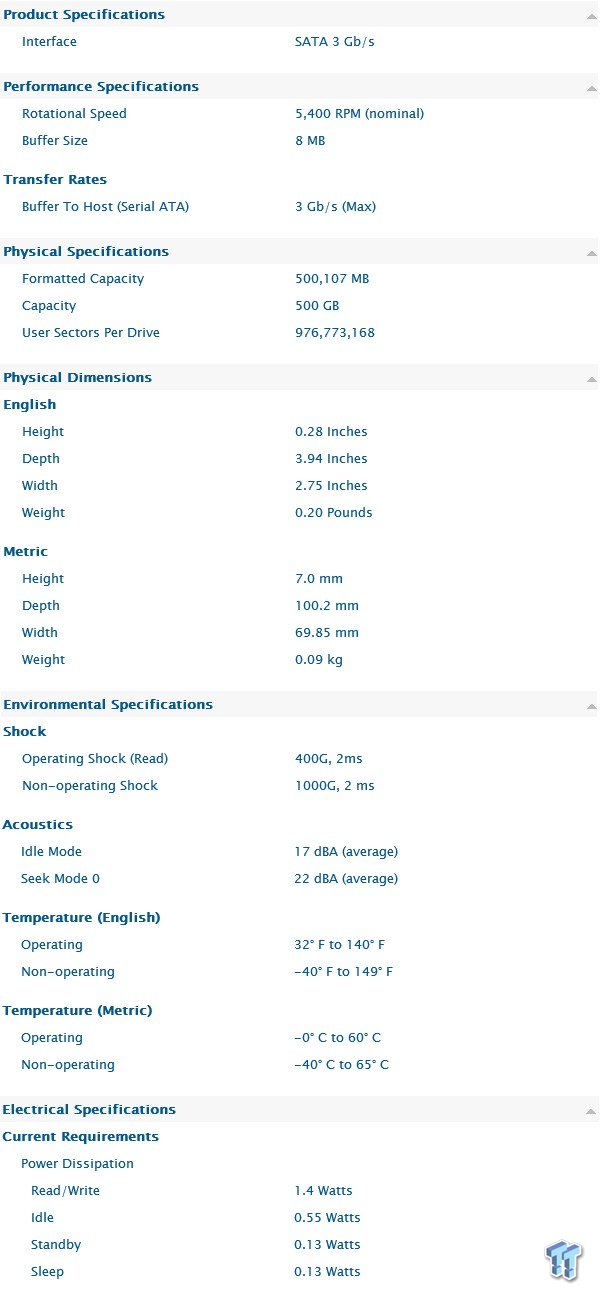 The WD5000LPVT, part of the new generation of Scorpio Blue drives from Western Digital, utilizes the SATA 3Gb/s interface with a rotational speed of 5400 RPM. The drives cache is set at 8MB, with its formatted capacity listed as 500,107MB or 488GB on a single platter design.
The Scorpio Blue has always exceled in power consumption figures and the new WD5000LPVT is no different. Looking over the spec sheet, we find read/write operations are said to use just 1.4w, while idle operations are listed at 0.55w. Standby and sleep both share the same 0.13w.
Newegg at the time of writing has the WD5000LPVT listed and in stock at $59.99 or 12 cents per GB.
The WD5000LPVT comes as a bare drive and is covered under Western Digital's three year warranty.
Scorpio Blue "WD5000LPVT" 500GB HDD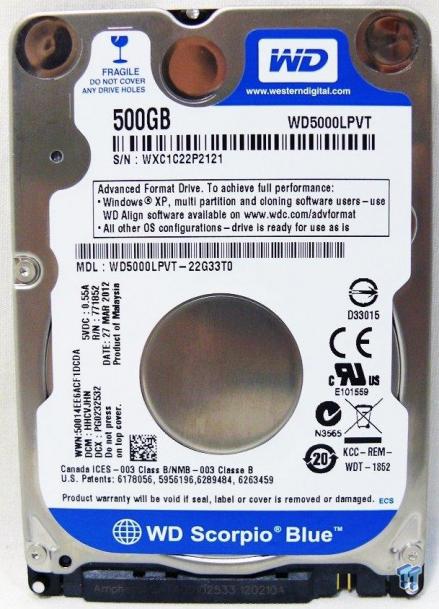 Our Scorpio Blue was delivered to us in the bare drive form. The new Scorpio Blue shares the same aesthetic design we have come to recognize, the 500GB capacity listed across the top left. In the center of the drive, Western Digital recognizes the Advanced Format offering instructions to align the drive within OS's that do not natively support.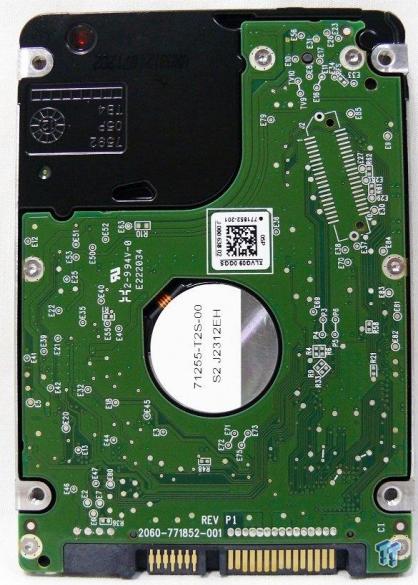 The back of the drive houses a green PCB with the SATA and power connections at the bottom.

The drives power and data connections have been placed in the standard configuration, insuring wide compatibility.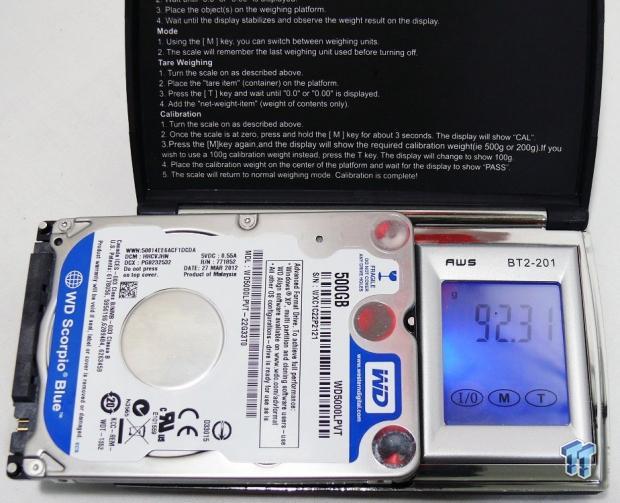 Firing up our calibrated scale, we measured the Scorpio Blues weight at 92.3 grams.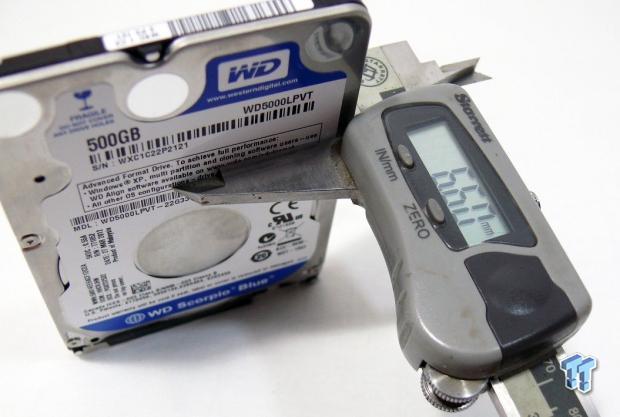 At the drives thickest point we measured it at 6.6mm with our Starrett 799.
Benchmarks - Test System Setup and ATTO Baseline Performance
Desktop Test System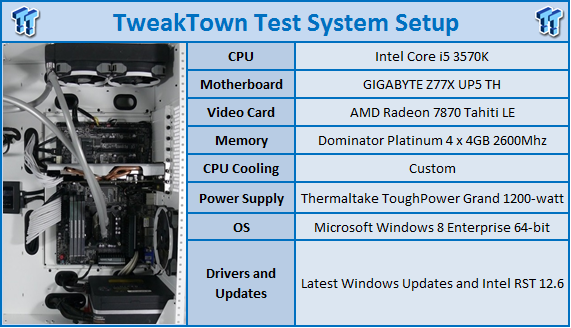 ATTO Baseline Performance
Version and / or Patch Used: 2.34
Many disk manufacturers, to determine the read and write speeds that will be presented to customers, use ATTO.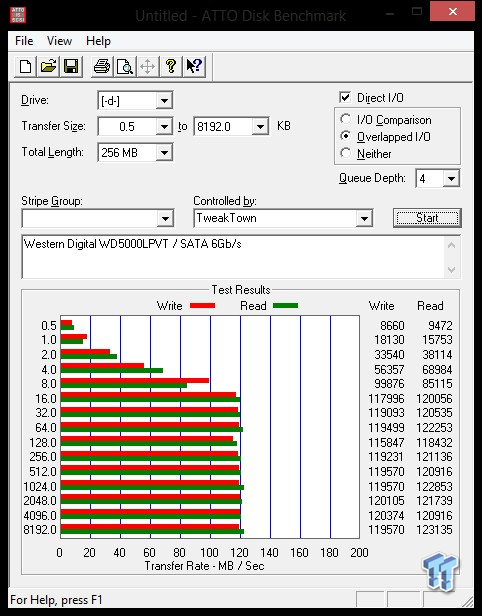 Commencing our benchmark sequence, we fired up ATTO Disk Benchmark and found the all new WD5000LPVT touching 123MB/s read and 120MB/s write.
Benchmarks - Sequential Performance
HD Tune Pro
Version and / or Patch Used: 4.00
Developer Homepage: http://www.efdsoftware.com
Product Homepage: http://www.hdtune.com
HD Tune is a Hard Disk utility which has the following functions:
Benchmark: measures the performance
Info: shows detailed information
Health: checks the health status by using SMART
Error Scan: scans the surface for errors
Temperature display
HD Tune Pro gives us accurate read, write and access time results and for the last couple of years has gained popularity amongst reviewers. It is now considered a must have application for storage device testing.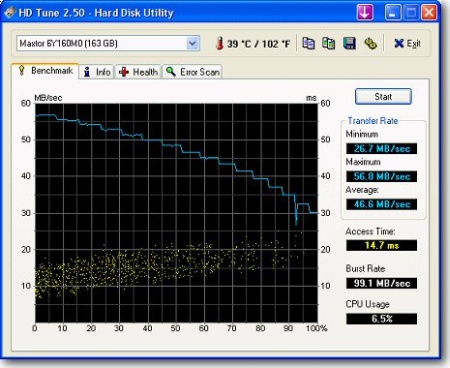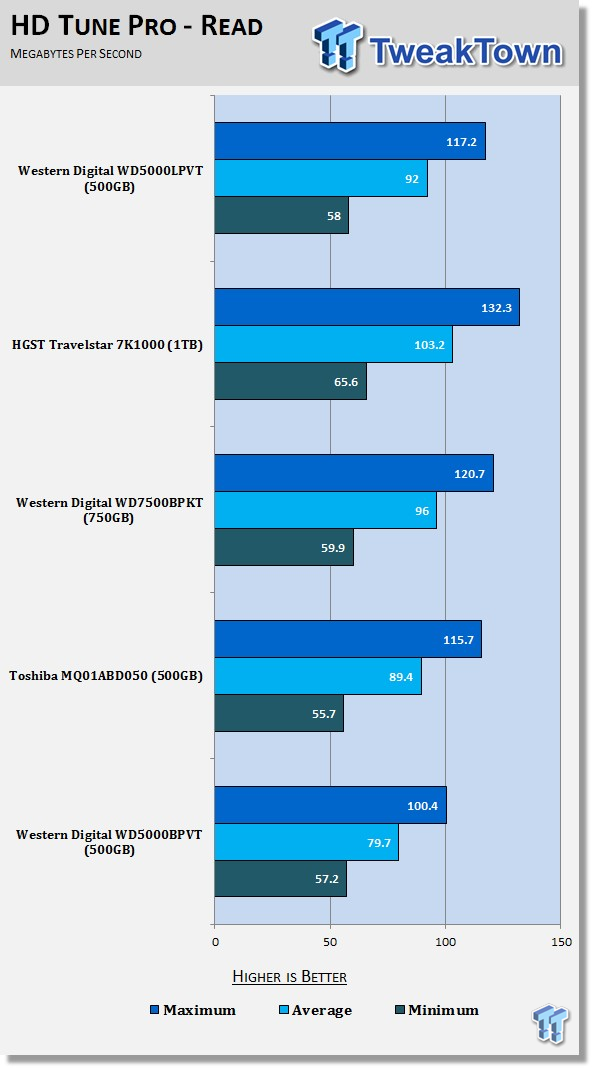 The WD5000LPVT was quite competitive with all of the drives in our chart. Notably the new Scorpio Blue beats out the last gen WD5000BPVT by 17MB/s.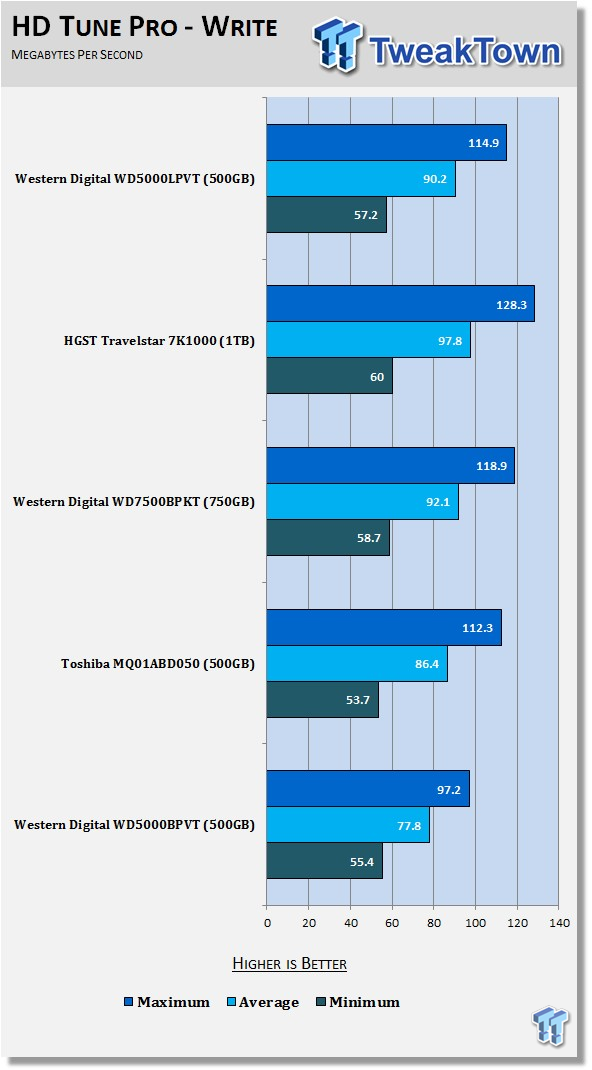 Western Digital has done some great work within the Blue series of drives. Seen above, the last generation Scorpio Blue WD5000BPVT sits at 97MB/s on our charts at its peak. The latest generation we have here today improves on that by offering 114MB/s with its single platter design.
Benchmarks - AIDA64 Random Access Time
AIDA64 Random Access Time
Version and / or Patch Used: 1.60
Developer Homepage: http://www.aida64.com
Product Homepage: http://www.aida64.com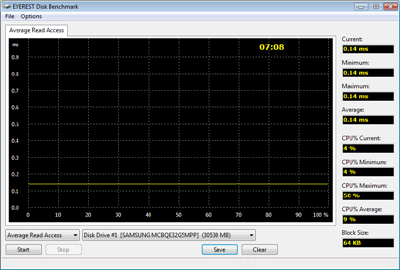 AIDA64 offers several different benchmarks for testing and optimizing your system or network. The Random Access test is one of very few if not only that will measure hard drives random access times in hundredths of milliseconds as oppose to tens of milliseconds.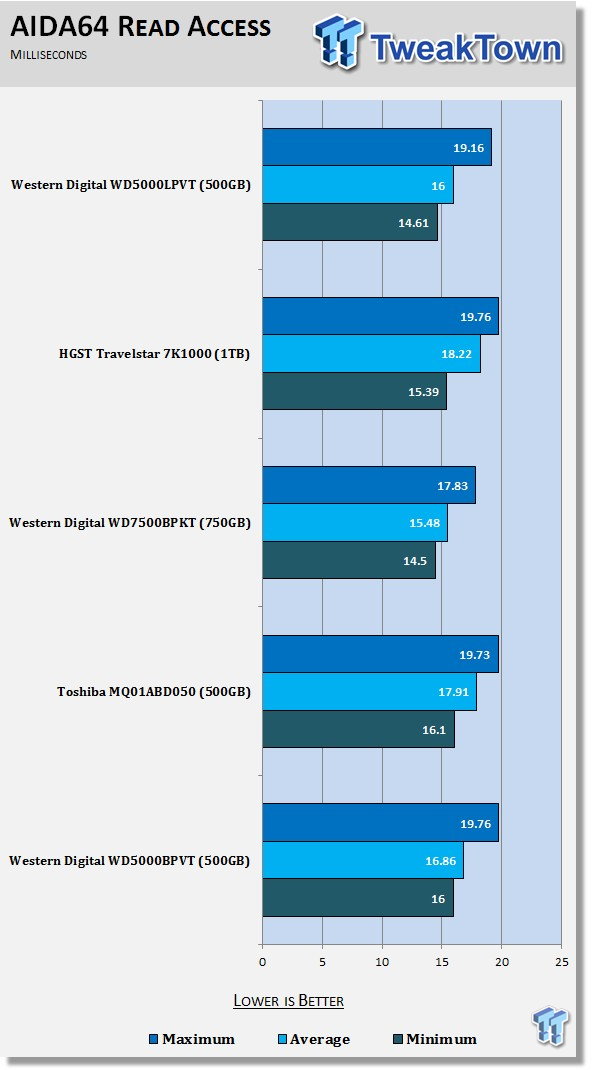 The WD5000LPVT showed more improvement with access times quicker than the latest HGST 7K1000, even beating out the 7200 RPM Scorpio Black in our charts.
If we compare this drive to the last generation, we find access times were similar with maximum and average around 19ms and 16ms, respectively. Where the new drive excel is the minimum access that sits at 14ms compared to last gen at 16ms.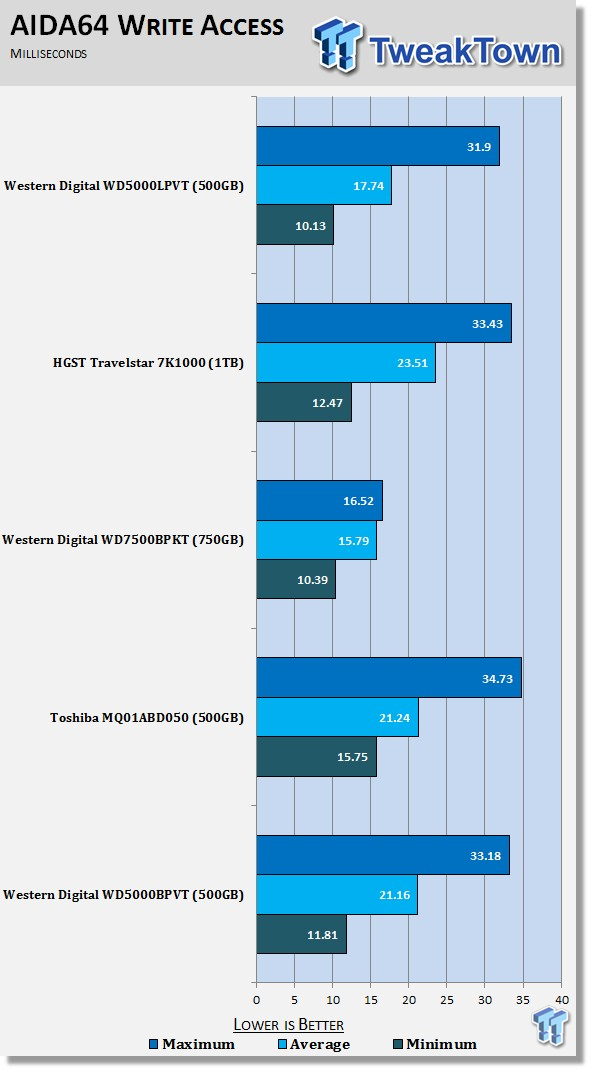 Write access times promoted the WD5000LPVT to the top of our charts. At the quickest point, the write access time for the all-new Scorpio Blue was just 10.1ms.
Benchmarks - Anvil Storage Utilities
Anvil Storage Utilities
Version and / or Patch Used: RC6
So what is Anvil Storage Utilities? First of all, it's a storage benchmark for SSD's and HDD's where you can check and monitor your performance. The Standard Storage Benchmark performs a series of tests, you can run a full test or just the read or the write test or you can run a single test, i.e. 4K DQ16.
Anvil Storage Utilities is not officially available yet but we've been playing with the beta for several months now. The author, Anvil on several international forums has been updating the software steadily and is adding new features every couple of months.
The software is used several different ways and to show different aspects for each drive. We've chosen to use this software to show the performance of a drive with two different data sets. The first is with compressible data and the second data set is incompressible data. Several users have requested this data in our SSD reviews.
0-Fill Compressible Data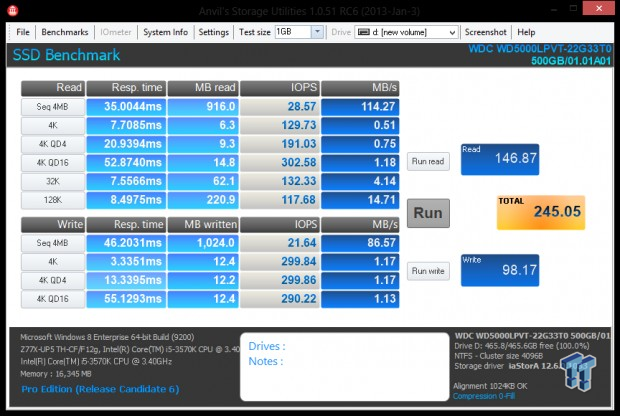 Incompressible Data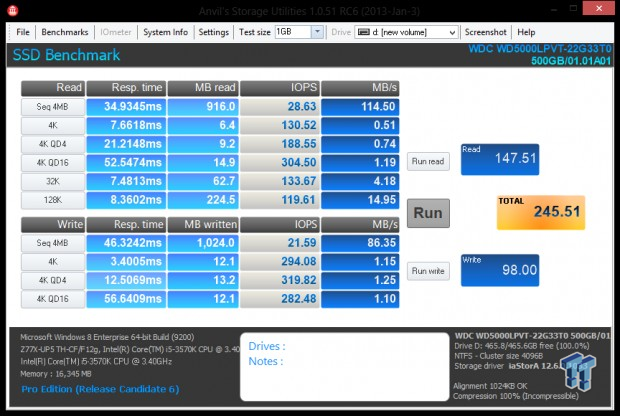 Read IOPS through Queue Depth Scale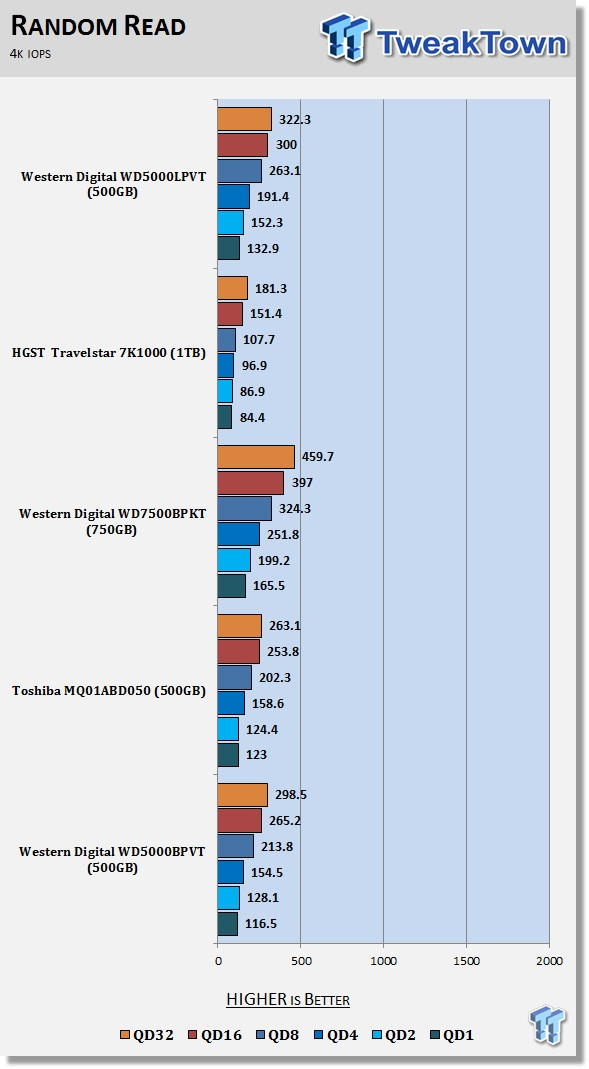 I was rather impressed with the 4K performance of the Blue. If we look at our chart for a moment, you will find the WD5000LPVT just torching the latest 7K1000 in 4K random read. At its peak, the Scorpio Blue chewed up 322 IOPS during 4K QD32.
Scaling Write IOPS through Queue Scale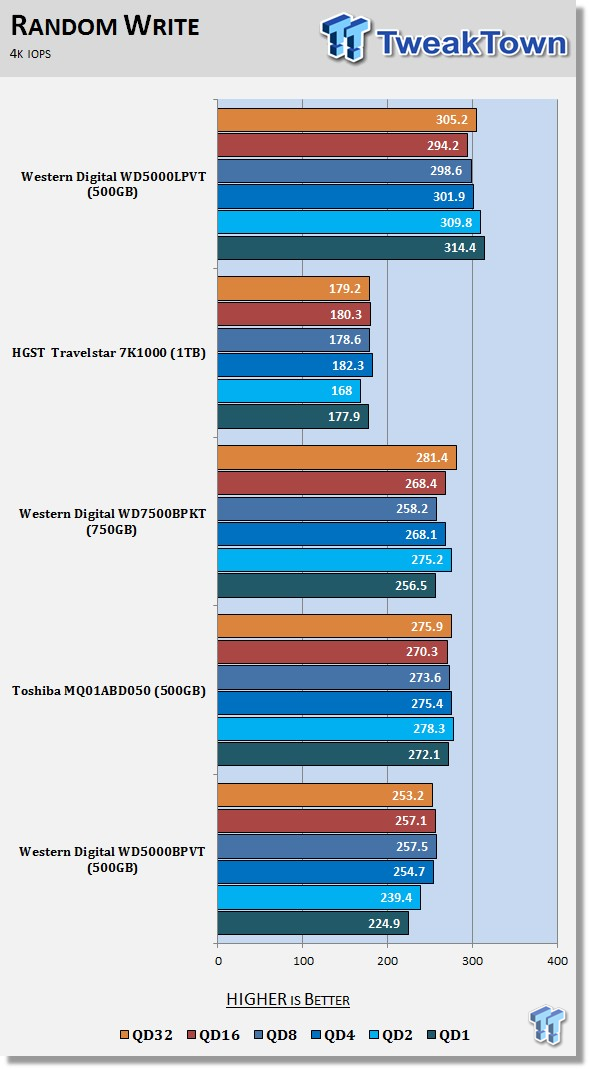 At the top of our charts, we find the WD5000LPVT with a comfortable lead. At QD32, the new Scorpio Blue achieves 305 IOPS, compared to the 253 of the last gen.
Benchmarks - PCMark Vantage Hard Disk Tests
PCMark Vantage - Hard Disk Tests
Version and / or Patch Used: 1.0.0
Developer Homepage: http://www.futuremark.com
Product Homepage: http://www.futuremark.com/benchmarks/pcmark-vantage/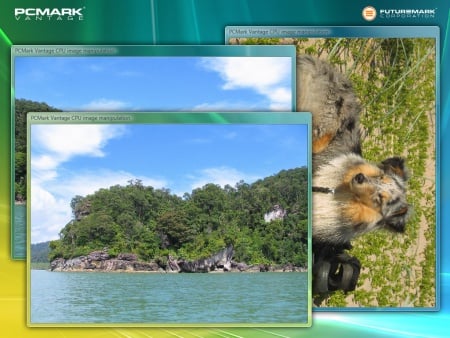 PCMark Vantage is the first objective hardware performance benchmark for PCs running 32 and 64 bit versions of Microsoft Windows Vista. PCMark Vantage is perfectly suited for benchmarking any type of Microsoft Windows Vista PC from multimedia home entertainment systems and laptops to dedicated workstations and high-end gaming rigs. Regardless of whether the bench marker is an artist or an IT Professional, PCMark Vantage shows the user where their system soars or falls flat, and how to get the most performance possible out of their hardware. PCMark Vantage is easy enough for even the most casual enthusiast to use yet supports in-depth, professional industry grade testing.
Futuremark has developed a good set of hard disk tests for their PCMark Vantage Suite. Windows users can count on Vantage to show them how a drive will perform in normal day-to-day usage scenarios. For most users these tests matter since many of the old hat ways to measure performance have become ineffective to measure true Windows performance.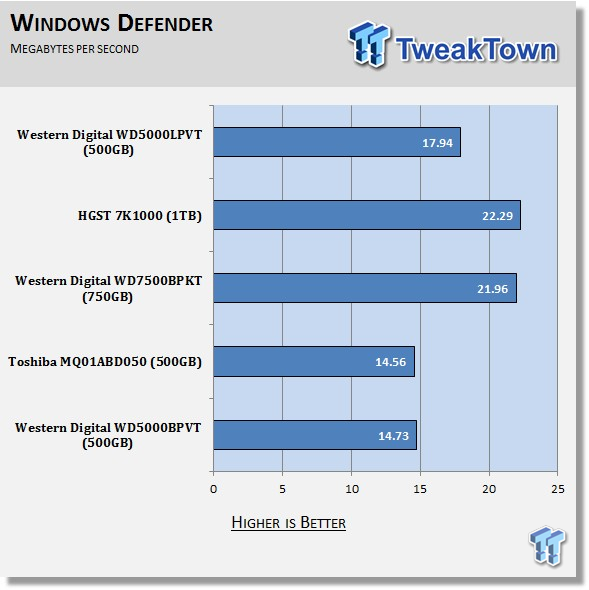 The WD5000LPVT improves upon last generation, offering 17.9MB/s, over last gens 14.7MB/s in Windows Defender.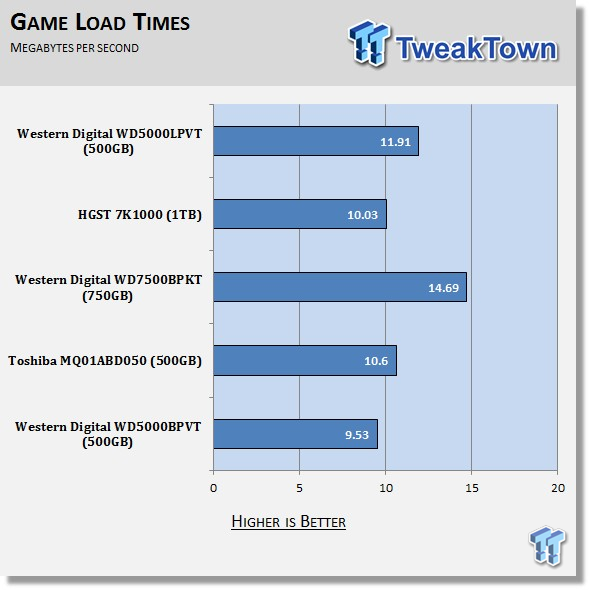 Game Load times have also improved with the LPVT showing nearly 12MB/s over just 9.5MB/s of last generation.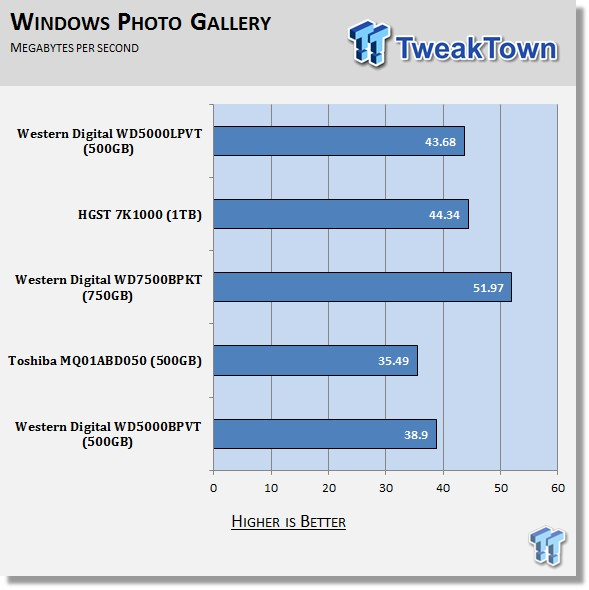 Windows Photo Gallery had the Scorpio Blue neck in neck with the latest offering from HGST.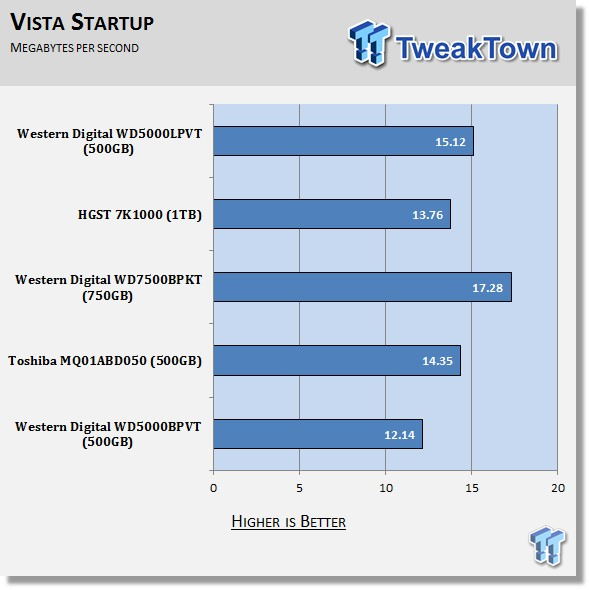 Vista Startup showed a full 3MB/s improvement over the last generation BPVT.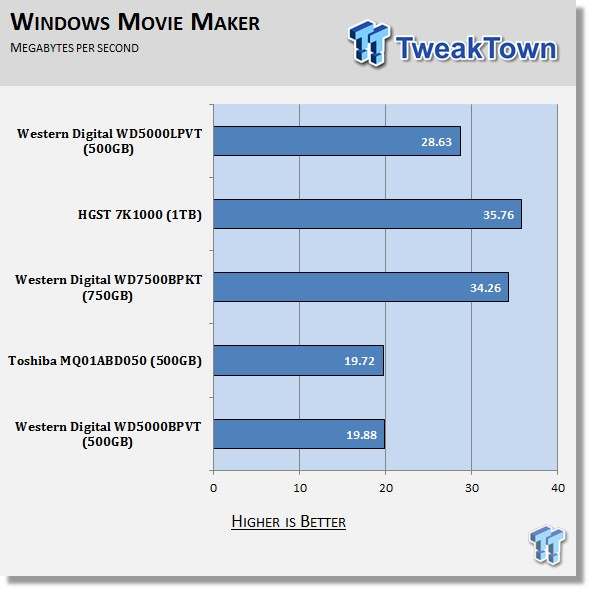 The new Scorpio Blue, utilizing its single platter design enjoys a very welcoming 28.6MB/s in Movie Maker.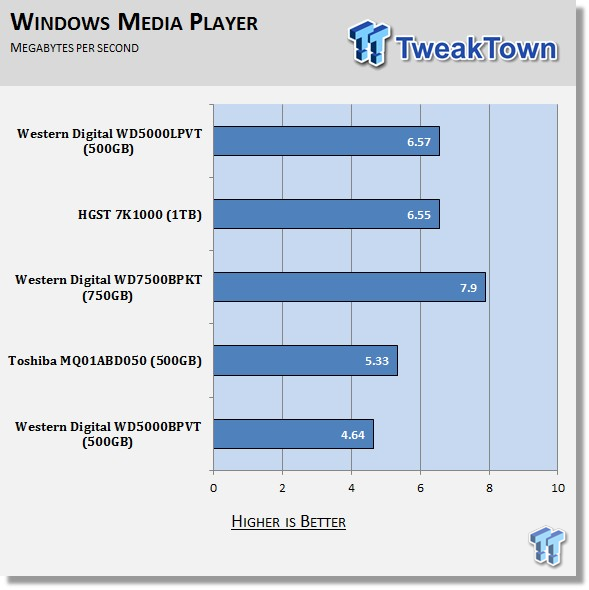 Once again, we find the LPVT fighting with the HGST 7K1000 in Media Player. The LPVT pushing out just 0.02 more at 6.57MB/s.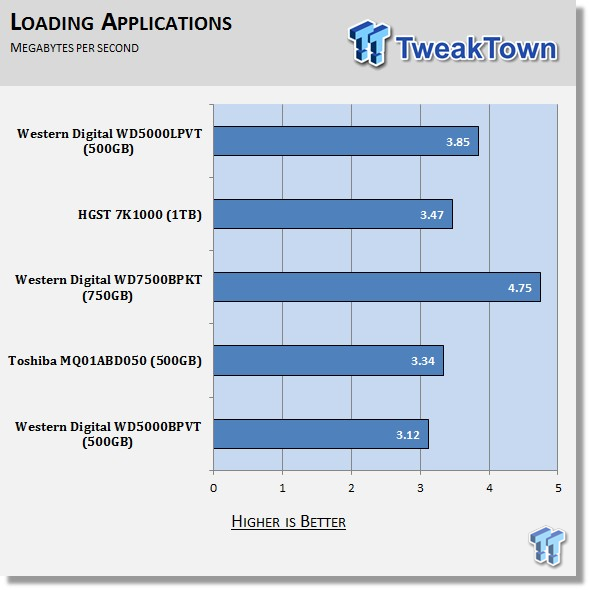 Loading applications we found the Scorpio Blue to be rather impressive. Again bumping the HGST 7K1000 to the side we landed at 3.85MB/s.
Benchmarks - BootRacer and Resume from S4 Hibernation
BootRacer - System Boot Time
Version and / or Patch Used: 4.0
Developer Homepage: Greatis
Product Homepage: BootRacer
Download here: http://www.greatis.com/bootracer/download.htm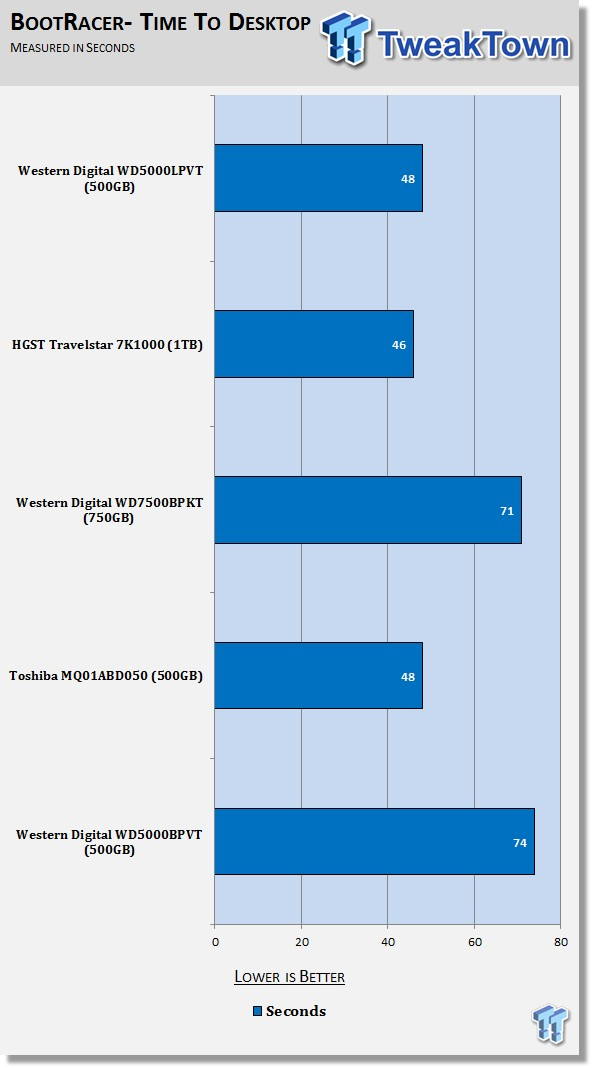 Rather impressive, the Scorpio Blue continued to rock when we introduced a full install of Windows 8 x64 onto the drive, subsequently installing BootRacer and giving it a go.
Above we see the Scorpio Blue rolling over the competition in our charts. Keeping up again with the 7K1000, the Scorpio Blue managed a 48 second boot time.
Resume from S4 Hibernation
Hibernation or S4 is part of the Advanced Configuration and Power Interface specification. In our custom "Resume from S4" testing, we allow the drive to enter hibernation for a period of ten minutes, from there we use our trusted stopwatch and time how long it take for the drive to resume to working desktop environment.
To meet Gen. 2 Ultrabook Certifications a drive must resume within seven seconds.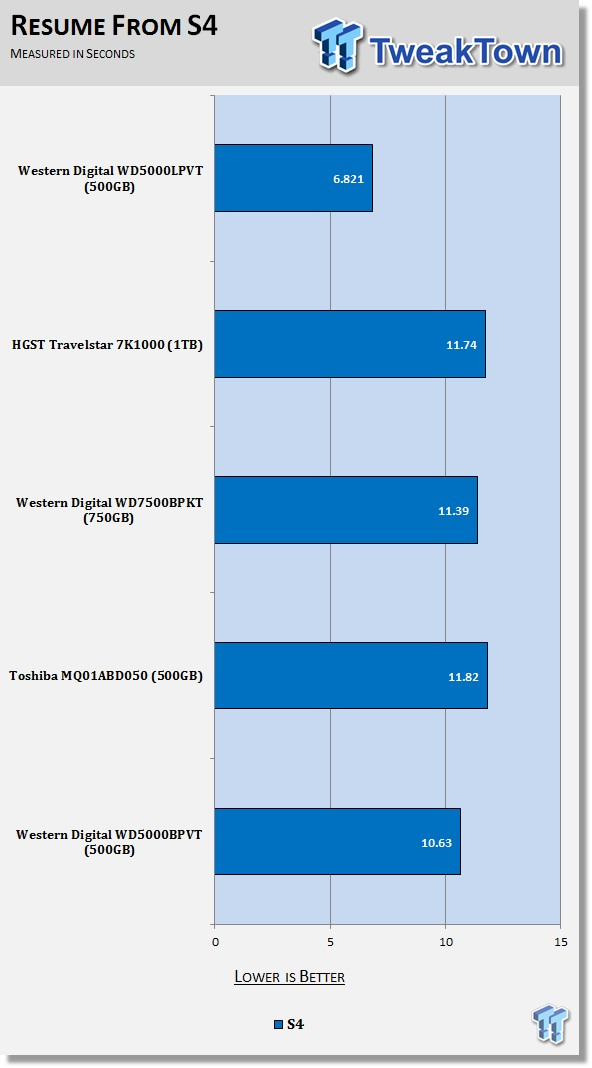 The first of our drives that would be considered for Ultrabook, the Scorpio Blue resumed from hibernation in just 6.8 seconds.
Final Thoughts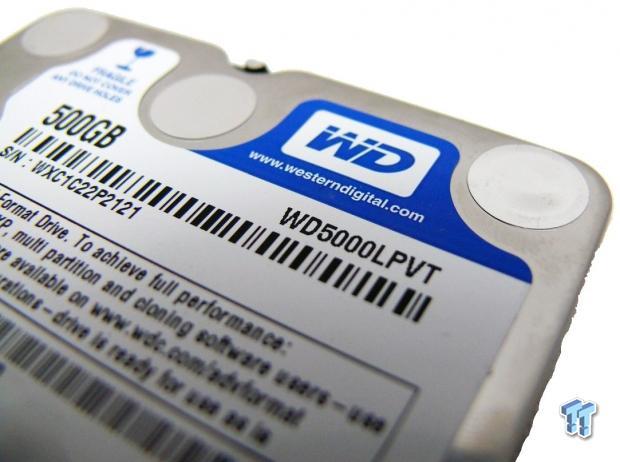 With the new Ultrabook standard set for release, I would not be surprised to see OEMs shipping out new products with a drive such as the WD5000LPVT. The improvement, with its single platter design, over the last gen product, puts this new Scorpio Blue at the top of our 2.5" drive charts and in the range for certification for Ultrabook by Intel.
The 7mm Z-Height allows for existing users of Ultrabook and even notebooks to have a full-fledged upgrade path that embodies low power consumption with admirable performance. In all honesty, I was astonished with the performance I found within the small form factor of this Scorpio Blue. This led to me running benchmarks five or so times over to confirm the performance metrics, and in the end, numbers were consistent and this is what you find published here.
In the coming months we will begin to ramp up our custom power testing, which will present another metric for us to compare drives. This too should allow for you, our readers, to decide and choose upgrade options with the most conclusive testing all performed here at one website, TweakTown.
The new generation of Scorpio Blue offers several storage capacities for the consumer. The model we tested today is the smallest in the range, which goes from 500GB to 1TB. Pricing for these drives are $59.99 for the 500GB drive to $89.99 for the 1TB drive.