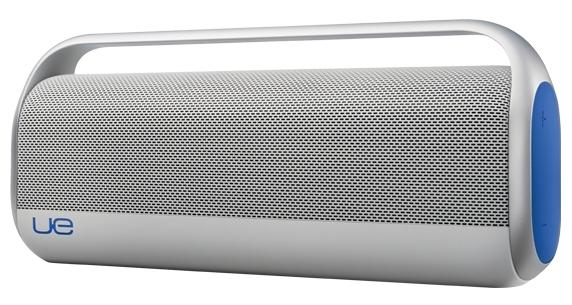 Logitech have being offering great multimedia gear for many years now, but most recently we have seen the Ultimate Ears range of audio products. If you recall we took a look at some of the more modestly priced earphones from this range some time ago with good results. Today we have a slightly different offering from the UE line up which comes in the shape of a pretty cool looking silver Boombox.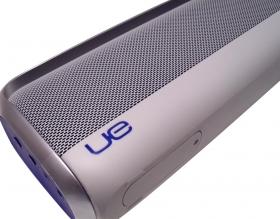 Now in times where it seems nearly everyone has some type of portable device capable of carrying music, it would make sense to have a speaker of some type that can be moved around to various locations in order to playback and enjoy that music. The Boombox should make quite a good deal of sense, but there's only one way of finding out.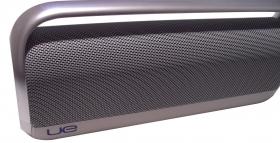 The UE Boombox is as it should be today a wireless device that runs on Bluetooth like many others do. The idea being that a handheld device sends a signal to the Boombox via Bluetooth and allows anyone within range of the speaker to hear music. Now all of this does sound quite familiar in today's would, but let's not forget that wireless technology is not always perfect and what can sound like an amazing idea can in fact have its niggles in practice.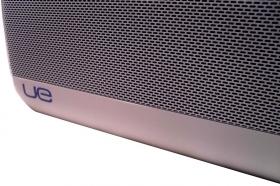 The UE Boombox has a striking alloy case which feels quite nice to hold and does give the unit a quality feel and it should also aide in protecting the speakers inside when it comes to moving around. In terms of weight it's not the lightest thing in the world, but that is just how it must be because any further loss of weight here would only suggest a numbing down of quality materials being used.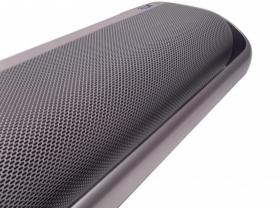 Inside can be found a total of eight drivers which are tuned to provide the best from the unit they are installed in. Now this does seem like quite a lot of speakers to cram inside, but there is sadly no removable cover to check if they are telling the truth, but we'll believe them. To be honest this surprised us when we read it on the Logitech website.
Installing the system is just like any other Bluetooth device; a link must be made between the Boombox and the mobile device, and once this is done it should be clean sailing for as long as the battery lasts.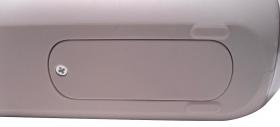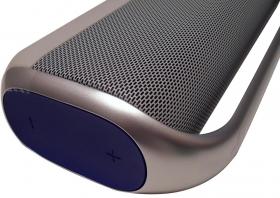 From a technical perspective the UE Boombox comes stacked with plenty of drivers to help get the sound out there. On the surface this seems a little over eager because there is the limitation of the rechargeable battery and that is a lot of drivers to run.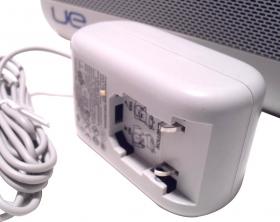 Actual battery life is going to vary somewhat as stated by Logitech depending on usage conditions and will be a limiting factor as all batteries are to some extent different.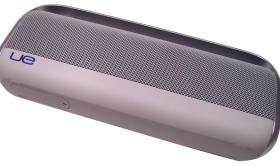 Logitech's UE Boombox coming from the heritage that it does should sound really impressive. And when taking the specs into consideration also things do get interesting. Overall the sound quality in a word did not match the construction quality and the wireless capability. It's not that the UE Boombox cannot pump out some powerful and well and truly enjoyable sound, it's just that the level of sound quality is really quite dated today and surpassed by other similar type units which we have tested.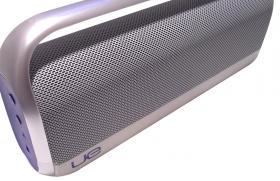 Listening to music through the UE Boombox was a mixed experience we found during our testing. The overall tonality was not too bad with some nice sounding vocals on our test tracks. We did think the mid-range sounded a little bulked up.
The low-end while being enough most of the time for a small to mid-sized room, is not really producing any deep notes below 50 Hz with any power behind them. For many users this will be enough, but we were not happy with the low-end overall. There was just not enough of it to push deep notes out.
We found the mid-range to be both balanced and full much of the time with a good amount of detail. The high-end was quite good for the most part we found with a nice airy feel to it and nothing too harsh like many small speakers like this can be a times. We would compare the overall results of testing here to maybe a small Hi-Fi unit worth a couple hundred dollars to give you a rough idea.
The wireless function works really well and can be set up really fast using your usual favorite portable device. We had everything setup and running in less than five minutes - top marks here.
The UE Boombox is not designed for gaming so we can skip this; however with improvements in screen size and overall quality of portable devices, many people are now turning to them in order to watch movies on the go.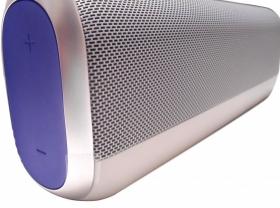 The UE Boombox has great wireless capability and comes from people who really know their game. It's built well from quality materials, feels sturdy and is easily portable. The sound quality overall can do the job, but we just wanted more from such a big powerhouse brand. The low-end really left us wanting more bass, but we did love the smooth mid-range vocals - not all is lost.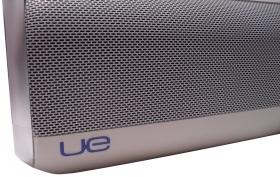 It's really a shame this little UE Boombox was not quite as refined and tightly tuned as we would have like because the other areas of the unit are well appointed.