Introduction and Specifications, Pricing and Availability
Samsung's Galaxy range of products grows by the day it seems, they have the market wrapped up nicely with its Galaxy S II, S III, Note and Note II smartphones among countless other variants. The tablet market is a little bit different, where they don't really have a market-leading tablet apart from a few nice tries with the Galaxy Tab in various sizes.
I reviewed the Galaxy Tab 8.9 a little while ago, and while I was happy with it, it didn't blow me away. I never personally used a Galaxy Tab 10.1, but now I have the pleasure of reviewing Samsung's Galaxy Note 10.1.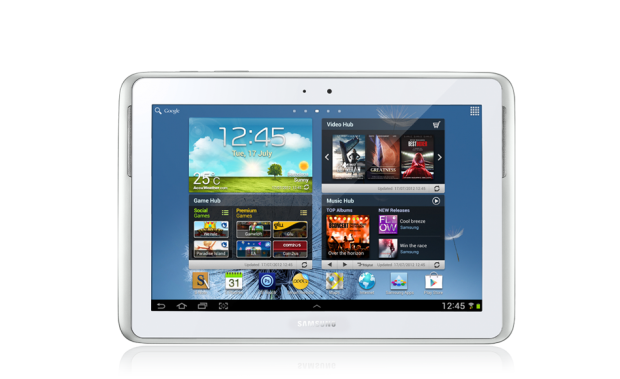 Samsung married the smartphone, tablet and threw in some of the PC's kitchen sink when it comes to the Note 10.1. The Note 10.1 gives us split-screen abilities as well as floating applications on the software side of things, and on the hardware side of things we have a quad-core processor, 10.1-inch screen and the S-Pen.
Samsung showed the Galaxy Note 10.1 off earlier in the year at Mobile World Congress in an unfinished state. They used the event to see how the public would react to it, and then went back and tweaked a bunch of the tablet to help it blast onto the market.
At MWC, the Note 10.1 didn't sport an S-Pen - why they did this and called it a Note 10.1, I truly have no idea. At the time it didn't have much of the software we see on it today, the quad-core processor, or extra storage options. One would look at this and think there's no way Samsung can fail - the Note is a great phone, the Galaxy range of products is doing well, but there are issues with the Note 10.1.
Samsung really concentrated on wanting to impress on paper, but do they impress when this device is in your hands? You'll want to read on to find out.
Specifications, Pricing and Availability
Specifications are something that Samsung really took care of with the Galaxy Note 10.1. Samsung opted for its Exynos quad-core processor clocking in at 1.4GHz - somewhat of the gem in the Note 10.1 tablet. Filling it out we find 2GB of RAM, 16GB of internal storage (with 32GB and 64GB options) as well as expandable storage through a microSD card slot.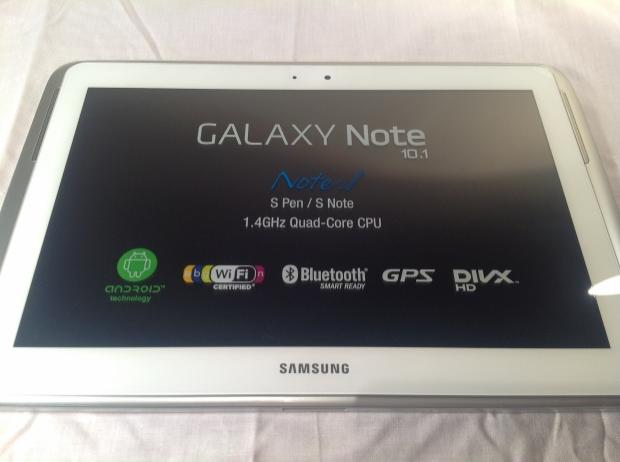 The display itself being a 10.1-inch screen with a resolution of 1280x800, 7000mAh non-removable battery, an 8-megapixel rear-camera, and 1.9-megapixel front-shooting camera, Wi-Fi 802.11 a/b/g/n and Bluetooth 4.0, Android 4.0 Ice Cream Sandwich with Samsung's TouchWiz UI on top, a pressure sensitive pen (S-Pen) and Wacom Digitizer.
All of this comes in a tablet that weighs just 597 grams (Wi-Fi) model, and the 3G model adds just 3 grams more to fill it out at 600 grams. Included with the Note 10.1 is an IR blaster, USB 2.0 host support and some great front-facing stereo speakers.
As you can see, the Note 10.1 is specced unbelievably well for a tablet - a quad-core processor, 2GB of RAM and the S-Pen make it one of the ultimate note-taking tablets on the market.
Price-wise, it is priced quite competitively given its internal strength, with Newegg selling the Galaxy Note 10.1 Wi-Fi-only model for just $499.99, the 3G model ramps the price up quite a bit to $719.99. At that price, it's simply ridiculous and I don't recommend it. If you are the type of person looking to buy the Note 10.1, you've most likely got a capable smartphone that you could tether to the Note 10.1 as a modem - do this instead of paying too much for the 3G model.
Packaging, Initial Impressions and Setup
Samsung's Galaxy Note 10.1 comes in a nice looking box, giving us a fair amount of detail and tech talk on the slate. On the front we have it showing off the 10.1-inch tablet itself, its S-Pen, in the top right we see this model is the Wi-Fi only version and in the bottom left we see it's the 16GB variant.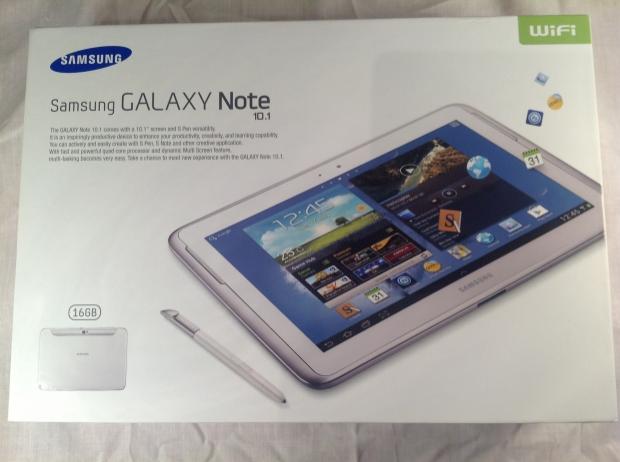 On the rear of the box, we get a bunch of specs on the Note 10.1 from its quad-core processor, 2GB of RAM to its other specs like the 7,000mAh battery and Smart Remote abilities. We also see that it's the GT-N8010 model in the bottom left.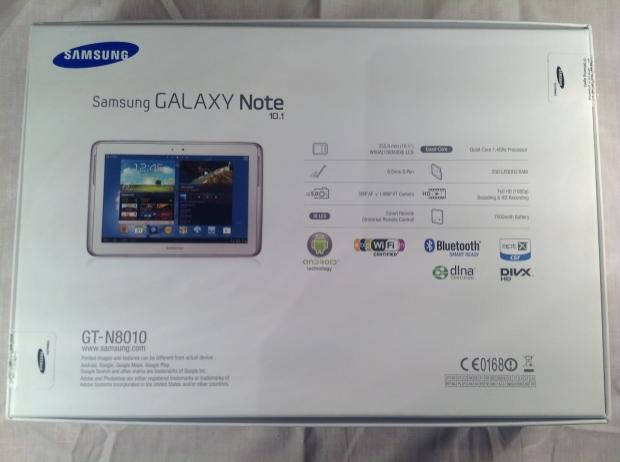 Taking the Galaxy Note 10.1 out of the box, we get the nice-looking tablet sitting in front of us with a sticker again explaining some of the going-ons inside of the tablet itself.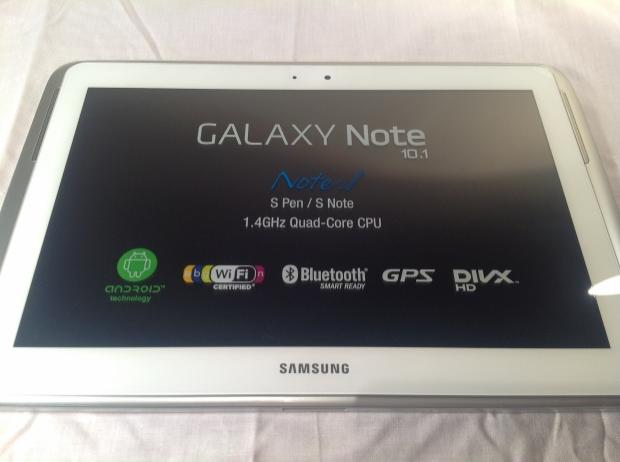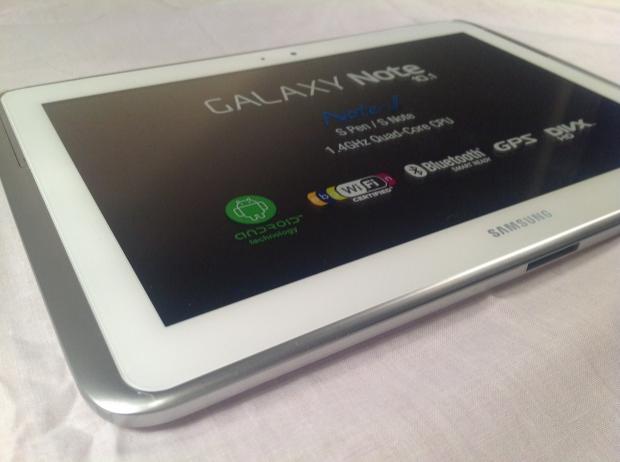 Below, we have a shot of the top of the tablet itself, and from left to right we find the power button, volume rocker, microSD card slot, IR blaster and 3.5mm audio jack.

Here we have a shot just behind the top of the device, showing off its 5-megapixel rear-facing camera with its LED flash. We can also see some Samsung branding just below this.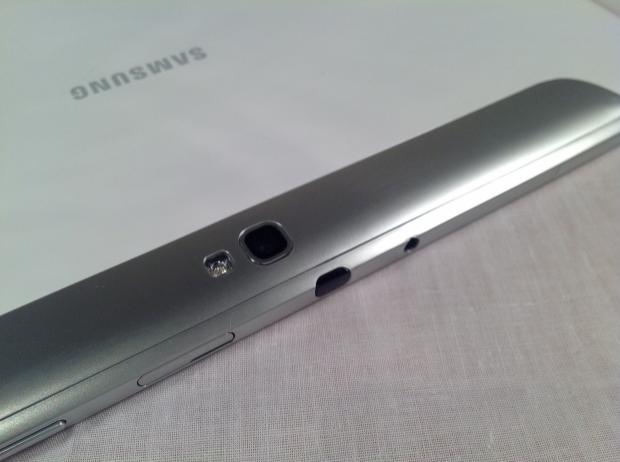 In the following couple of shots, we can see the S-Pen housed inside of the Galaxy Note 10.1. This is in the upper-right of the tablet.

And now with the S-Pen slid out.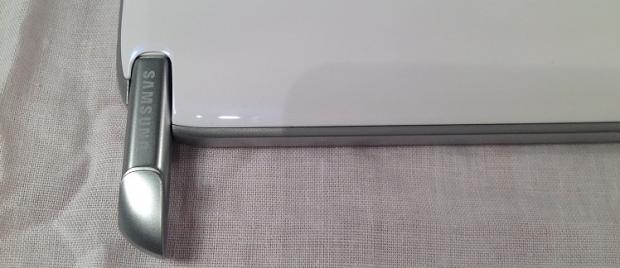 Finishing up on the out of the box experience, we find the Samsung proprietary charging port. I do wish they used a standard miniUSB port - this gets some negative points from me.

This is the last shot out of the box, on its first boot up where we get to select our language.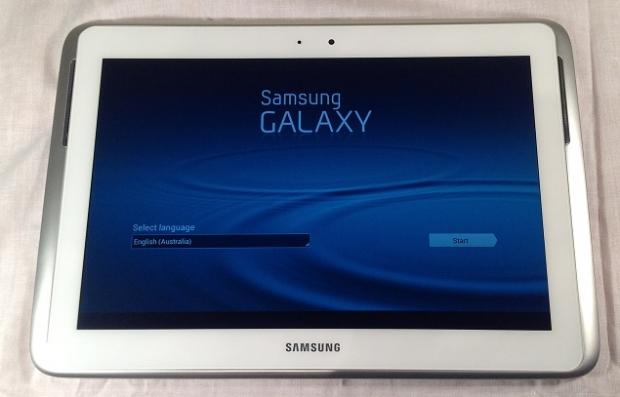 Look and Feel
Ah, the look and feel of the Galaxy Note 10.1. This is something I thought I would like more, but to sum it up quick; it feels cheap. At first glance, it may look quite appealing, but when you've held a variety of sturdy tablets like the iPad or Nexus 7, the Galaxy Note 10.1 definitely comes off as feeling cheap.
The back of it feels very plastic-y, and the back of the Note 10.1 can be pressed in ever so slightly. I have no idea why the Note 10.1 has this pressure point on the back, but when holding it with two hands, I could press the back of the Note 10.1 and feel it bounce back somewhat. What was Samsung thinking when this was approved and finalized in design - I have no idea? I really doubt this is something Samsung planned, as the only time that the back stops when pressing it is when you hit the internals of the Note 10.1 - not good, not good at all.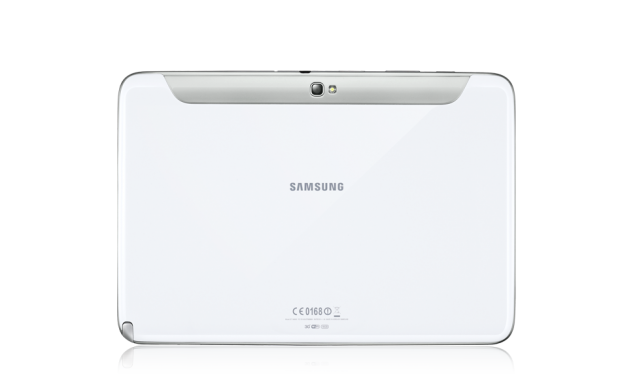 This quality even seeps into the sound of the tablet, and I really can't believe I'm even making this part of my review. I'm now about to discuss what it sounds like to pick up and use a tablet. But, it's something that really needs to be discussed. The Note 10.1 seems to be made from some very cheap material and picking it up over the course of a week or so really started to irk me. When picking up the tablet, I usually grab it and put my thumb behind it and onto the back, squeeze it and start walking, or drag it into my other hand to use it with two hands.
This is how most people will do it, as there are only limited amounts of ways you can pick up and use a 10.1-inch tablet, or any sized tablet for that matter. The Note 10.1 actually gives off a squeaky, creaky kind of noise. This is the plastic backing making the noise, and can come about even from the most careful squeeze. It's annoying, and I don't expect it from a company like Samsung.
The look of the unit itself I have no issues with, it does look great - it has similar styling to the company's Galaxy S III smartphone. We see gorgeous whites, silver trim, the huge 10.1-inch screen; it's all there on the Note 10.1.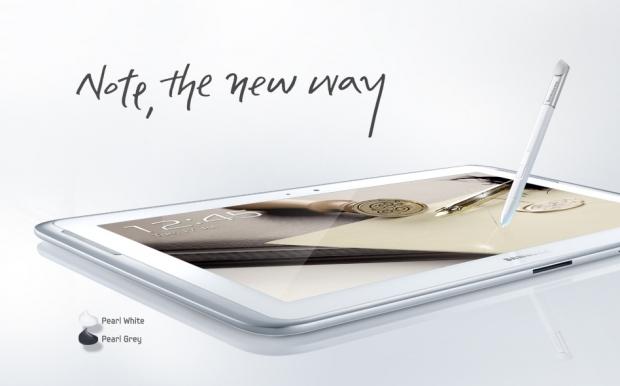 The 10.1-inch display is a great size and feels perfect to hold in portrait mode for document or webpage viewing, but its resolution leaves a lot to be desired. Considering I can get a Retina-powered iPad for the same money that the Galaxy Note 10.1 is asking for, it definitely feels behind. I'd really love to see a 1080p (or higher) screen on the next large tablet from Samsung.
The headphone port sitting on top of the device could be moved to the side, which would be nice for viewing content and not having your headphone cord stringing down in front of your screen. But my biggest gripe of all is that Samsung opted for a proprietary connector - why, why, why Samsung? Opting for microUSB would've been a huge plus in my book.
The headphone jack could've been moved next to where the S-Pen sits in the bottom right hand corner of the Galaxy Note 10.1, that would've been where I'd like to have seen it.
The S-Pen also feels a bit too light for my liking; I would like to see some weights in the box of the Note 10.1 like you receive with a gaming mouse. This way you could adjust the stylus' weight with some extra little additions to your personal liking.
Features
The standout feature on Samsung's Galaxy Note 10.1 is definitely the S-Pen. We covered it with our Galaxy Note smartphone review, but Samsung have given the S-Pen some new superpowers in the Note 10.1.
Samsung have opted to offer three different S-Pen's this time around, the stock one, one with an eraser tip, and the other sports a larger holster for a more natural hold or grip on the stylus itself.
The Galaxy Note 10.1 only ships with Android 4.0 Ice Cream Sandwich, so we find ourselves with yet another tablet that doesn't come with Jelly Bean out of the box. Samsung are a huge partner of Google's and I find it utterly annoying to not have Jelly Bean on this new tablet. But Samsung and others have their reasons - mainly because they'd like to see their own UI splashed on top of Google's mobile OS.
Samsung provide the Note 10.1 with TouchWiz UX and comes with a plethora of pre-loaded applications. Some of these work amazingly well with the S-Pen such as S Note, which is really great for quickly tapping or drawing a note or some words onto the screen.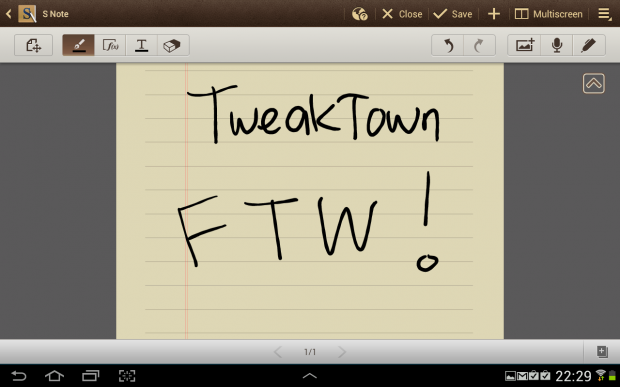 As soon as the S-Pen is removed from the Note 10.1, a handy little mini-menu pops up with shortcuts to five S-Pen-optimized applications, as well as a settings option. This mini-menu is customizable, which is great to see. A user could even set an app to automatically open up when the S-Pen is removed from its holder - a nice trick.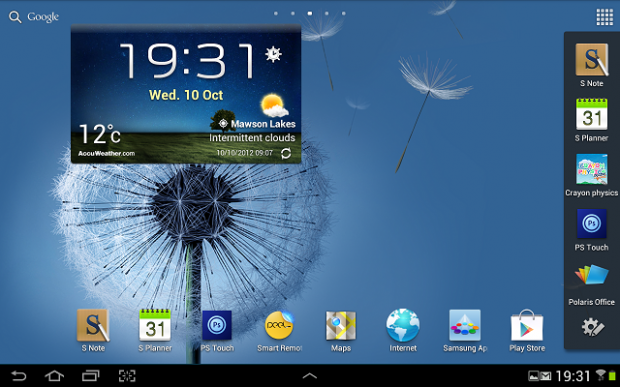 Samsung have given the new S-Pen 1024 degrees of pressure, most of which goes to waste on the usual apps, but the included PS Touch or S Note gets loaded up and you really feel that pressure sensitivity difference.
Samsung have thrown in some PC-like multi-tasking features, which I actually didn't mind. Not that I loved them, I just liked having the option of having them there. One of them is multi-screen mode, which will let you have two apps open side-by-side. This can be really helpful for someone who wants to keep Facebook open, but wants to have their webpages or e-mail next to the Facebook screen, too. It almost feels like you're using two 5-inch tablets side-by-side, which is a nice little addition from Samsung.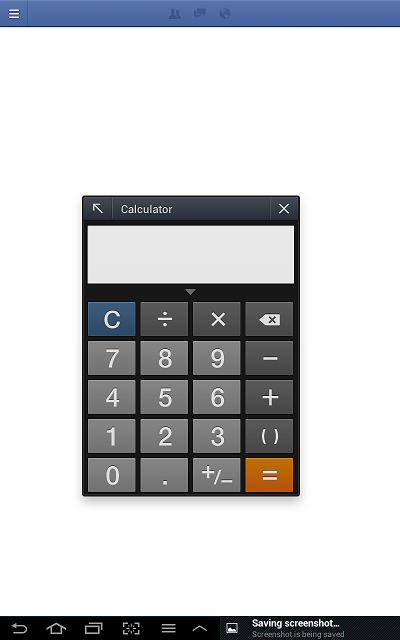 TouchWiz also paves the way for hovering applications, where you can run Calculator on top of a webpage if you needed to quickly work out some digits. This is a great feature, but it's also something that slows down the Note 10.1, and with its powerful innards, it feels like one step forward, two steps backwards.
Samsung include a few keyboards on the Note 10.1, the normal long flat keyboard as well as a split keyboard. This is a personal decision on what you'd use, but the option just being there is nice.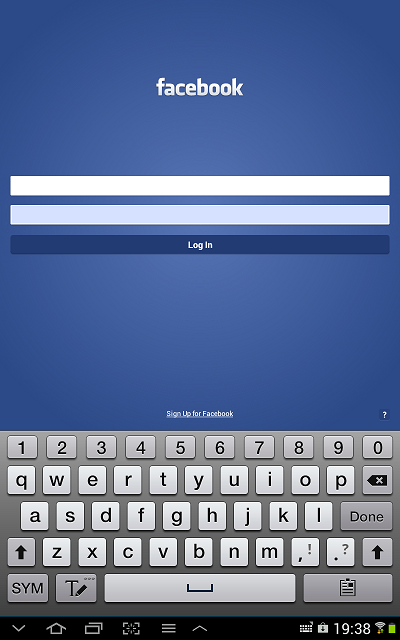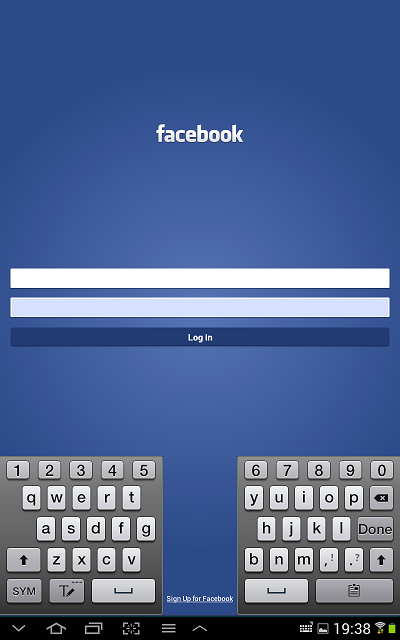 On the bottom taskbar of the Note 10.1, there's a little down arrow and if tapped, will provide some of the applications Samsung provide with TouchWiz, as shown below.

Portrait use on the Galaxy Note 10.1 I found to be really impressive. A 10.1-inch screen feels great in your hands in portrait mode, which I used more than landscape for viewing webpages. I do quite a lot of reading (surfing the web, etc) and found it a joy to hold in portrait. The plastic construction still feels cumbersome, but in portrait it is actually comfortable.
Here's some shots of TweakTown in both landscape and portrait.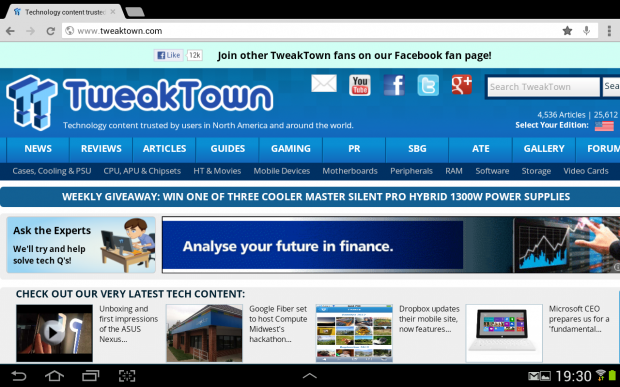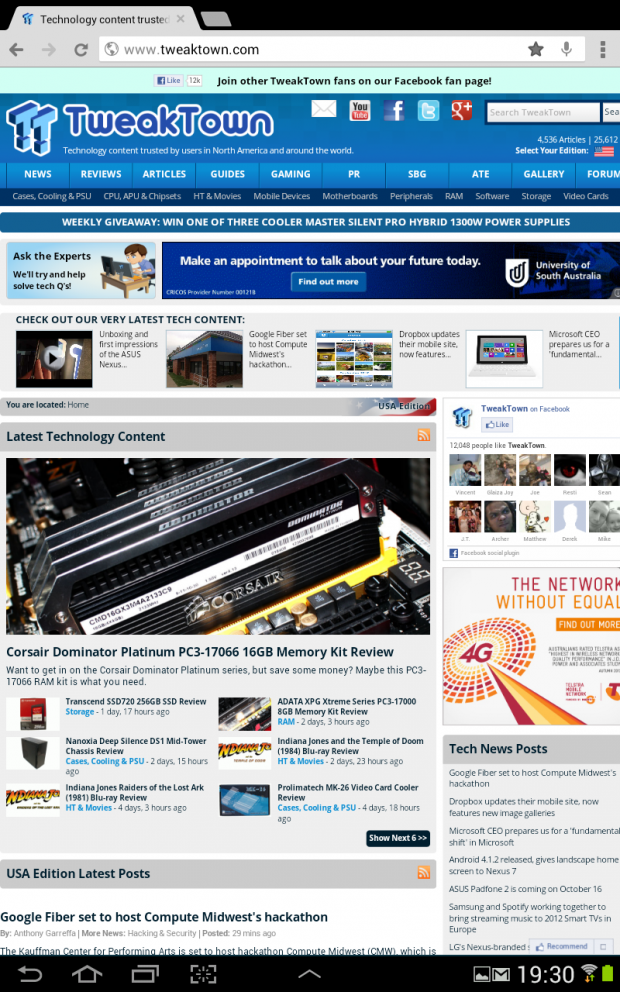 Performance
Benchmarks first - the Samsung completely trashes the competition with its quad-core processor and 2GB of RAM, dominating the chart on Quadrant Professional Edition.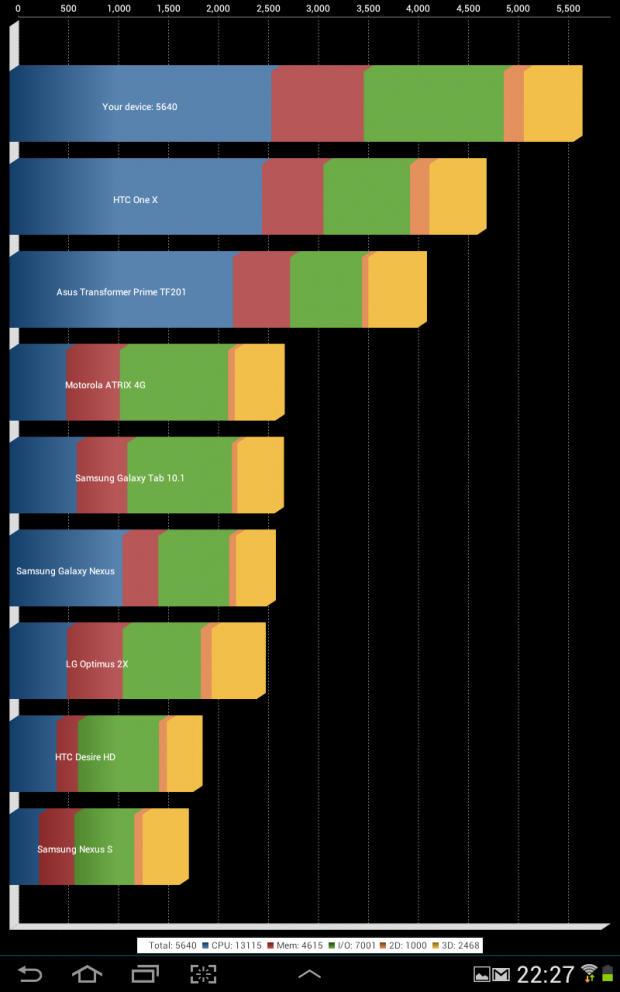 Since the Galaxy Note 10.1 sports a quad-core processor and 2GB of memory, you'd expect this thing to just absolutely fly, but it doesn't. Out of the box performance is s*** house. If you don't know what that is, it's an Australian saying for crap, or similar.
Given the specs of the Note 10.1, I expected this slate to completely stomp all over my also quad-core-sporting Nexus 7, which is priced at nearly half of the Note 10.1, but it doesn't. This is mainly a result of Samsung throwing the widgets all over the home screen. The four main widgets are Clock, Music Hub, Game Hub and Media Hub - all of these widgets destroy the Note 10.1's default performance.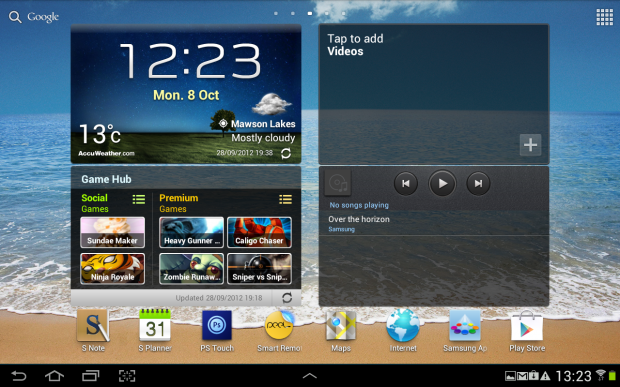 Removing them improves things somewhat, but it doesn't bring the feel of the device up to the Project Butter-powered goodness of Android 4.1 Jelly Bean. Not only do the widgets kill performance, but another factor of this is Samsung's inclusion of some serious multi-tasking power on the Note 10.1.
I found the multi-tasking on the Note 10.1 not too bad actually, as you can have two screens webpages open at once, a webpage and a document, or one of those options and an S Note or Calculator app on top. This is very cool, and something Samsung should push out to every tablet in the future - as long as they work on those performance-related issues.
Jumping in and out of apps is a breeze, and loading the Note 10.1 up with apps and multi-tasking between them is nothing for the Note 10.1. It handles it with total ease.
The camera is quite nice, but being only 5-megapixel is quite the shock considering the rest of the slate's specifications. Not that the 5-megapixel rear-facing camera is not great quality, because it is. The camera UI is identical to that found in Samsung's other tablets and smartphones, but it does have two new abilities - Share shot and Buddy photo share. These new functions will let you share photos with other devices through Wi-Fi Direct.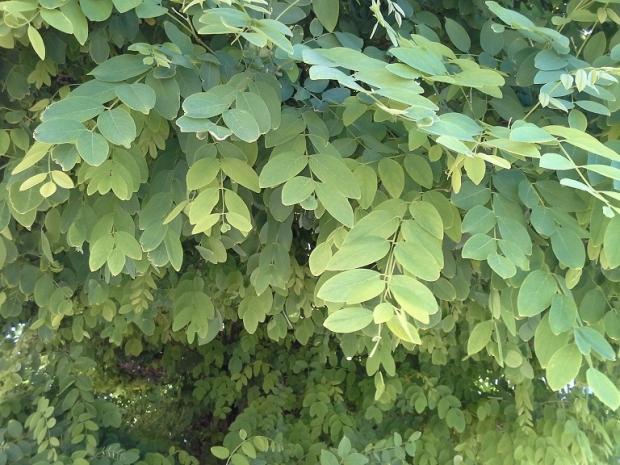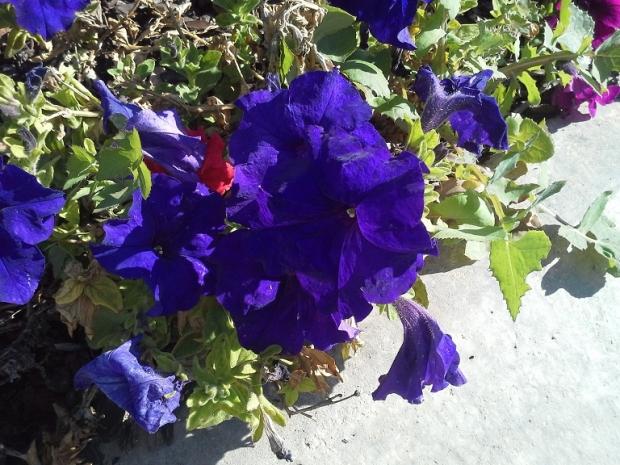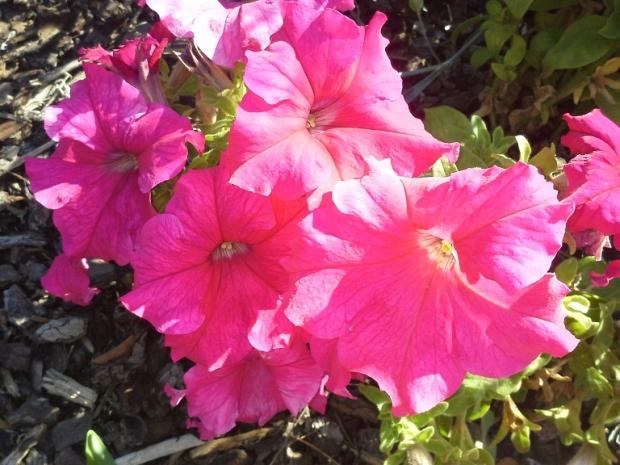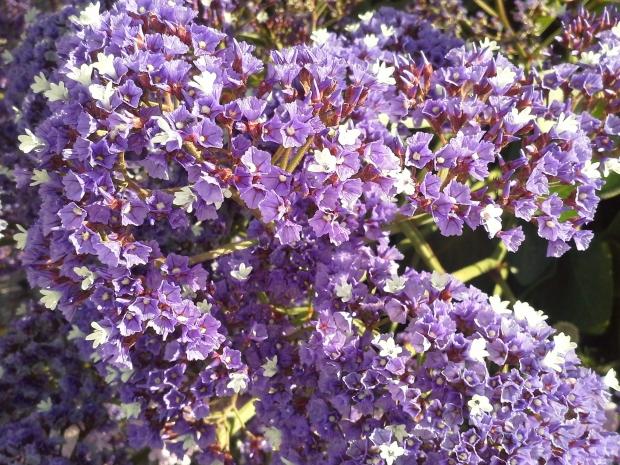 The Note 10.1 includes some panoramic capabilities, which come out great on the 5-megapixel rear-facing camera.


The video capture results are impressive, not perfect, but they'll do for a tablet. The iPad feels like it trumps the Galaxy Note 10.1 in the camera department, but if you've read my other smart device reviews you'll know that I'm not too fond of using a camera on a tablet, so that's not a big deal breaker for me.
I did love one thing about the slate over many others I've used, and that's the Note 10.1's front speakers. My family was staying with us during this review, and my 6-year-old niece wanted to watch some videos on YouTube. I got her into the app and let her select what she wanted to watch, and she ran over to the corner of the room, laid down the tablet against my 18-month-old daughter's toys and watched videos.
I had the speaker volume at around 85-90% and it was loud enough to hear from 12 feet away without a problem. This speaks volumes (yeah I went there) for the Note 10.1's great stereo speakers. It's these little things that I love discovering, that I probably wouldn't have discovered myself normally.

The speakers being front-facing, instead of rear-facing make the biggest difference on the Note 10.1. This is a huge selling point for me, and something you should consider if you're consuming a lot of content on the Note 10.1. For the back of the car road trips, to sitting in the corner of the room watching Dora the Explorer, the front-facing speakers really are a great choice by Samsung.
Now, I want to see this happen more from tablet makers - even if they went as far as swiveling them on the sides. Like Samsung's Smart TVs, which rock a camera for Skype, it has a rolling button on the bottom, which adjusts its angle. I'd love to see something like this for front- and rear-facing speakers.
The display looks great, but as I said before I'm not impressed with its relatively low resolution of 1280x800 when compared to the 1920x1200 of the ASUS Transformer Pad Infinity, or the third-generation iPad's "Retina" display with 2048x1536 pixels blasted onto the screen. Considering that a tablet is pretty much just a screen, this is a big problem. A 1080p screen would've been nice on the Note 10.1, but I feel Samsung really cheapened out on the Note 10.1's screen.
Cramming a quad-core processor and 2GB of RAM leaps you into the high-end tablet segment, but opting for a 1280x800 display? What was Samsung thinking? There have been many times I've had to ask myself that question.
Final Thoughts
I had such high hopes for Samsung's Galaxy Note 10.1 and felt nothing but disappointed in the end. We were teased of this earlier in the year and the Note 10.1 went through some considerable changes before hitting the shelves of retailers, and the hands of consumers.
The Note 10.1 feels rushed and subpar for the maker of such hits like the Galaxy S II and S III. There are some great parts of the Note 10.1, such as the S-Pen, speakers and its various utilities and applications. The size of the screen is great at 10.1 inches, but is let down by its lackluster 1280x800 resolution.
I think there are too many negatives with the Note 10.1, which has really put a sour taste in my mouth for Samsung-made tablets now. After coming down from the massive high that the Nexus 7 took me to, to the mediocrity of the iPhone 5 - this is actually a low point for me.
The Note 10.1 could be oh-so-much better with its insane spec list, but is let down severely in build quality, screen resolution and baked-in TouchWix UX. TouchWiz really slows down the out of the box experience, and proves why iOS wins against Android to most consumers.
An iOS device doesn't have bloat, it doesn't have floating apps, it doesn't have crap that completely slows down the entire $500-plus product to the point of wondering "is there something wrong with my sample?" Then I started digging into the Note 10.1, removing the bloat and discovering that it sped up considerably.
I presumed with its quad-core processor and 2GB of RAM that I wouldn't need to remove the widgets, but the performance improvement is well worth it. I shouldn't have to do that; I shouldn't have to do anything. As a consumer who would buy this, they'd most likely leave the widgets on the screen (at least in the first few days or weeks of use). This would give a hugely negative reaction and opinion on a device that should, by all means, be much, much faster.
The front-facing speakers are great, the rear-facing camera isn't too bad, and the screen size is perfect for portrait viewing. That's all I really liked with the Note 10.1, unfortunately. The price isn't too bad, but the Nexus 7 is cheaper and a far superior product worthy of your money.
There are just too many negatives with the Note 10.1, and I can't find anything on it worth highly recommending to you. Samsung, I'm disappointed, and I really hope you learn from this and step up your game, significantly, with the next tablet release.
Drop TouchWiz and offer a stock Android ROM and you'll have millions more customers on that fact alone. Even if you can't do this, put a note on the device stating that you can offer this to your consumers if they would like to flash the ROM with a stock Ice Cream Sandwich or Jelly Bean ROM.
I personally would much rather a stock Google experience than a Google plus TouchWiz experience, especially with how slow the Note 10.1 feels with TouchWiz painted on top.
Samsung, to quote many memes, I am disappoint.