While we'll start to see new Dual Channel kits from companies over the coming weeks, we're continuing to see new Quad Channel options from companies with one of the most recent kits coming from G.Skill under the popular RipjawsZ series that we've grown to love.
Introduced with the Intel X79 Express platform, the RipjawsZ series has quickly become one that represents power and speed thanks to the PC3-17000 16GB and PC3-19200 16GB kits we've looked at over the past few months. Today we've got another PC3-17000 kit that is a little different to the one we looked at when Sandy Bridge-E first launched.
Checking out the latest RipjawsZ kit to arrive there's nothing out of the ordinary when it comes to the overall design with that black heat spreader and black PCB which I think is one of the key things that make the kit really stand out. Being a Quad Channel kit means we're dealing with four modules.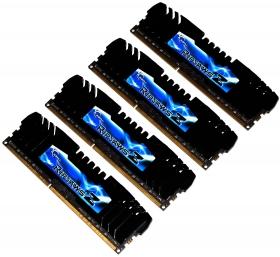 On one side you can see the RipjawsZ branding while looking at the other side we've got the same sticker along with another one that gives us a run down on some of the main specifications.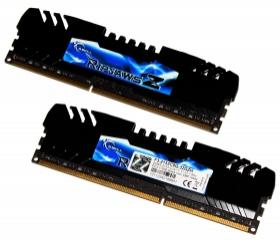 Moving in closer we get a better idea of what exactly we're dealing with here today when it comes to core specifications. The PC3-17000 name translates to 2133MHz DDR and you can see we're at a 9-11-11-31 setup that requires 1.6v, slightly down on the typical 1.65v we see on higher end kits. As for the amount of RAM, you can see we're dealing with an 8GB x 4 kit which translates to a massive 32GB.
This is a pretty nice setup for a 32GB kit of RAM, but considering we've tested kits faster than this and with more aggressive timings, we knew that getting our system up and running at the default RAM speeds wasn't going to be an issue. Heading into the BIOS and setting everything up we got up and running in to Windows with no problems at all, just as we'd hope.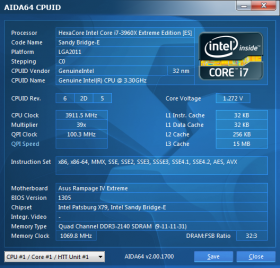 Looking above you can see our AIDA64 CPUID and thanks to the way the BCLK and memory multiplier sit you can see we end up in Windows at 2140MHz DDR, just slightly higher than the 2133MHz speed.
Under AIDA64 we ended up with Read / Write numbers of 19,290 MB/s / 15,100 MB/s, Copy speed of 17,176 MB/s and latency of 46.3ns.
Stock performance sits exactly where we'd expect it to with no real surprises being present. As always, though, we want to see what we can do outside of stock and see just what this particular RipjawsZ kit is capable of doing. So with that said it's time to head into the BIOS and see just what we can get out of the kit.
We moved the Command Rate to 2T and jumped up to the next divider which is 2400MHz DDR. We didn't expect it to work, but we figured it can't hurt to try. We couldn't get the machine to boot.
We headed back in and figured before we move off the 2400MHz clock, we'd try to just loosen the timings to 10-12-12-31-2T. We saved our settings and rebooted and again we had no luck. With the memory divider not being an option we headed back into the BIOS to mess around with the BCLK.
In the end we got up and running with a 105.5 BCLK which resulted in our 32GB kit of 2133MHz DDR RAM coming in at 2251MHz DDR. This is a pretty nice overclock staying at the default timings along with the fact we're dealing with 8GB modules.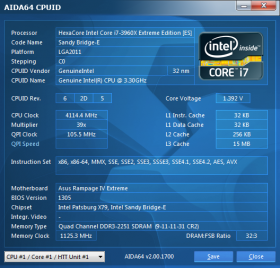 Under AIDA64 we ended up with Read / Write numbers of 20,060 MB/s / 15,935 MB/s, Copy speed of 17,902 MB/s and latency of 44.9ns.
You can see across the board we've got a slight performance boost that helps bring the overall speed of the kit up and the latency slightly down. As always, though, before we finish up we like to push our CPU clock up and see overall what kind of bandwidth we're able to get out of the kit.
Looking below you can see we pushed our CPU multiplier up to 44x which with the 105.5 BCLK helped push our CPU up to 4642MHz while like above our 32GB kit of RipjawsZ comes in at 2251MHz DDR.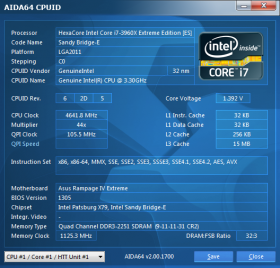 Under AIDA64 we ended up with Read / Write numbers of 21,557 MB/s / 17,921 MB/s, Copy speed of 19,516 MB/s and latency of 43.2ns.
Overall we can see across the board we get a nice boost in performance with a nice jump in the write and copy speeds. We also see that overall latency is slightly down, which is nice as well. In the end this is some really nice performance out of a kit that's not only rated for 2133MHz DDR, but has large density chips on it making it a 32GB kit.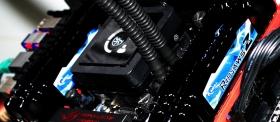 Priced at $399.99 this isn't a cheap kit by any stretch of the imagination. The combination of not only a large amount of RAM via the 32GB capacity, but the fact it comes clocked at 2133MHz DDR with a CL9 setup means that it was never going to be cheap.
The bottom line, though, is that if you're looking for a kit of RAM that is able to fulfil your need for not only a large amount of memory, but also a large amount of memory at an awesome speed, then this is a kit that will get your attention.