QNAP TS-859U-RP 8-Drive Rackmount NAS
QNAP's new enterprise rackmount NAS has the power to keep your business at full flow, yet is simple and quiet enough to stay in your home office.
Published Mon, Sep 27 2010 6:55 AM CDT
|
Updated Tue, Nov 3 2020 7:02 PM CST
Rating:

92%
Manufacturer: QNAP
Introduction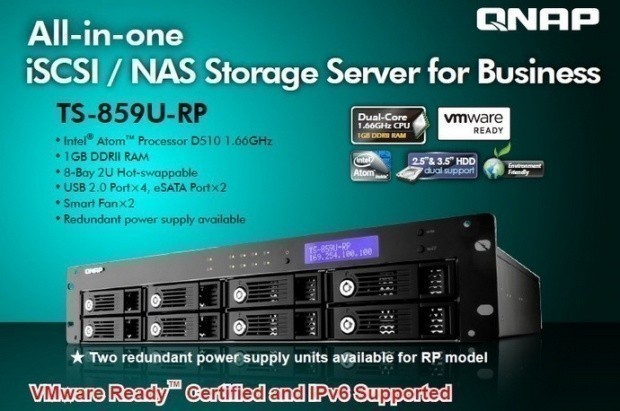 At Computex QNAP announced their new 3.3 firmware that put them on top of the NAS server market. The new firmware introduces several new features that make setting up and controlling QNAP systems easier than ever. The new 3.3 firmware even allows users to monitor and configure QNAP systems from iPads, iPhones and Android devices. When coupling the new technology with the existing QNAP QPKG software, it is easy to see why QNAP leads all others in NAS server software.
At CES this past January QNAP announced their new Intel Atom powered line of products. The flagship model from this new line is the rackmount TS-859U-RP, the system that we are reviewing today. The dual core Atom processor allows QNAP to run applications quickly, reduce costs and reduce the amount of power required to operate it. QNAP's flagship TS-809U-RP, an Intel Core2Duo powered system is still available, but the beefy additional hardware also comes with some additional cost. The 859U-RP is a happy medium between cost and performance and can even be used in a home or small office environment since it doesn't sound like a jet taking flight when in use.
Today we will be running the QNAP TS-859U-RP through our standard round of tests and see what it has to offer. Since we reviewed the Thecus N8800 Pro the other day, we will use it as a comparison product since both cost around the same amount, but are quite different even though they both hold eight drives.
Specifications, Availability and Pricing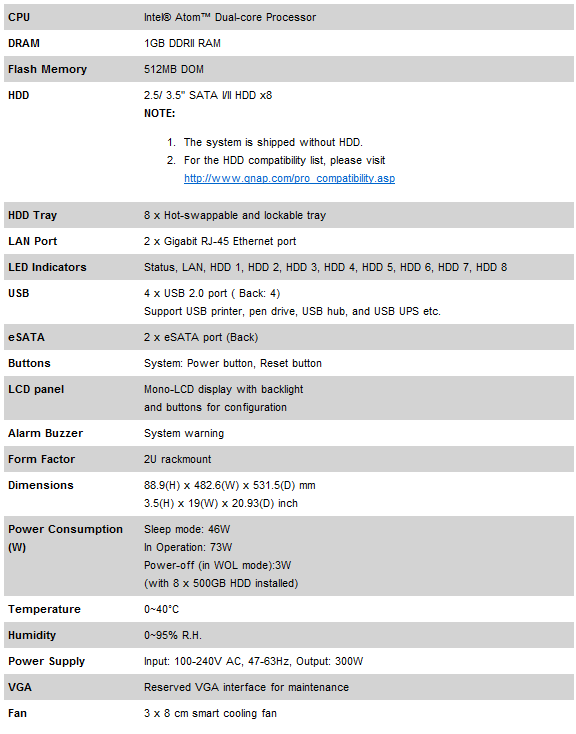 The QNAP TS-859U-RP uses a dual core Intel Atom processor and pairs it with 1GB of DDR2 RAM. The system is designed to use up to eight internal HDDs in RAID 0, 1, 5 or 6. Two additional eSATA ports are located on the back of the NAS and can be used to increase storage capacity.
The TS-859U-RP is an enterprise class system and as such brings many enterprise features with it. Redundant power supplies are one item that we never see on consumer models and most consumers don't use rackmount systems in their homes or small offices.
Dual gigabit Ethernet ports on the back of the QNAP TS-859U-RP allow data to flow quickly to and from the NAS and as long as your network is setup for it, setting up and using the fail over system is easy.
When it comes to the cost, the TS-859U-RP comes with an enterprise tag as well. Newegg currently lists the unit for just over 1900 USD. The upgrade TS-809U-RP is also available at just under 2200 USD.
Software Features

Modern day NAS servers have more software features available than most computer users run on their own PCs. In March we tested and wrote an indepth article over QNAP's 3.2 firmware. You can
see it here
. Next month we will take a deeper look at the latest 3.3 firmware.
The Packaging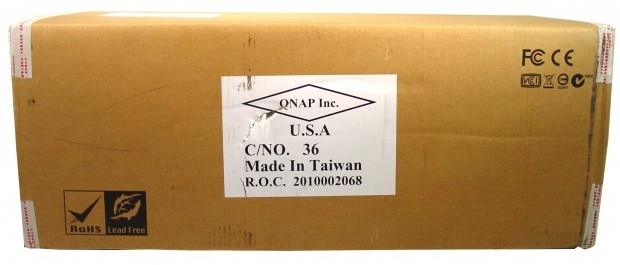 The packaging for the TS-859U-RP takes a very enterprise approach and is all business.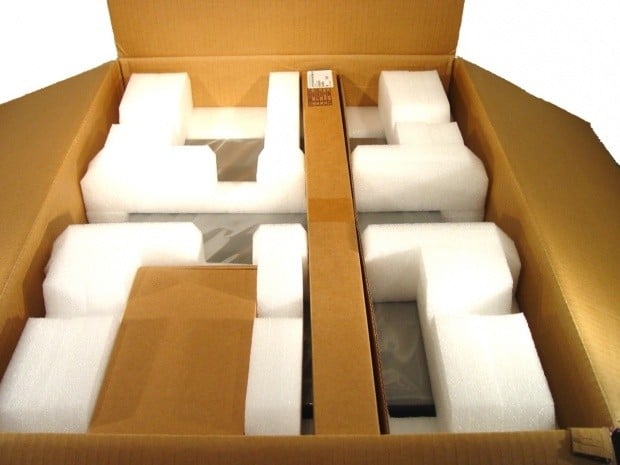 Inside the box we see that QNAP has all of the hardware separated into different boxes so nothing gets damaged during shipping. The NAS is held in place by three to four inches of foam all the way around.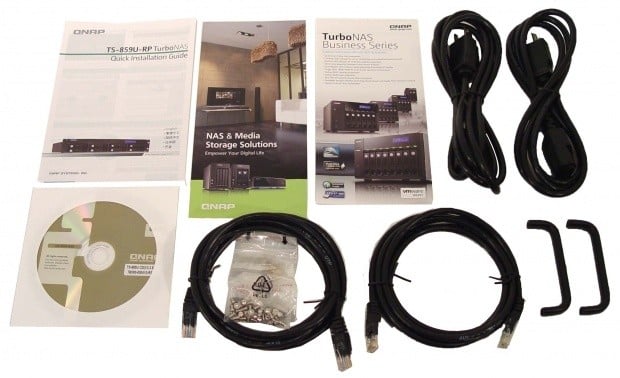 QNAP went all out with the accessory package. Here we see dual power cords and Ethernet cables as well as manuals galore and additional value added software on a disk.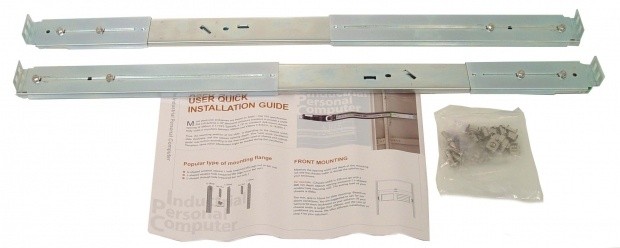 If you want to mount your TS-859U-RP in a rack, QNAP included additional rails to make the install easier.
The QNAP TS-859U-RP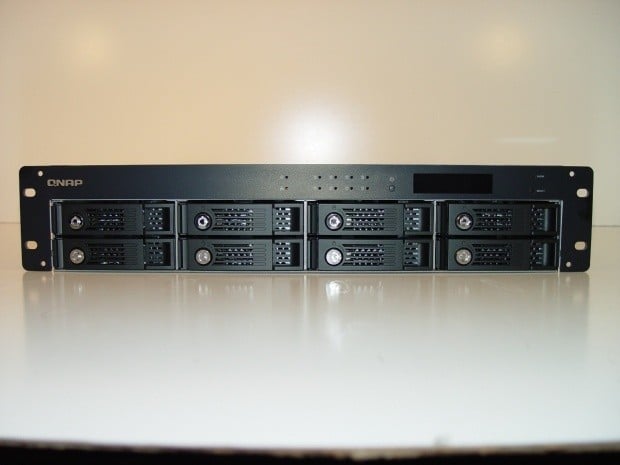 Here we get our first look at the 2U TS-859U-RP. The unit is sleek with its flat black finish. I would love to see what a 42U rack filled with these looks like. Better yet, I would love to fill my 42U rack with them!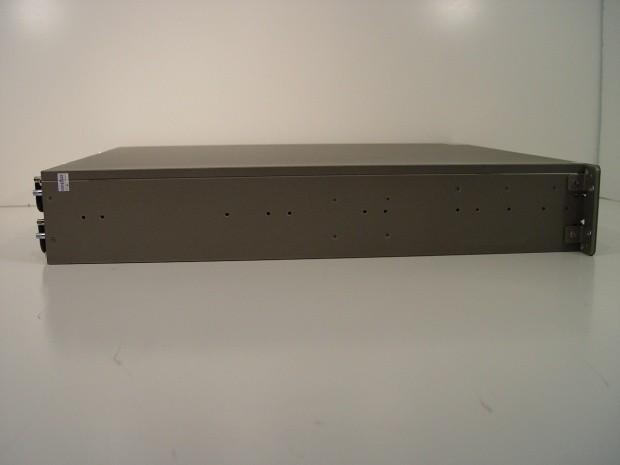 The system is quite light and doesn't weigh all that much more than my daily use TS-809 Pro. Both units emit around the same level of acoustic noise as well, so it is possible to use your 859 in your office without earplugs, something that I couldn't say about the Thecus rackmount unit
we tested
the other day.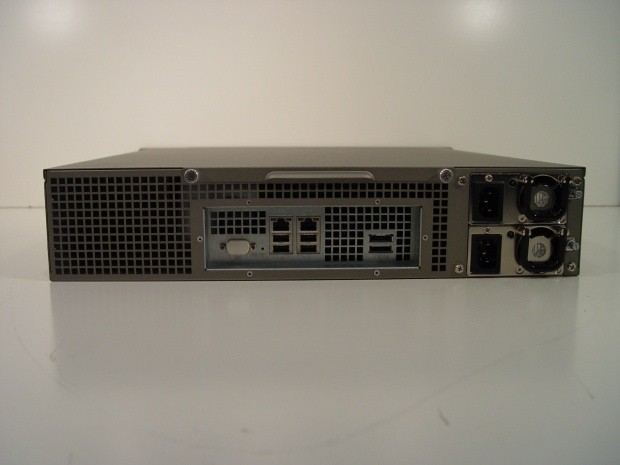 Most of the goodies are located on the back of the TS-859U-RP.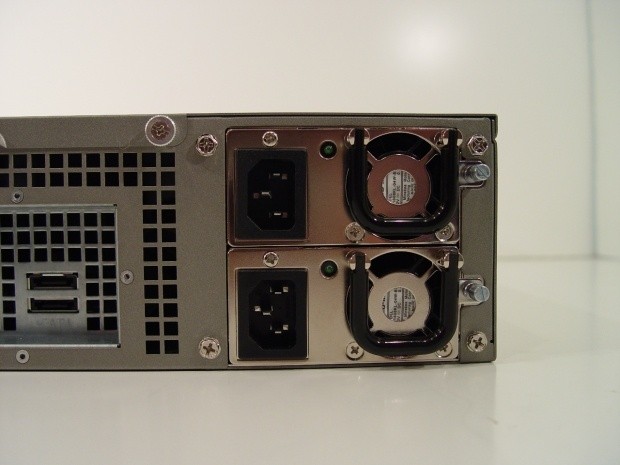 Here we see the redundant power supplies that use a fail over system. If one falls the other picks up the slack and you get to keep using the NAS without skipping a beat.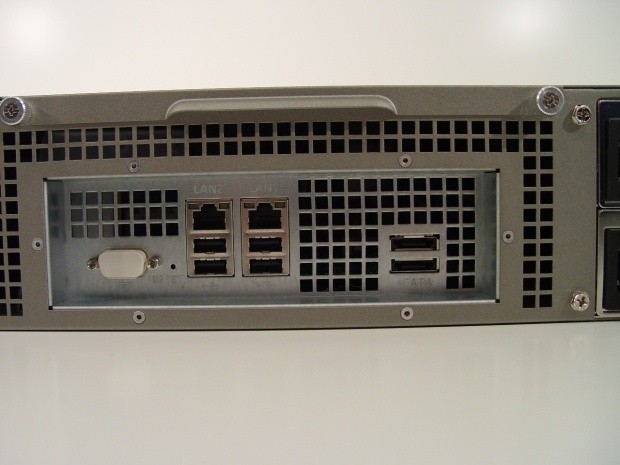 In the middle we see the dual gigabit Ethernet ports, quad USB 2.0 and dual eSATA connectors. If you wanted to get really fancy, you could actually install four thumb drives and two additional HDDs via eSATA and make the TS-859U-RP a storage monster, not that it isn't one already with eight HDDs in the traditional bays.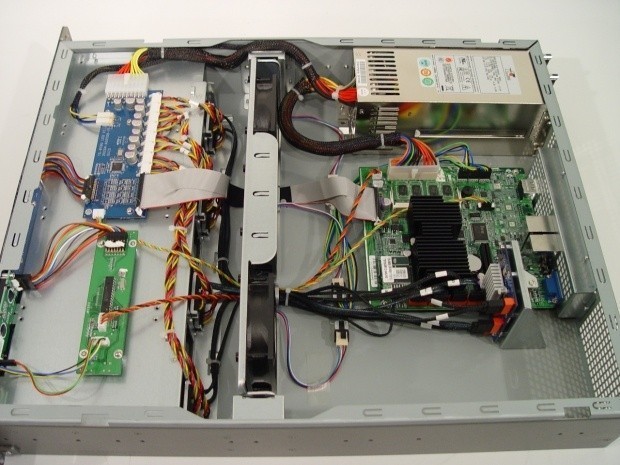 I was very surprised at the level of quality found inside the unit. Here we see the layout that allows for the components to breathe easily without the need for the fans to spin at crazy RPMs to keep things cool.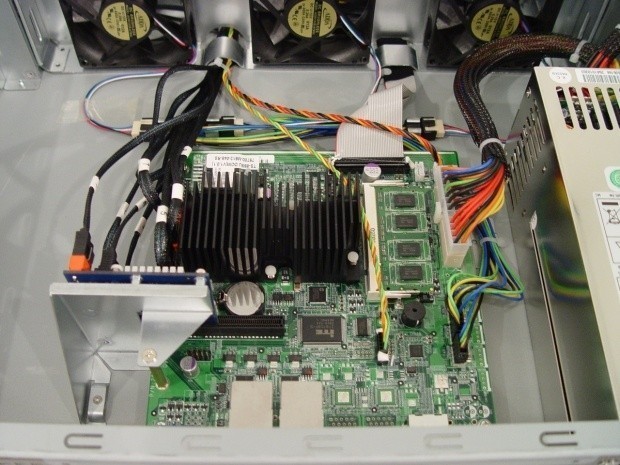 If you needed to install more memory, QNAP has made the memory module easily accessible, but be sure to read the list of qualified model numbers before making your purchasing decision.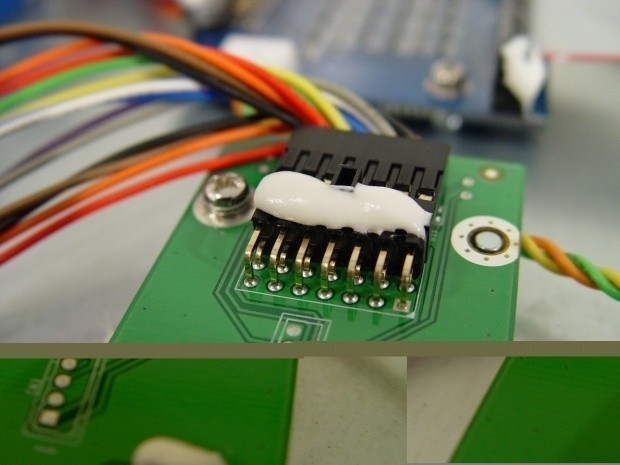 When it comes to the little details that make a good product a great product, QNAP has always been able to deliver. Here we see one of the connectors that has a glue on it to ensure a strong, long lasting connection. All of the connectors inside the TS-859U-RP had this glue and it was not found on any of the Thecus models we have ever tested.
Test System Setup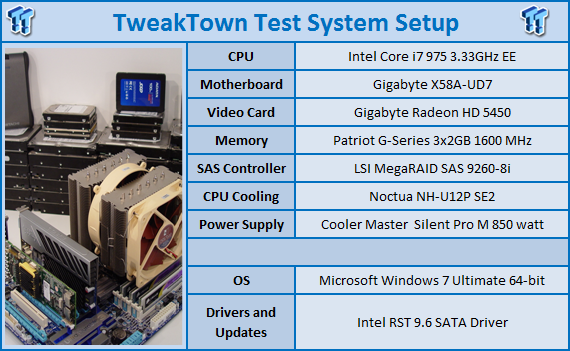 We would like to thank the following companies for supplying and supporting us with our test system hardware and equipment:
AVADirect
,
GIGABYTE
,
Cooler Master
,
LSI
,
Noctua
and
Seagate
.
Intel NASPT
The Intel NAS Performance Toolkit (NASPT) is a file system exerciser and analysis tool designed to enable direct measurement of home network attached storage (NAS) performance. Designed to emulate the behavior of an actual application, NASPT uses a set of real world workload traces gathered from typical digital home applications. Traces of high definition video playback and recording, office productivity applications, video rendering/content creation and more provide a broad range of different application behaviors.
With version 1.71 we are able to test with Windows 7 64-bit, but to keep the results accurate you must limit your system RAM to 2GB or less. With only a single 2GB stick of memory installed you can test with Windows 7 64-bit. Also, a new test was added, Office Productivity, but several tests were removed by default like 3 Source HD Video Playback and Backup / Restore.
Today we will be testing the QNAP TS-859U-RP in Intel's NASPT and running it against Thecus's latest large capacity N8800 Pro that we reviewed just days ago. Both NAS servers were tested with Seagate 7200.11 1TB drives; our standard drives for all NAS testing. Both units use eight drives.
Benchmarks - HD Playback
HD Video Play - 720p HD stream from Windows Media Player* 256kB reads
2HD Video Play - 2x playback
4HD Video Play - 4x playback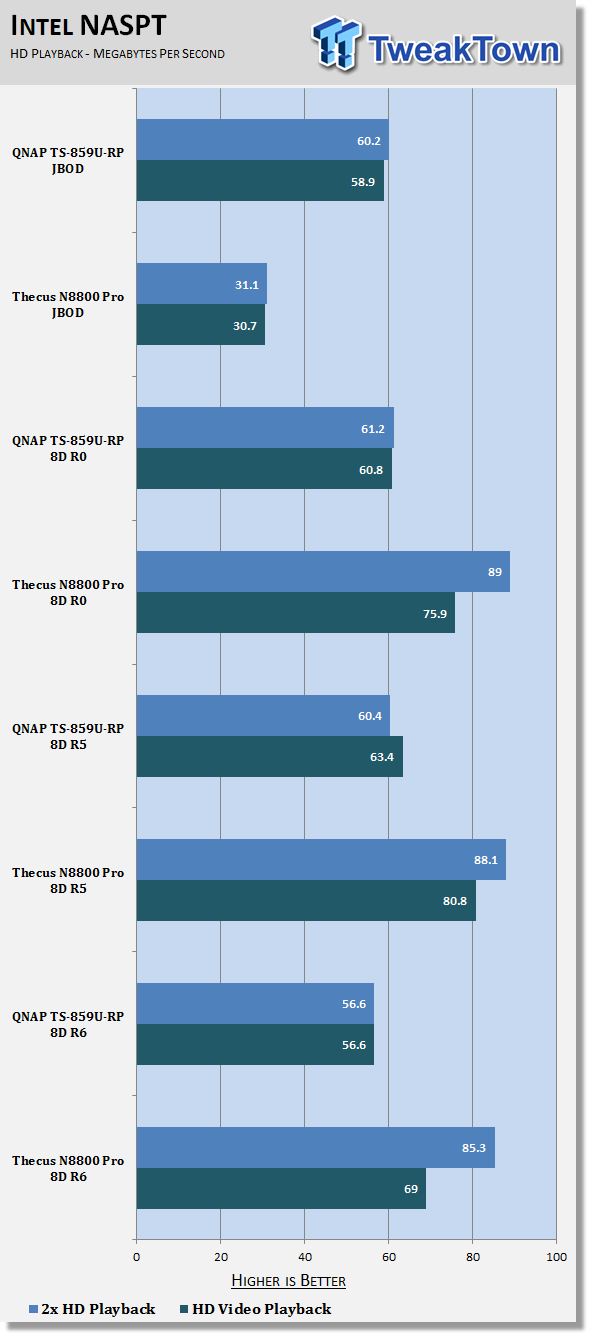 In JBOD we see the QNAP TS-859U-RP pounding the Thecus unit and nearly doubling the transfer speed. Things change once we start to get into the eight drive tests, but the QNAP unit still delivers performance that exceeds most NAS units that we have tested to date.
Here we see the TS-859U-RP streaming HD video files at up to 60MB/s. At this speed you would be able to stream several videos at the same time throughout the office and not see a slowdown in performance until the 60MB/s limit was reached.
Benchmarks - HD Record
HD Video Record - 720p HD stream, 256kB writes
HD Video Play & Record - 1 playback, 1 record simultaneously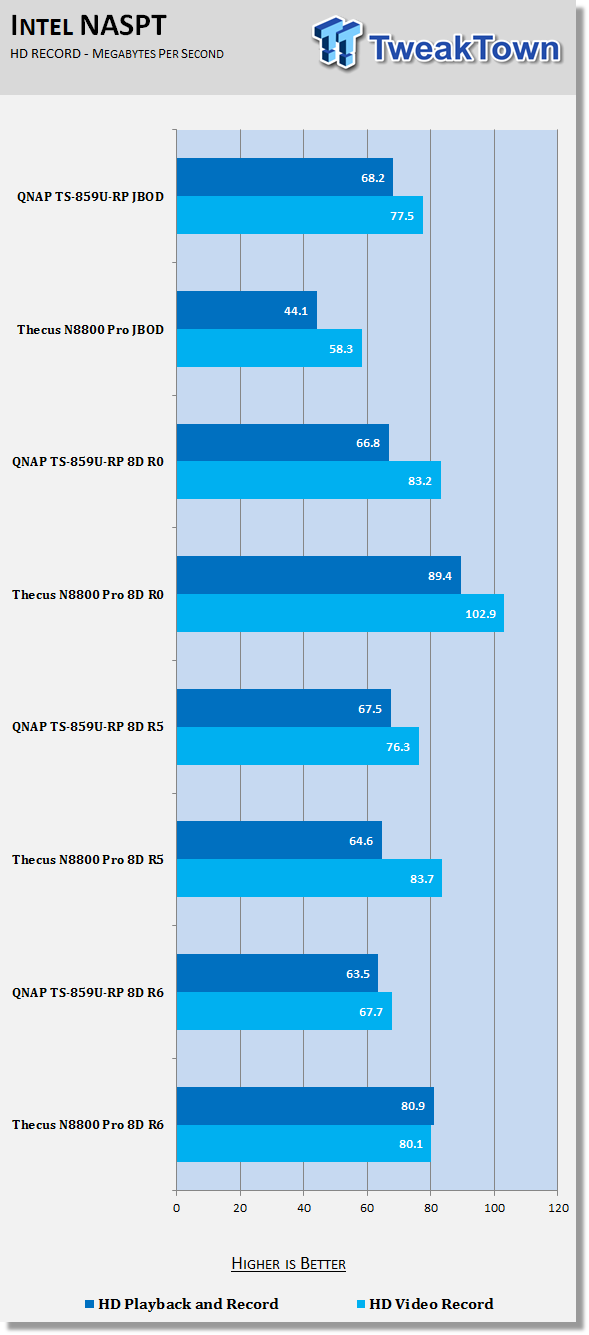 The single drive performance was once again spectacular with the TS-859U-RP. In RAID 5 and RAID 6, the most used modes for this type of system, we see both rackmount systems performing nearly identical. The difference is that the QNAP system is able to use less power to achieve the same results.
Benchmarks - Content
Photo Album - All reads - wide distribution of sizes
Office Productivity -
Content Creation - 95% writes; 1k, 4k & little reads; Writes up to 64kB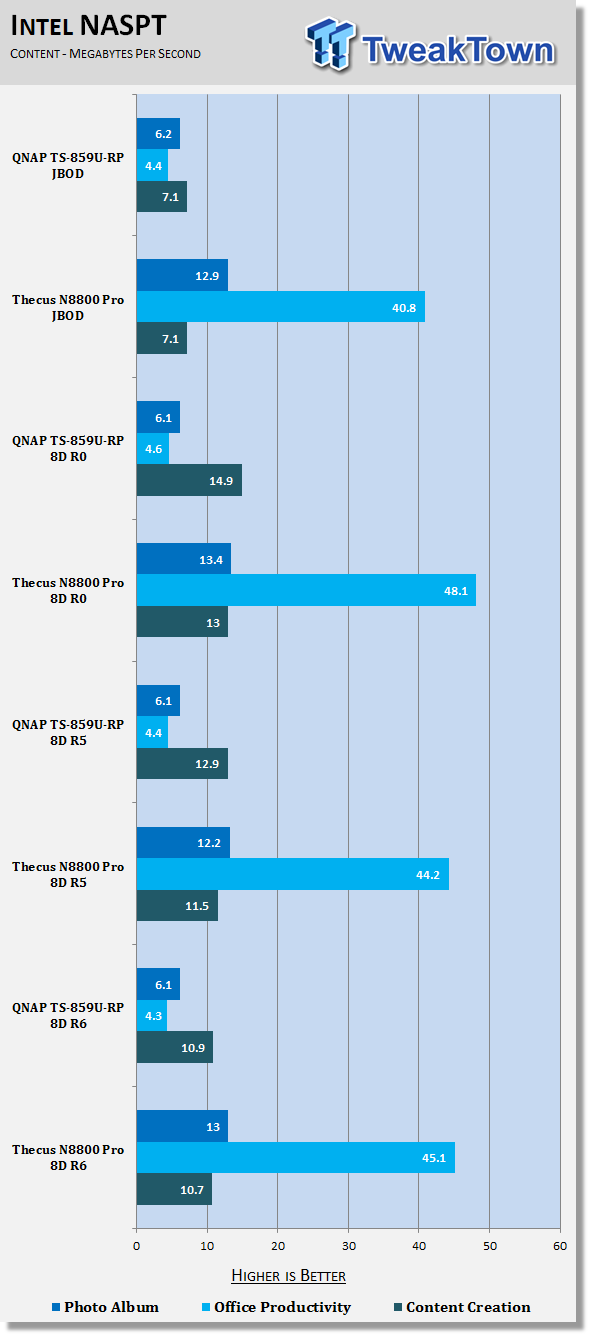 Now that the easy tests are over, it is time to get into the complex file transfers where small files are able to slow the system's ability to transfer data at very high speeds. Here we see that the TS-859U-RP is able to run the Content Creation tests with ease, but Office Productivity gives the system problems. This is most likely due to the 1GB of memory. Luckily the TS-859U-RP is easily upgraded to 4GB of DDR2 and DDR2 SODIMMs are relatively cheap these days. If using this system in a large office environment where document files are used often from the NAS, making the investment in a 4GB DDR2 memory stick would be a wise purchase.
Benchmarks - Copy
Directory Copy From NAS - 64kB reads
Directory Copy To NAS - Predominantly 64kB writes, wide scattering under 16kB
File Copy From NAS - 4GB file copy, 64kB reads
File Copy To NAS - 64kB writes

The file copy tests show the TS-859U-RP performing very well, even though the chart has the Thecus unit performing the same tasks faster. The Thecus was not able to run the Directory Copy from NAS test; it would lock up under that load.
Final Thoughts
In today's test we put QNAP's second place hitter up against Thecus' flagship model and the QNAP TS-859U-RP came away looking very good. Benchmark results rarely tell the whole story and this is one of those cases where the numbers are just a part of what is important.
QNAP has been working on the ultimate package for many years now. The hardware is just one aspect of their products and it is very good. The software on the other hand is where QNAP stands out from the crowd. Actually, they stand above the crowd. Most users will never get a chance to use all of the available software packages from all of the NAS manufacturers like we get to, and to be honest, what a night mare that would be trying to go in and figure out some of the stuff we see here in the lab.
QNAP is really the exception when it comes to the software; all of the features are easy to get to, laid out in ways that make sense and you can even install add on packages that bring additional features to the NAS with two clicks. I'm looking forward to writing a new software deep dive article that shows the new features of the 3.3 firmware update, but you will need to wait a couple more days to see this in action.
When it comes to the price, the lowest I was able to find the TS-859U-RP for was
1863.53 USD at PCNation
. This was a little lower than the Newegg price and they also list the unit in stock. Newegg sold out between the time I wrote this article and the time it went live. When comparing the cost of other rackmount NAS servers, you will find the TS-589U-RP right in the middle of the lot, but once you start adding up the features and value added options, you will see that this unit should be a consideration near the top of your list.
PRICING: You can find products similar to this one for sale below.

United States: Find other tech and computer products like this over at Amazon.com

United Kingdom: Find other tech and computer products like this over at Amazon.co.uk

Australia: Find other tech and computer products like this over at Amazon.com.au

Canada: Find other tech and computer products like this over at Amazon.ca

Deutschland: Finde andere Technik- und Computerprodukte wie dieses auf Amazon.de
We openly invite the companies who provide us with review samples / who are mentioned or discussed to express their opinion. If any company representative wishes to respond, we will publish the response here. Please contact us if you wish to respond.
Related Tags