Thecus N8800 Pro 8-Drive Rackmount NAS
Thecus introduces their highest performing NAS to date, can the N8800 Pro smash our benchmark records or will the new firmware hold it back?
Published Wed, Sep 22 2010 5:26 AM CDT
|
Updated Tue, Nov 3 2020 7:02 PM CST
Rating:

91%
Manufacturer: Thecus
Introduction, Specifications, Availability and Pricing

Introduction
Just before Computex earlier this year Thecus announced their new N8800 Pro, an updated 8-Drive NAS server that was based on the N8800 and N8800+, but with even higher specifications and a stronger feature list. The Pro version turns the 8800 Series up to eleven with 4GB DDRII and a higher clocked Core 2 Duo Processor.
Aside from the upgrades, all of the standard 8800 Series goodies are retained. The Thecus N8800 Pro has one of the best cases we have seen in a NAS and the 10GbE option is unrivaled at this price point. Thecus' award winning software is easy to configure just like the consumer class products, but has the capability of NAS systems built for government and large business use.
Speaking of large business, the N8800 Pro is designed for serious use with several users reading and writing to the NAS at the same time. The price reflects this fact, but not to the degree that most large businesses are used to seeing. With a less than 2,000 USD price tag, the N8800 Pro is in the budget for most medium sized businesses, but it would easily be considered overkill. If your business has the potential to grow, then it might be a good idea to start out big and grow into a NAS rather than upgrade every five years like many companies are considering.
Today we are looking at the Thecus N8800 Pro, one of the most powerful NAS servers available for less than 2,000 Dollars. Let's take a look at the specifications.
Specifications, Availability and Pricing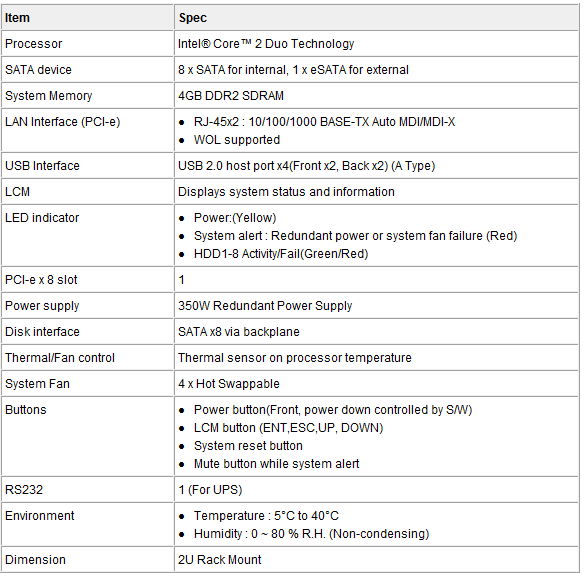 The hardware specification list is very impressive and has everything you would expect to see in a flagship NAS from one of the world's leading NAS builders. The heart of the system is an Intel Core2Duo processor that is fed data from 4GB of DDR2 memory. The N8800 Pro is an eight drive bay NAS, but you can add a ninth drive by connecting it to an eSATA port located on the back of the N8800 Pro.
The Thecus N8800 Pro is a true enterprise class NAS server. One of the features that helps define this class is redundant power supplies and the Pro has a dual 350 watt PSU system that will keep your NAS going even if one of the power supplies fails.
The network configuration is the same as what we have seen in many high end NAS servers; dual 10/100/1000 BASE-TX ports that can be used independently or together in a failover mode. Thecus has a fairly unique feature that we are not seeing on other NAS products from competitors at this price and that is a 10GbE option. The N8800 Pro has a PCIe port available on the back that can be populated with an Intel 10GbE network card to give users additional bandwidth to the NAS.
The Thecus N8800 Pro has been on the market for a few months now and Thecus has been able to get these out to etailers all over the globe. Newegg currently lists the N8800 Pro as in stock for 1,899.99. If that price is higher than your budget, you may want to look at the N8800 (Newegg Price 1424.99) or the N8800+ (1799.99); both offer many of the same great features, but use slower processors and smaller memory configurations.
Software Features

Modern day NAS servers have more functions available than what most people do with their main computer on a regular basis.
The Packaging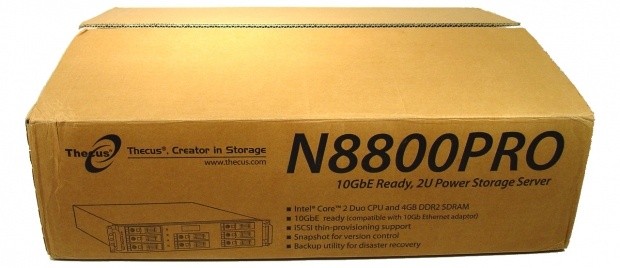 The N8800 Pro comes in an enterprise looking box that you won't see until you strip the outer box since the NAS is double boxed for shipping.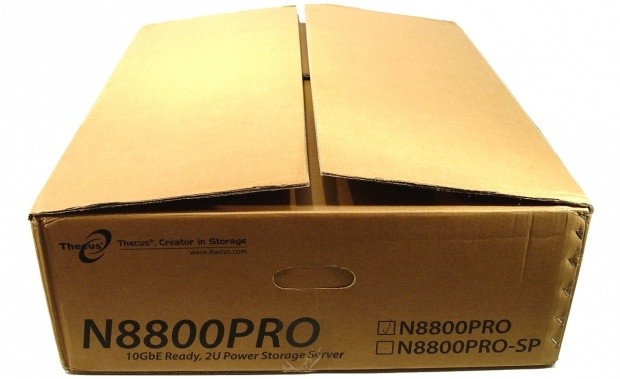 The inner box has handles in the side that make it easier to carry up to the storage rack in your office.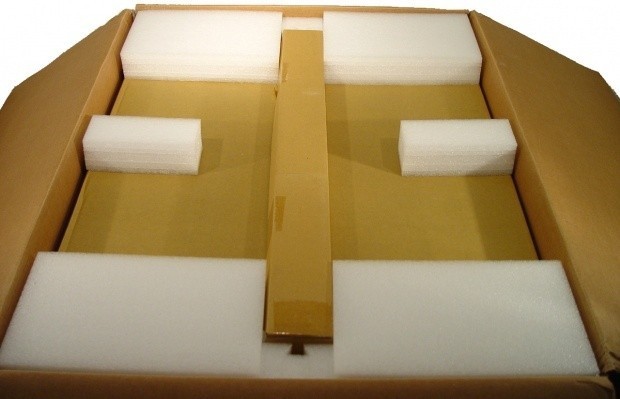 Here is where things start to take shape. The NAS is completely enclosed with even more packing; it is almost like the NAS is triple boxed from the factory to ensure a safe delivery.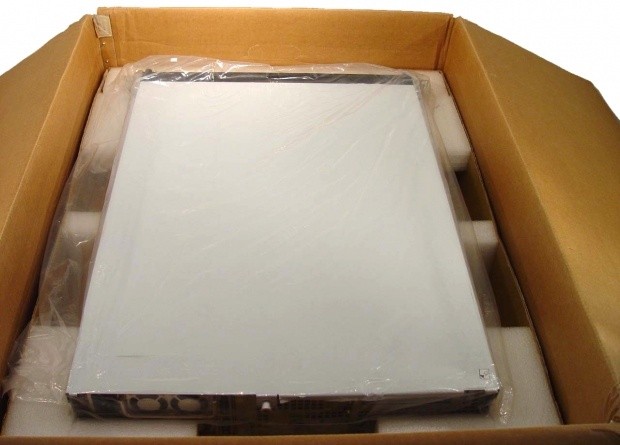 After digging through all of the packaging, we finally hit gold! The inner packing uses formed foam that the NAS sits in and it doesn't get to move until you take it out of the box.
The Thecus N8800 Pro

Here we get our first look at the N8800 Pro. The front view shows the door closed. In the middle there is a window so you can still see the LCD display.

Here se wee the N8800 Pro with the door open. One thing we noticed is that all of the drives are lockable, but the front door just uses a simple thumb screw system. Some users are going to want a lockable front door so users can't access the power button.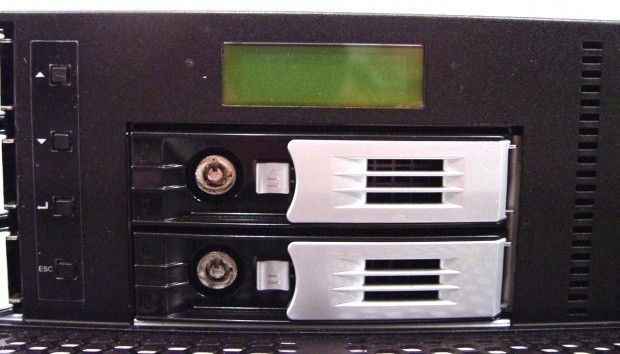 The LCD display sits right in the middle and there are four buttons used to set or change the settings.

The N8800 Series are all rackmount units that come with mounting hardware preinstalled and also rack rails if you want to use them.

The back of the NAS has dual USB 2.0 ports, a COM port and dual gigabit Ethernet. The redundant power supply needs two power wires connected to an outlet, but if one fails the other PSU takes over. Also on the back we see the full size PCIe slot for 10GbE connectivity.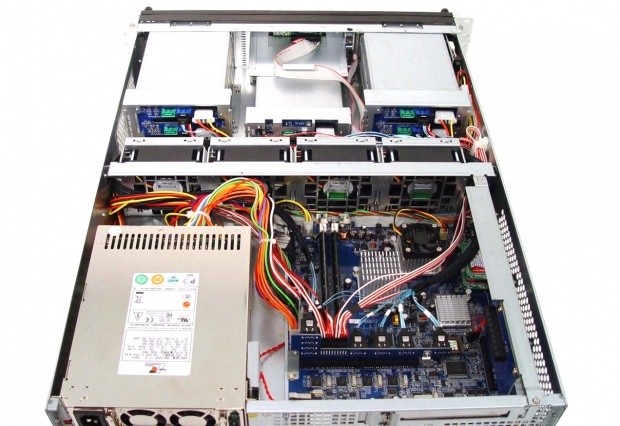 The N8800 Pro is designed for easy access to the internal components. If a fan fails you can quickly go in and make a change right away without the need to have a tech show up. This eliminates down time so you always have access to your data.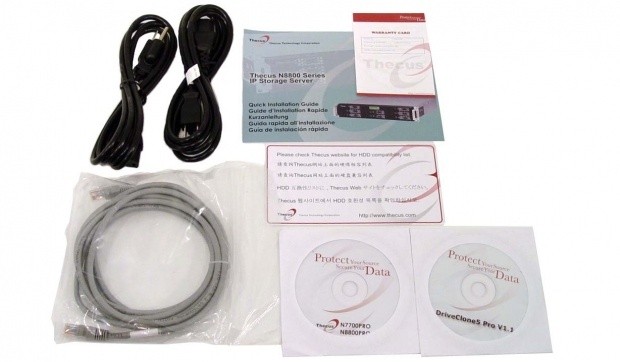 Thecus has always delivered on their accessory package. Here we see the two PSU cables needed to get started, an Ethernet cable and the manuals.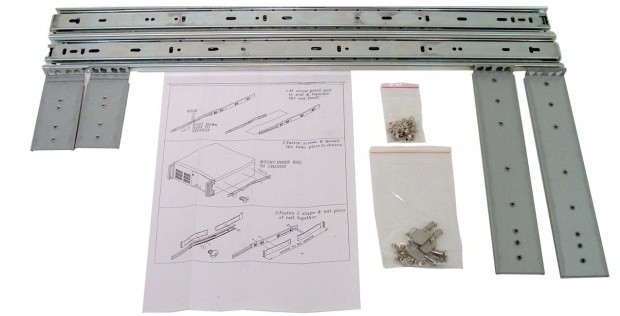 Some users will want to install the rack slide system that comes with the N8800 to access the back of the NAS faster.
Test System Setup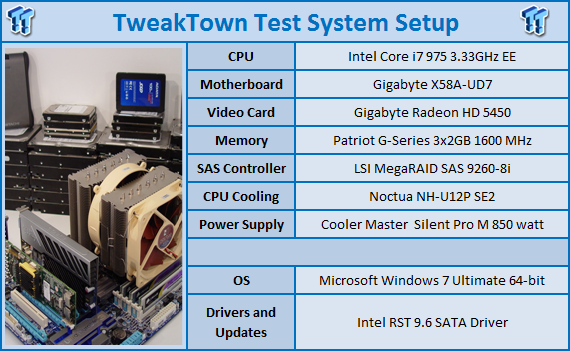 We would like to thank the following companies for supplying and supporting us with our test system hardware and equipment:
AVADirect
,
GIGABYTE
,
Cooler Master
,
LSI
,
Noctua
and
Seagate
.
Intel NASPT
The Intel NAS Performance Toolkit (NASPT) is a file system exerciser and analysis tool designed to enable direct measurement of home network attached storage (NAS) performance. Designed to emulate the behavior of an actual application, NASPT uses a set of real world workload traces gathered from typical digital home applications. Traces of high definition video playback and recording, office productivity applications, video rendering/content creation and more provide a broad range of different application behaviors.
With version 1.71 we are able to test with Windows 7 64-bit, but to keep the results accurate you must limit your system RAM to 2GB or less. With only a single 2GB stick of memory installed you can test with Windows 7 64-bit. Also, a new test was added, Office Productivity, but several tests were removed by default like 3 Source HD Video Playback and Backup / Restore.
Today we will be testing the Thecus N8800 Pro in Intel's NASPT and running it against QNAP's latest large capacity TS-859U-RP. Both NAS servers were tested with Seagate 7200.11 1TB drives, our standard drives for all NAS testing.
Benchmarks - HD Playback
HD Video Play - 720p HD stream from Windows Media Player* 256kB reads
2HD Video Play - 2x playback
4HD Video Play - 4x playback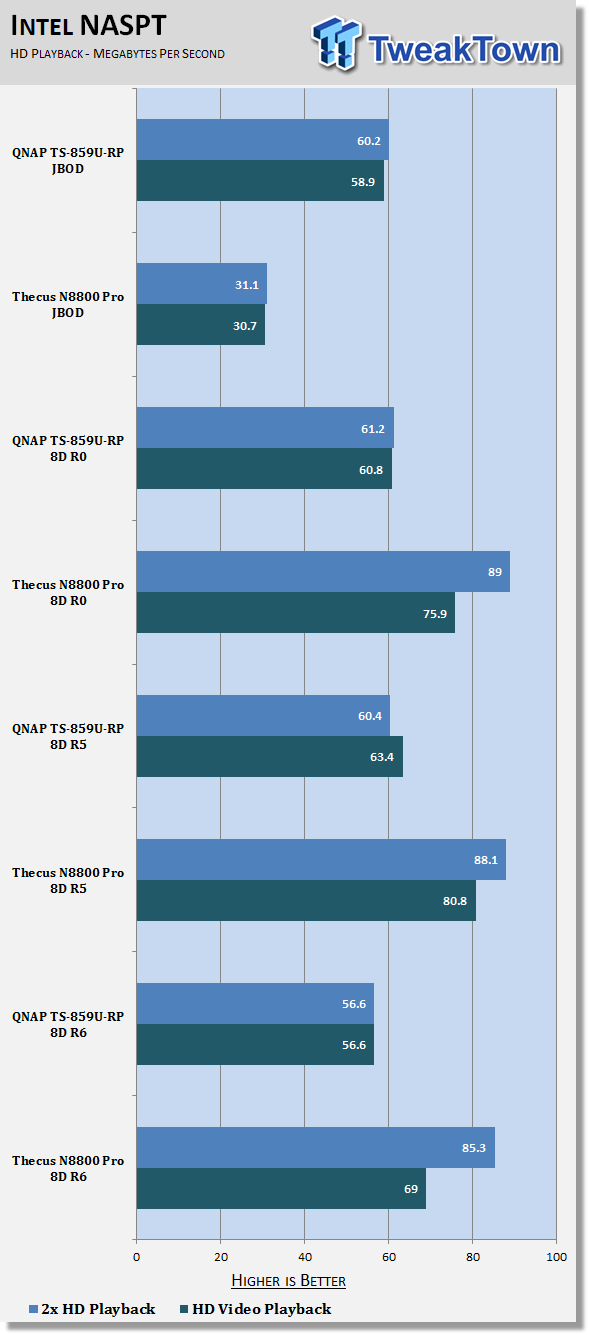 There is quite a lot of information to be found just in the HD Playback tests. Here we see that the Thecus N8800 Pro is about half the speed of the QNAP unit with a single drive, but when you fill both NAS' up with 8 drives things change and the N8800 Pro is able to outperform the TS-859U-RP.
When playing back video, the N8800 Pro is capable of sending several steams at the same time and using up to 88.1MB/s.
Benchmarks - HD Record
HD Video Record - 720p HD stream, 256kB writes
HD Video Play & Record - 1 playback, 1 record simultaneously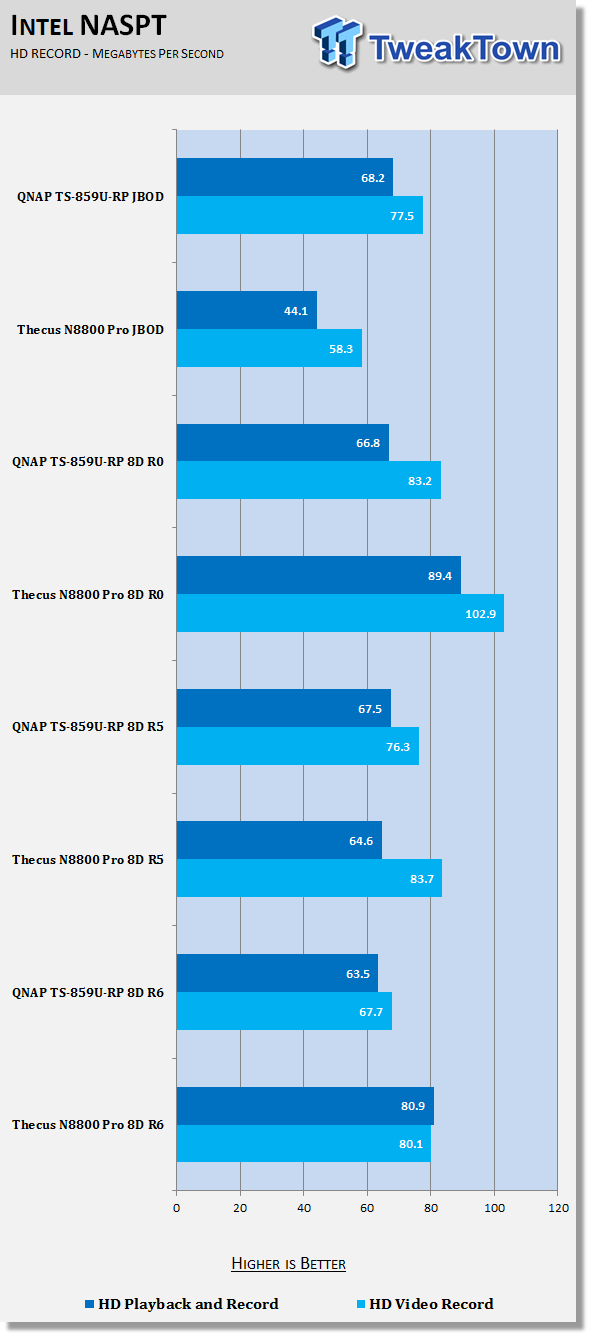 The Thecus N8800 Pro is able to record HD video as fast as any other NAS we have ever tested. This would be a really good unit for recording video streams from multiple sources, or recording to/from media center computers.
The playback and record tests are the easy parts. Now let's take a look at the hard stuff.
Benchmarks - Content
Photo Album - All reads - wide distribution of sizes
Office Productivity -
Content Creation - 95% writes; 1k, 4k & little reads; Writes up to 64kB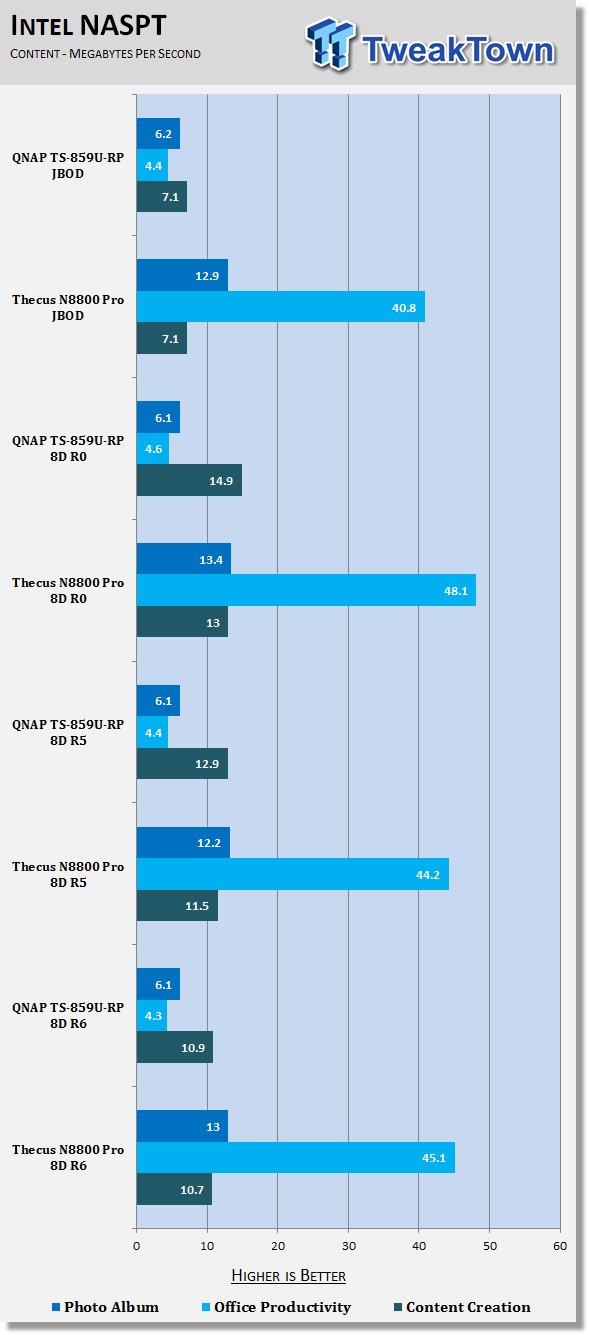 The Photo Album and Content Creation tests are very difficult for NAS servers since they involve many small files. If you have ever wondered why we pay so much attention to the 4K write speeds in our HDD tests, the creation of content, like image files use many of these small writes.
Here we see with the Photo Album Test, even though the numbers look small in this test, they are much faster than most NAS servers on the market.
The Content Creation tests were steady across the configurations tested, but the numbers were a little lower than what we would like to have seen.
The real stand out area for the Thecus N8800 Pro was the Office Productivity tests. Here we see the absolute highest numbers we have ever recorded on any NAS. That makes the Thecus N8800 Pro the best NAS we have ever seen for office use, where the users are working with typical office documents like Word, Excel and so forth.
Benchmarks - Copy
Directory Copy From NAS - 64kB reads
Directory Copy To NAS - Predominantly 64kB writes, wide scattering under 16kB
File Copy From NAS - 4GB file copy, 64kB reads
File Copy To NAS - 64kB writes

When it comes to copying files, we see that the N8800 Pro's fast processor and large amount of memory does a really good job of allowing the NAS to copy raw files to and from the system.
You might notice that the Directory Copy from NAS tests were not ran on the Thecus N8800 Pro. This was because every time I ran that test on the N8800 Pro it failed to complete the test. This also happened when I tested the N7700 Pro.
Final Thoughts
The Thecus N8800 Pro is a full on enterprise class NAS server that is designed for big business or situations where several users need to access data at the same time. With a fast processor and 4GB of memory, the N8800 Pro is able to perform faster than most, if not all other systems on the market.
Being enterprise class means a lot more than just being a very fast system. You wouldn't want to run the N8800 Pro in your home unless you have a room that is acoustically sealed from the rest of the house. The N8800 Pro uses a handful of high speed 80mm fans and when the system is on they are running at full speed and making a lot of noise. Then there is the rackmount factory. Some people actually have rack enclosures at home; I'm one of them, but I would say that only one out of every one hundred enthusiasts have leaped this far from the mainstream.
When it comes to performance, we already know that the N8800 Pro is the top of the hill, but to get there the cost is at the top of the hill, too. At 1899.99 USD from Newegg the N8800 Pro is one of the most expensive NAS servers we have ever tested. The QNAP TS-859U-RP that we compared the N8800 Pro to today is actually a little more, but at these prices 60 Dollars is just splitting hairs.
PRICING: You can find products similar to this one for sale below.

United States: Find other tech and computer products like this over at Amazon.com

United Kingdom: Find other tech and computer products like this over at Amazon.co.uk

Australia: Find other tech and computer products like this over at Amazon.com.au

Canada: Find other tech and computer products like this over at Amazon.ca

Deutschland: Finde andere Technik- und Computerprodukte wie dieses auf Amazon.de
We openly invite the companies who provide us with review samples / who are mentioned or discussed to express their opinion. If any company representative wishes to respond, we will publish the response here. Please contact us if you wish to respond.
Related Tags