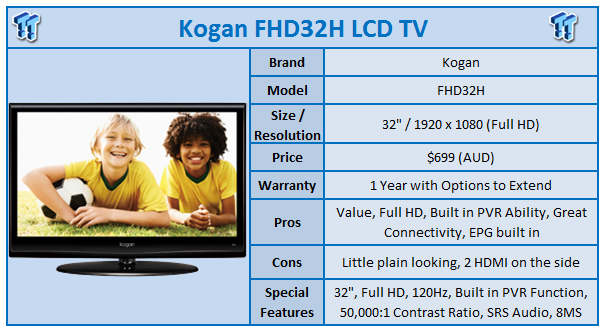 Kogan has thrown the rule book out the window when it comes to selling consumer electronics. As the Australian public gain more and more confidence in shopping online, Kogan are waiting with open arms, ready to offer you discounted prices thanks to no middle man, no double shipping and no expensive leases.
Recently we looked at the ELITE LED32 from the company; its competitive price tag and LED Back Lit sexiness meant it got the big thumbs up from us and today while we'll be looking at a more traditional CCFL lit LCD TV of the same size, there's more to this pony than just putting a picture on the screen.
Looking at the box, there's not a whole lot going on. It's big, it's brown and it has the Kogan logo on it. Opening up the box, there's not much else to look at. Outside of the TV itself we've only got a remote control and power cable. As for the manual, you can grab that from the Kogan website.
Looking at the fact sheets of the 12.5Kg display, we seem to have everything we would want and more; 32", Full HD 1080p support, 8ms response time, 120Hz refresh rate, 50,000:1 Dynamic Contrast Ratio, 450 CD/m2 brightness and two 8W speakers which make use of SRS technology.
Connectivity is strong. On the back we've got a HDMI, VGA, 2 Component, S-Video, Audio In and Antenna In port. As for Outputs, we've got Coaxial Audio Out, AV Out and Headphone Out. While you might be thinking it's lacking a few, we've also got on the left side a further two HDMI ports, two USB ports and another set of Composite inputs.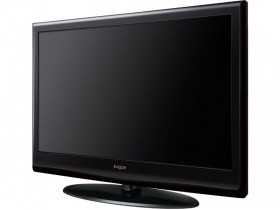 The overall look is simple; a piano black finish all round looks nice. Some may find it a little plain, though. The remote has the same Piano Black finish and because of that is prone to fingerprint smudges. The remote itself works well, though, and while it seems a little slow between pressing the power button and the TV turning on, once the TV is up, changing channels, volume and working in the menu doesn't have any delays.
Firing up the FHD32H and getting stuck into the built in tuner, image quality is good in HD channels and as always a little lacklustre in SD ones due to the source material. Here is where you can make use of the party trick that the FHD32H is capable of.
With a 4GB Kingston flash drive plugged in to USB 1, the FHD32H now has PVR (Personal Video Recording) ability. We're able to pause and record live TV with the remote. Our 4GB flash drive gave us the ability to pause TV for 8 mins in SD and 4 mins in HD. As for recording, we're able to do 105 mins of SD and 30 mins of HD. While that might seem a little small, you're only a larger storage device away from being able to hold more, which is great.
When it comes to the audio, you don't get that tinniness sound that is present with LED TVs; SRS also gives us a bit more punch and helps simulate a 3D surround sound experience which makes for a really nice audio experience.
Moving away from the built in tuner and having a look at our pre recorded World Cup and NASCAR footage, you see that the FHD32H really has very little issues dealing with high speed movement. Watching the ball get kicked around or those NASCARs hug the apex looked great from all angles and you could really enjoy watching your favourite sport in the comfort of your own bed.
While some would say that you don't need 1080p when dealing with a 32" or smaller TV, once you fire up a Blu-ray like Toy Story and can see the grain in the wood floors and the weaves in the blankets with ease, you realize that while you don't need it, the inclusion is sincerely appreciated.
Moving away from some animated Blu-ray footage and getting into Avatar, you feel the display put the squeeze on you, just begging for a Blu-ray player to be added. While a little small for the lounge room as your main TV, you realize that even in a bedroom a Blu-ray player is a must, so you can really enjoy all those pixels on offer.
In standby we drew 1.2w which is just up from the 1w that Kogan quote. When running, Kogan quote an average of 210w; we found ourselves a lot lower than that, though. When running the built in Tuner with audio on, we sat at only around 103w.
When I got the email from Kogan asking if I wanted to check out the FHD32H, they said to me "It's the Rolls Royce of LCD TVs". I hate to disagree with them, but it's not. Let's be honest, there's just no value in a Rolls Royce. The FHD32H packs a serious feature set which is very Rolls Royce, but comes in at $699. Let's be honest, that's Kia pricing.
Let's just quickly break it all down. Integrated HD tuner, 1080P panel, 120Hz screen, SRS Speakers, Built in PVR, USB and three HDMI. If we want to keep it on car terminology, imagine you've walked into a Rolls Royce dealership, slapped on a few Kia badges over that double R and the salesmen has sold it to you for $14,990.
What Kogan continue to do is show us that you don't have to spend big dollars to get a beautiful TV. And while 32" isn't ideal when it comes your main TV, as we feel it's a little small, in the bedroom it's an undeniably fantastic TV.