TweakTown's Rating: 97%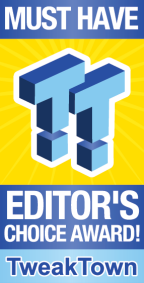 The Bottom Line
Seriously. This is the best TV on the market. It is hard to beat what LG has here with the 65-inch curved 4K OLED TV. It's unbelievable. A tour de force of TV technology, and worth every single penny.
Introduction, Quick Specs, and Availability & Price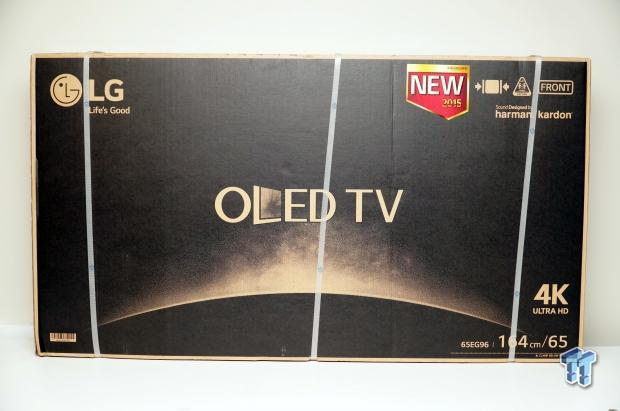 When LG reached out to me asking if I'd like to review their brand new 65-inch 4K curved OLED TV, how could I say no? I had read about it and salivated over the specs, but when it arrived it completely changed my life. So before we get into the rest of this article, I'm going to take this 'review' as something completely different.
Today we're not 'reviewing' the LG 65EG9600. It is my experience with the most beautiful TV I've ever used over the last two weeks. It's going to be nearly impossible to transpire my thoughts of gaming, video content, and everything else into a single review - so I've decided this first part will be my experience with LG's 65-inch 4K curved OLED TV.
I'm going to follow it up with a longer piece on my experiences with various 1080p and 4K movies, YouTube content, and more - and then another piece concentrating solely on PC gaming and using NVIDIA's new Shield TV on the 4K OLED set. I think this is the best way of providing the best content for you guys and girls out there, as this TV deserves multiple angles of discussion.
Quick Specs
The LG 65EG9600 features the aforementioned 65-inch 4K curved OLED panel, which is utterly mind-bogglingly gorgeous. It features a quad-core processor inside, a Magic Remote (2015 model), webOS (which we'll go into later), an internal web browser, 3D support, and various Wi-Fi bands.
LG teamed up with Harmon Kardon for the internal 2-channel, 20W speakers that sound excellent for built-in speakers. We also have HDMI 2.0 support, USB ports that support DivX HD, AC3, and so much more.
The entire TV weighs in at 70.9 lbs (or 32.1 kg) when it arrives in the box, and by itself attached to the stand 55.3 lbs (or 25 kg) and by itself, without the stand at 44 lbs (or 20 kg).
Availability & Price
LG is selling its 65-inch 4K curved OLED TV at most major retailers, with an MSRP of $4999. It's definitely on the expensive side, but we'll go into why this is a better buy than most other TVs near its price range (and even some that are more expensive) very soon.
What is OLED & The Big Jump from 1080p to 4K
What is OLED?
There is a big difference between LED and OLED TVs, with the older LED TVs just being LCD TVs with an LED backlight. Where LCD TVs may have 3840x2160 pixels, there are just a couple of LED backlights lighting up the screen. OLED technology sees each pixel lighting up independently of the other OLED pixels.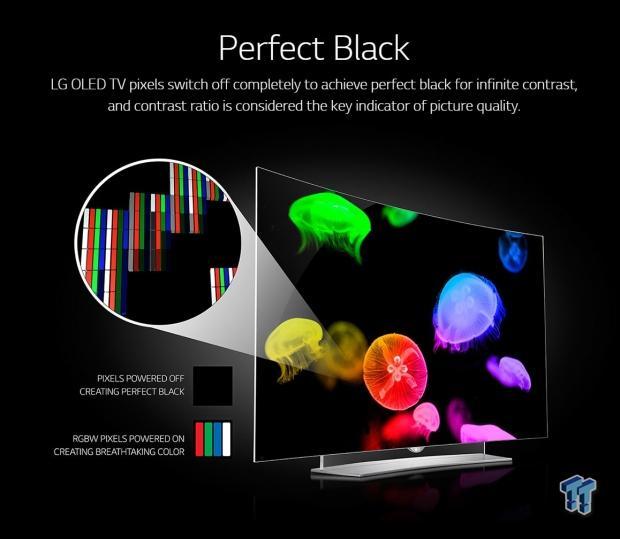 This technology provides unparalleled quality and most of all: the deepest levels of black. Deeper blacks allow for higher contrast and much richer color, providing a picture that is pretty much unbeatable. LG markets their OLED TV towards the pixels switching off completely, achieving a "perfect black for infinite contrast", and we agree. Once you see this in person, you'll be in love.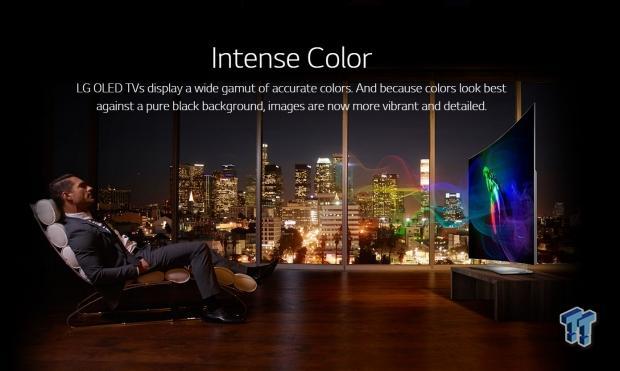 The colors are just as amazing, thanks to the OLED technology LG has used here.
The Big Jump from 1080p to 4K
There is a huge increase in pixels when you jump from 1080p to 4K, with 4K offering a staggering 8.3 million pixels compared to just 2 million of 1080p.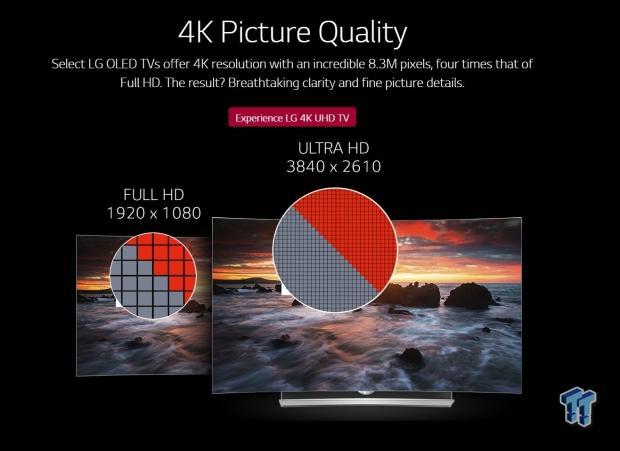 You might not think about it much, but when you're sitting in front of a 65-inch curved 4K OLED, those pixels make all of the difference.
Packaging & Detailed Look
Packaging
For a $5000 TV, you'd expect a slick box and a securely packed TV, right? Of course. LG delivers here, but the box for the 4K curved OLED changes depending on your market. Here in Australia, we have a plain box compared to the more colorful box in other markets like the US.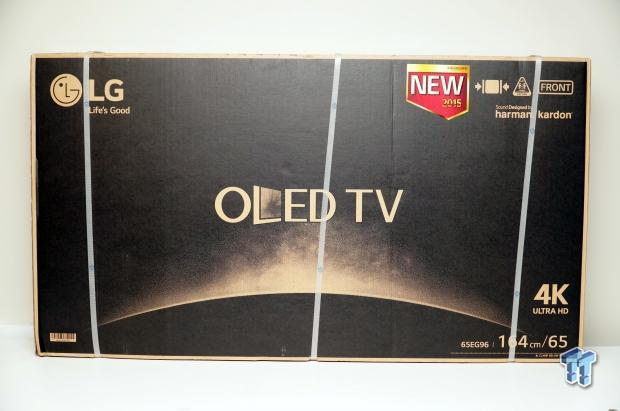 The front of the box in the bottom right we can see the model number, and top right we can see that it has speakers from Hardon Kardon.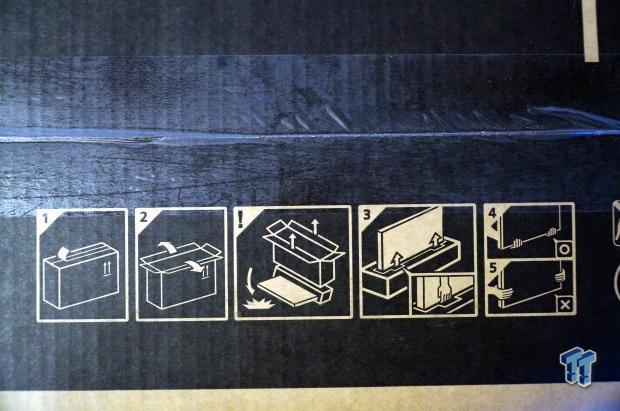 On top of the TV are some instructions on how to get it out - because it's big, you're going to want to pay close attention to this.
Inside, you'll find just the TV (with a connected power cable), a bunch of Styrofoam, and an accessory box. Inside of the accessory box, you'll find 3D glasses, the remote, and some auxiliary cables.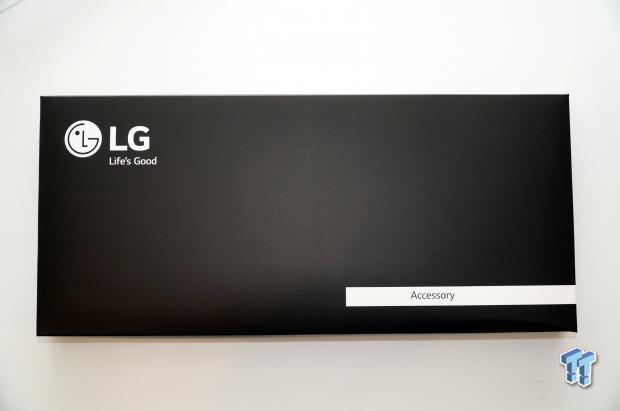 One massive omission is that LG didn't include an HDMI cable in the box. Surely for $5000, you could include a $20 cable.
Detailed Look & Setup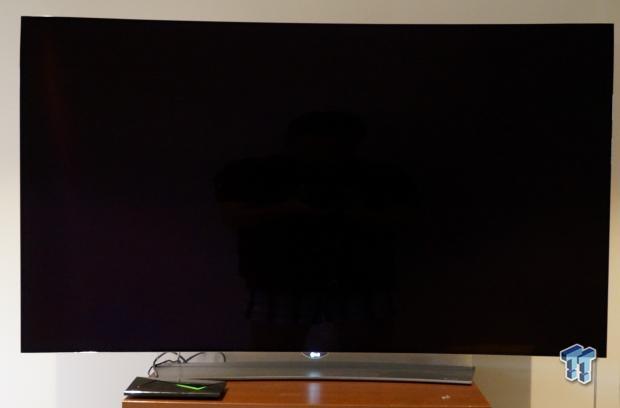 Here's the front of the TV, setup on my drawers in my bedroom. It's huge, and I love it. Bonus points if you can guess what that little black box in the corner is.

I have the TV setup in my bedroom for now, with this angle taken from the right. You can clearly see the curve, which is very noticeable from the side, but not so much when you're sitting in front of it.

Input wise, we have 3 x HDMI 2.0 ports (4K capable of course), 2 x USB 2.0 ports, and 1 x USB 3.0. Finally, you can see a 3.5mm auxiliary port for your headphones or speakers.
The stand that the TV comes with is super sturdy, where I've placed it on a desk in my office and onto the chest of drawers in my bedroom without a problem.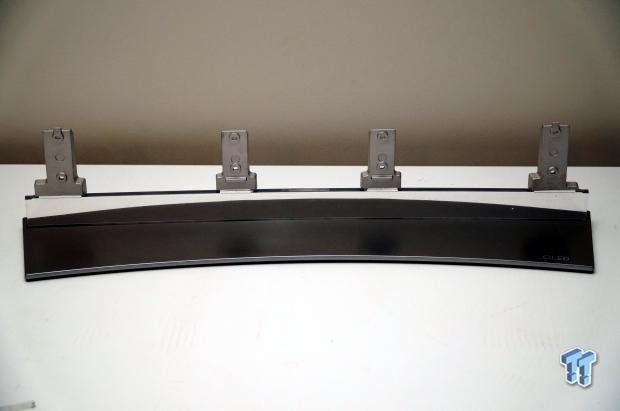 Here's the stand, with the four metal mounts including two screw holes each.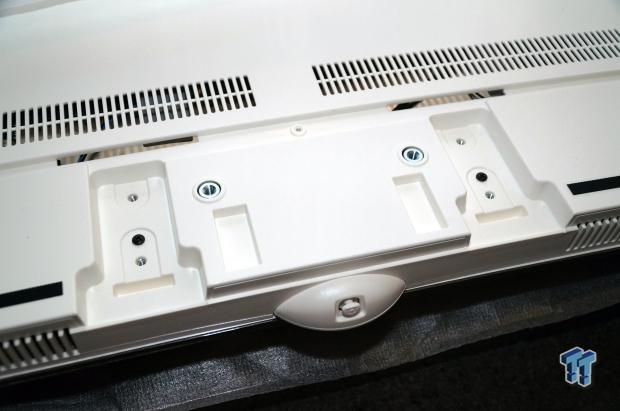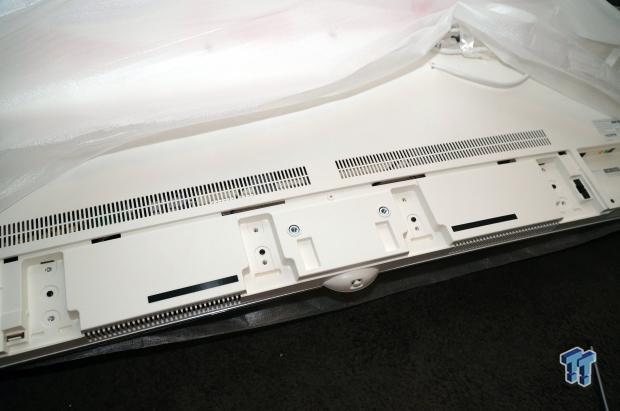 The metal mounts go into the back of the TV, with two screws per mount, as you can see here.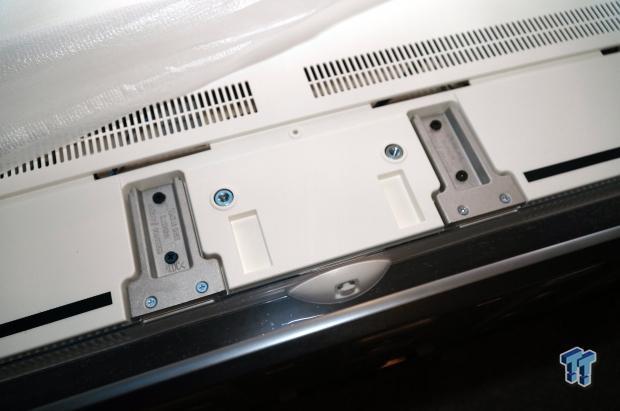 Here's what the back of your TV should look like once you've got the stand mounted correctly.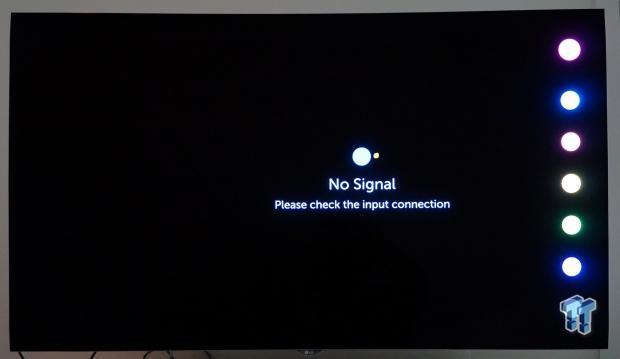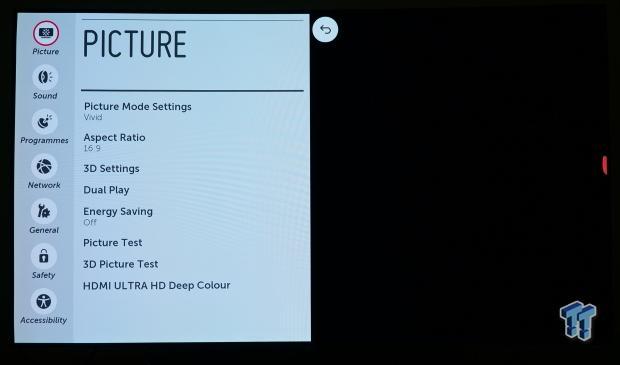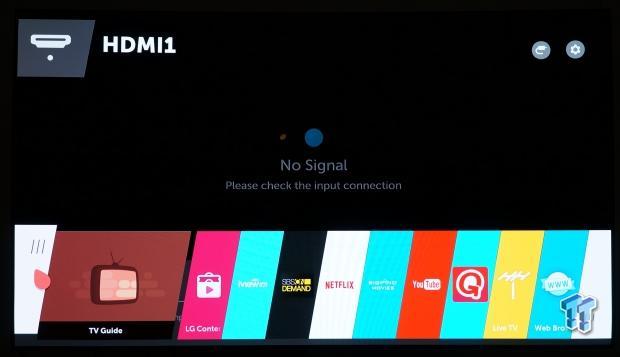 Once the TV is setup, you can begin playing around with the options.
Initial Impressions 1.0 & Viewing Angles
Holy crap.
I could leave it there, and it would be enough to say about this TV. I've seen many high-quality and expensive displays (TVs and monitors) in my time, and the 65-inch 4K curved OLED from LG just blows them all out of the water.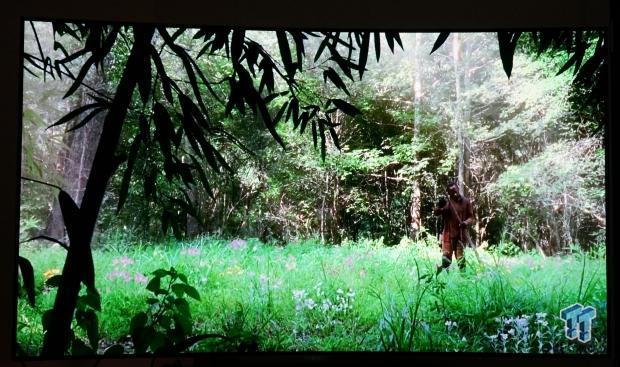 First, the 4K resolution on a 65-inch panel is about perfect. 4K content looks great, whether it's from YouTube or from the LG G4 smartphone I shot my 4K video with. Upscaled content looks great too, where I watched a bunch of different movies ranging from Man of Steel to Interstellar. But, as you may expect, it's the native 4K content that takes the cake here.
The biggest plus LG has here is the OLED panel. It's just unbelievably awesome. Blacks are black! Instead of an LCD TV showing you what it wants you to perceive as black, the OLED panel on the 65EG9600 is as close to black as you'll get. In some content, the black looks unbelievable. It almost looks like someone has gotten a paint brush, dabbed it into black paint, and smudged it across your screen. It's utterly gorgeous.
The OLED panel also excels in color reproduction, where they just 'pop'. I watched other movies ranging from Monsters University through to John Wick, and the color range was insane. In Monsters University and any other CG-based movie, the colors looked so good it looks unreal. In something like John Wick, the change between black and very bright, neon-like colors made my eyes hurt slightly. It's that bright, and it's that colorful.
I remember putting on my first video, and my 17-year-old nephew was standing behind me and as soon as Man of Steel came on he said "I am not worthy... my eyes, are not worthy". It stuck with me through to this review, and I agree. It feels... no, this TV is a huge step on anything the competition has to offer.
In preparation for this review, I went to a few local retailers to check out the competing TVs. I looked at other 4K TVs from the likes of both Samsung and LG, ranging from 55-inch right up to 78-inch, and while they looked good, this 65-inch 4K curved OLED display from LG simply blows them away.
Oh, I forgot to mention that curve! The curved OLED panel brings you into the TV. And while I found it didn't make that big of a difference, if you sat right in the middle, you could feel yourself being completely immersed into the TV. Everything about this TV is damn near perfect.
Viewing Angles
Viewing angles were something I was excited to see. I can safely report that the viewing angles are out of this world, just like the picture quality and colors. I was watching The Walking Dead when I took these shots if you didn't already notice.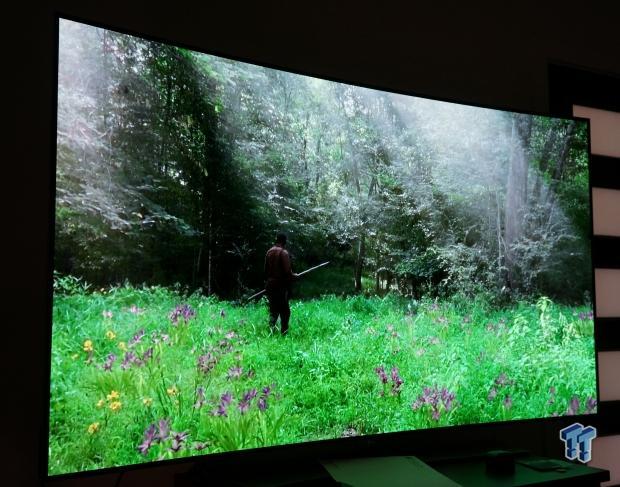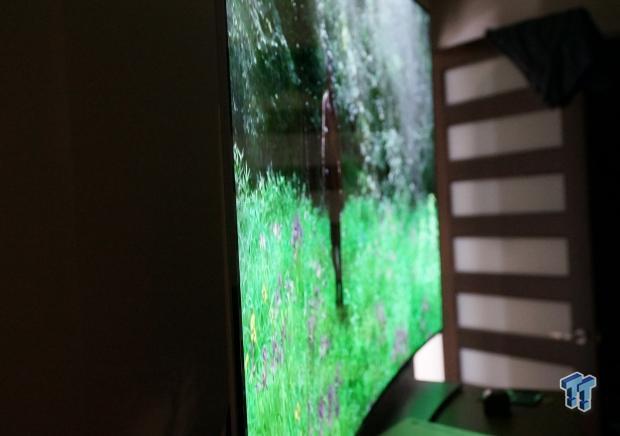 Even on an extreme angle, there's no dimming at all. The OLED technology really stretches its legs here.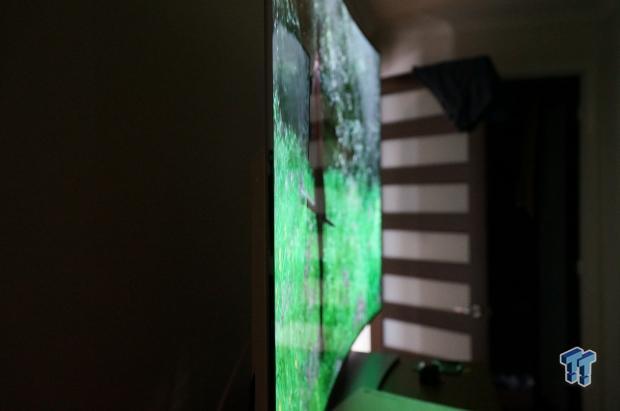 Once again, at an extreme angle.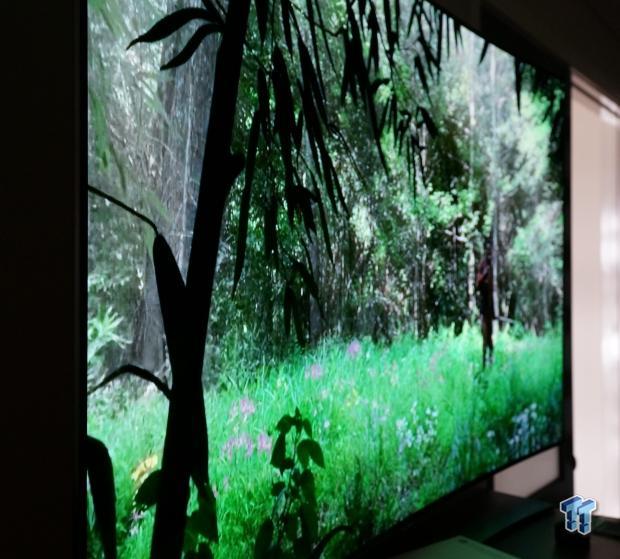 What's Hot, What's Not & Final Thoughts
What's Hot
OLED TVs are the Future: It's plain and simple: OLED is the future. The quality is incredible, the TVs are much thinner and lighter, and well - the entire experience is completely unmatched.
Unmatchable Quality: Nothing compares, period. My old 55-inch 1080p flat LCD is nothing compared to this.
True Blacks: I have to say the black levels that OLEDs make possible, is the star here. I've seen many 4K displays and TVs, but I've never laid my eyes on an OLED TV for this long before. Movies like Interstellar and Gravity, to John Wick, Man of Steel and many more - the blacks, are black. They are as close as you're going to get, with the black levels on LG's best TV to date blowing me away.
Upscaled Content Still Looks Amazing: Most people that buy a 4K TV have to worry about upscaling their 720p and 1080p content, but the LG 65-inch 4K curved OLED TV does it beautifully. I even watched Jumanji (released in 1996) through Netflix, and it looks great considering the age of the movie.
Far Better than LCD for Gaming: After a few hours of playing Battlefield 4 and NBA 2K6, I need more time for gaming on this TV - so expect a follow-up piece. But, gaming is awesome on this screen. The input lag is impressively low, so at a distance you can get into gaming on LG's 4K OLED TV.
4K Content Looks Unbelievable: This is what it was made for, and holy balls does it deliver. Native 4K content looks absolutely retina-bustingly beautiful. Every corner pops, and every line shimmers. It's completely awe-inspiring.
What's Not
Not Enough 4K Content: This isn't LG's fault, but I would love to see more 4K content out there. 4K Blu-ray is right around the corner, so once that happens you can be sure we'll be revisiting our review on the LG 65-inch 4K curved OLED TV.
Final Thoughts
From start to finish, the LG 65EG9600 is an amazing piece of technology. For a shave under $5000, you're getting a huge 65-inch 4K curved OLED. It's a huge premium over the likes of Vizio, Sony, and Samsung that offer 65-inch 4K LED TVs on Amazon for less than $2000, but the premium, in my opinion, is worth it.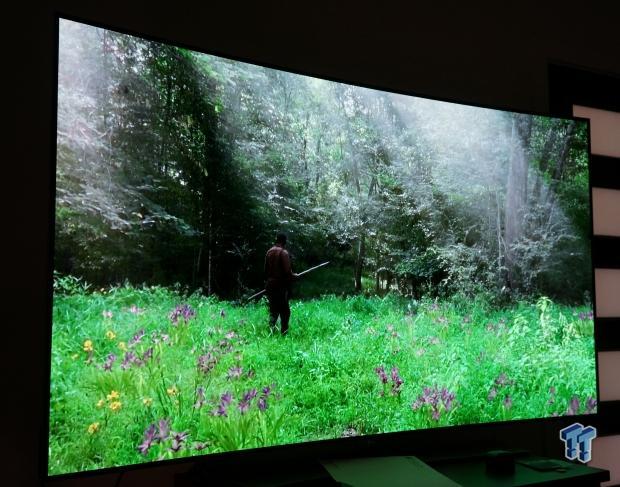 If you want to buy a TV that's going to last for a few years being at the top of its game, the LG 65EG9600 is what you want. If you want a TV that's going to blow you away each time you turn it on, the LG 65EG9600 is what you need. If you want to have a TV that is head and shoulders above the rest, well... the LG 65EG9600 is what you want.
I thought that the LG 65EG9600 would excel at 4K content, but even 720p and 1080p content looked great. Even the lower bit-rate content on Netflix at 720p looked better than normal, with it looking better than my 55-inch 1080p flat LED TV from Samsung.
But, this is the type of TV that cannot be fully explained through a review, or through a video. If you have a store near you that has the LG 65EG9600 on display, you simply need to see it in person. It will convince you on the spot - it's that good.
There's just so much here... the black levels, the clarity, the beautifully curved screen, OLED technology, the brightness, the insane contrast and beautiful better-than-real-life colors, super low input lag, and so much more. I don't know where I'd improve on this at all. LG has crafted the best TV I've ever seen; that's for sure.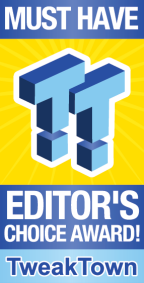 | | |
| --- | --- |
| Performance (display quality/resolution) | 100% |
| Quality (build/matte or gloss finish) | 100% |
| General Features (outputs, ports) | 95% |
| Bundle and Packaging | 95% |
| Value for Money | 95% |
The Bottom Line: Seriously. This is the best TV on the market. It is hard to beat what LG has here with the 65-inch curved 4K OLED TV. It's unbelievable. A tour de force of TV technology, and worth every single penny.
PRICING: You can find products similar to this one for sale below.

United States: Find other tech and computer products like this over at Amazon.com

United Kingdom: Find other tech and computer products like this over at Amazon.co.uk

Australia: Find other tech and computer products like this over at Amazon.com.au

Canada: Find other tech and computer products like this over at Amazon.ca

Deutschland: Finde andere Technik- und Computerprodukte wie dieses auf Amazon.de
We openly invite the companies who provide us with review samples / who are mentioned or discussed to express their opinion. If any company representative wishes to respond, we will publish the response here. Please contact us if you wish to respond.