Introduction & A Closer Look
Seiki Digital came out of nowhere with incredibly priced 4K (or Ultra HD) TVs. We have the 39-inch model, which retails for under $700; this is just, hands down, game changing.
Sony, Samsung, and the rest of the usual suspects charge thousands more for similar offerings, but are their panels really worth that much more money? This is a question I can't truly answer without Samsung or Sony sending me a 4K TV to test; however, from what I've tested here in my labs, the answer is a resounding yes, for more than one reason. We'll get into that later in the review; for now, we'll take a look around the Seiki Digital monitor to see what we're working with.
We have the box, which is quite thin. This is something we looked at in our unboxing video, which is available below.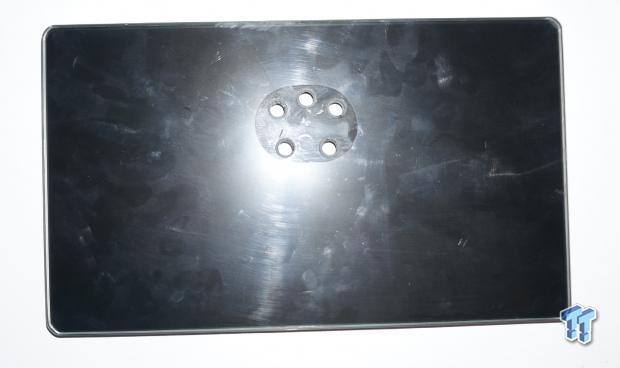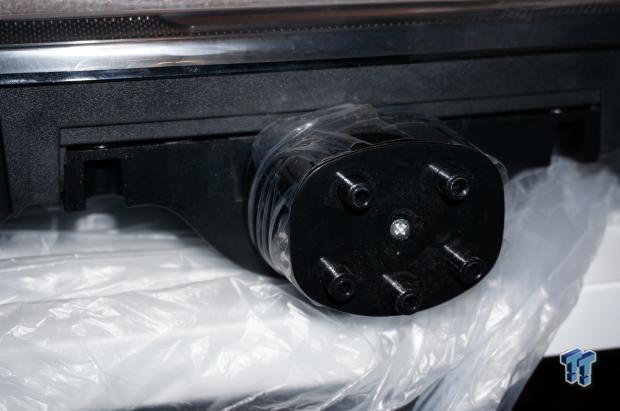 Next, we have the stand that the TV gets screwed onto. This makes it very, very stable.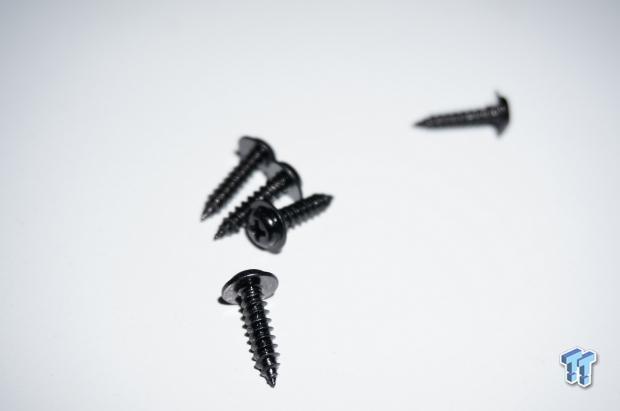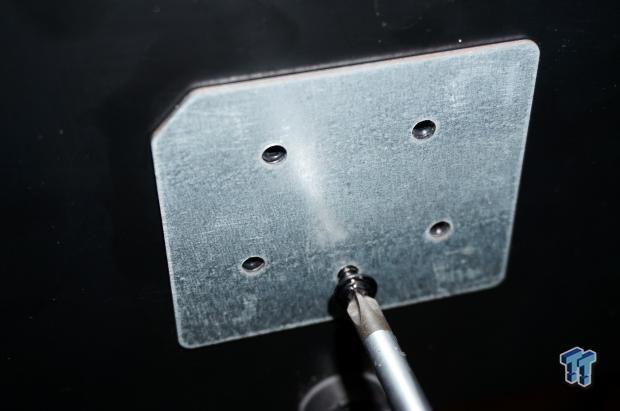 Speaking of the stand, we have the screws, and obviously the requirement of a screwdriver. This step takes just a few minutes.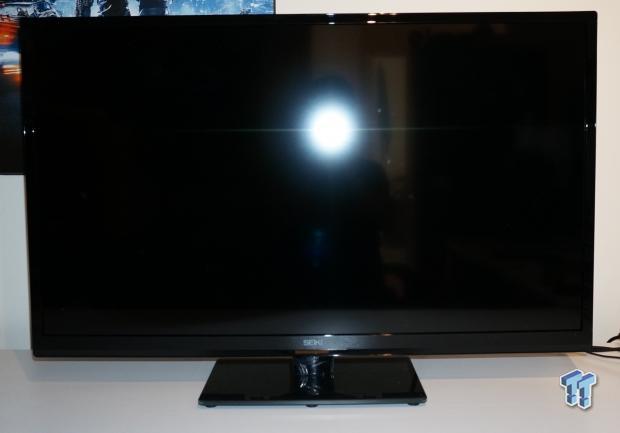 This is what the Seiki Digital SE39UY04 looks like when it's all set up; it's quite a good looking TV.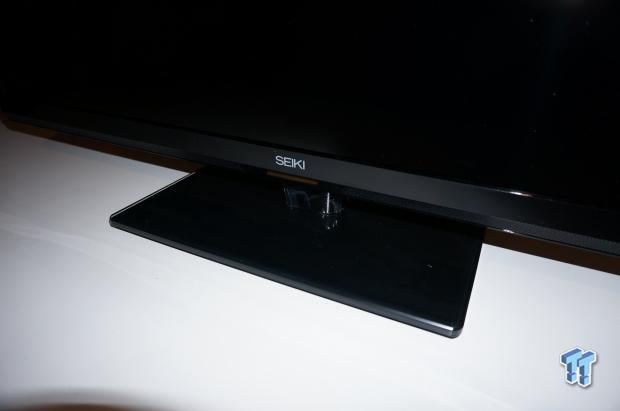 The stand itself is sturdy when it's set up.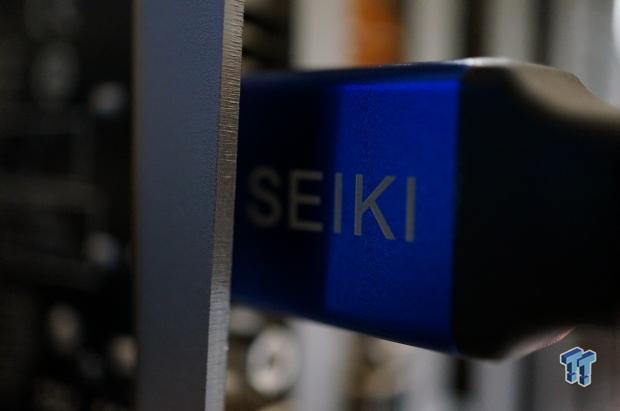 HDMI is where the magic happens, but it's also where the limitation of the TV is. We should see a new model from Seiki Digital early next year; the new model will feature HDMI 2.0, which is capable of driving 4K @ 60Hz.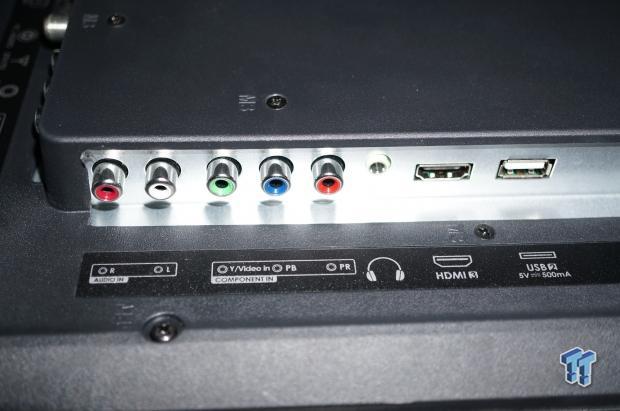 On the left side of the TV, we have the usual inputs. From left to right: We have audio in (R and L channels), Component In, a headphone jack, HDMI (1 of 3 ports), and a USB 2.0 port.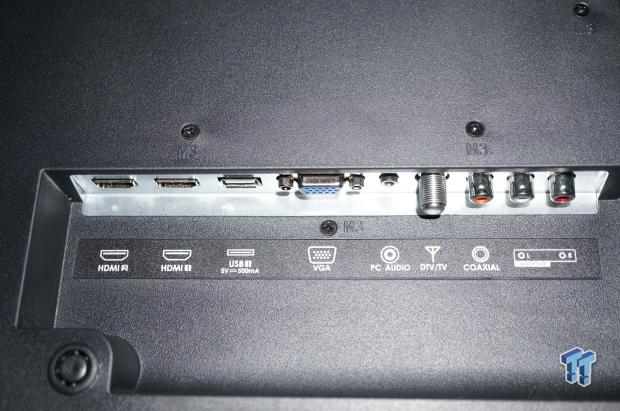 On the back of the SE39UY04, we have two more HDMI ports, a USB port, VGA port, PC audio port, an antenna port, the coaxial port, and a couple of audio out jacks.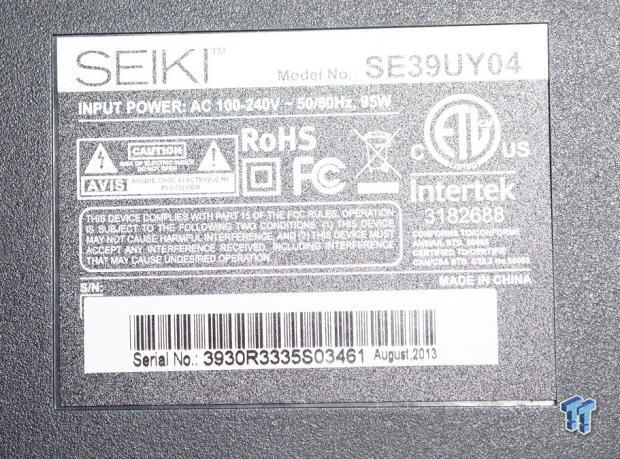 Keeping to the back of the TV, we have some details on what type of power it requires. It uses AC 100-240V, ~50/60Hz, and 95W of power.
General Use at 3840x2160, the First Week With 4K
To tell you the truth, I didn't know what I was going to do with a 39-inch, 4K display, until days into using it. I did my unboxing video, and then I tried using it as my everyday display, but it is just too damn big. I found myself not using the desktop real estate as much as I wanted, and then I began having issues with the panel.
I was getting a black screen problem, where the monitor would drop signal for a few seconds, and then come back to life, to only drop signal again seconds after. It was unusable at this point, but I found it to be a problem with what I was running: Intel's NUC.
I grabbed another Corsair Neutron GTX SSD, slotted my two NVIDIA GeForce GTX 780s into my test bed setup, and installed Windows from scratch; this is a near daily process around here with what I'm doing in my office. Once it was up and running -yeah baby, that's 4K.
The Seiki Digital SE39UY04 doesn't look too good at all out of the box, so you'll want to change the following settings:
Picture Mode - User
Sharpness - 0
Color Temp - 0
Gaming on 4K & Media on 4K
Gaming on 4K
4K really is the future of gaming; it feels like a multi-monitor setup, but on a single screen. Right now, at 30Hz, first-person shooters are close to unplayable if you want to be precise. If you just want to have some fun, it's fine, but if you're playing something like Battlefield 4, you won't have a good time.

Games like DiRT Showdown and Metro: Last Light looked absolutely gorgeous. Colors pop, the image looks insanely detailed, and feels so much larger than a 39-inch panel.
I played some Battlefield 4 at 3840x2160, which was a mixed bag of results. I'm used to 120Hz (or 120FPS+), and I've slowly been adjusting myself to 2560x1440, with a refresh of 60Hz. The Seiki Digital panel pushes 4K content out at 30Hz, or 30FPS, which is just bad, bad, bad for games.
I couldn't play Battlefield 4 and be any good at it at 30FPS, but the sheer scale of the game is just eye-popping. There's so much going on-screen at 4K, it's hard to take it all in, which is all part of the fun of 3840x2160 in games.
We have an article that takes a look at some performance at 4K, which should be out at around the same time as this review.
Media on 4K
Holy cow. That is all.
But really, 4K content looks absolutely beautiful, crisp, clear, and more real than reality sometimes. Movie trailers don't look too bad, but the 4K samples that are available online do this display justice. I was just sitting back in absolute awe at some of the 4K videos, absolute awe.
The way I can explain it, without you physically seeing it to understand, is to compare a DVD to a Blu-ray. If you've only seen DVD, the day you jump from DVD to 1080p, is the day you realize there is something better out there.
4K from Blu-ray is that same jump, but almost more. There's four times more information going around, and it really does feel like it when the right content is being used. As Ultra HD, or 4K, becomes more and more common, it'll be hard to go back to anything other than 4K -which is going to blow.
What's Hot, What's Not & Final Thoughts
What's Hot
The price - For under $700, there's simply no competing with the Seiki Digital SE39UY04. Providing a 3840x2160 panel for this price is unbeatable right now, and even with any downsides to it, it's a steal at under $700.
The quality - Once it's configured, it looks beautiful. The colors pop, the text is crisp; it almost smells perfect, too. There's no fluff included, no "smart" apps (something I find useless on a TV); it's just a bare display. It's perfect for your desk.
4K is the future - There's no denying it: 4K is the future. Once high resolution displays get to 4K @ 60FPS for under $1500, they'll start selling in better numbers. Display connectivity technology (such as DisplayPort) is catching up, slowly.
What's Not
Some issues on certain PCs- I had issues with the panel on my new Intel NUC, so you'll have to be careful of what you're plugging it into. Any of the new AMD or NVIDIA video cards should have no problems at all.
Downscaling - If this panel could do better downscaling to 1080p at 60FPS, it would be just too dominant. This is one poor aspect of the panel: Every resolution, but 3840x2160, looks terrible. It's not too bad in games, if you're sitting further away, but at arm's reach, it's horrible.
Final Thoughts
Seiki Digital isn't about to become the next Samsung in the world of TVs, but it is disrupting an otherwise controlled space. The big boys are charging multitudes more, but not really delivering all that much more in terms of what you're getting out of the box.
Sure, a big brand set might aesthetically look better, and might win more praise for its better image quality, but that's what you get when you pay 3x, 4x, or even 6x more than what this panel costs. ASUS is charging over $3000 for its 31.5-inch 4K panel, but do we get the same increase in quality (picture quality, response time, etc) as we do in price? No, no we don't.
Sure, we get 60Hz, but it's not even a real implementation of 60Hz; not yet anyway. We are still away from 'quality' 4K desktop monitors, but I think 2014 will be the year of desktop 4K.