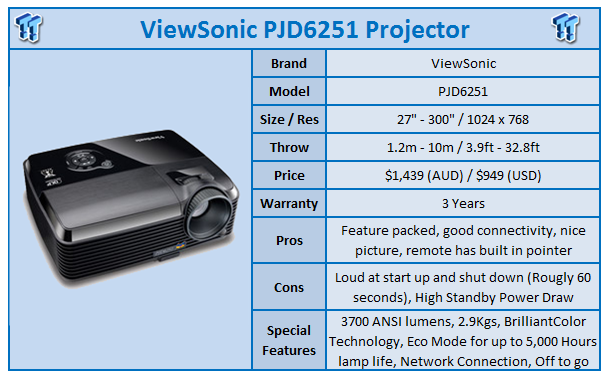 Looking after the new Quick Review section has become such a pleasure because it's given me a chance to Insta-Yes to just about any item a company asks us to review. Being a projector man myself, when word that the ViewSonic PJD6251 was making its way over with 3D support I became excited. Once the projector had arrived and it was setup, I became a bit deflated. It's no fault of ViewSonics and we'll discuss it more in just a moment. For now let's look at the package.
The PJD6251 isn't a big projector, coming in at 280mm x 114mm x 218mm at 2.9Kgs which means we're not dealing with that big of a box. In saying that, though, we've got a nice little box with a handle and a rundown of the main features including built-in 10w speakers, rich connectivity, 120Hz support and 3D support to name just a few.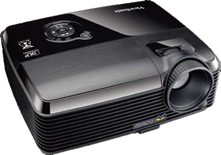 Inside the package we've got a few CDs that include setup for network support and user guide. We've also got a manual, VGA cable, travel bag and of course the projector itself.
Looking at the specifications, you instantly become aware of the market the PJD6251 is aimed at; DLP, 2x 5W speakers, 1024 x 768, 120Hz support, 3D, manual focus and zoom, 3700 lumens and a 2800:1 contrast ratio. We've got a 230watt lamp which is rated for 4000 hours. With Eco-mode, though, ViewSonic say as much as 5000 hours can be achieved.
You begin to get a few mixed feelings with the PJD6251. Originally when I saw the press release on the model, 120Hz and 3D stood out for me. Instantly I thought we would be dealing with a home theatre projector. Once it had arrived and I got into the specifications, it's clear that the projector is aimed more so for the business market with DLP technology which tends to be brighter than LCD technology and its 1024 x 768 4:3 resolution.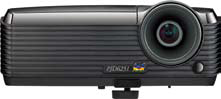 This is the reason I became a little deflated. I'm not quite sure why a business projector would use 120Hz and 3D technology. 120Hz does make a bit of sense in situations where a lot of movement is happening, but the market doesn't seem like it would get the most use out of it; the same goes for the 3D technology. As I thought about it more, the 3D feature became very cool. Imagine being able to bring in a team to the board room for a power point presentation, set everyone up with a pair of 3D glasses and give a presentation that really stood out.
At the same time, you could go into normal 2D mode and display the presentation as you normally would. While it's not something we might be doing yet, as time and support for 3D grows it could well be a handy feature.
Connectivity is good with dual VGA ports, S-Video, Composite and HDMI to round out the video inputs. We've also got a stereo mini jack input so sound can be processed through the two 5w speakers, which is fine for normal presentation work, but that's about it. We've also got a VGA output along with a RJ-45 network port.

The remote is small and has a built in laser. All your main settings are available on the remote; we've also got a backlight feature, but it doesn't work great due to a blue light coming up around the buttons which are black. It's ok for just showing you where the up, down, left and right buttons are, but it doesn't make reading the buttons any easier. The top of the projector also has access to the main areas as well.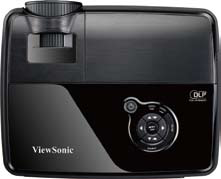 Performance under Windows on the PJD6251 is strong. While the resolution is a little limited, the brightness is excellent in a well lit room, even projecting onto something simple like a white wall. It would really work perfectly in an office, school or boardroom situation because of the high brightness.
Getting away from the boring office kind of stuff and firing up some of our normal display tests, the PJD6251 really handled itself well. Looking at TV through Play TV, performance was very good and while the HD resolution isn't natively supported when running the HD channels, the picture was still very clear, especially when it came to sports like our pre-recorded World Cup and NASCAR footage.
Blu-ray playback was also very impressive. Sure, Avatar didn't look the best when compared to Full HD LED Lit TVs and Home Theatre projectors, but it didn't look too bad at all and firing up Toy Story, we really got to see those bright colours come to life.
What's great about the PJD6251 is that in its natural environment, the boardroom or classroom, it performs very strong, but if you were able to steal it from work for a weekend because you wanted to get a few mates over for the big match on Saturday, you would still have a blast with it, especially if you could dim the lights a little.
It's not all positive, though. Power draw comes in at 268watt most the time when running and did bounce up to as high 327watt at times, which aren't the most green numbers. As for running in standby, it still drew quite a high 12.4watt, so we would recommend unplugging it when not in use. When you turn the device on and off the fan also really screams. If you're running a meeting you would want to turn it on a few minutes before you start as it takes about a minute to quieten down.
At the end of it all the PJD6251 is a really nice unit that performs very well in a heavy lit situation, which is exactly what you want from a projector aimed at the business / boardroom market. What was surprising, though, was how it performed when we threw a Blu-ray on and watched some HD TV. With a more limited throw and lower resolution, it's not the choice for someone setting up a home theatre, but as we said, if you could grab it from work for a few days you and some mates could really enjoy watching the game on it.