TweakTown's Rating: 87%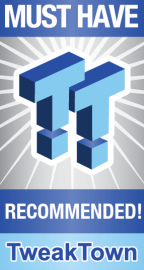 The Bottom Line
The XGIMI Horizon Pro is a 4K projector that is packed with smart features that can turn any capable room into a home cinema in minutes. It's also decent for big screen gaming, making it an affordable winner.
Pros
+

Quick setup and quick boot

+

In-built Android TV OS and Google TV UI

+

Delivers a crisp and vibrant 4K image

+

Inbuilt speakers are surprisingly decent

+

Auto focus and auto keystone correction work flawlessly
Cons
-

Non-native 4K via pixel-switching

-

Brightest modes degrade image quality

-

Contrast isn't the greatest

-

So-so HDR

-

Netflix not supported
Should you buy it?
Avoid
Consider
Shortlist
Buy
Introduction & Specification Details and Close-up
With big-screen TVs capable of delivering bright 4K HDR images now at the point where they've become the standard instead of the exception, you might be wondering what sort of benefits you get from a projector. For media consumption, that is, watching a movie or show on a platform like Netflix or firing up the latest Bluray release, the answer is cinema-like immersion. With a projector and a projector screen, you get the easy-on-the-eyes cinematic feel of sitting in a theatre with a bag of popcorn and phones set to silent.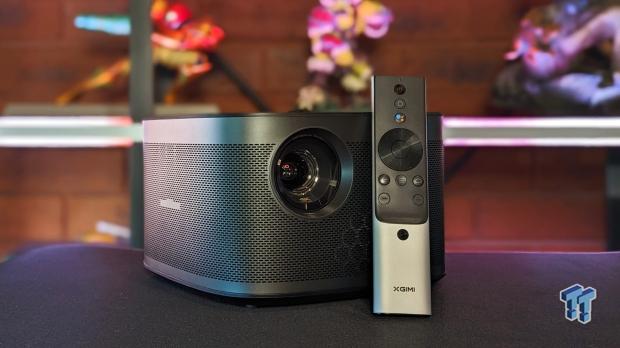 You've also got the option to get an image size of 100 inches without breaking a sweat for larger-than-life characters and environments. It's the sort of at-home experience that is hard to quantify, but one of the key reasons those serious about home theatre setups have always leaned towards projectors.
The arrival of 4K resolutions adds some complexity when projector technology needs to cram all those pixels onto a tiny chip. Not to mention the inherent latency and increased response times of projecting an image versus going the traditional LCD or OLED route.
The XGIMI Horizon Pro is a non-native 4K projector using a similar reconstruction method seen in other models where 1080p DLP chips generate the 4K image - but the visual effect is basically spot on. It convincingly looks like 4K.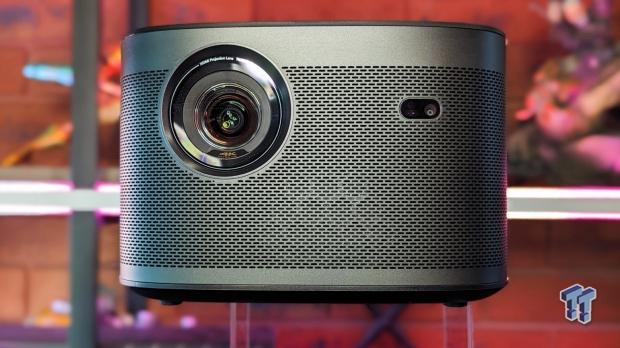 That said, XGIMI Horizon Pro is a portable and affordable option for those looking to dive into the world of projectors. It features an Android TV 10.0 OS, built-in Chromecast, Wi-Fi, and surprisingly decent audio delivered by in-built Harmon Kardon speakers.
This means it sits in that plug-and-play category, bolstered by impressive auto-focus and auto-Keystone capabilities that result in an overall setup time of minutes versus hours. And it's good enough to handle modern gaming via consoles or PC thanks to several inputs and a low-latency Game Mode to improve response times for input.
Specifications and Close-Up
Product Name: XGIMI Horizon Pro
Product Type: Projector
Display Technology: DLP
Display Chip: 0.47 inch DMD
Resolution/Aspect Ratio: 3840 x 2160 (16:9)
Brightness: 2200 ANSI Lumens
HDR: HDR 10, HLG
Lamp Type/Life: LED, 25000 Hours
Image Size: 30 - 300 inches
Projection: Front, Rear, Ceiling Mount
Refresh Rate: 60 Hz
Response Time: 34.6ms (lower with Game Mode)
Digital Keystone: Horizontal and Vertical
Dimensions: 21 x 22 x 14 cm
Weight: 2.9 kg
Audible Noise: 30 dB
Audio: 2 x 8 Watt Harmon Kardon speakers (Dolby, DTS)
I/O Ports: HDMI 2.0 x 2, Optical Out, USB x 2, Wireless, Bluetooth, Ethernet
What's in the Box: XGIMI Horizon Pro, Power Adapter, Power Cable, Bluetooth Remote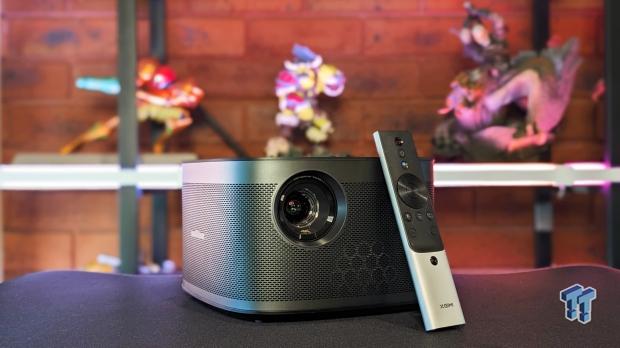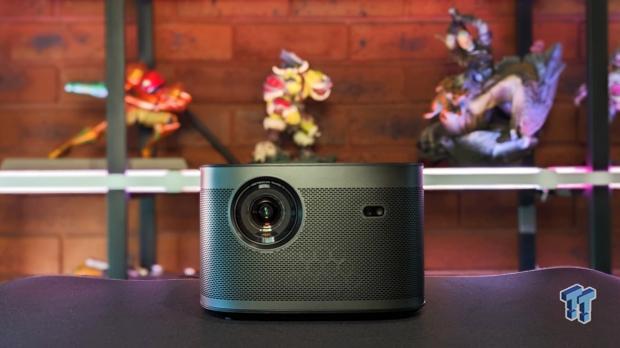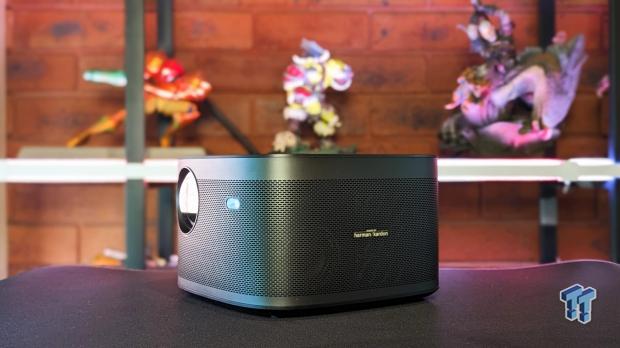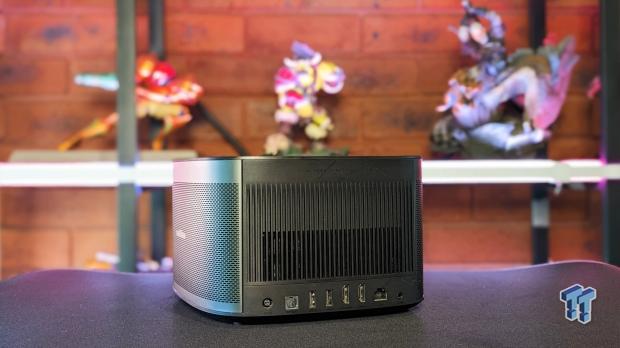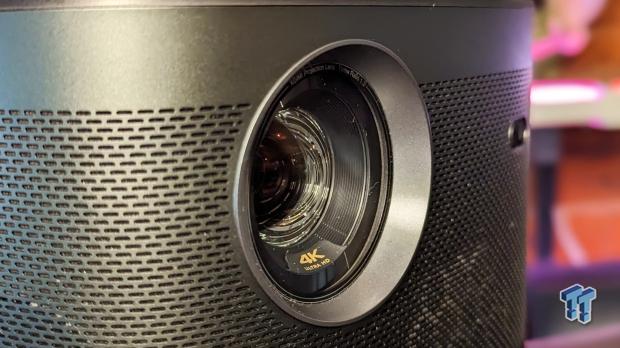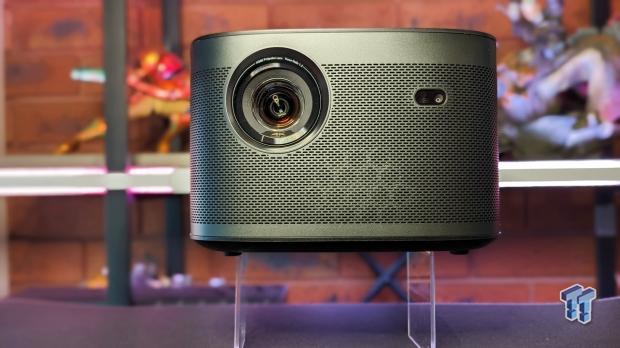 Kosta's Test System Specifications
Motherboard: MSI MPG X670E Carbon Wi-Fi
CPU: AMD Ryzen 9 7900X
GPU: NVIDIA GeForce RTX 4090 Founders Edition
Cooler: Corsair iCUE H100i RGB PRO XT Liquid CPU Cooler
RAM: 64GB (2x32GB) Corsair DOMINATOR PLATINUM RGB DDR5 DRAM 5200MHz
SSD: Kingston FURY Renegade PCIe 4.0 NVMe M.2 SSD 2TB
Power Supply: Thermaltake Toughpower GF1 850W
Case: Thermaltake Core P3 Tempered Glass Snow
OS: Microsoft Windows 11 Pro 64-bit
Physical Design and Projector Breakdown
Physical Design
The XGIMI Horizon Pro is a compact unit with an overall size smaller than most projectors, further adding to its portability. Throw in a weight of 2.9 kilograms, and it's a projector that you can easily place on a coffee table or even an off-center spot for quick setup or storage.
The build quality is excellent and sturdy, with plenty of ventilation and a stylish, cube-like look. The charcoal finish is contemporary, and the XGIMI Horizon Pro has a lifestyle look that compliments its features. This extends to the slimline metallic Bluetooth controller, the ports on the back of the unit, and the basic controls on the top.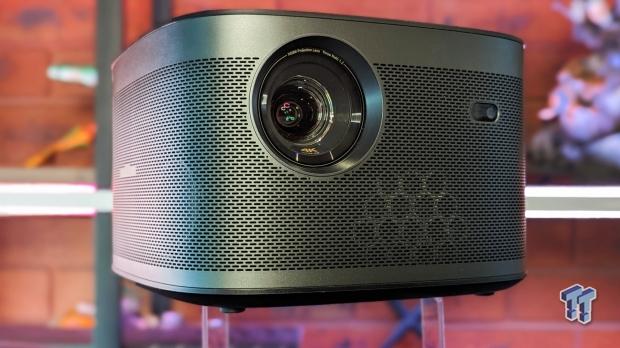 Setup is a breeze, and the Android TV interface will be familiar to those that have used a Google TV-powered device like an NVIDIA Shield. What makes the setup process so simple is the inclusion of impressive auto-focus and auto keystone correction that keeps the image sharp, centered, and flat. There's even an Adaptive Screen Projection option that senses the edges of your screen and even objects that might be in the way to fit the image within specific screen borders.
The boot-up time is fast, too, indicating that the XGIMI Horizon Pro's main draw is its capabilities as an all-in-one smart device. After installing apps and doing the update dance, you're looking at a boot-up time of around six seconds.
The XGIMI Horizon Pro doesn't need to be positioned front and center or in a specific spot, the throw distance is generous (though you will need about 3 meters or so for a 100-inch image), and the ability to use your Google account (assuming you have one) means you don't need to plug any devices to get going. With Wi-Fi, app support, and built-in speakers, you can effectively sit back and watch the latest episode of The Mandalorian on Disney+ with the XGIMI Horizon Pro alone.
Projector Breakdown
To achieve the 4K image, the XGIMI Horizon Pro uses a single 0.47-inch DLP chip and pixel-switching technology to achieve a 3840x2160 image. To keep the cost down, there's no optical zoom function, so the overall size is dependent on the distance. There is digital zoom, but it's not great - and reduces the overall brightness.
XGIMI rates the brightness at 2,200 ANSI Lumens, resulting in a bright and clear image even in rooms that aren't shrouded in total darkness. Lamp life is exceptional, rated at 25,000 hours, so you'll get several years of heavy usage before worrying about replacement.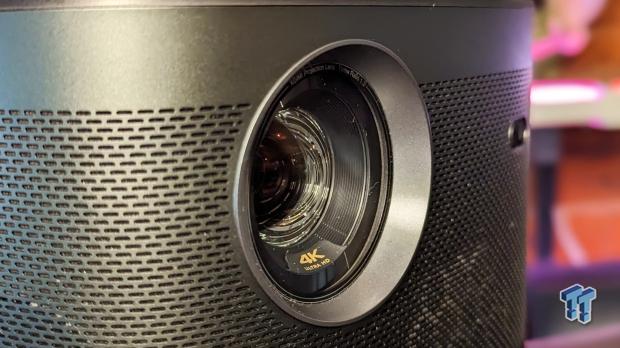 For the audio, XGIMI has partnered with Harmon Kardon, and even though the idea of two 8 Watt speakers might sound like you'll get a tinny audio experience, the opposite is true. With Dolby and DTS decoding supported, the result is clear, detailed, and loud enough to fill a large room.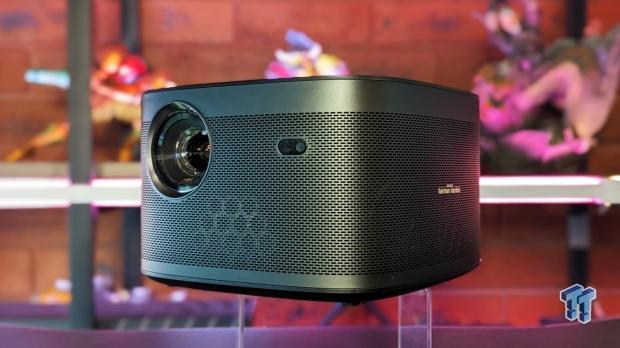 Of course, you can ignore using the in-built OS for all your media needs and use the HDMI ports on the back of the unit and output the sound to a soundbar or speaker setup via the Optical port. The HDMI 2.0 spec means you are limited to 4K 60 Hz, but this is more of a gaming limitation than for watching movies or TV shows.
Regarding gaming, the default 34.6ms response time is definitely on the high-end and something that can be felt when playing competitive titles or games where controls depend on timing button presses or keyboard inputs.
The good news is that the XGIMI Horizon Pro features a specific Game Mode that reduces the response time to 18.2ms, but this disables advanced features like keystone correction. So, for gaming, the projector must be lined up perfectly with your screen.
Customization and Performance
Customization
The XGIMI Horizon Pro features five image modes shared between SDR and HDR content - Movie, Football, Office, Game, and Custom. You are limited to what you can adjust depending on the mode selected. The Game mode is the most restrictive, focusing on lowering the response times to ensure a smooth experience when hooking up a console like the PlayStation 5 or Xbox Series X.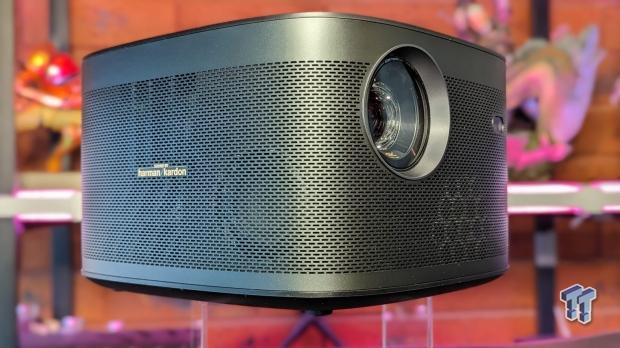 You can control basic image settings, from brightness to contrast to sharpness and saturation. Color temperature settings can also be adjusted, though the XGIMI Horizon Pro cannot deliver an accurate image and balance. This is probably due to the price point and the overall design, but the impressive results are some tinkering. One thing to note is that the brighter you make the image you begin to see more of a green tinge - which happens with many projectors going as far back as the days of DVD and Bluray projection.
Performance
Okay, so due to a licensing issue around Android TV devices, the XGIMI Horizon Pro doesn't support Netflix - which might be a deal breaker for some. This can be alleviated with an external device, but it seems to be the only streaming app from the usual crowd not available on the OS. Firing up Disney+ and the cinematic Star Wars series Andor, everything from skin tones to environments looked impressive on the XGIMI Horizon Pro.
The image was crisp and sharp, resulting in the feeling of sitting in a movie theatre. This was in a darkened room at night, so the effect is diminished with the brightness cranked during the day - as this can negatively impact image quality.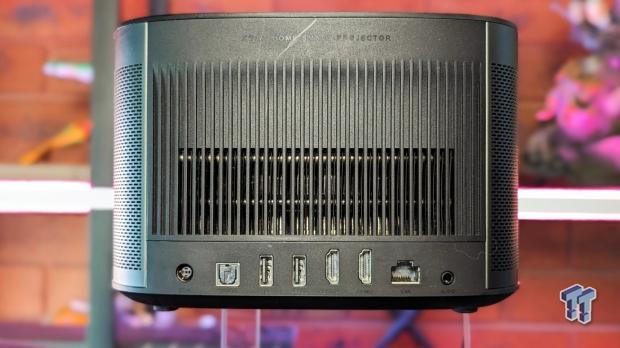 HDR viewing is a little lacking, as the overall contrast isn't as uniform as what you'd find on a TV - so the difference between SDR and HDR content is minimal. Shadow detail is a little lacking too, but this is always a problem when it comes to projection and a lot of the overall quality being affected by secondary light sources.
Switching things to the Xbox Series X and games like Forza Horizon 5 and the recent Resident Evil 4 Remake, the results are impressively cinematic. Contrast can also be an issue for games with dark scenes, though the overall effect is like jumping into a cinema to play some games.
You sacrifice some precision for that massive 100-inch gaming experience; as mentioned above, you need to "install" the XGIMI Horizon Pro in an optimal position because you miss out on keystone correction when using the Game Mode.
Final Thoughts
The main draw of the XGIMI Horizon Pro is that it's an all-in-one home cinema device that doesn't require much setup, installation, or even customization. The autofocus and auto keystone correction features alongside the small and compact build mean that you can bust it out to watch the latest season of your favorite TV show on a massive screen or watch The Lord of the Rings trilogy for the umpteenth time - which is what I did.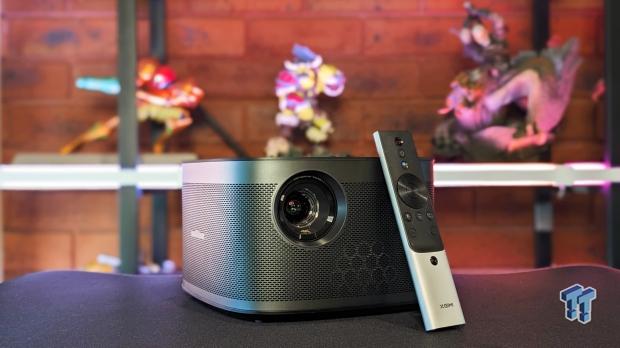 There's also a Game Mode to lower the response time, and with the ability to deliver an impressive 4K 60 Hz image, the XGIMI Horizon Pro also offers up some immersive big-screen gaming. As an affordable 4K projector, the XGIMI Horizon Pro is well worth considering if you've got the space and wall or screen ready to be lit up.
There are a few drawbacks, but the overall package is commendable. And a friendly little reminder that projectors are fantastic for watching movies, TV shows, and playing non-competitive games.