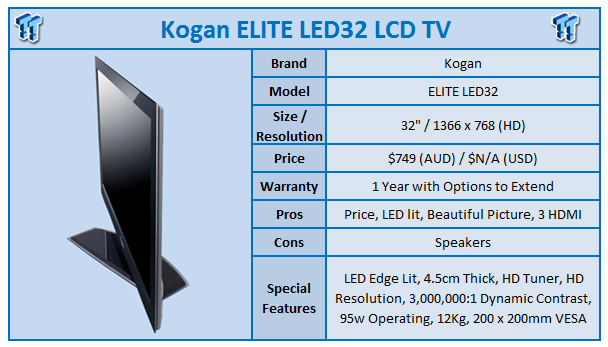 You throw the word ELITE into anything and I instantly find myself thinking about people bunny hopping around Counter Strike trying to dodge my bullets. Kogan has chosen to throw the word into their latest TVs and the big question we need to ask ourselves is; does it deserve it?
There's nothing much going on with the box as you would expect. Inside is much of the same story as well. The LED based design means that the TV comes in extra thin with a bulk of the package being protection gear. Apart from a good amount of padding, we've also got a remote. As for the manual, you can grab that at the Kogan website. Considering you need to buy from the website, we don't consider it too much of an ask.
Pulling the TV out, it's nice and light at only 12Kgs. The main reason for that is the fact that we're dealing with an edge mounted LED lit TV that comes in at a slimming 4.5cms at its thicket point and 2cms at its thinnest. The advantage for a LED lit TV versus a standard CCFL (Cold Cathode Fluorescent Light) from a visual perceptive is first and foremost the thickness. LED backlighting also offers us wider colour gamut, improved brightness and contrast while drawing less power.
Due to the individual LEDs verse the standard CCFL design, the ability to individually control the LEDs means that brightness levels can also be higher. What you ultimately end up with is a lighter, thinner and brighter display compared to a standard CCFL LCD TV. The main thing you need to remember is that unlike Plasma, an LED TV is just an LCD TV with a different backlighting system and not a completely new technology.
We'll dive more into that in the near future, though. For now let's get stuck into exactly what the ELITE LED32 is offering us. Checking out the specification tables, it's looking good coming in at 32". The main specifications and features are 1366 x 768 (HD) resolution, 3,000,000:1 Dynamic Contrast ratio, 400cd/m2, 6.5MS response time, integrated HD tuner, 200 x 200mm VESA compatible and a number of benefits we've already mentioned including 4.5cms at its thickest point and 12Kg in weight.
Outside of the specification table, connectivity is key on a TV and the Kogan offers us everything we want; 3 HDMI, 2 USB (Playback AVI (Certain Formats) / JPG), VGA, 2 AV, 2 Component and an S-Video port. We've also an Audio In and Antenna In along with a Coaxial Digital Out and 3.5mm Headphone Out port. The stand out point would have to be the inclusion of three HDMI ports. That really lets us run a Blu-ray player, PS3 and Xbox 360. In the event you use your PS3 as a BR Player, then you could add a PVR for recording, Foxtel box or a number of other devices. That third really makes a difference when it comes to adding more devices.
Apart from being extremely thin, the screen is elegant looking and just looks all around great and while it lacks that aluminium / metal finish seen in much more expensive displays, it offers more than you would expect from a TV at this price point thanks to the piano black finish.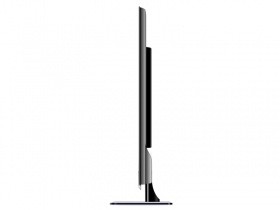 The remote while lacking any real extra flair, offers us everything we need. The OSD is simple yet doesn't feel cheap and the buttons on the screen that light up as you touch them are hidden when viewing, giving the whole setup a high quality feel.
Being a TV, our testing procedure is slightly different than how we would cover a normal monitor. For a list of the equipment we use, you can scroll down to the bottom of the review.
Starting with the built in tuner, the EPG is easy to use which is a big plus for people. As for the quality, HD content looks good and SD content looks bad. The latter is only because it's SD, though, and to no fault of the ELITE LED32. The two 10w RMS speakers are ok; they don't offer the same range as TVs twice the price, but they're not horrible, they're ultimately ok.
Moving away from the built in tuner and using some pre recorded 2010 World Cup and NASCAR Pro Series footage, the picture is fantastic and smooth. When running in HD slight amounts of ghosting are being seen at very high speed. Viewing the same footage in SD isn't nice at all, but with a built in HD tuner you're going to opt for the HD options every chance you can get.
Getting onto some real source material, Blu-ray playback is beautiful. Toy Story looks amazing and while the 32" size doesn't do Avatar the most justice, the panel does a fantastic job of making sure everything looks swish; vibrant colours and smooth motion make for a fantastic viewing experience.
Kogan rate power at 95w when on. With the TV running audio and using the built in tuner, we got a reading of 89.9w which is impressive. Muting the audio and moving to our Playstation 3 and checking out Blu-ray playback is at 89.5w. Idle power is rated at 1w and we bounced around .6w and .7w.
When it comes to pricing, it's hard to really compare the screen with most LED TVs being Full HD versus Kogan's HD. We see instantly that the Kogan offering is much cheaper at $749. A Full HD LG of the same size is going to set you back more around the $1,200 mark. You have to ask if Full HD is worth $450 extra. The answer to that is no, not at this size.
If we were talking 46" panels with a higher starting price tag, we would almost most definitely say yes, but at this size the full benefits of Full HD can't truly be appreciated, or at least not $450 more appreciated.
Let's say that $1,200 is your budget, though, and an LED TV is what you want. Instead of looking at the Kogan versus a Full HD TV of the same price and thinking that you'll just have an extra $450 in the bank, think of the fact that with the extra $450 you could buy a basic 300 Watt RMS 5.1 All in One Audio setup, Blu-ray player, extended warranty and a few Blu-rays.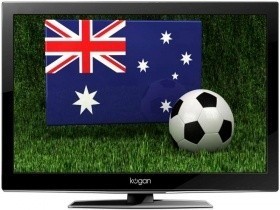 With such a nice picture, it's disappointing that the audio does lack slightly; this is after coming off TVs priced at more than double and audio setups priced at more than four times, though. For around $1,000 you could get the ELITE LED32 and a nice little All in One Audio setup that would offer better sound than standard TV speakers, making it really stand out.
The lack of Full HD is going to be the biggest stand out for most people when it comes to the Kogan ELITE LED32. At this size, though, it's not an issue I feel with Blu-rays and HD TV looking fantastic at its HD resolution. Wall mount support and LED technology mean this would make a fantastic addition to a bedroom. At 32", though, it's just a little small as a lounge room TV. That's to no fault of Kogan, though. If I had to wrap it all up in a sentence, I would have to say that the ELITE LED32 from Kogan shows us that cheap doesn't mean crap. We just wonder what Kogan will call the Full HD LED series that we'll no doubt see now that the ELITE name is taken.