Introduction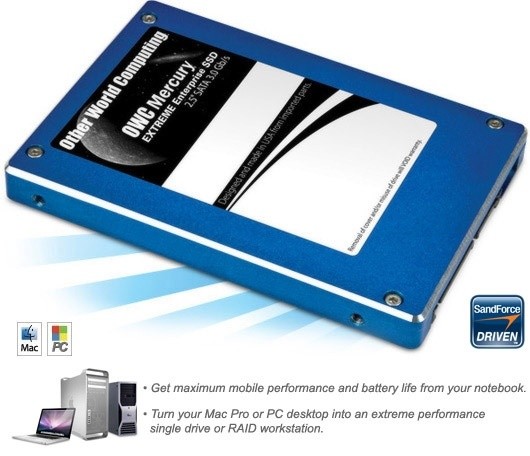 I thought that all hardware for Mac computers had some kind of special Mac tax, a VAT like mark up that encompasses all products that can be used with a Macintosh computer. It seems that ever since Apple chose to partner with Intel, Mac users have started to catch on to some of the powerful hardware that was developed on Planet PC. Now that the hardware lines have all but merged completely, nothing has been left off of the upgrade option list and the prices for the most common upgrades have plummeted.
Other World Computing (or OWC) is an Apple specialty store that also offers their own branded products. The company showed up on our radar when we first started seeing SandForce controlled SSDs entering the market. Even now only a small handful of the dozens of companies that are planning to offer SandForce SSDs have been able to bring them to market. OWC was immune to whatever problems other manufacturers are having and has a product on the market now, but that is only half of the story.
So far we've heard all kinds of stories about SandForce SF-1200 controlled SSD pricing, but to date most of the costs have been well over the launch price of OWC's Mercury Extreme Enterprise SSD. Who would have thought that one of the best SandForce values on the market would have come from a Mac specialty shop?
Today we are going to look at the pricing and performance of the OWC Mercury 100GB SandForce SF-1200 SSD. While we work our way through the benchmarks there will be a small sub article that takes a look at three different SF-1200 drives that all shipped to us with different firmware.
Let's check out the specifications and pricing first up.
Specifications, Pricing and Availability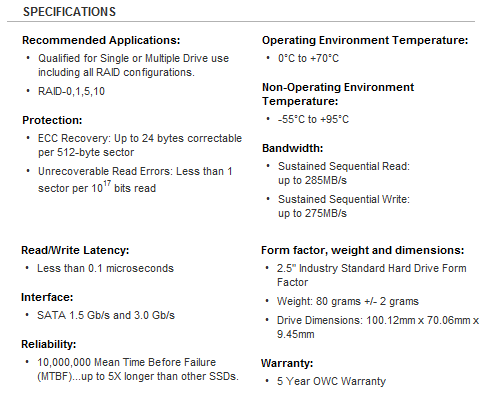 We have covered the SandForce controllers a few times already and at this time believe the SF-1200 offers superior performance when compared to the current Marvell SATA 6G, Indilinx Barefoot and Intel controlled SSDs. Things may be about to change, however, since we've been told Crucial is releasing a new firmware this Tuesday, but as it sits right now the SandForce controller paired with Intel's latest RST 9.6 drivers offer best in-class performance in real world applications. There are a few small footnotes in that statement like a reduction in performance when dealing with compressed data, but for the most part SandForce SSDs are the ultimate in boot drive performance. When it comes to the OWC Mercury, there are three areas that stand out when compared to other drives already on the market. These are availability, price and warranty.
At CES we were given the opportunity to
preview the RunCore Pro V SSD
with a SandForce SF-1500 controller and were fed a line about it being production ready. Later we learned that was not the case and just yesterday we learned that the Pro V will not use the 1500 controller at all. After that came
A-DATA's S599
, a SF-1200 product with an MSRP of 380 USD and once again fed a line about availability coming within a week. What sets OWC apart from these companies is that they have products ready, packaged and shipping to customers today. All you have to do is hit their website, place your order and wait for USP to drop it off.
Just as impressive as having the products ready to ship is the price. Corsair wanted to tippy toe around the price issue and leave it up to the retailer to decide how much of a markup they could take. While they do have a small number of e-tail shops carrying the Force Series, we are seeing prices that linger around the 430 USD mark for the 100GB drive. The OWC Mercury 100GB drive is available today
at Macsales.com
, OWC's web store for 399.99 USD. Macsales.com also lists the OWC Mercury 50GB drive for 219.99 and the massive 200GB version for 729.99. When it comes to cost verses capacity, the 200GB model is the best bang for the buck, but many users will not need a full 200GB for their operating system boot drive.
If you have been around the computer industry long enough, you'd know that warranty lengths raise and fall like an accordion every few years. When one large drive manufacturer announces a longer warranty in an attempt to show a higher customer service value, others follow. Over time the long warranties get reduced little by little when new SKUs are launched, until getting back to typical one, two or three year coverage plans. At this time we are in a short warranty period where many companies are offering two to three year warranties, but OWC has given the Mercury SSDs a full five year warranty. For comparison I took a quick look around the web and found that Corsair is offering a two year warranty with their Force Series and OCZ has offered a three year warranty on their latest SSDs.
The Packaging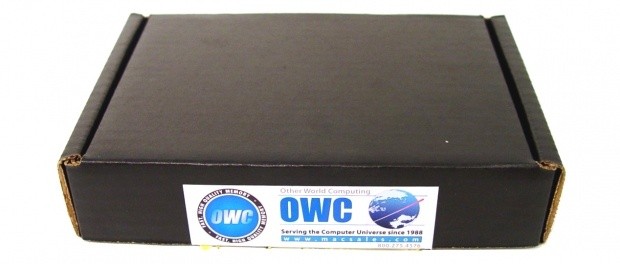 The OWC Mercury is currently only offered for sale at the company's web store, so there wasn't a need to hit the market with a full retail package.
Here we see the white box-like solution. Maybe Mac products actually get a black box and not white? Either way, the concept is the same. OWC does label the package over the opening seam to keep the package securely closed.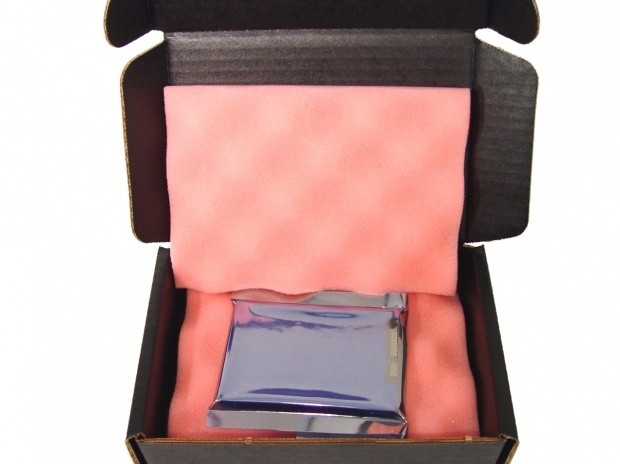 On the inside we see that the drive is sandwiched between two pieces of foam with the drive itself wrapped in an antistatic bag.
The OWC Mercury Extreme Enterprise SSD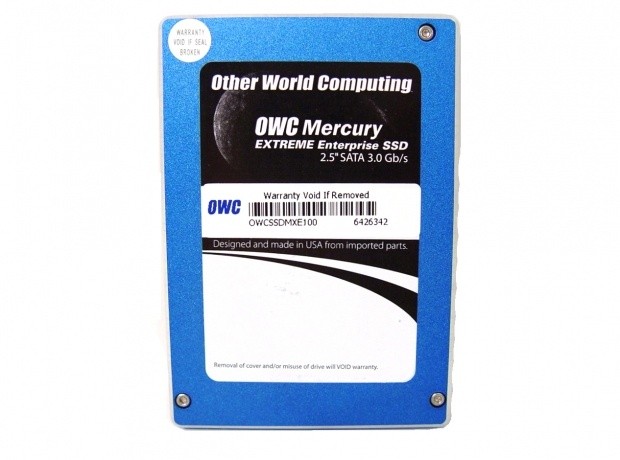 For the price and early availability I was not expecting to see such a custom case being used on the Mercury. The all aluminum case has a very nice hard anodized blue coating and a bare beveled edge that goes all the way around the top of the drive. The top of the case is where the label is located; on it we found the model and serial number for the drive.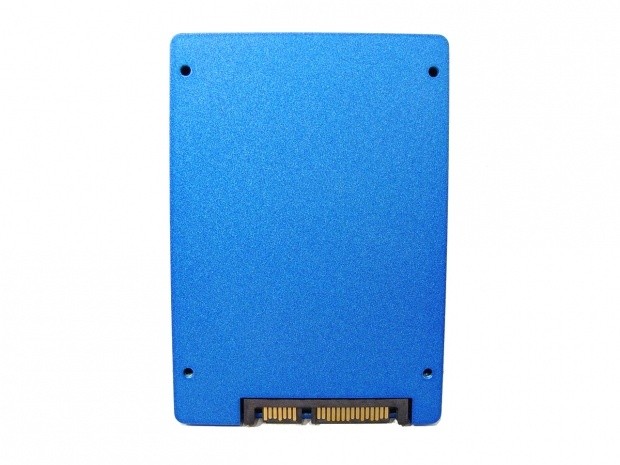 The back of the drive is bare other than the anodized coating that kind of reminds me of a bass boat since we get a chance to see the sparkle effect. Looking at the back I am not really sure if the aluminum case has been painted and baked or if it is in fact an anodized finish. Either way, the drive looks great in blue and would look even better in a PC that has a blue theme or blue accents with a window mod.
As for functionality, on the back we found the standard mounting locations that will make it easy to mount the drive in an adapter or notebook that uses the bottom mount method.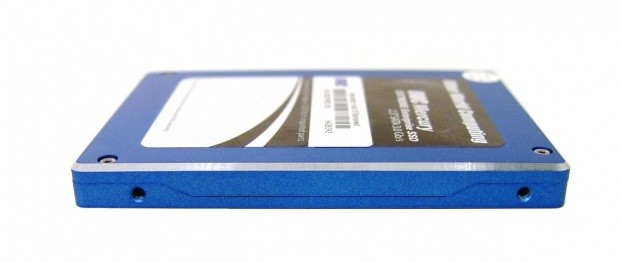 On the side we also found standard mounting points. Here you can also see the beveled edge on the top of the drive.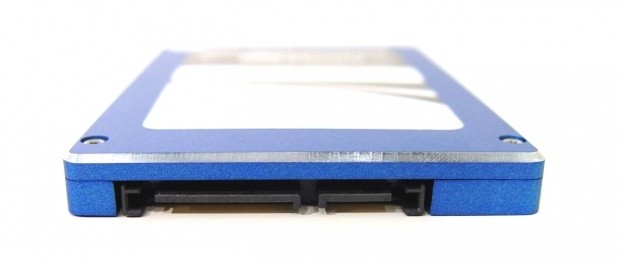 The OWC Mercury uses standard SATA power and data connectors.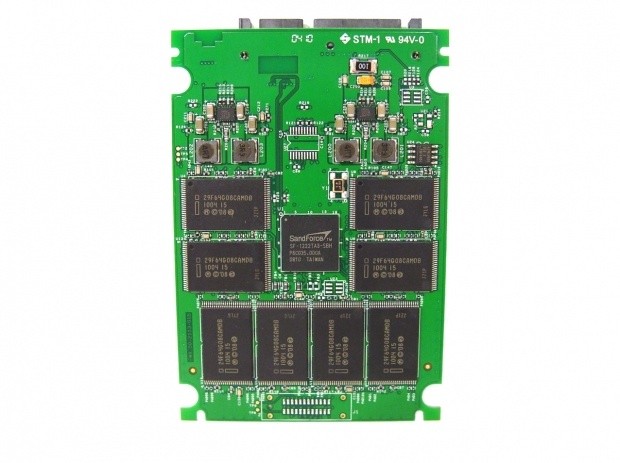 With the drive apart we were able to confirm that the Mercury uses the SF-1200 controller and Grade A Intel flash.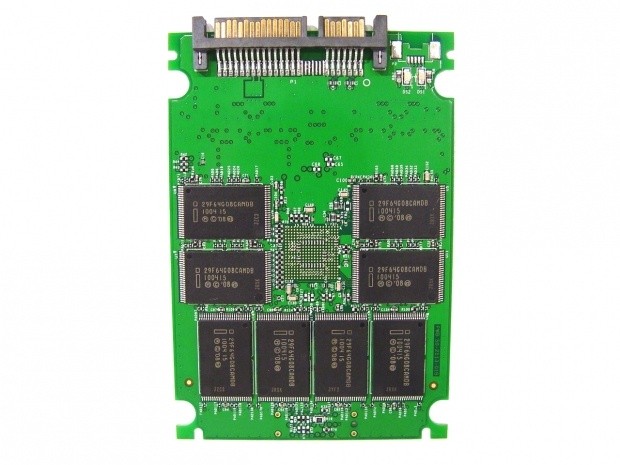 On the back of the PCB we found eight more Intel NAND flash chips, making a total of eight for the 100GB drive.
Test System Setup and ATTO Baseline Performance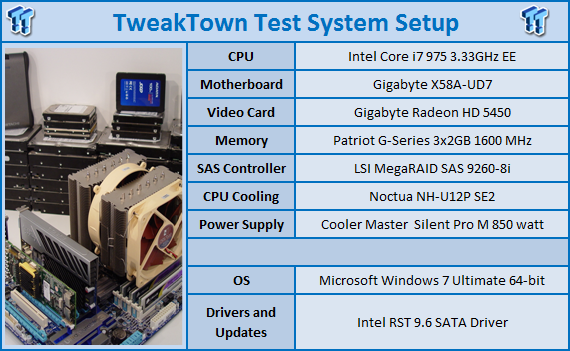 We would like to thank the following companies for supplying and supporting us with our test system hardware and equipment:
AVADirect
,
GIGABYTE
,
Patriot Memory
,
Cooler Master
,
LSI
and
Noctua
.
You can read more about TweakTown's Storage Product Testing Workstation and the procedures followed to test products
in this article
.
I want to take the opportunity to thank OWC for meeting TweakTown's strict sample policies. We have several articles in the oven at this time and have been waiting on the timer to go off before we can wrap them up.
The latest timer has been waiting for Crucial to get their firmware ready that actually supports TRIM correctly. Our dual C300 drives have pretty much been hammered and will not go back to a new state until we can get the firmware in.
When we tested the Corsair Force Intel had not released RST 9.6, a driver that propelled the SandForce SF-1200 drives to outperform the Crucial RealSSD C300 in many real world tests. The main article we have just about ready to go pits the three SandForce SSDs, all tested with the same driver, but each with a different firmware loaded.
The firmware and driver breakdown has the Corsair Force F100 with FW 3.0.1, but using the default Microsoft TRIM drivers; the ADATA S599 with FW 3.0.2, but Intel RST 9.6 drivers and the OWC Mercury with the final, retail ready Mass Production firmware, 3.0.5 and Intel RST 9.6 drivers.
The early story from around the web (mainly Anand) is that FW 3.0.1 is faster and allows for SF-1500 4K write speeds, but has a power issue. Corsair fixed the bugs by disabling some power saving features and was able to retain the 4K performance increase. Not a lot of information has been given about FW 3.0.2 since SandForce is being stingy with the firmware change log; I guess I will have to start playing hard ball and go back to the old way of doing things and just get the information from partners instead of trying to get it right from the source, kind of like when I used to review video cards back in the day.
The OWC Mercury that we are reviewing here today shipped to us with 3.0.5, also known as the Mass Production (MP) firmware.
A total performance breakdown with equal drivers and working firmware will be ready very soon when we are able to finally release the next issue of "
The State of Solid State
".
ATTO Baseline Performance
Version and / or Patch Used:
2.34
ATTO is used by many disk manufacturers to determine the read and write speeds that will be presented to customers.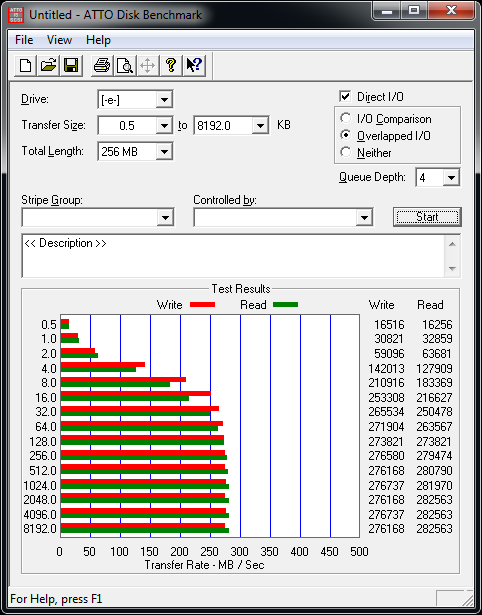 In ATTO we see the potential of the OWC Mercury Extreme Enterprise SSD. The read speeds are in the lower 280MB/s and the write speeds are in the upper 270MB/s range. This is really the limits that we have found on the GIGABYTE X58A-UD7's SATA II ports and the upper limits of SATA II itself.
Benchmarks - HD Tune Pro
HD Tune ProVersion and / or Patch Used:
4.00
Developer Homepage:
http://www.efdsoftware.com
Product Homepage:
http://www.hdtune.com
HD Tune is a Hard Disk utility which has the following functions:
- Benchmark: measures the performance
- Info: shows detailed information
- Health: checks the health status by using SMART
- Error Scan: scans the surface for errors
- Temperature display
HD Tune Pro gives us accurate read, write and access time results and for the last couple of years has been gaining popularity amongst reviewers. It is now considered a must have application for storage device testing.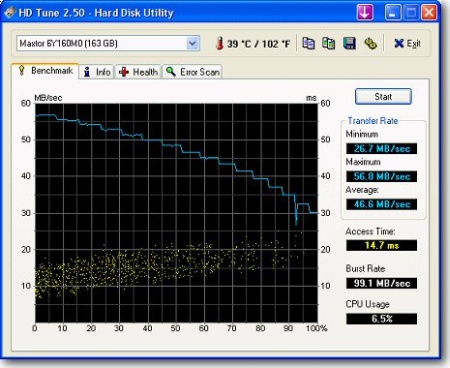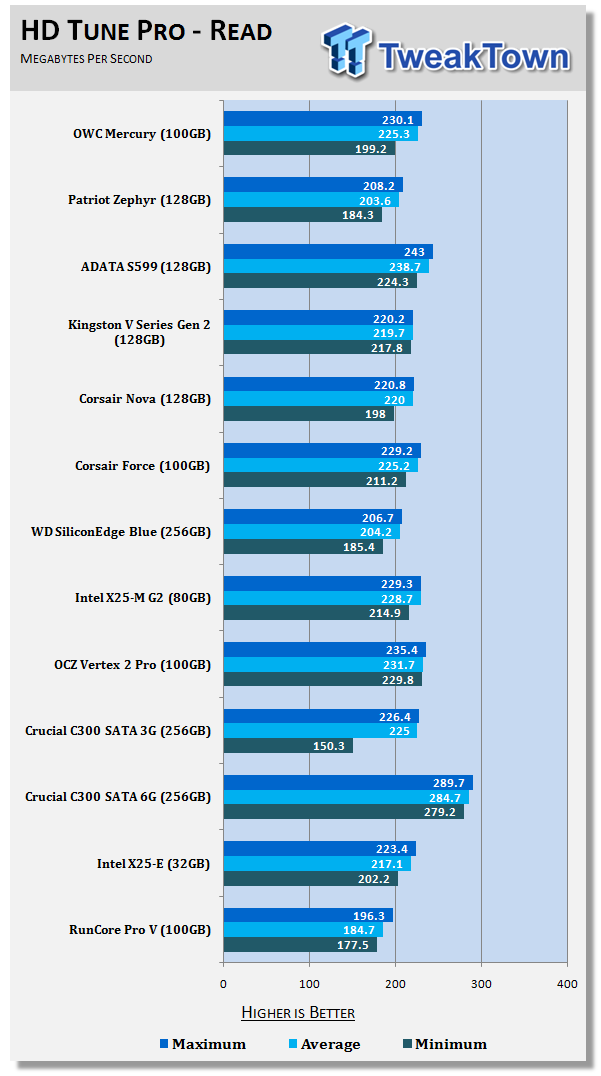 In HD Tach we get to see if a SSD performs steadily across the entire drive. Other than a little blip where cache changes, the OWC Mercury holds a steady line across the graph.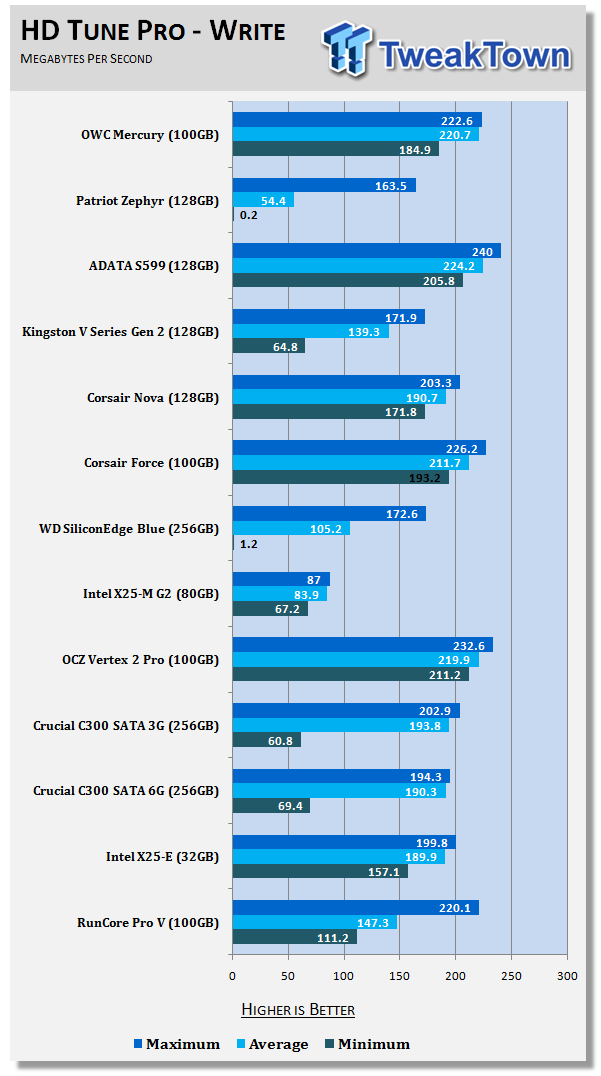 Again we see performance that is straight as an arrow except for the very beginning of the test where the cache changes. The OWC Mercury Extreme Performance SSD runs similar to the other SF-1200 drives we have tested.
Benchmarks - Everest Random Access Time
Everest Random Access TimeVersion and / or Patch Used:
4.60
Developer Homepage:
http://www.lavalys.com
Product Homepage:
http://www.lavalys.com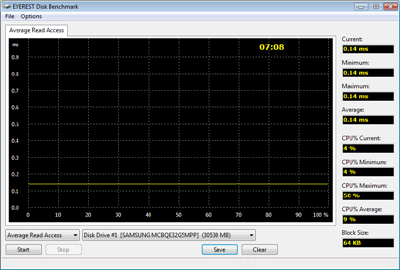 Everest Ultimate and Corporate Edition offer several different benchmarks for testing and optimizing your system or network. The Random Access test is one of very few if not only that will measure hard drives random access times in hundredths of milliseconds as oppose to tens of milliseconds.
Drives with only one or two tests displayed in write the write test mean that they have failed the test and their Maximum and possibly their Average Scores were very high after the cached fills. This usually happens only with controllers manufactured by JMicron.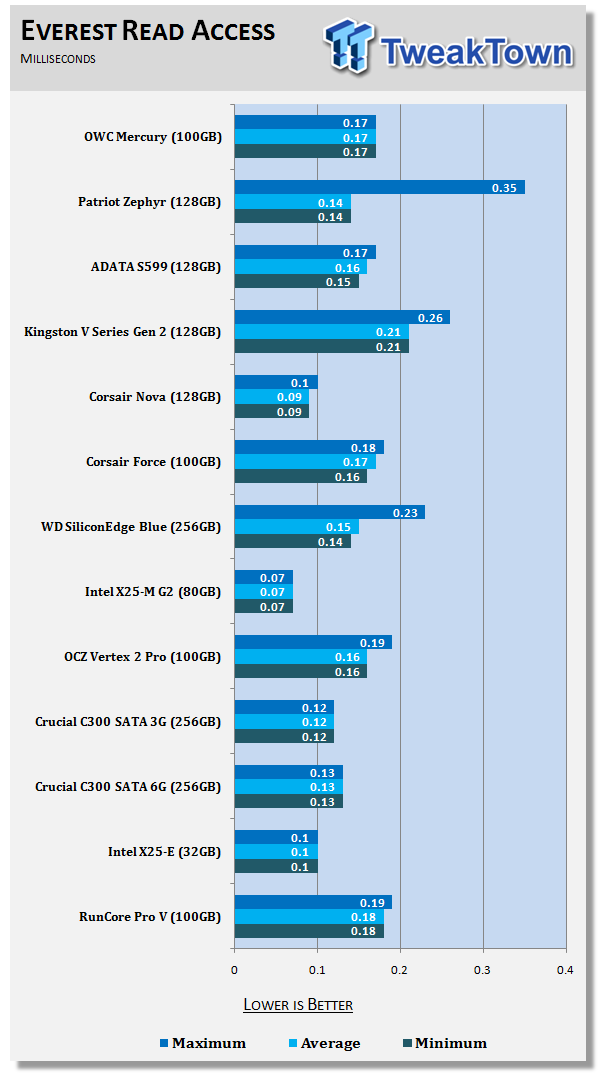 When we tested firmware with the Indilinx drives we found a wide variation in access time reads and writes, but the SandForce FW does not show much of a change. Access time is where SSDs really differentiate themselves from platter based drives and the low access time makes your computer feel much faster since the data is delivered to your CPU and memory so quickly.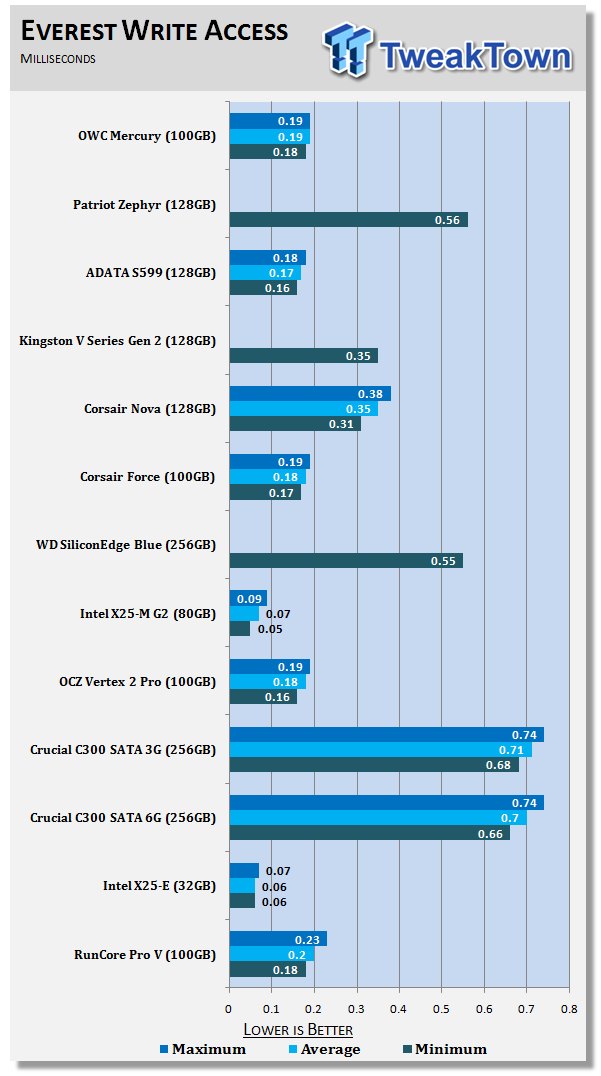 In the write access test we see strong performance from the OWC Mercury and anyone installing this drive as their operating system disk will be very happy with the system response.
Benchmarks - Crystal Disk Mark
CrystalDiskMarkVersion and / or Patch Used:
3.0 Technical Preview
Developer Homepage:
http://crystalmark.info
Product Homepage:
http://crystalmark.info/software/CrystalDiskMark/index-e.html
Download here:
http://crystaldew.info/category/software/crystaldiskmark
CrystalDiskMark is a disk benchmark software.
Key Features:-
* Sequential reads/writes
* Random 4KB/512KB reads/writes
* Text copy
* Change dialog design
* internationalization (i18n)
Note:
Crystal Disk Mark 3.0 is not available to the public yet, but the Technical Preview does allow us to test 4K performance at queue depths of 4 and 32 in addition to 1. The current release Crystal Disk Mark only shows us QD 1.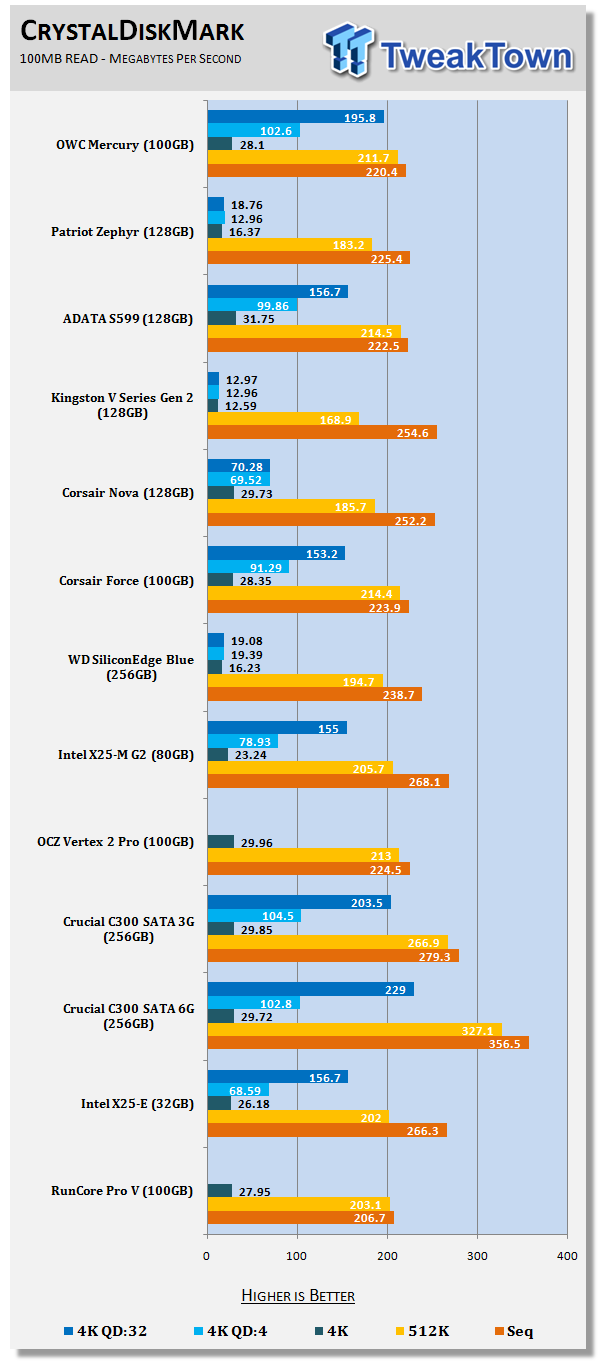 The 4K reads on the OWC Mercury are very fast and when it comes to QD32 the Mercury is only outperformed by the Crucial C300.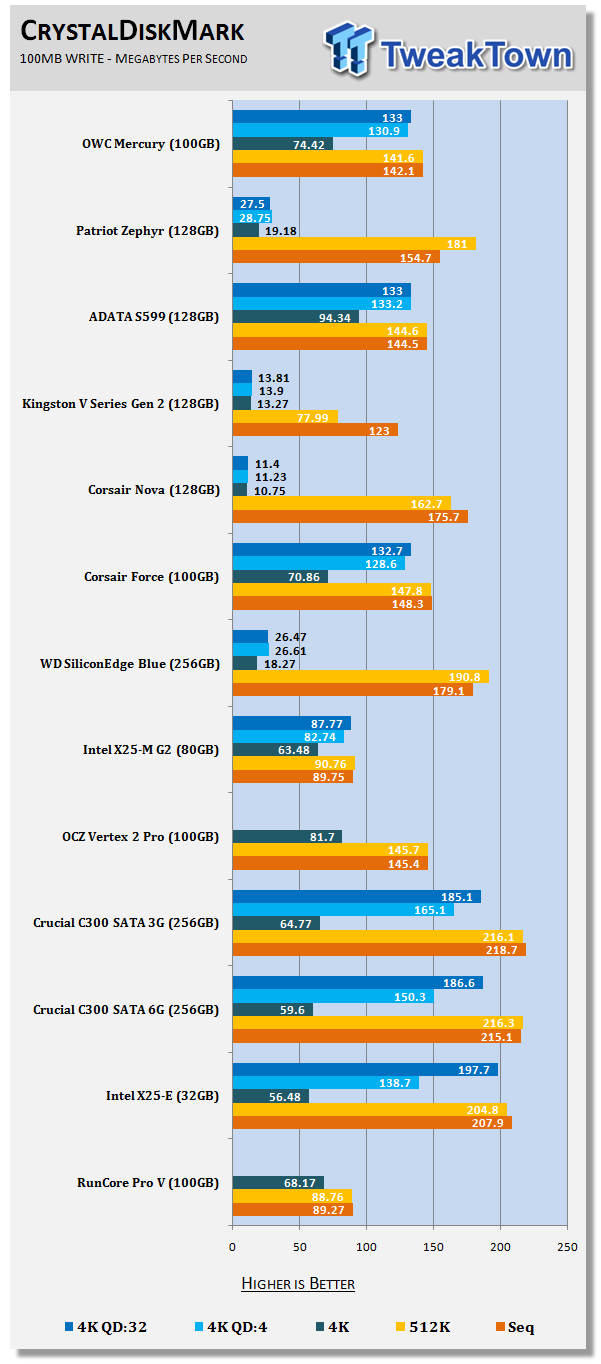 The 4K write speeds coming from the OWC Mercury are incredible when compared to the Indilinx Barefoot drives. It is no wonder why drive manufacturers found the need to quickly reduce the asking price for Barefoot drives.
Benchmarks - PCMark Vantage Hard Disk Tests
PCMark Vantage - Hard Disk TestsVersion and / or Patch Used:
1.0.0
Developer Homepage:
http://www.futuremark.com
Product Homepage:
http://www.futuremark.com/benchmarks/pcmark-vantage/
Buy It Here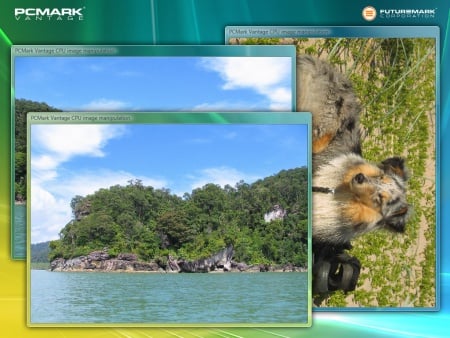 PCMark Vantage is the first objective hardware performance benchmark for PCs running 32 and 64 bit versions of Microsoft Windows Vista. PCMark Vantage is perfectly suited for benchmarking any type of Microsoft Windows Vista PC from multimedia home entertainment systems and laptops to dedicated workstations and high-end gaming rigs. Regardless of whether the benchmarker is an artist or an IT Professional, PCMark Vantage shows the user where their system soars or falls flat, and how to get the most performance possible out of their hardware. PCMark Vantage is easy enough for even the most casual enthusiast to use yet supports in-depth, professional industry grade testing.
FutureMark has developed a good set of hard disk tests for their PCMark Vantage Suite. Windows users can count on Vantage to show them how a drive will perform in normal day to day usage scenarios. For most users these are the tests that matter since many of the old hat ways to measure performance have become ineffective to measure true Windows performance.

HDD1 - Windows Defender
HDD2 - Gaming
HDD3 - Windows Photo Gallery
HDD4 - Vista Startup
HDD5 - Windows Movie Maker
HDD6 - Windows Media Center
HDD7 - Windows Media Player
HDD8 - Application Loading
I love these tests where we can start to get an understanding of how updated firmware changes performance of two closely related products. Looking at the OWC and A-DATA SF-1200 products, we see that the OWC firmware is able to take the crown in a few tests, but the same can be said about the A-DATA FW as well.
The OWC Mercury Extreme Performance SSD is much faster than the JMicron, Intel and Indilinx drives, while outperforming the C300 in many tests as well. Given the price difference between the OWC Mercury and Crucial C300 at similar capacities, the OWC drive would be my choice if I actually had to choose just one.
Benchmarks - AS SSD
AS SSD BenchmarkVersion and / or Patch Used:
1.2.3577.40358
Developer Homepage:
Alex Intelligent Software
Product Homepage:
Alex Intelligent Software
Download here:
http://www.alex-is.de/PHP/fusion/downloads.php?cat_id=4&download_id=9
AS determines the performance of Solid State Drives (SSD). The tool contains four synthetic as well as three practice tests. The synthetic tests are to determine the sequential and random read and write performance of the SSD. These tests are carried out without the use of the operating system caches.
In all synthetic tests the test file size is 1GB. AS can also determine the access time of the SSD, the access of which the drive is determined to read through the entire capacity of the SSD (Full Stroke). The write access test is only to be met with a 1 GB big test file. At the end of the tests three values for the read and write as well as the overall performance will be issued. In addition to the calculated values which are shown in MB/s, they are also represented in IO per seconds (IOPS).
Note:
AS SSD is a great benchmark for many tests, but since Crystal Disk Mark covers a broader range of 4K tests and HD Tune Pro covering sequential speeds, we will only use the Copy Benchmark from AS SSD.
- Copy Benchmark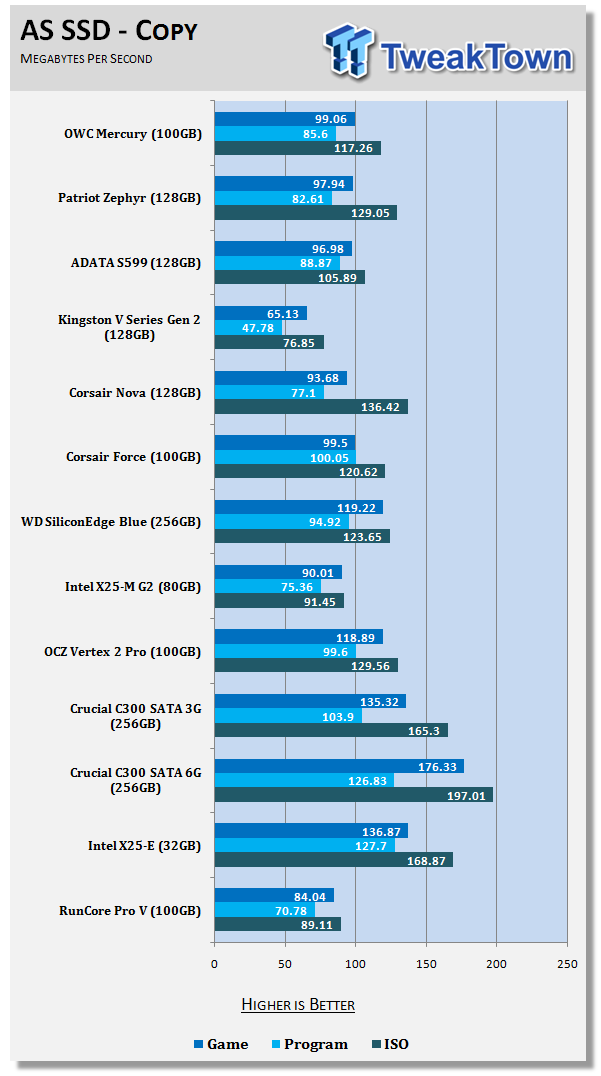 During the File Copy Tests we see SandForce's design taking a back seat to some of the other drives. In our upcoming State of Solid State article we will get into a lot more detail about why this happens since it will take a couple of pages to explain the architecture. The OWC Mercury is still much faster than the platter drives and is even able to move data faster than Intel's G2 SSD.
Benchmarks - Passmark
Passmark Advanced Multi-User TestsVersion and / or Patch Used:
6.1
Developer Homepage:
http://www.passmark.com
Test Homepage:
http://www.passmark.com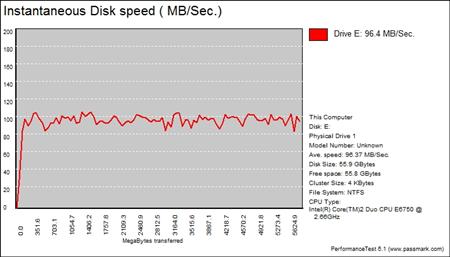 Many users complain that I/O Meter is too complicated of a benchmark to replicate results so my quest to find an alternative was started. Passmark has added several multi-user tests that measure a hard drives ability to operate in a multi-user environment.

The tests use different settings to mimic basic multi-user operations as they would play out on your server. Variances is read / write percentage as well as random / sequential reads are common in certain applications, Web Servers read nearly 100% of the time while Database Servers write a small amount of data.
The Workstation test is the only single user environment and will be similar to how you use your system at home.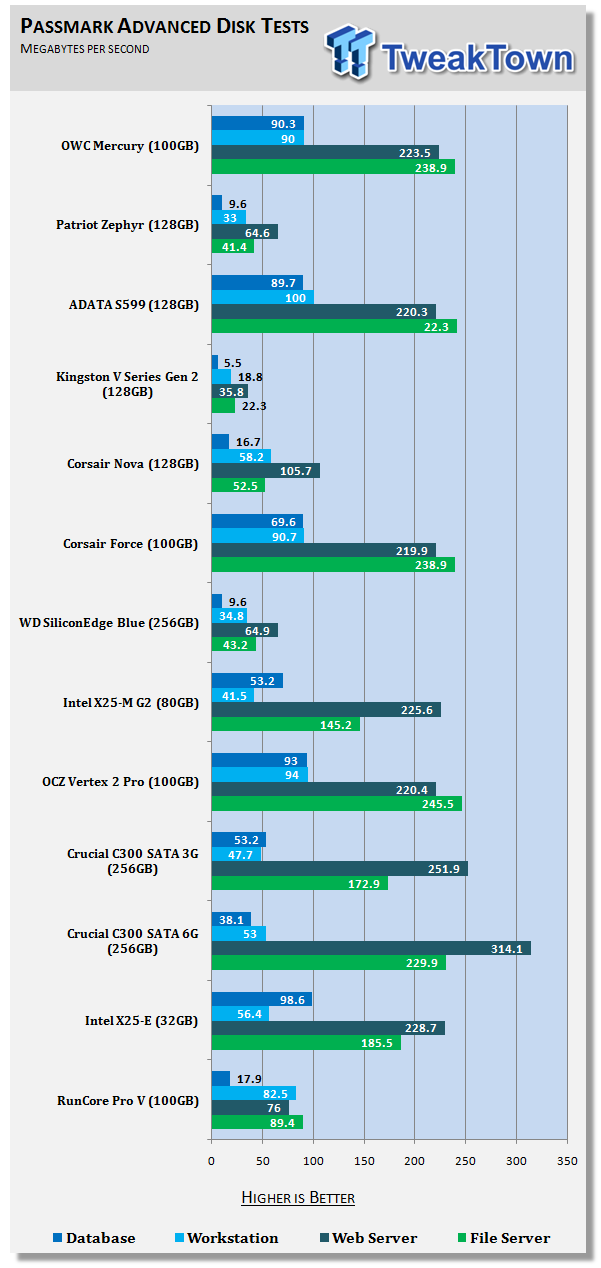 SandForce started out looking to build enterprise SSDs and that heritage shows in our consumer drives when tested in these usage scenarios. The OWC Mercury is able to even outperform the enterprise Intel E Series in a couple of the tests.
Final Thoughts
Going into this article we knew that the OWC Mercury Extreme Enterprise SSD would be a high performer, but with all of the recent hype about firmware and favorites we didn't know if the mass production FW would start to send performance in the opposite direction. Luckily for consumers the hype was just that, hype. I have another term for it, but we will reserve the obstinacies for when we have all the drives in for testing.
That said and hype aside, the OWC Mercury is available now to order and we know they are shipping to consumers. The performance is class leading in many real world tests and the price is lower than most of what we have seen on the market all ready. Those two items alone put the OWC Mercury at the top of our list of SSDs to purchase but then you mix in the fact that OWC offers a class leading warranty and...well, we have a winner, or at least a product that has shown itself to be in the lead at this leg of the race.
The SSD market has a lot of competition and things change rapidly. Just a few months ago we were singing the praises of Indilinx, then Crucial with
their SATA 6G drive
featuring a Marvell controller and now SandForce. We are now hearing rumors of Indilinx's Jetstream getting closer and we can't forget what is going to happen once companies really start to dig into the firmware of all the new drives. Still, at this time the OWC Mercury has a lot going for it and it is not limited to performance alone.