A-DATA S599 100GB SandForce SF-1200 Solid State Disk
Its metaclorian count is off the charts, yet the price is down to Earth. Worlds fastest drive? - Let's take a look and see.
Published Tue, Mar 30 2010 12:35 AM CDT
|
Updated Tue, Nov 3 2020 7:02 PM CST
Rating:

94%
Manufacturer: A-DATA
Introduction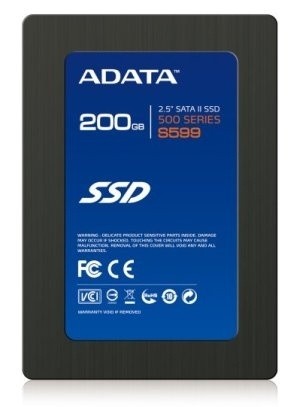 We managed to get the first review of a SandForce SF-1200 product out before anyone else when the
Corsair Force F100
went up just last week. At the time we were planning on the A-DATA S599 arriving before the Corsair drive which came in unannounced and was a great surprise. Two days later the S599 arrived and at the same time Intel let us know that a new driver was on the way that would support RAID TRIM and bring new optimized performance for many SATA products.
In our first go around with the new consumer class SF-1200, we ran the drivers that were available at the time; the same thing that everyone else was running with a solid state drive, the out of the box Microsoft drivers that fully supported the TRIM command. As with any product, you will get better performance with optimized drivers, but until now that just wasn't available for the Intel chipset running SSDs.
A-DATA has been playing the SSD game since the first generation X25-M. Their first product was exactly that, a rebadged Intel drive, but it was just enough to spring them into the market. Since the X25-M the company has released a few Indilinx Barefoot products that allowed A-DATA to skate by, but at CeBIT they put the market on notice that A-DATA would not be just another 'me too' solid state drive company.
At CeBIT A-DATA made two big product announcements. The first was their new Indilinx Barefoot based N007 SSD that supports both SATA II and USB 3.0 (full review coming in a few days). The second huge product announcement was the drive we are testing today, the S599.
The A-DATA S599 isn't just a SandForce SF-1200 drive; it is only the second one we have seen in full retail trim, so the company was able to fast track the product and get it ready before some of the others that generally dominate the early launch cycle. You might want to sit down for this next part and I know A-DATA's competitors had better get ready to be nauseous. The new A-DATA S599 is going to be cheap, like 50 Dollars cheaper than what other companies are now claiming their SF-1200 drives will be launched at and a massive 150 USD less than the numbers we were told at CES!
You will have to wait 'till the next page to see just how much, but the price will have you looking to take advantage of the new Intel 9.6 RAID drivers. Come, let's get a move on; click to the next page!
Specifications, Pricing and Availability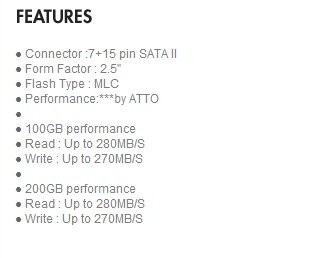 OK, maybe A-DATA did cut one corner with their quick to market launch and that is with the listed specifications page on their website. I have no idea what this is supposed to represent, but a full detail breakdown it is not. Whatever, we don't mind too much because it lets me bypass talking about things like shock resistance which is high with all SSDs and the other annoying things that most enthusiasts could really care less about or already know about. Stuff like how SSDs use less power to operate when compared to platter drives that have to rotate physical platters and move little arms all over to place just to read and write data. All of this takes power and notebook battery power is something you would rather use on watching movies or getting that late report finished on your cross country flight so you can tell your boss that it was finished, but you forgot to send it over before hopping on the plane...shame on you.
When it comes to performance we see the same numbers that just about everyone else is claiming with their SF-1200 products. The difference is that the S599 is already on the way to retailers and e-tailers and most of the others are still waiting on things like boxes, manuals and such. The industry standard for obtaining such performance numbers is ATTO and A-DATA lets us know exactly where the numbers were taken from. ATTO doesn't take into account several factors that determine real world performance and we will be able to see that today when testing with the new Intel RST 9.6 driver.
Yes, I've been stalling on the cost and that is what you really want to know about since I built it up so high already. We have been told that the 100GB model that we are reviewing here today will have an MSRP of 380.00 USD. A-DATA has two different capacity drives that should hit online stores this week, the 100 and 200GB versions of the S599. I have yet to hear the pricing on the 200GB model, I was a little shocked when I heard 380 (
380 FTW!!
) that I forgot to even inquire about the 200GB MSRP, but that is all right; we will just have to try to get on in for a review. Like always, we expect a few of the etailers to raise the cost of the drives when they first hit the shelves and two weeks later you will finally be able to pick one up for the MSRP. A month after that we may start to see the cost go even lower.
Let's take a look at everything you get in the A-DATA S599 package.
The Packaging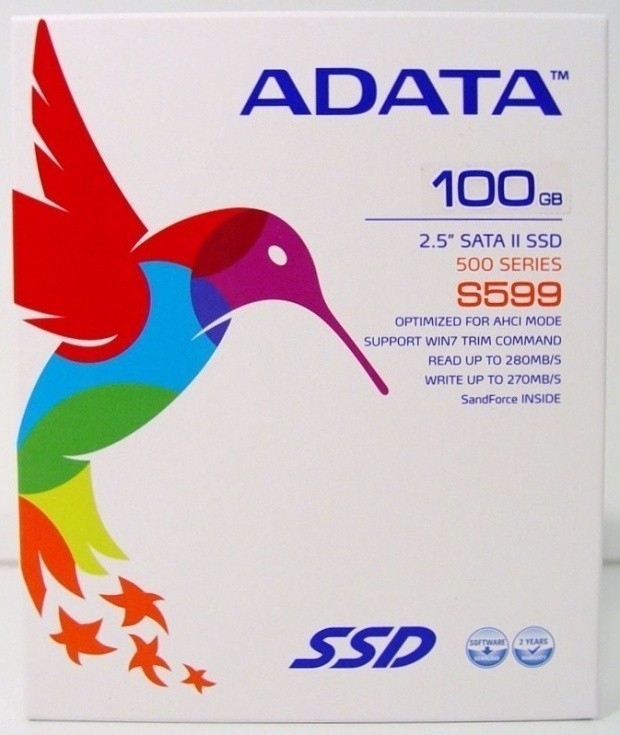 This is the kind of thing we really like to see a manufacturer do with their solid state products. Right on the front we can see enough information to get us excited. Things like TRIM support in Win7, Optimized for AHCI, SandForce inside and my personal favorite, read and write performance. If you work for an SSD maker, please take notice; the boxes that are coming out without this information doesn't make it easy for the guy standing in Fry's looking at 15 different SSDs with prices ranging from 120 USD to over a grand. I would have liked to see a little more detail as to which version of SandForce controller the S599 is using, since it would help retail consumers make a more informed purchasing decision.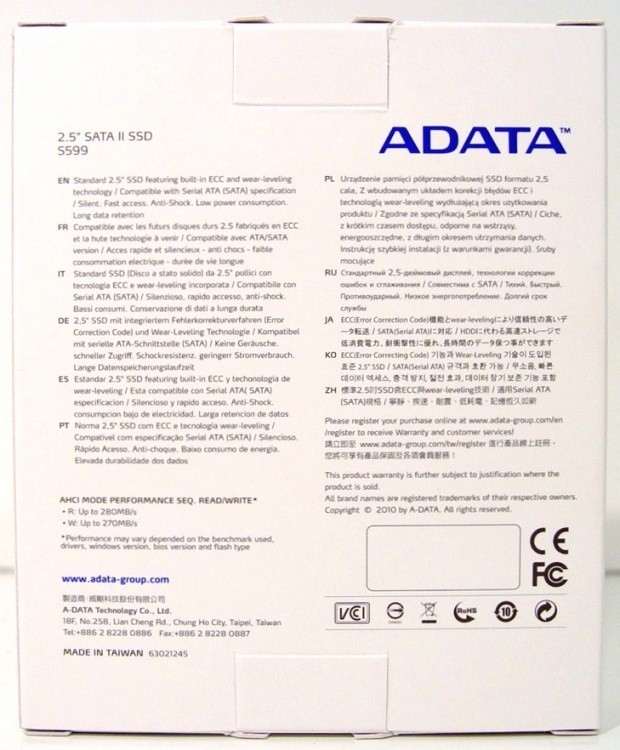 The back of the box has some general information about the drive and we see at the bottom the performance numbers again with a bit of explanation.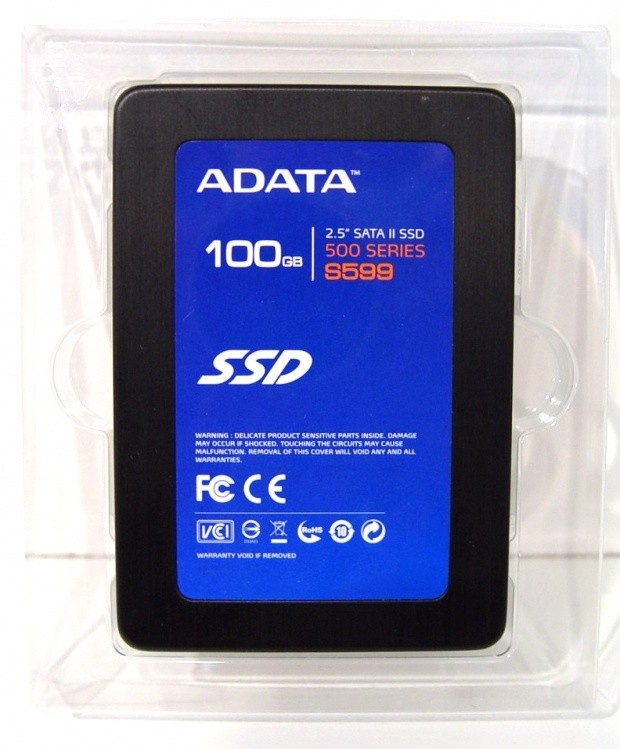 Unlike the Corsair Force F100 we reviewed last week, the S599 does not include a 2.5 to 3.5" adapter that makes it easier to install 2.5 inch notebook standard drives in your desktop, but the price also reflects that.
The inner packaging is fairly plain, but it does a good job of protecting the drive during shipping. SSDs are very robust and can take a beating, so they need little protection. The A-DATA package keeps the drive from bouncing around since the protective plastic holds the drive snug.
The A-DATA S599 100GB SSD
The A-DATA S599 100GB SSD SSD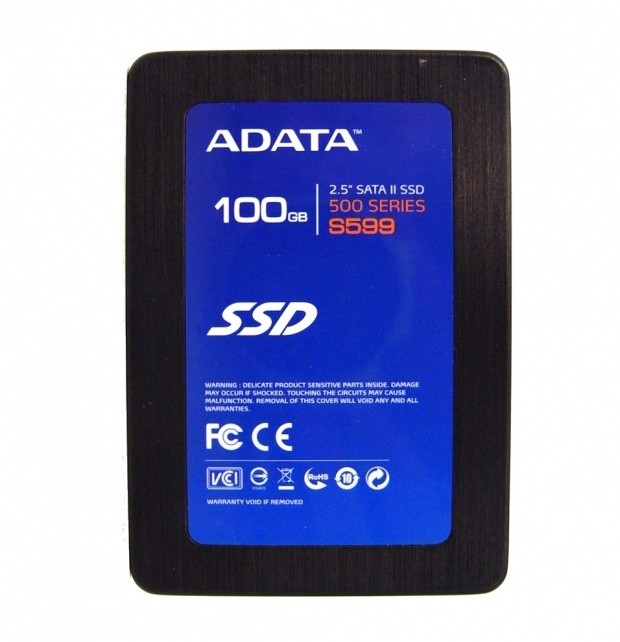 Here we get our first look at the A-DATA S599 100GB solid state drive. All of the information is presented on the top label like the model name and the capacity size.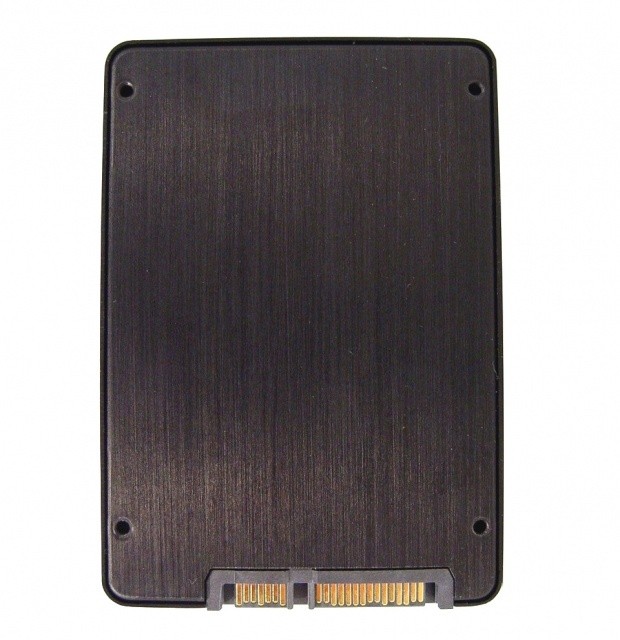 The casing for the S599 is made of black anodized brushed aluminum and we get a good look at it on the back of the drive.

On the side we found the standard mounting locations, but there are two screws in other holes that keep the drive together. These are not recessed all of the way and stick out just a little. You should still be able to install the drive in your notebook, adapter or drive sled, but may need to jiggle it a little in very tight spots.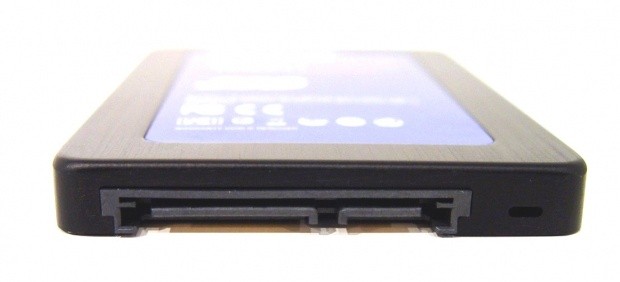 On the back we found the data and power SATA connectors to be in the correct spot. We have yet to run across a SandForce controlled drive with a built in USB port and the S599 follows that trend.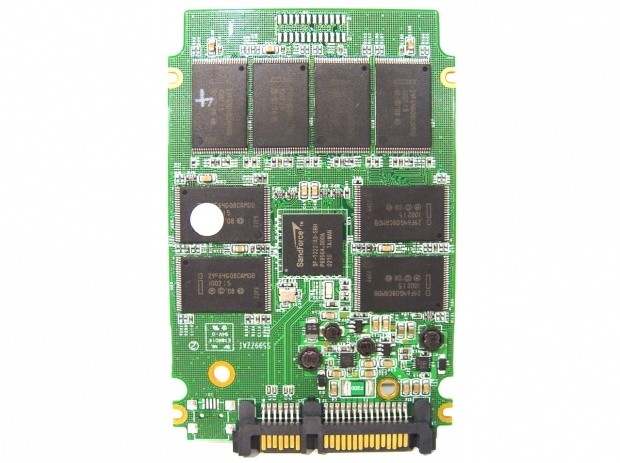 After removing the PCB from the drive we learned that the A-DATA S599 does not use the same PCB layout that we have seen from Crucial and OCZ Technology. I am surprised by this since it is so early in the SandForce game to see custom PCBs. This pretty much means that A-DATA engineers have been putting in some serious overtime getting this product ready and to market.
The custom PCB may have been a way for A-DATA to reduce the cost of the build of materials list. I can only speculate since I am not really qualified in making such determinations, but I can look at the situation from a historic point of view and say that for the first few products we review, the PCBs are usually always the same.
On the front we see the SandForce SF-1200 controller in the middle. SandForce controllers do not use DRAM cache to buffer user data coming to or going from the drive. There are sixteen Intel NAND flash chips on the S599; eight on each side.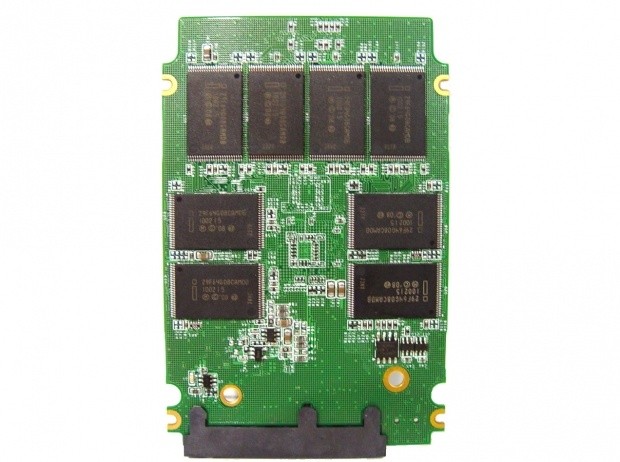 On the other SandForce drives we have tested there has been an area for a large capacitor on the back side of the PCB. Without this knowledge I most likely would have just taken a peek at the inner workings and moved on, but as you can see, the large area for the optional capacitor that is used on the enterprise SF-1500 drives is not present. This could be a case of OCZ and Corsair just using PCBs designed for the SF-1500 products (which I would bet adds to the cost) and A-DATA is using a SandForce SF-1200 specific PCB.
Test System Setup and ATTO Baseline Performance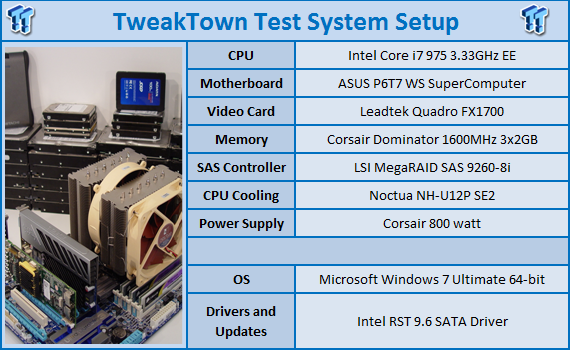 We would like to thank the following companies for supplying and supporting us with our test system hardware and equipment:
Intel
,
ASUS
,
Leadtek
,
Corsair
,
LSI
and
Noctua
.
You can read more about TweakTown's Storage Product Testing Workstation and the procedures followed to test products
in this article
.
Today we are looking at A-DATA's S599 100GB SandForce SF-1200 controlled SSD. This is the first drive we have tested with the new Intel 9.6 Rapid Storage Technology driver. You will see today that the new driver increases the performance of the SandForce SF-1200 controller by a very significant amount in PCMark Vantage (Windows HDD Tests). All of the other drives presented in the chart were tested on either the Marvell SATA 6G controller (Crucial RealSSD C300 SATA 6G results) on the basic Microsoft AHCI driver that fully supports Windows 7's TRIM command. Until the 9.6 RST release, Intel SATA drivers did not support TRIM.
There are two points of significance to look for in today's benchmark results. The first has to do with drivers and is between the Corsair F100 and the A-DATA S599. These are the two SandForce SF-1200 drives; one tested with Microsoft base drivers and the other with the new Intel 9.6. This battle is really about the drivers and not so much a true fight between the two. That will come in the next few days.
The second comparison is as true as it gets and this is the battle between the A-DATA S599 with RST 9.6 drivers and the Crucial RealSSD C300 running on the Marvell SATA controller. Since the Marvell SATA controller has not been updated, we are seeing the highest level of performance from the drive as is possible at this time. I have learned that the C300 in 128GB capacity is slower than the 256GB model we tested. When making your purchasing decision, you should keep this in mind. We will talk about this more in the conclusion.
Over the next two weeks we will be retesting our collection of drives to gather performance data of these products with the RST 9.6 driver and get back to true apples to apples comparisons across the board.
ATTO Baseline Performance
Version and / or Patch Used:
2.34
ATTO is used by many disk manufacturers to determine the read and write speeds that will be presented to customers.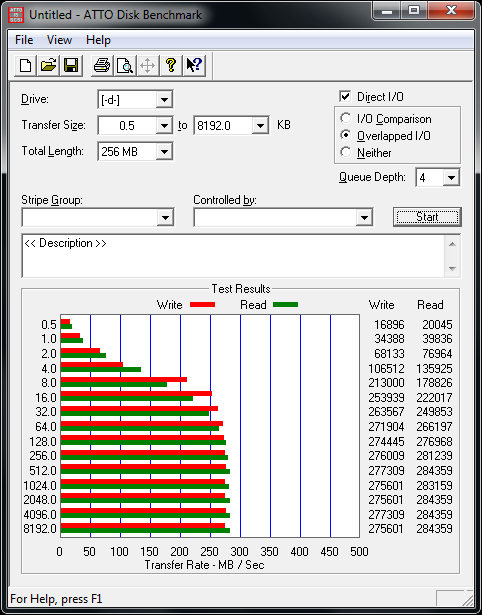 In ATTO we see a nice progressive wave of performance that shows the drive is running normally. At the bottom of the scale we see that the A-DATA S599 is even faster than what A-DATA has claimed in their marketing literature.
Benchmarks - HD Tune Pro
HD Tune ProVersion and / or Patch Used:
4.00
Developer Homepage:
http://www.efdsoftware.com
Product Homepage:
http://www.hdtune.com
HD Tune is a Hard Disk utility which has the following functions:
- Benchmark: measures the performance
- Info: shows detailed information
- Health: checks the health status by using SMART
- Error Scan: scans the surface for errors
- Temperature display
HD Tune Pro gives us accurate read, write and access time results and for the last couple of years has been gaining popularity amongst reviewers. It is now considered a must have application for storage device testing.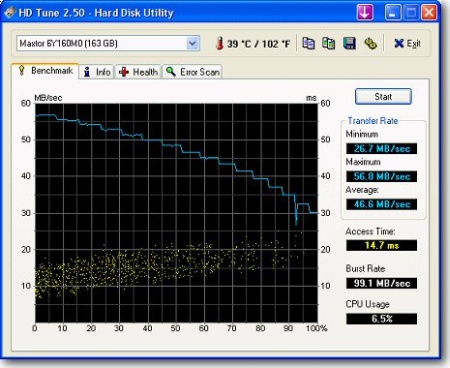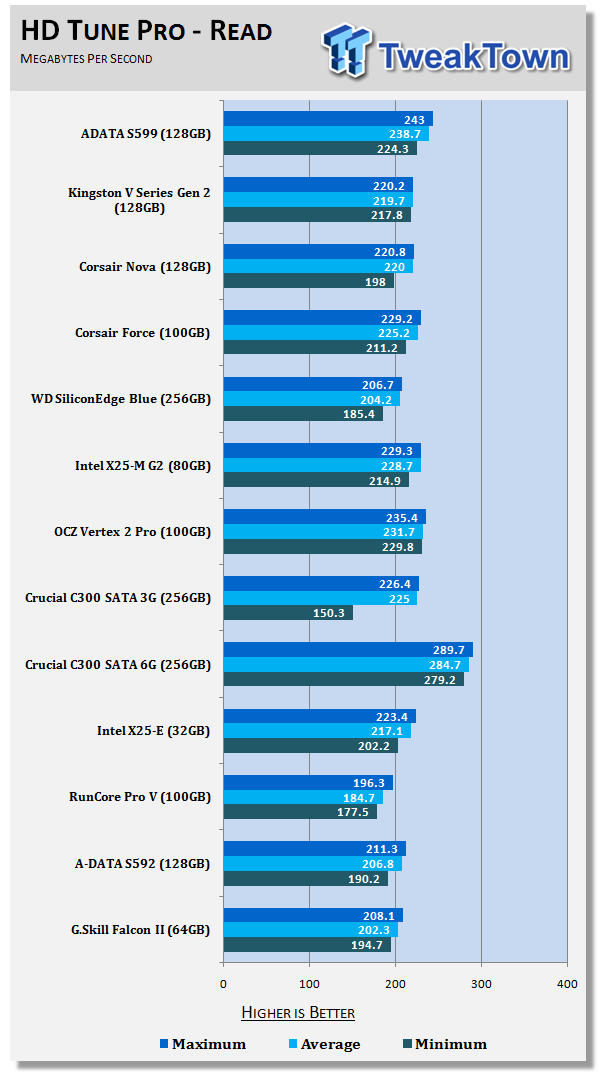 This test was dominated by the Crucial RealSSD C300 256GB drive with its SATA 6G interface that allows it to break through SATA II limitations, but here we see that the new Intel driver has allowed the SandForce controlled A-DATA S599 to make some ground on the C300.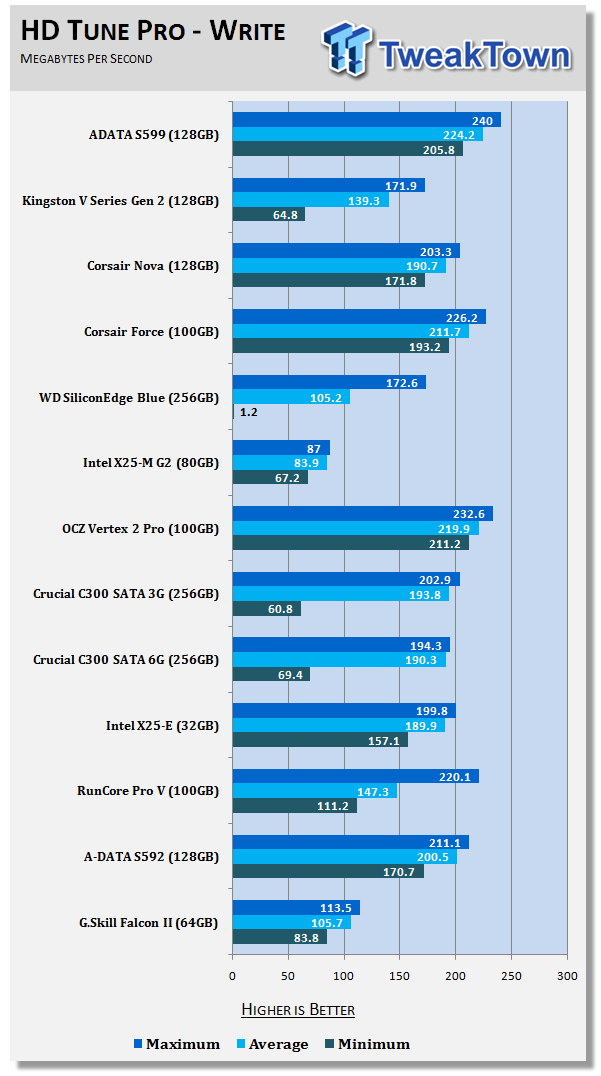 The write tests in HD Tune show us that instead of trailing the C300 in write speed, the S599 is able to outperform the ultra fast 256GB C300. It has been reported that the 128GB C300 has lower write speeds so it is safe to say that when compared dollar to dollar spent that the S599 has a significant edge over the 128GB C300. We are hoping to be able to get in a 128GB C300 to see if the accusations are based on truth.
Benchmarks - Everest Random Access Time
Everest Random Access TimeVersion and / or Patch Used:
4.60
Developer Homepage:
http://www.lavalys.com
Product Homepage:
http://www.lavalys.com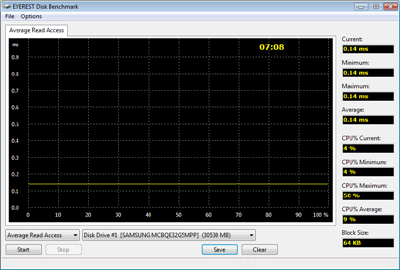 Everest Ultimate and Corporate Edition offer several different benchmarks for testing and optimizing your system or network. The Random Access test is one of very few if not only that will measure hard drives random access times in hundredths of milliseconds as oppose to tens of milliseconds.
Drives with only one or two tests displayed in write the write test mean that they have failed the test and their Maximum and possibly their Average Scores were very high after the cached fills. This usually happens only with controllers manufactured by JMicron.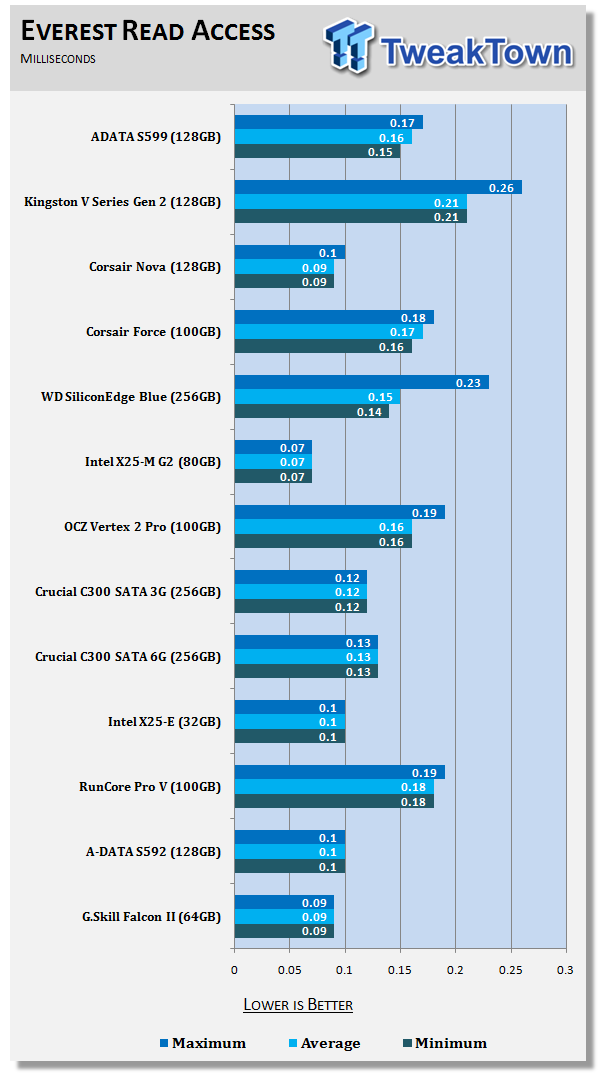 The cacheless SandForce drives have a little higher access time when compared to the Indilinx Barefoot drives on the charts, but we are measuring in ten thousandths of a second here. In the driver comparison there doesn't appear to be much of a difference and the A-DATA S599 is performing as expected.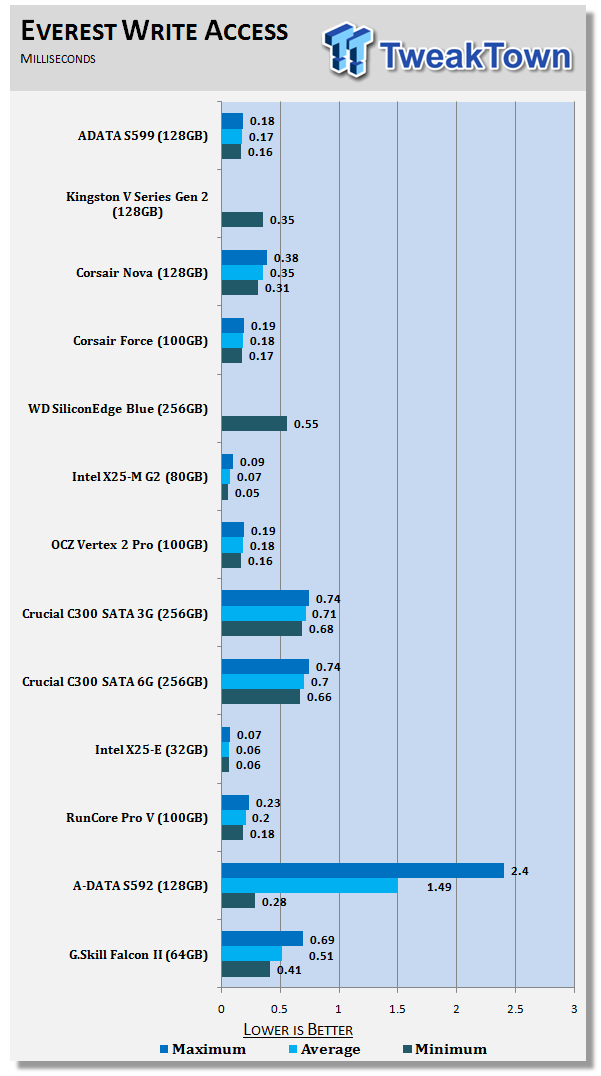 The write access test shows that the A-DATA S599 100GB drive is able to outperform the latest firmware Indilinx Barefoot drives and the Crucial C300. The driver test between the two SF-1200 drives show no significant difference.
Benchmarks - CrystalDiskMark
CrystalDiskMarkVersion and / or Patch Used:
3.0 Technical Preview
Developer Homepage:
http://crystalmark.info
Product Homepage:
http://crystalmark.info/software/CrystalDiskMark/index-e.html
Download here:
http://crystaldew.info/category/software/crystaldiskmark
CrystalDiskMark is a disk benchmark software.
Key Features:-
* Sequential reads/writes
* Random 4KB/512KB reads/writes
* Text copy
* Change dialog design
* internationalization (i18n)
Note:
Crystal Disk Mark 3.0 is not available to the public yet, but the Technical Preview does allow us to test 4K performance at queue depths of 4 and 32 in addition to 1. The current release Crystal Disk Mark only shows us QD 1.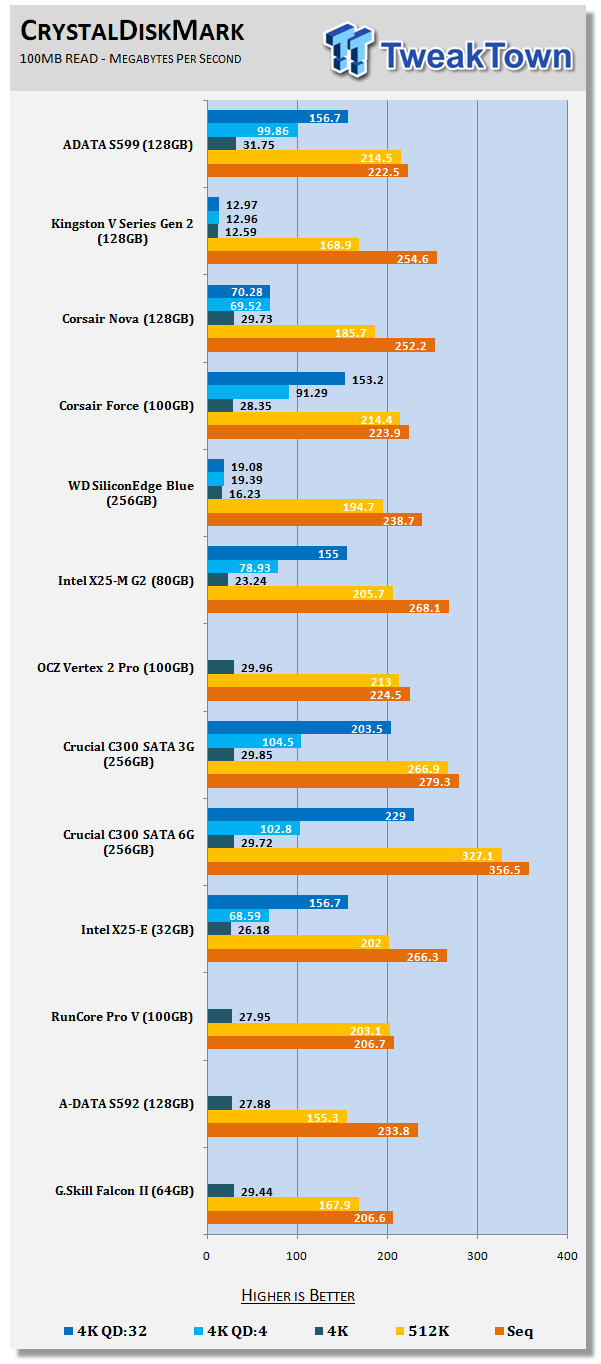 The driver battle shows no change, but here we see that the C300 is able to stretch its legs in sequential performance. Since the A-DATA S599 is targeted at a price point occupied by Indilinx Barefoot drives, this is a good time to start taking a look at how the two drives differ. Here we see that the SF-1200 has a huge lead in 4K performance. The Marvell SATA 6G C300 and the A-DATA SF-1200 controlled drives have nearly identical 4K and 4K QD32 performance. Once the queue depth is ramped up to 64 deep, the C300 is able to break away.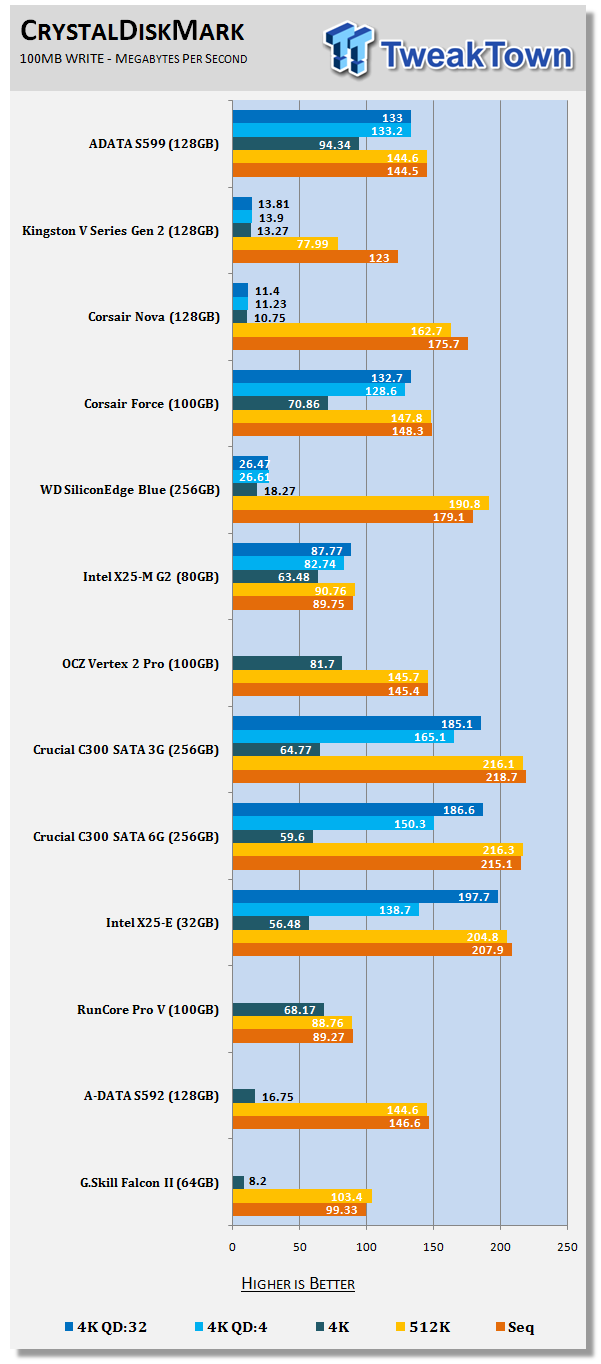 The same is true with the write performance at 4K. Also, once again we see that the Barefoot drives do not scale when the QD is raised. This shows that the Barefoot drives are not able to make effective use of NCQ like the next generation drives are able to.
Benchmarks - PCMark Vantage Hard Disk Tests
PCMark Vantage - Hard Disk TestsVersion and / or Patch Used:
1.0.0
Developer Homepage:
http://www.futuremark.com
Product Homepage:
http://www.futuremark.com/benchmarks/pcmark-vantage/
Buy It Here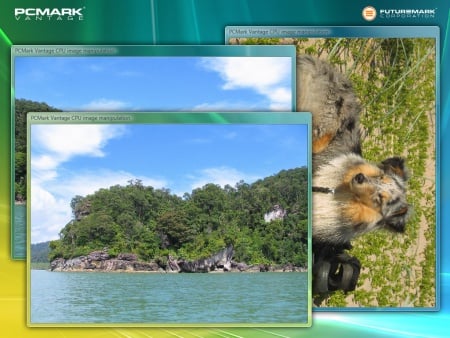 PCMark Vantage is the first objective hardware performance benchmark for PCs running 32 and 64 bit versions of Microsoft Windows Vista. PCMark Vantage is perfectly suited for benchmarking any type of Microsoft Windows Vista PC from multimedia home entertainment systems and laptops to dedicated workstations and high-end gaming rigs. Regardless of whether the benchmarker is an artist or an IT Professional, PCMark Vantage shows the user where their system soars or falls flat, and how to get the most performance possible out of their hardware. PCMark Vantage is easy enough for even the most casual enthusiast to use yet supports in-depth, professional industry grade testing.
FutureMark has developed a good set of hard disk tests for their PCMark Vantage Suite. Windows users can count on Vantage to show them how a drive will perform in normal day to day usage scenarios. For most users these are the tests that matter since many of the old hat ways to measure performance have become ineffective to measure true Windows performance.

HDD1 - Windows Defender
HDD2 - Gaming
HDD3 - Windows Photo Gallery
HDD4 - Vista Startup
HDD5 - Windows Movie Maker
HDD6 - Windows Media Center
HDD7 - Windows Media Player
HDD8 - Application Loading
The SandForce SF-1200 controller used in the A-DATA S599 with Intel's latest RST 9.6 drivers is the fastest 2.5 inch solid state drive for Windows users at this time. This combination is able to outperform every other drive we have tested to date in all around performance. This is very significant since all of these consumer drives are designed for usage scenarios like these and these tests also mimic your day to day activities.
This doesn't really mean that the A-DATA SF-1200 controlled S599 is the fastest drive in all cases, but when you add everything up and average it out, the S599 comes out on top against the fastest consumer drives in the world.
Benchmarks - AS SSD
AS SSD BenchmarkVersion and / or Patch Used:
1.2.3577.40358
Developer Homepage:
Alex Intelligent Software
Product Homepage:
Alex Intelligent Software
Download here:
http://www.alex-is.de/PHP/fusion/downloads.php?cat_id=4&download_id=9
AS determines the performance of Solid State Drives (SSD). The tool contains four synthetic as well as three practice tests. The synthetic tests are to determine the sequential and random read and write performance of the SSD. These tests are carried out without the use of the operating system caches.
In all synthetic tests the test file size is 1GB. AS can also determine the access time of the SSD, the access of which the drive is determined to read through the entire capacity of the SSD (Full Stroke). The write access test is only to be met with a 1 GB big test file. At the end of the tests three values for the read and write as well as the overall performance will be issued. In addition to the calculated values which are shown in MB/s, they are also represented in IO per seconds (IOPS).
Note:
AS SSD is a great benchmark for many tests, but since Crystal Disk Mark covers a broader range of 4K tests and HD Tune Pro covering sequential speeds, we will only use the Copy Benchmark from AS SSD.
- Copy Benchmark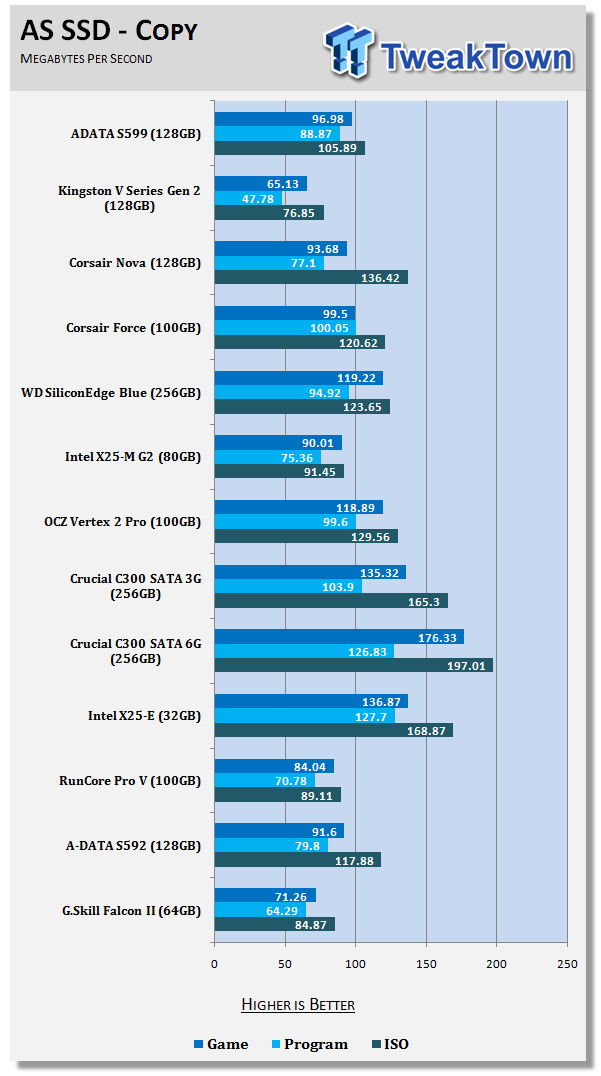 To achieve very high performance the SandForce controllers use a real time compression algorithm to store data. When the data is already compressed we have observed slower performance. In the ISO copy test we see how that strategy plays out. With compressed data we see that the Indilinx Barefoot drive is able to outperform the S599. The Crucial C300 is also able to take advantage of their more traditional approach and transfer compressed data nearly twice as fast as the A-DATA drive.
Benchmarks - Passmark
Passmark Advanced Multi-User TestsVersion and / or Patch Used:
6.1
Developer Homepage:
http://www.passmark.com
Test Homepage:
http://www.passmark.com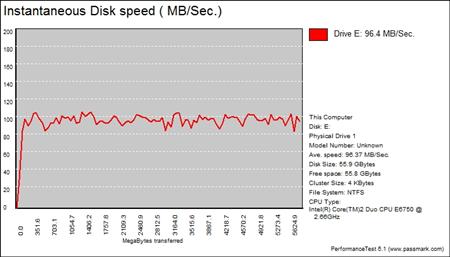 Many users complain that I/O Meter is too complicated of a benchmark to replicate results so my quest to find an alternative was started. Passmark has added several multi-user tests that measure a hard drives ability to operate in a multi-user environment.

The tests use different settings to mimic basic multi-user operations as they would play out on your server. Variances is read / write percentage as well as random / sequential reads are common in certain applications, Web Servers read nearly 100% of the time while Database Servers write a small amount of data.
The Workstation test is the only single user environment and will be similar to how you use your system at home.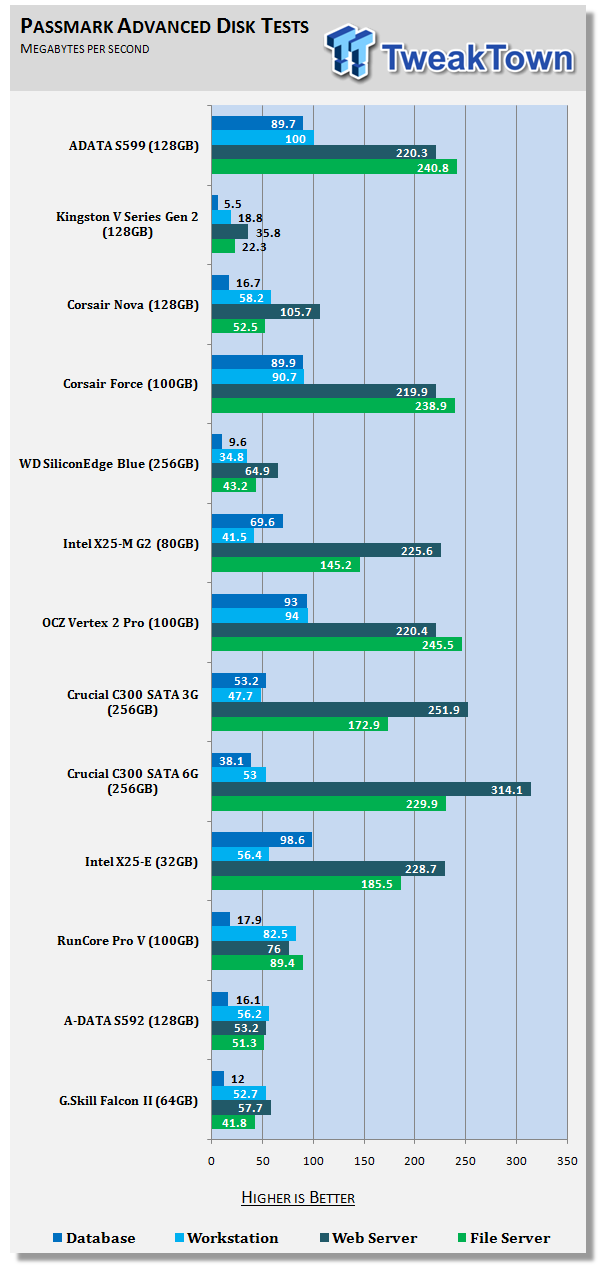 The SandForce SF-1200 was bred from the enterprise class SF-1500 controller that was designed specifically for server use. Here we see how this heritage has made the A-DATA SF-1200 a real contender in the server market even though the consumer version was never designed for usage in this market. This has to have the companies that build products specifically for this market a little worried since a 380 Dollar drive is able to outperform their purpose built products costing two and sometimes three times more.
Final Thoughts
Is the A-DATA S599 100GB SSD the new performance leader? That question really depends on what you are doing with the drive. If you are like most solid state drive users then your SSD is the home of your operating system. This is pretty much the established standard for SSD users with drives in either notebooks or desktops. With that point established, I am comfortable saying that when paired with Intel's latest SATA drivers the SandForce SF-1200 is the fastest consumer chipset currently available to consumers for general Windows tasks. If you didn't notice, there was a lot of direction in the above statements and anytime the author points you in one direction, you have to wonder what is going on outside the path you were just led down.
A good place to take a stroll through since it is used by nearly everyone is compressed data. The Crucial RealSSD C300 256GB drive is able to transfer (to and from the same drive) this kind of data at twice the speed of the A-DATA S599. In some ways this is like saying my Chevy Corvette will kick your minivans butt in a race. The 256GB C300 costs nearly twice as much as the 100GB A-DATA S599 and we have yet to test the 128GB C300. That data would really go a long way to help determine where your buying Dollar would best be spent. Keeping with the same theme, a minivan gets better gas mileage, costs less and has a wider range of uses than a 2 seat sports car. As it sits right now, the C300 is faster in some tests, but those are more purpose built when compared to the A-DATA S599. Both drives are going to get you to the finish line very quickly and being someone that uses different computers with different SSDs, I would say that in day to day tasks you aren't going to see a difference between the A-DATA S599 and the Crucial RealSSD C300.
The A-DATA S599 is not priced like the other SandForce SF-1200 drives from other manufacturers that we have heard from. We will get into the full pricing details in time, but since A-DATA has placed the S599 right smack in the middle of the new lower priced Indilinx Barefoot controlled drives and the SF-1200s from others, it is reasonable to say if the people looking to spend 425 - 450 USD on a product should look at the S599, then people looking to spend 325 to 350 should also be targeted in this article.
We have discussed in other articles that a new wave of Indilinx Barefoot drives are being prepared for invasion. Armed with the latest ECO variant of the controller and flash that costs less to manufacture, these drives are already hitting the 320 - 330 USD mark. The Corsair Nova 128GB drive
that we reviewed last week
is one of these products and is also close to the top of the benchmark charts you looked at today. With the A-DATA S599 being offered within 50 USD of that range, it may push the Indilinx Barefoot drives even lower which is very good for consumers, but might hamper the sales of 380 Dollar S599 drives. When it comes to performance there is no doubt that the S599 outperforms any Barefoot on the market in every test other than the compressed data transfer test. You will feel the performance difference between an Indilinx Barefoot controlled drive and the A-DATA S599.
Over the last year I've not had many good things to say about drives with 64 or even 80GB of capacity. This has come from personal experience while trying to use an 80GB drive in my daily use notebook. I was uploading content from my notebook to my NAS server every other day just to maintain room and drive performance. The 100GB A-DATA S599 is dangerously close to the capacity of the 80GB drives, but the extra 20GB should be just enough to keep a very large majority of users on notebooks satisfied with the capacity.
The A-DATA S599 is already heading to your favorite e-tailers and should show up as being in stock any day now. Hopefully these e-tailers do consumers a favor and don't take the opportunity to price the drive above MSRP. At 380 USD the S599 should cost less than most SandForce SF-1200 drives on the market at launch time; at least that is what we have gathered from companies that were willing to disclose their price structure to us. Many companies have yet to set or disclose a price so there may be some surprises, but right now the A-DATA S599 is the lowest cost SF-1200 drive we are aware of. At this price point I would have to steer you towards the S599 over Indilinx Barefoot drives that cost 320 USD or more since the performance is so much higher. If the Indilinx drives make it down to 290 USD or less for 128GB then that decision might be a little more difficult.
PRICING: You can find products similar to this one for sale below.

United States: Find other tech and computer products like this over at Amazon.com

United Kingdom: Find other tech and computer products like this over at Amazon.co.uk

Australia: Find other tech and computer products like this over at Amazon.com.au

Canada: Find other tech and computer products like this over at Amazon.ca

Deutschland: Finde andere Technik- und Computerprodukte wie dieses auf Amazon.de
We openly invite the companies who provide us with review samples / who are mentioned or discussed to express their opinion. If any company representative wishes to respond, we will publish the response here. Please contact us if you wish to respond.