The State of Solid State - Chapter II
Chris brings you up to speed with all things happening in the SSD market.
Published Tue, Dec 8 2009 2:37 AM CST
|
Updated Tue, Nov 3 2020 7:02 PM CST
Introduction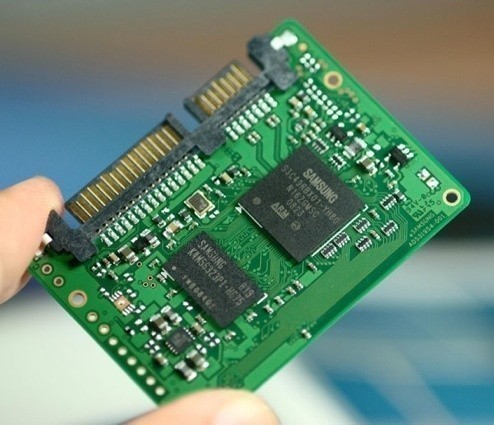 In July of 2008 we published the first
State of Solid State
article. In it we talked about products that were on the horizon, pricing and where we thought the market was headed. Looking back, even I am surprised at how accurate the article was and how long the information was valid for. Like all things in this industry, eventually all things become dated, so it is time to make some new predictions, look at emerging technologies and even make some suggestions to the companies that are offering products to the masses.
It is an exciting time for the storage industry. The introduction of consumer level SSDs is only part of what has been a year of great invention. SATA and SAS 6Gb/s will open the data highways and give us twice the available point to point bandwidth. At the same time, companies like LSI have introduced PCIe 2.0 RAID controllers that provide twice the available bandwidth to the system allowing enterprise, prosumer and enthusiasts to take advantage of new, higher speed products like Seagate's 15K.7 and 15K.2 2.5 inch form factor drive. To date, these are the only two products that we have tested that make use of the 6Gb/s SAS interface and are limited by SAS 3Gb/s.
Today we are going to talk about some of the technology advancements and get into some of the actual products that are currently hush-hush, but information is starting to leak out about. To round everything out, we are also going to get into some of the pricing predictions since the perceived high cost of SSDs has been such a tough wall to climb for many.
Opening the Data Highway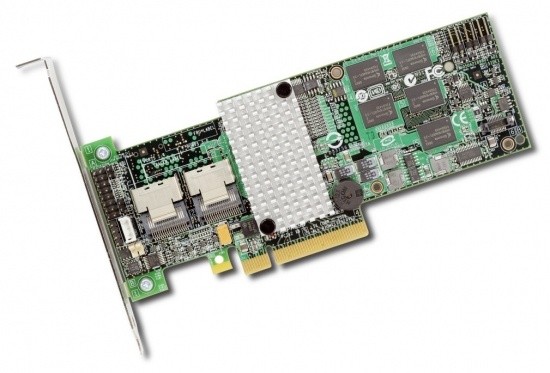 For the first time since I have been involved in computers, a new storage protocol has been introduced after it was needed. Most new products are hampered by the old Chicken or the Egg problem. HDD manufacturers see little need to launch a product until another company launches another product that takes advantage of the HDDs new feature set. In general the most publicized new feature of a new protocol is the transfer rate, a spec that pretty much defines a new protocol. Advancements in timing margins, error correction for better transfer reliability and other small but much improved features are often over looked simply because we have become accustomed to naming a new specification on the speed in which it can transfer data.
For the first time, data transfer rate limits have been hit prior to the introduction of a new class of storage products. In
our review of the PhotoFast V5
we found ourselves limited by SATA 3Gb/s hardware. Looking back all the way to the transition from ATA 33 to ATA 66, we couldn't find any other product that was available for consumers that had reached the transfer speed limits other than a few instances where burst speed had been improved upon as a direct result of a new protocol. If you read the
TweakTown storage articles
you already know that we pay little attention to burst speeds since the high numbers shown in benchmarks do not match the user experience and how a system 'feels' to the user. On the other hand, raising the sustained data transfer rates from 240 MB/s to say 330 MB/s is something that the user will notice when moving large files from one place to another, a measurement felt in time, like how long you have to wait for that damn movie to get to a place so you can finally start watching it.
SATA / SAS 6Gb/s
Our
testing of the Seagate 15K.7
600GB enterprise HDD has already shown us that traditional platter drives are capable of taking advantage of 6Gb/s hardware. We are talking about the real deal, no burst speeds. With the same drive on a first generation SAS controller we saw the minimum, average and maximum transfer speeds being for the most part equal. With the same drive on a second generation SAS controller with twice the theoretical transfer limit, we saw maximum speeds increase by nearly 50 MB/s and average STR go up by close to 17 MB/s.
PCIe 2.0 RAID
LSI and Intel have both launched new PCIe 2.0 RAID controllers with eight PCIe lanes. To keep things simple, just think of PCIe 2.0 with eight lanes like going from PCIe 1.0 eight lanes to PCIe 1.0 16 lanes, like what we had in early video cards with the longer connector. It doesn't work exactly like that, but you get the idea; twice the available highway width means more cars, or in this case data that can pass through, avoiding congestion.
No matter how far they open the data highway, RAID will always be limited since the controller makers can add as many point to point (SAS and SATA) drives as they see fit for a product. It is not uncommon to see RAID controllers being offered with 4, 8, 12, 16 and 24 connectors for drives. With today's hard drives we can saturate a 4-drive RAID adapter's data path to the motherboard. By doubling the bandwidth with PCIe 2.0 hardware, we have to move to an 8 drive array before we start to see a ceiling. PCIe 1.0 controllers would give us a STR of around 800 to 900 MB/s to around 1700 MB/s depending on the hardware used. That 900 MB/s limit has been with us for many years and I am happy to see it go.
USB 3.0
The newcomer to the list is USB 3.0. For years we had to find something else to do while transferring data over USB 2.0. USB 2.0 gave us a real world limit of 30 to 35 MB/s. Hard drives broke this speed all the way back when ATA 100 was introduced many, many years ago.
So far we have only tested the Buffalo DriveStation HD-HXU3, the first USB 3.0 external HDD.
In our testing
we achieved a maximum data transfer speed of 132 MB/s, or a hell of a lot faster than anything USB 2.0 could dream of. The best thing about USB 3.0 is that more speed is available with faster hard drives like the Seagate Barracuda XT and Western Digital Caviar Black for large capacity and just about any solid state drive.
When it comes to the user experience, USB 3.0 is going to bring a big smile to the faces of anyone who has painfully sat through transferring anything over 500 MB through USB 2.0 at 32 MB/s.
IEEE 1394
Created by Apple in 1986, this is commonly referred to as FireWire by everyone other than Sony who chose the name iLink for their consumer products that used the interface. FireWire just won't die, even when Apple has all but forgotten the point to point, serial interface. At its high, IEEE 1394 achieved great success with consumer digital video (DV) manufacturers, but it has been used on everything from external hard drive enclosures to the F22 Raptor.
FireWire uses less CPU resources than USB and in its latest form 1394d adds single mode fiber as a transfer medium. 1394d is said to run at 6.4 Gb/s and still has the ability to run over wire. To date we have not heard of anyone making a consumer product with the latest variant of FireWire, so we expect it to gain as much attention as the S1600 and S3200 spec received.
Seagate - Welcome to the Party Pal
Seagate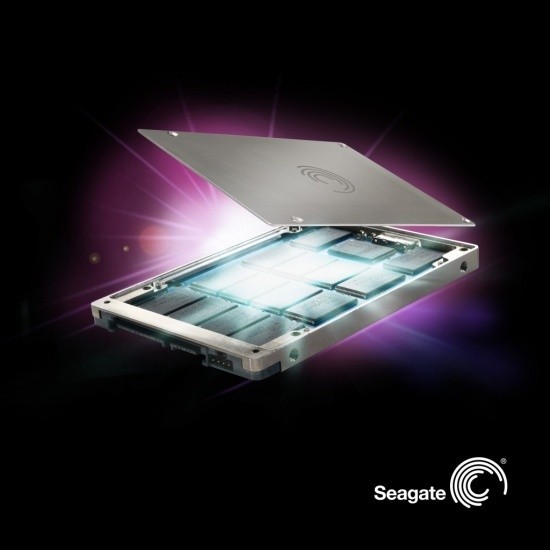 Today
Seagate announced their first solid state product
to the public. For many months, maybe even a year, we heard rumors about Seagate's Pulsar. Even though major OEMs have been testing the drive for many months, the secret has been kept very close to the chest that we only learned of the official product name just a few days ago.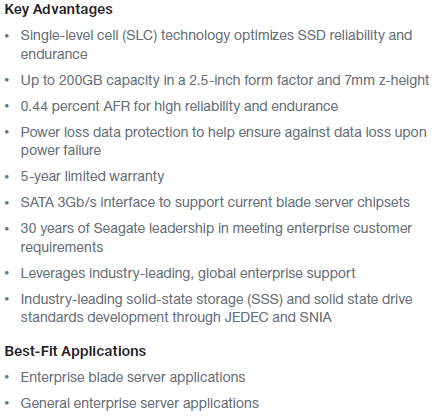 In the above features list you can see some of the information presented in our briefing. Under the Best-Fit Applications header we see the word
enterprise
used twice. Completely absent is
Your Desktop
,
Your Notebook
and
Your Gaming System
that is made with an
Enterprise Motherboard and Processors
, but is
Still Solely Used to Play Modern Warfare II 15 Hours a Day
.
Seagate has told us that their first SSD will be OEM only, at least at first. In our discussion a retail drive was never discussed and it is not uncommon for enterprise products to be released only to large OEMs like IBM, Lenovo, Dell and the like. Still, even though Seagate can do a really good job keeping secrets, the OEM market can't keep hardware OEM very long and eventually we will see a few drives enter the channel through gray market and second hand sources. As for me, I should have a drive or two within a month to test and provide a detailed play by play analysis, so keep an eye out.
Seagate's product launch information was very informative and you can
read Sean's coverage from the briefing here
. Just a few hours after the briefing I had a conversation with Seagate's Senior PR Manager responsible for enterprise storage, security and future emerging storage technologies, David Szabados. David has always been on the level and is an enthusiast at heart. Below you will find some additional information about the Pulsar that was not covered in the press release.
TweakTown
: All of the latest SSDs are pretty much defined by the controller used; Indilinx, Intel, JMicron and so forth. For the most part we consider these
off the rack
so to speak. Did Seagate use an off the rack controller or design their own controller for use in the Pulsar?
David
: Regarding various components (not just controller), Seagate does have an extensive in-house team that works directly on the controller, firmware and other areas - essentially covering all areas of design development. But, very much like our HDDs, we also use outside sources for help when it works to our advantage to provide a better end product. So while I'm sorry I'm not permitted to state what specifically is Seagate vs. not, I can say that everything in here is customized, not off-the-rack only, to make it a Seagate product in the end.
TT
: The Intel X25-M is a 10 channel controller and in our lab we have observed the number of channels has a direct affect on real world performance. How many channels are currently present in the Pulsar?
David
: The Pulsar currently has 16 channels.
TT
: How much cache?
David
: Pulsar does not have cache. So the next question may be, "Then why/how the power loss feature?" - Pulsar does utilize some amount of volatile buffers in the architecture - thus the ability for power loss functionality.
TT
: What type of flash is used, 34nm?
David
: Yes, 34nm.
TT
: Seagate has a long history of developing and bringing to the market industry firsts. How has Seagate changed SSDs with this launch?
David
: This may sound "fluffy" but bear with me as there is a point. There are unique areas of the technology and that's well and good, but not the primary story here. It's more a Seagate story. This being the first enterprise-level SSD to come from a HDD maker, Seagate understands storage obviously. But what does that really mean? Well, a key advantage is that we've worked with our OEMs for years on design and development, qualification and testing, as well as making an ideal supply chain to deliver the storage volumes that our customers require.
When you're talking a company that revenues 12B, you do have to have all of your processes in place to keep the efficient engine running. Also, we are one of the leaders in standards development - and there has been, as you know, lots of hype about performance and endurance and so large OEMs are weary of being let down with exaggerated claims.
Long story short, they know that if Seagate puts its name on it, we will stand behind it. And we've got the resources in place for volume delivery, support, etc.
TT
: We have already tested one consumer/prosumer SSD, the PhotoFast V5 that was limited by SATA 3G. Why did Seagate opt to make the new Pulsar a SATA 3G product instead of SATA 6G?
David
: Right now our OEMs are calling for use of existing SATA within their designs. The chipsets of many blades is what Pulsar is designated to go into and they use 3G SATA, so it's a matter of "making what our customers want".
We always take a proof-is-in-the-pudding attitude around and judge products based on what we find in our own labs. With history as our guide, I can tell you that Seagate almost always makes some tasty pudding. Judging from the number of controllers alone, I think we are going to find that the Pulsar will be able to saturate a SATA 3.0 connection. Obviously a SATA or SAS 6Gb/s link would be ideal, at least in theory with the information we have gathered, but Seagate has designed the Pulsar as a drop in replacement, ready to work in servers that are already on the market and give the OEM's customers an easy upgrade path. The cache information given is a little odd, but we will just wait for our test sample to see how it affects performance.
When it really comes down to it, the facts are that Seagate, the world's largest hard drive manufacturer and company that carries the biggest stick, has now entered the solid state market. Seagate's potential to change the entire SSD landscape is even bigger than what we saw when Intel released the X25 Series.
Indilinx - Setting the Pace, Slow but Steady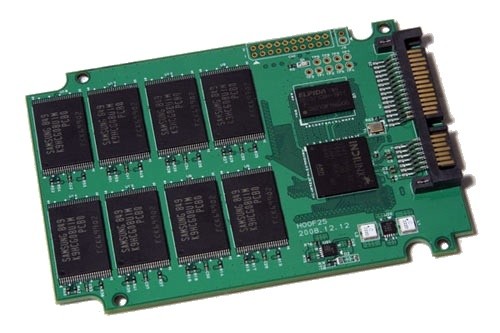 Until a little over a year ago we hadn't even heard of Indilinx. These guys just popped up on the radar and swarmed the consumer SSD market. Of all the solid state drives we have reviewed here at TweakTown, I would have to say that 80% or more have been based on Indilinx's Barefoot controller. The Barefoot has proven to be a very versatile controller with the ability to use both SLC and MLC flash.
Certainly the award for the craziest SSD with a Barefoot controller goes to the
PhotoFast G-Monster V5
. The 256GB sample we received from
DVNation
used dual custom 128GB SSDs and a custom RAID controller. Everything was stuffed inside of a single 2.5 inch, standard notebook height (9mm) form factor drive and laughed at every other SATA II SSD on the market.
Indilinx has released an updated version of the Barefoot in recent months, the Barefoot Eco. So far only G.Skill has released a SSD based on the updated Eco version of Barefoot and
we reviewed the Falcon II
last month. The biggest standout for the Eco version is its ability to use the joint Intel / Micron 34nm flash that allows SSDs to be manufactured at a reduced cost.
The Successor to Barefoot, Jet Stream Takes a Nose Dive
The successor to Indilinx's popular Barefoot controller is code named Jet Stream. Indilinx has a small section on their website dedicated to upcoming projects. In it we found the following information about Jet Stream.
Jet Stream is an SSD that Reaches the speed of 500 MB/s based on the memory cells integrated by high-speed interface, memory architecture and nano-technology through significantly improving NAS flash memory technology, which has not shown much difference for the last 17 years.

Due to the functional limitations of all kinds of NAND flash memory so far commercialized, it has been impossible for SSDs to save and search massive amounts of data. However, Jet Stream will support SATA 3.0 (6.0Gbps) interface and will support next generation flash memory interface such as ONFI and DDR type. With these features, Jet Stream will achieve the high-speed SSDs by overcoming the technological limitations of existing SSDs and help you establish storage systems with greatest-level stability and performance.

A prototype will be developed by the second half of 2009 for examination of basic operations.
As you can see, Jet Stream is not merely a reworked Barefoot, but a completely new controller that can only be defined as next generation and beyond. We have learned that Jet Stream failed to meet the "Second half of 2009" sampling date and this stage has been pushed back into 2010, meaning that we will not see retail consumer products until late Q1 or even Q2 2010.
We have high hopes for the Jet Stream, but it is looking like Marvel will have a SATA 3.0 (6Gb/s) controller to the market in mid Q1 2010 and that will dilute Indilinx's market share. We will be interviewing the Indilinx SATA 3.0 product manager in the coming weeks to gain some additional insight on Jet Stream and other upcoming Indilinx technology.
Marvell - The New Hope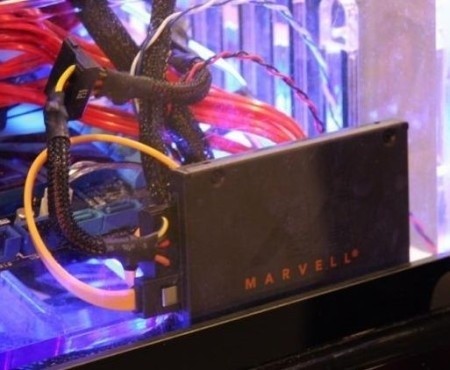 The new Marvell controller came to my attention when a
forum post was added
to TweakTown's forums. Little is known about this SATA 3.0 controller other than they do exist and in enough quantity that we are getting random forum posts leaking information. So far this is what we have.
SATA 6Gb/s Interface
294MB/s Average Read Speeds on the Leaked Hardware in HD Tach
Labeled MARVELL SD88SA024SA0 SUN
Leaked SSD HDD Capacity was 34GB
After I wrote this section of this article, both OCZ and Micron announced they would both be showing solid state drives based on the new Marvell controller at CES. Micron has since released a video on YouTube that shows their version, the RealSSD C300 in action.
One thing that we are most excited about is the fact that hardware is already in existence and that we are actually seeing it, even though we have yet to touch it. Our day will come, more specifically on January 5 2010 when we will definitely have some real world performance numbers and if at all possible someone will ensure a sample hits our labs prior to our flight to Las Vegas.
NAND Flash - The Other Half of the Story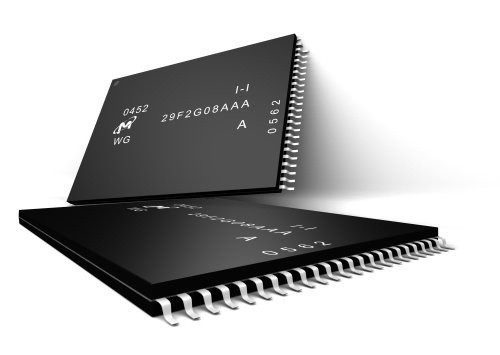 So far we have talked a lot about interfaces and controllers, but that is only half of the story. Recently Intel and Micron co-introduced 34nm flash memory. By shrinking the manufacturing process they were able to deliver lower cost, lower power flash memory for use in SSDs.
The next leap in flash technology will come from double data rate (DDR) flash memory. Just like the DDR used in our DDR random access memory (RAM), DDR flash will allow more data to flow and give us twice the effective speed. Samsung is leading the charge with their recently announced 30nm class DDR MLC NAND flash. The new MLC DDR flash reads data at 133 Mbps, up from 40 Mbps with Samsung's own single data rate flash.
Looking back at the information provided on Indilinx's page on the Jet Stream, we already know that Jet Stream will be able to use DDR NAND flash; at least that is what they are reporting now.
OCZ Technology - Going Beyond a Rebadge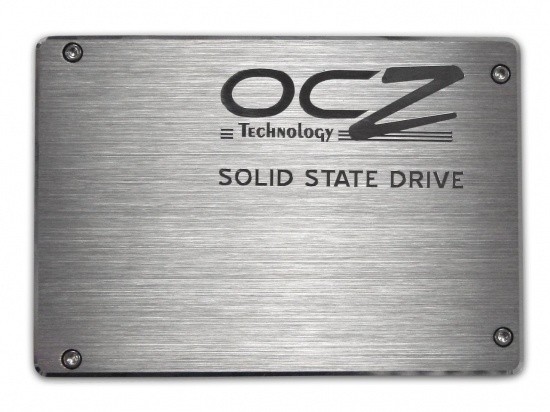 OCZ Technology has led the charge for consumer solid state drives. No other company has released so many different SSD products in the two years that I have been covering the market. Currently the OCZ website shows nine different product names that are currently available and several others that have passed EOL (End of Life). This is a staggering number and something that we couldn't overlook in the State of Solid State II.
Recently it has come to light that OCZ has been working closely with Indilinx. Of the nine current life SSDs OCZ offers, six are based on the Indilinx Barefoot controller, so it is of little surprise to see the two companies working so closely together. To date, OCZ has been the first to release any new firmware updates for Indilinx controlled drives; they have also been a leader in distributing beta firmware for end users to use.
OCZ sells some of the most advanced Barefoot SSDs on the market. The Vertex EX drive appears to be a cut above all other Barefoot drives since it uses very fast single level cell memory that also extends the drives overall life. The Agility EX is also an SLC drive and a very close cousin to the Vertex EX.
The OCZ Technology forum is also a great place to start if you are researching solid state drives since it has one of the largest user groups to date.
OCZ Technology has also announced they will be publically displaying next generation products based on Marvell technology at CES 2010.
PCIe SSDs - The Honorable Mentions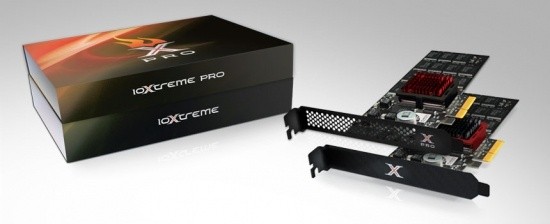 The first PCIe solid state drive we tested was
the Fusion-io ioDrive
. This drive still holds the speed crown for our lab, but the 3,000 USD price tag for the tested 80GB drive will never fly for desktop use. Just last month Fusion-io released their ioXtreme and ioXtreme Pro drives for power users, enthusiasts and those with more money and PCIe slots than most.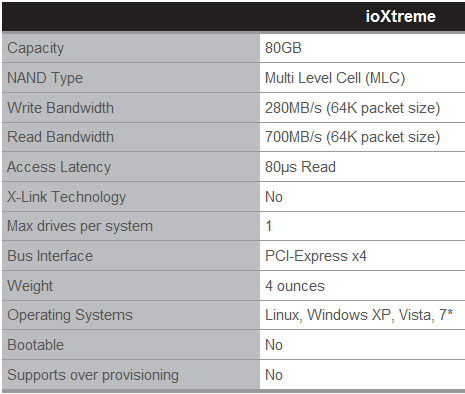 The two ioXtreme Products are quite a bit different from the enterprise class ioDrive we looked at last year. To start with, the ioXtreme Series uses MLC flash memory that is able to achieve reads of 700MB/s, but the write speeds are only 280MB/s (Editor's Note: "Only"). Fusion-io has yet to deliver a bootable product and even though the ioXtreme is marketed to power users, the 900 Dollar price for 80GB of extremely fast capacity is still a tough pill to swallow. We may feel differently after testing the ioXtreme and seeing how well it performs in our tests and we get a chance to feel real world performance.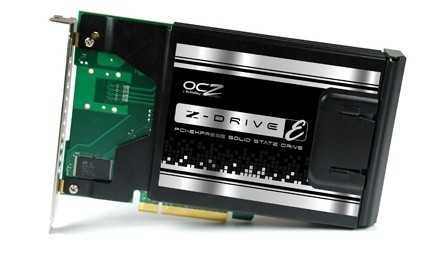 OCZ Technology and PhotoFast both have their own PCIe SSDs. We tested the
PhotoFast G-Monster-Promise PCIe SSD
back in August of 2009 and found that it performed very well; this despite the fact that it was only four consumer class SSDs attached to a Promise SATA/SAS RAID controller on the inside. We were hoping for ioDrive performance, but walked away disappointed knowing that PCIe 2.0 controllers were on the horizon and these would open up the data path for higher speeds. We are hopeful that innovators like OCZ and PhotoFast will be able to make use of PCIe 2.0 RAID controllers in their next round of PCIe interface SSDs.
Pricing - SSDs True Benchmark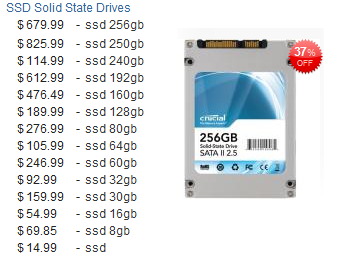 We went out on a limb in the first State of Solid State editorial and predicted that SSDs would rapidly start to rise in popularity and prices would in turn fall. For the first few months this is exactly what happened, more competition and products drove prices down to the point where consumer SSDs from OCZ Technology, Super Talent, G.Skill and Patriot to name a few were becoming reasonable to even mainstream users. The big price reduction from Intel pushed the consumer SSD market even further and put Intel's X25-M in the trenches with affordable SSDs.
For the last few months solid state drive prices have held steady. This has been in part due to high demand, low availability and the fact that just about everything on your kids Christmas list has flash memory in it. As companies ramped up their manufacturing of consumer products that use flash memory, we have seen flash value rise and in turn the cost of all that uses flash has been unable to decline in price. In some cases we are even seeing SSDs go up in value.
All is not a wash for those looking to purchase an affordable SSD, but don't expect to see the words sale and SSD together very often before the holidays. After Christmas and CES there is a chance that we will get a double dip in the current line of solid stage drive prices. The first will come from flash availability being steady again; more flash means lower prices as long as manufacturers do not decrease production.
The second dip will only be a small window and it will happen when the consumer market retires the current product lines and rolls out next generation technology from Marvell, SandForce, Prilant and eventually the Indilinx Jet Stream. The delay of Jet Stream really killed any hopes of massive price cuts across the board for current products since many companies have invested so much R&D time into the Barefoot controllers. If we do see Marvell and Indilinx launching their next generation controllers near the same time, we may see the current offerings marked down as much as 40% just to clear inventory. At this time 40% off SSDs is looking like a fantasy, but if the perfect storm hits be prepared to act quickly.
As with everything, finding a good deal has a lot to do with place and timing. Using services like Pricegrabber and
The TweakTown Shopping Network
powered by Pricegrabber will allow you to scan several online shops at the same time to find the best possible price for the day.
PRICING: You can find products similar to this one for sale below.

United States: Find other tech and computer products like this over at Amazon.com

United Kingdom: Find other tech and computer products like this over at Amazon.co.uk

Australia: Find other tech and computer products like this over at Amazon.com.au

Canada: Find other tech and computer products like this over at Amazon.ca

Deutschland: Finde andere Technik- und Computerprodukte wie dieses auf Amazon.de
We openly invite the companies who provide us with review samples / who are mentioned or discussed to express their opinion. If any company representative wishes to respond, we will publish the response here. Please contact us if you wish to respond.