TweakTown's Rating: 89%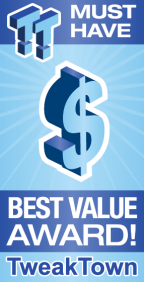 The Bottom Line
The GEEKOM AS 5 is a very well priced and solid mini PC that is perfect for entry-level gaming and productivity workloads.
Pros
+

Price

+

2.5Gbe LAN

+

Wi-Fi 6e
Cons
-

NVMe limited to PCIe Gen3
Should you buy it?
Avoid
Consider
Shortlist
Buy
Introduction, Specifications, and Pricing
With the announcement that Intel would shift its NUC production to ASUS, we were quite surprised that GEEKOM also partnered with ASUS to produce its new lineup of Mini PC. The AS 5 is the first of this latest round of offerings and the first of multiple units we have in-house to share with you.
We kick off specifications first with the device footprint, which sits at 120x130mm with a 58mm height. Overall, this gives this chassis a 0.9L capacity, with its weight hovering just over 0.75kg.
Diving into the hardware, this is an AMD Ryzen platform. It features the Ryzen 9 5900HX, an eight-core / sixteen-thread CPU with a base clock of 3.3GHz and boost up to 4.6GHz. Integrated graphics come from the Vega 8 family. DDR4 memory is supported up to 3200MHz on this machine, with 32GB installed from the factory, and peak capacity is 64GB.
Storage includes support for dual 2280 M.2 drives at PCIe Gen3 speeds and a single SATA port for your 2.5" solutions. Connectivity consists of both 2.5Gbe and WiFi6e. We also note Bluetooth 5.2 support, four USB 3.2 Gen 1, and two USB 3.2 Gen 2.
Pricing
The GEEKOM AS 5 carries an MSRP of $779.99, though the current market price is much lower. The warranty stands at one year. GEEKOM is offering TweakTown readers a price of $564 for this unit when using code AS540A at check out.
Overview and BIOS
Overview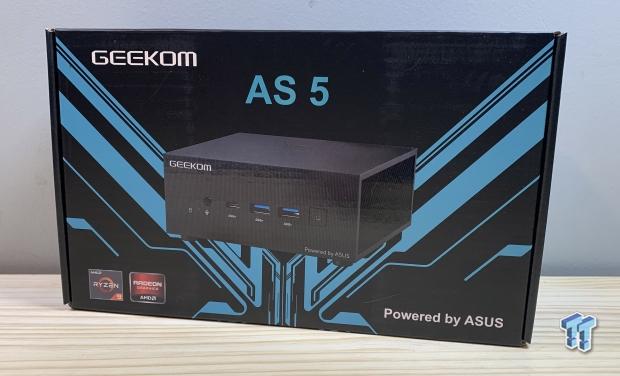 The AS 5 was delivered in its retail packaging, including an image of the PC on the front and internal hardware at the bottom.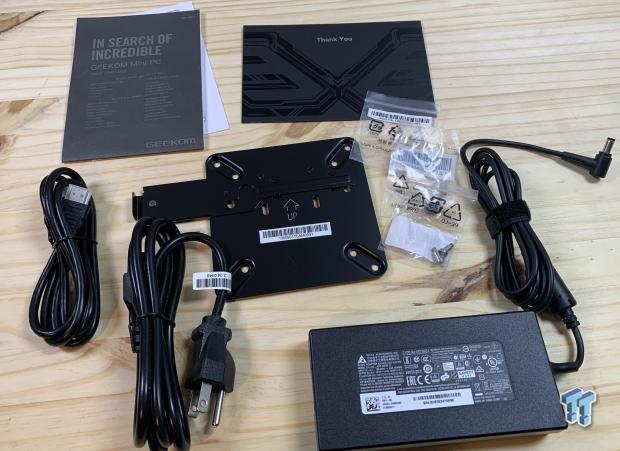 Unboxing, we first meet the accessory kit, which includes the VESA mount and hardware, HDMI cables, and power adapter.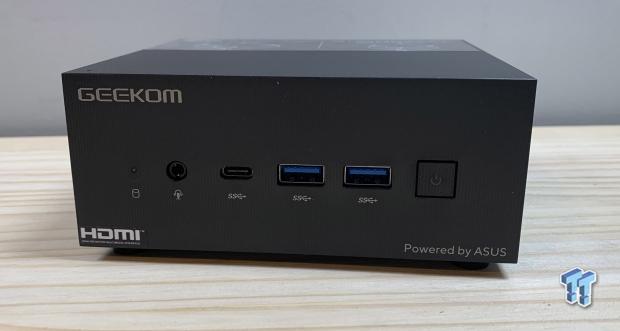 The new GEEKOM units have a modern aesthetic; note the powered by ASUS logo bottom right. Front connectivity includes mic/headphone input, a single type-C port and dual type-A, power button far right.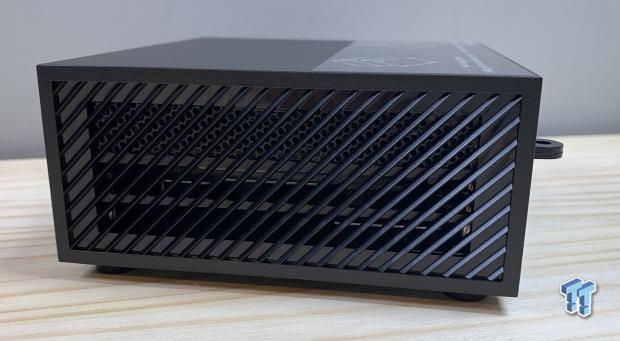 The sides on this unit are both vented, the left side housing a Kensington lock.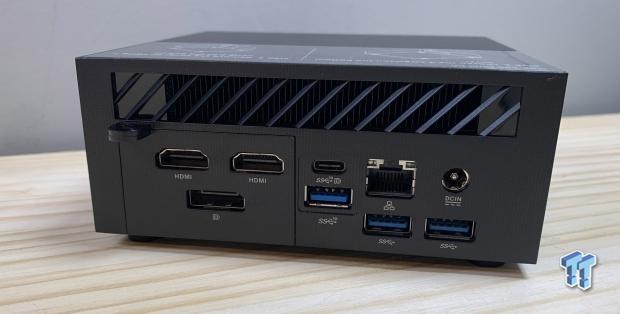 On the back of the unit, we have a set of HDMI ports far left with DP just under. Top right, we run into a Type-C that supports display output next to the 2.5Gbe port and power input. Bottom row, we have three Type-A ports.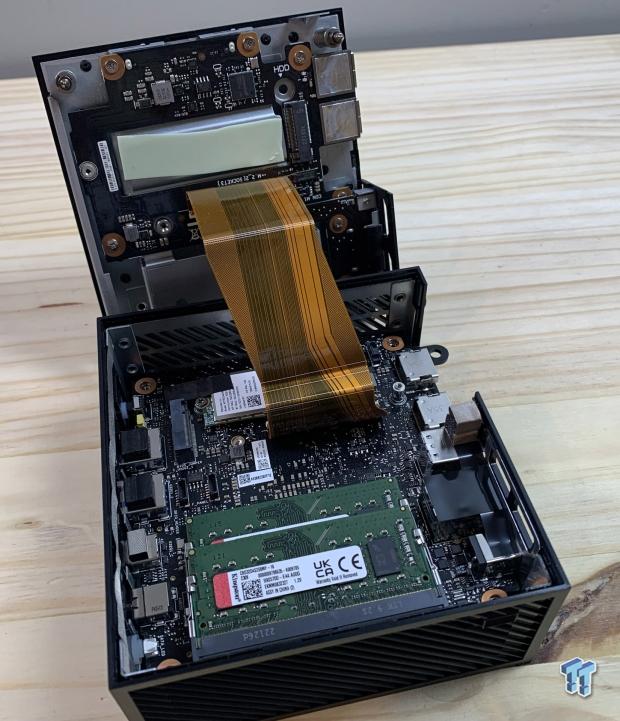 Internally, the m.2 slots are on the lid of the chassis. Wi-Fi lives at the top of the motherboard, with the DDR4 SO-DIMM slots down below.
BIOS/UEFI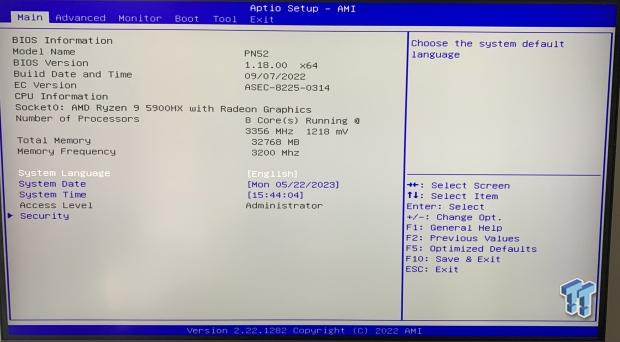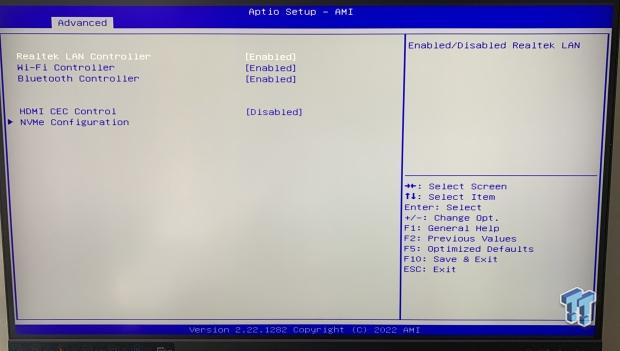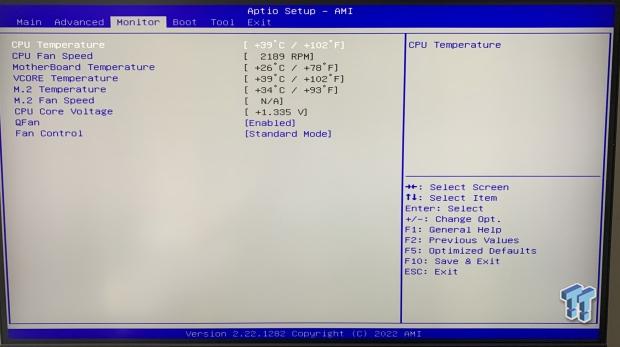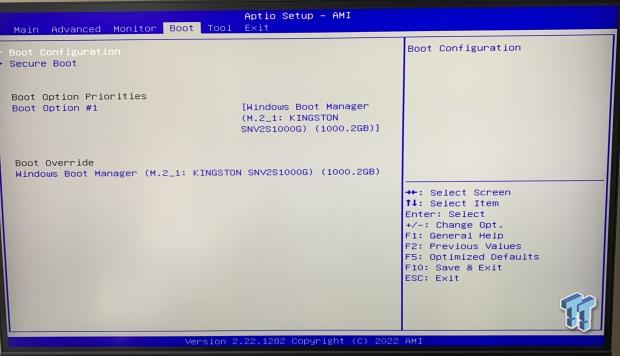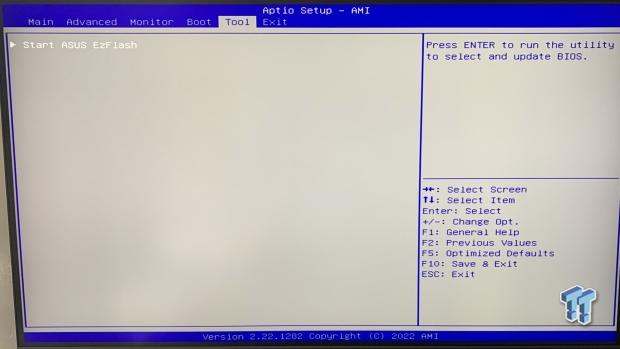 The BIOS on this machine uses the older, basic EFI system. This includes hardware information on the first page and the advanced section for setting up NVMe, HDMI CEC control, and LAN controllers. The monitoring section handles current fan speeds and temperatures.
There are a few preset speeds for the fans, and ASUS has also put Qfan control in here. Last, we have the boot menu, which handles your bootable devices with an override if you need to boot a USB device, while the Tools menu is where we update the BIOS.
System/CPU Benchmarks
Cinebench
Cinebench is a long-standing render benchmark that has been heavily relied upon by both Intel and AMD to showcase their newest platforms during unveils. The benchmark has two tests, a single-core workload utilizing one thread or 1T. There is also a multi-threaded test that uses all threads or nT of a tested CPU.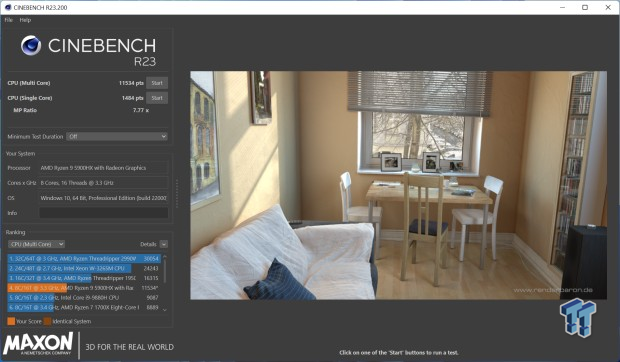 We start with R23, as always. Single thread or 1T picked up 1484, while we see 11534 for nT.
BAPCo CrossMark
CrossMark™ is an easy-to-run native cross-platform benchmark that measures the overall system performance and system responsiveness using models of real-world applications. CrossMark™ supports devices running Windows, iOS, and macOS platforms.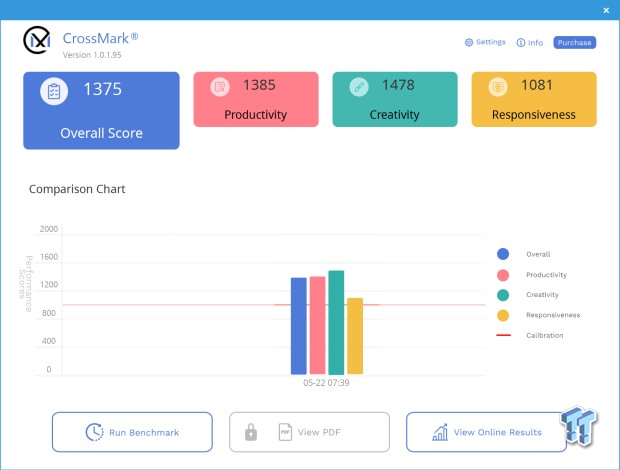 Crossmark offered us an overall of 1375 for the AS 5. Creativity picked up the highest of the three scores.
AIDA64 Memory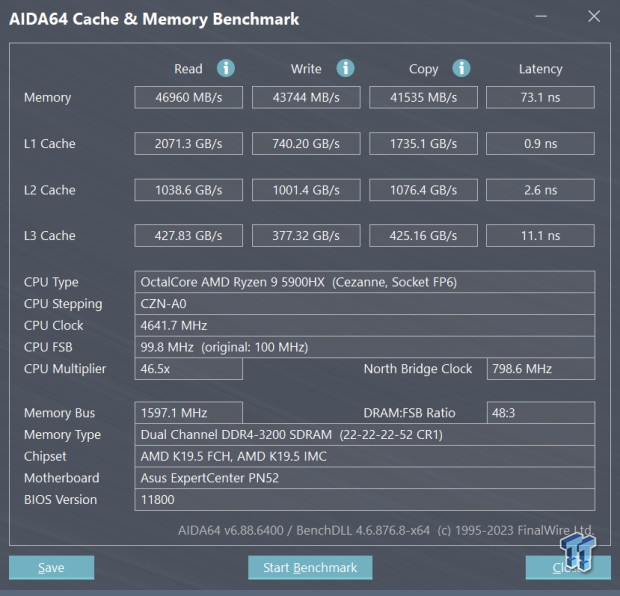 Memory bandwidth landed at 46K read, 43K write, and 41K copy. Latency, while a bit high, was 73.1ns.
Geekbench 6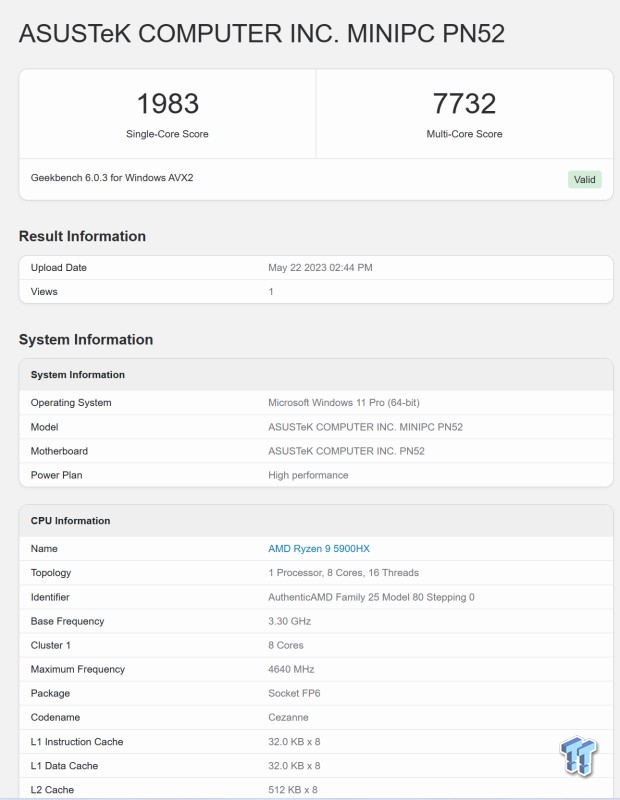 Geekbench offered us a single thread score of 1983, while multi-core landed at 7732.
OpenCL finished up with a score of 18059 for the Vega 8.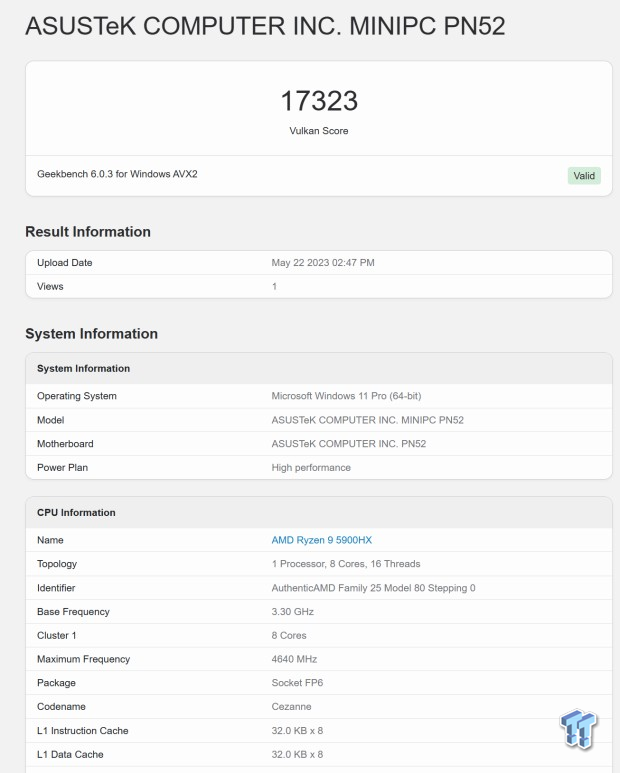 Vulkan API scored 17323 in GB6.
UL Benchmarks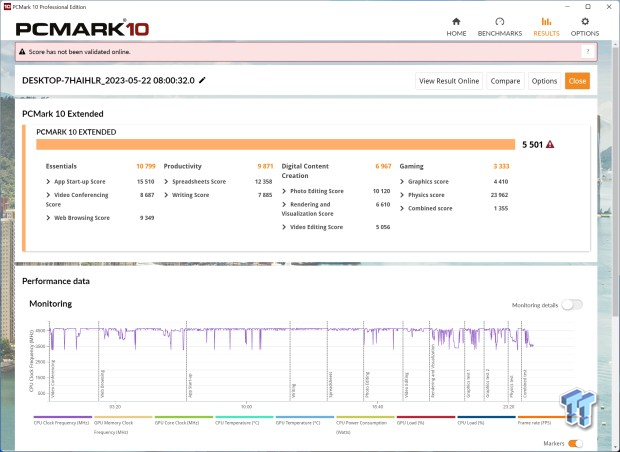 PCMark Extended picked up an overall score of 5501 for the AS 5. Essentials picked up the largest chunk at 10799, while gaming landed at 3333.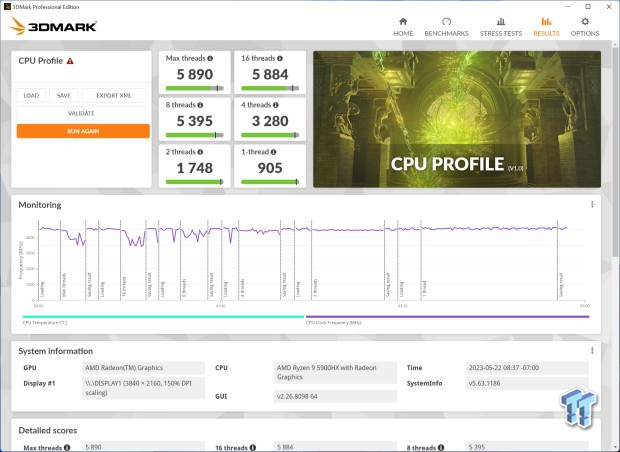 CPU Profile kicked off our 3DMark benchmarks, the AS 5 picked up 905 single thread and 5884 multi-threads.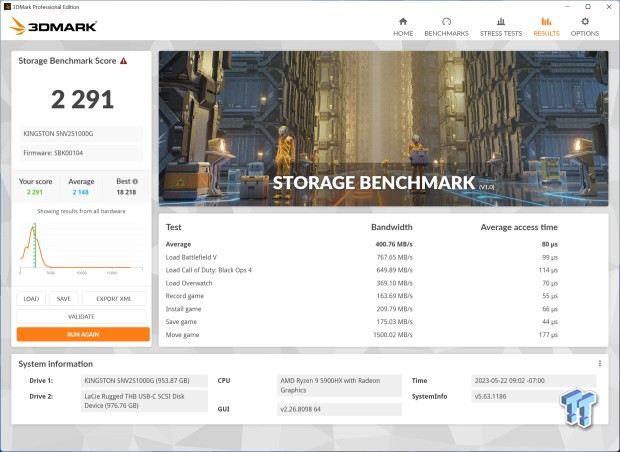 3DMark Storage gave us an overall score of 2291. For Gen3, this is quite good and does rival some Gen4 drives.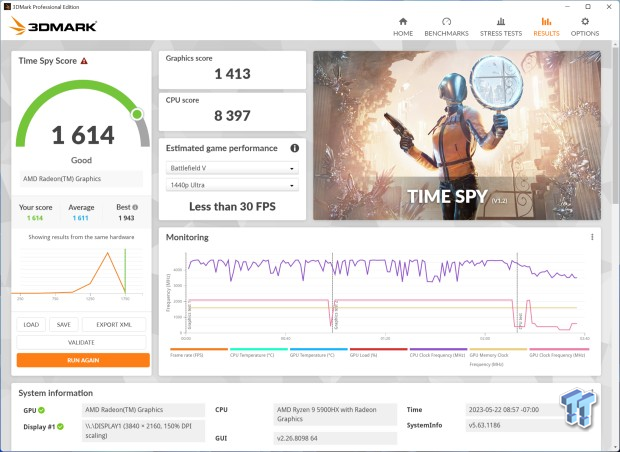 We also hit up 3DMark Time Spy with the score landing at 1614, graphics picking up 1413, and the CPU 8397.
Final Thoughts
With testing complete on the GEEKOM AS 5, I came away quite happy with its performance as this unit certainly excels with higher core count workloads, as seen in our benchmarks above.
We picked up solid performance in R23 nT and CPU Profile in 3DMark, with the AS 5 scoring 11534 in multi-core, putting it right up with the 7000 series ASRock 4x4BOX we tested earlier in the year. Single-core workloads struggle on this unit, likely because of the lower IPC of Ryzen 500 compared to 7000 or even Intel's 12th and 13th Gen options.
Looking at gaming, I ran through Time Spy for this review and played games like Cities Skylines and Farming Simulator on this just fine. Triple-A titles will likely have to lower the settings or make do with lower frame rates. That said, we did pick up a score of 1614 in Time Spy, the breakdown giving 1413 to graphics and 8397 to the CPU.
The connectivity of this unit is quite good. We miss out on higher-end options like USB4 and Thunderbolt 4, but the system offers us multiple USB-C backed by USB 3.2 Gen 1 on the front of the unit, and for increased speeds, we have a USB 3.2 Gen 2 on the rear.
The pricing of the GEEKOM AS 5 is quite good. It aligns with the current Intel NUC 13 Pro and offers a significant advantage over that system in higher core count workloads and gaming performance.