TweakTown's Rating: 90%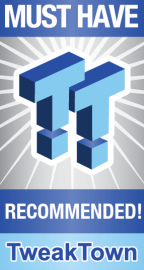 The Bottom Line
The Endgame Gear XM2we Wireless Gaming Mouse delivers where it counts - gaming performance. With great hardware, a solid and minimal symmetrical build, and smooth, lightweight movement, it's an affordable wireless option for FPS gamers everywhere.
Pros
+

The simple, solid, no-frills design

+

Excellent sensor and switch hardware

+

Smooth and lightweight, it's great for FPS gamers

+

Side button positioning is perfect

+

Wired and wireless modes
Cons
-

Left and right click buttons do require a bit more force than expected

-

The stiff scroll-wheel steps are more suited to gaming than productivity
Should you buy it?
Avoid
Consider
Shortlist
Buy
Introduction & Specification Details and Close-up
Simplicity can go a long way for certain peripherals, where some great components and an overall excellent build quality deliver a no-frills, does-the-job design. The lightweight XM2we from German company Endgame Gear is the company's latest wireless mouse for gaming, and it sports some impressive tech under the hood for what the company is positioning as an affordable high-performance mouse for gamers.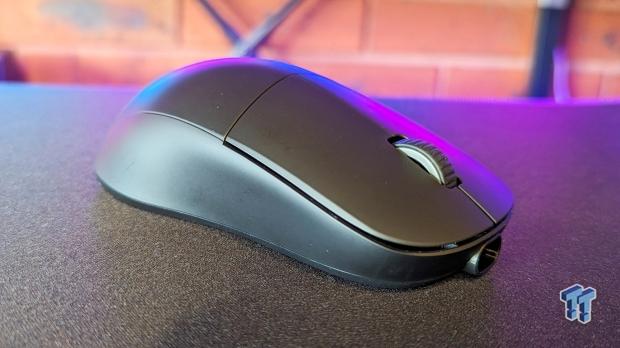 At a glance, you're getting simplicity with a simple 5-button design, a symmetrical shape to suit most grips, plug-and-play functionality, and nothing in the way of RGB lighting. The only branding here is the Endgame Gear logo on the front side next to the left click, making it the sort of mouse that should easily slot into any setup - and it's available in black or white.
Endgame Gear still has the XM2 on the way sometime this year, with the XM2we's MSRR of USD 79.99 presenting an affordable option if you're after a mouse that doesn't cut any corners regarding performance. And with an overall weight of 63 grams for the black model reviewed here (apparently, the white version weighs 0.5 grams more for some reason), the new Endgame Gear XM2we Wireless Gaming Mouse is ultralight - adding to its allure for those that mainly play competitive shooters or fast-paced games.
Specifications & Close Up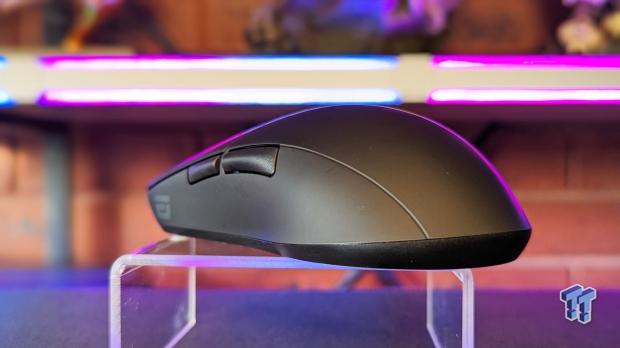 Product Type: Gaming Mouse
Product Name: Endgame Gear XM2we Wireless Gaming Mouse
Interface: Wireless (2.4GHz), Wired (USB)
Sensor: PixArt PAW3370
DPI/CPI: 19000
Polling Rate: 1000Hz
Speed: 400 IPS
Switch: Kailh GO Optical Switches (for Left/Right), Kailh GM 2.0 switches (for Middle and Side Buttons)
Buttons: 5
Lighting: None
Weight: 63 grams
Battery Life: Up to a week
In the Box: Endgame Gear XM2we Wireless Gaming Mouse, USB Dongle, USB Cable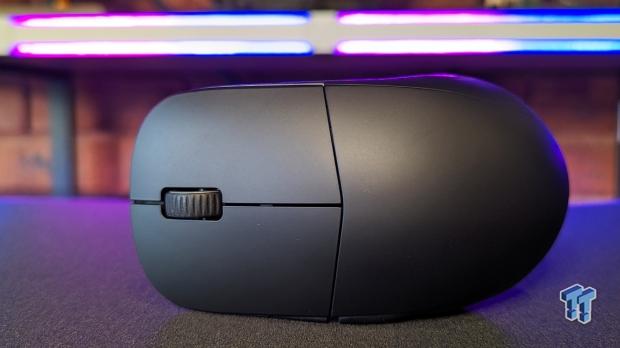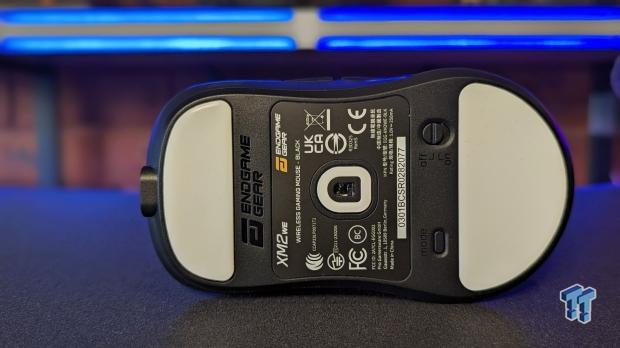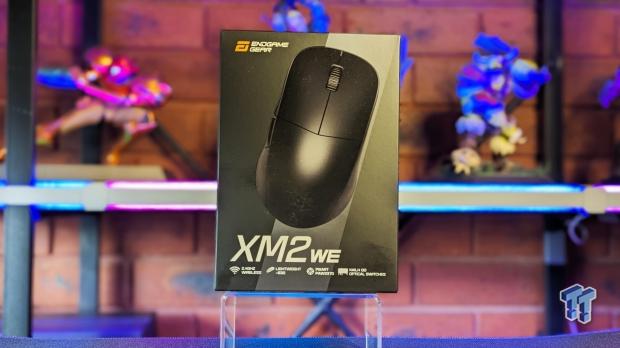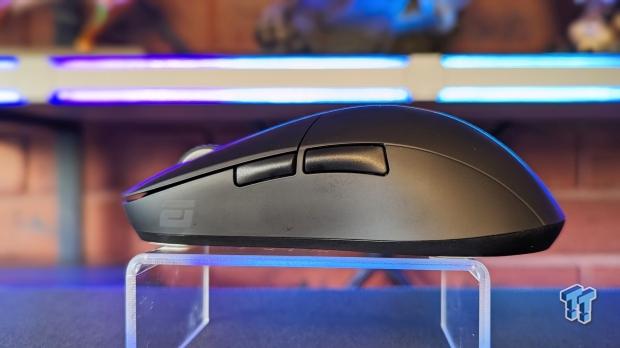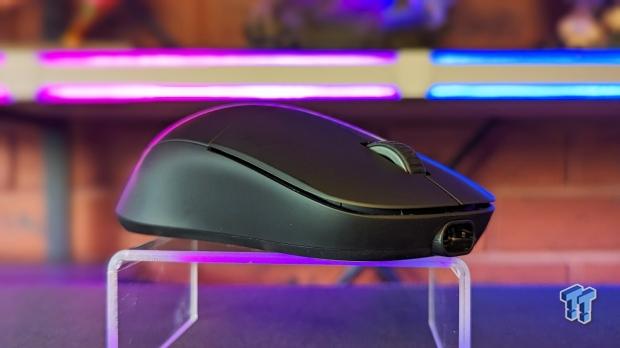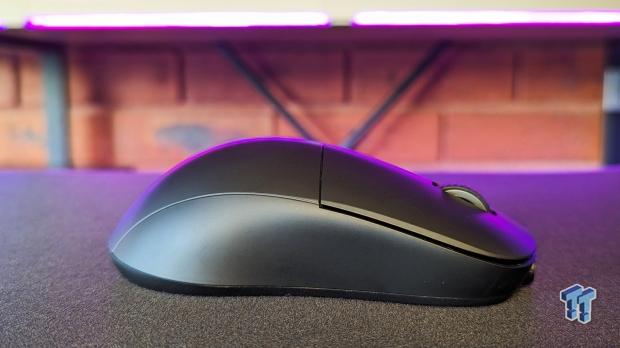 Kosta's Test System Specifications
Motherboard: MSI MPG X670E Carbon Wi-Fi
CPU: AMD Ryzen 9 7900X
GPU: NVIDIA GeForce RTX 4090 Founders Edition
Cooler: Corsair iCUE H100i RGB PRO XT Liquid CPU Cooler
RAM: 64GB (2x32GB) Corsair DOMINATOR PLATINUM RGB DDR5 DRAM 5200MHz
SSD: Sabrent Rocket 4 Plus-G M.2 PCIe Gen 4 SSD 4TB, Sabrent Rocket 4 Plus Plus M.2 PCIe Gen 4 SSD 8TB
Power Supply: Thermaltake Toughpower GF1 850W
Case: Thermaltake Core P3 Tempered Glass Snow
OS: Microsoft Windows 11 Pro 64-bit
Design, Sensor, & Software
Design
Per the introduction, the Endgame Gear XM2we Wireless Gaming Mouse features a no-frills physical design in that the symmetrical shape, side buttons, and scroll wheel are all presented without any additional flourishes. This is good because it lets the performance do the talking, though you miss out on things like textured or even rubberized grips for comfort. The XM2we has a great feel thanks to the lightweight 63-gram build and the generous PTFE feet on the underside for silky smooth movement.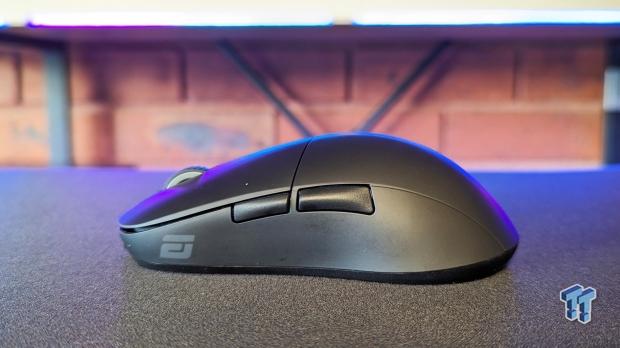 Saying that a product features a no-frills design doesn't mean that no thought or care was put into the design; some great touches are found on the Endgame Gear XM2we. For example, the flexible USB cable you can connect for play-and-charge functionality is angled slightly on the mouse side. This means that the silky-smooth movement applies to using the Endgame Gear XM2we in wired mode, as the cable won't touch your mousepad to add additional drag around the mouse.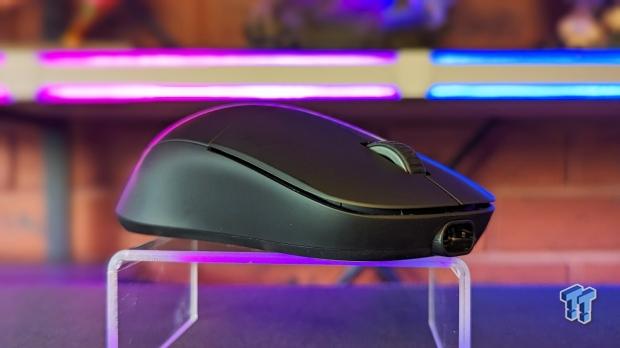 The side buttons are also positioned perfectly for quick access with your thumb. They are also angled slightly to facilitate pressing them from the underside - another small but very cool touch to the physical design and ergonomics of the Endgame Gear XM2we Wireless Gaming Mouse. You've also got an excellent (albeit stiff) click-feel thanks to the new Kailh GO Optical Switches for the main left and right click buttons. These are rated at 80 million clicks, so they'll last a lifetime, with the stiffness being more about the increased actuation force required than something like the DeathAdder Pro from Razer.
Sensor
It's clear that Endgame Gear has packed the XM2we with some great hardware; where in addition to the Kailh GO Optical Switches for the left and right click buttons and Kailh GM 2.0 switches for the side buttons, you've got the impressive PixArt PAW3370 sensor that offers a CPI (or DPI) resolution of up to 19,000 - which is more than enough for firing up a competitive shooter like CS:GO and playing the game casually or at the pro or semi-pro level.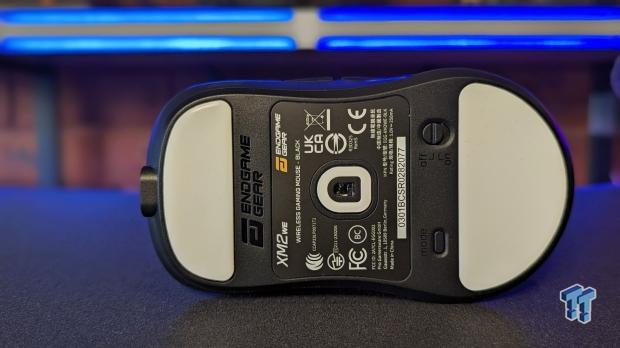 Compared to the PixArt PMW3389, which can be found in several high-performance wireless gaming mice, the PixArt PAW3370 supports a lower lift-off distance (as low as 1mm) and a lower error rate for improved reliability.
Software
Regarding software support for peripherals, we often see that hardware makers create a single app to cover all of their products. Things are slightly different for the Endgame Gear XM2we Wireless Gaming Mouse in that customization is handled via a dedicated XM2we configuration app. Plus, a separate tool for upgrading the firmware. Outside of the fact that there's no way to scale the size of the app's interface, it's a simple and clean tool that's great for making CPI adjustments, setting up profiles, and changing things like lift-off distance and polling rate.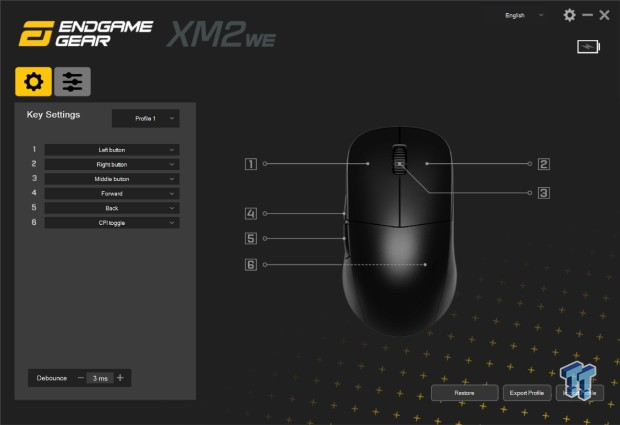 The good news is that it's not an app that you need to keep open or have running in the background, as once I made a few changes to the CPI Stages and individual settings, there wasn't a need to keep going back. It's simple-to-use thanks to being designed specifically for the Endgame Gear XM2we Wireless Gaming Mouse - and with that, it doesn't feature any excess bloat.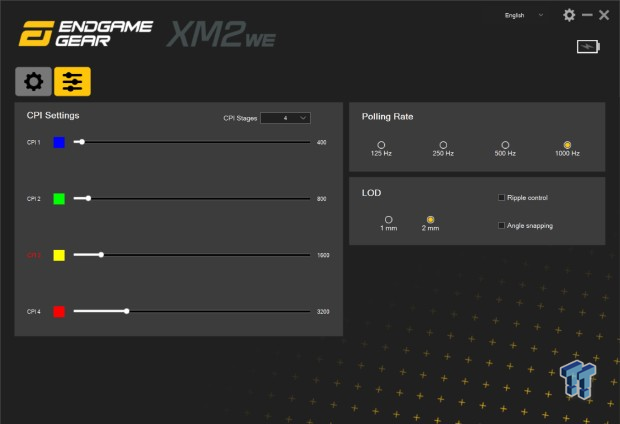 There is an option to adjust the Debounce time, which is how long it takes for a switch to register a click, which is nice to see as that's not something you'd find in software from some of the more mainstream brands.
Gaming Performance and Productivity
Gaming Performance
With its symmetrical design, great click-feel, and smooth movement, the first games I fired up to put the Endgame Gear XM2we to the test were Apex Legends for some Battle Royale action and DOOM Eternal to play through a couple of Master Levels. With excellent performance, smooth movement, and no noticeable issues, it's safe to say that the combination of hardware and simple physical design makes the XM2we a great choice for straight-up FPS gaming.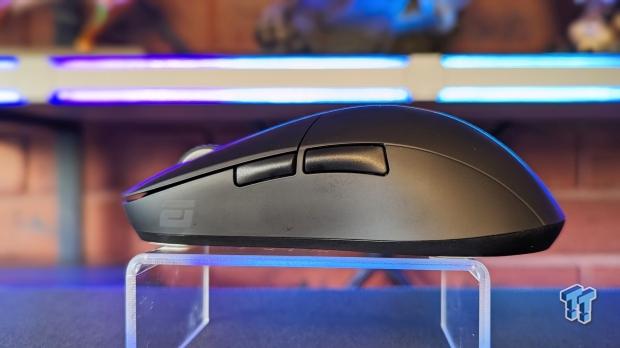 And there's no real difference between wired and wireless, with the performance being as smooth no matter the mode thanks partly to the angled flexible USB cable. The 63-gram weight might not be the lightest gaming mouse we've seen, though it's something you'd certainly call lightweight, and after a few minutes, you won't even feel it as you zone in on whatever action is happening on-screen. Regarding battery life, Endgame Gear states that the XM2we offers up a week of usage (no exact figures in hours), which tracks as after a week of use, our review sample still had charge.
Productivity
Without Bluetooth support, there is some limitation to the Endgame Gear XM2we's versatility, but with a low-profile USB dongle, the only trade-off is that you'll always need a spare USB port - even when connecting to a laptop. As far as weight, ergonomics, and things like the side buttons being easy and natural to access, the Endgame Gear XM2we excels as a productivity mouse, with the only real downside being that the scroll wheel is quite rigid in its steps and more suited to doing things like swapping weapons in a shooter versus scrolling down a website.
Final Thoughts
There's a lot to love about the new lightweight Endgame Gear XM2we Wireless Gaming Mouse, where you've got a simple physical design paired with a robust build and excellent hardware under the hood. The PixArt PAW3370 performs flawlessly, as does the Kailh GO Optical Switches for the left and right buttons. Described as a budget version of the still-to-be-release XM2w proper, it'll be interesting to see just what extra features or options Endgame Gear adds to the impressive design.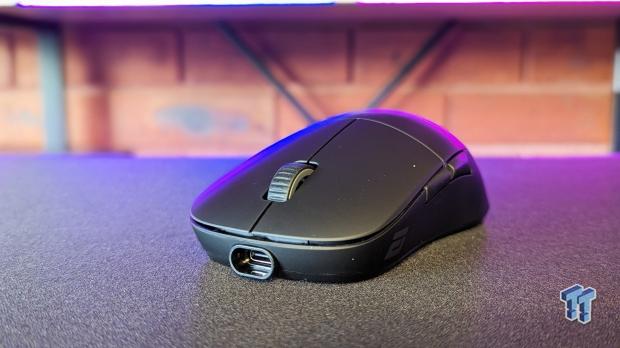 For pure gaming, especially for those that spend most of their time with first-person shooters, the Endgame Gear XM2we is an easy recommendation. Even though it lacks a few nice-to-haves like textured grips or Bluetooth support, it's clear that the focus here was purely on performance, quality, and an affordable price point.