TweakTown's Rating: 93%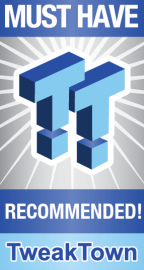 The Bottom Line
Intel continues to offer substantial performance increases gen over gen with its NUC SFF PC offerings.
Pros
+

Thunderbolt 4

+

Gen4 NVMe

+

8K display support (HDMI 2.1)

+

Performance over previous generation
Cons
Should you buy it?
Avoid
Consider
Shortlist
Buy
Introduction, Specifications, and Pricing
NUC has been Intel's flagship offering after creating the 4x4 mini-PC form factor years ago. Usually, these systems are outfitted with their P-series 35W offerings, the most recent being the 13th-generation series of CPUs. At the highest end, the current NUC 13 Pro can be equipped with a vPro Core i7 1370p, while at the entry-level, they can be set up with a Core i3 1315U series with a much lower 20W TDP.
At any rate, we typically see slightly higher performance from the NUC 4x4 form factor over the notebook, as the increased cooling does allow these systems to open up a bit more.
Specifications
Our test system was sent with a Core i7-1360p, a 35W offering that gives us a 4P-8e configuration which, with hyperthreading, offers a total of 16 threads. Boost clocks peak at 5GHz for the P-cores and 3.7GHz for the e-cores. This system is still using DDR4, two SO-DIMM slots are available with support for 64GB at max capacity, while 3200MHz is the only officially supported speed.
Internally, we have support for a single M.2 NVMe solution connected via PCIe 4.0 along with a B-Key SATA m.2 slot for 2242 drives. Connectivity includes two Thunderbolt 4, two HDMI 2.1, three USB 3.2 ports, a single USB 2.0, and an RJ45 offering 2.5Gbe via the i226V chipset.
The MSRP of this system as a barebones unit comes in at $649.99 at the time of writing.
Packaging and Overview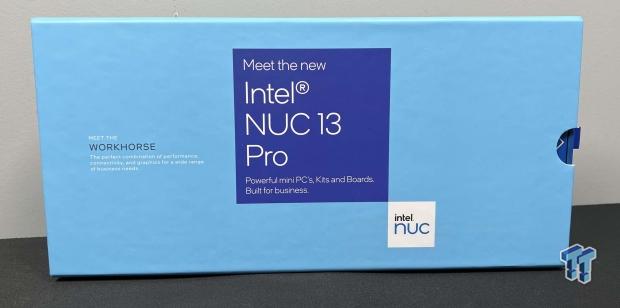 The NUC 13 Pro arrived in branded packaging - 100% curbside recyclable for those that don't keep boxes around.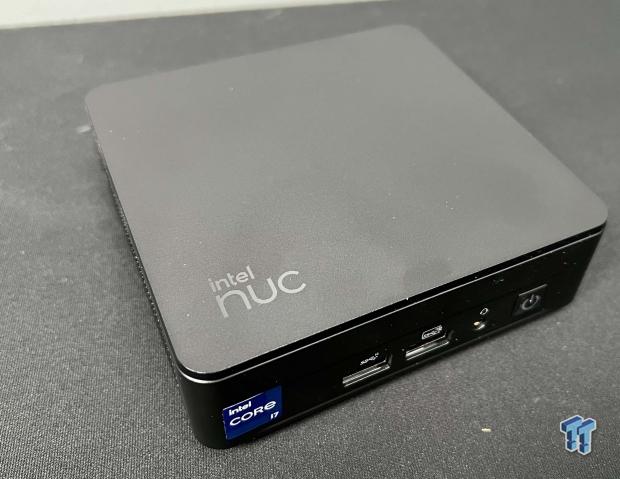 Unboxing, we have the standard NUC form factor we have come to know, with the front left corner offering NUC branding on a matte black chassis.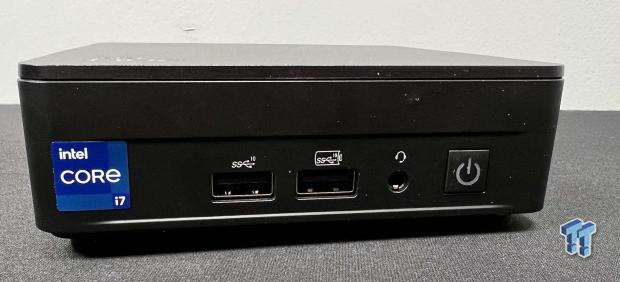 The front of the chassis offers several connectivity options, including a 3.5mm audio jack, two USB 3.2 ports, and the power button.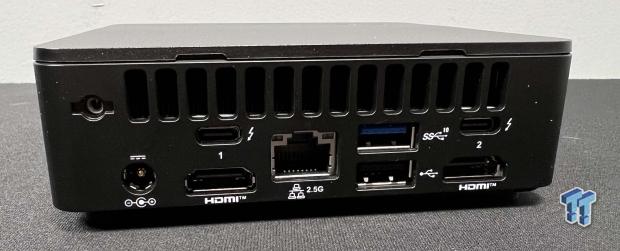 On the back, we are packed with options. At the top, we have an exhaust for the unit followed by two Thunderbolt 4, power input, HDMI 2.1, and 2.5GBe. Further on, we run into a single USB 2.0 next to a USB 3.2 and the other HDMI 2.1 port.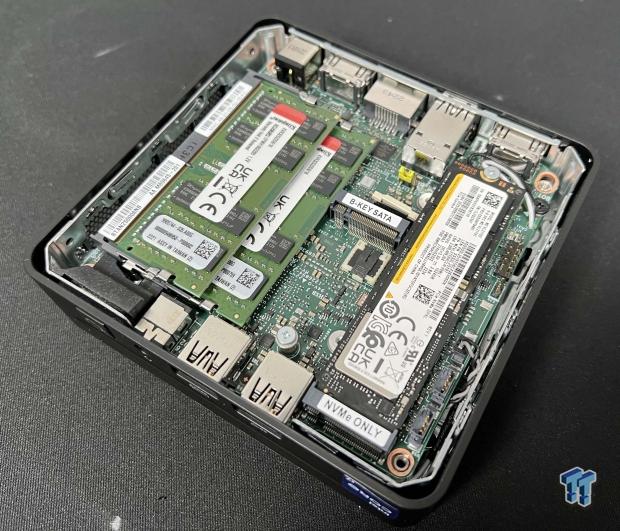 Internally, we have both SO-DIMM slots off to the left, the B-Key SATA m.2 slot in the middle, and the Gen4 NVMe to the right. Under the NVMe slot, you will find the WiFI6e module.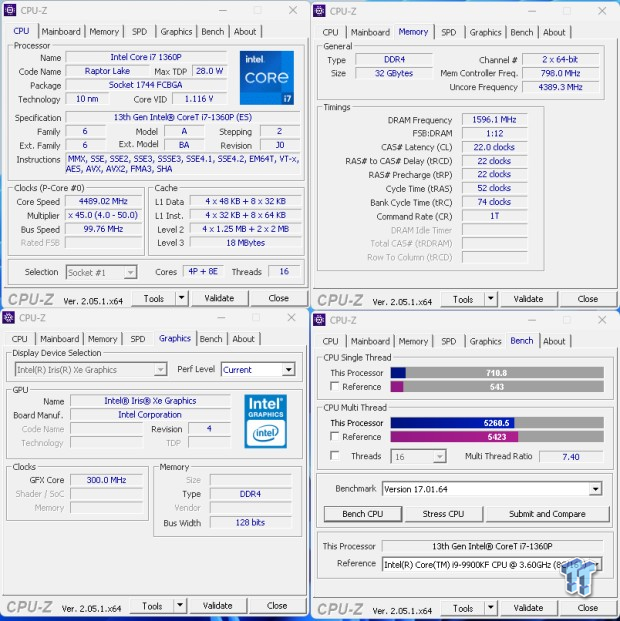 Above, all the main components are loaded up in CPU-z, including a bench to compare the initial performance against the Core i9 9900KF desktop part.
BIOS/UEFI and Benchmarks
UEFI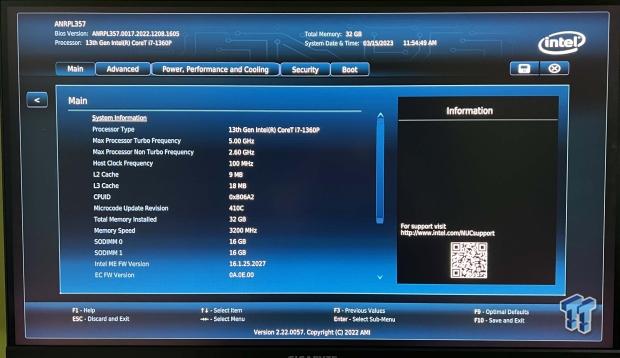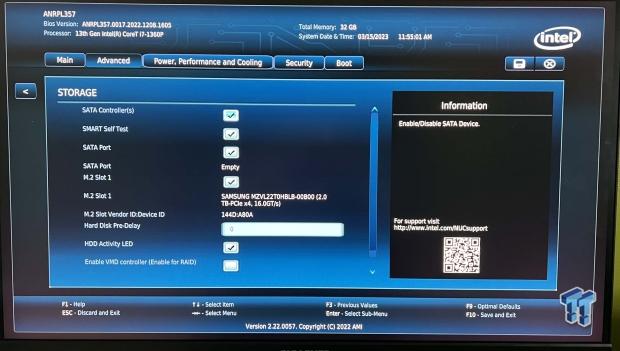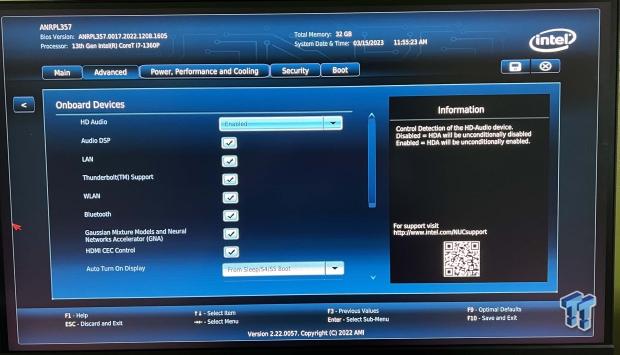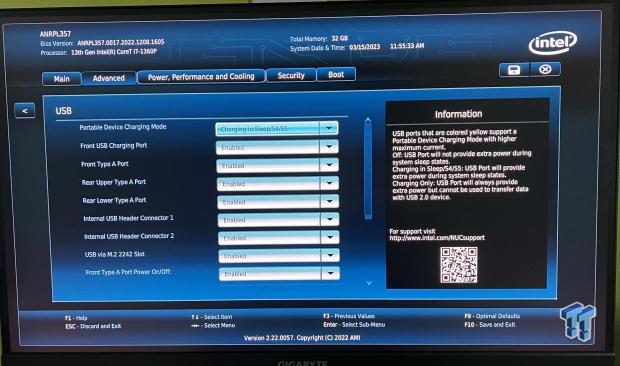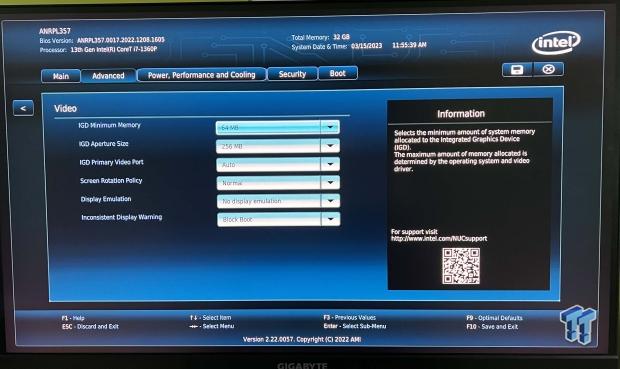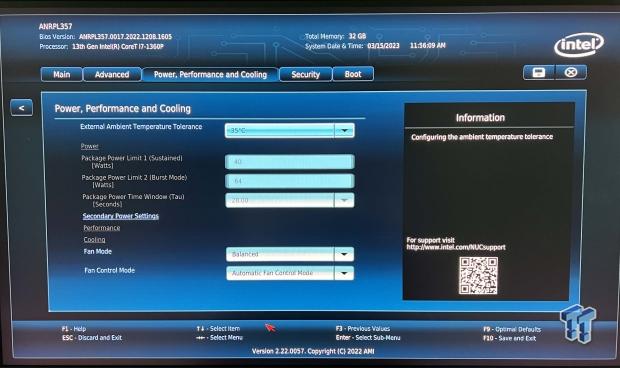 The BIOS keeps the same layout we have seen from past NUC platforms. This gives hardware information in the main menu, followed by storage configuration and onboard device control in the advanced menu, while power options and fan control get its own menu item. You can also set up the integrated graphics in the advanced menu, while the security menu offers boot options.
Cinebench
Cinebench is a long-standing render benchmark that has been heavily relied upon by both Intel and AMD to highlight their newest platforms during unveils. The benchmark has two tests, a single-core workload that will utilize one thread or 1T. There is also a multi-threaded test that uses all threads or nT of a tested CPU.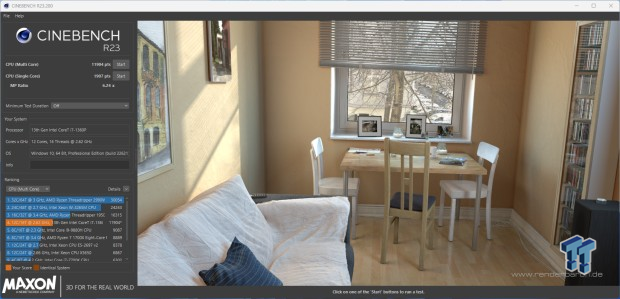 We have the RAW data from the benchmarks themselves before we get to comparisons. To start, R23 gets us going with a 1907 single-core score and 11904 for multi-core.
AIDA64 Memory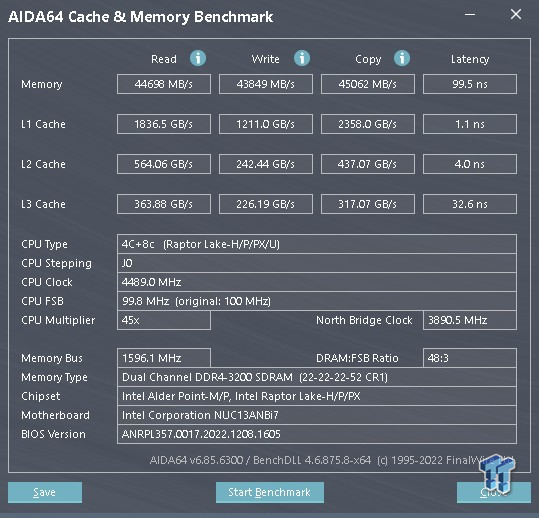 Memory throughput landed around 44K across the board. Memory latency was quite high at 99ns.
Geekbench 6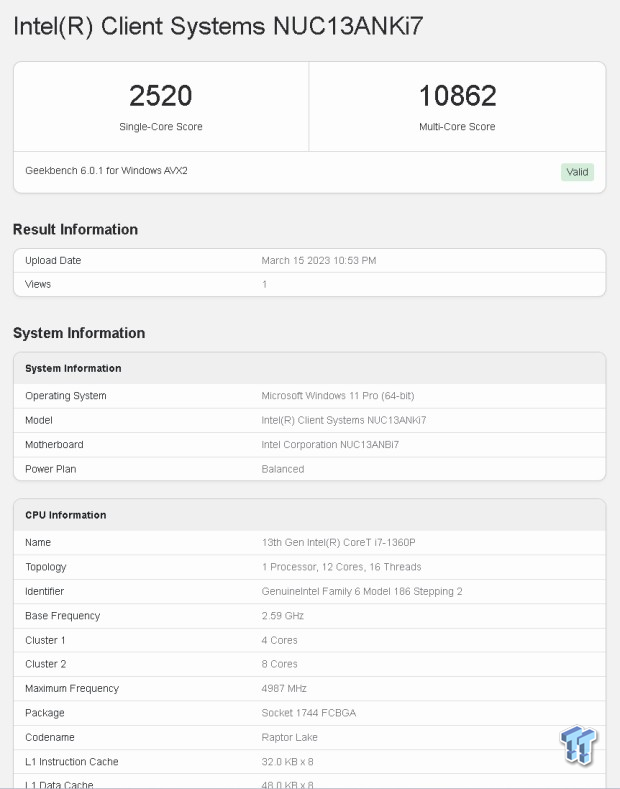 Geekbench 6 gave us a single core of 2520, followed by 10862 for multi-core.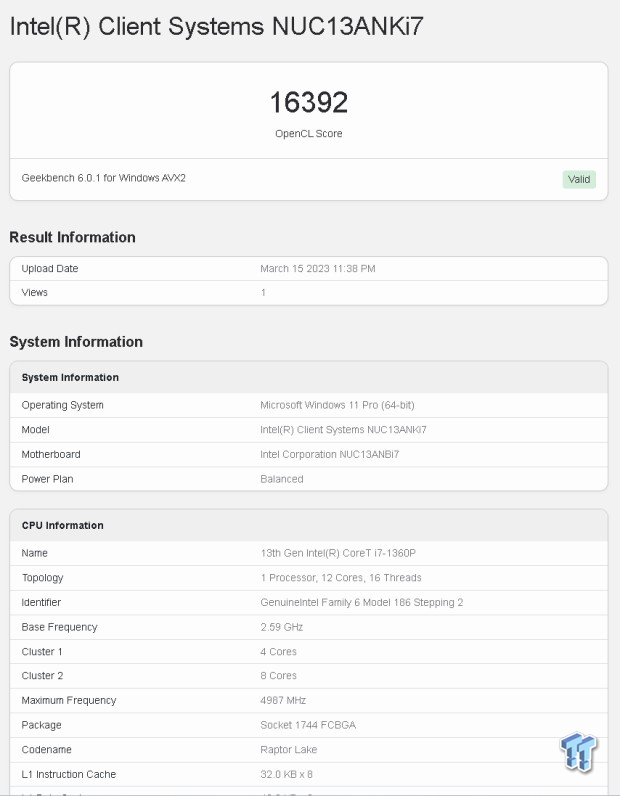 Testing OpenCL, we grabbed 16392 with the Iris Xe solution.
BAPCo CrossMark
CrossMark™ is an easy-to-run native cross-platform benchmark that measures overall system performance and responsiveness using real-world application models. CrossMark™ supports devices running Windows, iOS, and macOS platforms.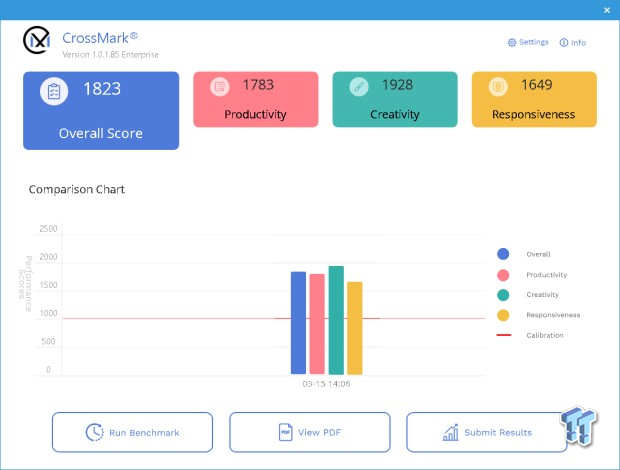 CrossMark picked up an overall score of 1823, with Creativity showing the best score individually.
3DMark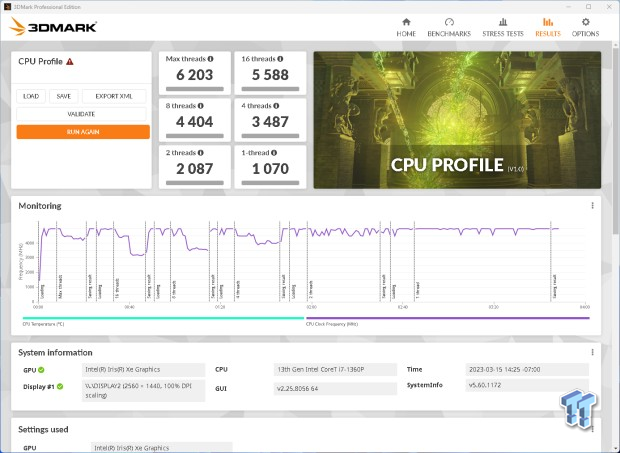 CPU Profile gave us a single thread of 1070 and maxed out at 6203.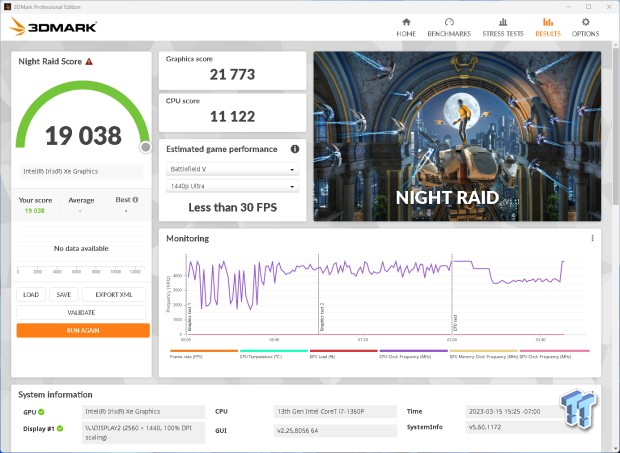 Testing a few gaming workloads, 3DMark Night Raid landed at 19038.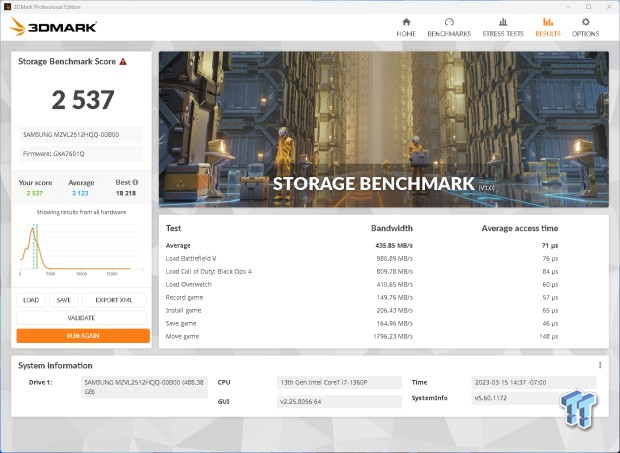 Storage scored 2537 with a bandwidth of 435.8 MB/s.
Comparisons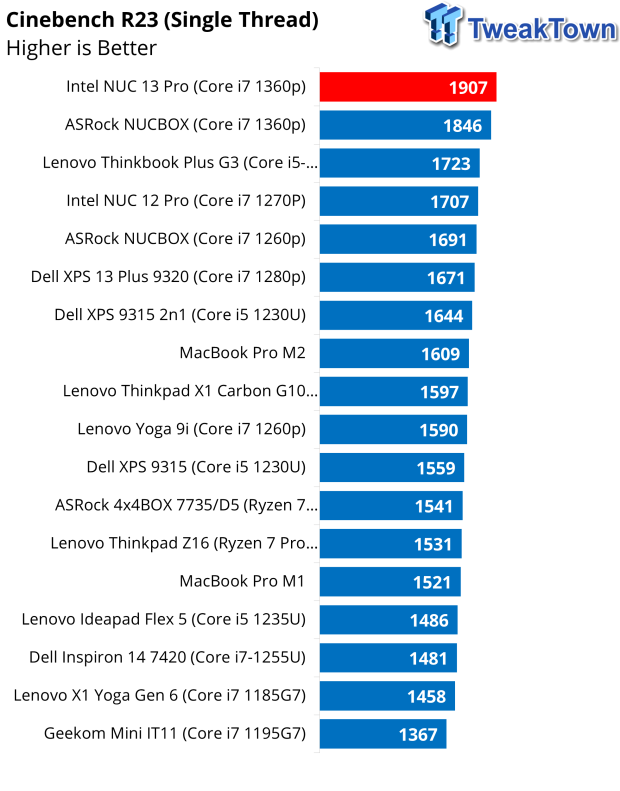 Pulling up our charts and adding the NUC 13 Pro, we find it taking the top spot in single-thread scores.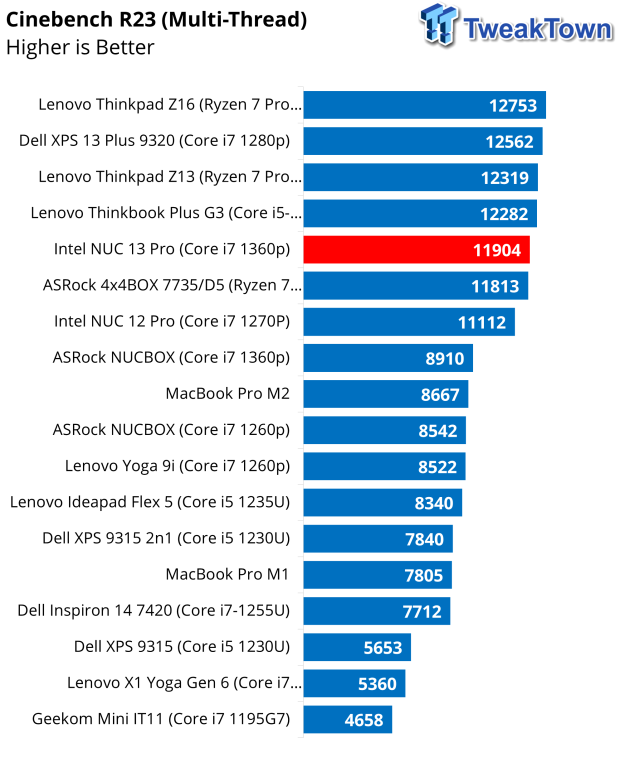 Multi-thread gets us to the fifth spot, just above the 4x4 BOX we reviewed recently from ASRock.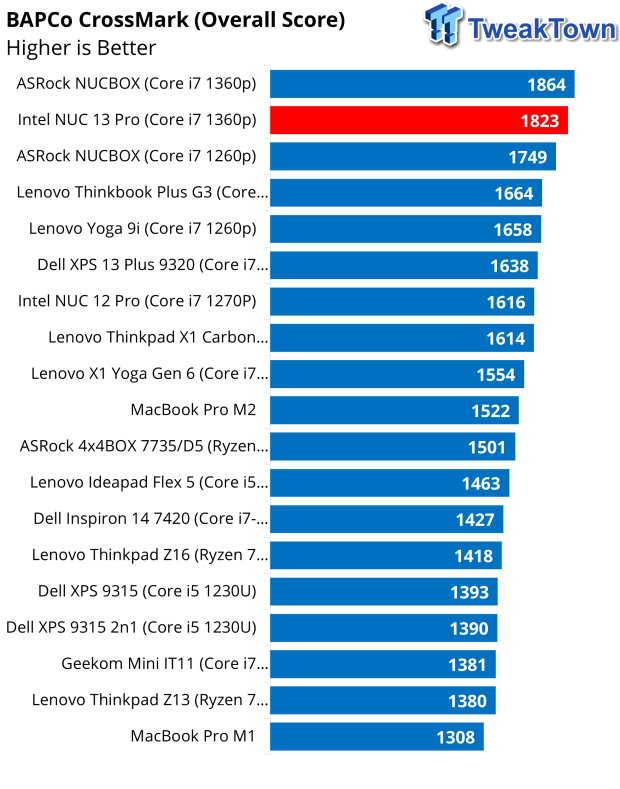 Charting our Crossmark results, the NUC 13 Pro runs right with the NUCBOX offering from ASRock, with about 40 points separating them.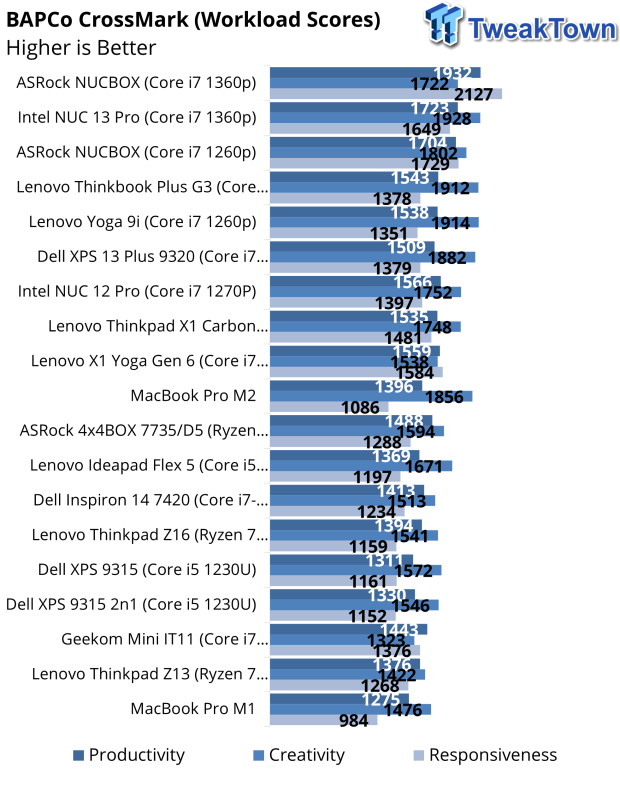 Crossmark workloads can be seen above, with the NUC 13 Pro second in this chart.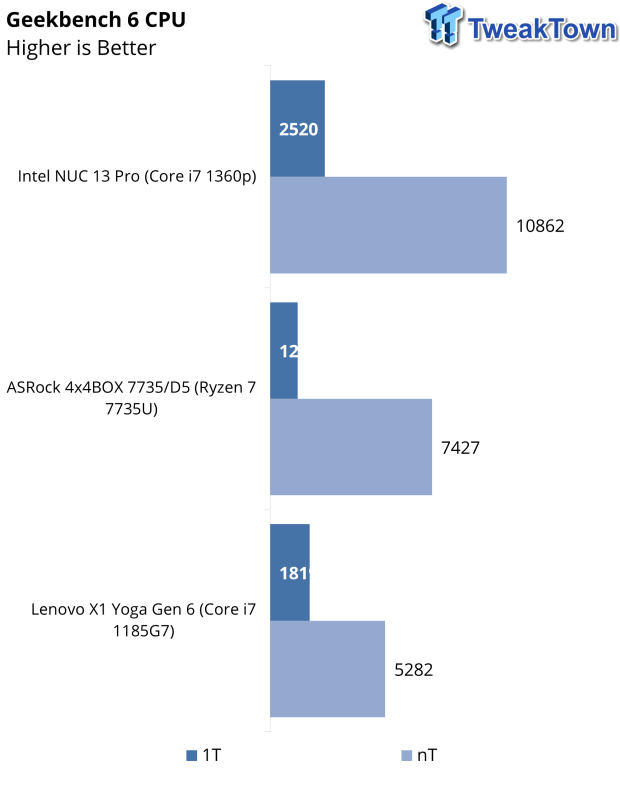 Looking at Geekbench 6 CPU, NUC 13 Pro takes the top spot.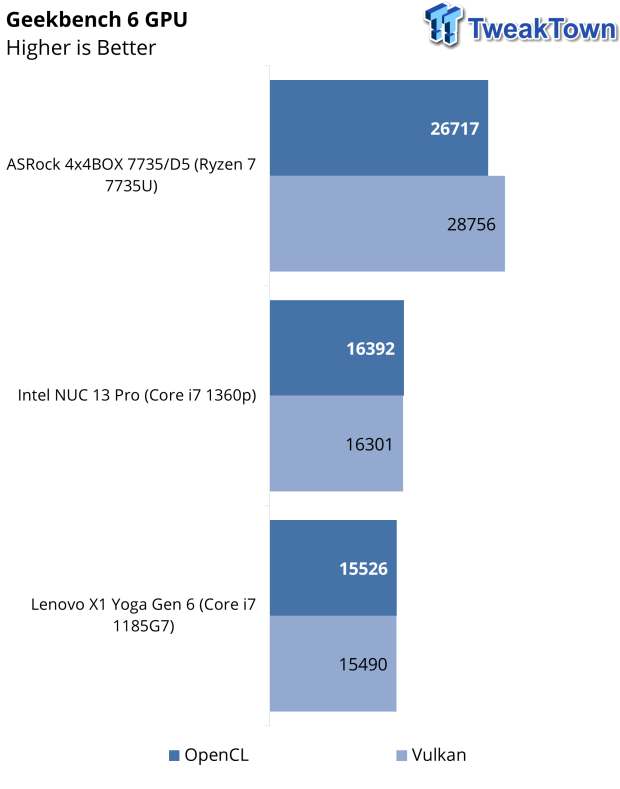 Conversely, GPU shows a substantial advantage for the 4x4 BOX we just had in for review. The 1360p is slightly better than our 11th Gen Yoga notebook.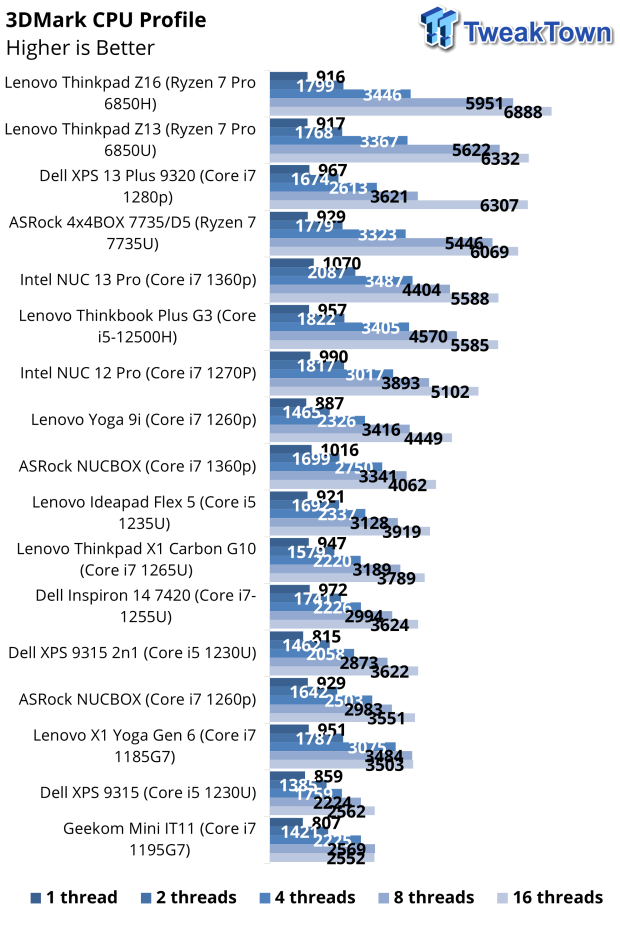 Moving into 3DMark, CPU Profile has the NUC 13 Pro fifth from the top.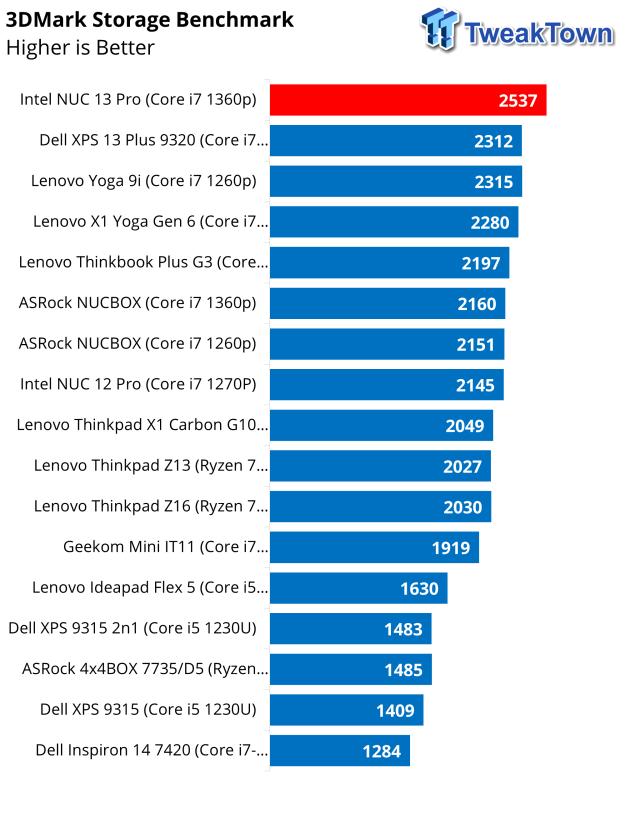 Storage testing made this solution the quickest to date, including productivity laptops.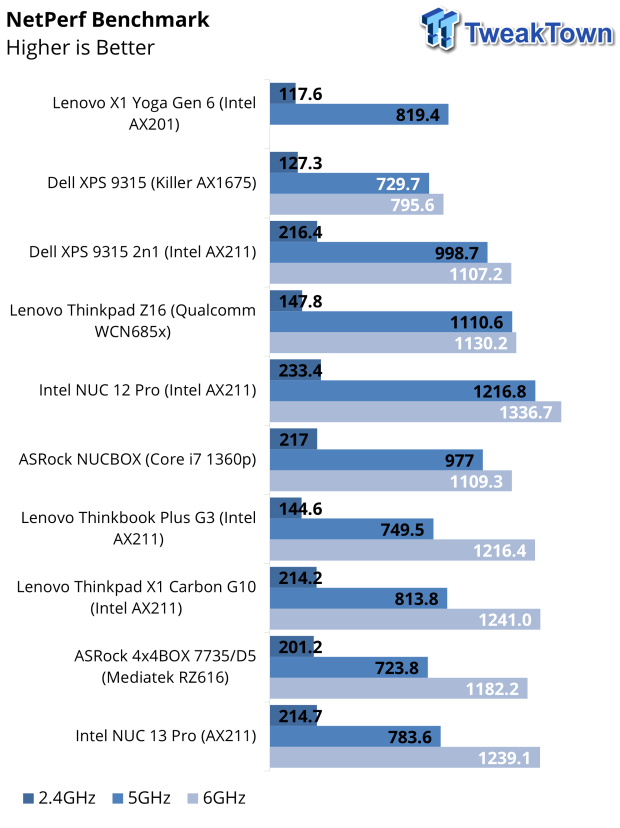 We did evaluate the performance of the AX211, and this showed 1239Mbps for 6GHz and 783Mbps for 5GHz.
Final Thoughts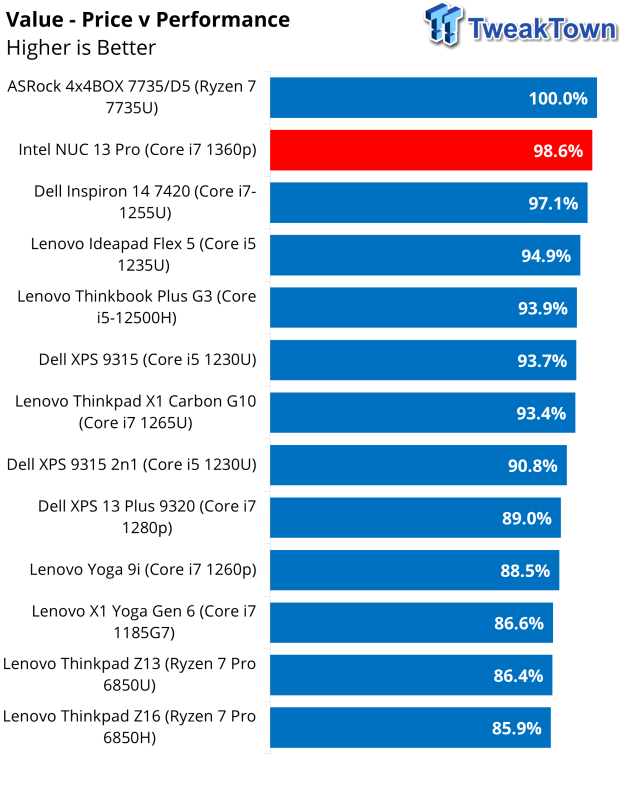 Before we move into closing this review out, we did take the performance and price of this unit into consideration to get a value for it. As seen in our chart above, the NUC 13 Pro lands second to the 4x4 BOX from ASRock at 98.6%, being the better productivity machine, while the ASRock system offers a substantial boost in GPU-related tasks.
Intel has done a remarkable job with the little we have seen of its 13th-gen mobile CPUs. The NUC 13 Pro being our second time around with the 1360p, we did note the single thread uptick in performance between 12th and 13th Gen offerings in our R23 chart, going from a score of 1707 in last year's model to 1907 with the unit in house today.
This can also be found in 3DMark CPU profile, with our current 1360p getting a single thread score of 1070 while last year's 1270p picked up 990 single thread; this is a bit over a 15% uplift in single-thread performance. Multi-threaded workloads showed a slightly higher uptick of about 20% from the 1260p to today's 1360p, with R23 going from 8522 to 11904 and CPU Profile showing 4449 to 5588.
Connectivity options are quite good on this unit. Between the two HDMI 2.1 and two Thunderbolt 4, this unit can support four 4K displays. Further, we have a good amount of USB 3.2, two on the front of the unit and one on the back, and we are finally at a place where 2.5Gbe ethernet is standard, with this unit offering the i226V. WiFI6e is quickly becoming the default option, too, with the NUC 13 Pro offering an AX211 solution that also supports Bluetooth 5.3.
Pricing on the NUC 13 Pro ranges from $350 for entry-level Core i3 models to $1080 for the highest-end solutions with Core i7 vPro. As tested in its barebones form, our review unit comes in at $649.99 with a three-year warranty.