TweakTown's Rating: 93%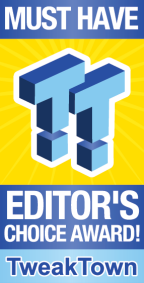 The Bottom Line
ASRock impresses with the 4x4 BOX -7735U/D5, an AMD Ryzen 7000 series SFF PC that offers light but high level connectivity and enough performance for a mild gamer, and at quite a reasonable price.
Pros
+

DDR5 support

+

PCIe 4.0

+

USB 4.0

+

HDMI 2.1

+

Price and performance
Cons
-

Glossy chassis looks good, but smudges easily

-

Subpar single-thread performance

-

Minimal I/O
Should you buy it?
Avoid
Consider
Shortlist
Buy
Introduction, Specifications, and Pricing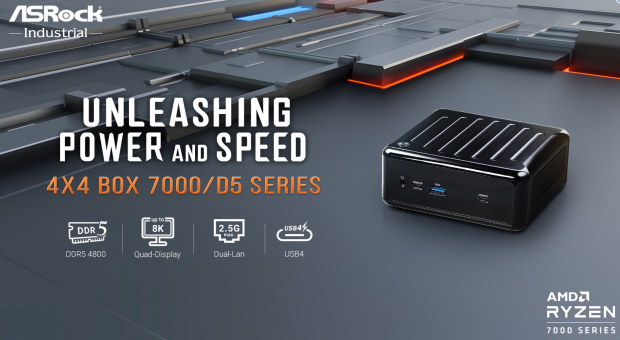 Over the last few years, we have had several small form factor 4x4 systems come through. Most of these have been Intel-based platforms, from their own NUC solutions to third-party vendors like Geekom, Zotac, and ASRock offering their own take with the NUCBOX and Mini IT series.
Recently, AMD has begun to catch Intel in mobile performance, starting with their 5000 series Cezanne APUs a few years back; this increased last year with the 6000 series, as we saw in the Lenovo Z13 and Z16 platforms. Today, we get our first look at AMD's Ryzen 7000 for mobile with the ASRock 4x4 BOX and its U-Series CPU.
Specifications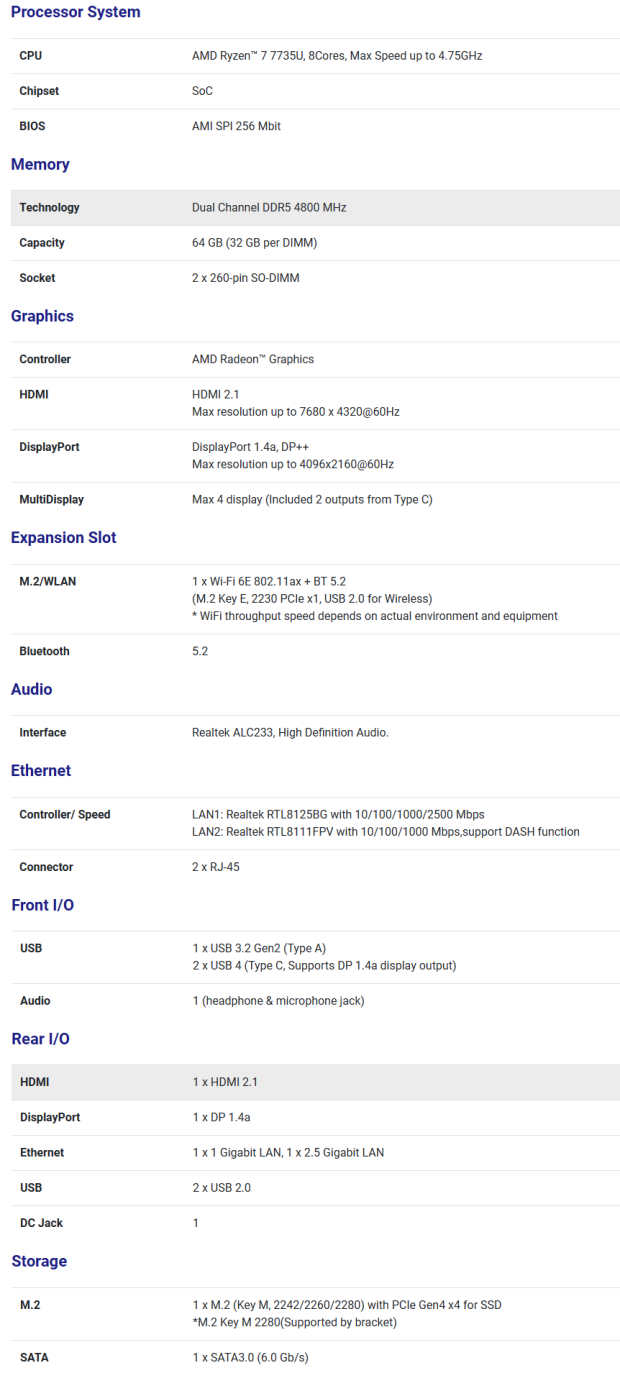 Specifications can be seen in the image above; this system starts with the Ryzen 7 7735U CPU, an eight-core sixteen-thread part that boosts up to 4.7GHz. It can accept up to 64GB of DDR5 RAM using the 260-pin SO-DIMM form factor. A Radeon graphics controller handles the display output with support for HDMI 2.1 alongside DisplayPort 1.4, with up to four displays being driven.
Connectivity includes dual LAN, one being 2.5Gbe and the other 1Gbe, along with Wi-Fi 6e support from the RZ616 chipset from MediaTek. Audio support comes from the Realtek ALC233. I/O ports include dual USB 4 on the front panel alongside a single USB 3.2 Gen 2, while the rear of the unit offers the display options mentioned above, which include HDMI 2.1 and DP 1.4. You will also find both LAN ports and two USB 2.0.
Internally, we have support for a single M.2 NVMe solution connected via PCIe 4.0 and a single SATA connection for legacy storage. The MSRP of this platform as a barebones unit comes in at $649.99 at the time of writing. You can buy the 4X4 BOX-7735U/D5 at Newegg as well as the 4X4 Box-7535U/D5 also at Newegg.
Packaging and Overview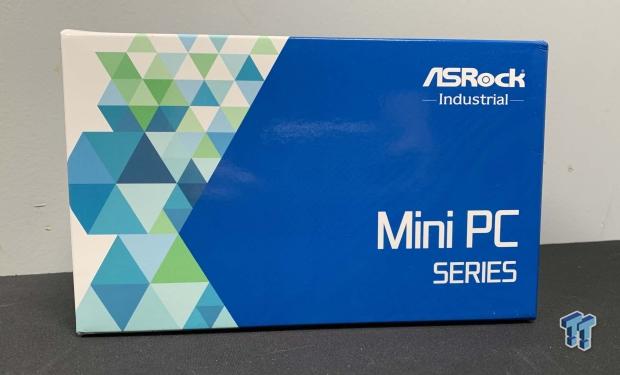 The 4x4 BOX arrived in ASRock standard mini-PC packaging, as seen above.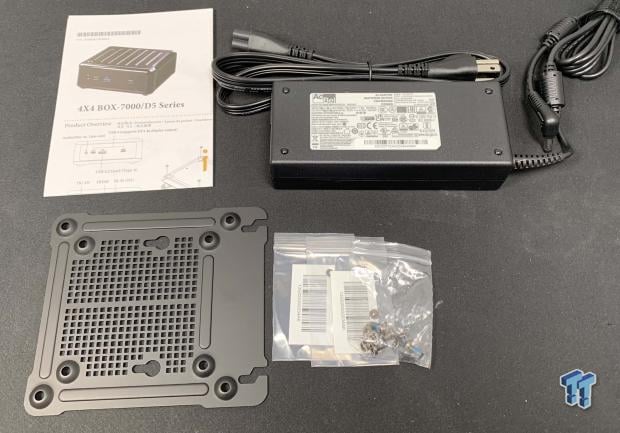 The 4x4 BOX includes the VESA mounting plate, hardware for securing the unit, and m.2 screws for securing the internal drive. Up top, we have the power supply, a 19v unit.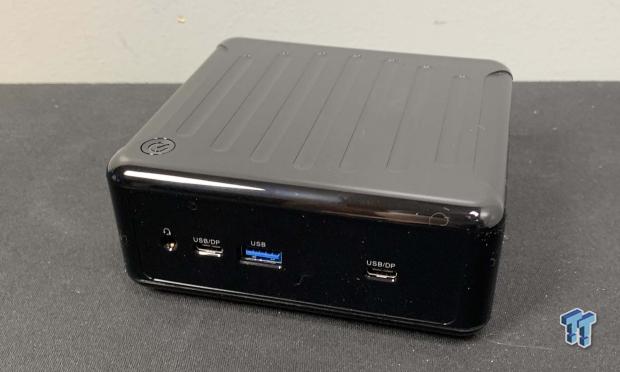 The chassis of the unit has a black piano finish that is very glossy. The power button sits on top, with a few I/O options across the front.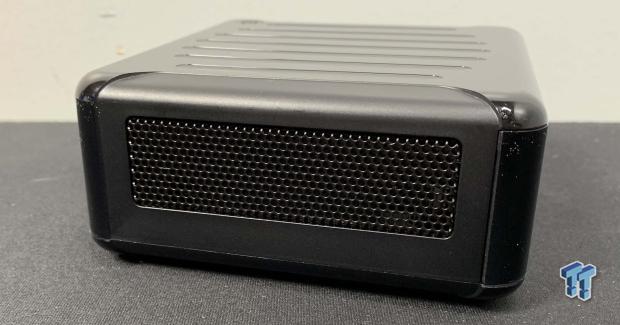 Both sides of the unit offer venting to allow air to pass through the PC.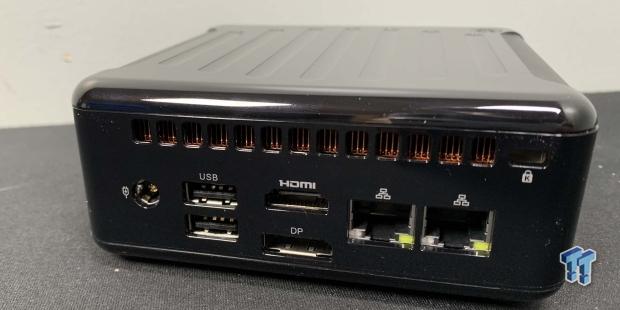 The rear I/O includes a large exhaust for the internal heatsink up top, while down below, we have the power far left, followed by two USB 2.0, HDMI 2.1, and DP 1.4. Further to the right, we have both LAN ports - one being 2.5GBE and the other 1Gbe.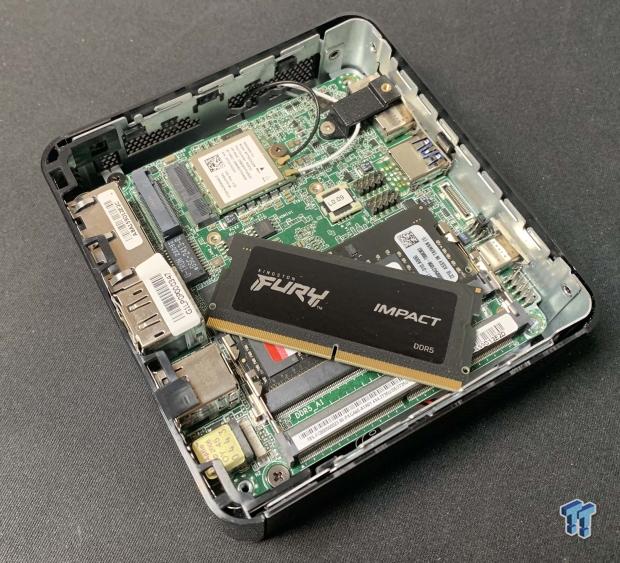 Internally, the 4x4 BOX supports m.2 key E for WIFI and M.2 2280 up above. Towards the bottom, we have two SO-DIMM slots - Kingston has graciously supplied us with their Fury DDR5 SO-DIMM and NVMe for this review.
BIOS/UEFI and The System
BIOS/UEFI and Software
UEFI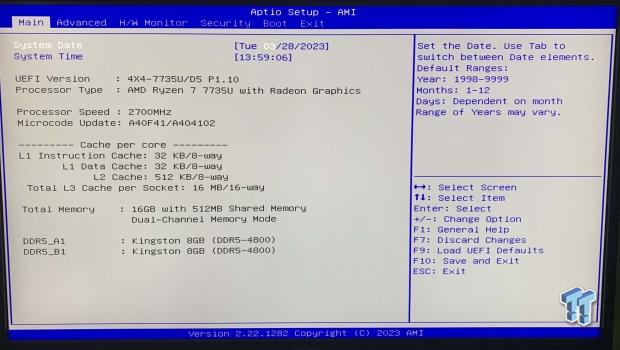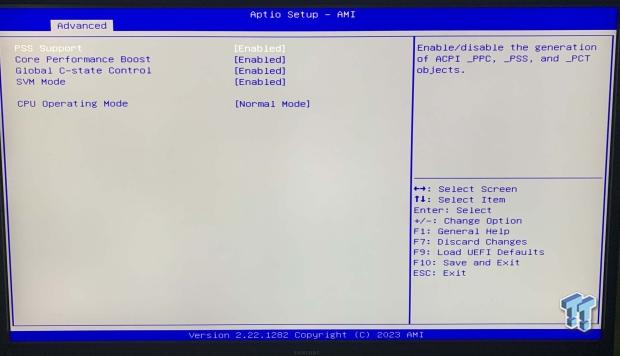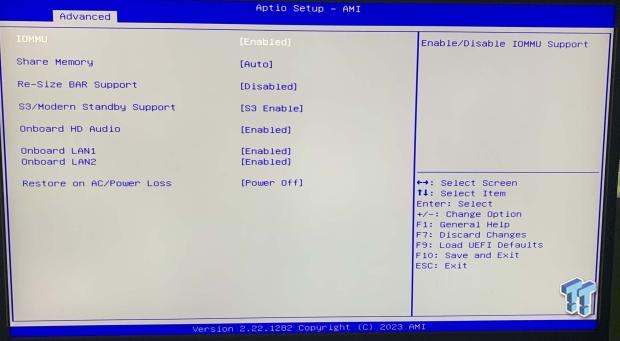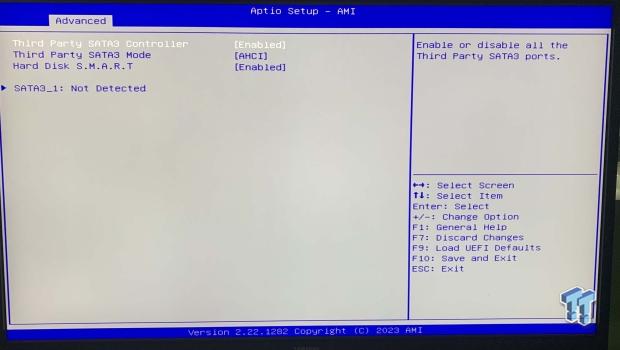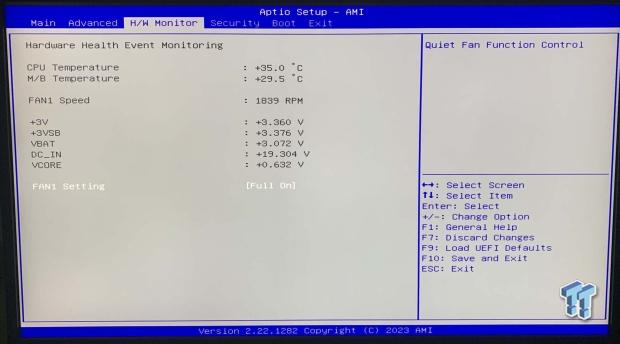 BIOS is the old-style solution with keyboard navigation. Options include the main menu with hardware information and advanced for tuning the unit's performance with C-States and Operating Mode. You will also find Rebar support and the ability to disable the LAN ports and change the shared memory for the onboard graphics.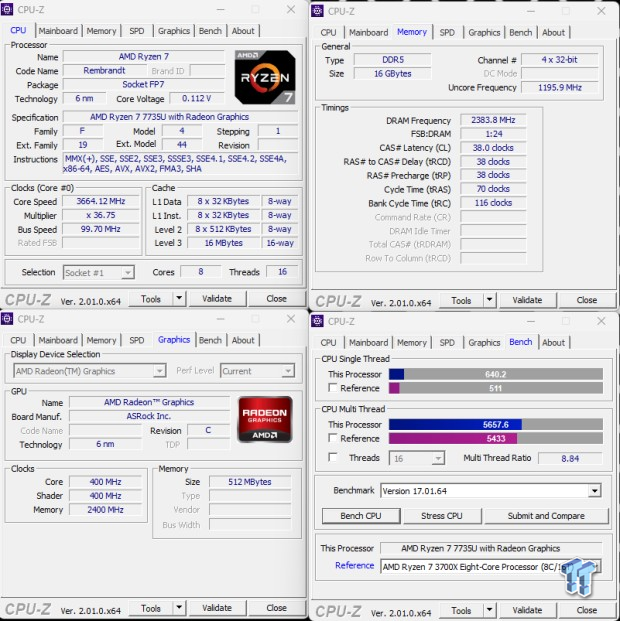 Above, we have CPUz for this system. This includes the 8-core Ryzen 7 7735U, our installed memory from Kingston, and Radeon Graphics. We also ran the bench for a quick comparison to the 3700X, which is also an 8C16T part.
System/CPU Benchmarks
Cinebench
Cinebench is a long-standing render benchmark that has been heavily relied upon by both Intel and AMD to highlight their newest platforms during unveils. The benchmark has two tests, a single-core workload that will utilize one thread or 1T. There is also a multi-threaded test that uses all threads or nT of a tested CPU.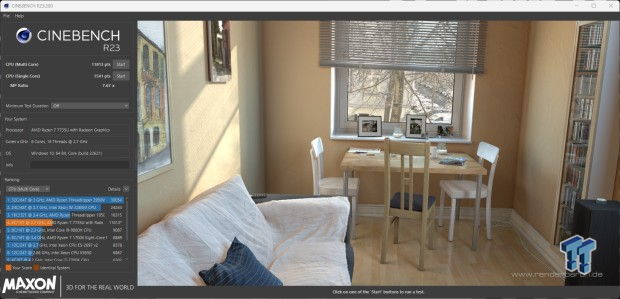 We began our testing with R23 as we normally do. The 7735U brings in 1541 in single thread and 11813 in multi-thread.
AIDA64 Memory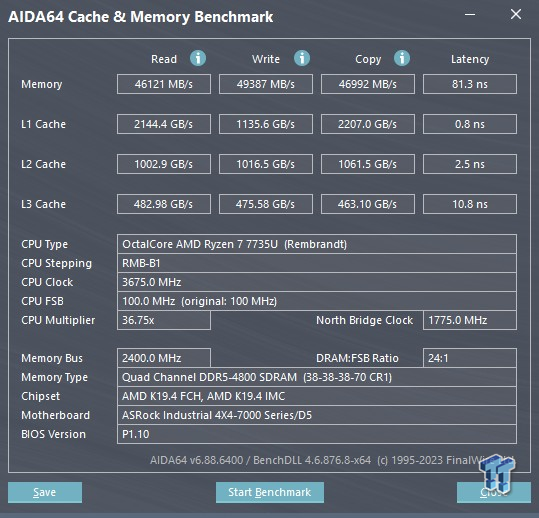 Memory throughput for this system gave us 46K read, 49K write, and 46K copy. Latency landed at 81.2ns.
Geekbench 6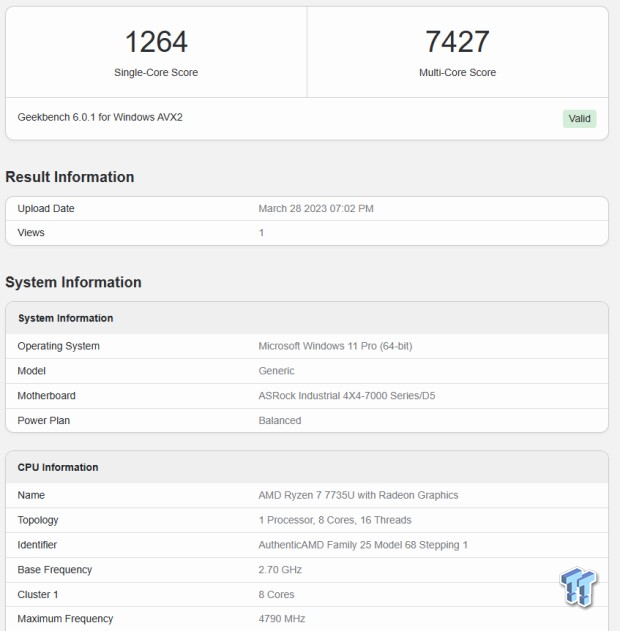 Geekbench 6 gave us a single core of 1264, followed by 7427 for multi-core.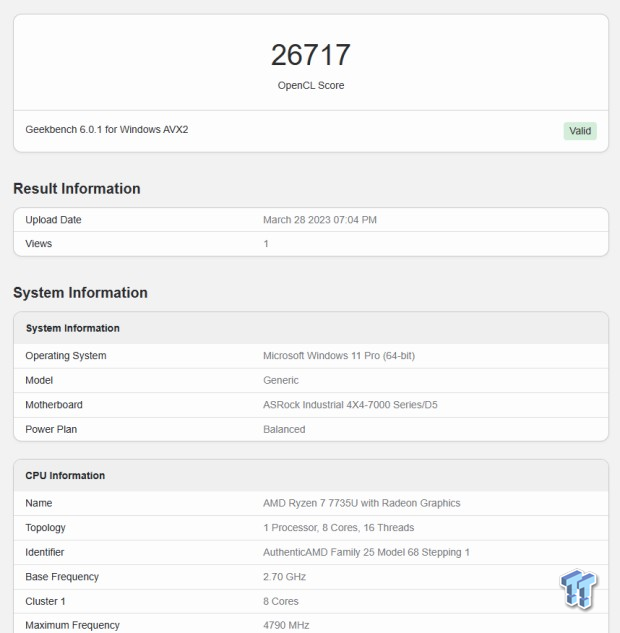 Testing OpenCL, we grabbed 26717 using the integrated Radeon graphics.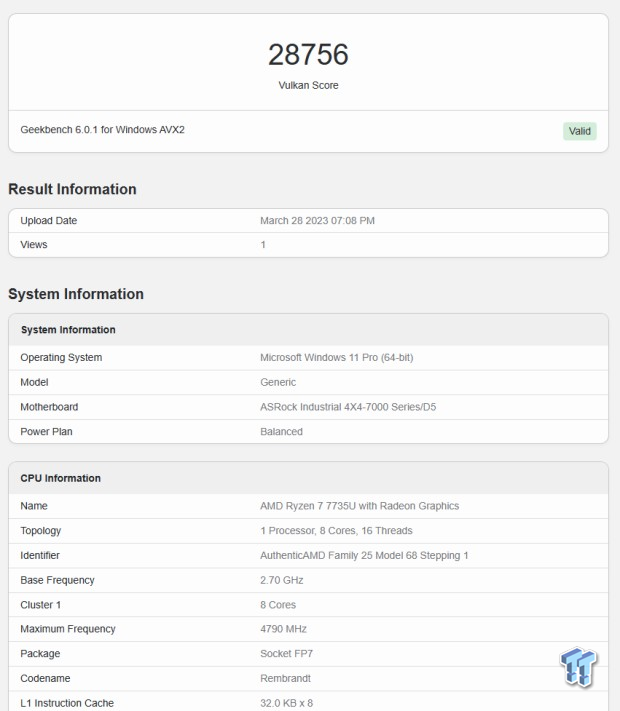 Vulkan API pulled in 28756.
BAPCo CrossMark
CrossMark™ is an easy-to-run native cross-platform benchmark that measures overall system performance and responsiveness using real-world application models. CrossMark™ supports devices running Windows, iOS, and macOS platforms.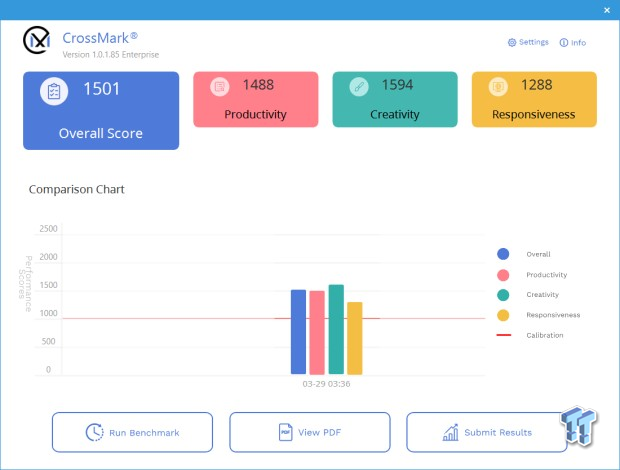 CrossMark picked up an overall score of 1501.
3DMark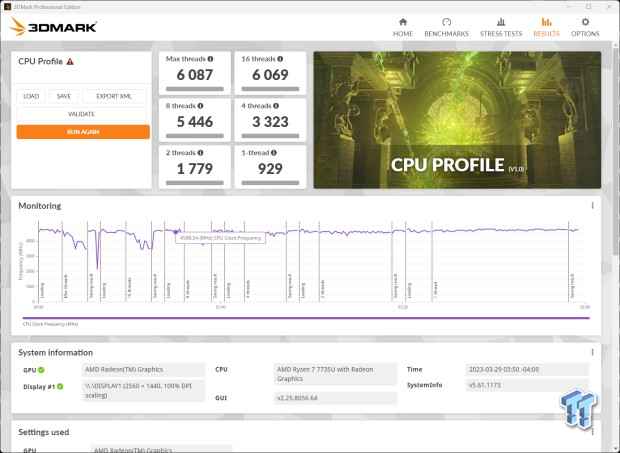 CPU Profile gave us a single thread of 929 and maxed out at 6087.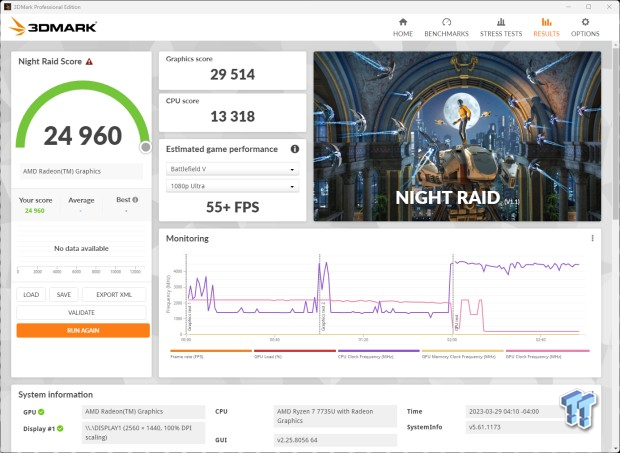 Testing a few gaming workloads, 3DMark Night Raid scored 24960, which would seemingly offer 55+ FPS in Battlefield V.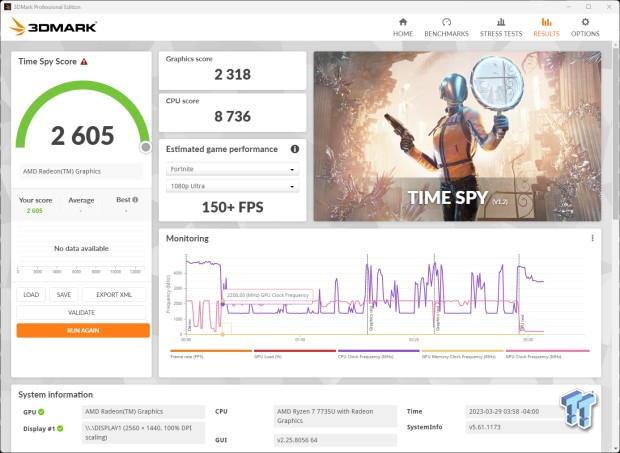 We decided to go to the next level by running Time Spy. This landed us a score of 2605 for the 4x4 BOX, capable of 150FPS+ in Fortnite.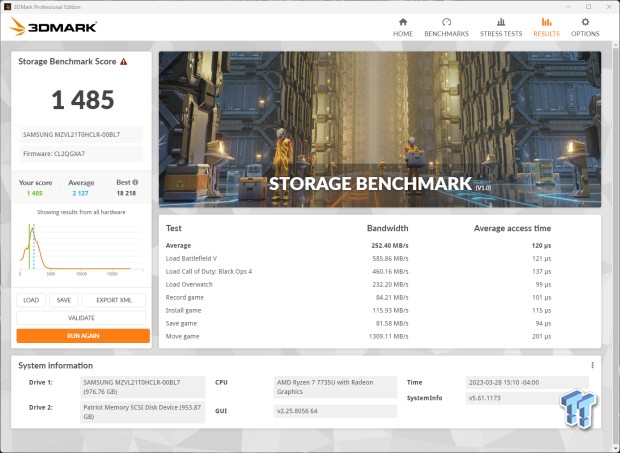 Storage scored 1485 for this box, with throughput at 252 MB/s.
Comparisons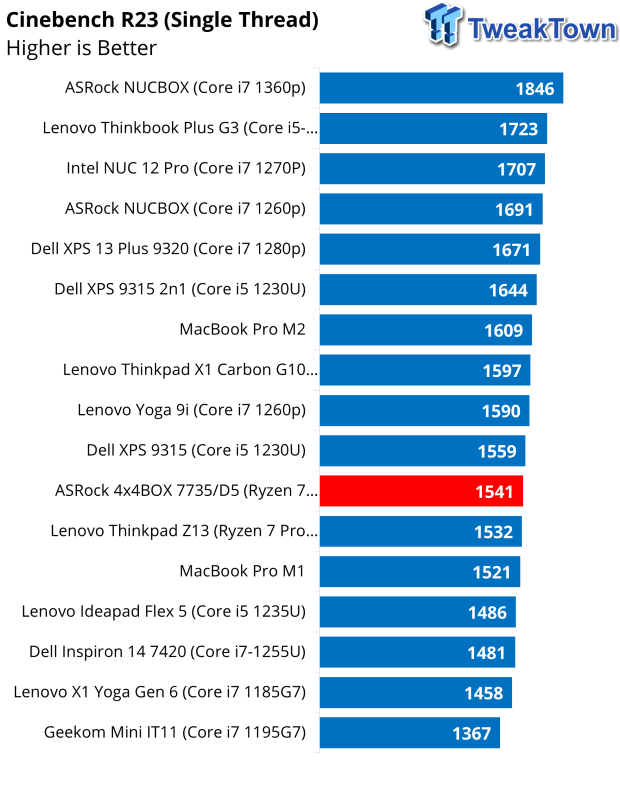 Pulling up our charts and adding in the 4x4 BOX, the 7735U lands near the middle in R23 single thread.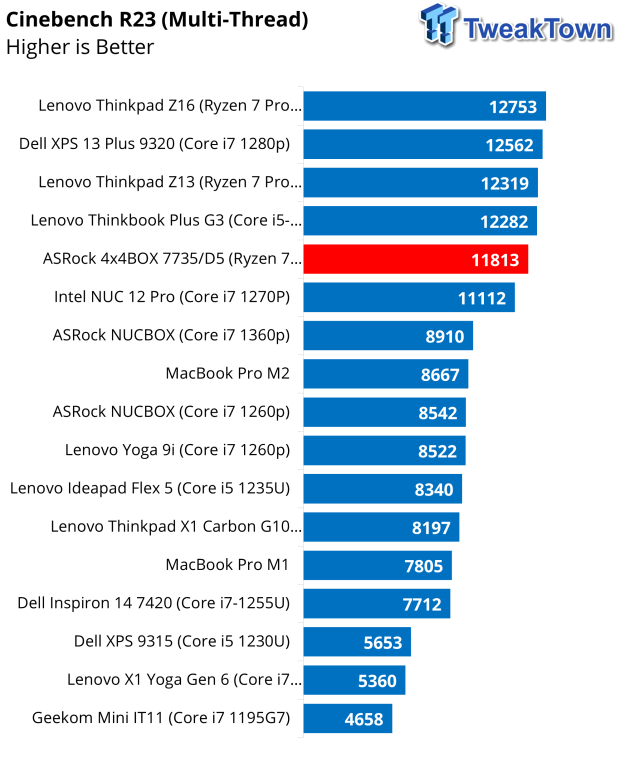 Multi-thread shows it closer to the top, just passing the 1270p.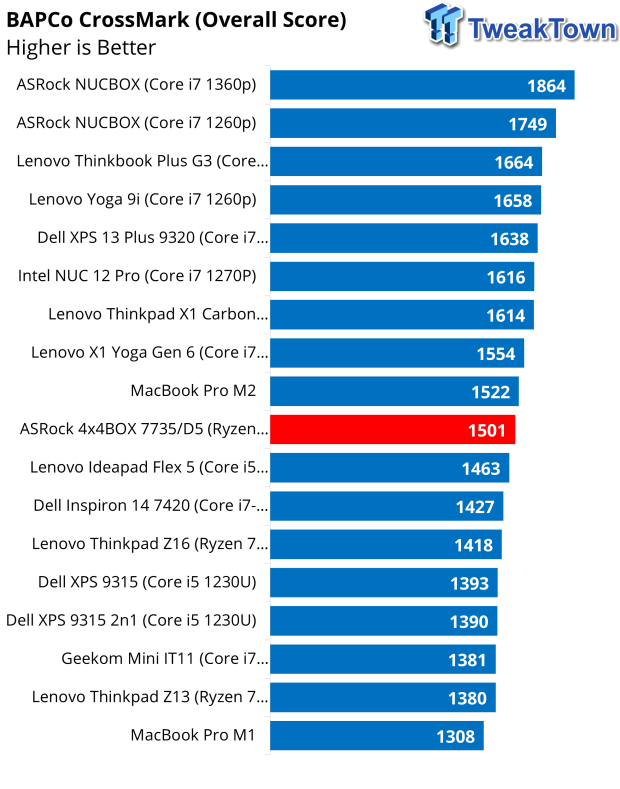 Charting our Crossmark results, the ASRock again lands in the middle of the pack, just under the M2 MacBook Pro.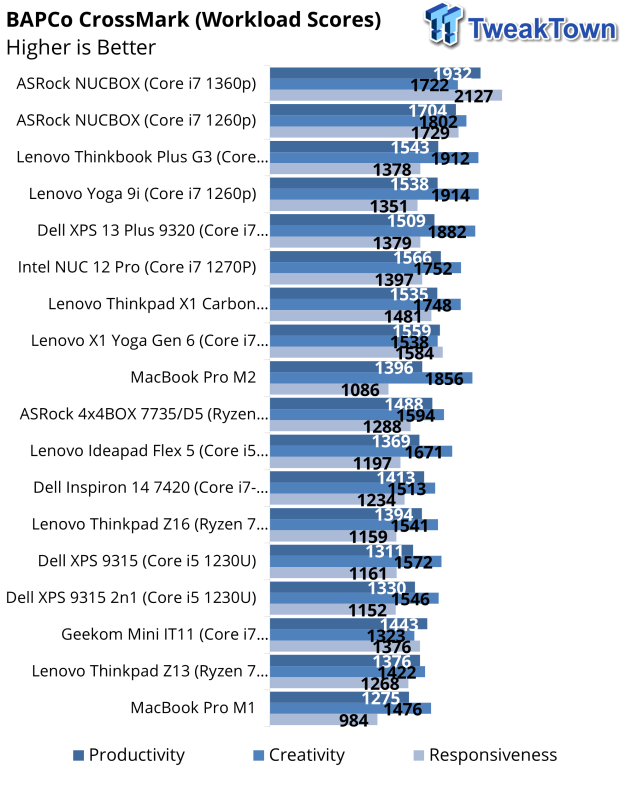 Crossmark workloads can be seen above, the 4x4 BOX in the middle of the chart.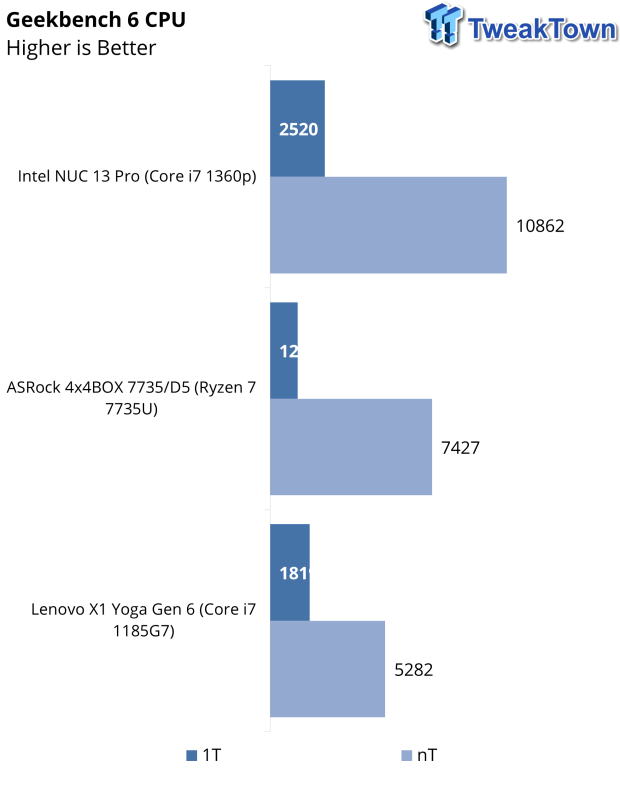 Looking at Geekbench 6 CPU, the 7735U does quite well, beating out 11th Gen Intel but a bit back from 13th Gen 1360p.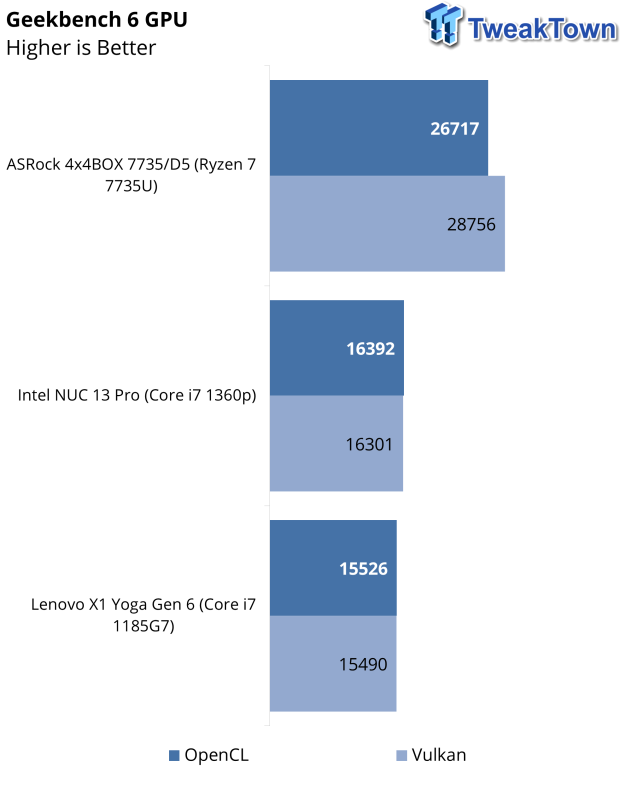 Conversely, GPU shows a substantial advantage for the 4x4 BOX, almost doubling the 11th Gen score and a solid 10K points above the 13th Gen in both OpenCL and Vulkan.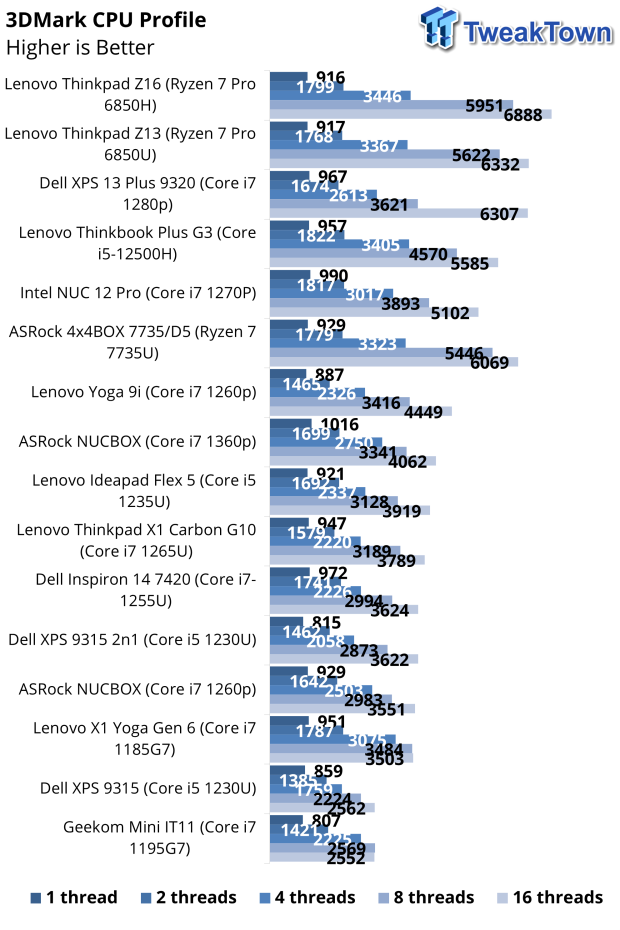 Moving into 3DMark, we have the 4x4 BOX six down from the top, just better than the 1260p.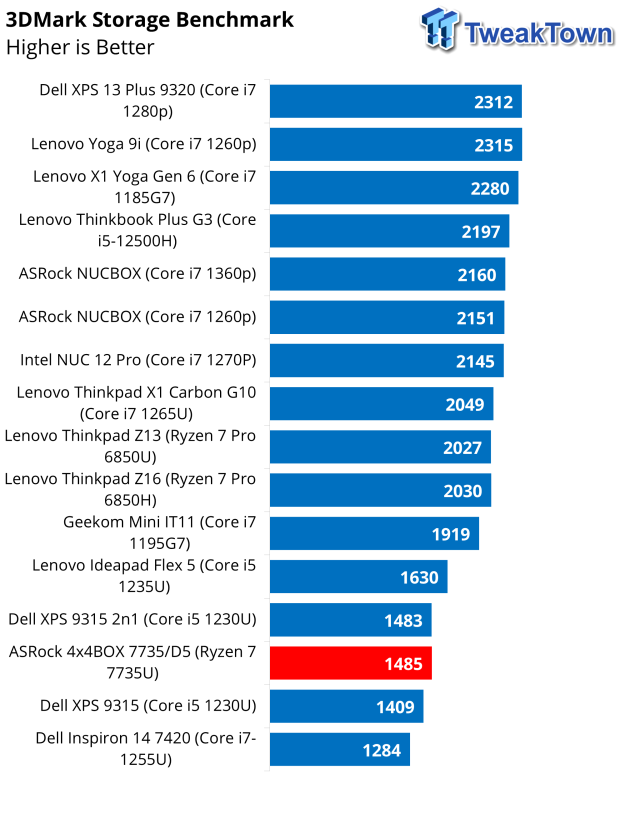 Storage did show this box a bit slower than most, landing near the bottom of our charts.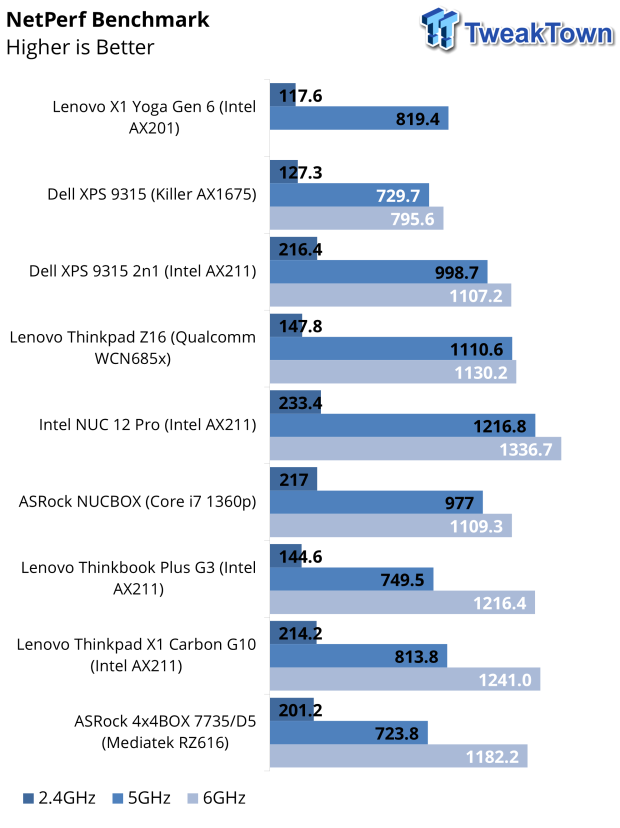 We did evaluate the performance of the RZ616 Wi-Fi, coming away with decent results; 201Mbps on 2.4GHz and 723Mbps on 5GHz. Our 6GHz test pushed near 1200Mbps.
Final Thoughts
ASRock has been among the first vendors to release 13th Gen mobile platforms from Intel and now the 7000 series mobile from AMD, both within their industrial arm with the NUXBOX 1360p and now 4x4 BOX, both of which we have now had in for review.
As for the 4x4 BOX in-house today, AMD has seemingly furthered their mobile performance, with this new U-Series lineup showing solid numbers when compared against Intel's 12th and 13th Gen offerings while using less power and generating less heat than the previous.
The ASRock 4x4 BOX takes advantage of this with a small form factor platform offering high-level connectivity with USB 4.0 on the front of the unit, dual LAN on the rear, and the ability to connect up to four displays. It also takes advantage of the latest DDR5 memory and PCIe 4.0 storage, making this a very snappy platform overall, one that even has the ability to game.
In our testing, we noted the 4x4 BOX did much better in higher threaded workloads; this is evident in R23, Geekbench, and 3DMark CPU profile, where the single thread performance lags behind Intel 12th and 13th Gen parts but surpasses it in higher thread scenarios. This is particularly useful in productivity tasks and gaming, as shown in our Night Raid and Time Spy results.
Pricing of this unit, as barebones, lands at $649.99, which is quite conservative of ASRock as units of this performance level for team blue garner a bit more and lack the GPU power this 4x4 BOX has available.