Embracer Group's latest Q2 report has given us some insight on the struggling mega-game publisher, with news that 904 workers have been let go since the company began "restructuring." Also, the company is looking to reduce costs with more cancellations of games currently in development. As of September 2023, Embracer was overseeing as many as 200 game development projects.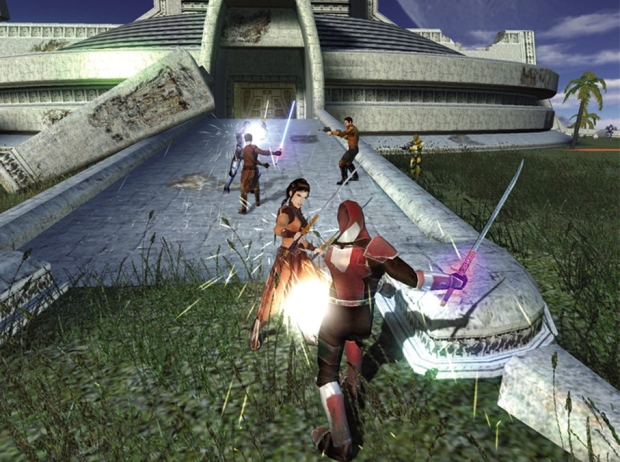 One of Embracer's more high-profile games currently in development is the full remake of Star Wars: Knights of the Old Republic, one of the most beloved RPGs of all time. This one has the backing of Sony, too, and will supposedly be a PlayStation 5 exclusive. However, with the game apparently in development hell, with Saber Interactive taking over from original studio Aspyr and Sony subsequently removing trailers for the game and references to it from its various channels - it might not see the light(saber) of day.
To make matters worse, as part of Embracer Group's Q2 earnings call, someone asked CEO Lars Wingefors about the game's status, and his response was a little concerning.
"I noticed that anything I say to this becomes a headline," Lars Wingefors responded when asked about the KOTOR remake. "So that is my only comment." It's kind of funny because no news is still news when it comes to something like the KOTOR remake, which, if done right, could be one of the best Star Wars games of all time. Even just an "it's still being worked on, and progress is good" would have sufficed.
It's been a while since we've heard anything about the project, with Embracer noting back in May that it still exists - however, in light of recent news surrounding trouble at the company and mass layoffs and studio closures, the next bit of news we receive could be about the game and project being canceled.
The KOTOR remake was announced in 2021 at a PlayStation showcase event with a teaser trailer. In 2022, a Bloomberg report indicated that the game was put on hold due to Sony and Lucasfilm being unhappy about the quality and progress of the project. In the subsequent months, it was revealed that Saber Interactive had taken the development reigns.
It's a shame because, like many out there, I feel that KOTOR is a game that should be revisited. If it's not a remake, it could also work as a new trilogy of films or prestige TV series.