Total Grand Theft Auto franchise revenues have broken $8.7 billion since GTA V's release a decade ago, Take-Two Interactive's financial reports have confirmed.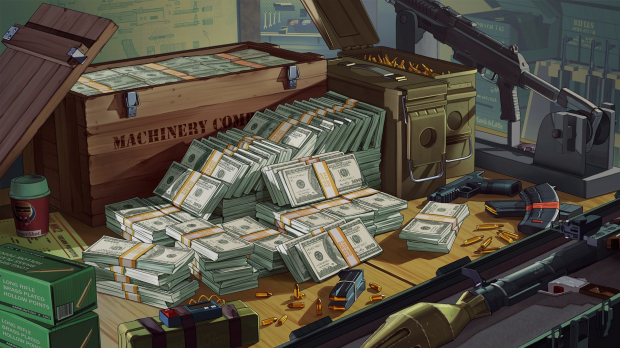 GTA V is something of a marvel. There are few games that get even close to shipping nearly 200 million copies in their lifetime, let alone within 10 years. Minecraft's incredible 300 million figure comes to mind, as do sales of whole franchises like Call of Duty, which had sold over 425 million copies since MW2's release in 2022. But here we are, and Grand Theft Auto V has now sold-in (shipped) 190 million copies across three console generations.
In addition to strong hundred-million-dollar revenues generated every quarter from GTA Online, those game shipments add up fast. According to Take-Two's financials, the Grand Theft Auto franchise has made over $8.74 billion in net revenues since GTA V's launch in September 2013. Records indicate that Grand Theft Auto made up about 15% of Take-Two's total Q2'24 net revenues, or about $236 million. This is a significant year-over-year increase of 55%, likely driven by GTA V's inclusion as a temporary free playable game as part of Xbox Game Pass.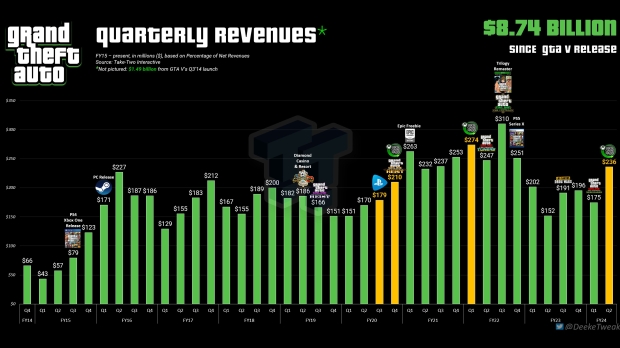 This is a long-term trend that we've seen throughout GTA V's decade-long availability. Typically, GTA revenues will increase any time that GTA V is included on a multi-game subscription service. GTA revenues went from $170 million to $179 million when GTA V was first offered on PlayStation Now streaming, and then from $179 to $210 million following its first inclusion on Game Pass.
GTA V's Epic Store freebie helped surge revenues to their third-highest point, boosting revenues to $263 million, and then raising even more to $274 million when GTA V was included on Game Pass for the second time.
The highest point since GTA V's $1 billion record-breaking revenues generated on the quarter of release was the GTA trilogy remaster's launch in Q3'22, with $310 million generated through the sale of the trilogy remaster, GTA V copies, and GTA Online.
Fast-forwarding to the present and we see yet another milestone, with GTA raking in $236 million after being offered on Game Pass for the third time.
GTA V's performance has continually exceeded Take-Two's expectations, and the company expects GTA+ subscriptions to grow this quarter, potentially prompted by GTA 6's reveal trailer, which is coming in December, and more value-added content for the service.