NASA has taken to its exoplanets X account to highlight an image captured by multiple of its telescopes, writing "something's watching".
The space agency explains in its X post that it appears the Helix Nebula was looking right back at Earth when NASA pointed its extremely sensitive instruments at it to observe it in a variety of wavelengths of light. Notably, the Helix Nebula is a dying star that is located approximately 700 light-years away from Earth within the constellation Aquarius, and is officially defined as a "planetary nebula", which is a phase of the life of a star.
The space agency explains on its website that when a star such as the sun runs out of fuel it will begin to expand and the outer layers of the star begin to "pull off". Simultaneously the core of the star begins to shrink in on itself. The Helix Nebula is experiencing both of these stages, and in approximately 5 billion years our sun will suffer the same fate.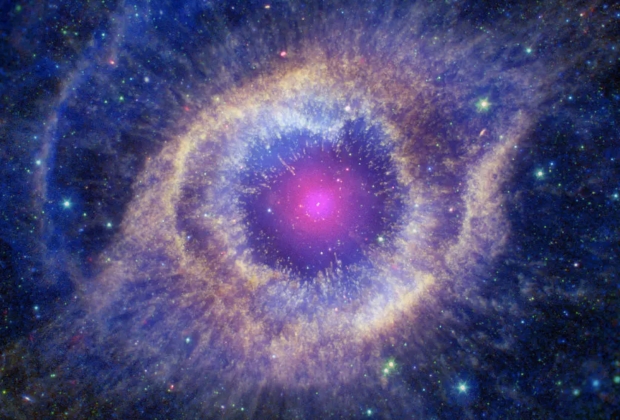 NASA's Spitzer Space Telescope captured the nebula in infrared light (green and red), Hubble captured it in optical light (orange and blue), ultraviolet from NASA's Galaxy Evolution Explorer (cyan), and Chandra's X-rays (appearing as white). At the center of the image resides the white dwarf or the dead corpse of what once was a star. The diameter of the nebula spans approximately light years.