Samsung is very much expected to announce a trio of new smartphones in January of 2024, with the entire Galaxy S24 lineup starting to leak with increasing regularity. We already saw the Galaxy S24 Ultra's new Qualcomm Snapdragon 8 Gen 3 chip work its way through a Geekbench CPU test and pass with flying colors, and now the Exynos 2400 has made an appearance as well.
While the Snapdragon 8 Gen 3 chip will be the only one used in Samsung's upcoming flagship, those buying a Galaxy S24 or Galaxy S24 Plus will have to hope that they live in the right part of the world if they want to get the Qualcomm chip - it'll only be used in phones destined for the United States and Canada. Everyone else will get Samsung's own Exynos silicon - and while the early benchmarks show that the Exynos 2400 is an improvement over other chips from Samsung, it still can't quite keep up with Qualcomm's finest.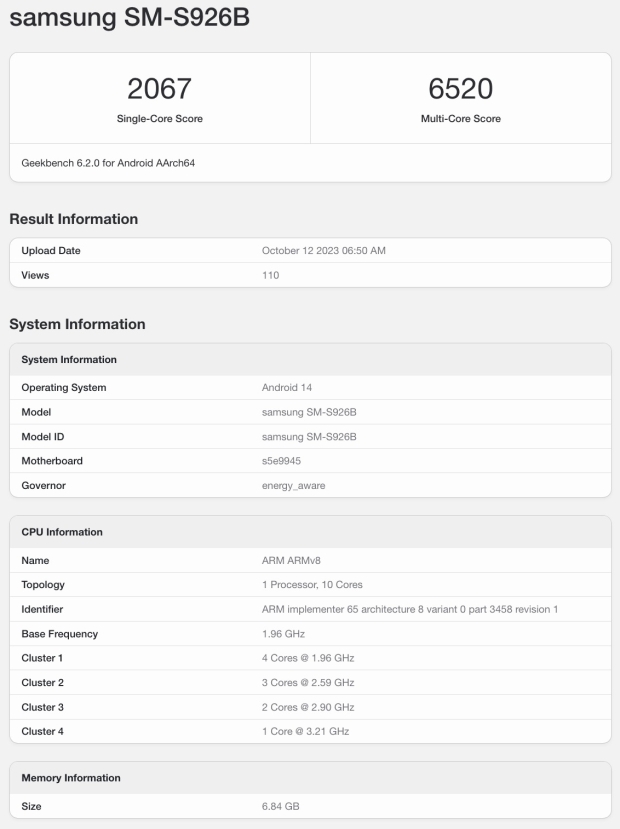 This news comes after a Samsung Galaxy S24 Plus European variant carrying the model number SM-S926B popped up in new benchmark scores, managing to achieve 2067 points in the single-core benchmark and 6520 points in the multi-core run. To put that into comparison, the Qualcomm Snapdragon 8 Gen 3 scored 2234 points in the single-core test and 6807 in the multi-core test.
Along with the scores, the test runs also confirm that the Exynos 2400 is a 10-core affair with one 3.21GHz core, two 2.90GHz cores, three 2.59 GHz cores, and four 1.96 GHz cores. The phone tested also ran Android 14 and had 8GB of RAM installed.
With Samsung now expected to announce all of the new phones towards the end of January 2024, we can likely expect there to be more leaks between now and then, too.