Intel has launched its latest discrete graphics card, with the new Intel Arc A580 available globally, with pricing starting from USD 179. The first few Intel Arc A580 GPUs arrive courtesy of ASRock, GUNNIR, and SPARKLE - and you can check out our full review of the SPARKLE Intel Arc A580 ORC OC Edition.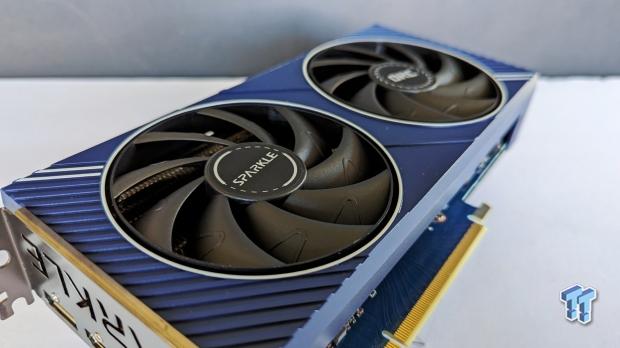 Intel describes the card as the latest Arc entry to cater to gamers and creators, targeting fast 1080p gaming performance at 'High' settings - with even faster performance when playing popular esports titles. The big story here, at least for us, is the $179 price point - we haven't seen a brand-new GPU (especially one that can deliver decent performance) arrive at a low price like this in a long, long time.
Spec-wise, it's very close to the Intel Arc A750, too, so you're looking at performance within 10% of the mainstream Arc 7 offering. In our benchmarking, which pushed game settings to the 'Ultra' level, SPARKLE Intel Arc A580 ORC OC Edition delivered an average frame rate of 74 FPS, which is not too shabby for an entry-level card, making it an attractive option for PC gamers on a budget. This figure makes it 20% faster than the GeForce RTX 3050, which retails for a higher price.
Like the rest of the Intel Arc lineup, the Intel Arc A580 features dedicated AI hardware to support Intel Xe Super Sampling or XeSS - the company's answer to DLSS and FSR upscaling. There's also hardware accelerated ray tracing, and in our testing, we found the $179 delivered better results in RT-intensive workloads than AMD's mainstream Radeon RX 7600. Impressive stuff. However, you're getting entry-level RT, so it's not a main feature of the GPU.
Here's a look at Intel's internal benchmark results covering 1080p gaming with 'High' Settings and Intel XeSS enabled where marked.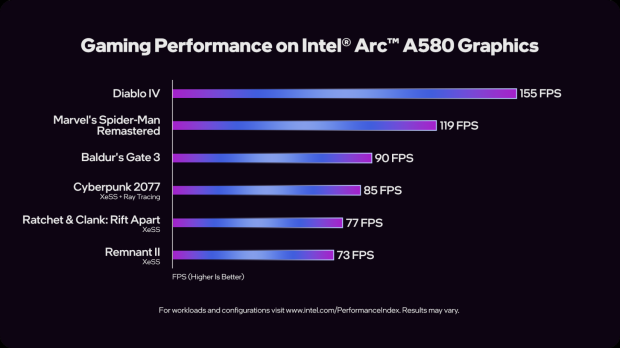 Elsewhere, the Intel Arc A580 doesn't skimp on memory - the 8GB of GDDR6 runs on a 256-bit memory interface with an overall bandwidth of 512 GB/s and a memory speed of 16 Gbps. Throw in DisplayPort 2.0 support, HDMI 2.1, and AV1 encoding and decoding for content creators - and the Intel Arc A580 is essentially a slightly cut-down version of the Intel Arc A750.