NASA has shared an image on its social media that briefly captured the attention of millions - "A Bear on Mars?"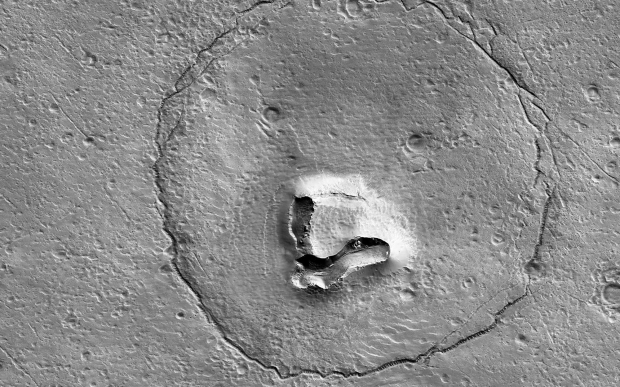 The image was originally captured on December 12, 2022, by the Mars Reconnaissance Orbiter (MRO), which is designed to search for the existence of water on Mars and provide critical support for missions on the Martian surface by acting as a relay station for information. MRO snaps photographs of the Mars landscape from an altitude of 156 miles, and one such image was shared to the University of Arizona's blog on January 25, 2023, that sparked attention.
The "Bear on Mars" is a prime example of the phenomenon called, which is the tendency to see faces or meaning within an image of an object/s that has none. Looking at the image, we can see a V-shaped hill that creates the bear's nose, two impact craters make up the eyes, and a circular fracture pattern creates the head. NASA explains that it's just a "a hill on Mars with a peculiar shape." This human phenomenon is commonly seen when people look up at clouds and notice shapes, people, animals, and more.
More examples of pareidolia - the human tendency to see recognizable shapes in unfamiliar objects or data - from Mars here