NVIDIA's powerhouse GeForce RTX 4090 graphics card is the only choice for enthusiast gamers who are chasing frames, pushing 4K 120FPS in even the hardest-to-run games on the market... but it seems globally supply is running quite low, at least according to some Japanese retailers.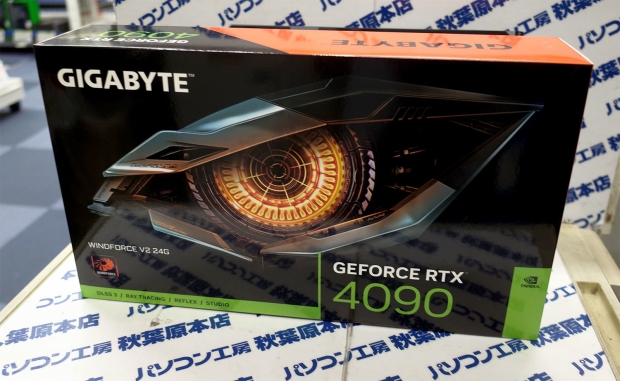 It seems interest in NVIDIA's second most powerful Ada Lovelace GPU -- the GeForce RTX 4080 -- isn't too strong, as people are just thirsty for the GeForce RTX 4090. According to a staffer at The PC Workshop Akihabara Store in Japan, the demand for the GeForce RTX 4090 has been "constant" but it is becoming "a bit difficult to get in stock".
Another staffer added that the models priced in the 250,000 yen range "are still on backorder" and that the showcase for the GeForce RTX 4090 in their store "does indeed have noticeable gaps". Another Japanese retailer said that the intentionally low stock of the RTX 4080 is due to an "overlap" and that people are instead opting for the GeForce RTX 4080. More gamers are opting for the GeForce RTX 4070 Ti if they seek high-end performance, while ultra-high-end performance chasers are still jumping into the warm embrace of the GeForce RTX 4090. The staffer added, "Therefore, we deliberately limit our stock".
So, it seems that the deliberate stock limitation of the GeForce RTX 4080 is pushing gamers into spending more for the GeForce RTX 4090, but we all know that the RTX 4090 is a far, far faster card. Retailers have huge backorder logs, and with high global demand for the RTX 4090, no improvements in supply are on the way... sigh.
This means that Japanese retailers are advising enthusiast gamers chasing high-end GPUs to keep themselves updated on trends, where if a cheaper GeForce RTX 4090 is out of stock, demand for other cards -- such as the RTX 4080 and RTX 4070 Ti -- are options for gamers. But, if the price of the RTX 4090 rises... back-ordering one makes sense.