AMD has released a special AMD Software: Adrenalin Edition Preview Driver for AMD Fluid Motion Frames, bringing the frame generation and FPS boost technology to all DirectX 11 and 12 games via a single button click at the driver level. In addition, AMD has highlighted 20 titles as being optimized for the one-click HYPR-RX Fluid Motion Frames boost.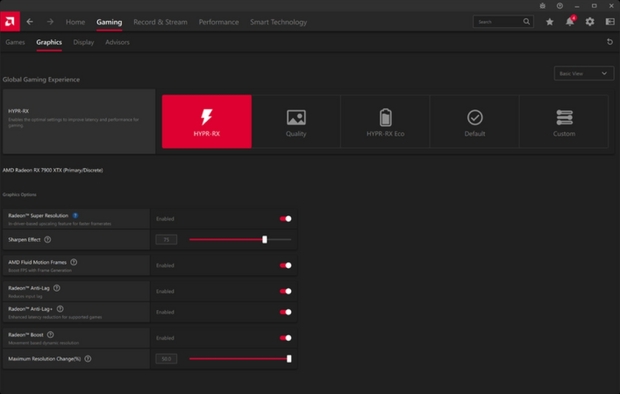 This exciting feature allows Radeon RX 7000 Series GPU owners to take advantage of AMD technologies without needing game-specific integration - including the new Anti-Lag+ feature to reduce system latency. AMD notes that for the best results, base performance is recommended to be a "minimum fps of 55 FPS for 1080p displays, and 70 FPS for 1440p or above displays."
Driver-level Fluid Motion Frames differs from FSR 3, as that's a more customized and optimized version with Super Resolution and AMD's new Fluid Motion Frames getting official integration in two games (so far): Forspoken and Immortals of Aveum. In these titles, Fluid Motion Frames can be enabled on Radeon RX 6000, RX 7000, GeForce RTX 20, 30, and 40 Series GPUs.
Although HYPR-RX and the Adrenalin Edition Preview Driver for AMD Fluid Motion Frames are limited to the latest AMD Radeon RX 7000 Series of graphics cards, it's very cool that AMD has this feature up and running for those wanting to check it out. The 20 titles with optimizations (which AMD notes will automatically enable the tech) are:
A Plague Tale - Requiem

Borderlands 3

Control

Dead Space

Deep Rock Galactic

Dying Light 2

Far Cry 6

Ghostwire: Tokyo

Hitman 3

Hogwarts Legacy

Horizon Zero Dawn

Metro Exodus Enhanced Edition

Red Dead Redemption 2

Resident Evil 3

Resident Evil 4

Shadow Of The Tomb Raider

Star Wars Jedi: Survivor

Starfield

The Last of Us Part 1

The Witcher 3: Wild Hunt
The update notes that frame generation is disabled during fast motion to preserve image quality, and early impressions from YouTube tech reviewer Daniel Owen showcase that it's super simple to toggle, with the results so far being impressive - though Fluid Motion Frames frame generation tech does introduce artifacts like ghosting. Also, it seems that Fluid Motion Frames requires v-sync to be enabled to function properly, so it's not something that plays nicely with VRR.
Unlike NVIDIA's DLSS 3 Frame Generation, which is limited to the GeForce RTX 40 Series of graphics cards, FSR 3 and Fluid Motion Frames are open to all GPUs when integrated into a game. Early impressions for FSR 3's implementation in Forspoken and Immortals of Aveum have been mixed to positive, with the main criticism being that Fluid Motion Frames amplifies artifacts and issues with AMD's FSR 3 Super Resolution. It delivers better results when using the "Native AA" mode, though this means less performance increase.
But, it's not a deal breaker as with FSR in Quality mode and Frame Generation enabled, you can expect to see double the perceived performance compared to native rendering - with additional latency because it's generated frames. With the tech still very new (available for a few days), expect to see more comparisons and deep dives in the coming weeks.