Fortnite makes billions of dollars a year and is one of the most popular video games ever made. So why is Epic Games firing hundreds of workers due to overspending? The answer lies in Epic's multi-faceted ambitions.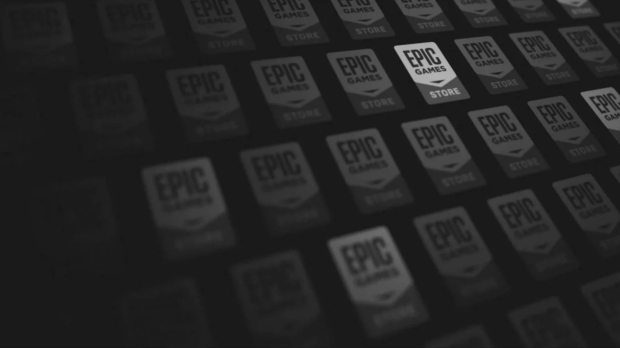 Epic Games is one of the most interesting companies in the video games industry. While Epic is the maker of Unreal Engine, one of the most widely-used multimedia graphics engines on the planet, this engine doesn't define Epic's ambitions. The reality is that Epic wears many hats. It's not just an engine-maker that licenses its tools out to a sizable portion of games, films, TV shows, and even cars; Epic is also a major disruptor for video game economics and pledges to shake up the status quo.
Epic appears to follow the whims of CEO Tim Sweeney, a legendary programmer who created the Unreal Engine. Sweeney is staunchly opposed to certain games industry trends, including the business practices of Valve, Google, and Apple, the last two of which constitute a "mobile duopoly" on gaming's most lucrative billion-dollar platform. Sweeney has been vocal and consistent in his opposition of these companies, and Epic's specific business decisions have followed Sweeney's beliefs.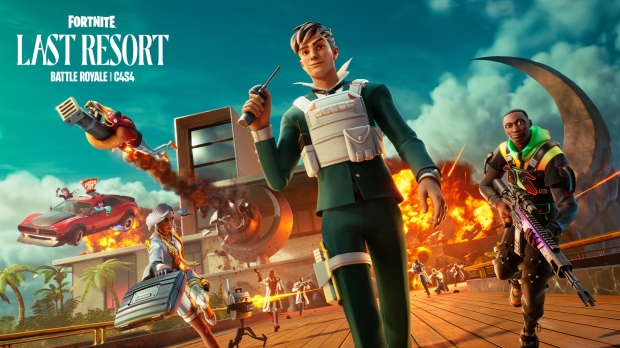 As far as disruption goes, Fortnite is Epic's largest contribution to the industry's iterative growth.
The battle royale redefined what success constitutes for the unified third-party console, PC, and mobile markets. Fortnite is so big that the game is a kind of high water mark for the industry. Major players like Microsoft, Sony, EA, Activision-Blizzard and Ubisoft are all trying to emulate Fortnite's success in their own way, be it through free-to-play business models like the all-powerful battle pass design or Fortnite's myriad of crossovers.
The other major disruption point is the Epic Games Store.
The success of Fortnite appears to have created a resentment for gaming's biggest platform-holders (except for maybe Sony, who has invested billions into Epic Games).
Fortnite's billion-dollar success has brought lots of revenue into Epic Games, but Epic doesn't keep all of those earnings. Epic has to shell out 30% of its revenues to platform-holders. And since Fortnite is on practically every platform, Epic is spending a lot on commissions to Microsoft, Sony, Nintendo, Apple (well, before the trial), and Google. It's one of the golden rules of the games industry: the more platforms your game is on, the more you'll spend on platform fees.
Epic doesn't like this and wants to shake things up, so it's trailblazing a new model. Well, not a new model exactly, but one with marginally better terms compared to other platforms.
Plus, Epic wants to challenge Valve, who pretty much dominates what little competition there is in the PC space. Valve's Stream is one of the first digital PC games storefronts.
So the Epic Games Store was born.
Epic Store - Disruption through spending
The storefront was created with a simple principle in mind: Creators deserve better royalty splits. Contrary to Steam, the Epic Games Store offers a flat 85-15 split, with creators keeping 85% of all game sales revenues and Epic taking the 15% of revenues. These terms have attracted some pretty high-profile games on the service, and now it's not uncommon to see some of the biggest titles launch on both Steam and the Epic Games Store (provided no exclusivity deals were made).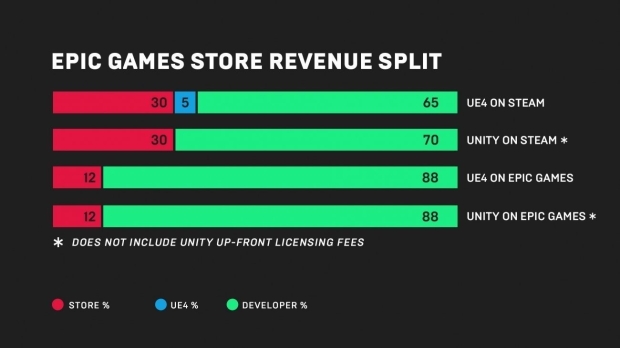 The gambit paid off.
The Epic Games Store's lower 85-15 split has forced competitors to also revise their revenue splits. Microsoft instituted a 88-12 split for PC games sold on the Microsoft Store. Valve also made some changes to its fee structure, with developers keeping 75% of revenues if a game makes $10 million, and 80% of revenues if a game breaks the $50 million threshold.
There's just one big problem with this plan: The Epic Games Store is not profitable. The store is operated at a loss. This is the opposite of the norms of gaming, where hardware is typically sold at a loss and then subsidized by profitable software sales. Court documents in the Epic v Apple trial reveal that Epic does not expect the Epic Games Store to be profitable until 2027.
The good news is that Epic can lean on Fortnite's billions to help subsidize this loss over time--after all, Fortnite can only be accessed in a dedicated way on PC through the EGS launcher.
The reality is that digital storefronts are incredibly expensive to create, operate, and maintain. Creating a storefront is just the beginning. Epic then has to attract developers and publishers to release their games on the Epic Games Store. And, more importantly, Epic has to find a way to get users and customers over to the store as well.
Why should devs even bother to sign another contract when Steam is the leading store? The answer, of course, is upfront fees plus the favorable 85-15 revenue split (which goes even farther to 88-12 if developers are using Unreal).
Why should consumers stop using Steam and buy their games from the Epic Store? Free games and discounts, of course.
These incentives cost money. A lot of money.
More favorable revenue splits to developers and publishers means Epic keeps less for itself. On top of the split, Epic has shelled out tens of millions of dollars on a per-contract basis for timed exclusivity deals with some of gaming's largest publishers, securing big games like Red Dead Redemption 2, Borderlands 3, and the massively-popular Genshin Impact for the platform.
Epic also made significant contracts with publishers, establishing a multi-year deal with Ubisoft to ensure future games would be timed exclusives on the Epic Store.
Then there's the per-game deals, similar to those that Microsoft makes to help add content to its Xbox Game Pass subscription. For example, Epic paid about $10.45 million for exclusive rights to release Control on the Epic Games Store. This is just one title--and a relatively smaller AA one at that--and Epic has made multiple deals over the last few years.
To attract users, Epic frequently gives away games on the Epic Games Store. You just have to sign in, redeem the game, and boom, it's yours to keep forever. The plan has actually worked quite well, and Epic has seen a healthy uptick in both Epic Games Store users (230 million as of 2022) and monthly active users (68 million MAUs as of 2022).
Epic has given out 291 free games total from just 2020 - 2022. The games are free to users, but not to Epic: The company pays developers and publishers to offer their titles on the storefront for free. That's on top of the multi-million exclusivity deals.
Missed income - Fortnite kicked off iOS
Epic Games has a big Apple-shaped hole in its books. Before we take a better look at Epic's income statements, we have to talk about the company's missing revenues.
In late 2020, Epic Games sued Apple, culminating in one of the most widely publicized cases in tech: The famous Epic v Apple trial.
Rather than use Apple's payment system, Epic chose to use its own payment system for Fortnite purchases. Apple took notice, and quickly removed Fortnite from the App Store. Epic then sued Apple, alleging that Apple was a monopoly, shining a light on the App Store payment systems, 30% commission fees, and other policies.
The judge mostly sided with Apple and decided that Epic intentionally violated the App Store policies that Epic had originally agreed to.
Fortnite has not been offered on the App Store since August 2020. Previous records indicate that Fortnite made as much as $330 million on iOS from in-game purchases (this was in 2018, the highest-ever period for Fortnite revenues).
Now with this in mind, we can take a closer look at Epic's earnings.
The books - spending, spending, spending
Now we know what Epic spends its money on, let's take a closer look at the dollar value of its earnings and spending.
The Epic v Apple trial revealed how much Epic Games made between 2017 and 2020. We also have estimates on how much Epic earned from in-game purchases in 2021.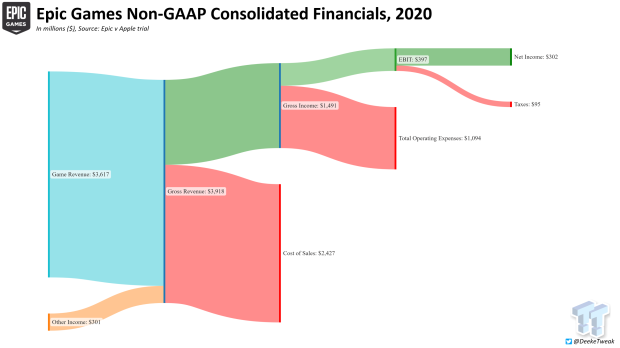 According to the documents, which were listed in a public exhibit folder during the time of the trial, Epic's income margin dropped to 8% in 2020. Throughout the year of 2020, Epic made $3.918 billion in revenue and spent a total of $3.52 billion on expenses. This leaves behind $302 million for net income for the year.
This was in 2020, before inflation had increased living costs across the world. It is likely that Epic's spending is much higher now given the accumulation of its multi-year exclusivity deals, continued maintenance of the Epic Games Store and its reduced royalty share, and increased spending on in-development titles including a project with Lego as well as increased investment into the Unreal engine.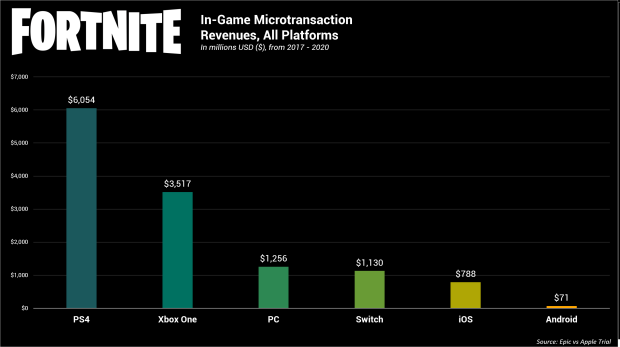 To bring this point home, we can take a look at Fortnite's total revenues throughout 2018 - 2020, which amount to around $18 billion across all platforms (note that platform revenue splits that Epic is required to pay out may not be included).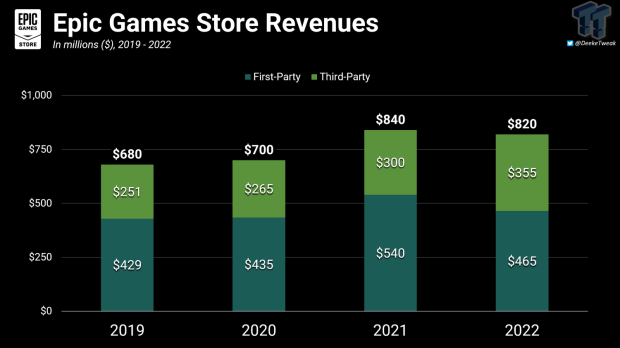 Finally, we can take a look at Epic Games Store revenues for another performance metric evaluation.
The store, which was not profitable as of 2020, typically makes less than $1 billion in revenue from sales. This is a sharp contrast to competitors like Valve, who makes an estimated $7 billion+ from the Steam storefront.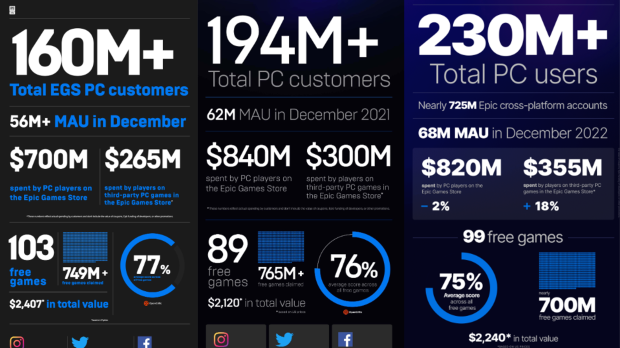 Epic has multiple spending points across its company, including new metaverse ambitions, new Fortnite content, multi-year exclusivity deals, single-game exclusivity deals, general operational costs across all divisions, investing into its Unreal engine, and working on experimental R&D initiatives.
Epic has also opened a new initiative to stimulate an in-game economy within Fortnite. Similar to Roblox, Epic made what it calls the Island Creator, a new program that allows Fortnite users to actually make money from their in-game content. Gamers can create custom Fortnite island areas and receive 40% of all revenue payouts from Epic.
As per CEO Tim Sweeney, this program has been a success, but the high revenue sharing has caused a shift in spending:
"While Fortnite is starting to grow again, the growth is driven primarily by creator content with significant revenue sharing, and this is a lower margin business than we had when Fortnite Battle Royale took off and began funding our expansion. Success with the creator ecosystem is a great achievement, but it means a major structural change to our economics."
Then there's the Support-A-Creator marketing program where Epic will pay out dollar amounts to influencers and content creators.
This is just spending on content and operations.
Epic has spent hundreds of millions of dollars in court cases and fees, including the Epic v Apple trial as well as a hefty $520 million fine from the FTC for its alleged dark patterns in Fortnite.
All of this spending isn't just from Epic's own coffers. The company has received heavy billion-dollar investments over recent years, with Epic raising $1 billion throughout 2021 (including a nice $200 million investment from Sony Corp), and a $2 billion total investment in 2022 with LEGO and Sony Corp each investing $1 billion into Epic Games.
Epic didn't always receive big billion-dollar lumps, though. Ten years ago in 2013, Chinese games juggernaut Tencent purchased 40% of Epic Games for about $330 million, nearly the same amount that Electronic Arts paid to acquire Respawn Entertainment in 2017.
Wrap-up: Too much at once?
Epic Games is trying to do a lot of things at once. The company wants to gear their Unreal engine up as to pre-eminent choice for the future of the metaverse, create a Roblox-like economy of buying, spending, and payouts, maintain a competitive PC storefront (and, if Epic had their way, EGS would be on mobiles too), iterate on Fortnite's tech and seasonal content, and push into new projects.
As per Shiina, a Fortnite influencer with sources close to the game's development, Epic Games si working on a number of new things including:
That's a lot to take on during the best of times, but the weight of these ambitions are magnified significantly from an inflated worldwide economy. Epic CEO Tim Sweeney says the company tried to do everything it could before slashing jobs, but Epic is "far from financial sustainability" and the next step would be to fire 16% of its workforce (or about 870 people).
Perhaps paring back spending on some of these initiatives would have saved these jobs.