Rockstar Games is adding in classic games as part of its GTA+ subscription service.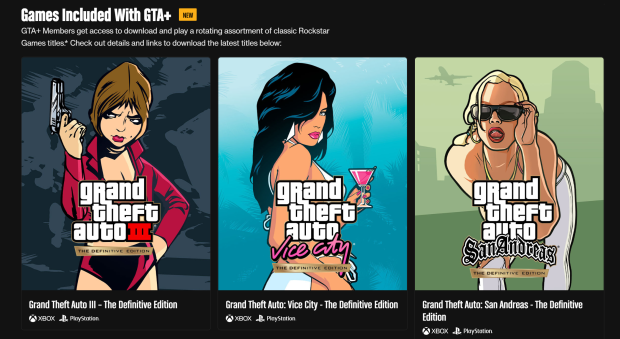 Rockstar is taking cues from Xbox with its new GTA+ subscription service. GTA+ was introduced in 2022 as a low-cost way to heighten GTA Online play with extra in-game goodies, unlockables, and bonuses. Now the service is adding games.
GTA+ subscribers will soon be able to play a rotating selection of old-school Rockstar Games titles. Note that this is Rockstar titles, not just Grand Theft Auto titles, so it's possible that games like Red Dead Redemption, Bully, Manhunt, and The Warriors could show up. The first games offered on GTA+ are all three titles in the GTA trilogy definitive edition and will be offered on Xbox and PlayStation.
My guess is that over time, GTA+ will not only increase in price, but grow to become an undeniable and impossible-to-ignore source of steadily-delivered content for GTA Online, GTA 6 and beyond. It's likely that Rockstar will add in more value to help justify the price hike, but exactly how this will work remains to be seen. It's possible GTA+ could go beyond guns, cars, and in-game GTA Online items to a more robust offering that could at some point also augment singleplayer.
Whatever the future holds for the service, it sounds like GTA+ is growing. Take-Two Interactive CEO Strauss Zelnick notes that GTA+ is seeing continued momentum:
"GTA+, Rockstar's premium membership service for GTA Online on PlayStation 5 and Xbox Series X and S, offered exclusive options for members to test drive and purchase an array of vehicles, and we're continuing to see strong growth in GTA+ adoption with each passing quarter."
Check out more info on GTA+ below:
GTA+ is a monthly membership program delivering a range of exclusive benefits to use in GTA Online for PlayStation 5 or Xbox Series X|S, access to a selection of Rockstar Games titles, and more.

GTA Online Benefits

GTA+ grants Members a host of benefits to use in GTA Online including a monthly deposit of GTA$500,000 and access to Member-only Shark Cards for even greater value, plus access to claim rotating:

Vehicle-related benefits, such as test drives, discounts and early access to new releases, or bonus vehicles.

Property-related benefits, including discounts and add-ons, or bonus properties.

Outfits, liveries, and other cosmetic items.

GTA$ and RP accelerator bonuses, discounts, and more.

New Member-only events launch each month and will deliver a new set of benefits. The availability of certain Member-only benefits may change over time.

Games Included with GTA+

In addition, GTA+ now grants Members access to a rotating selection Rockstar Games titles*. While subscribed, GTA+ Members can access these titles for as long as they are included with GTA+.