Another month rolls by, and we've got another month of juicy Steam Hardware and Software survey data to go through - this time for August 2023. On the graphics card front, NVIDIA still dominates with 74.93% market share, followed by AMD with 15.94%, with the big story being that both the GeForce RTX 4060 and GeForce RTX 4060 Ti desktop graphics cards have now made the list.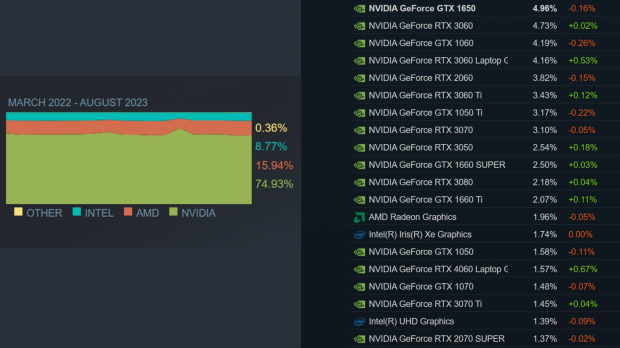 No doubt the market share for these GPUs will increase over the coming months as the 60-class mainstream GPUs from NVIDIA are all over the Top 10, which includes the GeForce RTX 3060, RTX 3060 Ti, RTX 2060, GTX 1650, and even the GTX 1060 - which is still going strong at number three. As of August 2023, the GeForce RTX 4060 Ti has a 0.37% market share, with the GeForce RTX 4060 sitting at 0.22%.
This means that there are now as many GeForce RTX 4060 GPUs (not including the RTX 4060 Ti) in PCs as there are AMD Radeon RX 7900 XTX GPUs - which is the most popular RDNA 3 card, according to the latest data from Steam.
The Radeon RX 7900 XTX is still the only GPU from the new RDNA 3 lineup to make the list - though the recent release of the mid-range and well-received Radeon 7700 XT and 7800 XT could see a shift in the coming months. As of August 2023, the most popular Radeon desktop GPU is still 2017's RX 580.
On the NVIDIA front, the GeForce RTX 4060 Laptop GPU, which launched well in advance of the desktop variant, has a separate entry on the list - and with some massive growth, now sits in the Number 16 slot as one of the most popular GeForce RTX 40 Series GPUs out there. The GeForce RTX 4070 Laptop GPU is also proving popular, with the card making the list for the first time this month.
Outside of the GeForce RTX 4080, all GeForce RTX 40 Series cards have shown double-digit growth for August 2023 (that's 0.xx percent double-digit growth) as PC gamers either join the fray or upgrade from older hardware.