External SSD storage that is small enough and light enough (under 29 grams) to fit in your pocket is how Kingston describes its new XS1000 External SSD. And that's certainly true, but it's also small and lightweight enough to fit on a keychain with dimensions (69.54 x 32.58 x 13.5mm) that are more in line with a USB thumb drive than a full-on external.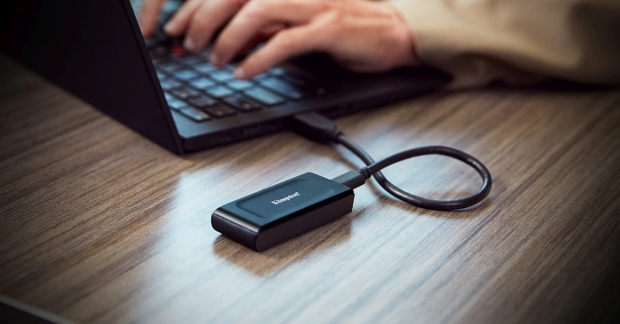 And with the enclosure housing a 3D NAND SSD, you've got up to 2TB of storage delivered over a USB-C (with a USB-C to USB-A cable also included) capable of delivering read speeds of 1,050 MB/s and write speeds of 1,000 MB/s, which is definitely fast for portable storage that is all about convenience and on-the-go productivity.
Perhaps the biggest plus for the tiny Kingston XS1000 External SSD range (available in 1TB and 2TB capacities for USD 79.99 and USD 124.49, respectively) is backed by Kingston's limited 5-year warranty with free support alongside the company's reputation for reliability.
"We designed this drive to be sleek and compact," Kingston says in the announcement. "[The] XS1000 is currently the smallest external SSD available on the market with speeds up to 1,050MB/s, measuring merely half the size of a standard SSD. This ensures unparalleled portability, making it the ultimate selection for those seeking a combination of convenience and top-notch performance."
Here's a look at the specs.
Interface: USB 3.2 Gen 2
Speed: Up to 1,050MB/s read, 1,000MB/s write
Capacities: 1TB, 2TB
Dimensions: 69.54 x 32.58 x 13.5mm
Weight: 28.7g
Casing material: Metal + plastic
Operating temperature: 0°C~40°C
Storage temperature: -20°C~85°C
Warranty/support: Limited 5-year warranty with free technical support
Compatible with: Windows 11, 10, macOS (v.10.15.x +), Linux (v. 4.4.x +), Chrome OS