Cable management and keeping your PCs neat and tidy have evolved in recent years. From using cable ties to keeping a sea of wires in check, we're now at the point where the fewer calves you see, the better it is for a rig's overall aesthetics. In the age of liquid cooling and RGB lighting, aesthetics is king - and it's one of the reasons we're now seeing a shift to GPU and motherboard designs created to hide or even remove visible cables entirely.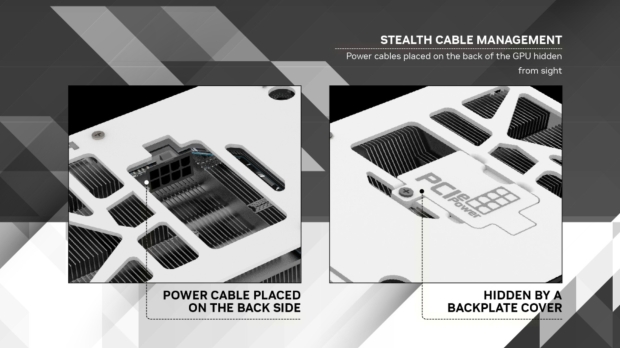 INNO3D's innovative approach is one that we've covered multiple times here at TweakTown, and what makes it great is that it doesn't require additional specialized hardware like a specific case or motherboard.
And today, we've got confirmation that the company's Stealth Cable Management system is making its debut with the INNO3D GeForce RTX 4070 Twin X2 OC White Edition graphics card.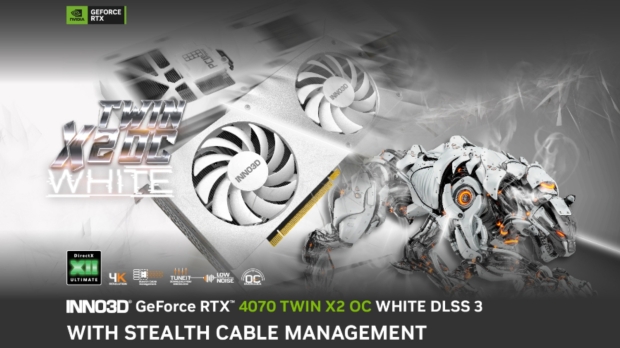 It's a simple and elegant solution to the whole "hidden power cable" design approach, with the single 8-pin power connector requirement for the GeForce RTXC 4070 moved to the backside of the graphics card and placed under a removable panel. With the GeForce RTX 4070, GeForce RTX 4060 Ti, and GeForce RTX 4060 all using the same 8-pin power connector - the INNO3D GeForce RTX 4070 Twin X2 OC White Edition is the first GPU with the new Stealth Cable Management system.
INNO3D is debuting the Stealth Cable Management system with mainstream GeForce RTX 40 Series GPUs in the hope that the design will become "an industry trend" as it offers more room for bending cables. And then there's the very cool touch of bundling the GPU with a matching white power cable to further add to the aesthetics. The new stealth-powered INNO3D GeForce RTX 4070 Twin X2 OC White Edition retains the 2-slot thickness and compact 250mm x 118mm x 42mm dimensions.