If you like the look of the Apple Watch Ultra but that silver finish just isn't going to work for you, we have good news. It appears that there might be a new color arriving with the Apple Watch Ultra 2 this year and it's going to be a more moody option for those who prefer a darker color.
The new color would be a dark titanium look which is no surprise given the fact that the watch is made from titanium. But the darker look could be closer to the Space Gray Apple Watch that we're all so familiar with, and that's absolutely something that we can get behind.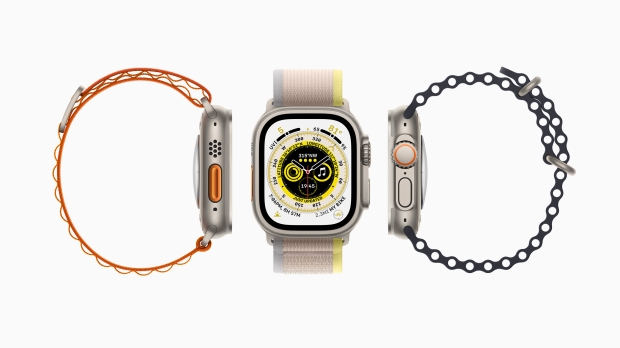 In fact, Bloomberg's Mark Gurman writing in the weekly Power On newsletter says that Apple had originally looked at the darker color option back in 2022. It was designed ahead of the original Apple Watch Ultra release but was ultimately canned because Apple's designers didn't like the appearance. It isn't clear yet whether that has now changed since that opinion, but Gurman says that the dark titanium look could pop up again in 2023.
If that's the case we can hope that the new darker color will be in addition to the lighter one of 2022, rather than replacing it. More color options are always a good thing for buyers and the lack of options did seem a downer on the Apple Watch Ultra's rather utilitarian look. That look almost lends itself more to a darker color, so we'll have to wait and see what it looks like if and when Appel gives it to us.
Little is known about the Apple Watch Ultra 2 beyond this potential color situation. Gurman does note that Apple is going to use a new S0 chip inside the Apple Watch Ultra 2 and Apple Watch Series 9, adding that it'll offer a notable speed improvement over previous chips. Apple hasn't really refreshed the Apple Watch's chip since the 2020 launch of the Apple Watch Series 6 so we're long overdue a performance boost.
Both new 2023 Apple Watches are expected to be announced in or around September, likely alongside the iPhone 15, iPhone 15 Plus, iPhone 15 Pro, and iPhone 15 Pro Max models that are so hotly anticipated right now. The high-end iPhone 15 Pro Max is particularly interesting thanks to rumors of a new periscope camera that should allow for improved zoom performance compared to any iPhone that came before it. A new Apple Watch Ultra-like Action button is also thought to be on the way to the iPhone 15 Pro and iPhone 15 Pro Max.