Last week we reported on the new AMD AM5 AGESA 1.0.0.7B BIOS update for Ryzen CPUs, with the new motherboard firmware opening the door to faster DDR5 memory speeds and overclocking. With the release already out in the wild, we saw several examples of boards and kits hitting DDR5-8000 - a massive increase over the previous limit of DDR5-6000.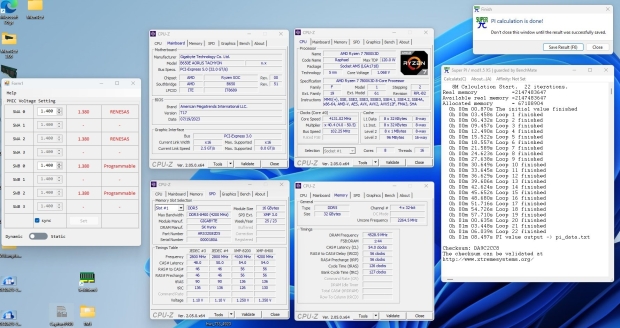 The update brings memory performance and overclocking in line with what we've been seeing in the world of Intel hardware, with this new result showcasing that Zen 4 memory overclocking is right up there. Thanks to world-renowned overclocker HiCookie, we've got a new record for DDR5 memory kits on a Ryzen 7 7800X3D system.
As per this post on Facebook, we can see DDR5-9000 speeds at 1.4V on a B650E Tachyon motherboard. With an exact speed of 9058 MHz, we're well and truly on the way to seeing DDR5 memory on AM5 boards cross the DDR5-10000 barrier - and compete with Intel regarding OC action.
Hardware-wise, HiCookie's build features GIGABYTE DDR5-8400 memory modules on a B650E AORUS Tacyon board paired with a Ryzen 7 7800X3D CPU with 54-56-56-126 timings. The good news is that the update delivers better memory stability, making it one of the most impactful and important since AMD debuted the new AM5 platform with the arrival of the Zen 4-powered Ryzen 7000 CPU line-up.
The key to the update seems to be the inclusion of previously-hidden settings and timing options alongside broader support for overclocking and faster memory kits. Memory speeds for AMD Ryzen builds have traditionally lagged behind Intel systems, so we could be looking at a turning point for both AM5 and AMD systems in that regard.