It's been a long time coming, but we're getting more and more info from different sources pointing to a September launch for AMD's new mid-range RDNA 3 offerings - the Radeon RX 7700 and the Radeon RX 7800. Cards that will fill the gap between the mainstream Radeon RX 7600 and the flagship combo, which is the Radeon RX 7900 XT and 7900 XTX.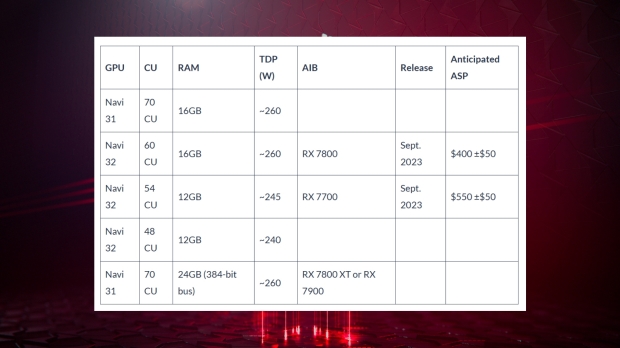 The latest comes from John Peddle Research, citing "various leaks from Asia," the cards will not only launch in September but will get an official unveiling from AMD at the upcoming Gamescom convention in Cologne, Germany, in late August. Using Gamescom as a place to announce new products is not uncommon, and we've seen NVIDIA use the venue in the past to present closer looks at its upcoming GPU releases.
Where it gets interesting is that John Peddle Research is claiming that AMD will launch "at least two" but maybe five new GPUs to fill out the RDNA 3 line-up now that the remaining stock for previous-gen RDNA 2-based Radeon RX 6000 Series graphics cards is being sold through globally.
This isn't the first time we've heard of more models coming, with the sources indicating that the Radeon RX 7800 XT or Radeon RX 7900 could arrive based on the same Navi 31 GPU found in the Radeon RX 7900 XT and 7900 XTX with a cutdown configuration of 70 CUs with 16GB or 24GB of VRAM.
With the Radeon RX 7700 12GB and the Radeon RX 7800 16GB set to use the Navi 32 GPU that has yet to be seen publicly, there are also rumors of a cutdown 48 CU model that could end up being something like a Radeon RX 6650 XT.
Regarding performance, just the other day, we saw 3DMark Time Spy benchmark leaks for both the AMD Radeon RX 7700 and Radeon RX 7800, which showed the Radeon RX 7800 outperforming the GeForce RTX 4070 by around 5% and the Radeon RX 7700 beating the GeForce RTX 4060 Ti by 15%.