With rumors swirling that AMD is planning to launch its mid-range RDNA 3 graphics cards in September, we'll be hearing much more about the planned Radeon RX 7700 and Radeon RX 7800 GPUs in the coming months. Starting today, with some supposedly leaked benchmarks for these GPUs running the popular 3DMark synthetic benchmark Time Spy coming from @All_The_Watts over on Twitter.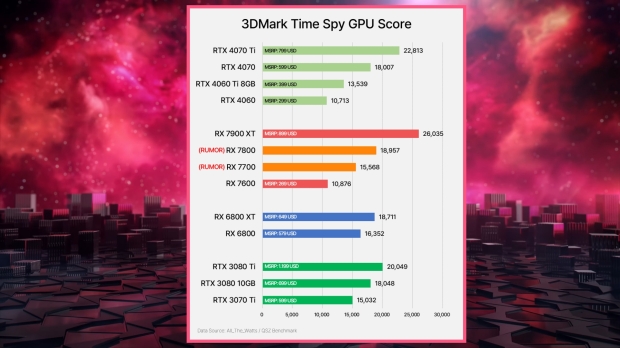 With the flagship Radeon RX 7900 XT and RX 7900 XTX out in the wild, which was recently joined by the mainstream Radeon RX 7600, a big gap in the line-up is ready to be filled. The consensus is that AMD has delayed the launch of its mid-range offerings for its latest generation of Radeon graphics due to existing RDNA 2 stock being available and sold at a discount.
But with stock levels dropping to the point where it's hard to find brand-new Radeon RX 6000 series cards in many regions, the time is right for AMD to launch new GPUs. And speaking of time, these Time Spy results showcase that the Radeon RX 7800 outperforms the GeForce RTX 4070 by around 5%, with the Radeon RX 7700 beating the GeForce RTX 4060 Ti by a more sizable 15%.
That said, per this chart from industry insider @harukaze5719, we see that performance for the Radeon RX 7800 is essentially identical to the Radeon RX 6800 XT, with the Radeon RX 7700 being on par with the baseline Radeon RX 6800. With that, a big chunk of the incentive to pick up either GPU will come down to price - with the hope that both will sit in that mid-range sweet spot of USD 400 to 600.
Of course, as a synthetic DirectX 12 benchmark running in 1440p, it doesn't represent in-game results. As we've seen many times and highlighted in our in-depth GPU reviews, 3DMark results can indicate what to expect when gaming - but it's not a 1:1 translation. So what we're seeing here indicates that the Radeon RX 7800 will deliver performance similar to the GeForce RTX 4070, RTX 3080, and Radeon RX 6800 XT - with the expectation that it will feature 16GB of VRAM.
Hardware-wise, the Radeon RX 7800 is expected to use the new Navi 32 GPU with 60 Compute Units and feature a multi-chip design (MCD) similar to the flagship Radeon RX 7900 combo. At TweakTown, we're very keen to put both new GPUs to the test, so stay tuned for that and more leaked benchmarks as they appear online.