Nixxes Software, the PlayStation studio behind ports for previously PlayStation-only games, is behind the upcoming PC release of Ratchet & Clank: Rift Apart. The PlayStation 5 showcase and excellent action platformer was a notable launch-window release for the console due to its use of stunning ray-traced reflections and detail that made it look like a Pixar animation come to life.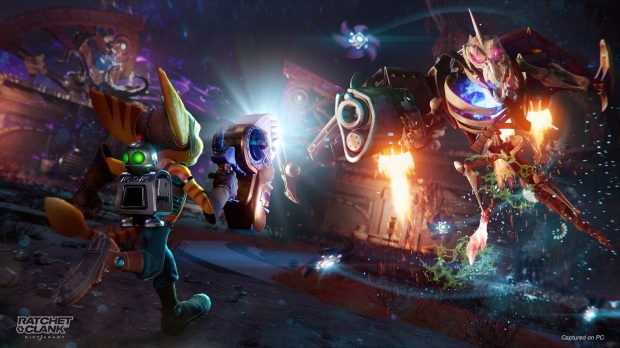 In terms of features, the PC version uses all the cutting-edge tech and expands the ray-tracing in the game to support both ray-traced ambient occlusion and ray-traced shadows. And with that, Nixxes has confirmed NVIDIA DLSS 3, AMD FSR 2, and Intel XeSS support on day one, alongside NVIDIA Reflex and even NVIDIA DLAA. On top of this, there's in-depth visual customization and support for multiple resolutions including ultrawide.
Today we've got the hardware requirements for the game covering everything from minimum specs to the 'Ultimate Ray Tracing' experience in 4K that requires either an NVIDIA GeForce RTX 4080 or AMD Radeon RX 7900 XTX with the aid of NVIDIA DLSS or AMD FSR. The good news is that the 'Amazing Ray Tracing' experience at 1440p requires an NVIDIA GeForce RTX 3070 or AMD Radeon RX 6800 XT - which should present a PS5-like experience.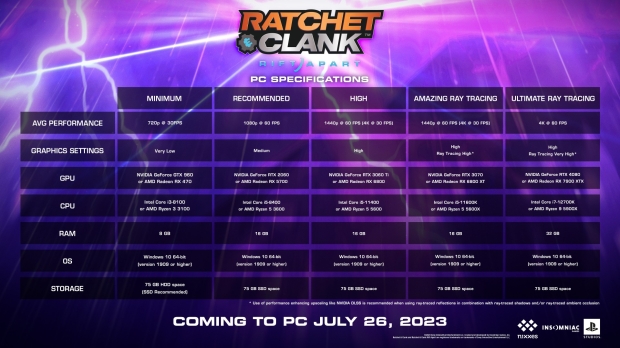 Interestingly, it looks like Ratchet & Clank: Rift Apart will be the first PC game to use the new DirectStorage 1.2 standard, with Senior Lead Programmer Richard van der Laan saying as such in a post that has since been taken down (thanks, Wccftech). This should see the game feature the same lightning-quick load times seen in the PS5 versions, even with all of that extra visual fidelity.
"DirectStorage ensures quick loading times, and GPU decompression is used at high graphics settings to stream assets in the background while playing. Traditionally, this decompression is handled by the CPU, but at a certain point, there is an advantage to letting the GPU handle this, as this enables a higher bandwidth for streaming assets from storage to the graphics card. We use this to quickly load high-quality textures and environments with a high level of detail."

Senior Lead Programmer, Richard van der Laan.
Ratchet & Clank: Rift Apart is out July 26, 2023, for PC.