When we reviewed the AMD Ryzen 9 "Zen 4" 7950X3D CPU earlier this year, it became clear that it was AMD's best CPU for gaming. The only real downside was that as a flagship model that used AMD's groundbreaking 3D V-Cache technology, it was on the expensive side, and for the price, the non-gaming application performance was a letdown.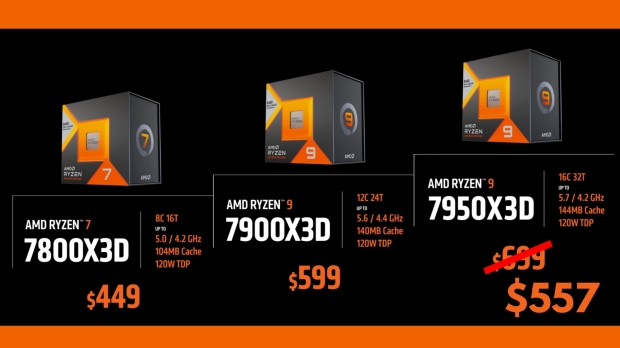 Naturally, this led many to look at the more affordable AMD Ryzen 7 7800X3D 8-core 16-thread processor that launched a few months later as the best bang-for-your-buck CPU for gaming. Specs-wise, the flagship AMD Ryzen 9 7950X3D 16-core 32-thread processor features a higher boost clock speed of 5.7 GHz compared to 5.0 GHz on the 7800X3D, alongside 128MB of L3 Cache compared to 98MB.
And now, you can pick up a new AMD Ryzen 9 7950X3D over at Amazon or Newegg at the discounted price of USD 557, a 17% reduction from the CPU's original MSRP of USD 699. This still puts its price on the high-end consumer CPUs, but it's more than enough of a discount to make the case for it being an excellent choice for enthusiast rigs.
With 3D V-Cache CPUs generally costing more money than the standard Ryzen line-up, this discount puts the price for the AMD Ryzen 9 7950X3D on par with the AMD Ryzen 9 7900X3D. This discount is also notable because it brings the price down for assembling an AM5 build, as we've also seen prices for DDR5 memory drop.
For more info on the AMD Ryzen 9 7950X3D, check out our full review where we said the 7950X3D "is certainly the best gaming CPU in AMD's Zen 4 AM5 portfolio," and it delivers "benefits in gaming over the standard 7950X offering."
And if you're interested in picking one up, be sure to use one of our (affiliate) links below.