AMD has yet to announce or even formally hint at when we might see the proper mid-range options for its new RDNA 3-powered Radeon RX 7000 line-up. It's not hard to understand why there has been a delay, as sales for discounted Radeon RX 6700 and RX 6800 GPUs have made them an excellent choice for many new PC builds in recent months.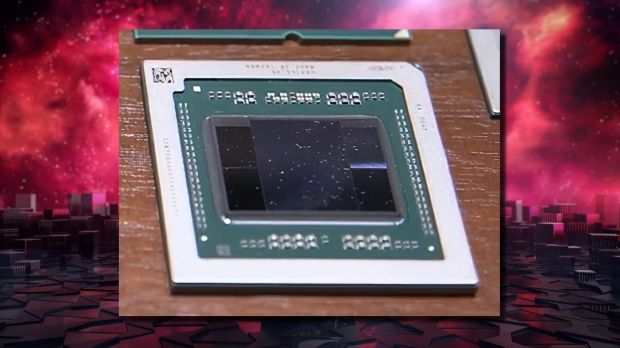 Still, we got our first look at Navi 32, the GPU that will presumably power the Radeon RX 7700 XT and Radeon RX 7800 XT, via a new Forbes interview with AMD CEO and President Lisa Su. As part of the b-roll footage in the video (which you can see at the end of the article at around the 1:30 mark), we got a glimpse at Navi 32 sitting alongside other AMD chips, and it provides some insight into what to expect.
The image confirms a similar multi-chip or chiplet design seen with the Radeon RX 7900 XT and Radeon RX 7900 XTX, albeit with a single GCD (Graphics Compute Die) in the center measuring at around 200mm squared with four MCDs (Multi-Cache Die) measuring at approximately 37.5mm squared each.
With a total size of about 350mm squared, it puts the overall size of Navi 32 at around 30% smaller than Navi 31, with confirmation that you're getting four MCDs versus Navi 31's six.
According to the latest rumors, Navi 32 will feature up to 60 Compute Units with 3840 Stream Processors, plenty of Infinity Cache, and a 256-bit memory bus; as for how that translated to in-game performance, that remains to be seen though it's expected that AMD will position Navi 32 models as direct competitors to NVIDIA's GeForce RTX 4070 line-up.
As with all things performance, the price will be a significant factor in determining how attractive something like the Radeon RX 7700 XT and 7800 XT will be to PC gamers. You do have to wonder how long we'll have to wait before seeing these new GPUs in the RDNA 3 line-up, especially with 2024 set to usher in the next generation of AMD and NVIDIA GPU hardware with RDNA 4 and the GeForce RTX 50 Series.