AMD's incoming Radeon RX 7600 GPU is set to up power consumption considerably compared to its predecessor, according to the latest leak about the graphics card.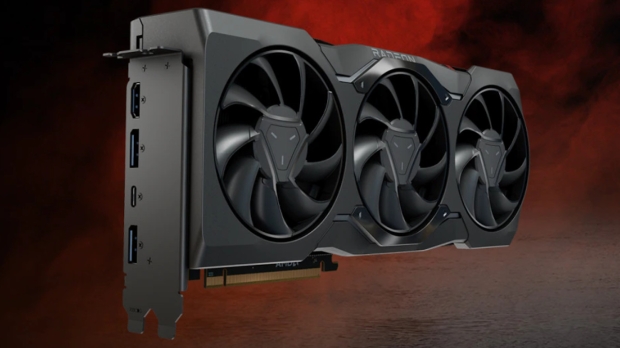 Spanish tech site HD Tecnologia spilled the details on the specs of the RX 7600, and the GPU is said to demand 165W (TBP, or Total Board Power), compared to 132W for the RX 6600.
That's a jump of 33W, or to look at it another way, the RX 7600 uses 25% more power than the 6600, which also translates into a heftier requirement for the power supply in the PC. Instead of a 450W unit, you'll need a 550W PSU to drive the RX 7600 (assuming this leaked material is genuine - as ever, we must be doubtful until we get confirmation from AMD on the spec).
This leak also provides clock speeds, and we're told that the RX 7600 (reference) will hit 2250MHz with its game clock and a 2625MHz boost speed, more or less in line with previous churning from the rumor mill.
VRAM will be 8GB of GDDR6, as has been widely reported in recent times, running at 18Gbps, so the memory will be faster than the RX 6600 (at 14Gbps). The memory bus will remain at 128-bit.
Price will be everything here
We expect AMD to launch the RX 7600 later this week, on May 25 to be precise, following hot on the heels of NVIDIA's freshly revealed RTX 4060 Ti.
While there may be a few groans seeing the higher power usage here - shouldn't this get better, gen-on-gen? - pricing will be key, as we've discussed before. And while we know that Team Green is demanding $399 for the 4060 Ti (8GB version), rumors are still a bit up in the air regarding the price tag of the RX 7600.
AMD's GPU is likely to come in at $70 to $100 under the RTX 4060 Ti, which will put the RX 7600 in competition with the vanilla RTX 4060 (at $299) rather than the Ti spin.
As we've just seen with leaked benchmarks from 3DMark, performance-wise, AMD's RX 7600 is likely to be pitched more at the plain RTX 4060's level, although there's always a chance Team Red's graphics card could do better than expected. That leak is based on synthetic testing and pre-release drivers, after all, but it's probably a fair indication of how the land lies.
What remains to be seen is if AMD also has a 7600 XT GPU up its sleeve, but we haven't heard any rumors on that, so it may still be some way off. NVIDIA's RTX 4060 arrives in July, along with the 16GB version of the 4060 Ti (with an eye-watering $499 price tag).