Sony's PlayStation 5 continues its reign as the best-selling and top-earning console of 2023 in the United States, but Nintendo beat PS5 unit sales in April.
New data from Circana (formerly known as the NPD Group) highlights video game industry sales trends in the United States for April and the full-year 2023 period. According to Circana analyst Mat Piscatella, gaming earned $4.123 billion total in the United States, down 5% year-over-year. The results are driven mostly by game sales, microtransactions, subscriptions, and mobile, which amounted to $3.598 billion, or about 87% of the total. Consumers spent $367 million on hardware in April 2023, an increase of 7% year-over-year, and hardware made up about 9% of total spending. Accessories made up $158 million, or nearly 4% of the total, and the PS5's DualSense Edge led the charge.
On a year-to-date basis (January - April 2023), consumers in the United States spent $17.7 billion on games, down 2% year-over-year. Games, content, and services generated $15.107 billion, down 4%, and comprising 85% of total spending. Hardware is up 18% year-over-year to $1.822 billion, driven primarily by strong PlayStation 5 and Switch sales. Accessories generated $779 million during the period and is up 1% year-over-year.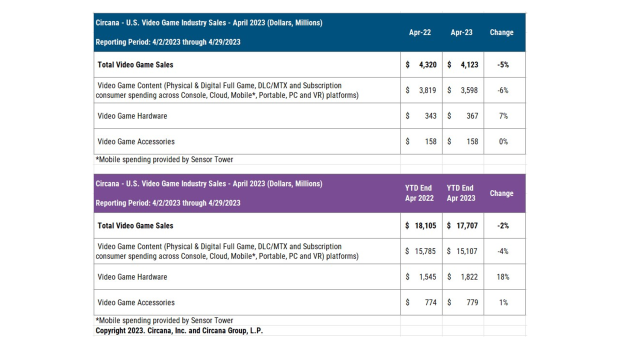 Circana's Mat Piscatella notes that the PlayStation 5 is currently the best-selling console year-to-date in both unit sales and revenue, and the PS5 also managed to generate the most dollar sales in April 2023.
However, the Switch actually sold the most units for April 2023. This actually makes sense considering the Switch is cheaper than the PS5. Remember that the Switch ranges from $199 (Lite) - $349 (OLED), whereas the PlayStation 5 price ranges from $399 for the digital-only edition and $499 for the disc version.
Another note: Piscatella says that the year-to-date hardware revenue hierarchy has PS5 in first place, Switch in second place, and the Xbox Series X/S in third place.
On the software front, Dead Island 2 managed to steal second place in April's best-selling games list, with Jedi: Survivor topping the charts.
Check out our Dead Island 2 review here to see if the game is right for you.
Also be sure to check the full thread below to get a better understanding on how the U.S. video games economy is performing throughout 2023: