Calling all Steam Deck and Microsoft Surface owners, Sabrent is offering a sizable $50 off its Rocket 2230 1TB NVMe SSD - currently listed at USD 109.99 on Sabret's official site and storefront.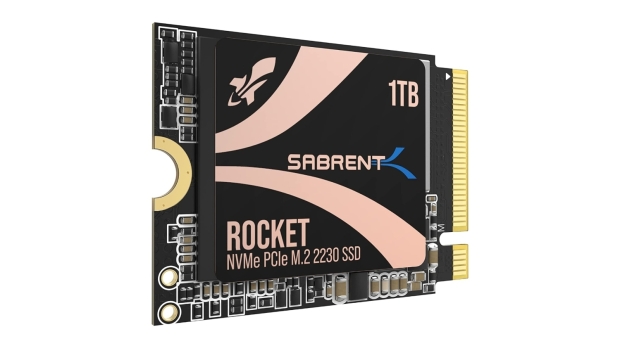 Thanks to the popularity of portable devices like Vavles Steam Deck, we've noticed more smaller form factor 2230 Gen4 NVMe SSDs appear on the market - but this one from Sabrent stands out among the pack. As per our review of the Sabrent Rocket 2230 1TB NVMe SSD earlier this year, it's safe to say that this is a perfect choice if you're considering upgrading your Steam Deck's internal storage.
"Exceptional gaming performance sets the Rocket 4 2230 apart from the rest of its kind," Jon Coulter wrote, adding that the smaller size makes it an ideal choice for portable systems because performance is on par with many drives three times its size. CrystalDiskMark benchmarks from our review showcased impressive sequential read and write speeds for Sabrent's 2230 SSD of 4813.44 and 4853.33 MB/s, respectively.
If you're wondering, that's a substantial improvement over the SSD storage that ships with each Steam Deck. Regarding other notable features, the Rocket 2230 1TB NVMe SSD can push up to 800K IOPS and has a DRAM-less design that helps keep it cool. Not to mention not causing any issues when placed into a portable device.
The 1TB capacity is also the sweet spot for app installs and downloads for a device like Surface and game installs when it comes to the Steam Deck. No word on when this offer will expire, but if you've been looking at picking up a 2230 form factor PCIe Gen4 SSD, head over to Sabrent.