Activision-Blizzard shares have dived by nearly 12% as the UK moves to block the proposed merger with Microsoft.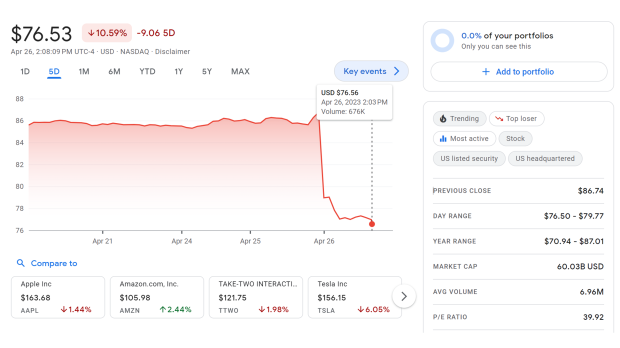 Today Activision-Blizzard reported its best-ever Q1 earnings in the past 14 years, but the company's outstanding performance has been overshadowed by some bad news for investors. UK regulators at the Competition and Markets Authority have ruled against the Microsoft-Activision merger and created an uphill battle for the billion-dollar games publisher.
The news has caused Activision's stock to crash from $86.74 down to $76.50 in just a matter of hours. This marks the single largest rapid drop in value throughout the year, and the merger's block has taken the thunder out of what would have otherwise been a significant milestone for the company's overall earnings.
Activision stock had previously rose as British regulators seemed to be open to negotiations and remedy talks to address key anticompetitive concerns.
Earlier reports indicated that the CMA was likely to approve the merger because regulators had removed one theory of harm from its anticompetitive claims, however UK regulators still identified concerns with cloud gaming and multi-game subscriptions.
Both Activision-Blizzard and Microsoft have vowed to push back against the ruling and plan to appeal to the UK's competition tribunal in the hope that the decision will be reversed, but this is rare, and if it is reversed, the case will be handed back to the CMA for another round of investigations and remedial discussions.
Activision has issued an incendiary response to the merger block, telling the British Broadcasting Corporation that the "UK is clearly closed for business."
The merger has a termination date of July 18, 2023, and if the merger does not clear or an extension is not negotiated before then, Microsoft will have to pay Activision a $3 billion termination fee.